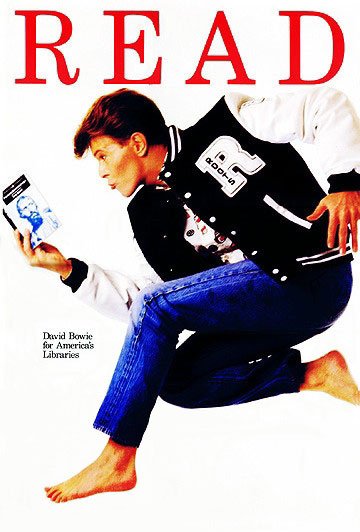 DAVID BOWIE'S TOP 100 MUST READ BOOKS
David Jones has been a voracious reader all his life. In September 2013, the curators of the David Bowie Is exhibition supplied Open Book Toronto with a list of David's Top 100 Must Read Books.
Take a look through his recommendations and see how many you have read...



---
The Age of American Unreason by Susan Jacoby, 2008.

Combining historical analysis with contemporary observation, Susan Jacoby dissects a new American cultural phenomenon - one that is at odds with our heritage of Enlightenment reason and with modern, secular knowledge and science. With mordant wit, she surveys an anti-rationalist landscape extending from pop culture to a pseudo-intellectual universe of "junk thought". Disdain for logic and evidence defines a pervasive malaise fostered by the mass media, triumphalist religious fundamentalism, mediocre public education, a dearth of fair-minded public intellectuals on the right and the left, and, above all, a lazy and credulous public.

Jacoby offers an unsparing indictment of the American addiction to infotainment - from television to the Web - and cites this toxic dependency as the major element distinguishing our current age of unreason from earlier outbreaks of American anti-intellectualism and anti-rationalism. With reading on the decline and scientific and historical illiteracy on the rise, an increasingly ignorant public square is dominated by debased media-driven language and received opinion.

At this critical political juncture, nothing could be more important than recognising the "overarching crisis of memory and knowledge" described in this impassioned, tough-minded book, which challenges Americans to face the painful truth about what the flights from reason has cost us as individuals and as a nation.

Search for this publication [Amazon] [eBay listings]
---
The Brief Wondrous Life of Oscar Wao by Junot Díaz, 2007.

This is the long-awaited first novel from one of the most original and memorable writers working today.

Things have never been easy for Oscar, a sweet but disastrously overweight ghetto nerd, a New Jersey romantic who dreams of becoming the Dominican J.R.R. Tolkien and, most of all, of finding love. But he may never get what he wants, thanks to the fukú - the ancient curse that has haunted Oscar's family for generations, dooming them to prison, torture, tragic accidents, and, above all, ill-starred love. Oscar, still dreaming of his first kiss, is only its most recent victim - until the fateful summer that he decides to be its last.

With dazzling energy and insight, Junot Díaz immerses us in the uproarious lives of our hero Oscar, his runaway sister Lola, and their ferocious beauty-queen mother Belicia, and in the epic journey from Santo Domingo to Washington Heights to New Jersey's Bergenline and back again. Rendered with uncommon warmth and humour, The Brief Wondrous Life of Oscar Wao presents an astonishing vision of the contemporary American experience and the endless human capacity to persevere - and to risk it all - in the name of love.

A true literary triumph, this novel confirms Junot Díaz as one of the best and most exciting writers of our time.

Search for this publication [Amazon] [eBay listings]
---
The Coast of Utopia (trilogy) by Tom Stoppard, 2007.

The Coast of Utopia is Tom Stoppard's long-awaited and monumental trilogy that explores a group of friends who came of age under the Tsarist autocracy of Nicholas I, and for whom the term intelligentsia was coined. Among them are the anarchist Michael Bakunin, who was to challenge Marx for the soul of the masses; Ivan Turgenev, author of some of the most enduring works in Russian literature; the brilliant, erratic young critic Vissarion Belinsky; and Alexander Herzen, a nobleman's son and the first self-proclaimed socialist in Russia, who becomes the main focus of this drama of politics, love, loss, and betrayal.

In The Coast of Utopia, Stoppard presents an inspired examination of the struggle between romantic anarchy, utopian idealism, and practical reformation in this chronicle of romantics and revolutionaries caught up in a struggle for political freedom in an age of emperors.

Search for this publication [Amazon] [eBay listings]
---
Teenage: The Creation of Youth 1875-1945 by Jon Savage, 2007.

Teenage: The Creation of Youth Culture is a monumental cultural history that charts the spread of the American ideal of youth through England and Europe and around the world.

From Peter Pan to Oscar Wilde, Anne Frank to the Wizard of Oz, Savage documents youth culture's development as a commodity and an industry from the turn of the last century to its current driving force in the global economy. Fusing film, music, literature, diaries, fashion, and art, this epic cultural history is an astonishing and surprising chronicle of modern life sure to appeal to pop culture fans, social history buffs, and anyone who has ever been a teenager.

Search for this publication [Amazon] [eBay listings]
---
Fingersmith by Sarah Waters, 2002.

No one and nothing is as it seems in this Dickensian novel of thrills and reversals. Sue Trinder is an orphan, left as an infant in the care of Mrs. Sucksby, a "baby farmer". Mrs. Sucksby's household also hosts a transient family of petty thieves - fingersmiths - for whom this house in the heart of a mean London slum is home.

One day, the most beloved thief of all arrives - Gentleman, an elegant con man, who carries with him an enticing proposition for Sue: If she wins a position as the maid to Maud Lilly, a naïve gentlewoman, and aids Gentleman in her seduction, they all will share in Maud's vast inheritance. With dreams of paying back the kindness of her adopted family, Sue agrees to the plan. Once in, however, Sue begins to regret her decision.

Search for this publication [Amazon] [eBay listings]
---
The Trial of Henry Kissinger by Christopher Hitchens, 2001.

Drawing on first-hand testimony, previously unpublished documentation, and broad sweeps through material released under the Freedom of Information Act, he mounts a devastating indictment of a man whose ambition and ruthlessness have directly resulted in both individual murders and widespread, indiscriminate slaughter.

Search for this publication [Amazon] [eBay listings]
---
Mr. Wilson's Cabinet of Wonder: Pronged Ants, Horned Humans, Mice on Toast, and Other Marvels of Jurassic Technology by Lawrence Weschler, 1997.

Pronged ants, horned humans, a landscape carved on a fruit pit - some of the displays in David Wilson's Museum of Jurassic Technology are hoaxes. But which ones?

As he guides readers through an intellectual hall of mirrors, Lawrence Weschler revisits the 16th-century "wonder cabinets" that were the first museums and compels readers to examine the imaginative origins of both art and science. Illustrations.

Search for this publication [Amazon] [eBay listings]
---
A People's Tragedy: The Russian Revolution 1890-1924 by Orlando Figes, 1997.

It is history on an epic yet human scale. Vast in scope, exhaustive in original research, written with passion, narrative skill, and human sympathy, A People's Tragedy is a profound account of the Russian Revolution for a new generation. Many consider the Russian Revolution to be the most significant event of the twentieth century.

Distinguished scholar Orlando Figes presents a panorama of Russian society on the eve of that revolution, and then narrates the story of how these social forces were violently erased. Within the broad stokes of war and revolution are miniature histories of individuals, in which Figes follows the main players' fortunes as they saw their hopes die and their world crash into ruins.

Unlike previous accounts that trace the origins of the revolution to overreaching political forces and ideals, Figes argues that the failure of democracy in 1917 was deeply rooted in Russian culture and social history and that what had started as a people's revolution contained the seeds of its degeneration into violence and dictatorship.

A People's Tragedy is a masterful and original synthesis by a mature scholar, presented in a compelling and accessibly human narrative.

Search for this publication [Amazon] [eBay listings]
---
The Insult by Rupert Thomson, 1996.

It is a Thursday evening. After work Martin Blom drives to the supermarket to buy some groceries. As he walks back to his car a shot rings out... when he wakes up he is blind.

His neurosurgeon, Bruno Visser, tells him that his loss of sight is permanent and that he must expect to experience shock, depression, self-pity, even suicidal thoughts before his rehabilitation is complete. But it doesn't work out quite like that. And one spring evening, while Martin is practicing in the clinic gardens with his new white cane, something miraculous happens.

Search for this publication [Amazon] [eBay listings]
---
Wonder Boys by Michael Chabon, 1995.

In his first novel since The Mysteries of Pittsburgh, Chabon presents a hilarious and heartbreaking work - the story of the friendship between the eponymous "wonder boys" - Grady, an aging writer who has lost his way, and Tripp, whose relentless debauchery is capsizing his career.

Michael Chabon is the bestselling and Pulitzer Prize-winning author of seven novels - including The Amazing Adventures of Kavalier and Clay and The Yiddish Policemen's Union - two collections of short stories, and one other work of non-fiction.

Search for this publication [Amazon] [eBay listings]
---
The Bird Artist by Howard Norman, 1994.

Howard Norman's The Bird Artist, the first book of his Canadian trilogy, begins in 1911. Its narrator, Fabian Vas is a bird artist: He draws and paints the birds of Witless Bay, his remote Newfoundland coastal village home.

In the first paragraph of his tale Fabian reveals that he has murdered the village lighthouse keeper, Botho August. Later, he confesses who and what drove him to his crime - a measured, profoundly engrossing story of passion, betrayal, guilt, and redemption between men and women.

Search for this publication [Amazon] [eBay listings]
---
Kafka Was the Rage: A Greenwich Village Memoir by Anatole Broyard, 1993.

What Hemingway's A Moveable Feast did for Paris in the 1920s, this charming yet undeceivable memoir does for Greenwich Village in the late 1940s.

In 1946, Anatole Broyard was a dapper, earnest, fledgling avant-gardist, intoxicated by books, sex, and the neighbourhood that offered both in such abundance. Stylish written, mercurially witty, imbued with insights that are both affectionate and astringent, this memoir offers an indelible portrait of a lost bohemia.

Search for this publication [Amazon] [eBay listings]
---
Beyond the Brillo Box: The Visual Arts in Post-Historical Perspective by Arthur C. Danto, 1992.

In this collection of interconnected essays, Arthur C. Danto argues that Andy Warhol's Brillo Box of 1964 brought the established trajectory of Western art to an end and gave rise to a pluralism which has changed the way art is made, perceived, and exhibited.

Wonderfully illuminating and highly provocative, his essays explore how conceptions of art - and resulting historical narratives - differ according to culture. They also grapple with the most challenging issues in art today, including censorship and state support of artists.

Search for this publication [Amazon] [eBay listings]
---
Sexual Personae: Art and Decadence from Nefertiti to Emily Dickinson by Camille Paglia, 1990.

From ancient Egypt through the nineteenth century, Sexual Personae explores the provocative connections between art and pagan ritual; between Emily Dickinson and the Marquis de Sade; between Lord Byron and Elvis Presley.

It ultimately challenges the cultural assumptions of both conservatives and traditional liberals.

Search for this publication [Amazon] [eBay listings]
---
David Bomberg by Richard Cork, 1988.

Ever since the popular English painter Bomberg died in 1957, his reputation has grown steadily.

An excellent coverage of his life and work make this publication "the definitive monograph" on its subject - a man who experimented with a variety of styles.

Search for this publication [Amazon] [eBay listings]
---
Sweet Soul Music: Rhythm and Blues and the Southern Dream of Freedom by Peter Guralnick, 1986.

A gripping narrative that captures the tumult and liberating energy of a nation in transition, Sweet Soul Music is an intimate portrait of the legendary performers - Sam Cooke, Ray Charles, James Brown, Solomon Burke, Aretha Franklin, Otis Redding, and Al Green among them - who merged gospel and rhythm and blues to create Southern soul music.

Through rare interviews and with unique insight, Peter Guralnick tells the definitive story of the songs that inspired a generation and forever changed the sound of American music.

Search for this publication [Amazon] [eBay listings]
---
The Songlines by Bruce Chatwin, 1986.

In this extraordinary book, Bruce Chatwin has adapted a literary form common until the eighteenth century though rare in ours; a story of ideas in which two companions, travelling and talking together, explore the hopes and dreams that animate both them and the people they encounter. Set in almost uninhabitable regions of Central Australia, The Songlines asks and tries to answer these questions: Why is man the most restless, dissatisfied of animals? Why do wandering people conceive the world as perfect whereas sedentary ones always try to change it? Why have the great teachers - Christ or the Buddha - recommended the Road as the way to salvation? Do we agree with Pascal that all man's troubles stem from his inability to sit quietly in a room?

We do not often ask these questions today for we commonly assume that living in a house is normal and that the wandering life is aberrant. But for more than twenty years Chatwin has mulled over the possibility that the reverse might be the case. Pre-colonial Australia was the last landmass on earth peopled not by herdsmen, farmers, or city dwellers, but by hunter-gatherers. Their labyrinths of invisible pathways across the continent are known to us as Songlines or Dreaming Tracks, but to the Aboriginals as the tracks of their ancestors - the Way of the Law. Along these "roads" they travel in order to perform all those activities that are distinctively human - song, dance, marriage, exchange of ideas, and arrangements of territorial boundaries by agreement rather than force.

In Chatwin's search for the Songlines, Arkady is an ideal friend and guide: Australian by birth, the son of a Cossack exile, with all the strength and warmth of his inheritance. Whether hunting kangaroo from a Land Cruiser, talking to the diminutive Rolf in his book-crammed trailer, buying drinks for a bigoted policeman (and would-be writer), cheering as Arkady's true love declares herself (part of The Songlines is a romantic comedy), Chatwin turns this almost implausible picaresque adventure into something approaching the scale of a Greek tragedy.

The life of the Aboriginals stands in vivid contrast, of course, to the prevailing cultures of our time. And The Songlines presents unforgettable details about the kinds of disputes we know all too well from less traumatic confrontations: over sacred lands invaded by railroads, mines, and construction sites, over the laws and rights of a poor people versus a wealthy invasive one. To Chatwin these are but recent, local examples of an eternal basic distinction between settlers and wanderers. His book, devoted to the latter, is a brilliant evocation of this profound optimism: that man is by nature not a bellicose aggressor but a pacific, song-creating, adaptive species whose destiny is to quest for the truth.

Search for this publication [Amazon] [eBay listings]
---
Hawksmoor by Peter Ackroyd, 1985.

In the aftermath of the Great Fire, eighteenth-century London is a city of extremes. Squalor and superstition vie with elegance and reason as brilliant architect, Nicholas Dyer, is commissioned to build seven new churches. They are to stand as beacons of the Enlightenment - but Dyer plans to conceal a dark secret at the heart of each one.

Two hundred and fifty years later, in the same vast metropolis, a series of murders occur on the sites of those same churches. Detective Nicholas Hawksmoor investigates, but the gruesome crimes make no sense to the modern mind...

Search for this publication [Amazon] [eBay listings]
---
Nowhere To Run: The Story of Soul Music by Gerri Hirshey, 1984.

Nowhere to Run: The Story of Soul Music is a unique oral history. Here are the recollections of many of the giants of soul - Smokey Robinson, Diana Ross, Aretha Franklin, Ray Charles, Ben E. King, James Brown, Mary Wilson, Marvin Gaye, Screaming Jay Hawkins, and Wilson Pickett.

These and other interviews, many of them exclusive, add up to a brilliant anecdotal portrait of the music and the life.

Search for this publication [Amazon] [eBay listings]
---
Nights at the Circus by Angela Carter, 1984.

Is Sophie Fevvers, toast of Europe's capitals, part swan... or all fake?

Courted by the Prince of Wales and painted by Toulouse-Lautrec, she is an aerialist extraordinaire and star of Colonel Kearney's circus. She is also part woman, part swan. Jack Walser, an American journalist, is on a quest to discover the truth behind her identity. Dazzled by his love for her, and desperate for the scoop of a lifetime, Walser has no choice but to join the circus on its magical tour through turn-of-the-nineteenth-century London, St. Petersburg and Siberia.

Search for this publication [Amazon] [eBay listings]
---
Money: A Suicide Note by Martin Amis, 1984.

This is the story of John Self, consumer extraordinaire. Rolling around New York and London, he makes deals, spends wildly and does reckless movie-world business, all the while grabbing everything he can to sate his massive appetites: alcohol, tobacco, pills, pornography, a mountain of junk food and more.

Ceaselessly inventive and thrillingly savage, this is a tale of life lived without restraint; of money, the terrible things it can do and the disasters it can precipitate.

Search for this publication [Amazon] [eBay listings]
---
White Noise by Don DeLillo, 1984.

A brilliant satire of mass culture and the numbing effects of technology, White Noise tells the story of Jack Gladney, a teacher of Hitler studies at a liberal arts college in Middle America.

Jack and his fourth wife, Babette, bound by their love, fear of death, and four ultramodern offspring, navigate the rocky passages of family life to the background babble of brand-name consumerism. Then a lethal black chemical cloud, unleashed by an industrial accident, floats over their lives, an "airborne toxic event" that is a more urgent and visible version of the white noise engulfing the Gladney's - the radio transmissions, sirens, microwaves, and TV murmurings that constitute the music of American magic and dread.

Search for this publication [Amazon] [eBay listings]
---
Flaubert's Parrot by Julian Barnes, 1984.

Which of two stuffed parrots was the inspiration for one of Flaubert's greatest stories? Why did the master keep changing the colour of Emma Bovary's eyes? And why should it matter so much to Geoffrey Braithwaite, a retired doctor haunted by a private secret?

In Flaubert's Parrot, Julian Barnes spins out a multiple mystery of obsession and betrayal (both scholarly and romantic) and creates an exuberant enquiry into the ways in which art mirrors life and then turns around to shape it.

Search for this publication [Amazon] [eBay listings]
---
The Life and Times of Little Richard: The Quasar of Rock by Charles White, 1984.

The classic authorised biography that told it all. When Little Richard burst onto the scene in the early 1950s, he sounded like nothing on earth. Drenched in sweat, screaming, hollering and pumping his piano, his stage act was so explosive that for years people assumed the real man could never match the flamboyant public image.

Then came Charles White's sensational book exposing the even more astonishing life and times of Richard Wayne Penniman from Georgia.

Little Richard made himself a star through sheer force of personality, breaking racial and sexual taboos on his way to becoming the primal force of Fifties rock 'n' roll. Elvis Presley called him 'the greatest'. Otis Redding called him his 'inspiration' and James Brown called him his idol. Charles White is the only author to have captured the true energy of Little Richard.

Using Richard's own words, White chronicles a staggering career that spanned the very rules of rock 'n' roll, the rise of The Beatles, tussles with God and The Devil and an erratic series of comebacks. Illustrated with pictures from Little Richard's own archive and including a comprehensive discography.

Search for this publication [Amazon] [eBay listings]
---
A People's History of the United States by Howard Zinn, 1980.

Known for its lively, clear prose as well as its scholarly research, A People's History of the United States is the only volume to tell America's story from the point of view of - and in the words of - America's women, factory workers, African Americans, Native Americans, working poor and immigrant labourers.

Search for this publication [Amazon] [eBay listings]
---
A Confederacy of Dunces by John Kennedy Toole, 1980.

"A green hunting cap squeezed the top of the fleshy balloon of a head. The green earflaps, full of large ears and uncut hair and the fine bristles that grew in the ears themselves, stuck out on either side like turn signals indicating two directions at once. Full, pursed lips protruded beneath the bushy black moustache and, at their corners, sank into little folds filled with disapproval and potato chip crumbs."

Meet Ignatius J. Reilly, the hero of John Kennedy Toole's tragicomic tale, A Confederacy of Dunces. This 30-year-old medievalist lives at home with his mother in New Orleans, pens his magnum opus on Big Chief writing pads he keeps hidden under his bed, and relays to anyone who will listen the traumatic experience he once had on a Greyhound Scenicruiser bound for Baton Rouge. ("Speeding along in that bus was like hurtling into the abyss.") But Ignatius's quiet life of tyrannizing his mother and writing his endless comparative history screeches to a halt when he is almost arrested by the overeager Patrolman Mancuso - who mistakes him for a vagrant - and then involved in a car accident with his tipsy mother behind the wheel. One thing leads to another, and before he knows it, Ignatius is out pounding the pavement in search of a job.

Over the next several hundred pages, our hero stumbles from one adventure to the next. The many subplots that weave through A Confederacy of Dunces are as complicated as anything you'll find in a Dickens novel, and just as beautifully tied together in the end. But it is Ignatius - elfish, domineering, and deluded, tragic and comic and larger than life - who carries the story. He is a modern-day Quixote beset by giants of the modern age. His fragility cracks the shell of comic bluster, revealing a deep streak of melancholy beneath the antic humour.

John Kennedy Toole committed suicide in 1969 and never saw the publication of his novel. Ignatius Reilly is what he left behind, a fitting memorial to a talented and tormented life.

Search for this publication [Amazon] [eBay listings]
---
Interviews with Francis Bacon by David Sylvester, 1980.

Controversial in both life and art, Francis Bacon was one of the most important painters of the twentieth century. His monumental, unsettling images have an extraordinary power to disturb, shock, and haunt the spectator, "to unlock the valves of feeling and therefore return the onlooker to life more violently".

Eminent writer and curator David Sylvester provides the definitive account of the career of an artist whose friend and collaborator he was for more than forty years. Drawing on his unparalleled personal knowledge of Bacon's inspirations and intentions, he first offers a critical overview of the development of Bacon's work from 1933 to the early 1990s, and then addresses its crucial aspects. Sylvester also reproduces previously unpublished extracts from his celebrated conversations with Bacon in which the artist speaks about himself, modern painters, and the art of the past. Finally, he gives a brief account of Bacon's life, correcting errors that elsewhere have been presented as facts. Accompanying the incisive and revealing text are reproductions of almost every Bacon work discussed, including twelve triptych fold-outs.

The most complete work on Bacon yet, this book constitutes a portrait of one of the creative geniuses of our age by a writer of comparable distinction.

Search for this publication [Amazon] [eBay listings]
---
Darkness at Noon by Arthur Koestler, 1980.

Darkness at Noon (from the German: Sonnenfinsternis) is a novel by the Hungarian-born British novelist Arthur Koestler, first published in 1940.

His best-known work tells the tale of Rubashov, a Bolshevik 1917 revolutionary who is cast out, imprisoned and tried for treason by the Soviet government he'd helped create. Darkness at Noon stands as an unequalled fictional portrayal of the nightmare politics of our time. Its hero is an aging revolutionary, imprisoned and psychologically tortured by the Party to which he has dedicated his life. As the pressure to confess preposterous crimes increases, he relives a career that embodies the terrible ironies and human betrayals of a totalitarian movement masking itself as an instrument of deliverance.

Almost unbearably vivid in its depiction of one man's solitary agony, it asks questions about ends and means that have relevance not only for the past but for the perilous present.

Search for this publication [Amazon] [eBay listings]
---
Earthly Powers by Anthony Burgess, 1980.

Anthony Burgess's epic masterpiece follows the lives of two men who each represent different kinds of earthly power. Kenneth Toomey is an eminent novelist, a man who has outlived his contemporaries to survive into luxurious old age as a celebrity of dubious notoriety. Don Carlo Campanati is a man of God, who rises through the Vatican as a subtle negotiator and shrewd manipulator to become the controversial architect of church revolution and a candidate for sainthood.

Through the lives of these two men, related to each other not only by family ties but also by sympathy, genius and a deep common understanding of mankind's frailties, Burgess explores the very essence of power.

Search for this publication [Amazon] [eBay listings]
---
Raw (graphix magazine), 1980-91.

Raw was a comics anthology edited by Art Spiegelman and Françoise Mouly and published by Mouly from 1980 to 1991.

By calling Raw a "graphix magazine", they hoped their unprecedented approach would bypass readers' prejudices against comics and force them to look at the work with new eyes.

It was a flagship publication of the 1980s alternative comics movement, serving as a more intellectual counterpoint to Robert Crumb's visceral 'Weirdo'.

Search for this publication [Amazon] [eBay listings]
---
Viz (comic), 1979 -

Viz is a popular British comic magazine founded in 1979 by Chris Donald. It parodies British comics of the post-war period, notably The Beano and The Dandy, but with vulgar language, toilet humour, black comedy, surreal humour and generally sexual or violent storylines. It also sends up tabloid newspapers, with mockeries of articles and letters pages.

It features parody competitions and advertisements for overpriced 'limited edition' tat, as well as obsessions with half-forgotten kitsch celebrities from the 1960-80s. Occasionally, it satirises current events and politicians, but has no particular political standpoint.

Search for this publication [Amazon] [eBay listings]
---
The Gnostic Gospels by Elaine Pagels, 1979.

The Gnostic Gospels is a landmark study of the long-buried roots of Christianity, a work of luminous scholarship and wide popular appeal. First published in 1979 to critical acclaim, winning the National Book Award and the National Book Critics Circle Award, The Gnostic Gospels has continued to grow in reputation and influence over the past two decades. It is now widely recognised as one of the most brilliant and accessible histories of early Christian spirituality published in our time.

In 1945 an Egyptian peasant unearthed what proved to be the Gnostic Gospels, thirteen papyrus volumes that expounded a radically different view of the life and teachings of Jesus Christ from that of the New Testament. In this spellbinding book, renowned religious scholar Elaine Pagels elucidates the mysteries and meanings of these sacred texts both in the world of the first Christians and in the context of Christianity today.

Search for this publication [Amazon] [eBay listings]
---
Metropolitan Life by Fran Lebowitz, 1978.

Metropolitan Life is a 1978 best-selling collection of comedic essays and the debut book by writer Fran Lebowitz.

Search for this publication [Amazon] [eBay listings]
---
In Between the Sheets by Ian McEwan, 1978.

Call them transcripts of dreams or deadly accurate maps of the tremor zones of the psyche, the seven stories in this collection engage and implicate us in the most fearful ways imaginable. A two-timing pornographer becomes an unwilling object in the fantasies of one of his victims. A jaded millionaire buys himself the perfect mistress and plunges into a hell of jealousy and despair. And in the course of a weekend with his teenage daughter, a guilt-ridden father discovers the depths of his own blundering innocence.

At once chilling and beguiling, and written in prose of lacerating beauty, In Between the Sheets is a tour de force by one of England's most acclaimed practitioners of literary unease.

Search for this publication [Amazon] [eBay listings]
---
Writers at Work: The Paris Review Interviews Edited by Malcolm Cowley, 1977.

Paris Review First Series is the first of collection literary interviews published by The Paris Review (1959), edited by Malcolm Cowley (and includes his introduction, 'How Writers Write').

Interviews: Francois Mauriac, E.M. Forster, Joyce Cary, Dorothy Parker, James Thurber, Thorton Wilder, William Faulkner, Georges Simenon, Frank O'Connor, Robert Penn Warren, Alberto Moravia, Nelson Algren, Angus Wilson, William Styron, Truman Capote and Francoise Fagan.

Search for this publication [Amazon] [eBay listings]
---
The Origin of Consciousness in the Breakdown of the Bicameral Mind by Julian Jaynes, 1976.

At the heart of this classic, seminal book is Julian Jaynes' still-controversial thesis that human consciousness did not begin far back in animal evolution but instead is a learned process that came about only three thousand years ago and is still developing.

The implications of this revolutionary scientific paradigm extend into virtually every aspect of our psychology, our history and culture, our religion - and indeed our future.

Search for this publication [Amazon] [eBay listings]
---
Tales of Beatnik Glory by Ed Sanders, 1975.

Ed Sanders's mock-heroic (and heroic) odyssey follows poet, filmmaker and activist Sam Thomas, editor of Dope, Fucking, and Social Change, and a variegated cast of castoffs, dropouts, peaceniks, freakniks, and mendicant filthniks, from Kansas through the beatnik and hippie countercultures of New York City's Lower East Side and Greenwich Village.

From the Freedom Rides and confrontations with the Alabama Klan to the "hate-dappled" Summer of Love, Tales of Beatnik Glory is the epic of America in the sixties, in a language of droll invention and stoned mythopoesis, from a man who once dared to exorcise the Pentagon.

Search for this publication [Amazon] [eBay listings]
---
Mystery Train: Images of America in Rock 'n' Roll by Greil Marcus, 1975.

This text tries to identify how American music is one more stage in the production of American myth, which has become, through the mass media, a summation of the expression of a popular culture.

Marcus discusses Robert Johnson, The Band, Sly and the Family Stone, Randy Newman and Elvis Presley.

Search for this publication [Amazon] [eBay listings]
---
Selected Poems by Frank O'Hara, 1974.

Frank O'Hara (1926-66) is among the most delightful and radical poets of the twentieth century. He is celebrated for his apparently unpremeditated poems, autobiographical and immediate ('any time, any place'). This is not the whole O'Hara: he may have scribbled poems on serviettes, but others he worked on with intense concentration, creating sequences that are inexhaustibly nuanced, full of surprise, heartbreak and laughter.

There are analogies between his work and that of the painters he championed, Pollock, Kline and de Kooning among them. He is resolutely metropolitan, and his metropolis is New York City. He brilliantly captured the pace and rhythms, quandaries and exhilarations, of its mid-twentieth-century life.

Search for this publication [Amazon] [eBay listings]
---
Before the Deluge: A Portrait of Berlin in the 1920s by Otto Friedrich, 1972.

A fascinating portrait of the turbulent political, social, and cultural life of the city of Berlin in the 1920s.

Search for this publication [Amazon] [eBay listings]
---
In Bluebeard's Castle: Some Notes Towards the Re-definition of Culture by George Steiner, 1971.

In Bluebeard's Castle: Some Notes Towards the Re-definition of Culture is composed of four brief lectures by Steiner with interlocking themes, chiefly the fragmentation and dissolution of Western culture from the French Revolution onwards (particularly from the perspective of a perceived break with tradition, whether Jewish, Christian, Greek or Latin), with a meditation of what kind of future culture might develop over the course of time. It engages with one of Steiner's perennial concerns: that of the long-term ramifications of the Holocaust on our cultural values and cultural productions, and the questions that arise from it in terms of the growth and development of anti-Semitism over time.

In Steiner's view, the existence of the Holocaust meant that the long trajectory of Western culture with roots in numerous different valuable sources such as Periclean Athens was effectively finished - a similar line of argument to that navigated in the 1967 work 'Language and Silence'.

Search for this publication [Amazon] [eBay listings]
---
Octobriana and the Russian Underground by Petr Sadecky, 1971.

Octobriana, a kind of Russian Barbarella is the spirit of the October Revolution, she became the heroine of an illegal magazine, secretly printed and circulated by hand in a number of Universities - composed of "samizdat" material smuggled out of the former Soviet Union.

Rarely seen collection of Soviet Underground dissent and resistance, many nude female illustrations.

Search for this publication [Amazon] [eBay listings]
---
The Sound of the City: The Rise of Rock and Roll by Charlie Gillett, 1970.

This comprehensive study of the rise of rock and roll from 1954 to 1971 has now been expanded with close to 100 illustrations as well as a new introduction, recommended listening section, and bibliography.

Search for this publication [Amazon] [eBay listings]
---
The Quest For Christa T. by Christa Wolf, 1968.

When The Quest for Christa T. was first published in East Germany, there was an immediate storm: bookshops in East Berlin were given instructions to sell it only to well-known customers professionally involved in literary matters; at the annual meeting of East German Writers Conference, Mrs Wolf's new book was condemned. Yet the novel has nothing explicitly to do with politics.

Search for this publication [Amazon] [eBay listings]
---
Awopbopaloobop Alopbamboom: The Golden Age of Rock by Nik Cohn, 1968.

Written in 1968 and revised in 1972, Awopbopaloobop Alopbamboom was the first book to celebrate the language and the primal essence of rock 'n' roll, but it was much more than that. It was a cogent history of an unruly era, from the rise of Bill Haley to the death of Jimi Hendrix. And while telling outrageous tales, vividly describing the music, and cutting through the hype, Nik Cohn would engender a new literary form: rock criticism.

In his book's wake, rock criticism has turned into a veritable industry, and the world of music has never been the same. Now this seminal history of rock 'n' roll's evolution is available once more - as riotous a spree as any in rock writing.

Search for this publication [Amazon] [eBay listings]
---
Journey into the Whirlwind by Eugenia Ginzburg, 1967.

Eugenia Ginzburg's critically acclaimed memoir of the harrowing eighteen years she spent in prisons and labour camps under Stalin's rule.

By the late 1930s, Eugenia Semyonovna Ginzburg had been a loyal and very active member of the Communist Party for many years. Yet like millions of others who suffered during Stalin's reign of terror, she was arrested - on trumped-up charges of being a Trotskyist terrorist and counter-revolutionary - and sentenced to prison.

With an amazing eye for detail, profound strength, and an indefatigable spirit, Ginzburg recounts the years, days, and minutes she endured in prisons and labour camps, including two years of solitary confinement. A classic account of survival, Journey into the Whirlwind is considered one of the most important documents of Stalin's regime.

Search for this publication [Amazon] [eBay listings]
---
The Master and Margarita by Mikhail Bulgakov, 1966.

Mikhail Bulgakov's devastating satire of Soviet life was written during the darkest period of Stalin's regime.

Combining two distinct yet interwoven parts - one set in ancient Jerusalem, one in contemporary Moscow - the novel veers from moods of wild theatricality with violent storms, vampire attacks, and a Satanic ball; to such sombre scenes as the meeting of Pilate and Yeshua, and the murder of Judas in the moonlit garden of Gethsemane; to the substanceless, circus-like reality of Moscow.

Its central characters, Woland (Satan) and his retinue - including the vodka-drinking black cat, Behemoth; the poet, Ivan Homeless; Pontius Pilate; and a writer known only as The Master, and his passionate companion, Margarita - exist in a world that blends fantasy and chilling realism, an artful collage of grotesqueries, dark comedy, and timeless ethical questions.

Though completed in 1940, 'The Master and Margarita' wasn't published in Moscow until 1966, when the first part appeared in the magazine 'Moskva'. It was an immediate and enduring success: audiences responded with great enthusiasm to its expression of artistic and spiritual freedom.

Search for this publication [Amazon] [eBay listings]
---
In Cold Blood: A True Account of a Multiple Murder and Its Consequences by Truman Capote, 1965.

On November 15th 1959, in the small town of Holcomb, Kansas, four members of the Clutter family were savagely murdered by blasts from a shotgun held a few inches from their faces. There was no apparent motive for the crime, and there were almost no clues.

As Truman Capote reconstructs the murder and the investigation that led to the capture, trial, and execution of the killers, he generates both mesmerising suspense and astonishing empathy.

In Cold Blood is a work that transcends its moment, yielding poignant insights into the nature of American violence.

Search for this publication [Amazon] [eBay listings]
---
Last Exit to Brooklyn by Hubert Selby Jr., 1964.

Last Exit to Brooklyn is a raw depiction of life amongst New York's junkies, hustlers, drag queens and prostitutes. An unforgettable cast of characters inhabits the housing projects, bars and streets of Brooklyn: Georgette, a hopelessly romantic and tormented transvestite; Vinnie, a disaffected and volatile youth who has never been on the right side of the law; Tralala, who can find no escape from her loveless existence; Harry, a power-hungry strike leader with a fatal secret. Living on the edge, always walking on the wild side, their alienation and aggression mask a desperate, deep human need for affection and kinship.

Banned in Britain on first publication in 1964, Last Exit to Brooklyn brought its ex-Marine, drug-addict author instant notoriety. Its truthfulness stunned a generation and continues to shock to this day.

Search for this publication [Amazon] [eBay listings]
---
Herzog by Saul Bellow, 1964.

This is the story of Moses Herzog, a great sufferer, joker, mourner and charmer. Although his life steadily disintegrates around him - he has failed as a writer and teacher, as a father, and has lost the affection of his wife to his best friend - Herzog sees himself as a survivor, both of his private disasters and those of the age. He writes unsent letters to friends and enemies, colleagues and famous people, revealing his wry perception of the world and the innermost secrets of his heart.

Search for this publication [Amazon] [eBay listings]
---
City of Night by John Rechy, 1963.

When John Rechy's explosive first novel, City of Night, was first published in 1963, it became a national bestseller and ushered in a new era of gay fiction. Bold and inventive in his account of the urban underworld of male prostitution, Rechy is equally unflinching in his portrayal of one hustling "Youngman" and his restless search for self-knowledge.

As the narrator careens from El Paso to Times Square, from Pershing Square to the French Quarter, we get an unforgettable look at a neon-lit life on the edge.

Search for this publication [Amazon] [eBay listings]
---
Puckoon by Spike Milligan, 1963.

In 1924 the Boundary Commission is tasked with creating the new official division between Northern Ireland and the Irish Republic.

Through incompetence, dereliction of duty and sheer perversity, the border ends up running through the middle of the small town of Puckoon. Houses are divided from outhouses, husbands separated from wives, bars are cut off from their patrons, churches sundered from graveyards. And in the middle of it all is poor Dan Milligan, our feckless protagonist, who is taunted and manipulated by everyone (including the sadistic author) to try and make some sense of this mess...

Search for this publication [Amazon] [eBay listings]
---
The American Way of Death by Jessica Mitford, 1963.

The American Way of Death is an exposé of abuses in the funeral home industry in the United States.

Feeling that death had become much too sentimentalised, highly commercialised, and, above all, excessively expensive, Mitford published her research, which, she argues, documents the ways in which funeral directors take advantage of the shock and grief of friends and relatives of loved ones to convince them to pay far more than necessary for the funeral and other services, such as availability of so-called "Grief counsellors", a title she claims is unmerited.

Search for this publication [Amazon] [eBay listings]
---
The Sailor Who Fell From Grace With The Sea by Yukio Mishima, 1963.

Yukio Mishima's The Sailor Who Fell From Grace With the Sea explores the vicious nature of youth that is sometimes mistaken for innocence.

Thirteen-year-old Noboru is a member of a gang of highly philosophical teenage boys who reject the tenets of the adult world - to them, adult life is illusory, hypocritical, and sentimental. When Noboru's widowed mother is romanced by Ryuji, a sailor, Noboru is thrilled. He idolises this rugged man of the sea as a hero. But his admiration soon turns to hatred, as Ryuji forsakes life onboard the ship for marriage, rejecting everything Noboru holds sacred. Upset and appalled, he and his friends respond to this apparent betrayal with a terrible ferocity.

Search for this publication [Amazon] [eBay listings]
---
The Fire Next Time by James Baldwin, 1963.

A national bestseller when it first appeared in 1963, The Fire Next Time galvanised the nation and gave passionate voice to the emerging civil rights movement.

At once a powerful evocation of James Baldwin's early life in Harlem and a disturbing examination of the consequences of racial injustice, the book is an intensely personal and provocative document. It consists of two "letters", written on the occasion of the centennial of the Emancipation Proclamation, that exhort Americans, both black and white, to attack the terrible legacy of racism.

The Fire Next Time stands as a classic of our literature.

Search for this publication [Amazon] [eBay listings]
---
A Clockwork Orange by Anthony Burgess, 1962.

A vicious fifteen-year-old "droog" is the central character of this 1963 classic, whose stark terror was captured in Stanley Kubrick's magnificent film of the same title.

In Anthony Burgess's nightmare vision of the future, where criminals take over after dark, the story is told by the central character, Alex, who talks in a brutal invented slang that brilliantly renders his and his friends' social pathology.

A Clockwork Orange is a frightening fable about good and evil, and the meaning of human freedom. When the state undertakes to reform Alex - to "redeem" him - the novel asks, "At what cost?"

Search for this publication [Amazon] [eBay listings]
---
Inside the Whale and Other Essays by George Orwell, 1962.

George Orwell is probably best known for Animal Farm and 1984, but it is his essays that launched him. In them he not only demonstrated how he thought, but proposed a rule as to how thinking ought to proceed. Tracing his arguments and their development in these nine essays is a rich and rewarding exercise. The range of Orwell's interests was limitless.

The other essays appearing in this book are: 'Down the Mine', 'England Your England', 'Shooting an Elephant', 'Lear, 'Tolstoy and the Fool', 'Politics vs Literature', 'Politics and the English Language', 'The Prevention of Literature' and 'Boys' Weeklies'.

Search for this publication [Amazon] [eBay listings]
---
The Prime of Miss Jean Brodie by Muriel Spark, 1961.

The elegantly styled classic story of a young, unorthodox teacher and her special - and ultimately dangerous - relationship with six of her students. Passionate, free-thinking and unconventional, Miss Brodie exerts a powerful influence over her group of "special girls" at Marcia Blaine School. They are the Brodie set, the crème de la crème, each famous for something - Monica for mathematics, Eunice for swimming, Rose for sex - who are initiated into a world of adult games and extracurricular activities they will never forget. But the price they pay is their undivided loyalty.

The Prime of Miss Jean Brodie is a brilliantly comic novel featuring one of the most unforgettable characters in all literature.

Search for this publication [Amazon] [eBay listings]
---
Private Eye (magazine), 1961 -

Private Eye is a fortnightly British satirical and current affairs magazine based in London, England, edited by Ian Hislop. Since its first publication in 1961, Private Eye has been a prominent critic and lampooner of public figures and entities that it deems guilty of any of the sins of incompetence, inefficiency, corruption, pomposity or self-importance and it has established itself as a thorn in the side of the British establishment.

As of 2015, it is Britain's best-selling current affairs magazine, and such is its long-term popularity and impact that many recurring in-jokes from Private Eye have entered popular culture.

Search for this publication [Amazon] [eBay listings]
---
On Having No Head: Zen and the Rediscovery of the Obvious by Douglas E. Harding, 1961.

Headlessness, the experience of "no-self" that mystics of all times have aspired to, is an instantaneous way of "waking up" and becoming fully aware of one's real and abiding nature.

Douglas Harding, the highly respected mystic-philosopher, describes his first experience of headlessness in "On Having No Head", the classic work first published in 1961.

In this book, he conveys the immediacy, simplicity, and practicality of the "headless way", placing it within a Zen context, while also drawing parallels to practices in other spiritual traditions. If you wish to experience the freedom and clarity that results from first hand experience of true Being, then this book will serve as a practical guide to the rediscovery of what has always been present.

Search for this publication [Amazon] [eBay listings]
---
Silence: Lectures and Writings by John Cage, 1961.

Silence, A Year from Monday, M, Empty Words and X (in this order) form the five parts of a series of books in which Cage tries, as he says, to find a way of writing which comes from ideas, is not about them, but which produces them.

Often these writings include mesostics and essays created by subjecting the work of other writers to chance procedures using the I Ching (what Cage called writing through).

Search for this publication [Amazon] [eBay listings]
---
Strange People by Frank Edwards, 1961.

A collection of stories and accounts of the weird and wonderful.

Describes giants, midgets, sideshow acts, a young strongwoman, a lost colony, a mysterious coma, idiot savants, clairvoyants, eyeless sight, ghosts, psychic detectives, and a man who needed no sleep.

Search for this publication [Amazon] [eBay listings]
---
The Divided Self: An Existential Study in Sanity and Madness by R. D. Laing, 1960.

In The Divided Self, Laing contrasted the experience of the "ontologically secure" person with that of a person who "cannot take the realness, aliveness, autonomy and identity of himself and others for granted" and who consequently contrives strategies to avoid "losing his self".

Laing explains how we all exist in the world as beings, defined by others who carry a model of us in their heads, just as we carry models of them in our heads.

Search for this publication [Amazon] [eBay listings]
---
All The Emperor's Horses by David Kidd, 1960.

In January 1949, when Peking surrendered to the "ever-victorious" Communist army, David Kidd was teaching English at the National Tsinghwa University. He married into an old and distinguished Chinese family.

All the Emperor's Horses is an account of what happened to the Yu family as the Communists took grip of the Chinese aristocracy.

Highly readable and entertaining, but more importantly, an informative account of what the Communist "take-over" meant in terms of human values.

If you have any problems locating this book... it was later retitled 'Peking Story: The Last Days of Old China' - [more details]

Search for this publication [Amazon] [eBay listings]
---
Billy Liar by Keith Waterhouse, 1959.

Keith Waterhouse's Billy Liar was published in 1959, and captures brilliantly the claustrophobic atmosphere of a small town. It tells the story of Billy Fisher, a Yorkshire teenager unable to stop lying - especially to his three girlfriends.

Trapped by his boring job and working-class parents, Billy finds that his only happiness lies in grand plans for his future and fantastical day-dreams of the fictional country Ambrosia.

Search for this publication [Amazon] [eBay listings]
---
The Leopard by Giuseppe Tomasi di Lampedusa, 1958.

Set in the 1860s, The Leopard tells the spellbinding story of a decadent, dying Sicilian aristocracy threatened by the approaching forces of democracy and revolution.

The dramatic sweep and richness of observation, the seamless intertwining of public and private worlds, and the grasp of human frailty imbue The Leopard with its particular melancholy beauty and power, and place it among the greatest historical novels of our time.

Although Giuseppe di Lampedusa had long had the book in mind, he began writing it only in his late fifties; he died at age sixty, soon after the manuscript was rejected as unpublishable. In his introduction, Gioacchino Lanza Tomasi, Lampedusa's nephew, gives us a detailed history of the initial publication and the various editions that followed. And he includes passages Lampedusa wrote for the book that were omitted by the original Italian editors. Here, finally, is the definitive edition of this brilliant and timeless novel.

Search for this publication [Amazon] [eBay listings]
---
On the Road by Jack Kerouac, 1957.

On the Road chronicles Jack Kerouac's years travelling the North American continent with his friend Neal Cassady, "a sideburned hero of the snowy West." As 'Sal Paradise' and 'Dean Moriarty', the two roam the country in a quest for self-knowledge and experience. Kerouac's love of America, his compassion for humanity, and his sense of language as jazz combine to make On the Road an inspirational work of lasting importance.

Kerouac's classic novel of freedom and longing defined what it meant to be "Beat" and has inspired every generation since its initial publication.

Search for this publication [Amazon] [eBay listings]
---
The Hidden Persuaders by Vance Packard, 1957.

Originally published in 1957 and now back in print to celebrate its fiftieth anniversary, The Hidden Persuaders is Vance Packard's pioneering and prescient work revealing how advertisers use psychological methods to tap into our unconscious desires in order to "persuade" us to buy the products they are selling. A classic examination of how our thoughts and feelings are manipulated by business, media and politicians, The Hidden Persuaders was the first book to expose the hidden world of "motivation research", the psychological technique that advertisers use to probe our minds in order to control our actions as consumers.

Through analysis of products, political campaigns and television programmes of the 1950s, Packard shows how the insidious manipulation practices that have come to dominate today's corporate-driven world began. Featuring an introduction by Mark Crispin Miller, The Hidden Persuaders has sold over one million copies, and forever changed the way we look at the world of advertising.

Search for this publication [Amazon] [eBay listings]
---
Room at the Top by John Braine, 1957.

"I was the devil of a fellow, I was the lover of a married woman, I was taking out the daughter of one of the richest man in Warley, there wasn't a damn thing I couldn't do."...

Ruthlessly ambitious, Joe Lampton rises swiftly from the petty bureaucracy of local government into the unfamiliar world of inherited wealth, fast cars and glamorous women. But the price of his success is high. Betrayal and tragedy strike as the original "angry young man" of the 1950s pursues his goals.

Search for this publication [Amazon] [eBay listings]
---
A Grave for a Dolphin by Alberto Denti di Pirajno, 1956.

Duke Alberto Denti di Pirajno was a doctor and administrator in the Italian African colonies before World War II, and based on his experiences, he wrote this popular classic in English.

Amusing, touching, tall stories, they are all delightful. Includes the story of Shambowa who sported with sharks and was loved by a dolphin; Prior of Barentu who could talk to the wart-hogs; Father of the Crocodiles; Hassib, the boy who was driven to distraction by La Reine des Tom-Toms; The condemned man who communed with a bird.

Search for this publication [Amazon] [eBay listings]
---
The Outsider by Colin Wilson, 1956.

The Outsider is the seminal work on alienation, creativity and the modern mind-set. First published over forty years ago, it made its youthful author England's most controversial intellectual.

The Outsider is an individual engaged in an intense self-exploration-a person who lives at the edge, challenges cultural values and "stands for Truth". Born into a world without perspective, where others simply drift through life, the Outsider creates his own set of rules and lives them in an unsympathetic environment. The relative handful of people who fulfilled Wilson's definition of the Outsider in the 1950s have now become a significant social force, making Wilson's vision more relevant today than ever.

Through the works and lives of various artists - including Kafka, Camus, Eliot, Hemingway, Hesse, Lawrence, Van Gogh, Nijinsky, Shaw, Blake, Nietzsche and Dostoevsky - Wilson explores the psyche of the Outsider, his effect on society and society's effect on him. Wilson illuminates the struggle of those who seek not only the transformation of Self but also the transformation of society as a whole. The book is essential for everyone who shares his conviction that "a new religion is needed".

Search for this publication [Amazon] [eBay listings]
---
Lolita by Vladimir Nabokov, 1955.

Humbert Humbert - scholar, aesthete and romantic - has fallen completely and utterly in love with Lolita Haze, his landlady's gum-snapping, silky skinned twelve-year-old daughter. Reluctantly agreeing to marry Mrs. Haze just to be close to Lolita, Humbert suffers greatly in the pursuit of romance; but when Lo herself starts looking for attention elsewhere, he will carry her off on a desperate cross-country misadventure, all in the name of love.

Hilarious, flamboyant, heart-breaking and full of ingenious word play, Lolita is an immaculate, unforgettable masterpiece of obsession, delusion and lust.

Search for this publication [Amazon] [eBay listings]
---
Nineteen Eighty-Four by George Orwell, 1948.

While 1984 has come and gone, Orwell's narrative is timelier than ever. Written in 1948, Nineteen Eighty-Four was George Orwell's chilling prophecy about the future that presents a "negative utopia", that is at once a startling and haunting vision of the world - so powerful that it's completely convincing from start to finish.

No one can deny the power of this novel, its hold on the imaginations of entire generations of readers, or the resiliency of its admonitions - a legacy that seems to grow, not lessen, with the passage of time.

Search for this publication [Amazon] [eBay listings]
---
The Street by Ann Petry, 1946.

The Street tells the poignant, often heartbreaking story of Lutie Johnson, a young black woman, and her spirited struggle to raise her son amid the violence, poverty, and racial dissonance of Harlem in the late 1940s.

Originally published in 1946 and hailed by critics as a masterwork, The Street was Ann Petry's first novel, a beloved bestseller with more than a million copies in print. Its haunting tale still resonates today.

Search for this publication [Amazon] [eBay listings]
---
Black Boy: A Record of Youth and Childhood by Richard Wright, 1945.

At four years of age, Richard Wright set fire to his home; at five his father deserted the family; by six Richard was - temporarily - an alcoholic. Moved from home to home, from brick tenement to orphanage, he had had, by the age of twelve, only one year's formal education.

It was in saloons, railroad yards and streets that he learned the facts about life under white subjection, about fear, hunger and hatred. Gradually he learned to play Jim Crow in order to survive in a world of white hostility, secretly satisfying his craving for books and knowledge until the time came when he could follow his dream of justice and opportunity in the north.

Search for this publication [Amazon] [eBay listings]
---
The Portable Dorothy Parker by Dorothy Parker, 1944.

American short story writer, poet and critic, a legendary figure in the New York literary scene. Dorothy Parker wrote sketches and short stories, many of them published in The New Yorker. She was especially famous for her instant wit and cruel humour.

This collection ranges over the verse, stories, essays, and journalism of one of the twentieth century's most quotable authors.

Search for this publication [Amazon] [eBay listings]
---
The Outsider by Albert Camus, 1942.

'My mother died today. Or maybe yesterday, I don't know.'

In The Outsider, his classic existentialist novel, Camus explores the alienation of an individual who refuses to conform to social norms. Meursault, his anti-hero, will not lie. When his mother dies, he refuses to show his emotions simply to satisfy the expectations of others. And when he commits a random act of violence on a sun-drenched beach near Algiers, his lack of remorse compounds his guilt in the eyes of society and the law. Yet he is as much a victim as a criminal.

Albert Camus' portrayal of a man confronting the absurd, and revolting against the injustice of society, depicts the paradox of man's joy in life when faced with the 'tender indifference' of the world.

Search for this publication [Amazon] [eBay listings]
---
The Day of the Locust by Nathanael West, 1939.

The Day of the Locust is a novel about Hollywood and its corrupting touch, about the American dream turned into a sun-drenched California nightmare.

Nathaniel West's Hollywood is not the glamorous "home of the stars" but a seedy world of little people, some hopeful, some despairing, all twisted by their by their own desires - from the ironically romantic artist narrator to a macho movie cowboy, a middle-aged innocent from America's heartland, and the hard-as-nails call girl would-be-star whom they all lust after.

An unforgettable portrayal of a world that mocks the real and rewards the sham, turns its back on love to plunge into empty sex, and breeds a savage violence that is its own undoing, this novel stands as a classic indictment of all that is most extravagant and uncontrolled in American life.

Search for this publication [Amazon] [eBay listings]
---
The Beano (comic), 1938 -

The Beano is a long running British children's weekly comic which first appeared in 1938. Its iconic characters, such as Dennis the Menace, Minnie the Minx, The Bash Street Kids, The Numskulls, Roger the Dodger, Billy Whizz and Ball Boy, have become known to generations of British children.

Earlier generations will remember other notable characters who have been phased out, such as Ivy the Terrible, Calamity James, The Three Bears and Pansy Potter. Some old characters, like Biffo the Bear, Lord Snooty, Baby Face Finlayson and Little Plum, have more recently made a return as "funsize" quarter-page strips.

The style of Beano humour has shifted noticeably over the years, though the longstanding tradition of anarchic humour has remained.

Search for this publication [Amazon] [eBay listings]
---
The Road to Wigan Pier by George Orwell, 1937.

A searing account of George Orwell's experiences of working-class life in the bleak industrial heartlands of Yorkshire and Lancashire, The Road to Wigan Pier is a brilliant and bitter polemic that has lost none of its political impact over time.

His graphically unforgettable descriptions of social injustice, slum housing, mining conditions, squalor, hunger and growing unemployment are written with unblinking honesty, fury and great humanity.

Search for this publication [Amazon] [eBay listings]
---
Mr. Norris Changes Trains by Christopher Isherwood, 1935.

After a chance encounter on a train the English teacher William Bradshaw starts a close friendship with the mildly sinister Arthur Norris. Norris is a man of contradictions; lavish but heavily in debt, excessively polite but sexually deviant.

First published in 1933 Mr. Norris Changes Trains piquantly evokes the atmosphere of Berlin during the rise of the Nazis.

Search for this publication [Amazon] [eBay listings]
---
English Journey by J.B. Priestley, 1934.

In 1934, J.B. Priestley published an account of his journey through England from Southampton to the Black Country, to the North East and Newcastle, to Lincoln, Norfolk and Norwich. In capturing and describing an English landscape and people hitherto unconsidered, he influenced thinking and attitudes and helped formulate a public consensus for change that led to the formation of the welfare state.

English Journey expresses Priestley's deep love of his native country and teaches us much about the human condition and the nature of Englishness.

Search for this publication [Amazon] [eBay listings]
---
Infants of the Spring by Wallace Thurman, 1932.

Minor classic of the Harlem Renaissance centres on the larger-than-life inhabitants of an uptown apartment building.

The rollicking satire's characters include stand-ins for Langston Hughes, Zora Neale Hurston, and Alain Locke.

Search for this publication [Amazon] [eBay listings]
---
The Bridge by Hart Crane, 1930.

Begun in 1923 and published 1930, The Bridge is Crane's major work. "Very roughly", he wrote to a friend, "it concerns a mystical synthesis of 'America'...

The initial impulses of 'our people' will have to be gathered up toward the climax of the bridge, symbol of our constructive future, our unique identity."

Search for this publication [Amazon] [eBay listings]
---
Vile Bodies by Evelyn Waugh, 1930.

Evelyn Waugh's acidly funny and formally daring satire, Vile Bodies reveals the darkness and vulnerability that lurks beneath the glittering surface of the high life.

In the years following the First World War a new generation emerges, wistful and vulnerable beneath the glitter. The Bright Young Things of Twenties' Mayfair, with their paradoxical mix of innocence and sophistication, exercise their inventive minds and vile bodies in every kind of capricious escapade - whether promiscuity, dancing, cocktail parties or sports cars.

In a quest for treasure, a favourite party occupation, a vivid assortment of characters, among them the struggling writer Adam Fenwick-Symes and the glamorous, aristocratic Nina Blount, hunt fast and furiously for ever greater sensations and the fulfilment of unconscious desires.

Search for this publication [Amazon] [eBay listings]
---
As I Lay Dying by William Faulkner, 1930.

Faulkner's harrowing account of the Bundren family's odyssey across the Mississippi countryside to bury Addie, their wife and mother.

Told in turns by each of the family members - including Addie herself - the novel ranges in mood from dark comedy to the deepest pathos.

Search for this publication [Amazon] [eBay listings]
---
The 42nd Parallel by John Dos Passos, 1930.

With his U.S.A. trilogy, comprising The 42nd Parallel, 1919, and The Big Money, John Dos Passos is said by many to have written the great American novel. While Fitzgerald and Hemingway were cultivating what Edmund Wilson once called their "own little corners", John Dos Passos was taking on the world.

Counted as one of the best novels of the twentieth century by the Modern Library and by some of the finest writers working today, U.S.A. is a grand, kaleidoscopic portrait of a nation, buzzing with history and life on every page.

The trilogy opens with The 42nd Parallel, where we find a young country at the dawn of the twentieth century. Slowly, in stories artfully spliced together, the lives and fortunes of five characters unfold. Mac, Janey, Eleanor, Ward, and Charley are caught on the storm track of this parallel and blown New Yorkward. As their lives cross and double back again, the likes of Eugene Debs, Thomas Edison, and Andrew Carnegie make cameo appearances.

Search for this publication [Amazon] [eBay listings]
---
Berlin Alexanderplatz by Alfred Döblin, 1929.

Translation by Anne Thompson of Alfred Döblin's masterpiece set in 1920s Berlin towards the end of the jazz and music-hall era of the Roaring Twenties.

Franz Biberkopf is released after four years in prison for killing his girlfriend in a fit of rage. He makes a vow that he will go straight and lead a decent life, but his corrupt environment makes it impossible and despite all his efforts he is plunged step by step into the louche underworld of gangsters, prostitutes and pimps.

Anne Thompson's translation captures the atmosphere of cosmopolitan Berlin towards the end of the Weimar Republic, and of the life of Berliners in the streets of the working-class area of Berlin around the Alexanderplatz square.

Search for this publication [Amazon] [eBay listings]
---
Passing by Nella Larsen, 1929.

First published to critical acclaim in 1929, Passing firmly established Nella Larsen's prominence among women writers of the Harlem Renaissance.

An electrifying story of two women who cross the colour line in 1920s New York - together with a new Introduction by the Obie Award-winning playwright and novelist Ntozake Shange.

Irene Redfield, the novel's protagonist, is a woman with an enviable life. She and her husband, Brian, a prominent physician, share a comfortable Harlem town house with their sons. Her work arranging charity balls that gather Harlem's elite creates a sense of purpose and respectability for Irene. But her hold on this world begins to slip the day she encounters Clare Kendry, a childhood friend with whom she had lost touch. Clare - light-skinned, beautiful, and charming - tells Irene how, after her father's death, she left behind the black neighbourhood of her adolescence and began passing for white, hiding her true identity from everyone, including her racist husband. As Clare begins inserting herself into Irene's life, Irene is thrown into a panic, terrified of the consequences of Clare's dangerous behaviour. When Clare witnesses the vibrancy and energy of the community she left behind, her burning desire to come back threatens to shatter her careful deception.

Brilliantly plotted and elegantly written, Passing offers a gripping psychological portrait of emotional extremity.

Search for this publication [Amazon] [eBay listings]
---
Lady Chatterley's Lover by D.H. Lawrence, 1928.

Lady Chatterley's Lover was banned on its publication in 1928, creating a storm of controversy.

Lawrence tells the story of Constance Chatterley's marriage to Sir Clifford, an aristocratic and an intellectual who is paralyzed from the waist down after the First World War. Desperate for an heir and embarrassed by his inability to satisfy his wife, Clifford suggests that she have an affair. Constance, troubled by her husband's words, finds herself involved in a passionate relationship with their gamekeeper, Oliver Mellors.

Lawrence's vitriolic denunciations of industrialism and class division come together in his vivid depiction of the profound emotional and physical connection between a couple otherwise divided by station and society.

Search for this publication [Amazon] [eBay listings]
---
The Great Gatsby by F. Scott Fitzgerald, 1925.

The Great Gatsby, F. Scott Fitzgerald's third book, stands as the supreme achievement of his career. This exemplary novel of the Jazz Age has been acclaimed by generations of readers.

The story of the fabulously wealthy Jay Gatsby and his love for the beautiful Daisy Buchanan, of lavish parties on Long Island at a time when The New York Times noted "gin was the national drink and sex the national obsession", it is an exquisitely crafted tale of America in the 1920s. The Great Gatsby is one of the great classics of twentieth-century literature.

Search for this publication [Amazon] [eBay listings]
---
The Waste Land by T.S. Eliot, 1922.

April is the cruellest month, breeding
Lilacs out of the dead land, mixing
Memory and desire, stirring
Dull roots with spring rain ...

Published in 1922, The Waste Land was the most revolutionary poem of its time, offering a devastating vision of modern civilisation which has lost none of its power as we enter a new century.

Search for this publication [Amazon] [eBay listings]
---
BLAST (magazine), edited by Wyndham Lewis, 1914-15.

Blast was the short-lived literary magazine of the Vorticist movement in Britain. Two editions were published: the first on 2nd July 1914 (dated 20th June 1914, but publication was delayed) and published with a bright pink cover, referred to by Ezra Pound as the "great MAGENTA cover'd opusculus"; and the second a year later on 15th July 1915.

Both editions were written primarily by Wyndham Lewis. The magazine is emblematic of the modern art movement in England and recognised as a seminal text of pre-war 20th-century modernism.

Search for this publication [Amazon] [eBay listings]
---
McTeague by Frank Norris, 1899.

Frank Norris' graphic portrayal of the seamy side of survival in turn-of-the-century urban America remains shocking and powerful today - and its conclusion just as harrowing.

McTeague's final flight into the desert is the central image of many a classic Western, and the shocking conclusion, now a cliché copied by countless other storytellers, first made its appearance in this classic novel.

Search for this publication [Amazon] [eBay listings]
---
Transcendental Magic, Its Doctrine and Ritual by Eliphas Lévi, 1896.

A discussion that covers almost the entire realm of Ritual and High Magic. Translated by A.E. Waite.

Its famous opening lines present the single essential theme of Occultism and gives some of the flavour of its atmosphere: "Behind the veil of all the hieratic and mystical allegories of ancient doctrines, behind the darkness and strange ordeals of all initiations, under the seal of all sacred writings, in the ruins of Nineveh or Thebes, on the crumbling stones of old temples and on the blackened visage of the Assyrian or Egyptian sphinx, in the monstrous or marvellous paintings which interpret to the faithful of India the inspired pages of the Vedas, in the cryptic emblems of our old books on alchemy, in the ceremonies practised at reception by all secret societies, there are found indications of a doctrine which is everywhere the same and everywhere carefully concealed." (From the Introduction).

Lévi's version of magic became a great success, especially after his death. That Spiritualism was popular on both sides of the Atlantic from the 1850s contributed to this success. His magical teachings were free from obvious fanaticisms; he had nothing to sell, and did not pretend to be the initiate of some ancient or fictitious secret society. He incorporated the Tarot cards into his magical system, and as a result the Tarot has been an important part of the paraphernalia of Western magicians. He had a deep impact on the magic of the Hermetic Order of the Golden Dawn and later on the ex-Golden Dawn member Aleister Crowley. He was also the first to declare that a pentagram or five-pointed star with one point down and two points up represents evil, while a pentagram with one point up and two points down represents good. It was largely through the occultists inspired by him that Lévi is remembered as one of the key founders of the twentieth century revival of magic.

Search for this publication [Amazon] [eBay listings]
---
Les Chants de Maldoror by Comte de Lautréamont, 1869.

Maldoror is a long narrative prose poem which celebrates the principle of Evil in an elaborate style and with a passion akin to religions fanaticism.

The French poet-critic Georges Hugnet has written of Lautréamont: "He terrifies, stupefies, strikes dumb. He could look squarely at that which others had merely given a passing glance."

When first published in 1868-69, Maldoror went almost unnoticed. But in the 1890s the book was rediscovered and hailed as a work of genius by such eminent writers as Huysmans, Léon Block, Maeterlinck, and Rémy de Gourmont. Later still, Lautréamont was to be canonised as one of their principal "ancestors" by the Paris surrealists.

This edition, translated by Guy Wernham, includes also a long introduction to a never-written, or now lost, volume of poetry. Thus, except for a few letters, it gives all the surviving literary work of Lautréamont.

Search for this publication [Amazon] [eBay listings]
---
Madame Bovary by Gustave Flaubert, 1856.

When Emma Rouault marries Charles Bovary she imagines she will pass into the life of luxury and passion that she reads about in sentimental novels and women's magazines. But Charles is a dull country doctor, and provincial life is very different from the romantic excitement for which she yearns. In her quest to realise her dreams she takes a lover, and begins a devastating spiral into deceit and despair.

Flaubert's novel scandalised its readers when it was first published in 1857, and it remains unsurpassed in its unveiling of character and society.

Search for this publication [Amazon] [eBay listings]
---
Zanoni: A Rosicrucian Tale by Edward Bulwer-Lytton, 1842.

The seven parts of this novel give an indication of a sevenfold path of spiritual development lying behind the story itself.

The fourth section, titled 'The Dweller of the Threshold', is a highly significant expression of profound occult facts and experiences that can be recognised as true by anyone possessing a degree of spiritual insight. This book is one of the finest examples of spiritual fiction.

Search for this publication [Amazon] [eBay listings]
---
Inferno (from the Divine Comedy) by Dante Alighieri, about 1308-1321.

Guided by the poet Virgil, Dante plunges to the very depths of Hell and embarks on his arduous journey towards God. Together they descend through the twenty-four circles of the underworld and encounter the tormented souls of the damned - from heretics and pagans to gluttons, criminals and seducers - who tell of their sad fates and predict events still to come in Dante's life.

In this first part of his Divine Comedy, Dante fused satire and humour with intellect and soaring passion to create an immortal Christian allegory of mankind's search for self-knowledge and spiritual enlightenment.

Search for this publication [Amazon] [eBay listings]
---
The Iliad by Homer, about 800 BC.

This groundbreaking English version by Robert Fagles is the most important recent translation of Homer's great epic poem. The verse translation has been hailed by scholars as the new standard, providing an Iliad that delights modern sensibility and aesthetic without sacrificing the grandeur and particular genius of Homer's own style and language.

The Iliad is one of the two great epics of Homer, and is typically described as one of the greatest war stories of all time, but to say The Iliad is a war story does not begin to describe the emotional sweep of its action and characters: Achilles, Helen, Hector, and other heroes of Greek myth and history in the tenth and final year of the Greek siege of Troy.

Search for this publication [Amazon] [eBay listings]
---

If like me, you are doing your very own 'David Bowie Book Club' and working your way through these 100 David Bowie recommended publications, here is a downloadable plain text file so you can keep a handy up-to-date list as you read them.
If you are a collector who prefers first editions, updated or foreign editions, or just want to pick up a bargain, check out the eBay listings.