BOWIE TV and WHAT'S REALLY HAPPENING IN JULY - MONTHLY PLANNER

[BOWIEWONDERWORLD SHOP] [LATEST DAVID BOWIE ITEMS ON eBAY]

Got some DAVID BOWIE related news or a hot scoop?
Well don't just sit there keeping it to yourself send it in to
All news items are credited if you so wish


---
NME ORIGINALS: GLAM ISSUE OUT NOW!
30th July 2004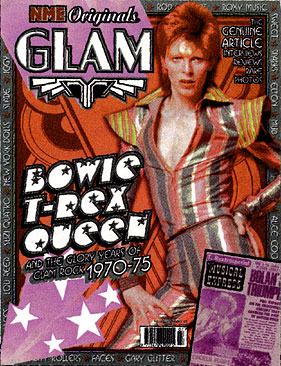 The latest copy of NME ORIGINALS is all about the seventies and the rise of glam! DAVID BOWIE features heavily in this issue, as well as appearing on the rather psychedelic cover - his career is chronicled in great detail, along with the other greats such as Iggy, Marc Bolan and Lou Reed.

Steve Sutherland: "Take a stylish stroll through the early '70s when boys would be girls and girls would be boys and the whiff of teen revolution was scaring the loon pants off the revered elders of rock. Lovingly lifted from the world famous archives of NME and Melody Maker, GLAM charts the irresistible rise of David Bowie as he created then cast aside Ziggy Stardust, stopping along the way to gape in awe at the genius of the bopping elf Marc Bolan and his hitmungous T Rex. Others whose interviews, reviews, news and gossip stories feature in GLAM include Queen, Sparks, Slade, Suzi Quatro, Gary Glitter, Iggy Pop, Lou Reed, Rod Stewart, The Faces and The New York Dolls.

So come on, get it on with all the young dudes." Price: £5.50.

From IPC Media.

---
MUSICAL STORYLAND ARTWORK FOR CHARITY
30th July 2004

OFFICIAL PRESS RELEASE: FOR IMMEDIATE RELEASE:



Artwork rendering David Bowie's 1960's era music will raise money for children's charities



The original artwork from children's book Musical Storyland: A sing-along book with Musical Disc will be for sale to the public beginning August 3, 2004. Renderings from this illustrated children's book based on lyrics and music by David Bowie consist of ten 24" x 30" framed, acrylic on canvas paintings.

The paintings portray illustrator Jamilla Naji's interpretation of 1960's era David Bowie recordings including; Uncle Arthur, Rubber Band, There Is A Happy Land, Did You Ever Have A Dream, Sell Me A Coat, Come And Buy My Toys, Maid Of Bond Street, Love You Till Tuesday, When I Live My Dream and Ching-A-Ling.

Each of the ten paintings will retail for $5,000.00. Buyers must agree to donate fifty per cent ($2,500.00) of their purchase price to a children's charity or fund of their choice. Buyers will receive the tax deduction for the donation if applicable. Illustrator Jamilla Naji states, "Being able to donate proceeds to causes that help children makes my work truly rewarding. There is no greater venture than one that helps improve the lives of others. That was the intent behind this project from the beginning and what inspired me to complete the book even when things became difficult and overwhelming."

Jamilla commented that book sales are going well. Baker and Taylor Books and Worlds In Ink Publishing, Inc. are the primary distributors. Musical Storyland is most popular among David Bowie fans, parents and libraries. Book and music collectors are also making purchases due to the limited print run of this single edition. Jamilla's life long admiration for the 1960's era music compelled her to work full time on this book for almost three years. She is happy to be introducing some of what she considers to be David Bowie's greatest work to a new, younger audience. David Bowie's ingenious, captivating lyrics and irresistibly catchy tunes make reading fun.

"The book is absolutely beautiful. Jamilla Naji's charming illustrations are in tune with the quirky wit of David Bowie's often ignored 1960's songs, which she treats with a love, warmth and sensitivity that are genuinely touching." - Nicholas Pegg - Author of The Complete David Bowie.

To inquire regarding the purchase of original artwork from Musical Storyland, contact: or phone (619) 994-0041.

To purchase books signed by Jamilla Naji, go to the www.MusicalStoryland.com web site.

CONTACT:
Jamilla Naji
Phone: (619) 994-0041
Email:


---
MIKE GARSON TURNS 59
29th July 2004

It was on this day in 1945 - 59 years ago - that MIKE GARSON entered the stage of life for his biggest show yet. From his early days in Brooklyn to his global travels with DAVID BOWIE, Mike has made a positive impact on the world in which he lives. Whether assuming the role of Papa or Pianoman, Mike embraces each day with optimism, energy and originality.

"If I am truly passionate about and love what I do, I believe that feeling can be transmuted to and inspire the people who receive my art," says Mike.

To celebrate this special day www.mikegarson.com have launched a revised bio of Mike that includes everything he has accomplished in recent months - and plans to tackle in the foreseeable future. To read the bio, visit www.mikegarson.com now!

Congratulations on 59 wonderful years, Mike - the best is yet to come! Stay tuned for exciting new content additions in the next few weeks and a unique promotional tie-in to his upcoming 60th birthday!

From the Mike Garson Gazette.

To subscribe to the List Delivery: Send a message to with the word 'subscribe' in the Subject field.


---
DAVID OUT AND ABOUT
29th July 2004

Several UK newspapers also reported today the news that DAVID BOWIE out and about around Chinatown in New York City, including The Sun, The Daily Telegraph, The Daily Mirror, The Daily Express and The Daily Star.

Most included large colour photographs and similar reports to the one published yesterday in the Evening Standard.

Articles:
The Sun: Spice Oddity For Bowie - [Read here]
The Scotsman: Bowie back on form in wake of heart op - [Read here]
XFM: Walking In The Street Bowie's Up and About - [Read here]


---
DUBLIN DVD RELEASE DETAILS
29th July 2004

The DAVID BOWIE 'A Reality Tour' live DVD release has been confirmed for late September (20th) by Sony. The 30-track single DVD (Cat. No: 2024189) was filmed over two nights in Dublin last November on 22nd and 23rd and comes complete with a Rex Ray designed cover, a ten page booklet and all the usual DVD gubbins.

The tracklisting runs as follows:

Rebel Rebel
New Killer Star
Reality
Fame
Cactus
Sister Midnight
Afraid
All The Young Dudes
Be My Wife
The Loneliest Guy
The Man Who Sold The World
Fantastic Voyage
Hallo Spaceboy
Sunday
Under Pressure
Life On Mars?
Battle For Britain (The Letter)
Ashes To Ashes
The Motel
Loving The Alien
Never Get Old
Changes
I'm Afraid Of Americans
"Heroes"
Bring Me The Disco King
Slip Away
Heathen (The Rays)
Five Years
Hang On To Yourself
Ziggy Stardust


---
DAVID FEELING HUNKY DORY
28th July 2004

Great news reported in today's EVENING STANDARD newspaper was the following story covering DAVID BOWIE's first public appearance since his recent health scare...



David Bowie emerged from his New York apartment today for the first time since recovering from an emergency heart operation.

The 57-year-old singer walked alone around the streets of the Chinatown district and shook hands with shoppers who congratulated him on his speedy recovery only one month after lifesaving surgery.

Bowie, wearing a cowboy hat, also popped into a health food shop to stock up on tea and a variety of ancient Chinese remedies.

He cancelled his European tour at the end of last month with what was believed to be a trapped nerve. But during a hospital check-up doctors discovered a blocked coronary artery. It was serious enough for doctors in Germany to operate immediately.

Bowie, a former heavy smoker, was operated on at St Georg Hospital in Hamburg on 26 June and returned to New York two weeks later. He has since been resting in bed at his SoHo apartment where staff said he was "very poorly". His wife, model Iman, was at his bedside.

Today, as he strolled around the streets near his home. an onlooker said he looked a picture of health. "David looks fantastic. He was chatting and shaking everyone's hands. People were genuinely surprised and excited to see him. You wouldn't have believed by looking at him that he had major heart surgery a month ago."

News of the operation did not emerge until after Bowie had checked out of hospital. The star released a statement in which he said he was disappointed "because the last 10 months of this tour have been so fantastic. Can't wait to be fully recovered and get back to work again. I tell you what, though, I won't be writing a song about this one."

However, sources close to the singer admitted he had felt "run down" on the tour. "He missed his family and he was tired," said one source.

Patients with heart disease sometimes do not know they have it until they have a full-blown heart attack.

By Richard Simpson (Evening Standard).

WireImage were on hand to snap some shots of David shopping yesterday in New York City's Chinatown, watching Mah Jong players and talking to well-wishers on the street - [View here]

Daily Record: Bowie Pops Out For A Big Apple - [Read here]
NME: Bowie's Back - [Read here]


---
HAPPY BIRTHDAY IMAN!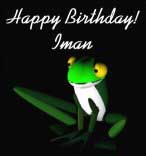 25th July 2004
To Iman
Wishing you a very Happy Birthday
Have a wonderful day

Best wishes from
Paul and Family and everyone at BowieWonderworld


---
"WHAM BAM! THANK YOU MAAM!"
22nd July 2004

BACKSTAGE AUCTIONS INC. are proud to present the 2004 Classic Rock Auction featuring the Personal Collection of Legendary Producer EDDIE KRAMER. The auction, which started on July 18th, is now running LIVE until August 1st, 2004.

There are several lots featuring exclusive one-off DAVID BOWIE items:

LOT 122: DAVID BOWIE 1974 PHILADELPHIA "LIVE" RECORDINGS


Category: David Bowie
Type of Item: Tapes and Reels
Current Bid: $500.00
Price Realised: $1,071.77

Eddie Kramer was retained to record/engineer David's performance at the Tower Theatre in Philadelphia (July 1974), for what eventually became David's first live album, simply titled "David Live". This lot contains all 4 demo tapes for the live album. Specifics:

- 1/4" Recording Tape, 7" Reel, 7 1/2 IPS, Bowie Live 1974, Tower/Philly, 1 of 4
- 1/4" Recording Tape, 7" Reel, 7 1/2 IPS, Bowie Live 1974, Tower/Philly, 2 of 4
- 1/4" Recording Tape, 7" Reel, 7 1/2 IPS, Bowie Live 1974, Tower/Philly, 3 of 4
- 1/4" Recording Tape, 7" Reel, 7 1/2 IPS, Bowie Live 1974, Tower/Philly, 4 of 4


LOT 123: DAVID BOWIE 1974 "WHAM BAM" ALBUM ACETATES
Category: David Bowie
Type of Item: Acetate and Test Pressing
Current Bid: $200.00
Price Realised: $1,035.19



The Bowie songbook sparkles on David Live. The first of his official live albums found the artist in mid morphing, half decadent diamond dog and half bedazzling dabbler in the disco scene. To suit his newfound sensibilities, David Live chooses from his back catalogue with care, arriving with armfuls from his last two albums (Diamond Dogs, Aladdin Sane). As those albums found David cultivating a persona as an androgynous cabaret singer from the future, this double album didn't endear itself to listeners who simply wanted Bowie to rock out. But fans had learned to embrace the artist in all his guises, even when he was swooning over some "Sweet Thing". The album is drawn from concerts recorded during the middle of July 1974 at the Tower Theatre, Philadelphia. This lot contains both acetates for the "David Live" album. Specifics:

- Two 2-sided acetates
- Sterling Sound Studios 8/20/1974
- Album initially titled "Wham Bam! Thank You Maam!"
- Protective sleeves carry hand written comments by Eddie Kramer


LOT 124: DAVID BOWIE 1960s & 1970s ACETATES, SEALED PROMOTIONAL VINYL
Category: David Bowie
Type of Item: Acetate and Test Pressing
Current Bid: $250.00
Price Realised: $1,980.00




Following the release of the "David Live" album, a single was released in September of 1974 ("Knock on Wood" / "Panic in Detroit"). This lot contains the following items:

- Acetate (one-sided) 10", Knock On Wood Live, Sterling Music (9/74)
- Acetate (one-sided) 10", Panic In Detroit Live, Sterling Music (9/74)

Further, in preparation for his involvement with the "David Live" album, Eddie Kramer received a selection of David's discography. Interestingly enough, the albums remained sealed:



- Vinyl, Space Oddity, RCA, 1969, Sealed, Promo
- Vinyl, Hunky Dory, RCA, 1971, Sealed, Promo
- Vinyl, Ziggy Stardust, RCA Victor, 1972, Sealed, Promo
- Vinyl, The Man Who Sold The World, RCA, 1972, Sealed
- Vinyl, Bowie Pinups, RCA, 1973, Sealed, Promo
- Vinyl, Diamond Dogs, RCA, 1974, Sealed, Promo
- Vinyl, Let's Dance, EMI America, 1983


LOT 210: THE SIMMS BROTHERS RECORDINGS ACETATES TEST PRESSINGS
Category: Other Artists A-Z, The Simms Brothers
Type of Item: Tapes and Reels
Starting Bid: $100.00


The Simms Brothers (George and Frank) were a widely respected singing duo in the 70's, best known for their background vocal performances on albums by Billy Joel, David Bowie, Cindy Lauper, Peter Wolf, Jeff Beck, Madonna, Sheena Easton, Roberta Flack, Debbie Gibson, INXS, Ace Frehley of Kiss. In 1979, the Simms Brothers ventured out on their own with a self-titled debut album, followed by a 2nd successor in 1980, titled "Attitude". Eddie Kramer worked with the Simms Brothers on their "Attitude" album. The auction lot includes:

- 1/4" Recording Tape, 7" Reel, 7 1/2 IPS, Side One "Attitude", 2-track
- 1/4" Recording Tape, 7" Reel, 7 1/2 IPS, Side Two "Attitude", 2-track
- Acetates "Attitude" (one-sided), 6/6/80, Side One - 5 tracks, Side Two - 5 tracks, Sterling Sound
- Acetate "Attitude", 6/19/80, Side One - 5 tracks, Side Two - 5 tracks, Sterling Sound
- Test Pressing "Attitude", 7/17/80, Specialty Records
- Test Pressing "Attitude", 7/11/80, Specialty Records
- 45 Rpm Test Pressing, 10/21/80
- 45 Rpm Test Pressing, 10/20/80
- Vinyl, Attitude, Elektra, 1980, Promo Copy, Sealed


Available for download, the 2004 Classic Rock Auction full text catalogue which lists each of the auction lots by number and title description. The downloadable catalogue file is in PDF format which requires Adobe Acrobat Reader to view.

To download the catalogue click on the following: [2004 Classic Rock Auction Catalogue]

For more information, how to bid and register visit backstageauctions.com and check out the items.


---
I DIG EVERYTHING
19th July 2004

'I DIG EVERYTHING' is a brand new regular London club nite opening it's doors for the very first time at the end of this month.

The opening FREE launch night is dedicated to the one and only DAVID BOWIE on Saturday 31st July at The Lincoln Lounge, 52 York Way, Kings Cross, London N1. Doors open at 7pm till late - get there before 11pm.

More information can be found via www.idigeverything.co.uk - check it out now.

From Owen (Sergeant Rock).

---
THE GREAT BRITISH MUSIC DEBATE
18th July 2004

Next Wednesday, STUART MACONIE hosts The Great British Music Debate 2004 on BBC RADIO 2 at 19:00pm until 22:00 GMT. The 3-hour programme features contributions from the likes of Mica Paris, Zoe Ball and Paul Gambaccini. This live studio discussion will take in everything from downloading music and ring-tones to declining sales and the sterility of the charts, in an attempt to gauge the current state of what used to be one of our most vibrant creative industries.

The programme features a discussion before a live studio audience, along with specially recorded sessions from DAVID BOWIE, Pet Shop Boys and Elvis Costello, as well as documentaries designed to provoke listeners' comments and questions.

More information can be found at www.bbc.co.uk/radio2/events/greatdebate2004/


---
AND THE BITS FLEW FAR AND WIDE
17th July 2004

LOU REED looks well set for a return to the UK singles chart with the July 19th release by NuLife/BMG of a pop remix of Satellite Of Love, originally produced by DAVID BOWIE and MICK RONSON on Reed's classic 1972 album 'Transformer'. This new mix, by London team Dab Hands, has been personally approved by Reed. As you all may or not know, what actually makes this a cracking song is David's soaring backing vocals. Simply awesome...

DAVID BOWIE leads year's tour earnings by raking in $45.4m (£22.3m) from his now abandoned tour in the first six months of 2004, the highest total for any musician this year. The 82 dates David performed were seen by about 722,000 fans, according to Billboard magazine. Since the figures reflect shows between November 19, 2003, and May 18, 2004, Bowie's numbers were not affected by last month's cancellation of the last 10 days of his European tour...

As reported a while back, LIVE AID is to finally get a DVD release. The concert held at London's Wembley Stadium and JFK Stadium in Philadelphia is scheduled for release on 1st November 2004 by Warner Vision International. The four-DVD set will feature over ten hours of performances, re-mastered in surround sound and a new backstage documentary entitled 'Food, Trucks and Rock 'N' Roll'. The rights for the release were finally sorted out this year, mainly due to chief organiser Bob Geldof's annoyance at the amount of bootleg DVD's flooding the market...

In almost two decades together, Chilean rockers LA LEY have established themselves as one of the most successful and relevant Spanish rock bands in the world. From South America to Europe, the band has a loyal following with fans who have filled stadiums to see the trio perform. In a recent interview, lead singer Beto Cuevas spoke to The Desert Sun newspaper and when asked 'What musicians would you like to work with in the future?' he announced: "I would like to work with DAVID BOWIE. He's great and we can learn from him..."

MASSIVE Entertainment has released a 183MB single-player demo of its forthcoming DAVID BOWIE-themed 3D real-time strategy title, Ground Control II: Major Tom...


---
REPETITIONBOWIE.COM
13th July 2004

Check out REPETITIONBOWIE.COM where you will find singer/musician GIOVANNI PERINI, who along with some friends from many parts of Italy have created a web site dedicated to DAVID BOWIE.

The web site includes around thirty cover versions of his songs, mostly made by Italian fans, except for one English and one American.

From Giovanni, Udine Italy @ www.repetitionbowie.com - (Gianluca Maria Sorace).

---
BOWIE DAY ON BBC 6 MUSIC
11th July 2004

If you missed any of yesterday's DAVID BOWIE Day on BBC 6 MUSIC Radio you can listen to MARC RILEY's interview with David, one hour's worth of Bowie live from the John Labatt Centre, London, Ontario, Canada, (14th May), as well as Part 1 of the David Bowie Story by visiting www.bbc.co.uk/6music/artists/bowie.shtml.

During Marc Riley's Rocket Science show, Bury based band ELBOW performed an excellent version of 'The Bewlay Brothers' and IAN McCULLOCH did a special performance of 'Changes'. Hopefully you will be able to listen to these songs again on the Rocket Science web page on the next update.

Also yesterday on the LIZ KERSHAW show, there were interviews with Tony Visconti and Mick Rock. Visit Liz Kershaw's web page where you can hear the interview with Tony and the full show.


---
"GROUND CONTROL TO MAJOR TOM"...
11th July 2004



It was lift-off thirty-five years ago today when DAVID BOWIE first released his most famous worldwide million selling smash hit 'SPACE ODDITY' on the Philips and Mercury labels.

Originally released in mono sound and then followed by a stereo version, the song is frequently mistakenly titled "Ground Control To Major Tom" to your average Joe on the street. Strangely, the song holds probably one of the most unique and quirky music trivia facts of all time... in total the single release of 'Space Oddity' took 6 years and 63 days to eventually reach the No. 1 spot!

First released on the Philips label in Europe (BF1801) and Mercury in the US, it wasn't until it was re-released by RCA Records (RCA 2593) that it eventually hit the top spot in the UK and USA. RCA as part of their Maximillion Series, re-released the track backed with 'Changes' and the previously unissued 'Velvet Goldmine' on 26th September 1975. In the UK it took only a month to reach the number one spot where it remained for an unstoppable three weeks. Velvet Goldmine was released without David's consent and mixed by person or persons unknown, much to David's disapproval.

The musicians of the original release were: David Bowie (vocals, 12 string acoustic guitar, Stylophone), Herbie Flowers (bass), Terry Cox (drums), Mick Wayne (electric guitar) and Rick Wakeman (keyboards).

David also recorded a version in Italian titled 'Ragazzo Solo, Ragazza Solo', which literally means 'Lonely Boy, Lonely Girl' on the Philips label (BW704 208).

In February 1980, RCA also released an alternative acoustic version appearing on the B-side of 'Alabama Song' (RCA BOW5). The album Scary Monsters (And Super Creeps) was recorded in two periods, February 1979 in New York and finished in April/May 1979 in London, with the acoustic version of Space Oddity first publicly aired on The Kenny Everett 'New Year' Show on 31st December 1979. The video footage, showing David in the now familiar surroundings of the yet-to-be released 'Ashes To Ashes' promo video.

Tony Visconti said last year: "The acoustic version of 'Space Oddity' was recorded for the Kenny Everett show later in 1979, and was never meant to be a single. Andy Duncan is on drums and a Bowie look-a-like, Zaine Griff, is on bass. I temporarily forget the pianist. David, again, played 12 string.

"Another little known fact is that David never owned his 12 string that he played on 'Space Oddity' and 'The Man Who Sold The World'. It was borrowed from a friend. He now owns his own 12 string."

The single contained the immortal groove out words "Sorry Gus" scratched in by producer Tony Visconti as a tribute to the original producer Gus Dudgeon.


---
TRIBUTE BAND SEEKS MUSICIANS
10th July 2004

'Secret Life' - a DAVID BOWIE tribute band hailing from New York are looking for members in any of New York City's 5 boroughs.

Knowledge or a willingness to learn Carlos Alomar and Mick Ronson era material is required, although they intend to play music from almost every era.

Eventually the band will develop to be able to play their own material. For further information visit this website: www.anzwers.org/trade/secretlife - look under 'Band' for a list of positions that are currently open/available.

From Blackout_NYC.

---
DAVID FINE AFTER EMERGENCY HEART SURGERY
8th July 2004

DAVID BOWIE underwent emergency heart surgery last month but is now out of hospital and convalescing at home with his family, his publicist said on Thursday.

David had emergency angioplasty surgery for a blocked artery at a hospital in Germany after seeking treatment for a pinched nerve during a concert tour, publicist Mitch Schneider said in a statement.


---
DB TV AND RADIO FOR JULY
4th July 2004

Several television and radio appearances by DAVID BOWIE this month include:

4th July - VIRGIN RADIO: Virgin Superstars: David Bowie interview with Ben Jones on between 18:00 and 19:00pm GMT. Tune in and listen online from anywhere in the world.

7th July - THE AMP The Story of David Bowie, starting: 23:00 GMT for 1 hour, UK TV.


10th July - LIZ KERSHAW David Bowie Day, BBC 6 Radio Music, UK, starts with Liz Kershaw show at 11:00am till 14:00pm GMT.

10th July - ROCKET SCIENCE: MARC RILEY David Bowie Day, BBC 6 Radio Music, UK, 14:00pm till 17:00 GMT.

10th July - DAVID BOWIE IN CONCERT John Labatt Centre, London, Ontario, Canada (concert from 14th May). BBC 6 Radio Music, UK, 17:00pm till 18:00pm.

10th July - GOLDEN YEARS: THE DAVID BOWIE STORY Mark Goodier, BBC 6 Radio Music, UK, 18:00pm till 19:00pm GMT.

Tune in and listen online from anywhere in the world.


14th July - AIRPORT Documentary featuring David Bowie, UKTV People, UK, 11:00, 14:00, 17:00 and 20:00 GMT.

15th July - DER MANN, DER VOM HIMMEL FIEL (The Man Who Fell To Earth), ARTE, Germany, 20:45 CET.

21st July - HURRICANE FESTIVAL 2004 ARTE, Germany, 22:40 CET.

And if you can read German. More details... Hurricane Festival 2004: Das Open-Air-Event des Jahres findet Ende Juni am Eichenring in Scheeßel zwischen Bremen und Hamburg statt. Internationale Stars der Rock- und Popmusik, wie David Bowie und Die Fantastischen Vier, sowie zahlreiche Newcomer präsentieren sich auf zwei Bühnen ihren Fans.

Es ist das Open-Air-Event des Jahres, und alle kommen: Im Norden Deutschlands, auf dem so genannten "platten Land" zwischen Bremen und Hamburg, treffen sich Ende Juni etwa 30 der angesagtesten internationalen Rock- und Popgruppen zu einem dreitägigen Festival am Eichenring in Scheeßel. David Bowie, Placebo, Die Fanstastischen Vier, Pixies und The Hives gehören genauso zum sensationellen "line up" auf den beiden Bühnen wie Newcomer und Chartstürmer der jüngsten Zeit, unter ihnen "Franz Ferdinand" und die "Sportfreunde Stiller". Die Moderatorin und Schauspielerin Minh-Khai Phan-Thi und der Popmusik-Experte Ray Cokes präsentieren exklusiv für ARTE einen aufregenden Festivalabend vom "Hurricane Festival" mit Live-Auftritten der wichtigsten Bands, Festivalimpressionen und Hintergrundgesprächen mit Stars und Fans.


---
ZIGGY'S LAST STAND...
3rd July 2004

July 3rd 1973: Thirty-one years ago today at the Hammersmith Odeon in London, DAVID BOWIE laid to rest his persona 'Ziggy Stardust' and retired from live performing.

When the kids had killed the man, he had to break up the band. At the time fans didn't realise it was Ziggy and not David himself announcing the now legendary statement: "Of all the shows on this tour this show will remain with us the longest because... because not only is it the last show of the tour, but it's the last show we'll ever do. Thank you."

This momentous performance was released on DVD which features remastered footage and new stereo and 5.1 mixes by Tony Visconti, as well as a commentary by Visconti and the director D.A. Pennebaker.


---
FANS ROCKED BY BOWIE PULL-OUT
2nd July 2004

Thousands of T in the Park fans will be devastated after hearing that this year's main headliner, DAVID BOWIE, has pulled out at the last minute.

The legendary rock star - who was due to finish Saturday's show - has a trapped nerve in his shoulder and has cancelled all his European dates this summer.

It means that many of his devoted, but disappointed, followers will still be going to the two-day festival at Balado, Kinross-shire, which takes place on the weekend of July 10 and 11. Tickets are non-refundable and the event is a complete sell-out, with 120,000 briefs being snatched in record time.

Geoff Ellis, chief executive officer of Big Day Out, expressed his sadness at the shock announcement, which follows hard on the heels of last year, when White Stripes called off late.

"We're very disappointed that David Bowie is unable to perform and we were all looking forward to seeing him. We know David is saddened he can't appear but he is in a lot of pain. He is not a person who cancels gigs easily."

A spokesman for Bowie said: "David, and everyone involved with the tour, is very sorry for the hardship this difficult decision may have caused. We realise that many fans will have lost money on non-refundable travel and festival tickets.

"But anybody who knows David will understand he doesn't take these decisions lightly."

From icperthshire.icnetwork.co.uk.

---
REMAINING BOWIE SHOWS CANCELLED
1st July 2004

Due to the continuing pain and extreme discomfort from a trapped/pinched nerve in his shoulder and to prevent possible further injury, DAVID BOWIE has been advised by his doctors to cancel his performances at the eleven remaining European dates throughout July.

Due to the unpredictable nature of the condition and in an effort to give fans as much warning as possible, (and indeed, to aid promoters in finding a replacement headliner in time for the festival dates) David very reluctantly agreed to take the advice.

David, and everybody involved with the tour, is very sorry for the hardship that this difficult decision may have caused. We realise that many of you will have lost money on non-refundable travel and festival tickets.

But, anybody that knows David will understand that he doesn't take these decisions lightly and I'm sure you all realise how bad he will be feeling about not being able to complete the tour.

From BowieNet.

---
DAVID, PETER AND THE WOLF
1st July 2004

Are you sitting comfortably? Then I shall begin... just released is Prokofiev's PETER & THE WOLF wonderfully narrated by DAVID BOWIE and performed by The Philadelphia Orchestra / Eugene Ormandy.

Tracklisting:



1. Prokofiev - Peter & The Wolf
Narrated by David Bowie
The Philadelphia Orchestra / Eugene Ormandy

2. Britten - Young Person's Guide To The Orchestra
Narrated by Hugh Downs
Boston Pops Orchestra / Arthur Fiedler

3. Saint-Saens - Carnival Of The Animals
Narrated by Hugh Downs
Boston Pops Orchestra / Arthur Fiedler

This 2004 issue UK CD by BMG (Cat. 82876623572 2) features the classic reading of Prokofiev's perennial favourite from 1975. With David narrating the well-known fable with his usual eloquence and style, whilst also giving instructions for children to understand how the music corresponds to the story, with accompaniment from The Philadelphia Orchestra. Also included are Britten's 'Young Person's Guide to the Orchestra' and Saint-Saens 'Carnival Of The Animals' with narration by Hugh Downs).

You can order Prokofiev: Peter & The Wolf Now!


---

OLDER NEWS

June | May | April | March | February | January

2003 Bowie News Archives | 2002 Bowie News Archives
2001 Bowie News Archives | 2000 Bowie News Archives
1999 Bowie News Archives | 1998 Bowie News Archives