David, Spud, Rednik and SteveK In Paris
Review by Spud
Picture the scene...

I had been down the pub to watch my team on the big screen, we had been beaten so I was a bit down and I had consoled myself with a couple of extra drinks. As I unfurled my collar and made my way home through the usual cold drizzle of the North-East coast of England, my mind was ticking over... 'Mmm, I think I'll check my mail when I get in, perhaps pop in the chat room... oh, I wonder if they've made the draw for the Paris gig?'

The house was in darkness, kids fast asleep, the wife reduced to a lump of breathing duvet. I switched on the computer (located in the bedroom, next to the snoring duvet) and, as usual, checked my mail through slightly blurred eyes.

"Congratulations, you are one of the ten winners of the Bowie/Paris tickets"... 'I won, I won, I've won, me, Me... no, check it again (heart quickens, hands begin to sweat)... I have, I have...it's ME.." Julie (the wife) Julie Julie.. I've won, hahaaaa...ohhh my goddddd I'm going to Paris, PARIS JULIE. I'M GOING TO SEE 'THE MAN' IN PARIS."

The duvet rumbled and moved slightly. Then, she shot bolt upright and screamed... "Ahhhhhhhhhhh." The kids woke up frightened and screamed also "AAAAHHMMammmmymammyahhh!" Being the man of the house I had to take control of the situation, so I calmly began jumping up and down on the double bed and... screamed.

After much screaming and making arrangements to take the time off work, I was kindly offered the opportunity of travelling with Paul Kinder (Rednik) and his friend Steve King (SteveK). We had never met before although we had often spoke in chat so I was looking forward to meeting them, although I was naturally a tad apprehensive.

I drove down to Manchester in my cab and got to Paul's house about midnight. After much grinning we picked Steve up (grinning) and off we went on the long haul down to Dover to catch a ferry over to Calais. The conversation naturally revolved around db and I was amazed at the dedication and knowledge of these two fans. Personally, db's music has been a large part of my life for more than 25 years. I am a long term fan and the music has been with me through every emotion in my life... births, deaths, all the highs and lows of the average person, and I have seen him whenever I have had the opportunity (around 15 times now), but to hear people talking of travelling around Europe and America and seeing 'The Man' hundreds of times made me feel a bit of a part-timer. Nevertheless we all had that one thing in common and we talked of favourite gigs, tracks and how we were moved by the great man. Then we discussed the amount of French we all knew so that we would be able to confidently converse with our European friends once we crossed the English Channel. We were never going to get very far with the phrases 'Would you like to fuck?' and 'Where is the butchers shop?' and there are only so many times you can use the word 'oui' before you start sounding like a 2 year old needing the toilet so this was slightly worrying.

When we reached France the sun was shining to match my mood and we caught a train to Paris. This was my first time in Paris and as we stepped off the train and walked out into the street it was everything I had imagined. Beautiful high buildings with tiny wrought iron balconies and an abundance of small coffee shops and fashionable people milling around. 'Ahh yes, where is the butcher shop' I thought to myself as we mingled in the cosmopolitan capital.

We made our way to the Élysée Montmartre and seen other Bowie fans outside queuing to get a decent position. Apparently they had been there all morning and hundreds of people had been turned away the previous day after queuing hours for tickets. It was heartwarming and very comforting to know that, thanks to bowienet, I had been placed on the guest list and would be allowed in anyway.

Then, I saw Rednik talking to someone in the foyer and he came out with a huge grin on his face. "Shall we go for a drink" I asked him. "No, let's just wait here a while and see what happens" he replied. I thought nothing more of it and sat on the steps of the venue enjoying the warm weather while watching the people pass by. Then two people carriers pulled up and the band got out and hurried up the stairs into the venue. Mike Garson smiled at the excited crowd and a tiny, fragile looking, but extremely pretty Gail brushed past me on the steps. 'Not long now' I thought to myself. db must have gone in a different door and not long afterwards we could hear the band starting the soundcheck. I was listening intently, trying to hear what they were playing when suddenly SteveK grabbed my arm and told me to stand behind Rednik. I was puzzled but followed the instructions. The next thing I knew we were inside the venue, walking up the stairs towards where the band were doing the soundcheck. 'Just stand very quietly to one side and don't move around' I was told. It was all happening a bit fast and I just followed the instructions and kept my mouth shut.

We entered the hall and there he was, up on the stage. I couldn't believe it. One minute I was outside trying to make out what they were playing and the next I was inside looking directly at db as he made his way down the ramp from the stage, down onto the floor where the audience would be. He walked into the middle of the hall and turned to face the stage while listening to the band. Suddenly I was alone, not physically, but as you know, when in the same room as db, everything else becomes invisible and insignificant and there was no-one else in that hall apart from db, his band and me. He went back up on stage and as he worked to get the sound right, he laughed and joked with the band. They played various numbers 'Something In The Air', 'Survive', 'Width Of A Circle' was started during a medley before db stopped and said something along the lines of... 'ooh, nostalgia attack. Don't you just hate it when that happens?'

Other tracks included 'Gloria', 'Thursday Afternoon' which was the second half of 'Thursday's Child' done in a fantastically soulful way, it could have been straight off Young Americans the way it was performed and I would give my right arm to hear that again. 'Always Crashing', 'I Can't Read' and 'Life On Mars' were some of the other tracks which were given an airing. All this was happening before the gig had even started. I felt privileged and honoured to be at the soundcheck and I thank Rednik for helping me to be in on it, I also thank you David for giving your permission.

When the crowds of ecstatic fans were finally let in. We made our way to the front of the audience and waited for the man. After an hour or so, Mike Garson settled behind the keyboards and db walked calmly out on to the stage to perform 'Life On Mars' the audience were delirious. Again he joked and laughed, looking very relaxed and happy up on stage. Once again he teased the crowd with the opening bars of 'Width Of A Circle', and the setlist contained a satisfying combination of old and new. My favourite numbers were 'Drive In Sat' and the delectable 'Always Crashing In The Same Car.' He rounded of a fantastic evening with a bouncing 'Rebel Rebel' and we left the Élysée Montmartre feeling that post-Bowie buzz that tingles in your ears and leaves a nostalgic teardrop in the corner of your eye. 'Don't you just love it when that happens.'

Once outside we wondered around Paris for a while (two fucking hours, we were lost) then we had a drink and jumped in a taxi "Oui est la boucherie?" I asked confidently. The driver looked puzzled but it was either that or 'Voulez vous...' and there was no way we could ask him that. SteveK spoke to the driver through a combination of broken English and interpretive dance and we were driven to a very plush area of Paris.

I had no idea where we were going and I didn't care as my day had surpasses all expectations and I would have willingly gone on to Vienna if the funds had been available. We found the place Stevek had wanted and we walked up to the door. Two huge bouncers looked down their granite chins at us as we peered past them into the expensive looking club. Again, Rednik spoke to someone and the mountainous men parted to allow the three of us into the club. I still didn't know what was going on as I was still buzzing from the gig. Then reality hit home. We were in the aftershow party amongst the celerity guests and glamorous hoi-polloi of the most beautiful and romantic city in the world. Long-legged models and handsome Frenchmen moved around, posing and cheek-kissing.

Two very agile female dancers writhed on podiums while the music whipped everyone up into the party mood (I would love to know who the DJ was, if anyone knows!). I checked my pocket to see if I could afford a drink, thinking it would cost 'un bras et un jambe'. SteveK laughed and told me that the 'refreshments' were free. I was standing slapping myself across the face trying to wake up when a very large gin and tonic was pushed into my hand. It took several of these 'refreshments' to help me bring me back down to earth.
I think we left the party as the night yawned and the day stretched itself out of bed. I don't really remember much after that, maybe Stevek or Rednik would be more help, but I do remember saying to them as we were travelling back that it was a pity we didn't see the Eiffel Tower when we were there.
"We did." they said. "When we came out of the party we seen the Eiffel Tower."
They seen the Eiffel Tower, I was just awful tired.
Thank you db, Howard and all at BowieNet, Rednik and SteveK for a fantastic trip as well as one of the most important days in my life.
Mark aka (Spud)
Aftershow Party Photographs: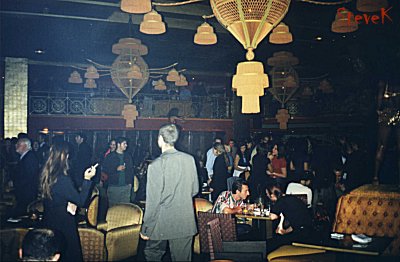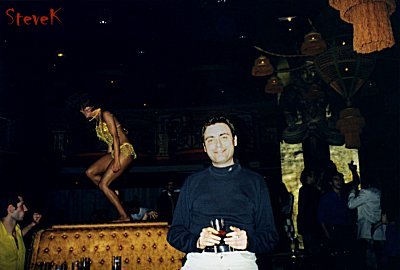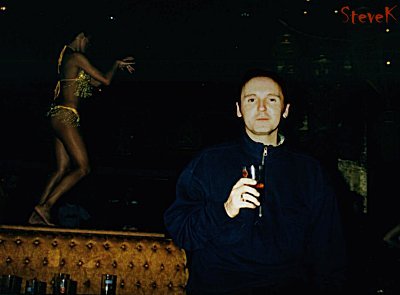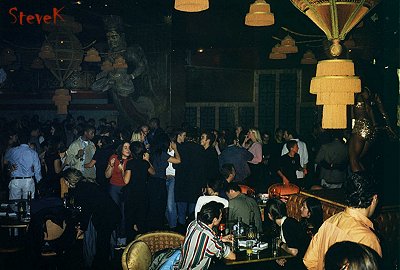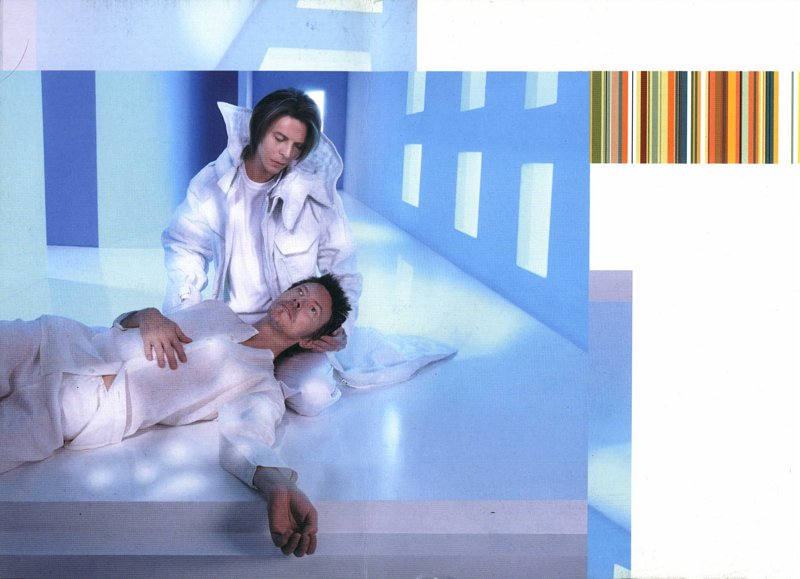 The Aftershow Soiree Paper Man - an explanation from Spud:
I have to come clean. It was me. I haven't mentioned this in my small report on the gig, but at the aftershow soiree (nicely put Paul) I was wondering around aimlessly sampling various beverages while trying to take in the ambience of the whole affair, when I was overcome by hunger. Being a very frail figure (lol), I decided that I should eat something before I wasted away completely, and so I scanned the gastronomic delights (available in the form of nouvelle cuisine) with some trepidation, as I was brought up on hearty northern fare.
After studying the spread I decided that the 'small curly things' looked the nicest, so I approached the table and scooped one up before popping it into my mouth. I walked on trying my best to look cool but I soon realised that I had made a grave mistake.
When I started to chew the small, delectable looking portion, I became aware that I was not sampling nouvelle cuisine, but frantically chewing on some strange origami display. I was sure that someone in the room had noticed my mistake but I continued to try and play the situation down. I chewed the paper for a further five minutes or so, hoping that it would eventually disintegrate, but to no avail. I decided that the quickest and easiest way out of the situation was to swallow the small sculpture whole, but my oesophagus would have none of it. I eventually coughed the pulp into my hand and discarded it beneath a comfy chair. Guilty as charged.
By Spud (Mark)
16th October 1999



| | |
| --- | --- |
| Created: Oct. 1999 © Paul Kinder | Last Updated: 17/10/99 |