"This is a really great cause. The proceeds of this project will help fund some very positive programs and events, and I would be knocked out if we could get behind this, this Christmas! Order the CD! Many Thanks" - David Bowie THE HEROES PRESS ARCHIVES



The aim of THE HEROES PROJECT is to influence SOCIAL ATTITUDE.
All the proceeds raised from the sale of this recording will contribute to the staging of events to encourage the social integration of disabled people into mainstream society.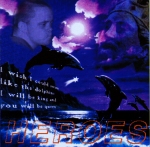 This unique charity cover version of the classic DAVID BOWIE anthem "HEROES" is released on 1st December 1998.
Performed by THE HEROES featuring THE DIAMONDOGZ
Written by David Bowie and Brian Eno
Produced by Winstanley/Day/Beckett @ The Cutting Rooms
EMI Music Publishing / BMG Songs Ltd / RZO Music / RFR
Rawfish Records City College, Manchester
Released on the RAW FISH label (cat no. RFRCDS1).
Available by mail order directly from:


Community Leisure Projects (CLP), Suite 14B, 3rd Floor, St. James's Building, 79 Oxford Street, Manchester, M1 6EJ, England, United Kingdom
Tel: 0161 236 1878. Fax: 0161 228 0085. Mobile: 07970 744363.
Prices includes all postage and packing UK: £4.00 / US: $7.00

Please make cheques/postal orders payable to: CLP
Credit Card Hotline payments by telephone: 0161 236 1878 or Fax: 0161 228 0085
From the album ACCESS ALL AREAS with the support of THE COOPERATIVE BANK.
---
We would like to say a huge "thanks" to everybody who has been connected in any way, shape or form with this recording. You know who you are, we know what you did.
To all at MBM, The Diamondogz, The Cutting Rooms, Rawfish Records and Principal Image. Your assistance has been invaluable. Produced by Tom Winstanley, Terry Day and Greg Beckett. Engineered by Tom Winstanley. Cover design by David Langford. "Heroes" is taken from the album 'Access All Areas'. It is dedicated to anyone who feels Trapped Inside The World Outside.
---
Due to the large amount of interest being shown in THE HEROES CD album ACCESS ALL AREAS a reservation list has been set up for advanced ordering of the CD. You can reserve your copy by simply registering your order today.
'Access All Areas' will be a special limited edition collection of Heroes songs. It will be released 19th September 1999 and will NOT be available on general release with availability being strictly limited to people who have pre registered their individually numbered copy.
The price for 'Access All Areas' will be £15 per copy. Please do not send any payments now - but it is important to register for your copy in advance as 'Access All Areas' will only be made available to people who have pre registered their order. To pre-register your copy of 'Access All Areas', please fill in the form below and a copy will be reserved for you. Thank you.



Alternatively send information via Email with the subject header "Access All Areas"



THE HEROES PRESS ARCHIVES



| | |
| --- | --- |
| Created: Nov 1998 © Paul Kinder | Last Updated: 25/5/01 |