ACCESS ALL AREAS Canadian Magazine
The New Music Issue - No. 46 - February/March 2000
ON THE ROAD WITH DAVID BOWIE
By Emm Gryner
When Access fave Emm Gryner got the call to sing with David Bowie, it was an offer too good to refuse - and a story too good to pass up.
THE START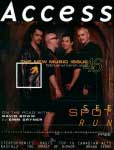 My earliest memory of David Bowie is watching him dance alongside Mick Jagger in the video for 'Dancing In The Streets'. Of course I remembered his mega-hit 'Let's Dance', too, but when American singer Holly Palmer recommended me to sing on an upcoming promo tour, I started to listen to the Thin White Duke with brand new ears. Beyond that deep voice that coloured early '80s pop radio, there was a legacy I knew nothing about.

I met David Bowie on September 28, 1999. He waltzed into rehearsal full of what I now know to be his trademark energy, the kind of magic that makes people pay extra-close attention to what they are saying and doing. "You must be Emm," he said with a smile and shook my hand.

That first day we ran through the songs; a third from his new record, 'hours...', and the rest from his enormous back catalogue. 'Rebel Rebel', 'Always Crashing In The Same Car', 'Changes', 'Word On A Wing', 'China Girl'... the list goes on. When I wasn't singing my parts (which I had slaved over and memorized as if I was studying for a major exam), the musician in me stood quietly in the corner, in awe of the amazing players who make up David's band: Gail Ann Dorsey on bass, Mark Plati and Page Hamilton (Helmet) on guitar, Sterling Campbell (Soul Asylum) on drums, Mike Garson (Smashing Pumpkins) on keyboards and, of course, Holly Palmer on vocals. Never having been a backup singer before, I began to see how invaluable it could be to have the perspective of a band member, especially in the band of a pop icon.


NEW YORK

Saturday Night Live and David Letterman followed. Holly and I quickly found that we had about a thousand things in common, not to mention our keen resemblance to a couple of music-loving, hot-blooded pixies. Neither of us had set foot on the set of these popular late-night shows, so we traded impressions and soon became kindred spirits, chasing Molly Shannon down on SNL and passing out copies of our music to whomever happened to be interested, all the while flooded with awe that we were singing with David Bowie! Someone of his stature could choose anyone in the world to belt out those famous "oh-oh's" in 'China Girl' or those classic lines in 'Drive In Saturday' - and we knew it.


LONDON

The most dramatic shift arrived the next week. We performed three songs on the English TV show TFI Friday, where a live audience sits mere feet away from the stage. The energy of this audience could not be contained and it was then that I started to realize the magnitude of my new day job. So accustomed to walking on stage and having everyone look at ME, I soon realized that I was part of David's multi-coloured, ever-changing backdrop. Next came the overwhelming feeling of humility and excitement, and the unforgettable sight of pure bliss on the faces of his fans. There wasn't a distracted face in the lot, and as the audience broke into wild applause after our first song, David turned to me and Holly, smiled, and shouted, "Welcome to London!"

Wembley Stadium was a place where I had always dreamed of seeing a concert, so to take part in the NetAid concert was perhaps the most unreal part of our first trip. Never mind that some of my favourite folks had dressing rooms down the hall - Annie Lennox, Robbie Williams, Stereophonics. This concert was broadcast from three different cities - New York, Geneva and London - and through comparison it was clear that Wembley was the only one packed to the hilt, where you could see hands in the air for what seemed like miles.

The passion in the stadium was immeasurable. I stood in the wings with the rest of the band while David opened the set with a piano-and-vocal version of 'Life On Mars'. Stripping a song down to its bare minimum like that has long been a move that reduces me to a sentimental wreck, and this song is one of the greatest ever written, so you can imagine how beautifully impaired I felt at that very moment. During parts of 'China Girl' I could hear my voice stretch out across the expanse of the stadium, giving me a glimpse of how wonderful it will be to someday play there again.


DUBLIN

Since this was a promotional tour, there were three club shows. The first was in Dublin, the second in Paris, and the third in Vienna. Dublin was a trip. I remember seeing the Rolling Stones at the Horseshoe Tavern in Toronto in September of 1997 and recalled how inspiring it was to see a legendary act in a small club. I wondered if some of these people were feeling the same buzz. The audience was made up of both kids and older folks, and Talvin Singh deejayed after our set. Then we all retreated to the after party, where anyone who was anyone in Dublin seemed to be.


PARIS

Paris was perhaps my favourite of the club shows. Beth Orton and Ron Sexsmith, two of my songwriting idols, were in the crowd, as were Rheostatics Don Kerr and Tim Vesley. At the after party, I witnessed David Bowie meeting Ron Sexsmith. The thought of their combined songwriting talent almost made me explode. Ron told David that he wished he had played 'Can You Hear Me?', one of Ron's favourites. There are so many songs in David's back catalogue that everyone always wants to hear a different song, which must be a fantastic problem.

Later on, 'Let's Dance' started playing. I leaned over to David and told him this was one of the first songs of his I had ever heard. "When were you born?," he asked. "1975," I replied. After making a face that implied disbelief, he told me that he and Mike Garson had already been touring together a few years before I joined the world. I sat back and realized that before this tour I had been feeling old at 24. Suddenly, I was the baby of the band - both a challenge and a gift.


FROM EUROPE TO THE END?

The TV shows in Europe were difficult. As a band, we love to play, and often we would only be able to perform one song, which just wasn't enough. David would sometimes have to do interviews, and in almost every one, he would inject the conversation with his poignant and fearless sense of humour, often launching into jokes that flew over most people's heads. At 52, he is still a natural risk-taker, the kind of artist who remains unpredictable and vital. From Ziggy Stardust to Earthling, he remains ever-changing, inspiring the feeling that you can be or do anything you want.

David's promo tour is not yet over. Two more weeks in Europe await as I write this. Then it's back to Emm Gryner world where I will shoot a video and finish The Living Room tour in New Jersey and New York before starting to write my next record.

My adventures on tour with David Bowie are too many to mention here. On any given day, something happens or someone says something to change the way I see music, myself, or the world at large. It was inspiration I desperately needed. Before this tour, I had become disenchanted with the deteriorating, ignorant state of pop music. Even if this era of the disposable artist persists, at least I take away from this Bowie experience some time spent on the road with a true career artist, a brilliant songwriter and an entrepreneur with an undaunted creative spirit.

David talks sometimes about the great possibilities for artists who use the Internet as a tool to communicate and sell their music, and has even set up a link to my website (www.emmgryner.com) from his (www.davidbowie.com); and amazing act of generosity. Right now, the Internet and its ability to reach a great number of music lovers has been my greatest ally, since I am trying to get my music out there without having the life kicked out of me by an unpredictable, commitment-phobic record company.

While making music in the year 2000 may not be the same as making it in the late '60s or early '70s, I believe music and art will never lose their power and influence. When David Bowie speaks with passion about writing, recording and playing music, I am reminded why I fell in love with pop music in the first place. It's not likely that I will ever forget again.