Fashion Rocks
(Special Issue Supplement to Lucky magazine)
October 2005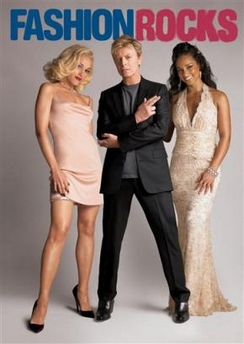 Bowie: The Fashion Rocks Q&A

By Dave Itzkoff. Photographed by Patrick Demarchelier




He's been the Thin White Duke, Ziggy Stardust, Aladdin Sane, and, on rare occasions, David Jones. To several generations of fans, he is simply David Bowie, whose pioneering career spans more than four decades from the mod balladeer of Hunky Dory to the happily domesticated crooner of Reality. Though it's been more than twenty years since he retired his distinctive costumes, the iconic rocker is still renowned for his wardrobe choices. In September, he also became a published author with the release of Moonage Daydream which features his commentary on his explosive Ziggy Stardust era, alongside equally provocative photographs by Mick Rock. From his summer home in the Catskills, Bowie spoke about his résumé of stylish alter egos, his sartorial inspirations and, of course, codpieces.


Q: Can we talk about the intersection of fashion and music in your career?

A: I'm really not very good at that. Let's talk about new bands!


Q: We'll get to that, I promise you. But I was surprised to see you acknowledge how much Stanley Kubrick's Clockwork Orange had influenced your Ziggy Stardust look.

A: Oh yeah. It was impossibly direct. At the time, the film felt like a sledgehammer, when it was briefly released in England. It was released for - I believe there were some threats to the Kubrick family, and he pulled the movie very quickly afterward.


Q: Was the controversy of the film that appealed to you?

A: No, because many controversial films were out at the time. But with that one particularly, it was the aesthetic, the visual aesthetic as much as anything else - the way it looked. The design of the clothes, I thought, was fascinating.


Q: Were you just looking for an excuse to wear a codpiece?

A: [Laughs] Yeah, the codpieces were great. It truly was to bring back a kind of Shakespearean ideal with a exterior item like that. Never to be used again until Cameo's "WordUp". Not the same codpieces, I hope. Also the initial clothes I designed for The Spiders From Mars were very much based on the Clockwork Orange jumpsuits. I had them made out of very flowery material, very feminine material, very colorful. I just wanted to - I thought the juxtaposition of the violence inherent in the worker-like clothes with the kind of very soft sensuality of the fabric we chose was an interesting thing to do.


Q: Were there other antecedents to Ziggy that were perhaps less notorious than A Clockwork Orange?

A: There were elements of Kabuki theater thrown in. It was really a hodgepodge, there was no kind of direct through-line with Ziggy at all. It just kind of evolved. I very much had the idea of Japanese culture as the alien culture because I couldn't conceive a Martian culture.


Q: Is it in any way a negative that a look or a style isn't sui generis, that it actually has antecedents?

A: Oh Lord, no. Absolutely not. I've always delved into - I'm terribly analytical about things. I'll always go well into the background of things and find out why they became what they became. That's one of the most interesting things for me about how we live our lives: How did it happen? Not just what it is.


Q: Did you anything to reacquaint yourself with that era of your life before you began to write the text for Moonage Daydream?

A: Not really, no. I just kind of used Mick's photographs. There are enough memory clues in them that I just needed to see a picture of Cyrinda Fox and I immediately remembered everything about that period. She was fantastic and a huge influence at the time. There was nobody quite like her. And she got me my first fuck-me pumps.


Q: Do you still own those? Are there in a closet somewhere?

A: I do have them in a box. Actually, a few items were stolen along the way because, I think, they were worth stealing. I don't blame anybody for stealing them at all; I would have. But I've retained a lot of the stuff, and I'm really happy about that.


Q: If it weren't for people stealing things from you, the Sex Pistols would never had their Sound system.

A: [Laughs] You know, Steve Jones owned up to that. I get on very well with Steve now, but at the time I was extremely angry. Of course, we had no idea, who actually stole the stuff.


Q: Now would you think of it more as a borrowing?

A: An appropriation, actually.


Q: How do you know when a look has outlived its usefulness?

A: For me it's usually about ten minutes after I should have gotten rid of it. [laughs] I'm always a little late. No, actually, I try to anticipate that it's getting boring, but it's something I don't do so much these days. The outfits I use on stage now are far more functional. It's just to get the show on. I think the major difference, of course, is that I was designing for characters, which I've kind of stopped. I wrapped that up in the early 1980s and I didn't do characters after that. Those first years, the Thin White Duke and all those guys, I really was dressing in character. In a way, it was more fun to do, because I find it so boring - ah, I'd much prefer somebody else to just dress me. [laughs] Of course, this is not the interview to say that in, isn't it? But I'm far more interested in the theatrical implications of clothes than I am in everyday fashion.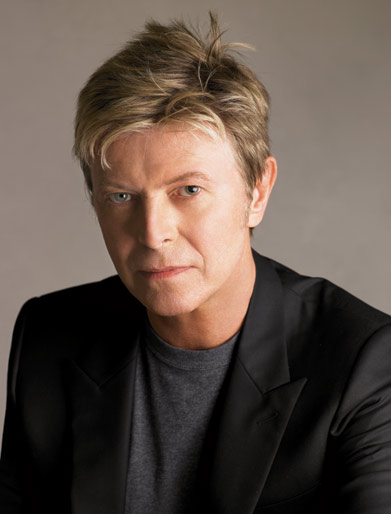 © Patrick Demarchelier




Q: As you've gotten old, have you found that your sense of style has become more innate?

A: I'm pleased to say that I don't really think about it. I just rely on Hedi Slimane. It's all Dior. I've always been extremely lucky that there's always some designer or other who wants to give me clothes. For the last little while, Hedi Slimane has wardrobed me. I first met him before he became part of Dior, when he sent a bunch of photographs via a friend of mine. The stuff was apparently influenced by the film The Man Who Fell To Earth, and it was all that very slim-line black, and it's very much became his key signature look. Now, of course, he's designing for Franz Ferdinand and The Killers. He's doing everybody. He's really changing the look of rock and roll.


Q: Is there a rock act that, to your mind, carries on the theatrical element that was part of what you did?

A: Arcade Fire has a very strong theatrical flair, a boisterous, college kind of feel to what they're doing, and also there's a wave of enthusiasm to it. But their show is theatrical nonetheless, because it doesn't alter much from night to night. I've seen them many times, and I love them very much. I think the're exhilarating.


Q: So that was one.

A: Secret Machines, too, but in a different way. They're almost invisible on stage. The light is behind them, so they're just three dark silhouettes. But the power of their music and of their unseen presence is fantastic. The third one would be TV on the Radio.


Q: How do you keep up with all this music?

A: Well, fortunately, I'm not working. [laughs] So I'm resting. I get out a lot. I am a New Yorker, very much, and I get out in New York. It's just a place that I adore. And I love seeing new theater; I love seeing new bands, art shows, everything. I get everywhere - very quietly and never above 14th Street. I'm very downtown.


Q: Of all your collaborators, was there one whose own sense of style intimidated you?

A: That's an interesting question. The ones I worked with? Nah.


Q: Not even Freddie Mercury?

A: Oh no. We were worlds apart.


Q: At the end of last year, your music, as sung by a Brazilian musician, played a very significant role in shaping the aesthetic of Wes Anderson's film The Life Aquatic With Steve Zissou. Was it at all bittersweet for you, aside from "Queen Bitch", it wasn't your voice on the soundtrack?

A: Oh no! I simply adored that soundtrack album. I thought it was fabulous. I loved that particular take on my work.


Q: How is it that an art like recorded music, which has no visual component, can have such a strong effect on a medium like film which is all visual?

A: I don't know. I've got no idea! You answer that [laughs]


Q: I know you paint as well - has your painting ever influenced your music or vice versa?

A: They've definitely helped each other. I often find that if I'm hitting some kind of block in my writing; I'll turn to something visual - either go and see other people's work or do some painting of my own. I'll often paint myself into a new perspective on the writing. And often what I'm writing will inspire me to do something visual - it will trigger me to go and paint something.


Q: Do you make it to any of the fashion shows during Fashion Week?

A: Know something? I've never been to a fashion show in my life.


Q: Really?

A: No. Iman's world is a complete mystery to me. I've no idea what she was like. I've seen clips of her on the catwalk.


Q: Would it surprise you or disappoint you to know that your song "Fashion" is a staple of these shows?

A: Well, I know a lot of my music is used. We have to give out our licences for permissions, so it's used all over, frequently in Europe, which I'm very proud of. What am I going to say? [laughs]


Q: This may sound like a very esoteric question, but does the persona of David Jones still exist within you?

A: Yes. The Bowie character, for me, is strictly to be used for the stage, so I can hide back away as David Jones. Right now, in the mountains, where I am at the moment, it's David Jones. With my family I am David Jones, very much.


Q: Is the public ready for the androgyny to go mainstream again?

A: Well, I've noticed there's an element of that in some of the bands, like Franz Ferdinand. You sense that - it's not implicit, but it's sort of hinted at. I'm not sure how important it ever was.


Q: So you're not necessarily the man to carry it forward a second time?

A: No, no.


Q: If you can ignore the illicit implications, may I ask what you're wearing right now?

A: Let's see... a white T-shirt and jeans. No shoes, no socks. I'm so David Jones, it's unbelievable.


Q: Have you heard the Futureheads, Bloc Party?

A: Yeah, and Louis XVI. I tell you, it's just great living in New York, living downtown, going out two or three times a week and catching bands. It's the best thing one can possibly do.


Q: Are you able to get out without drawing attention to yourself?

A: Well, everybody knows me anyway, and they're very quiet and respectful. New York's New York. Nobody makes a big deal.


Q: Do you still sport the jeans and T-shirt look?

A: Absolutely. Jeans and a baseball cap. That, frankly, is the way to get around. No stack-heel boots. That would just be asking for trouble.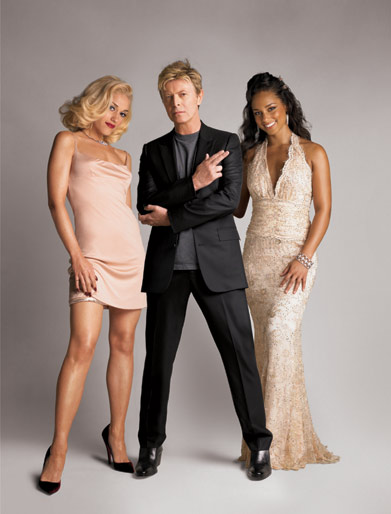 © Patrick Demarchelier