DAVID BOWIE 'LIVE BY SATELLITE'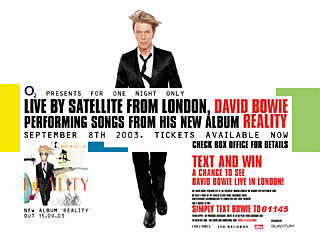 OFFICIAL PRESS RELEASE:
DAVID BOWIE BRINGS HIS 'REALITY' TO CINEMAS WORLDWIDE
THE WORLD'S FIRST LIVE AND INTERACTIVE MUSIC EVENT



On September 8th 2003 in London, DAVID BOWIE will make technological history and bring his new album 'Reality' to cinemas all around the world.

In a specially produced performance, Bowie's live show is to be beamed via satellite to cinemas globally, culminating in a real time, interactive Q&A between Bowie and cinema audiences whom will also be able to make requests for Bowie classics.

The show will consist of David Bowie performing an exclusive live set showcasing his brand new album 'Reality' released September 15th on ISO/Columbia Records, as well as many cuts from his legendary back catalogue.

The 90-minute programme will be simultaneously transmitted via satellite to cinemas and theatres across Europe and due to time delay the following day across Asia, Japan and Australia. North America, Canada and South America will be able to catch the show on 15th September, making this a truly worldwide event.

This is the latest in a long line of groundbreaking technological advances for Bowie, BowieNet, his exclusive online community was the first to offer ISP capabilities to it's subscribers, he was an early exponent of e-mail using the then brand new form to communicate with the media during the legendary 'Serious Moonlight' tour in the 80's. In addition Bowie was at the cutting edge of digital technology by offering the first widespread online download of the track 'Telling Lies' in the mid 90's.

This spectacular trans-continental media event will cover the furthest flung corners of the world, from Rio de Janeiro to Milan, from New York to Sydney, from Edinburgh to Warsaw and from Toronto to Tokyo. The full list of theatres screening the event in Europe are listed below.

The show will be shot in digital widescreen and recorded in DTS digital 5.1 Surround sound for total digital delivery to cinemas - not a film reel in sight - representing the most innovative and wide reaching use of digital technology in cinemas to date.

Tickets will be available directly from the cinemas screening the show and are on sale from 9am Thursday August 14th.

This unique live and interactive show is a taster for David Bowie's brand new album, Reality and also his first world tour in almost a decade.

'REALITY' is due for release on ISO/Columbia Records on September 15th, just prior to Bowie beginning his highly anticipated sold out European tour, which will commence on October 7th in Copenhagen and comes to a close in Glasgow on November 28th.




---

WORLDWIDE CINEMA LISTINGS:


AUSTRALIA (showing 9th September) - (tickets on sale at box office NOW)
(4 theatres but actually 7 screens in total - capacity 3000 total)

Melbourne: The George, 1/133 137 Fitzroy Street, St Kilda. Tel: (03) 9534 6922
Melbourne: Village Cinemas, Jam Factory, 500 Chapel Street, South Yarra. Tel: 1300 555 400 - Cinema Info
Sydney: Greater Union / Village / Hoyts, 505-525 George Street, Sydney. Tel: (02) 9267 8666 - Cinema Info
Sydney: Palace Academy Twin, 3 Oxford Street, Paddington. Tel: (02) 9360 1439 - Cinema Info




BELGIUM (showing 8th September)

Brussels: Kinepolis Brussels, Bd du Centenaire 20 / Eeuwfeestlaan 20, 1020 Brussels - Cinema Info




BRAZIL (showing 15th September)

Rio de Janeiro: New York City Center RJ - UCI, UCI NYC Center - Av. das Américas, 5000 - Barra da Tijuca
São Paulo City: Jardim Sul Shopping Mall SP - UCI, UCI Jd Sul - Av. Giovanni Gronchi, 5819 - loja 501
Shopping Dom Pedro: Kinoplex - Severiano Ribeiro, Av. Projetada Leste, 500 - ioja A18 - (Kinoplex) Campinas, São Paulo State



CANADA (showing 15th September) - (tickets on sale 29th August) - available online at www.famousplayers.com or at participating theatre box offices as of 9am Fri Aug 29th

Burnaby: Famous Players SilverCity Metropolis, 4700 Kingsway Avenue, Burnaby, Vancouver - Cinema Info
Calgary: Famous Players Paramount, 6455 Macleod Trail SW, Calgary - Cinema Info
Edmonton: Famous Players SilverCity, West Edmonton Mall, #3030, 8882-170 St, Edmonton - Cinema Info
Halifax: Famous Players, Park Lane 8, 5657 Spring Garden Road, Halifax - Cinema Info
Hull: Famous Players SilverCity, 115 Boul. du Plateau, Hull, Quebec - Cinema Info
Mississauga: Famous Players Coliseum, 309 Rathburn Road, Mississauga - Cinema Info
Montreal: Famous Players Paramount, 977 Rue Sainte Catherine Ouest, Montreal - Cinema Info
Ottawa: Famous Players Coliseum, 3090 Carling Avenue, Ottawa - Cinema Info
Richmond: Famous Players SilverCity Riverport, 14211 Entertainment Way, Richmond - Cinema Info
Toronto: Famous Players Paramount, 259 Richmond Street West, Toronto - Cinema Info
Victoria: Famous Players SilverCity Victoria at Tillicum Centre, 3130 Tillicum Road, Victoria - Cinema Info
Winnipeg: Famous Players SilverCity Polo Park, 817 St. James Street, Winnipeg - Cinema Info




CZECH REPUBLIC (showing 8th September)

Prague: Palace Cinemas, Na Prikope 22, Prague 1, 110 00. Box office phone +420-257 181 212 - Cinema Info




DENMARK (showing 8th September) - (tickets on sale at box office NOW)

Copenhagen: Empire Bio, Guldbergsgade 29, 2200 København Nørrebro - Cinema Info




FINLAND (showing 8th September)

Helsinki: Bio Rex, Lasipalatsin elokuva- ja mediakeskus, Mannerheimintie 22-24, 00100 - Cinema Info




FRANCE (showing 8th September) - (tickets on sale at box office NOW)

Lille: Kinepolis, Z.A. Grand But 59160 Lomme - Cinema Info
Marseille: Cinéma Le Prado, 36 avenue du Prado, 13006 Marseille - Cinema Info
Paris: MK2 Bibliothèque, 128/162 Avenue de France, 75013 Paris - Cinema Info
Rennes: Cinéma Colombier, Place du Colombier, 35000 Rennes - Cinema Info
Strasbourg: UGC Ciné Cité, 25 route du Rhin, 67000 Strasbourg - Cinema Info
Toulouse: Gaumont Wilson, 3 place du Président Wilson, 31000 Toulouse - Cinema Info




GERMANY (showing 8th September) - (tickets on sale at box office NOW)

Berlin: CineStar Imax im Sony Center Berlin, Potsdamer Strasse 4, 10785 Berlin - Cinema Info
Cologne: CineStar UFA-Arthouse Residenz, Kaiser-Wilhelm-Ring 22-24, 50627 Köln - Cinema Info
Dortmund: CineStar Filmpalast Dortmund, Steinstraße 44, 44147 Dortmund - Cinema Info
Frankfurt: CineStar Metropolis Frankfurt, Eschenheimer Anlage 40, 60318 Frankfurt A.M. - Cinema Info
Hamburg: UFA-Palast Gänsemarkt Hamburg, Gänsemarkt 45, 20354 Hamburg - Cinema Info
Lepizig: CineStar Filmpalast Leipzig, Petersstraße 44, 04109 Leipzig - Cinema Info
Munich: CineMaxX München, Isartorplatz 8, 80331 München - Cinema Info




HONG KONG (showing 9th September)

Wanchai: Hong Kong Convention and Exhibition Centre, Theatre 2, 1 Expo Drive, Wanchai - Theatre Info




IRELAND (showing 8th September) (Box Office:01-812 8383)

Dublin: UCI Blanchardstown, 9 Blanchardstown Town Centre, Blanchardstown, Dublin 15 - Cinema Info




ITALY (showing 8th September) - (tickets on sale at box office NOW)

Milan: Milan Arcadia, Via Martiri della Libertà, 20066 Melzo, Milan. Box Office: 39-02-954164.45 - Cinema Info
Rome: UCI Cinemas Marconi, Via Enrico Fermi, 161 - Roma - Cinema Info




JAPAN (showing 9th September)

Tokyo: SME Nogizaka Building, 9-6-35 Akasaka, Minato-ku, Tokyo, 107-8301




NORWAY (showing 8th September) - (tickets on sale at box office NOW)

Bergen: Konsertpaleet Theatre, Neumansgate 3, Bergen - Cinema Info
Oslo: Colosseum Theatre, Fridtjof Nansens Vei 6, Majorstua, Oslo
Trondheim: Nova Theatre, Olav Trygvasonsgate 5, Trondheim




POLAND (showing 8th September) - (tickets on sale at box office NOW)

Warsaw: UCI Warsaw




SWEDEN (showing 8th September) - (tickets on sale at box office NOW)

Stockholm: The Draken, Stockholm - Cinema Info
Stockholm: Draken Fridhemsplan, Biljetter via Biljett Direkt/Ticnet: www.ticnet.se

Biljetter för Draken kan även köpas via Biljett Direkt hos samtliga ATG-ombud. På övriga orter säljs biljetterna av respektive Folkets Hus-biograf.
For all 7 theatres below tickets available online at www.fhp.nu

Smedjebacken: Smedjebackens Folketshusförening, Vasagatan 11, 777 30 Smedjebacken
Email folkets-hus@smedjebacken.mail.telia.com - Tel 0240-66 88 89 Fax 0240-75125

Arvidsjaur: Medborgarhuset Arvidsjaur Kommun, Box 703, 933 27 ARVIDSJAUR
Email wayne.rahm@arvidsjaur.se - Tel 0960-15779 Fax 0960-15814

Degerfors: Föreningen Folkets Hus Degerfors, Medborgargatan 11, Box 63, 693 21 Degerfors
Email folketshus.degerfors@telia.com - Tel 0586-42097 Fax 0586-40305

Gällivare: Gällivare Folkets Hus, Hantverkargatan 5, Box 136, 982 31 Gällivare
Email tobbe@fh.gellivare.se - Tel 0970-103 52 Fax 0970-107 20

Kiruna: Kiruna Folkets Hus & Park, Hjalmar Lundbohmsvägen 48, Box 177, 981 23 Kiruna
Email soren.haggroth@folketshus.kiruna.se - Tel 0980-15700 Fax 0980-82801

Skelleftehamn: Skelleftehamn Folkets Hus, Berzeliusgatan 2, 932 32 Skelleftehamn
Email fh.rogher.hedlund@telia.com - Tel 0910-336 64 Fax 0910-73 90 07

Sandviken: Folkets Hus Sandviken, Köpmang. 5-7, 811 25 Sandviken
Email hakan.bengtsson@sandviken.se - Tel 026-279700-01 Fax 026-279710




SWITZERLAND (showing 8th September)

Zurich: Cinemax AG, Heinrichstr. 269, 8037 Zürich - Cinema Info




THE NETHERLANDS (showing 8th September) - (tickets on sale at the box office NOW)

Amsterdam: Melkweg, Lijnbaansgracht 234A, 1017 PH Amsterdam - Cinema Info




UNITED KINGDOM (showing 8th September) - (tickets on sale at box office NOW)
ODEON CALL CENTRE 0870 50 50 007 - (Odeon.co.uk)

Birmingham: Odeon, 139 New Street, Birmingham, West Midlands, England - Cinema Info
Brighton: Odeon, Kingswest, West Street, Brighton, East Sussex, England - Cinema Info
Edinburgh: Odeon, Westside Plaza, 120 Wester Hailes Road, Edinburgh, Scotland - Cinema Info
Glasgow: Odeon, 56 Renfield Street, Glasgow, Scotland - Cinema Info
London West End: Odeon, 40 Leicester Square, London WC2, England - Cinema Info
Manchester: Odeon, Oxford Street, Manchester, England - Cinema Info




UNITED STATES OF AMERICA (showing 15th September) - TBA







More cinemas to be announced...


From BowieNet






CLICK HERE
TO CLOSE WINDOW