The Bucks Herald - Thursday July 20, 1972
Hundreds flock to Dave Bowie concert
By M.P.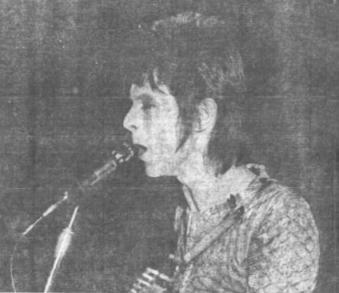 LAST September a relatively unknown singer walked on to the stage of the Borough Assembly Hall, Aylesbury, during a Friars concert and apologised for his nervousness.

On Saturday, with two successful L.P.'s behind him, a single in the British and American charts and a tour of America planned for the autumn, David Bowie returned to Aylesbury.

Tickets for the concert were sold out a week before the event and hundreds had to be turned away.

The show was performed before an audience of Aylesbury Friars members and musical journalists. Twelve American journalists flew to England specially for the concert. After dinner at the Kings Head Hotel, Aylesbury, on Saturday they went to the Borough Assembly Hall.

They included Sheldon Wax, of Playboy magazine, Jann Hodenfield, of the New York Post, Lillian Roxon, of the New York News, Ellen Willis, of the New Yorker, and Mike Jahn, of Cue magazine.

The supporting group, the J.S.D. band, provided some friendly, stomping music in complete contrast to the sophisticated showmanship of David Bowie and his band, that was to come later.

David entered the stage in pitch blackness, after a long taped introduction of electronic music, the first bars of which brought the whole audience in an excited rush to the front of the hall.

When the lights flooded on, David Bowie and his three-man band, the Spiders from Mars, slammed straight into a fast number. The effect of their shiny costumes as they wove around the stage under the coloured lights was spectacular.

David Bowie himself took the limelight in the style of a Hollywood star.

Songs from his latest album, "The Rise and Fall of Ziggy Stardust and the Spiders from Mars", as well as his first L.P., "Hunky Dory", were played.

The lights mellowed and David Bowie came to the front of the stage, killing the alien atmosphere for a moment to singe the gentler "A Space Oddity", his first hit single, and "The Port of Amsterdam".

Later the pace hotted up again and David left the stage during the rendering of the old Cream number, "I Feel Free". While he was gone, lead guitarist Mick Ronson ground out an exhilarating solo of long, wailing notes. His silver costume flickered on and off in the light of a strobe.

Posters, leaflets and photographs were thrown to the audience during the encore and, in return, Friars members near the front threw flowers on to the stage.

After the show David was mobbed by fans as he left the hall. Despite a bodyguard his nose was bleeding by the time he reached his Rolls Royce - an injury inflicted by girls jumping forward to kiss him.

Afterward it seemed strange that such excitement could be generated so professionally in quiet Aylesbury's Borough Assembly Hall.

Organiser Mr. David Stopps could not quite believe it himself.

"It was incredible. This was the most important thing we have ever put on in Aylesbury," he said.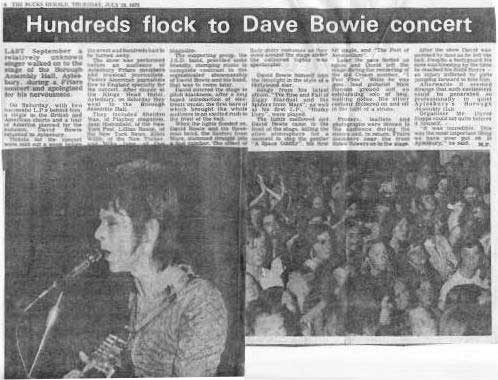 CLICK HERE
TO CLOSE WINDOW