Santa Monica Civic Auditorium
Los Angeles, USA
20th October 1972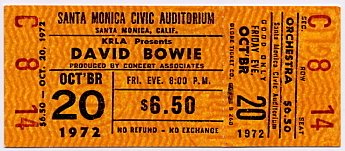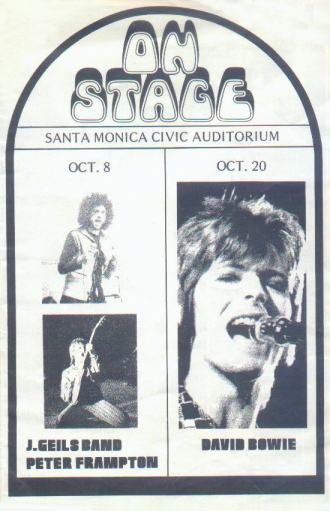 KRLA/Concert Associates Present

DAVID BOWIE
THE SPIDERS FROM MARS

Produced by Concert Associates



DAVID BOWIE
Hailing from Brixton, England, David Bowie attended Bromley Technical High School, only to drop out to study the sax and Tibetan Buddhism. After that, he did a short stint in commercial advertising as an artist. David quit and formed a musical group named David Jones and the Lower Third. Due to the conflict in names with the member of the group The Monkees, the name was changed to David Bowie and the Buzz. They specialized in progressive blues and maximum amplification. Later on Bowie changed to a solo artist, playing his acoustic 12-string and cabaret-style songs. His first solo album on Deram was "Love You Till Tuesday."

Four albums later, David Bowie has come to the forefront of the new music image 70s. His move to RCA Records resulted in the highly acclaimed "Hunky Dory" album, and his latest release "The Rise and Fall of Ziggy Stardust and the Spiders From Mars."

In an interview in Rolling Stone, Bowie has explained himself and his attitude toward his music. "What the music says may be serious," he says, "but as a medium it should not be questioned, analyzed or taken seriously. I think it should be tarted up, made into a prostitute, a parody of itself. It should be the clown, the Pierrot medium. The music is the mask the message wears - music is the Pierrot and I, the performer, am the message."


THE SPIDERS FROM MARS

In 1972, David Bowie with his supercharged band The Spiders From Mars began a series of gigs in the United Kingdom and the United States. It has been a while since the hyper-kinetic Bowie has been seen on stage, and the audience response has been a killer. One UK writer describes the Bowie phenom like this: "Bowie... dressed first as Harlequin meets Star Trek, and then in Garboesque white satin. He has a painted white face, a haircut from Clockwork Orange and moves like a marionette. For the next few months his picture will be in every magazine. And yet amazingly enough he is a remarkable performer."

David Bowie has often been described as the darling of the avant garde, but it has become clear that he has moved into the greater arena now and his impact is overall... invading areas previously thought the property of the "Puppy Love" school of music, and too, shaking up the ears of the rock purists.

David Bowie will go where he wishes to go - as he always has. Armed with his two RCA Records albums and his phenomenal band, it is certainly likely that, to quote Words & Music, "David and company... will kick more sonic ass here than any group since the Stones." And what does David Bowie say? "Look out you rock and rollers..." That's what he says.

Mick Ronson: Played in a number of regional bands including two and a half years with The Cresters. Went to London and along with starving played with a band called Voice. Left that band and worked in a garage before joining doomed band called Wanted. Great debt and undernourishment. Worked at various day-labor jobs, joined Rats, and went with them to France where tour foundered, management snafued. Returned to London, got thrown out by family, re-joined Rats, and worked as gardener at girl's school. Broke even financially and joined David Bowie as lead guitarist and arranger. Masterfully arranges much of Bowie repertory.

Mick Woodmansey: Born in Driffield, England, and began drumming at the age of five. Started his own group at fifteen; performed locally. Joined the Roadrunners and played with them for three years, and then joined Mick Ronson in rats. Later played in a band called Ronno with Ronson, Trevor Bolder. Split Ronno and returned to London. Joined David Bowie.

Trevor Bolder: Learned the trumpet from his father at age nine. Became cornet soloist with school band for three years. Began playing bass guitar, and, with brother, formed Chicago Star Blues Band. Worked with various bands (Jelly Roll, Flesh) and then took some time off. Joined Ronno with Ronson and Woodmansey. All joined David Bowie. Trevor has worked as a decorator, a hairdresser and a piano tuner.

And that is the spider web.


On Stage is distributed free of charge to audiences attending top attractions in Los Angeles, San Francisco. San Diego, San Bernardino, Fresno, Oakland, Anaheim, Phoenix, Tuscon and Honolulu.












SET LIST:
Intro: Ode to Joy (Beethoven's 9th Symphony - Alla Marcia)
01. Hang On To Yourself
02. Ziggy Stardust
03. Changes
04. The Supermen
05. Life On Mars?
06. Five Years
07. Space Oddity
08. Andy Warhol
09. My Death
10. The Width Of A Circle
11. Queen Bitch
12. Moonage Daydream
13. John, I'm Only Dancing
14. Waiting For The Man
15. The Jean Genie
16. Suffragette City
17. Rock 'N' Roll Suicide


BAND:
David Bowie: (vocals, guitar)
Mick Ronson: (lead guitar, bass guitar, vocals)
Trevor Bolder: (bass guitar)
Mick Woodmansey: (drums)
Mike Garson: (keyboards)


COMMENTS:
This show was broadcast live on a local FM radio station and also recorded by RCA Records for a planned Ziggy Stardust live double album. The shows at Boston and Santa Monica were recorded and the artwork produced by George Underwood.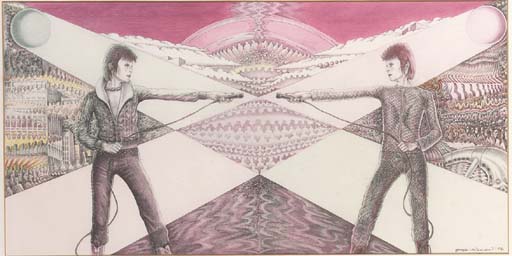 Heavily bootlegged in the Seventies, it eventually got an official UK release on 25th April 1994 (Golden Years GY002) and 14th March 1995 by Griffin Music (GCD-392-2) in the USA both via Trident Music International.


The introduction by Steve Martin for the FM radio broadcast went as follows:

"Steve Martin here, backstage at the Santa Monica Civic Auditorium. It's a cool night in Los Angeles, and as you may know or not know, the Santa Monica Civic is about a hundred yards from the beach so we have a cool breeze blowing off the ocean through the stage at our backs. The auditorium is packed, as a matter of fact, for the first David Bowie concert in the Los Angeles area. There will be one more tomorrow night, this is the concert tonight which will be recorded by RCA for the next David Bowie album and we expect to hear some new material by this British superstar. David and his group, the Spiders From Mars will enter from the other side of the stage. The auditorium is completely blacked out except for flashing strobe lights. Now the entrance music will be the Ode, or should I say the Ode To Joy which is featured in the movie Clockwork Orange and the house lights are starting to dim... here's David Bowie."