ORIGINAL DAVID BOWIE
RELATED ART FOR SALE
by Martino Catalano
LIMITED-EDITION SCULPTURED TRIBUTE
WALL-MOUNT OF HUNKY DORY ALBUM.
ONLY 1,000 WORLDWIDE TO BE MADE.
"This is my personal tribute to my favourite David Bowie
album of all time. I hope that this sculptured visage
evokes in the owner all those wonderful piano-based
melodies that will never date or die."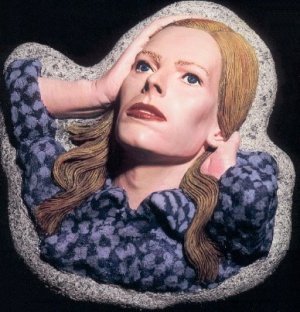 HUNKY DORY

Dimensions:10 inches x 9 inches
Material: Herculite Gypsum
Price: £120
(not inclusive of shipping/carriage)
Payment facilities with PAYPAL for minimal fuss and delay,
however please allow 28 days from ordering
as these are cast and painted to order.



FOR ENQUIRIES PLEASE EMAIL
MARTINO CATALANO at:
tino77_@hotmail.com