The Sun - 12th September 2003
EXCLUSIVE: Bowie refuses knighthood
By Dominic Mohan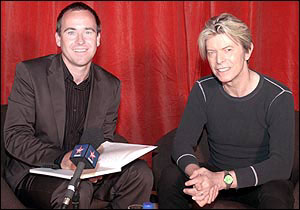 DAVID BOWIE says he refuses to accept a knighthood from the Queen - unlike his pal Sir Mick Jagger.

He hinted that the Palace had already offered him a New Year's honour but he turned it down because he believes the gongs are a waste of time.

Asked if he had been approached, he says: "Might have."

But he adds: "I would never have any intention of accepting anything like that. I seriously don't know what it's for. It's not what I spent my life working for.

"It's not my place to make a judgment on Jagger, it's his decision. But it's just not for me.

"Am I anti-monarchy? I'd only have a serious answer to that if I was living in this country."

The 56-year-old star lives in New York with wife Iman and daughter Alexandria, three.

Although he spent most of the Seventies addicted to cocaine, he has been drug-free for years and looks fresh and youthful.

He now has an unerring passion for life and his art - and admits he fears death.

As we chat in a West London TV studio, he says: "I feel bitterly angry that I won't be doing all this for the rest of eternity.

"Rage, that's what you get more than anything else. You get a bit angry, because it's good down here. On one of my new songs, Never Get Old - the song's ironic - there is the image of a petulant rock singer sitting in a half-darkened room saying, 'I'm not gonna get old.'

"I thought it was a funny image and I had to write it before someone else my age did."

Old age would not have been an option for Bowie if he had not had the strength to beat drugs.

He says: "I made a real decision not to disappear or die. I was very ill but I made a decision to pull myself out of that abyss."

And he reveals that far from giving him a creative edge, drugs just blanked out chunks of his memory.

He says: "Drugs are a major part of the rock experience. I'm glad I did all that but I wouldn't recommend it. Most of my good albums were made when I was straight.

"I'm never tempted now. There's a certain state of mind it puts you in that I don't want to go back to.

"I think it might have affected my memory but I don't think it's had an awful effect on me. It's like taking a spaceship - there are great dangers. Be aware that if you get on it, you may just blow up.

"I went up on the spaceship and got back to earth again. It was exciting but lots of people I know blew up."

Bowie is down-to-earth and modest. He is also welcoming and witty, retaining his London accent and his very British sense of humour.

He has an infectious laugh which punctuates many of his sentences.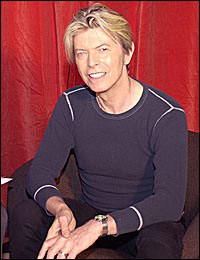 Bowie is in Britain promoting his excellent new album, Reality, a follow-up to last year's highly successful Heathen. He has hit fertile new songwriting ground and launches a world tour in November.

Despite his punishing work schedule, family life is vital, so Alex and Somali-born Iman will join him on the road.

Bowie already has a grown-up son, Zowie, from his first marriage. But he feels inspired by being a dad again, which he believes has made him more productive.

He says: "Fatherhood has changed the way I look at things in my writing to the way I'd have done it before. Before it was less edited, it just poured out. Alex likes the odd pieces of my music - she loves the single New Killer Star - but she's still at nursery rhyme level."

Bowie jokes affectionately about Alex's mixed parentage and New York upbringing.

He says: "She sounds like your average Anglophile Somali! She hasn't really got an American accent."

Despite his wealth Bowie is not materialistic. Having had homes around the world, he now owns just one apartment, in Manhattan.

He loves New York because people leave him alone there, although he has not ruled out a return to Britain.

He says: "I travel on the subway a lot in New York. I don't get hassled. The locals are more than cool.

"I've chopped and changed where I live so much and I never make any plans. I can just pull up roots and live somewhere else quite easily.

"I learn to love the place I'm living in but I don't get so attached that it's a wrench for me to move. I do see a time when I'll live in Britain again - but probably not in London.

"I love London and the people and the way of life but I think America offers a better chance of remaining anonymous and keeping a lower profile.

"Going to the park with my family is no real big deal in New York but here I've seen what happens.

"If you take your child out you have this trail of flies following you. Who wants to live like that?" Bowie is an enduring icon who has never played by the rules or sold out.

Unlike many of his contemporaries, he's managed to remain cool. He's made several career mistakes (I give you Tin Machine) but has learned from them and bounced back.

Always the innovator, he has just played a concert that was sent to cinemas around the globe via the Internet. He believes this could soon replace traditional rock tours.

He says: "We came over primarily to do this Internet thing, beaming out these shows from London to cinemas around the world. I thought of it about 15 years ago."

In a music and acting career spanning more than 35 years, Bowie has worked with some of the central cultural figures of the 20th century - and has met most of the rest. The Beatles, Muhammad Ali, Andy Warhol - he's known them all.

But he never met The King, although he did embarrass himself at an Elvis Presley concert in New York in 1972 while he was glammed up as his bisexual Seventies rock alter ego, Ziggy Stardust.

He says: "I walked up the aisle of Madison Square Garden in platform boots and with red hair. I was late because I'd flown in after a Ziggy Stardust gig in Huddersfield.

"We got there and he was already on stage. There I was, shuffling down the aisle and all these old biddies looking at me and all my hair.

"Elvis was looking down at me singing Love Me Tender, sneering. I could see him thinking, 'Who the f*** is that? Sit the f*** down.' It was really humiliating but unmissable."

His disappointment at not having met Presley is matched by his bemusement at having bumped into the Queen and Prince Philip - just the once, when he was six - at a royal agricultural show in Yorkshire.

He says: "I was looking at something and there was this crowd looking at me and this couple next to me. I recognised the woman as the Queen.

"She said, 'Oh, hello little boy,' and I became a picture in the newspaper - 'Little boy wanders into area where Queen is.' "

It was an early example of Bowie's indifference to royalty - and proved that this was a boy with a knack for making headlines.




CLICK HERE
TO CLOSE WINDOW