BOWIE TV and WHAT'S REALLY HAPPENING IN AUGUST - MONTHLY PLANNER

[BOWIEWONDERWORLD SHOP] [LATEST DAVID BOWIE ITEMS ON eBAY]

Got some DAVID BOWIE related news or a hot scoop?
Well don't just sit there keeping it to yourself send it in to
All news items are credited if you so wish


---
LOOKING FOR LOOK-A-LIKES
28th August 2004

Are you constantly being told you look just like DAVID BOWIE, or maybe your boyish looks resemble a young John Lennon? Then the Bluecoat Arts Centre needs you!

The centre is looking for people who resemble celebrities to take part in a photographic exhibition. The project, created specially for the Liverpool Biennial arts festival, is being carried out by South Korean-born artist YEONDOO JUNG and will be shown at the School Lane gallery.

His work, entitled BeWitched, aims to make the dreams of two Liverpool residents come true, by capturing their desires in two artificially staged photographs. He is looking for people who look like David Bowie, Albert Einstein, Bob Marley, Bob Dylan, John Lennon, Jesus, Attilla the Hun, Bob Geldof, Nelson Mandela, Margaret Thatcher, Germaine Greer, Jeremy Paxman, Janis Joplin, Alex Higgins, John McEnroe, Queen Boadicea, Joan of Arc or Adolf Hitler.

To take part, you must be available to take part in a photo shoot in Manchester from 12pm to 6pm on Tuesday August 31st.

Jung is travelling the world meeting people from different cultures and asking them to tell him their dreams, which he makes come true in the form of a special photographic portrait. He has so far realised 13 people's dreams in six different countries, including Beijing, New York and Amsterdam, and aims to continue until he has worked with 40 people from all over the world.

If you think you look like one of the famous figures and would like to take part in the project, e-mail your contact details with a photograph to

For further info, contact Catherine Gibson at Bluecoat on 0151 709 5689 or visit www.biennial.com


---
LIVE AID DVD DETAILS CONFIRMED
26th August 2004

WARNER VISION INTERNATIONAL have finally confirmed the release date and contents details of the forthcoming Live Aid DVD set.

The 4-disc set, originally put together after Sir Bob Geldof caught a bootlegger selling pirate versions on the web, is currently set for a pre-Christmas release making it the must have present for music lovers worldwide.

The four-disc set will contain all the performances from the extravaganza, except Led Zeppelin's set which the band were unhappy to include. The DVD will also feature bonus footage from Sydney and Holland, Michael Buerk's historic report from Ethiopia and the videos for Band Aid's 'Do They Know It's Christmas?', USA For Africa's 'We Are The World' and DAVID BOWIE and Mick Jagger's 'Dancing In The Street'.

The remaining Led Zeppelin members Robert Plant, Jimmy Page and John Paul Jones have agreed instead to contribute proceeds from their own upcoming DVD package to the cause.

The 4-disc set will retail at around the £40 mark and is currently set to hit shops on November 8th 2004.

DISC 1:
01. BBC News report including Michael Buerk's report from Ethiopia
02. Band Aid 'Do They Know It's Christmas?' (video)
03. USA for Africa 'We Are The World' (video)
04. Status Quo 'Rockin' All Over the World', 'Caroline'
05. Style Council 'Internationalists', 'Walls Come Tumbling Down'
06. Boomtown Rats 'I Don't Like Mondays', 'Drag Me Down'
07. Adam Ant 'Vive Le Rock'
08. Ultravox 'Dancing With Tears In My Eyes', 'Vienna'
09. Spandau Ballet 'Only When you Leave', 'True'
10. Elvis Costello 'All You Need Is Love'
11. Nik Kershaw 'Wouldn't It Be Good'
12. Sade 'Your Love Is King'
13. Sting 'Roxanne'
14. Phil Collins 'Against All Odds'
15. Sting and Phil Collins 'Every Breath You Take'
16. Howard Jones 'Hide and Seek'
17. Bryan Ferry 'Slave to Love', 'Jealous Guy'
18. Paul Young 'Do They Know It's Christmas?' (acappella version), 'Come Back and Stay'
19. Paul Young and Alison Moyet 'That's the Way Love Is'
20. Paul Young 'Every Time You Go Away'
21. Bryan Adams 'Kids Wanna Rock', 'Summer of 69'
22. U2 'Sunday Bloody Sunday', 'Bad'

DISC 2
01. Beach Boys 'Wouldn't It Be Nice', 'Good Vibrations', 'Surfin' USA'
02. Dire Straits and Sting 'Money For Nothing'
03. Dire Straits 'Sultans of Swing'
04. George Thorogood and The Destroyers 'Madison Blues'
05. Queen 'Bohemian Rhapsody', 'Radio Gaga', 'Hammer To Fall', 'Crazy Little Thing Called Love',
'We Will Rock You', 'We Are The Champions'
06. Simple Minds 'Ghost Dancing', 'Don't You Forget About Me'
07. David Bowie 'TVC15', 'Rebel Rebel', 'Modern Love', "Heroes"
08. CBC Footage (video) 'Drive' by The Cars
09. Joan Baez 'Amazing Grace'
10. Pretenders 'Stop Your Sobbing', 'Chain Gang', 'Middle Of The Road'
11. The Who 'Love Reign O'er Me', 'Won't Get Fooled Again'
12. Kenny Loggins 'Footloose'
13. Elton John 'Bennie and The Jets', 'Rocket Man'
14. Elton John and Kiki Dee 'Don't Go Breaking My Heart'
15. Elton John and George Michael 'Don't Let The Sun Go Down On Me'

DISC 3
01. Madonna 'Holiday', 'Get Into The Groove'
02. Freddie Mercury and Brian May 'Is This The World We Created?'
03. Paul McCartney 'Let It Be'
04. Band Aid UK Finale 'Do They Know It's Christmas?'
05. Tom Petty and The Heartbreakers 'American Girl', 'Refugee'
06. Black Sabbath feat. Ozzy Osbourne 'Paranoid'
07. REO Speedwagon 'Can't Fight This Feeling', 'Roll With The Changes'
08. Crosby Stills and Nash 'Teach Your Children'
09. Judas Priest 'Living After Midnight', 'Green Manalishi'
10. The Cars 'Just What I Needed', 'Heartbreak City'
11. Neil Young 'The Needle and The Damage Done', 'Nothing is Perfect (in God's Perfect Plan)'
12. Thompson Twins, Steve Stevens, Nile Rodgers and Madonna 'Revolution'
13. Eric Clapton 'White Room', 'She's Waiting', 'Layla'
14. Phil Collins (in Philadelphia) 'In The Air Tonight'
15. Duran Duran 'Union Of The Snake', 'Save A Prayer', 'The Reflex'
16. Patti Labelle 'Imagine', 'Forever Young'

DISC 4
01. Hall and Oates 'Maneater'
02. Hall and Oates with Eddie Kendricks 'Get Ready (Cos Here I Come)'
03. Hall and Oates with Eddie Kendricks and David Ruffin 'Ain't Too Proud To Beg', 'My Girl'
04. Mick Jagger 'Just Another Night', 'Miss You'
05. Mick Jagger and Tina Turner 'State Of Shock', 'It's Only Rock 'n' Roll'
06. Bob Dylan, Keith Richards, Ron Wood 'Blowin' In The Wind'
07. USA For Africa Finale 'We Are The World'

Extras:
01. INXS - from Australia 'What You Need', 'Don't Change'
02. B.B. King from North Sea Jazz Festival 'Why I Sing The Blues', 'Don't Answer The Door',
'Rock Me Baby'
03. Ashford and Simpson with Teddy Pendergrass 'Reach Out And Touch'
04. Cliff Richard from London 'A World Of Difference'
05. Bowie and Jagger 'Dancing In The Street' (video)
06. Documentary: 'Food and Trucks and Rock 'n' Roll'


---
DIAMOND DOGS TRIBBERS GIG
26th August 2004

The DAVID BOWIE tribute band DIAMOND DOGS perform a gig tomorrow night (Friday 27th August) in Bristol, England at the Reckless Engineer.

Diamond Dogs are a Ziggy era Bowie tribute playing everything from Jean Genie right through to Ziggy Stardust and Diamond Dogs, plus loads more classics. Expect wigs, makeup and loads of glam.

The gig will be a David Bowie/Ramones tribute at The Reckless Engineer, Temple Gate, Bristol (the venue is opposite Temple Meads Station). Only £4 on the door, with first band on stage at 8:45pm.

Also performing with Diamond Dogs, are The Shamones - recently formed Ramones tribbers.

From Jeff.

---
DAVID NOMINATED IN THE LONG LIST
23rd August 2004

DAVID BOWIE has been nominated in the 2004 'Long List' for the annual Shortlist Music Prize, which honours artists whose albums are critically acclaimed by the world's top musicians.

The final 10 nominees for the Shortlist will be announced in September, but those under consideration to be nominated, or on the "Long List," include David Bowie, Lynn for "Van Lear Rose," produced by the White Stripes' Jack White; British rapper Dizee Rascal for "Boy in Da Corner"; Gray for "The Trouble With Being Myself"; The Killers' for "Hot Fuss"; and Patti Smith for "Trampin'." Other "Long List" candidates include Bebel Gilberto, Cee-Lo and Nellie McKay.

The Shortlist Music Prize, now in its fourth year, is decided by an eclectic mix of journalists, musicians, and other artists who nominate worthy acts. Robert Smith, Perry Farrel, 3D, John Mayer, Norah Jones, actor Jack Black and The Dixie Chicks are among those on this year's committee.

The winner of the competition, which will be decided after a concert featuring other nominees in Los Angeles on November 10, gets a $10,000 prize.

You can check more information by visiting their official web site @ www.shortlistofmusic.com


---
PRESS RELEASE: A REALITY TOUR DVD
23rd August 2004



FOR IMMEDIATE RELEASE
08.23.2004: 'DAVID BOWIE - A REALITY TOUR' DVD

DAVID BOWIE TO RELEASE 'DAVID BOWIE - A REALITY TOUR' DVD
OCTOBER 19 WORLDWIDE, MARKING FIRST LIVE CONCERT FILM IN OVER 15 YEARS
FILMED IN DUBLIN, IRELAND, NOVEMBER 22-23, 2003



"...Bowie still manages to project more charisma during one song than most modern-day stars manage in a career... The songs sound as fresh as ever..." - Maurice O'Brien, IRISH INDEPENDENT (Dublin), November 24, 2003.

DAVID BOWIE will release "DAVID BOWIE - A REALITY TOUR" DVD October 19 (ISO/Columbia) to commemorate his first major world tour in nearly a decade. Filmed last November 22 and 23 in front of emotionally charged audiences at the Point Depot in Dublin, Ireland, the DVD marks the influential rock legend's first concert film in over 15 years. Thirty songs spanning BOWIE's illustrious career - including "Five Years" and "Hang On To Yourself," which BOWIE hasn't played live in over 20 years - are featured in a riveting state-of-the-art sound and light stage production that was conceived by BOWIE and utilises enormous LED screens and animation. The programme runs 140 minutes, and a ten-page booklet filled with amazing live photos from the event is included in the package.

Feeding off the overwhelming response from the Dublin audience, BOWIE said on the first night: "If we're going to film a DVD anywhere, this is the place to do it. I know it, you know it and they (the film crew) know it!" "DAVID BOWIE - A REALITY TOUR" is produced by Blink TV, edited by Emmy Award winner Guy Harding and the Creative Director is Marcus Viner. The DVD's 5.1 surround sound mix was engineered by Tony Visconti, BOWIE's long-time producer of such classic albums as THE MAN WHO SOLD THE WORLD, YOUNG AMERICANS and "HEROES"; Visconti also co-produced with BOWIE his most recent critically revered albums HEATHEN (2002) and REALITY (2003).

Armed with a rotating list of 60 songs, BOWIE and his band - Gerry Leonard (band leader/guitar/vocals), Sterling Campbell (drums/vocals), Earl Slick (guitar), Gail Ann Dorsey (bass guitar/vocals), Catherine Russell (keyboards/vocals/percussion/guitar) and Mike Garson (keyboards) - made their mark with shows constituting what many described as one of the best treks in his career. The hugely successful and critically acclaimed "A Reality Tour" began last October in Europe, visiting countries all over the world while attracting over 700,000 fans and earning the tour #1 top-grossing honours for the first half of 2004, according to Billboard Boxscore. It was also hailed as "Best Tour: #2 (after Radiohead)" in the "Critics' Picks" section in the ROLLING STONE "Music Awards 2003" poll (2/5/04).

"DAVID BOWIE - A REALITY TOUR" mixes an array of classics and deep album cuts with songs from BOWIE's most recent works, HEATHEN and REALITY, both of which critics ranked among his best works. HEATHEN entered the top 15 in 14 countries, including the U.S., while REALITY claimed the #1 position on Billboard's Pan European chart, debuting in the Top 10 in 15 countries. BOWIE truly continues to raise the standard for ongoing adventurousness and artistry in popular music.

The complete "DAVID BOWIE - A REALITY TOUR" tracklisting:

01. Rebel Rebel
02. New Killer Star
03. Reality
04. Fame
05. Cactus
06. Sister Midnight
07. Afraid
08. All The Young Dudes
09. Be My Wife
10. The Loneliest Guy
11. The Man Who Sold The World
12. Fantastic Voyage
13. Hallo Spaceboy
14. Sunday
15. Under Pressure
16. Life On Mars?
17. Battle For Britain (The Letter)
18. Ashes To Ashes
19. The Motel
20. Loving The Alien
21. Never Get Old
22. Changes
23. I'm Afraid Of Americans
24. "Heroes"
25. Bring Me The Disco King
26. Slip Away
27. Heathen (The Rays)
28. Five Years
29. Hang On To Yourself
30. Ziggy Stardust

DAVID BOWIE - LIVE IN DUBLIN DVD Region 2 released 18th October Region 2 encoding (Europe, Japan, South Africa and the Middle East including Egypt) - Order now and receive a 25% discount - Our Price: £10.49.
October 19th: Region 1 (U.S. and Canada only) - Order now and receive a 30% discount - Our Price: $10.49.


---
LUCIA'S GRINNING SOUL
22nd August 2004

LUCIA MICARELLI lead violin player with the Josh Groban band has just released her debut solo album entitled Music From A Farther Room. Her album includes a fabulous cover version of the DAVID BOWIE song 'Lady Grinning Soul' taken from his 1973 Aladdin Sane album.

The New York born, Hawaii raised artist recorded her album with the London Philharmonic Orchestra at Abbey Road Studios. Josh Groban was Executive Producer.

"My goal was to maintain the integrity of the classical repertoire I grew up with, but present it in a contemporary way" Lucia says in her press release. "At the same time, I've had such a wide range of influences, I felt it necessary to pay tribute. The juxtaposition of old and new is something I've been fascinated with for years, and that became the foundation for this record."

The tracklisting is as follows:



01. Samarkand
02. Oblivion
03. Meditation From Thais
04. Portrait
05. To Love You More
06. Reflexio
07. Aurora
08. Lady Grinning Soul
09. Ravel String Quartet In F Major: Assez Vif - Tres Rythme
10. She Is Like The Swallow
11. My Funny Valentine
12. Nocturne/Bohemian Rhapsody

You can listen to some sample tracks from her album via Amazon.co.uk and Amazon.com


---
NOTHING HUMAN LOVES FOREVER
17th August 2004

Vampire movie THE HUNGER which stars DAVID BOWIE, Catherine Deneuve and Susan Sarandon is all set for a DVD Region 2 re-release by Warner Home Video on October 18th.

Synopsis: Miriam (Catherine Deneuve), an ancient vampire who survives on the blood of her lovers, promises the gift of eternal youth in return for her continued longevity... and that is until she tires of them. When her current beau, John (David Bowie), falls victim to this very fate he attracts the attention of premature aging specialist Dr. Sarah Roberts (Susan Sarandon).

The special features on this DVD release include: Commentary by director Tony Scott and Susan Sarandon, a stills gallery and theatrical trailer.



Release details:
Certificate: 18.
Category: Drama.
No. of Discs: 1.
Running Time: 97 minutes.
Year Produced: 1983.
Region: 2 (UK and Europe/Japan).
Audio: English - Dolby Digital Mono.
Aspect Ratio: 2.35 (Widescreen).
Anamorphic: Yes.
Encoding: PAL.
Interactive Features: Interactive Menus, Scene Selection, Theatrical Trailer.

You can Pre-Order NOW for only £7.99 including FREE delivery via CDWow


---
FAME... WHAT'S YOUR NAME?
16th August 2004

A new UK TV series on CHANNEL 4 which honours the best bands and pop stars over the past 50 years is to be launched next month.

The likes of the Beatles, DAVID BOWIE, Rolling Stones, Queen, The Who, Madonna and Elvis Presley will battle it out for a place in the UK Music Hall of Fame.

Former Live and Kicking presenter Jamie Theakston has clinched a £350,000 deal to host the Channel 4 show which bosses hope will rival both the Brit Awards and the Mercury Music Prize.

Over six weeks acts from the 50s to the 90s will be put through a rigorous nomination process. By the end of the series five will be allowed into the Hall of Fame. Each instalment will focus on a specific decade with finalists decided by a viewer vote.

The show, from the makers of Big Brother, is designed to attract "real music lovers" rather than Pop Idol fans. An insider said: "This will establish once and for all the names of the most cherished acts in music history. These people have shaped 20th-century music and truly deserve to be honoured in a TV Hall of Fame. But it is sure to cause a huge debate among the true music lovers."

The competition, which mirrors a version in the US, will cover all types of music. The grand final will be held at the Hackney Empire in London later this year.

Entrants can come from anywhere in the world as long as they have had chart success in the UK. Modern acts such as the Spice Girls, Kylie Minogue, J-Lo, Oasis and Pulp will also be included. The acts must have released their first single at least five years ago.

Theakston is said to be "delighted" at landing the role. The 33-year-old will front five two-hour specials before presenting the final. The series will become an annual event with five acts joining the Hall of Fame each year. In America the Hall of Fame is regarded as the highest honour any artist can receive.


---
AND THE BITS FLEW FAR AND WIDE
16th August 2004

Prices realised for the various DAVID BOWIE items at the BACKSTAGE AUCTIONS were as follows: Lot 122: $1,071.77 David Bowie 1974 Philadelphia "Live" Recordings. Lot 123: $1,035.19 1974 'Wham Bam' Album Acetates. Lot 124: $1,980.00 1960s and 1970s Acetates, sealed promotional vinyl. (See 22nd July news for lot details)...

The movie LABYRINTH starring DAVID BOWIE as Jareth features on the big screen on 21st August in Adelaide, Australia, at the Marion Cultural Centre. Admission: $5.50 and starts at 8:00pm. Address: 287 Diagonal Road, Oaklands Park, S.A. - (from Paul Z)...

Check out some rare and previously unseen 1973 photographs of DAVID BOWIE in Japan park2.wakwak.com - (from ArdentDesir)...

Seven more stunning photographs of DAVID BOWIE and IMAN are now appearing at the TOMMY HILFIGER website for his H Hilfiger 2004 clothing line campaign - visit here - (from Zigbot)...


---
HAPPY 4th BIRTHDAY TO ALEXANDRIA!!!
15th August 2004



Happy 4th Birthday Alexandria!
Have a wonderfully happy day!

Best wishes and lots of love
Paul, Dawn, Michael and Jade xxxx
and everyone on Wonderworld



---
HAPPY BIRTHDAY DAWN!!!
15th August 2004



Happy Birthday Mrs. Rednik

Many happy returns of the day and lots of love as always

Paul, Michael and Jade xxx



---
ALL THE YOUNG DUDES CARRY THE NEWS
7th August 2004

Any breaking DAVID BOWIE news over the next few days will be posted up on the BWW Message Board whilst I sort out a new computer, and take a few days off sat on a deckchair whilst the sun is out ;)

Please visit BW Message Board to check for any news and obviously over at BowieNet


---
A BIG BAD DIAMOND DOG
6th August 2004

DAVID BOWIE, a big bad dog, The Immortal and unseen Diamond Dogs... what more could you ask for?

Check out the latest column... Diamond Dogs Rule OK

---
DB TV HIGHLIGHTS FOR AUGUST
3rd August 2004

Several programmes being broadcast this month featuring DAVID BOWIE include the following:

3rd August: Trio On Tour, Glass Spider Concert, Trio, USA, 6:00pm ES
4th August: Trio On Tour, Glass Spider Concert, Trio, USA, 8:00am and 1:00pm ES
13th August: David Bowie: A Very Special Birthday Celebration, Onyx, Germany, 18:00 CET
14th August: David Bowie: A Very Special Birthday Celebration, Onyx, Germany, 21:00 CET
15th August: Best Of Formel Eins features David, Kabel 1, Germany, 19:10 CET
17th August: David Bowie: A Very Special Birthday Celebration, Onyx, Germany, 21:00 CET

Visit the Monthly Planner for more details on other programmes and events.


---
FANTASTIC VOYAGE IN HEBREW
1st August 2004



NOAM ROTEM is an artist from Israel who has translated and recorded his own version of 'Fantastic Voyage' from the DAVID BOWIE album Lodger.

The cover version in Hebrew appears on Noam's debut solo album 'Human Warmth' (Chom Enoshi), which you can check out on www.noamrotem.co.il

Noam broke into the music scene at nineteen, and for seven years fronted the Brit-pop inspired band ICE 9 before going solo. Talking about his debut solo album Noam says:

"There are different styles on the album. I read a lot," he states simply."I expect music, like books, to have the listener enter with one state of mind and leave with another. The interpretation they take with them doesn't matter; as long as their phase has changed, I will have succeeded."

His songs are influenced by other musicians (David Bowie, Leonard Cohen), poets such as Yates, and the situation in which we live.

"This album is a result of what has happened in my personal life - all my fears and uneasiness relating to the tough reality we're living," he says. "Almost every text can be taken as political, but each song is also very personal. "The album is one coherent story, one piece. It has episodes, but it is one story."

The record talks about trying to find one's place in the world. For Rotem, that place is Israel. Although he is aware of the limits in playing to an Israeli audience, he rejects making the jump to English.

"I won't sing in English," he says flatly. "Hebrew is the language I think in. I find it funny to write in a different language. It's more challenging for me to make something sound good in Hebrew. Also, I am a musician but I'm not living in a shell. I've been in the army, I pay my taxes, and I go to work like everyone else some people might expect me to live a sex, drugs and rock-and-roll lifestyle. But this is not possible here. You do the music without the lifestyle."

Rotem, who wrote nearly all the songs on the album with his creative associate, Ohad Koski, is steadfast in doing music he likes and not selling out with easier, more marketable tunes.

"A lot of people I only dreamed about working with came to help me," he says. "I consider Bowie to be my great teacher in music... And one thing I learned from him is to work with people. I told the musicians who worked with me: 'I wrote this and I sing and I play the guitar; everything else you should bring yourself.' And this resulted in more layers to the music."

"I hope to make a living with my art, but I'm not counting on it," he says. "That's the price you pay when you choose to do music in a place like this. And I'm fine with that. I can always do something else for a living, and do music for my soul."

Talking about his web site Noam says: "Music is the focus. The point of my Web site is for people just to listen. They don't have to buy the album, they just have to listen. Human Warmth is a starting point for me."

Check it out by clicking here - scroll down and click on song number 8 - to hear his fabulous version of Fantastic Voyage sung in Hebrew.


---
SEE MY LIFE IN A COMIC
1st August 2004



"See my life in a comic... Like the way they did the Bible"...

Discovering JOHN BAGNALL's work is like coming across a marvellous second-hand shop on a rarely frequented street. You wander in, start digging about, and are soon rewarded with remarkable finds. 'Don't Tread On My Rosaries' is a more low-key example of British comics publishing, featuring as it does a collection of short stories.

This eighty page collection of comic strips, published by Kingly Books of Glasgow, Scotland, collects a group of short stories, the best of which, 'The Chemist and the Capuchin,' tells the slightly nutty but heartfelt story of a scientist who suffers a chronic injury and rediscovers his lost faith. Another tale imagines DAVID BOWIE's diary from his Berlin days. Created with no apparent pretense, Bagnall's work has a warm and funny eccentricity.

Featuring a full colour cover, mono endpapers, black and white interior pages printed on luscious 120 gsm stock. Price is £9 within the UK, €12 within Europe and $17 air mail outside Europe.

You can click here to view a sample page of David and Jimmy.

More details and ordering information can be found at www.kinglybooks.com - customers in the USA may find it easier to buy 'Don't Tread On My Rosaries' from Last Gasp of San Francisco ($14).


---
NME ORIGINALS: GLAM ISSUE OUT NOW!
1st August 2004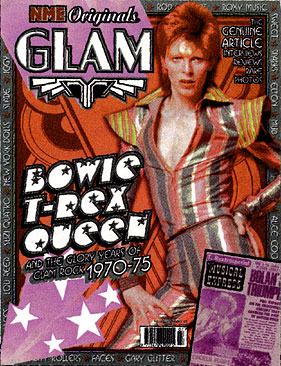 The latest copy of NME ORIGINALS is all about the seventies and the rise of glam! DAVID BOWIE features heavily in this issue, as well as appearing on the rather psychedelic cover - his career is chronicled in great detail, along with the other greats such as Iggy, Marc Bolan and Lou Reed.

Steve Sutherland: "Take a stylish stroll through the early '70s when boys would be girls and girls would be boys and the whiff of teen revolution was scaring the loon pants off the revered elders of rock. Lovingly lifted from the world famous archives of NME and Melody Maker, GLAM charts the irresistible rise of David Bowie as he created then cast aside Ziggy Stardust, stopping along the way to gape in awe at the genius of the bopping elf Marc Bolan and his hitmungous T Rex. Others whose interviews, reviews, news and gossip stories feature in GLAM include Queen, Sparks, Slade, Suzi Quatro, Gary Glitter, Iggy Pop, Lou Reed, Rod Stewart, The Faces and The New York Dolls.

So come on, get it on with all the young dudes." Price: £5.50.

From IPC Media.

---

OLDER NEWS

July | June | May | April | March | February | January

2003 Bowie News Archives | 2002 Bowie News Archives
2001 Bowie News Archives | 2000 Bowie News Archives
1999 Bowie News Archives | 1998 Bowie News Archives