BOWIE TV and WHAT'S REALLY HAPPENING IN MARCH - MONTHLY PLANNER

[ BOWIEWONDERWORLD SHOP ] [ LATEST DAVID BOWIE ITEMS ON eBAY ]

[ Get your @bowiewonderworld.com email address HERE sponsored by Everyone.net
]

[ BW POLL: FAVOURITE CLOSING BOWIE TRACK? - VOTE HERE ]

Have YOU got some DAVID BOWIE related news or a hot scoop?
Well don't just sit there keeping it to yourself - send it in to
All news items are credited if you so wish


---
HOLLY P AT THE KIDS COTTON CLUB
29th March 2006

Former DAVID BOWIE backing singer HOLLY PALMER plays on Sunday Nights at The Kids Cotton Club. If you find yourself in Los Angeles on a Sunday night, you should move yourself to Danny Masterson's night at Guy's for The Kids Cotton Club.

You will hear some of the most gorgeous, soulful, full-on R&B and Soul and Jazz music this side of NYC. There is a house band of monster players, including a mess of horns, stand-up bass and various guests who jump up and add to the party. Macy comes to sing, Nikka comes to sing and lately, Miss Holly has been doing her thing. She's been bringing the house down singing, 'Georgia', leaving people asking, "Is that girl with the mohawk gonna sing again?" Well, the mohawk's growing out, but yes, she will now be there singing a song or two EVERY SUNDAY NIGHT around midnight. Come early, the place fills up quick!!

Guy's Bar is located at: 8713 Beverly Blvd, West Hollywood, CA 90048.

From Bombshell Records


---
BOWIE BARGAINS AT 101
28th March 2006

Currently on special offer at 101 are the following SIX DAVID BOWIE classic albums. All titles were £8.95 - now reduced to just £4.99. Limited Stocks Are Available - First Come First Served!

Hunky Dory (Remastered version)
Pin Ups (Remastered version)
Diamond Dogs (Remastered version)
"Heroes" (Remastered version)
Let's Dance (Remastered version)
The Rise and Fall of Ziggy Stardust and The Spiders from Mars (Remastered version)





---
BOWIEFEST EVENT IN SHEFFIELD
28th March 2006



BOWIEFEST on 30th March 2006
7:00pm onwards at
West Street Live, West Street, Sheffield, United Kingdom
Telephone: (0114) 253 6510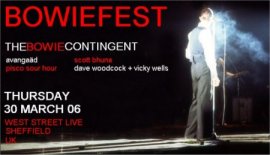 For the 2nd year UK Bowie tribute act The Bowie Contingent are raising money for Save The Children with their BowieFest event, and whilst the event is FREE, donations will be taken on the night in aid of the cause.

This year looks set to be bigger and better than the last! Bowiefest started as a low key evening celebrating Bowie's influence over the past five decades, but has now blossomed into a full night of audio/visual entertainment.

With DJs, video projections, live music and prize give-aways (with some great items donated by Gail Ann Dorsey, Woody Woodmansey, Mark Plati and Tony Visconti, together with posters, CDs and T-Shirts) this FREE event will be raising money on the night for Save The Children.

Live music for the event is provided by The Bowie Contingent, with support coming from - Avangaad, Pisco Sour Hour, Scott Pilkington (Bhuna), Dave Woodcock and Vicky Wells (Taste of Shotgun), all of whom will be performing a selection of Bowie's hits and album tracks throughout the evening.

There will also be video projections and DJs playing music from both Bowie and other related artists such as Iggy Pop, Lou Reed, Arcade Fire etc... etc...

The night kicks off at 7:00pm and looks set to be a great event!

From Jason (aka Icarusboy)


---
PRESTIGE ANDY SERKIS INTERVIEW
27th March 2006

UK actor ANDY SERKIS who is about to star alongside DAVID BOWIE in 'The Prestige' has been interviewed by Quint on aint-it-cool-news website.

Highlights of the interview include the following:

QUINT: I also wanted to touch on a project you're doing now, playing David Bowie's assistant in The Prestige.
ANDY SERKIS: Yeah!
QUINT: Sounds like it'd be so much fun. Have you done that already?
AS: I haven't, I haven't. I've done some scenes. I've done my scenes with Hugh Jackman. I've got my scenes with David Bowie coming up next week, actually, so I fly back to LA and I start filming next week with him. That'll be so exciting.
Q: That's so cool, man. I'm a child of the '80s, so Bowie's been with me from an early age because of Labyrinth. Then his music... I just can't wait to see him play Tesla. He's a perfect match for that...
AS: Isn't he just, yeah! He's perfect casting. Really cool.
Q: You're playing his assistant, right?
AS: That's right. I'm playing this character called Roger Alley who's kind of... He's very kind of defensive of Tesla and the AC current, you know, because of the DC current. (laughs)

You can read the whole interview over at the aint-it-cool-news.com website.

Thanks to P-Lo for the pointer.


---
TAKE A QUICK BUTCHERS...
27th March 2006

Labyrinth fans... PLAN-B TOYS have just shown their new JARETH resin bust at the New York Toy Fair and it looks great. It is set on top of a crystal ball and is Jareth in the high collar costume from the dream sequence. A small feature appears in this months Model and Collector magazine. Also Forbidden Planet have said there is not a release date for the Pallisade 12" Jareth as yet - [from JBK]...

There's a brand new book just published entitled 'Performing Glam Rock: Gender and Theatricality in Popular Music' written by Philip Auslander. Published by the University of Michigan Press. DAVID BOWIE is, of course, one of the major subjects. More details can be found at press.umich.edu website - [from Mr. Kenneth]...

White Stripes JACK WHITE's new band THE RACONTEURS performed 'It Ain't Easy' at their Glasgow show the other night. Brendan Benson sang the whole song and Jack White made an excellent Mick Ronson - [from Robin]...

An original painting of DAVID BOWIE titled 'Moonage Daydream' by James Wilkinson and signed by David in 1999 is due to be auctioned at Madame Tussauds in London on 19th April by Cooper Owen. Also included in the auction is a David Bowie RCA Promo early Ziggy tour poster designed by George Underwood. Visit cooperowen.com and look for Sale Lot 1 and Sale Lot 139 respectively - [from James]...

The Nic Roeg documentary CRACKED ACTOR gets an airing on UK television next month on 7th April. BBC4 have a week of 70s programmes, several 'In Concert' films, rerunning Life On Mars, ZSTMP and a Jon Pertwee era Doctor Who - [from P-Lo]...


---
BOWIE vs THE PUSSYCAT DOLLS
26th March 2006



Just recently added to the M*A*S*H website @ glory-nights.net is an interesting mash up of DAVID BOWIE vs THE PUSSYCAT DOLLS with 'Don't Cha Dance'.

This boot mash fuses David's Eighties smash hit 'Let's Dance' and The Pussycat Dolls featuring Busta Rhymes recent hit 'Don't Cha'.

This brand new concoction by Germany's Leebuzz can be downloaded here

Warning: Some adult lyrical content contained.


---
BOLAN, BOWIE, MORRISSEY AND ME
23rd March 2006

The Arts Telegraph website has published an interview with TONY VISCONTI entitled 'Bolan, Bowie, Morrissey and Me'.

Highlights include:

"If I have one talent as a producer it's that I have a way of capturing someone's essence. I don't want to be Svengali, and I don't want to work with people who need that - if they need that, they're not really true artists. David has worked with other producers, illustrious producers, but they gave him their sound. My philosophy is always to defer to the alpha male: 'David, what do you want?' So I think on the records I've co-produced with David, people are going to get a more real Bowie."

You can read the whole article over @ telegraph.co.uk


---
1ST ANNUAL NYC db FAN ART SHOW
20th March 2006

LoveNico and Twozpots are planning an Art show in New York City to showcase all the talents of the DAVID BOWIE fan. Artisans of all medias are invited to join us:

NEW YORK CITY on Saturday September 23rd at 7:00 pm. Venue: TBA

Artisans interested please contact:
Non Artisan attendees please contact:

Visit bnetartshow.htm for more details and information.

Hope to see lots of you talented people there.

From Twozpots


---
DAVID TO PENN BRUCE LEE SCORE?
19th March 2006

A new musical based on the life of BRUCE LEE - possibly featuring the songs of rock titan DAVID BOWIE - is headed for Broadway.

According to Variety, the musical would be based on the life story of the iconic martial artist and movie star, who starred in classic kung fu films such as Enter The Dragon before dying tragically young in 1973 at the age of 32.

Tony Award-winner David Henry Hwang has been tapped to write the book of the musical, which is under development by the Chicago-based Elephant Eye Theatricals and is projected to leap onto Broadway around 2008.

Matthew Warchus, the director of the Lord of the Rings musical, will also helm the Bruce Lee show.

"Bowie was spotted in Toronto yakking with Warchus," states the article. The rock legend - who wrote "China Girl" among many other hits - would make his Broadway musical debut with the Lee musical. However, Bowie's involvement has not yet been confirmed.

You can read the full story at variety.com


---
DAVID AND TVOTR COLLABORATE ON 'PROVINCE'
18th March 2006

Update: 12th June release date... Word on the street about the recent DAVID BOWIE and TV ON THE RADIO collaboration... The song that David performs vocals on is entitled 'Province' which will appear on their next album 'Return To Cookie Mountain'.

There's no official release date for the album release as of yet but expect a release in June 2006 via Interscope Records.

Here are the possible songs to be included on the album:

Playhouses (5:17)
I Was A Lover (4:23)
Province (featuring David Bowie) (4:38)
Snakes + Martyrs
Hours (4:25)
Wolf Like Me (5:08)
Tonight (6:57)
Dirty Whirlwind (4:19)
A Method (4:33)
Let The Devil In (4:29)
Blues From Down Here (5:21)
Wash The Day Away (6:01)


---
TAKE A QUICK BUTCHERS...
15th March 2006

The new 7" vinyl single from THE MODERN entitled 'Industry' is backed by a cover of DAVID BOWIE's 'Modern Love'. For more info on the single or the band visit the-modern.co.uk - you can also Download from music on iTunes.
[from Joe Gilsh]...

Just in case you missed it THE INDEPENDENT published an interview with DUNCAN JONES last week. You can read the full article @ Independent Online website - [from Andy/JBK]...

Legendary photographer MICK ROCK has a new limited edition DAVID BOWIE Rip Art T-shirt available for purchase. These T-shirts have been manufactured to the highest quality. The front features a full colour 9 inch by 9 inch screen print of the famous Mick Rock photo of David Bowie. Each shirt has a 3 inch by 2 inch print on the nape of the neck and is finished with a Mick Rock signature label. Check it out at the Mick Rock Shop...

Former DAVID BOWIE band guitarist STACY HEYDON is currently performing final mix down and mastering of Fat Sam's intial album debut. Stacy Heydon Billboard number 1 producer is working with veteran musicians on a new sound that updates metal from the 1980's to 21st century "in your face" attitude. Stacy's signature production talent is matched by a "balls to the wall" hard driven guitar and drum rips and unique heavy vocal's by Gordy Price (The Toast Band also produced by Stacy). The Maestro is up to the task and the result is the most hotly anticipated rock and roll album of his producing career. More details and information can be found at fatsamrocks.com - [from Wesley]...


---
GLASTONBURY AT THE BERLIN FILMFEST
14th March 2006

DB fan OLAF emailed in to let us know that he saw the first screening of the JULIEN TEMPLE documentary 'Glastonbury' on the Berlin Filmfest ("Berlinale"). It took place at the cinema 'International' in former East Berlin.

Julien was there (and sitting right behind me...) and was in a good mood as he presents the movie. Before the film starts, Berlinale-director Dieter Kosslick interviewed him. Julien told the audience they have 900 hours of footage cut down to 2 hours, and they will bring out an DVD with 898 hours of bonus material. Also he told the audience that Ben & Jerry will bring out an Glastonberry ice cream.

The film is an interesting collage from all the years of the festival, not running chronologically, it jumps around through all the years mixing scenes from the hippy, punk or dance era together for a fascinatinating movie. It includes - of course - a lot of music, like Velvet Underground, Pulp, Morrissey, Björk, and a thousand others and of course our man, with his stunning performance of "Heroes". This is the end of the movie and its dedicated to all the people who make this festival come true, and I think its the best way to end this film.

After the film they did a little more serious interview with Julien. He talked about the stress, seeking all this material, which comes a lot from festival visitors private footage. The most interesting experience for him was that he understands, that the most difference between Hippies, Punks and Ravers is the hairstyle. What they have all in common ist the wish for an better, alternative world. Interesting to hear this from a "Kill the Hippies" - Filmer.

After this he ends with a plea for the survival of mankind (and as he said, do not care only for butterflies and rhinocerosses) and this is what his film is for.

But even if you're interested in the existence of Rhinocerosses or not, its a brilliant film, and with 2 hours 20 minutes not one minute to long.

From Olaf Dose.


---
NIGHT AT THE GENIES
14th March 2006

You might recall last September the news of a new movie based on the life of a teenage DAVID BOWIE fan entitled C.R.A.Z.Y.

The story of a Quebec boy tackling the pain and vagaries of adolescence, is accompanied by a soundtrack of David Bowie, Pink Floyd and even his father's Patsy Cline records, was the runaway winner at last night's 26th annual Genie Awards in Canada.

Canada's version of the Oscars awarded the acclaimed film and box-office hit C.R.A.Z.Y. 10 Genies yesterday in such categories as best picture, best director to Jean-Marc Vallée, best leading actor to Michel Côté and best screenplay, which Mr. Vallée shared with François Boulay.

It also won the Golden Reel Award for the Canadian film with the highest domestic box office last year, grossing more than $6.2-million in Canada.

C.R.A.Z.Y. was by far the lead contender heading into the evening with 12 nominations.

The film ended up winning the following eleven awards:

Best film: C.R.A.Z.Y.
Art direction, production design: Patrice Vermette, C.R.A.Z.Y.
Costume design: Ginette Magny, C.R.A.Z.Y.
Direction: Jean-Marc Vallée, C.R.A.Z.Y.
Editing: Paul Jutras, C.R.A.Z.Y.
Actor in a leading role: Michel Côté, C.R.A.Z.Y.
Actress in a supporting role: Danielle Proulx, C.R.A.Z.Y.
Overall sound: Yvon Benoît, Daniel Bisson, Luc Boudrias, Bernard Gariépy Strobl, C.R.A.Z.Y.
Sound editing: Martin Pinsonnault, Mira Mailhot, Simon Meilleur, Mireille Morin, Jean-François Sauvé, C.R.A.Z.Y.
Original screenplay: Jean-Marc Vallée, François Boulay, C.R.A.Z.Y.
Golden Reel Award: C.R.A.Z.Y.
Claude Jutra Award: Louise Archambault, C.R.A.Z.Y.

You can read the full story by Guy Dixon over at the Globe and Mail website.


---
SERIOUS DVD OUT NOW
13th March 2006



Reminder: Today's the day for the release of DAVID BOWIE's Serious Moonlight DVD.

The concert was filmed live at Pacific National Exhibition Coliseum in Vancouver, BC, Canada on 12th September 1983 during David's 1983 world tour.

The extras include an extended Ricochet documentary which was filmed during the Far East leg of the tour in Hong Kong, Singapore and Bangkok.

Release Information:
Studio: EMI Records (UK)
DVD Release Date: March 13th, 2006
Edition Details:
Region 2 encoding (Europe, Japan, South Africa and the Middle East including Egypt).
PAL
Catalogue Number: 3415399

List Price: £15.99. Our Price: £11.99. You Save: £4.00 (25%)

You can purchase the David Bowie - Serious Moonlight
DVD NOW and save a whopping 31%

Ardent Désir on the BW Message Board has written an in-depth review for this new release with full details of the bonus and extended material. If you don't want to spoil the surprise then don't read on... but for those of you who can't wait till you get your copy can read the review here.


---
DUTCH DUDES TRIBUTE
11th March 2006

Check out a new DAVID BOWIE tribute band from The Netherlands called ALL THE YOUNG DUDES. Band members are: Marcel Singor (vocals/guitar), John Aponno (guitar), Palko L'Ami (drums), Ruud Groenendijk (guitar), Arvid van den Bosch (keyboards), Debbie and Sacha (vocals).

More information and details can be found at their website at alltheyoungdudes.nl where you can view photos, listen and download 10 audio tracks and watch videos.


---
INSTANT 2006: TV ON THE RADIO
9th March 2006

Last year's boundary pushers enter next year with Bowie blessing.

When URB caught up with TV On The Radio front man Tunde Adebimpe to rap about the year that was, he summed it up by saying "2005 was more relaxing," before pausing to add, "actually, that's a complete lie."

Following a seemingly never-ending tour, the group recently completed their second (as-of-yet untitled) LP, recorded at guitarist/producer Dave Sitek's Stay Gold Studio in Brooklyn this past summer and will be released by Touch and Go this March. According to Adebimpe, recording the record was an "exciting and draining and fascinating and surreal process." We thought we journalists were the ones who were supposed to be all adjective-happy, but we guess having DAVID BOWIE on your album is as good grounds as any to use the word surreal.

"Dave and I were selling paintings in SoHo and wound up giving one to this dude who happened to be David Bowie's doorman. Dave passed along some of our music to this dude and left his phone number," explains Adebimpe. "Bowie called Dave a few weeks later and asked to hear some of our new material. We gave him the music and he wound up coming into the studio to sing on one track." Does Bowie sing the hook hip-hop style? "It's not overbearing or anything, but he's on the verses and chorus," deadpans Adebimpe. Joining Bowie on the album are guests Kazu Makino from Blonde Redhead, Chris Taylor from Grizzly Bear, Martin Perna and Stuart Bogie from Antibalas Afrobeat Orchestra and Katrina Ford from Celebration.

Outside of their band grind, some members of TV On The Radio will be producing records (Sitek), making animated films (Adebimpe) and compiling a book of comics and illustrations by other musicians (singer/guitarist Kyp Malone and Adebimpe). With so much on their collective plates, we asked Adebimpe if the group is up to the task(s). "We're going into 2006 different and, hopefully, better," he said. "In any way, we're all still vertical and that's a good thing." Naturally, we have complete faith that these former URB cover stars will be able to deliver the goods on all fronts.

By Elliot Aronow @ URB.com


---
THE KINGS OF GLAM TONIGHT
3rd March 2006

Reminder: As mentioned last month don't forget that tonight sees the broadcast of a brand new documentary entitled KINGS OF GLAM which profiles the leading men of the glam rock era.

LISA TARBUCK guides us through the glittering careers of DAVID BOWIE, Marc Bolan, Noddy Holder, Brian Ferry, Elton John and honourary glam king Suzi Quatro.

Industry men including producer Tony Visconti, songwriter Mike Chapman and photographer Mick Rock give the insider angle to the work of these artists.

The programme shows on BBC1 tonight at 22:35 GMT.


---
SUFFRAGETTE CITY ON DRIVER
2nd March 2006

DAVID BOWIE's 'Suffragette City' features on the soundtrack for Atari's new video game DRIVER: PARALLEL LINES. Other artists making appearances include Blondie, Iggy Pop ('Neighborhood Threat'), Grandmaster Flash, Public Enemy, The Yeah Yeah Yeahs and The Secret Machines.

Driver: Parallel Lines will be released on 14th March for Playstation 2 and Xbox gaming units, and there will also be a special edition released that includes a bonus audio CD with 12 exclusive tracks featured in the game.


---
ARTHUR AND THE MINIMOYS UPDATE
2nd March 2006

The Weinstein Company is proud to announce that it has acquired rights in all English speaking territories to the CGI animated family film "Arthur and the Minimoys," based on LUC BESSON's best selling children's book by the same title. The screenplay was adapted by Besson, the award winning writer/director/producer behind such movies as "The Fifth Element," "The Messenger: The Story of Joan of Arc" and "La Femme Nikita." Besson is directing the partly live action, featuring Freddie Highmore and Mia Farrow, and partly animated film, with voices by DAVID BOWIE, Madonna and Snoop Dogg. The film is currently in production, being produced by EuropaCorp.

Ten-year-old Arthur has a lot on his plate: a real estate developer is about to snap up his Grandma's home... and there's no way Arthur's going to hang around for his parents or grandparents to sort out the problem. Maybe the solution lies in his Grandpa's treasure, which is hidden somewhere on the "other side" in the land of the Minimoys. The creatures that inhabit this world are just a tenth of an inch tall and live in perfect harmony with their environment.

Arthur ventures into this world of the Minimoys, where he meets Princess Selenia and her brother Betameche. Together they set off to look for the treasure that will save his grandma. An action-packed adventure ensues, full of pitfalls and intrigues, all the way up to the forbidden city ruled by the evil M the Malicious. Arthur's journey in the Minimoys universe reveals that sometimes the smallest heroes make the biggest difference.

"We are thrilled to be bringing this exciting adventure story to the big screen," said Harvey Weinstein. "'Arthur' is an enchanting and heroic tale and will be enjoyed by family audiences everywhere."

Pierre-Ange stated, "'Arthur and the Minimoys' is clearly the most ambitious, creative and unique project EuropaCorp has ever produced. Luc Besson has spent 3 1/2 years to create and direct this movie, with the same energy and passion that he provided to "The Fifth Element," and more. We all at EuropaCorp are thrilled and most delighted to know this treasured project is being carried by such a creative and dedicated team such as The Weinstein Company."

Luc Besson's 2003 book, a huge success in France, captured the hearts of young readers. There are four books in Besson's series including "Arthur and the Forbidden City," which continues Arthur's heroic story, "Arthur and the Revenge of Maltazard" and "Arthur and the War of the Two Worlds" which gives an end to this journey. The publishing rights of the first two tomes are handled by Harper Collin's Children Books.

For The Weinstein Company, the project will be overseen by co-president of production, Michael Cole, and director of production and development, Michael Schaefer.

Maeva Gatineau, executive vice president of Europe acquisitions and co-production, brought the film to The Weinstein Company. Michael Cole and Barry Littman, executive vice president of business and legal affairs, negotiated the deal on behalf of The Weinstein Company and Pierre-Ange Le Pogam and Luc Besson negotiated on behalf of EuropaCorp.

From The Can Magazine


---
LATEST BW POLL RESULTS
2nd March 2006

So far in the current BowieWonderworld poll to select your favourite closing DAVID BOWIE song - from the 1,661 votes cast so far, the top five chosen are as follows:

01. Rock 'N' Roll Suicide
02. Wild Is The Wind
03. Lady Grinning Soul
04. Heathen (The Rays)
05. Bewlay Brothers



[ BW POLL: FAVOURITE CLOSING BOWIE TRACK? - VOTE HERE ]




---
UNDER THE MOONLIGHT
1st March 2006



The forthcoming DVD release of DAVID BOWIE's Serious Moonlight scheduled for 13th March is now available to pre-order.

The concert was filmed live at Pacific National Exhibition Coliseum in Vancouver, BC, Canada on 12th September 1983 during David's 1983 world tour.

The extras include an extended Ricochet documentary which was filmed during the Far East leg of the tour in Hong Kong, Singapore and Bangkok.

Release Information:
Studio: EMI Records (UK)
DVD Release Date: March 13th, 2006
Edition Details:
Region 2 encoding (Europe, Japan, South Africa and the Middle East including Egypt).
PAL
Catalogue Number: 3415399

List Price: £15.99. Our Price: £11.99. You Save: £4.00 (25%)

You can pre-order David Bowie - Serious Moonlight
DVD NOW and save 25%

Ardent Désir on the BW Message Board has written an in-depth review for this new release with full details of the bonus and extended material. If you don't want to spoil the surprise then don't read on... but for those of you who can't wait you can read the review here.


---
STALKING TIME FOR THE MOON BOYS
1st March 2006

Update: Gig cancelled - DAVID BOWIE tribute act SPACE ODDITY - DAVID BRIGHTON's return to Los Angeles at Safari Sam's (LA's hottest new nightspot) on 5214 W. Sunset Blvd. Hollywood, CA 90027. (323) 666-7267.

Admission is $10.00. All ages. Doors open at 9:00pm. Opening acts: TBA (Reservations suggested).

Please visit wwwDavidBowieTribute.com for info on all of our upcoming performances.

David had the pleasure of interviewing producer KEN SCOTT recently. The interview is now up on my band's website which you can read at davidbowietribute.com/int01.html

From David Brighton


---
DAVID BOWIE TRIBUTE CONVENTION AT THE CAVERN
1st March 2006

For all the peeps who've emailed in asking about the 2006 DAVID BOWIE Tribute Convention in Liverpool - here's the low-down...

The convention takes place on Saturday 12th August 2006 at Liverpool's famous Cavern Club - birthplace of The Beatles.

Tribute band THE BOWIE EXPERIENCE are to perform. Thirty-four events from January to November featuring all the top tributes from around the UK and abroad.

Each convention starts at 12 noon and ends at 12 midnight and features: headline tribute act, support act, rare and vintage film footage, guest speakers and forums and memorabilia.

Tickets are on sale now priced at £10 each but there are only 150 tickets available for each gig - which the organisers state that they sell out pretty quick.

Venue: Cavern Club and Pub
8-10 Mathew Street, Liverpool
Merseyside, England.
Enquiries: 0151 222 1957. Ticket Website

And some more upcoming 2006 news for The Bowie Experience... they are teaming up with the MARC BOLAN T. Rex tribute act JEEPSTER to do "double header" shows. Bowie will do a set, Bolan will do a set and then Bowie and Bolan will appear on stage together, should be cool.

You can find out more information by visiting The Bowie Experience website.


---

OLDER NEWS

February | January
2005 Bowie News Archives | 2004 Bowie News Archives
2003 Bowie News Archives | 2002 Bowie News Archives
2001 Bowie News Archives | 2000 Bowie News Archives
1999 Bowie News Archives | 1998 Bowie News Archives