BOWIE TV and WHAT'S REALLY HAPPENING IN DECEMBER - MONTHLY PLANNER

[BOWIEWONDERWORLD SHOP] [LATEST DAVID BOWIE ITEMS ON eBAY]

[Get your @bowiewonderworld.com email address HERE sponsored by Everyone.net
]

[BW POLL: FAVOURITE CLOSING BOWIE TRACK? - VOTE HERE]


Have YOU got some DAVID BOWIE related news or a hot scoop?
Well don't just sit there keeping it to yourself - send it in to
All news items are credited if you so wish


---
CYHSY LOOK BACK
30th December 2005

You might recall that DAVID BOWIE checked out CLAP YOUR HANDS SAY YEAH at The Knitting Factory in New York City last June.

'Clap Your Hands Say Yeah' were formed in late 2004 by keyboard-guitar player Lee Sargent, his twin brother, Tyler (bass), and college pals Alec Ounsworth (vocals, guitar), Robert Guertin (guitar, keyboards) and Sean Greenhelgh (drums).

Unlike most groups, though, Clap Your Hands Say Yeah had no interest in pursuing a recording contract. Instead, last June they released a few of their Talking Head-esque tunes on their blog/Web site.

Lee Sargent says of David Bowie turning up at one of their early shows...

"It completely blew our minds. It was so strange. It was at one of our first big shows. I mean, it was the first time where we didn't know the majority of the crowd. People were coming that weren't friends or acquaintances.

"He [Bowie] was on the guest list under a different name, and we found out who it was when we started bumping names in order to get our friends in. Our manager told us it was important that one name was on the list. Before the show started, someone told us who the pseudonym was. We never got to meet him, though. He was in the balcony when we began playing and left toward the end of our set."

You can read the full article @ northjersey.com


---
GET THE LATEST VOYEUR FANZINE
27th December 2005

The International DAVID BOWIE fan club THE VOYEUR proudly announces another fabulous edition of 'The Voyeur' fanzine.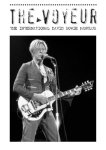 As always in our December issue the centerfold contains rare full colour Bowie photographs. In this issue of 'The Voyeur'...

Watch out for 'The Voyeur'
Welcome to 'The Voyeur'
All fake? (about genuine and fake David Bowie stamps)
About the cover (The Man Who Sold The World)
'Outrageous', Part 2 of an interview by Playboy's Cameron Crowe
Four page full colour David Bowie centerfold
Sigma Kids (An inside story by Sigma kid Marla Kanevsky)
Speed Of Life (About David's Borsalino hat from TMWFTE)

[You can click here for a Sneak Preview of several pages from this brand new issue].

More details about the new edition and information on how to become a member can be found on their homepage at http://go.to/bowiefanclub or alternatively you can also send them an email at

From Peter Smit


---
A VERY MERRY CHRISTMAS 2005!!!
25th December 2005


WISHING EVERYONE A VERY MERRY CHRISTMAS

Have a Cool Yule! I hope you all receive everything you ever wish for

Very Best Wishes from Paul aka Rednik

Click here for a special message
---
DAVID BOWIE TRIBUTE CONVENTION AT THE CAVERN
22nd December 2005

For all the peeps who've emailed in asking about the 2006 DAVID BOWIE Tribute Convention in Liverpool - here's the low-down...

The convention takes place next year on Saturday 12th August 2006 at Liverpool's famous Cavern Club - birthplace of The Beatles.

Tribute band THE BOWIE EXPERIENCE are to perform. Thirty-four events from January to November featuring all the top tributes from around the UK and abroad.

Each convention starts at 12 noon and ends at 12 midnight and features: headline tribute act, support act, rare and vintage film footage, guest speakers and forums and memorabilia.

Tickets are on sale now priced at £10 each but there are only 150 tickets available for each gig - which the organisers state that they sell out pretty quick.

Venue: Cavern Club and Pub
8-10 Mathew Street, Liverpool
Merseyside, England.
Enquiries: 0151 222 1957. Ticket Website

And some more upcoming 2006 news for The Bowie Experience... they are teaming up with the MARC BOLAN T. Rex tribute act JEEPSTER to do "double header" shows. Bowie will do a set, Bolan will do a set and then Bowie and Bolan will appear on stage together, should be cool.

You can find out more information by visiting The Bowie Experience website.


---
LATEST BW POLL RESULTS
21st December 2005

So far in the current BowieWonderworld poll to select your favourite closing DAVID BOWIE song - the top five chosen are as follows:

01. Rock 'N' Roll Suicide
02. Bewlay Brothers
03. Lady Grinning Soul
04. Heathen (The Rays)
05. Wild Is The Wind



[ BW POLL: FAVOURITE CLOSING BOWIE TRACK? - VOTE HERE ]




---
DINAH SHORE SHOW ALL SET FOR DVD
15th December 2005

After the success of the recently released Dick Cavett Rock Icons
DVD another US television special is currently in its planning stage of release onto the DVD video format.

The Dinah Shore Show will be released as a 3-DVD set by R2 Entertainment entitled 'The Ultimate Dinah Collection: Best of the 70s' next year. The collection will be made up from Dinah! shows from the 1974-1980 period.

DAVID BOWIE first appeared on the show on January 3rd 1976 performing an absolutely brilliant version of 'Stay' and then on the request of Henry Winkler (aka 'The Fonz') he performed 'Five Years'. Besides the interview, David was also seen practising karate. Other guests on this show were Nancy Walker, Natalie Cole - who was presented with a gold record from DB - and his TMWFTE co-star Candy Clarke.

Then the following year on April 15th 1977, David along with IGGY POP appeared again on the show 15th April 1977. Besides a great interview with the pair, they performed 'Sister Midnight' and 'Funtime' with David on keyboards and backing vocals.

Fingers are now crossed everywhere that David's appearances and performances on the show will be all intact and appear on this forthcoming DVD release.


---
ATARI HABARI HABARI HABARI
15th December 2005

ATARI have obtained the rights to do games based on Luc Besson's 'Arthur and The Minimoys'. The game is based on the film, due next year, of a series of children's books written by Besson.

DAVID BOWIE, Madonna and Snoop Dogg are among those providing voices for the film, which will use real film footage as well as 2D and 3D animation.

The game will focus on teamwork, and be released for PlayStation 2, PSP, Nintendo DS, Game Boy Advance and PC - planned for European release simultaneously with the film at the end of 2006.


---
ZIGGY'S GONNA ROCK THE CASBAH
14th December 2005

Former HONEY GLAZE frontman Gary Shuffler will reprise his infamous DAVID BOWIE tribute group Ziggy Shuffledust and The Spiders from Mars, as part of his annual Birthday Circus held at the Casbah in San Diego, CA on Monday December 19th.

The band will perform two sets plus Plastic Explosive and more.

Venue: Casbah, 2501 Kettner Blvd., San Diego, CA 92101

More details can be found at @ casbahmusic.com


---
TAKE A QUICK BUTCHERS...
12th December 2005

Coming up this Thursday on Manchester's own TV station CHANNEL M is the documentary 'The Story of David Bowie' at 21:00 GMT. Channel M is a TV channel for Manchester. It is available through your existing TV aerial on channel 39. You can also view Channel M if you have access ntl digital cable TV on channel 26...

A brand new BW poll is now underway - what is your favourite DAVID BOWIE closing album track [VOTE HERE]...

By now you must of come across the DAVID BOWIE promotional campaign being used by Dutch Classic Rock station REBECCA FM. You can order the Bowie poster now via their website. The print is priced at 10 euros and sized at 42x60 cm - [from Koop Mast]...

Manchester pop group THE HEROES have been honoured with a top award at a major deaf and disability arts festival. The group, whose members include representatives of both the disabled and non-disabled communities, were announced as overall winners in the 'Performance Group' category at the glittering 'DaDa' (Deaf and Disability Arts) Awards ceremony at Liverpool's Crown Plaza Hotel. The Heroes, who perform at events attracting more than 50,000 people annually, have gained an international reputation for their inspirational performances. The Heroes will add the valued 'DaDa' trophy to an impressive array of awards and accolades gained through their exciting and inclusive music performances and theatre shows. You may recall that The Heroes released their version of DAVID BOWIE's "Heroes" back in 1998 - David himself helped with the profile and sales by stating: "This is a really great cause. The proceeds of this project will help fund some very positive programs and events, and I would be knocked out if we could get behind this." - [from Terry Snowden]...

Check this out! Over at FABCHANNEL.COM they put concerts on the net (for free). Mainly concerts from 'De Melkweg' in Amsterdam. GAIL ANN DORSEY's gig from last year (9.11.2005) can be looked at as well. Visit fabchannel.com and either scroll down the list or type in the search box - [from Koop Mast]...


---
ZIGGY'S BAND UP FOR CURTAIN CALL AWARDS
12th December 2005

The recent DAVID BOWIE related plays written by MARK WHEELLER 'Ziggy's Band' and 'Sequinned Suits' have been nominated for several awards in the South Of England CURTAIN CALL AWARDS.

Anthony Jennings for 'Shakey Threwer' (Best Male Youth performer) in Sequinned Suits
Alex Chalk for 'Norman Threwer' (Best Supporting Youth Actor) in Ziggy's Band
Charlotte Wells for 'Doris Threwer' (Best Supporting Youth Actor Female) in Sequinned Suits
Georgina Mattack for 'Gilly Threwer' (Best Newcomer) in Ziggy's Band

One-hundred and twenty-seven productions are up for these awards, so Oaklands Youth Theatre have done particularly well. They have only ever had two nominations in one year before. And only twice in the last six years had any nominations at all!

The awards are dished out on the 27th January 2006.

The new one act play (Sequinned Suits and Platform Boots) which is a tribute to the glam rock years but still includes references and general genuflections to DB) is going to be presented at various Festivals in the South Of England next March/April and then will be performed all being well at Edinburgh Festival week two in August 2006.

More information and details can be found at amdram.co.uk/wheellerplays

From Mark Wheeller.


---
CHANGESBOWIE CRIMBO GIG
12th December 2005

DAVID BOWIE tribute band CHANGESBOWIE perform their annual Christmas gig on Thursday 22nd December at Riga Music Bar in Southend, Essex, England.

Their performance starts at 8.30pm and tickets can be purchased on the door or online in advance.

More details and information can be found at their website @ changesbowie.co.uk

From Dave Allen


---
STATION TO STATION COMES IN TOP
11th December 2005

Which is your favourite DAVID BOWIE opening album track? The voting in the BW Visitors Poll placed 'Station To Station' in top position with 21.65% of the total votes ahead of 'Sunday' from Heathen.

The top five favourite opening songs after a total of 2,282 votes cast were as follows:

01. Station To Station (494)
02. Sunday (350)
03. Five Years (265)
04. Space Oddity (231)
05. Fantastic Voyage (120)

To view the full breakdown of the vote please [Favourite Opening Album Track]

Thanks to everyone for voting. Watch this space for the next BW Poll coming up very shortly.


---
BIG SCREEN DOLLS
10th December 2005

Myumee Doll Creator SEAN TATARYN has created a DAVID BOWIE 'Jareth' doll which stars as one of the many celebs on his fun website.

Sean creates the dolls as a hobby which are used solely for his online pleasure. He doesn't actual sell any of his stuff, but he figured you all might enjoy 'David Bowie' in his Celebrity Dolls Section.

Check out his website at myumees.com - whilst you're there looking for the Bowie doll make sure you check out the RuPaul one - it's fabulous!


---
WANT TO BECOME A BW COLUMNIST?
10th December 2005

Would you like to become a new columnist for BowieWonderworld? Are you a budding up and coming blogger / journalist or just want to be heard?

As long as the subject matter relates to DAVID BOWIE in some way or other that's all we need.

It's your column, you are totally free to write whatever you like, however you like, whenever you like. Monthly, fortnightly or weekly... you can even write under a pseudomyn, you know, like what some of them proper writers do ;)

If you want ideas or just want to see what competition you would be up against you can read through the previous BW columns here - alternatively there is a dropdown list at the top of this page.

Please send your contributions to []

Or are you already a columnist on here who's not written something for a while? Then get your finger out and send something in! ;)


---
THE TOP UK 100 ARTISTS OF ALL TIME
9th December 2005

A definitive music guide to the 'Top 100 Artists of All Time' in the Book Of British Hit Singles And Albums, published today reveals the following top twenty result:

01. (01) Elvis Presley
02. (02) Cliff Richard
03. (04) Queen
04. (03) The Beatles
05. (05) Madonna
06. (06) Elton John
07. (07) The Shadows
08. (08) Michael Jackson
09. (10) U2
10. (09) DAVID BOWIE
11. (11) Rod Stewart
12. (12) Frank Sinatra
13. (13) Diana Ross
14. (14) Dire Straits
15. (15) Simon and Garfunkel
16. (16) Rolling Stones
17. (17) Abba
18. (18) Fleetwood Mac
19. (19) Phil Collins
20. (20) Paul McCartney

Figures in brackets denote last years placings.


---
SCARLETT JOINS THE PRESTIGE
9th December 2005

SCARLETT JOHANSSON has signed on for the lead female role in Christopher Nolan's 'The Prestige' alongside Hugh Jackman, Christian Bale, Michael Caine and DAVID BOWIE.

Johansson will play a magician's assistant named Olivia who is sent to spy on the competition.

Variety reports that the project is the actress' next film. With a budget in the $40 million range, filming starts in January and continues through March in Los Angeles.

Bale and Jackman will play rival magicians in turn-of-the-century London who battle each other for trade secrets. The title refers to the residue left after a magician's successful trick.

The Walt Disney Co. will distribute the film domestically, while Warner Bros. will handle it internationally.


---
THE LITTLE DRUMMER BOWIE
9th December 2005

As mentioned on here months ago - The Troubadour Theater Company are currently staging 'The Little Drummer Bowie'. Theatre critic Evan Henerson reviews the play for the San Bernardino Sun with a piece entitled It's Bowie and a beat in 'Little Drummer'.

That The Troubadour Theater Company considers no cow too sacred to be served up as a McDonald's Happy Meal has long been established. With 'The Little Drummer Bowie', Matt Walker and his merry band of dancing and punning fools have shown that what happens in a certain manger is ripe for lampooning as well.

The front of the program does, in fact, say "Parody" - just in case anybody inside the Falcon Theatre happened to get lost on their way to the Crystal Cathedral.

"Drummer Bowie" is the story of a plucky percussionist, told via the songs of DAVID BOWIE. Mary, Joseph and a bunch of animals put in appearances. As does the savior. And Tom Cruise. In fact, Tom Cruise is one of the saviors, and no, I won't explain.

Kind of a cracked L.A. theatrical treasure, the Troubies have spent the last decade marrying Shakespearean texts with the music of pop artists to develop works that are as brassy and riotous as they are original. Of late, the company has begun to give the same irreverence to holiday classics with "A Christmas Carole King" and "It's a Stevie Wonderful Life." 'Drummer Bowie' is the first holiday tale they've tackled that has any kind of a religious theme, and director Walker and his cast aren't looking to tread lightly.

Nor should they. It wouldn't be a Troubadour show if it didn't skirt the line between good and bad taste. And, really, for all their free-wheeling nature, every new Troubie show is so carefully constructed, so rich in song (via music director Erik Heinly's live band) and movement (canny choreographer Nadine Ellis) that there's usually something at this party for audiences of all ages.

Faithfully following the structure of the 1968 animated "Little Drummer Boy," "Bowie" gives us Ziggy (played by Joseph Lee Bwarie), an over-painted, punked-out drummer who hates mankind and travels the desert with his animal friends. A showman named Ben (Walker) and his untrusty companion, Ali (Beth Kennedy), sweep up Ziggy and animals and look to exploit their moneymaking potential. Ultimately, angry Ziggy will encounter three Kings and the aforementioned saviors.

The jokes won't translate in print, and you get the sense that a well-timed accident could alter "Drummer Bowie" from performance to performance. The overalls-wearing puppet with Timothy Groff's head who first appeared as Tiny Tim three years ago and has returned in every show since, is back (apparently resistance is futile). But there is no trampoline in Bethlehem. Not to worry: "Drummer Bowie" has plenty of bounce, even without the springs.

It's the actors playing animals who steal the show this time. As Samson the Donkey, Tina Aguirre Groff generates plenty of laughs with volleys of comic, nonsensical braying. Dan Waskom's Joshua the Camel, meanwhile, is just about the most artful stilt dancer you'll find outside of a big top. He does, however, have to periodically shed those limbs to get through metal detectors (again, don't ask).

Framing Ziggy's tale is a storyteller, Kathy (Lisa Valenzuela) from the Toluca Lake Adjacent Community Library Players, who chuckles with intense creepiness and sings Christmas tunes in a strong voice. Yes, amid the spoofing and the revelry, you'll get a little holiday cheer as well.


THE LITTLE DRUMMER BOWIE
Where: Falcon Theatre, 4252 Riverside Drive, Burbank.
When: 8 p.m. Tuesday through Friday, 4 and 8 p.m. Saturday, 4 and 7 p.m. Sunday; through Dec. 23.
Tickets: $25 to $37.50. Call (818) 955-8101.
In a nutshell: A newborn Troubie-born farce to see, pa rum pa pum pum.

By Evan Henerson Theater Critic for San Bernardino Sun.


---
TAKE A QUICK BUTCHERS...
7th December 2005

ROB THOMAS of Matchbox 20 fame, nearing the end of his first North American tour performed on Monday at the Auditorium Theatre in Chicago. One of his standout numbers of the show was a rocking cover of DAVID BOWIE's 1983 smash hit 'Let's Dance'...

CYNDI LAUPER played the Lakewood Civic Auditorium in Ohio last Saturday. For her encore she returned to the stage with her two opening acts, singer/songwriter Jill Sobule and comedian Sandra Bernhard to perform an acoustic version of DAVID BOWIE's 'All The Young Dudes'...


---
JOHN LENNON REMEMBERED
7th December 2005

THE INDEPENDENT newspaper online edition has a 'Lennon Remembered' feature to commemorate the 25th Anniversary of the death of JOHN LENNON.

For the article his wife Yoko Ono asks those who knew him best to recall his amazing life and times.

IGGY POP: I met John in Hong Kong in 1977. He was travelling with Sean, who was about two years old, and was on his way to meet Yoko in Japan. I was with DAVID BOWIE and Coco Schwab, his friend and PA, on our way back to Europe from Japan, after a rock tour of my stuff... A pair of elevator doors opened, and he stood in the hotel foyer, wearing a basketball jersey that was way too big, and he gave David a very big hug and a kind of laughing, greeting smile. I was surprised to see an English industry giant exhibit such warmth. Also to see him in a basketball jersey was super-cool (pardon my fandom).

We went to dinner a couple of times, the four of us, after Sean was in bed for the night. Also to a topless bar once, and once to tea at a snooty country club. He really knew how to sound off when he wanted to, and at each of the latter two destinations he rose to his feet to half-yell, half-chortle: "Have you ever heard of The Beatles?" when service was not forthcoming. I think he enjoyed this. I know I did.

You can read the complete article at The Independent website - [Read here]


---
WATCHING THEM COME AND GO
6th December 2005



DAVID BOWIE checked out THE SECRET MACHINES benefit gig at Webster Hall in New York City last Thursday (1st December).

David was spotted headbanging in the VIP balcony by a couple of guys in the audience. They then spent the rest of the evening looking up and pointing - and he eventually smiled and pointed back.

David was also at the same venue last month on Sunday (21st November) to check out THE ANIMAL COLLECTIVE. As you can see by the photographs (courtesy of alittleva) - again he was sat at a reserved table in the guest list/VIP area, with his PA Corinne Schwab.

A yellow hoodie was the order of the night. He stayed for twenty minutes or so and then left.


---
BW COMPETITION 17 WINNERS
5th December 2005

Congratulations to the winners of the recent BowieWonderworld competition who have all won a copy of the recently revised and updated version of DAVID BOWIE Strange Fascination by DAVID BUCKLEY.

The ten lucky people chosen randomly were:



01. Jackie Askew
02. MichaelT
03. Terence Dutton
04. Mark (BlueBlue)
05. BrianS
06. Kezia
07. Stuart77
08. DianeF
09. Jackie Burbidge
10. DazzeR

Many thanks to everyone who entered the competition.

If competitions aren't your bag - you can directly purchase STRANGE FASCINATION: DAVID BOWIE NOW
at ONLY £9.09 and receive a 30% discount.


---
WXRT CHICAGO CHARITY CD
4th December 2005

Chicago radio station WXRT has just released a CD containing an exclusive collection of previously unavailable live performances XRT has aired over the years, which includes 'Scary Monsters and Super Creeps' by DAVID BOWIE.

ONXRT: Live From The Archives Volume 8 is on sale now in aid of a charity that provides musical instruments to underpriviledged kids in the city and also a kids cancer charity.

01. Jet - Are You Gonna Be My Girl?
02. Lenny Kravitz - Lady
03. Rachael Yamagata - Worn Me Down
04. Jack Johnson - Flake
05. The Cure - Fascination Street
06. Fountains Of Wayne - Hey Julie
07. Joe Jackson - Sunday Papers
08. David Bowie - Scary Monsters and Super Creeps
09. Moby - South Side
10. Blind Boys of Alabama - Higher Ground
11. Guster - Amsterdam
12. Norah Jones - What Am I To You?
13. Pete Yorn - Crystal Village
14. Robert Plant - All The King's Horses

Previous editions of 'ONXRT' have sold out very quickly and are now virtually unavailable, having become highly-prized collectors' items upon their release, so be sure to get yours quickly.

Check out the www.93xrt.com website for details.

Thanks to 96dbFreak for the pointer.


---
TAKE A QUICK BUTCHERS...
4th December 2005

Former DAVID BOWIE publicist DAI DAVIES won an outstanding award for his 'Contribution to the Music Industry' at the Pop Factory Awards in Wales on Saturday. The Pop Factory Awards celebrates the best talent in the Welsh and UK music industry from new, up-and-coming acts to established performers...

On Friday night DAVID BOWIE and IMAN were guests at the 60th surprise birthday party of BETTE MIDLER at the Angel Orensanz, in Lower East Side, in New York City...

SEU JORGE's version of the DAVID BOWIE classic 'Space Oddity' is now available only at iTunes. Also available for downloading is The Life Aquatic Studio Sessions which includes the following tracks: Rebel Rebel / Life on Mars? / Starman / Ziggy Stardust / Lady Stardust / Changes / Oh! You Pretty Things / Rock N' Roll Suicide / Suffragette City / Five Years / Queen Bitch / When I Live My Dream / Quicksand / Team Zissou. Download Pop music on iTunes.
- [from 96dbFreak]...

Pop on over to the BBC website to check out a remix of DAVID BOWIE's "Heroes" by SUSANNE BROKESCH from the Mix It show on BBC Radio 3. The 'History Mix' is a re-working of the DB song by the Austrian producer Susanne Brokesch, from her new album, which sees her steering away from her previously more ambient work entitled 'Emerald Stars' - BBC Radio 3 website]- [from Oliver Farnsworth]...


---
HALLO SPACEBOY IS ON ITS WAY
3rd December 2005

Toronto Canada-based publishers ECW PRESS are currently working with DAVE THOMPSON on a sequel to his fabulous DAVID BOWIE 'Moonage Daydream' book that was first published back in 1987.

This sequel entitled 'Hallo Spaceboy' will capture the most recent 18 years of David Bowie's life, from 1987 onwards.

The editor Jen Hale is looking for photographs that fans have taken of David Bowie, either on his own or with the fans themselves.

If you would like to submit or post any Bowie photographs for inclusion in the new book please email Jen Hale at

Important: Please email her BEFORE sending any photo attachments. She will reply to you with specific details.

Everyone whose photographs are used will receive a copy of the book, and depending on how many photos they have and the quality, a fee will be arranged with each person individually.

From Jen Hale Senior Editor @ ecwpress.com


---
THE BEATSTALKERS ARE BACK!
2nd December 2005



Scottish 60s band THE BEATSTALKERS are to play a one-off reunion concert this month at The Barrowland Ballroom in Glasgow, Scotland on 23rd December.

The support bands for the evening are 'The Thanes' and 'Figure5'. The lead up to the gig is also being filmed for a documentary to be aired next year.

Tickets are available NOW via ticketmaster website.

You might remember back here about six months ago I told you about their 'Stalking The Beat 1962-69' CD that was released on 11th June. The Beatstalkers recorded three DAVID BOWIE songs namely 'Silver Tree Top School For Boys', 'Everything Is You' and 'When I'm Five'. David sang backing vocals on all three and played acoustic guitar on a couple of them. The CD is available via amazon.co.uk


And for you trivia buffs out there, you'll remember I revealed that 'Little Frankie Mair' who is namechecked in David's song 'Little Bombardier' it's the actual name of Alan Mair's son - well here's another gem - whilst David was recording his songs with the band one of Alan's sayings at the time was that "everything is hunky dory" - over to Alan...

Alan Mair: "Well as you know we The Beatstalkers are now spending lots of time together and we started talking about David [Bowie] as there was a headline in the paper a little while back that David was now 'Hunky Dory' after his illness. Eddie Campell from our band immediately said to me "you do remember where that came from don't you?" I looked at him a bit puzzled. As soon as he started to remind me I said "Oh yeah of course", he went on to say to the others who were there, that when we were all hanging out together recording Bowie songs, that I was always saying everything was "hunky dory", it was an expression I was always using and David asked me what it meant. I said it just means that everything is okay, everything is cool. The rest is history as they say, the title for his huge album and an expression that is immediately associated with the man himself."


---
OH MAN I NEED THAT TV
2nd December 2005

A quick round up of the DAVID BOWIE television appearances worldwide for this month include the following:

Dec 4th: Germany - Sex 'n' Pop, features David Bowie on ARTE in Germany at 1:20 CET.

Dec 4th: USA - A Little Later: David Bowie on Ovation in USA at 2:45pm ET. (Repeated 7th Dec).

Dec 5th: UK - David Bowie Special on VH1 Classic in UK at 19:00 GMT.

Dec 7th: UK - David Bowie 2 Hour Documentary on Biography Channel in UK at 20:00 GMT. (Repeated twice on 8th Dec).

Dec 13th: Germany - Musikprogrammet - Kashmir urpremiere on DR1 in Germany at 23:40 CET.
Det begyndte med grunge, skørt hageskæg og slagbas. I dag indspiller Kashmir med David Bowie og Lou Reed i New York. Musikprogrammet er denne gang dedikeret til Danmarks måske bedste rockband. Kashmir kommer i studiet, hvor de helt unikt spiller sange fra deres album, der kom på gaden i oktober.

Check out the December Monthly Planner for other listings and information.


---
THE LIGHTS ARE OH SO BRIGHT...
2nd December 2005



DAVID BOWIE and his wife IMAN graced the opening night of 'The Color Purple' at the Broadway Theatre on 53rd Street in New York City last night.

Oprah Winfrey's latest venture drew a flock of big names on Broadway including: Tina Turner, Toni Basil, Stevie Wonder, Sidney Poitier, Noami Campbell, Isaac Hayes, Ashanti Douglas, Sean Combs, Chris Rock, Jamie Foxx, Donald Trump, Kimberly Elise, Angela Bassett, Quincy Jones, Star Jones, Spike Lee, Alice Walker and Debbie Allen to name just a few.

This classic Pulitzer Prize-winning novel by Alice Walker has been adapted for the stage by Marsha Norman and directed by Gary Griffin.

More information can be found at the official @ colorpurple.com website


---
THEY GOT A MESSAGE FROM THE ACTION MAN
1st December 2005

Here's a sneak preview of the prototype for the forthcoming Jareth action figure...



PALISADES TOYS proudly presents the first in its series of collectible action figures based on LABYRINTH, Jim Henson's 1986 gothic fantasy film.

The Jareth Classic - also the premier DAVID BOWIE action figure - cuts a dashing figure in his signature Goblin King costume (Regency shirt, breeches and riding boots), but a king just isn't a king without some regal baubles. So... Jareth carries with him three of his magical crystal balls, a riding crop for disciplining disobedient goblins, and his magnificently intricate necklace.

This deluxe action figure stands approximately 12 inches tall and features 27 points of articulation and comes in window box packaging.

The doll will be available in 2006 - expect to pay around $39.99 at various toy outlets.

Check out palisadestoys.com website for more information.


---
DAVID BOWIE / ARCADE FIRE DOWNLOAD
1st December 2005

The DAVID BOWIE / ARCADE FIRE Live EP download is still doing rather well in the download charts. It has a top ten placing in twelve different countries.

'Life On Mars?, 'Five Years' and 'Wake Up' are the three live tracks taken from their performance at the Fashion Rocks 2005 Show in New York City on 8th September 2005.

Download Pop music on iTunes.
---
&quotI'VE STARTED SO I'LL FINISH&quot
1st December 2005

An upcoming contestant in BBC One TV programme MASTERMIND has chosen DAVID BOWIE as their specialist subject.

Mastermind is widely regarded as the most rigorous and intellectual British quiz show. Over more than 30 years it has become a national institution.

The programme is filmed in Manchester at the BBC Studios on Oxford Road and this show takes place on December 5th 2005 at 3.15pm.

Anyone who wants free tickets to be in the audience for this show should contact


---
OLDER NEWS


November | October | September | August | July
June | May | April | March | February | January

2004 Bowie News Archives | 2003 Bowie News Archives
2002 Bowie News Archives | 2001 Bowie News Archives
2000 Bowie News Archives | 1999 Bowie News Archives
1998 Bowie News Archives