BOWIE TV and WHAT'S REALLY HAPPENING IN NOVEMBER - MONTHLY PLANNER

[BOWIEWONDERWORLD SHOP] [LATEST DAVID BOWIE ITEMS ON eBAY]

[Get your @bowiewonderworld.com email address HERE sponsored by Everyone.net
]

[BW POLL: FAVOURITE OPENING BOWIE TRACK? - VOTE HERE]


Have YOU got some DAVID BOWIE related news or a hot scoop?
Well don't just sit there keeping it to yourself - send it in to
All news items are credited if you so wish


---
BW COMPETITION FINISHED
30th November 2005

BW Competition now finished. The winners will be announced in the next few days.

The answers to the three easy questions were:

Q1: Which song contains the words 'Strange Fascination'?
Answer: Changes

Q2: Who are the publishers of this revised and updated version of 'Strange Fascination: David Bowie'?
Answer: Virgin Books

Q3: What is the title of the Bryan Ferry / Roxy Music book written by David Buckley?
Answer: The Thrill Of It All: The Story of Bryan Ferry and Roxy Music

Many thanks to everyone who entered the competition.


---
TWO DAYS LEFT FOR BW COMPETITION
28th November 2005



The latest BowieWonderworld competition has only two days remaining to get your entries in.

It's your chance to win one of ten copies of the latest revised and updated version of STRANGE FASCINATION: DAVID BOWIE written by major Bowie fan DAVID BUCKLEY.

All you have to do is answer these three easy questions:

1. Which song contains the words 'Strange Fascination'?

2. Who are the publishers of this revised and updated version of 'Strange Fascination: David Bowie'?

3. What is the title of the Bryan Ferry / Roxy Music book written by David Buckley?




ENTER THE BW COMPETITION HERE



This competition ends on Wednesday 30th November 2005 at midnight. Good luck to everyone!

Alternatively if competitions aren't your bag - you can directly purchase STRANGE FASCINATION: DAVID BOWIE NOW
at ONLY £9.09 and receive a 30% discount.


---
WE SHOULD BE ON BY NOW
27th November 2005

&quotTime eez vaiting in de vings!&quot - a stentorian voice booms through the telephone receiver.

This is what you get if you let slip the least bit of incredulity that actress performs DAVID BOWIE's 'Time' as a German torch singer. The moment - though awkward - convinces, and serves as a preview of sorts to the characters and tunes Black performs in her one-woman show, 'A View of the Heart', at Mill Valley's 142 Throckmorton Theatre in California.

In "A View of the Heart," Black portrays several characters, running the gamut from a poor African American woman from the Mississippi Delta to a would-be wealthy divorcee. Interspersed are "stand-up" readings from American writers including Katherine Anne Porter and William Faulkner.

Black shaped the production over a decade ago with director Toni Basil, who sought to harness the actress' versatility as a singer. The duo sifted through 500 songs before alighting on what would become the production's soundtrack, culled from the songbooks of, among others, Rodgers and Hart, Bessie Smith and Kris Kristofferson. Black also performs her own original material as well as that cover of Bowie's 'Time' in the mode of a German chanteuse venting a grudge against the world.

You can read the full article @ the San Francisco Chronicle website.

'A View of the Heart' previews at 8:00pm on Wednesday and plays at 8:00pm Dec. 7-10 and at 5 p.m. Dec. 11. Receptions follow some shows. Tickets: $20-$60. (415) 383-9600.

More details and information are available online at 142throckmortontheatre.com


---
NEW KILLER MIX ON NEW KILLER STAR
25th November 2005



There's an interesting new remix of DAVID BOWIE's song 'New Killer Star' that features on a promo only white label release created by MORGAN PAGE. This 'Morgan Page Bootleg Remix' version appears on his new album release entitled 'Cease And Desist'.

The promo only release is available in 3 formats: CD / 12" / Online.

The emerging producer / remixer / DJ Morgan Page makes history by self-releasing 'Cease and Desist'. The album features 100% unauthorised house music versions of popular tracks from artists including David Bowie, Esthero, Sam Phillips, The Kills, and Wax Poetic featuring Norah Jones.

Tracklisting:


Esthero - 'We Are In Need Of A Music Revolution' [Intro Edit]
Coldplay - 'White Shadows' [Morgan Page Bootleg Remix]
Tegan and Sara - 'Walking With A Ghost' [Morgan Page Bootleg Remix]
Imogen Heap - 'Hide and Seek' [Morgan Page Bootleg Remix]
Sam Phillips - 'If I Could Write' [Morgan Page Bootleg Remix]
The Kills - 'The Good Ones' [Morgan Page Bootleg Remix]
Hyperboreal - 'Tijuana For Dummies' [Morgan Page Bootleg Remix]
David Bowie - 'New Killer Star' [Morgan Page Bootleg Remix]
Antone Dvorak - 'Symphony #9' [Morgan Page Remix]
Wax Poetic Feat. Norah Jones - 'Angels' [Morgan Page Remix]

For the more information on Morgan Page, check out morgan-page.com


---
ZIGGY AT SLOUGH COLLEGE
24th November 2005



In the early Seventies you couldn't walk around the Windsor/Slough area without seeing some of the Argus posters designed by BOB LEWIS - in fact they were seen all around the Berkshire gig circuit.

One particular gig poster you might be very interested in is a DAVID BOWIE gig poster from his performance at the Slough College Summer Ball on Saturday 13th May 1972.

These fine art prints are available to purchase from his site. Printed using the 6-colour Giclée process using pigment inks on 255 gsm Somerset velvet enhanced mould-made watercolour paper, they are for sale at £40 each (plus p&p) at A2 size (42cm x 60cm).

The collection is also for sale as A4 (30cm x 21cm) Giclée miniprints on the same paper stock at £15 each (plus p&p).

Surf on over to eyeofargus.com where you can check out gig posters from Bowie, Pink Floyd, The Who and many others.


---
&quotI'VE STARTED SO I'LL FINISH&quot
22nd November 2005

An upcoming contestant in BBC One TV programme MASTERMIND has chosen DAVID BOWIE as their specialist subject.

Mastermind is widely regarded as the most rigorous and intellectual British quiz show. Over more than 30 years it has become a national institution.

The programme is filmed in Manchester at the BBC Studios on Oxford Road and this show takes place on December 5th 2005 at 3.15pm.

Anyone who wants free tickets to be in the audience for this show should contact


---
BOWIE TO PLAY NIKOLA TESLA
21st November 2005

DAVID BOWIE will join the Christopher Nolan-directed THE PRESTIGE for Touchstone Pictures and Warner Bros. Pictures reports Variety. Hugh Jackman, Christian Bale and Michael Caine star in the story of two rival magicians constantly trying to one-up each other.

In 'Prestige' Bowie will play inventor and electrical wizard Nikola Tesla, who is approached by one of two competing magicians for help in pulling off the ultimate magic trick in 1878. The Tesla character is based on the real-life Serbian-American inventor who discovered the rotating magnetic field.

'Prestige' will begin production in January 2006.

The BBC website reports that: Singer David Bowie is in talks to return to film acting in a new thriller, according to reports. Bowie may be given a role in The Prestige, says trade newspaper the Hollywood Reporter.

Adapted from a 1996 novel about rival magicians in early 20th century London, it will be directed by Christopher Nolan, who made Batman Begins.

The Hollywood Reporter says Bowie will play Nikola Tesla, a character based on the real-life scientist who discovered the rotating magnetic field.

Bowie will provide a voice for Leon director Luc Besson's forthcoming animated film Arthur and the Minimoys.

The plot outline states that: Bale and Jackman will play rival magicians in turn-of-the-century London who battle each other for trade secrets. The rivalry is so intense that it turns them into murderers. The title refers to the residue left after a magician's successful trick.

And now here comes the science bit...



Nikola Tesla was born on July 10th, 1856, in Smiljan, Croatia. Tesla paved the way for the creation of almost all household appliances that we use today. A speaker of six languages, Tesla studied engineering at the University of Prague. The inventor of the Electro-Magnetic AC motor and transformer, 3-phase electricity, and the Tesla coil, Tesla rivaled Thomas Edison at the turn of the 20th Century and even surpassed his world-renown.

After coming to the United States and actually working for Edison, Tesla broke away to work on his own ideas for a motor that would use an alternating current, as opposed to Edison's direct current model. He eventually sold his design to the Westinghouse engineering group, which marketed the innovation in household appliances. In fact, the appliances we use today still use almost exactly the same model Tesla designed in the early 20th Century. Nikola Tesla also worked on models for radio transmission which led to the use of his Tesla coil design in future radio and television innovation. Over his lifetime, Tesla created more than a hundred patented inventions.


---
NEVER GET OLD: A NEW EDITION
19th November 2005

The two DAVID BOWIE books 'Never Get Old. David Bowie: Man of ch-ch-changes' Part 1 and Part 2 by Wim Hendrikse that were published at the end of 2004 both completely sold out within six months.

'Part 1' contains a very detailed chronology / biography / and collectors guide up to 1989.

'Part 2' contains a very detailed chronology / biography / collectors guide 1989 - 2004.

A new edition of 100 sets have been printed and are now on sale at: www.gopherpublishers.com - if you missed out first time around - be quick - these are sure to sell out quickly.

From Wim Hendrikse


---
BOWIE AT THE BOWERY
18th November 2005

DAVID BOWIE was out on the town on Wednesday night (16th November) on to catch English band ARCTIC MONKEYS at the Bowery Ballroom in New York City.

For their first North American performances, both NY shows were originally scheduled at the Mercury Lounge, but tickets went so quickly that the second show had to be moved to the larger Bowery Ballroom.

The Sheffield-based band are all set to release their UK hit single 'I Bet You Look Good On The Dancefloor' in the US on November 29th. Their American dates visit San Francisco and Los Angeles before the end of the month, and then the group head back to the UK via Japan.


---
YOUNG AMERICANS SET FOR MARCH 2006
18th November 2005



DAVID BOWIE's 1974 'Young Americans' album gets the 'Collectors Edition' treatment and is scheduled for a March 2006 release.

Bonuses and extras include the previously unreleased version of 'It's Gonna Be Me' with strings and a 5.1 surround sound mix of the whole album by Tony Visconti and will comprise of a CD and DVD.

The DVD will also contain footage of David performing on the Dick Cavett show from December 1974 namely '1984' and 'Young Americans'.

The tracklistings for both CD and DVD runs as follows:

CD:
01. Young Americans
02. Win
03. Fascination
04. Right
05. Somebody Up There Likes Me
06. Across The Universe
07. Can You Hear Me
08. Fame
Bonus tracks:
09. John, I'm Only Dancing (Again)
10. Who Can I Be Now?
11. It's Gonna Be Me (with strings) (previously unreleased)

DVD:
01. Young Americans
02. Win
03. Fascination
04. Right
05. Somebody Up There Likes Me
06. Across The Universe
07. Can You Hear Me
08. Fame
Bonus tracks:
09. John, I'm Only Dancing (Again)
10. Who Can I Be Now?
11. It's Gonna Be Me (with strings) (previously unreleased)

Video:
Young Americans (from Dick Cavett TV show)
1984 (from Dick Cavett TV show)

N.B. Tracks 1 to 11 on the DVD are audio only. New mixes by legendary producer Tony Visconti available in 5.1 surround sound (DTS 96/24 and Dolby Digital) and stereo (PCM 48kHz/24 bit).

From BowieNet @ davidbowie.com

(Ed. You might have read a while back that Tony Visconti said on his website about the Young Americans sessions at Sigma Sound: "There is a mix of 'It's Gonna Be Me' with a full string section, but I have no idea why it was never released. It's gorgeous.")


---
NEW BW COMPETITION NOW UNDERWAY
16th November 2005



The latest BowieWonderworld competition is now underway courtesy of Virgin Books.

It's your chance to win one of ten copies of the latest revised and updated version of STRANGE FASCINATION: DAVID BOWIE written by major Bowie fan DAVID BUCKLEY.

All you have to do is answer these three easy questions:

1. Which song contains the words 'Strange Fascination'?

2. Who are the publishers of this revised and updated version of 'Strange Fascination: David Bowie'?

3. What is the title of the Bryan Ferry / Roxy Music book written by David Buckley?




ENTER THE BW COMPETITION HERE



This competition ends on Wednesday 30th November 2005 at midnight. Good luck to everyone!

Alternatively if competitions aren't your bag - you can directly purchase STRANGE FASCINATION: DAVID BOWIE NOW
at ONLY £9.09 and receive a 30% discount.


---
MICK ROCK BOOK SIGNING IN SAN FRAN
15th November 2005

Legendary rock music photographer MICK ROCK will be appearing at The Booksmith, 1644 Haight Street, San Francisco on Monday, November 21st at 7:00 pm for a slideshow, talk and book signing.

Mick Rock's photography has become as important in defining the image of punk and glam as his subjects were in making music history.

Join us for a special evening with the legendary rock music photographer as we celebrate the publication of 'Glam: An Eyewitness Account' and 'Raw Power: Iggy and the Stooges.' Copies of two other books by Mick Rock, 'Moonage Daydream: The Life and Times of Ziggy Stardust' (newly re-released) and 'Picture This: Debbie Harry and Blondie,' will also be available at this event.



'Moonage Daydream, The Life and Times of Ziggy Stardust' - with photographs by Mick Rock and text by David Bowie is published by Cassell Illustrated, this 320-page publication with text by David Bowie is available to - Purchase NOW
at ONLY £15.00 and receive a 40% discount!

Often referred to as 'The Man Who Shot the Seventies', legendary rock and roll photographer Mick Rock first met David Bowie in early 1972. Most of the memorable images of David Bowie as Ziggy Stardust were shot by Mick Rock in his capacity as the official Bowie photographer.

Mick Rock was also instrumental in creating many other key rock 'n roll images, such as album covers for Syd Barrett's 'The Madcap Laughs', Lou Reed's 'Transformer' and 'Coney Island Baby', Iggy and the Stooges' 'Raw Power', Queen's 'Queen II' (recreated for their classic music video 'Bohemian Rhapsody') and 'Sheer Heart Attack', the Ramones 'End of the Century' and Joan Jett's 'I Love Rock 'n Roll'.

Mick Rock was also the chief photographer on two films, 'The Rocky Horror Picture Show' and 'Hedwig and the Angry Inch', as well as producing and directing David Bowie's early music videos.

Booksmith author events are free and located at our San Francisco store (1644 Haight Street in San Francisco, between Clayton and Cole), unless otherwise noted. For further information, call 415-863-8688 or visit www.booksmith.com

If you can't attend an event and would like to purchase an autographed book, please telephone or email the Booksmith.


---
TAKE A QUICK BUTCHERS...
15th November 2005

Watch this space tomorrow for a brand new BWW competition to win one of ten copies of DAVID BUCKLEY's updated Strange Fascination: David Bowie publication...

This coming Thursday (17th November) you can tune into an online DAVID BOWIE radio special from Argentina. Gabriel broadcasts an online radio show every Thursday from 5:30pm to 6:30pm (Buenos Aires, Argentina time). On Thursday he'll be broadcasting a Bowie special, featuring tracks from his career, including rare tracks and album gems. In order to listen, visit http://rugieroe.qc1.net:8152/listen.pls by using your WinAmp player - from Gabriel...

Reminder: Both new releases of DAVID BOWIE's David Live [DVD Audio] and Stage [DVD Audio] are now finally released.


---
BOWIE BACK AROUND THE CLOCK
15th November 2005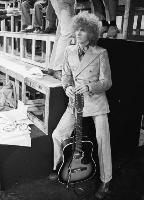 Update: Confirmation received concerning the upcoming 'Back Around The Clock' documentary series showing on SF1 in Germany covering 50 years of Swiss rock.

DAVID BOWIE's 1969 appearance on Swiss TV broadcast by SRG on 2nd November 1969 performing 'Space Oddity' on 'Hits A-Go-Go' definitely appears in this documentary movie.

There is also a DVD of the documentary scheduled for release at the beginning of 2006. See the news item below dated 7th November for original story.

Check out the official site supporting this series @ rockumentation.ch - the site is in German only at this point - though the forum is accessible in both English and German).

Unfortunately none of the trailers / video clips on the site feature the Bowie excerpt, since this is, after all, a film documenting Swiss musicians and bands - but the original, full-length television documentary (and future DVD) will of course feature it.

From Dragan Nikolic (webmaster of rockumentation.ch)

SF1 Transmission dates:

Part 1: 'With Also and Noise' - The beginnings: Sunday, 13th November at 23:20
Part 2: 'Fires and Flame' - The 70's: Sunday, 20th November at 22:50
Part 3: 'Far and Broadly' - The 80's: Sunday, 27th November at 22:50
Part 4: 'Party! Party' - The Modern Times: Sunday, 4th December at 23:20


---
EVER CHANGING DAVID BOWIE
14th November 2005

EMI are currently running an online DAVID BOWIE competition to celebrate the launch of his much anticipated Platinum Collection.

Prove yourself a true fan by matching up imagery from Bowie's three key eras for your chance to win one of 10 complete sets of Bowie's studio albums.

Ten winners to receive a complete set of Bowie's studio albums released between 1969 and 1987. That's 17 albums in total!

Twenty runners-up to receive a copy of The Platinum Collection. The competition runs until midnight on 28th November 2005.

Visit emicatalogue.com/bowie_platinum and check it out.

If competitions aren't your thing you can purchase David Bowie The Platinum Collection
NOW for only £11.99.


---
DB FEATURES IN NEW XM ADVERTISEMENT
14th November 2005

XM SATELLITE RADIO, the nation's leading satellite radio company with more than 5 million subscribers, has launched 'Listen Large', the company's largest holiday marketing campaign, featuring television, print, radio, online and outdoor advertising to promote XM's wide variety of programming and best-in-class satellite radios.

Headlining XM's 'Listen Large' campaign are two TV spots with superstars DAVID BOWIE, Snoop Dogg, Ellen DeGeneres, Derek Jeter and Martina McBride to showcase the enormous number of choices that XM offers consumers across its 150-plus channels, including the largest music playlist in satellite radio, the most live sports content, exclusive live concerts, and premier news and talk radio, whenever and wherever a subscriber wants to listen.







The TV spots with DeGeneres, Snoop, Jeter, Bowie and McBride will appear during prime time on broadcast network television and cable TV beginning today. The two 30-second spots take a light-hearted look behind the scenes at XM as Snoop roams through the XM studios and meets up with other personalities who appear on XM.

XM offers satellite radio broadcasts of 'The Ellen DeGeneres Show;' Snoop hosts an exclusive XM music show; Jeter's New York Yankees are part of XM's comprehensive coverage of Major League Baseball; Bowie and McBride represent the diversity of XM's critically-acclaimed music channels. The spot was produced by Mullen and directed by Cannes and Emmy Award-winning commercial director Baker Smith of Harvest Films.

You can now watch the Bowie commercial online @ xmradio.com website.


---
ARCADE FIRE / BOWIE DOWNLOAD FOR CHARITY
14th November 2005

Reminder: Don't forget that from today you can download the DAVID BOWIE / ARCADE FIRE live tracks taken from their recent performance at the Fashion Rocks 2005 Show in New York City on 8th September 2005.

Available for download on iTunes for ONE WEEK only with all proceeds from the downloads going to the Hurricane Katrina relief charities.

Download Pop music on iTunes.
---
ARTHUR AND THE MINIMOYS SITE LAUNCHED
12th November 2005

The official website for writer/director Luc Besson's animated fantasy 'Arthur and the Minimoys' has been launched.

At the site, you can learn more about the book, the film, the characters and get goodies such as wallpaper, a screensaver, a gallery, icons and a poster.

Expected to hit theatres in December of 2006, the film is adapted from a series of children's books written by Besson.

DAVID BOWIE, Freddie Highmore, Madonna, Mia Farrow and Snoop Dogg are voicing characters.

Check out the site @ arthur-lelivre.com


---
DARKNESS AND DISGRACE AT PIRATE JENNY'S
12th November 2005



Tuesday 15th November 2005: Pirate Jenny's at the Drill Hall 2
Darkness, disgrace... and a little night music

DES DE MOOR AND RUSSELL CHURNEY: DARKNESS AND DISGRACE
NAOMI HYAMSON ON STEPHEN SONDHEIM



Two superb sets reinterpreting the work of two very different songwriters fill the bill at Pirate Jenny's tonight, and you'll be astonished how well they work together!

Darkness and Disgrace, Des de Moor and Russell Churney's astonishing cabaret set of songs by bona fide British pop star David Bowie, has drawn rave responses from both Bowie and chanson fans in its many incarnations over the past few years, from theatre piece to CD. By popular demand, Des and Russell have revived the show as an in-concert presentation.

This is no simple tribute act, but an intimate and emotionally dynamic journey through a landscape populated by mod Newley-wannabes, sexually ambivalent science fiction apocalypse prophets, Brel-fixated trash theatre queens, drug-stupefied cold war romantics, pre-millennial art murderers and wild-eyed aliens from Bromley.

Des is, of course, Pirate Jenny's founder, host and resident performer. Russell is one of Britain's foremost musical cabaret accompanists, best known for his years as sidekick and foil to comic Julian Clary and now an in-demand pianist for the likes of Fascinating Aida, Barb Jungr and Elizabeth Mansfield.

'Ingenious... tantalising... immensely rewarding... a rare and intelligent peek behind the celebrity mask.' - The Times

'To hear these songs in such a personalised context is a real ear-opener. I listened as though someone else had written them.' -David Bowie

It's not often Pirate Jenny celebrates songwriters in the Great American Musical tradition, but sardonic and sophisticated songsmith Stephen Sondheim has always been a case apart, and we couldn't let his 75th birthday this year pass without some acknowledgement. We're delighted, then, to welcome compelling mezzo-chanteuse Naomi Hyamson as she makes a long overdue first appearance at PJ's tonight to mark Sondheim's 75th birthday year.

Naomi explores the Sondheim repertoire from his earliest to his most recent work, and rounds out the picture with songs by early influences such as Leonard Bernstein and Oscar Hammerstein, and most recent successors Adam Guettel and Jason Robert Brown. A great chance to see this cabaret singer with a big, rich voice and a growing reputation, in the company of Jenny Gould on piano

Drill Hall 2, 16 Chenies Street, London WC1E 7EX
www.drillhall.co.uk
Box office +44 (0)20 7307 5060
Times 20:00-22:00 hrs PROMPT
Tickets GBP 10.00 / 7.00

Space at the Drill Hall 2 is limited so advance booking is highly recommended.
Underground Goodge Street (Northern Line). National Rail Euston (Virgin, Silverlink). Bus 10, 24, 29, 73, 134, 390


---
VOYEUR BOWIE FILM NIGHT
12th November 2005



Next year on January 22nd 2006, The International DAVID BOWIE fan club THE VOYEUR presents a unique David Bowie Film marathon. From 'Il Mio West' to 'Just A Gigolo', from 'B.U.S.T.E.D.' to 'Basquiat'.

A total of 12 of the finest David Bowie films will be shown in two cinemas.

The marathon will be held in 'De Gruitpoort' in Doetinchem. Reservations (3,50 euros per person per film) can be made at

The marathon is free of charge for members of 'The Voyeur'. More information about the marathon can be found at The Voyeur's webpage at http://go.to/bowiefanclub

From Peter Smit


---
CAN YOU HANDLE IT?
11th November 2005

From a shot of the Sex Pistols manhandling the model Kelly LeBrock to an anguished Kurt Cobain upending his microphone stand, an exhibition of rare and unseen photographs will offer visitors a guided tour through three decades of rock iconography.

The exhibition - Can You Handle It? - opens on Friday (11th Nov) at the Sony Walkman Gallery in London and showcases the work of a trio of leading photographers: Denis O'Regan, Steve Double and Hamish Brown. Its timeline spans the glam rock era, through punk, grunge and Britpop to the present day.

Snapped in the heat of the moment, one shows DAVID BOWIE standing against a graffiti-strewn Berlin Wall.

In another, an audience worships at the altar of a supine Debbie Harry. &quotI certainly never imagined my work would one day be viewed as historical artefacts,&quot said O'Regan, who spent the 1970s juggling a day job as an insurance underwriter with nights working as an NME photographer. &quotBut the photos take on a new significance today, particularly when you realise that a lot of those people are no longer with us.&quot

One of O'Regan's favourite images shows the late Joe Strummer emerging from the 100 Club surrounded by a retinue of grinning punks. &quotIt was taken in 1978 but it somehow looks older,&quot he said. &quotIt could be one of those portraits of London in the 1940s or 50s where everyone looked skinny and malnourished.&quot

Can You Handle It? runs from November 11 to December 9 at the Sony Walkman Gallery, 10 Greenland Street, London.

From Guardian.co.uk


---
IMAN IN CHICAGO
11th November 2005

The lovely and strikingly beautiful IMAN was in Chicago signing copies of her new book on makeup at the Border's bookstore on State Street during the lunch hour.

While most of her comments related solely to women's make-up, she did make a hilarious comment about DAVID, saying something to the effect of &quotmany of you might recall that my husband David used to wear a lot of makeup, too, back in the day,&quot and then went on to comment that he is like most men, he doesn't do anything special or out of the ordinary to take care of his skin but that he was &quotblessed with good genes&quot which is why he still looks so young.

David was not in attendance with her, unfortunately. There was a very large crowd on hand.

From Mark E. Laughman


---
I READ THE NEWS TODAY OH BOY
11th November 2005

Today is a rather unique anniversary in the life of a certain DAVID JONES. Exactly forty-five years ago to this very day he got his first ever front page news story.

The Bromley & Kentish Times newspaper reported on Friday 11th November 1960 that 'David (13) Leads Sports Revolution' which they reported the story of a thirteen-year-old limey kid who was interested in American Football.


DAVID (13) LEADS SPORT REVOLUTION



MEMBERS of the U.S. Navy, stationed in London, are helping the underdog side in a minor English sport revolution. And if the influence of the revolution's leader, 13-year-old David Jones, of Plaistow Grove, Bromley, is felt, English rugby could be joined by American football.

It all started when David's father, Mr. Heywood Jones, purchased a short-wave radio with evenings of musical relaxation in mind for the family. Once his son David discovered that the U.S. Armed Forces Network in Germany broadcast recorded American football games, the wireless was put to far different use. David would not miss a game.

He wrote to the U.S. Navy's London headquarters recently telling of his passion for football, and asking if someone could send him some magazines about it. He not only received the magazines, but was invited to visit the headquarters to watch football movies. As he watched them, Petty Officers Stan Lucas, captain of the Navy rugby team in London, and Larry Farmer stood by to tell him the finer points and explain rules.

Then, much to his amazement, David was presented with a helmet, set of shoulder pads and a football, all of which had been donated by a local Air Force base.

Lucas and Farmer took David, with equipment on, to Grosvenor Square, and ran him through several plays. His father, who comes from a family of avid rugby enthusiasts, stood by scratching his head, perplexed.

When asked if he might try organising a team, David said he didn't think so becuase equipment was too expensive. He said he plays rugby at school - scrum half-back, a near equivalent to the American football quarter-back position.

It is a safe bet that the people of Bromley may soon be scratching their heads, too, when David introduces &quotsandlot football&quot to the youngsters in one of the parks.

© Bromley & Kentish Times.


---
GLAM NIGHT AT THE HALF MOON
9th November 2005

THE THIN WHITE DUKE tribute band will be putting on a glam night at The Half Moon, Herne Hill, London SE24 on Saturday 26th November.

The event kicks off at 7pm. £4 entry on the door, or free if you come in glamtastic clothing!

Support to be announced, but we should at least have a DJ spinning some glam tunes all night. The Thin White Duke should be on (by now?) at about 9pm.

For more information, including how to get there can be found on our website @ www.thinwhiteduke.biz

From Scott.


---
BOWIE/ARCADE FIRE RELEASES NEXT WEEK
8th November 2005

DAVID BOWIE's recent performance alongside ARCADE FIRE is to be released very shortly in audio only digital EP format.

Contained on the EP will be 'Wake Up', 'Five Years' and 'Life on Mars?' backed by the band along with Mike Garson on piano.

The live tracks are taken from the recent performance at the Fashion Rocks 2005 Show in New York City on 8th September 2005.

Next Monday on 14th November it will be available for download on iTunes for one week only with all proceeds from the downloads going to the Hurricane Katrina relief charities.

The UK single for 'Wake Up' released next Tuesday (15th November) by Rough Trade, but the CD and DVD versions of the single have been dropped. It will now only be available on 7&quot vinyl. The b-side of 'Wake Up' will be an etched graphic.


---
BACK AROUND THE CLOCK
7th November 2005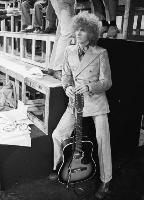 Update: Confirmation from programme makers that the documentary definitely features the DB performance.

Showing on the SF1 channel in Germany this month is Klanghotel Musik: 'Back Around The Clock' a four-part music documentary which features DAVID BOWIE.

SF1 Transmission dates:

Part 1: 'With Also and Noise' - The beginnings: Sunday, 13th November at 23:20
Part 2: 'Fires and Flame' - The 70's: Sunday, 20th November at 22:50
Part 3: 'Far and Broadly' - The 80's: Sunday, 27th November at 22:50
Part 4: 'Party! Party' - The Modern Times: Sunday, 4th December at 23:20

This could be something really interesting considering a rare 1969 photograph of DAVID BOWIE is used for the listing for the Folge 2, 'Feuer und Flamme' - die 70er-Jahre. My German translation let alone my Swiss is probably about as good as my Swahili but here goes... pick the bones out of this...

Back in 1966 Swiss journalist BEAT HIRT together with Juerg Marquard created the legendary magazine 'Pop'.

For this documentary 'Back Around The Clock' features rare archive material from SF DRS, TSR and TSI.

As far as I am aware David's only 60s appearance on Swiss TV was broadcast by SRG on 2nd November 1969 performing 'Space Oddity' on 'Hits A-Go-Go', which fingers crossed ties up rather neatly with the photograph on the right.

And just to make sure here's the original German language article:

50 Jahre Rock in der Schweiz Im zweiten Teil der vierteiligen Serie schildert der Rock-Journalist und Filmemacher Beat Hirt mit Material aus den Schweizer Fernseharchiven die 70er-Jahre mit Krokus, Rumpelstilz und Betty Legler.

In den 70er-Jahren ist Montreux das Mekka der Rockfans. Der Brand des Casinos während eines Konzerts von Frank Zappa und der Deep-Purple-Hit 'Smoke On The Water' sowie die ersten Auftritte von Pop-Bands im Rahmen des Jazz-Festivals von Montreux sind einige der Themen dieser zweiten Ausgabe.

Musikalische Originalbeiträge von Schweizer Musikern stammen unter anderem von TEA, Island, Rumpelstilz, Toad, Krokus, Krokodil und Betty Legler. Musiker wie Chris von Rohr, Schifer Schafer und Düde Dürst erzählen, wie die Szene damals funktionierte, wie sie überlebten oder woran sie scheiterten. Das angesagte Hippie-Wohngefühl im Bauernhaus und die Discowelle sind durch Reportagen dokumentiert. Auch die ersten popigen Fernsehsendungen fallen in diesen Zeitabschnitt, als David Bowie am Anfang seiner Karriere im Hits à Gogo auftrat und der erfolgreiche Disco-Produzent Giorgio Moroder den Erfolg noch als Sänger suchte und im Kanton Obwalden wohnte.

Die Dokumentation zeigt, was im Verlauf von fünf Jahrzehnten von den Unternehmenseinheiten der SRG SSR idée suisse aufgezeichnet worden ist. Vieles ist dabei gelöscht worden oder untergegangen - im wörtlichen Sinn: In den 70er-Jahren gab es im Filmarchivkeller eine Überschwemmung.

Beat Hirt war einer der ersten Rock-Journalisten der Schweiz und gründete 1966 mit Jürg Marquard das legendäre Magazin 'Pop'. Seine Fernseh-Dokumentation ist eine kritische Annäherung an die Popgeschichte der Schweiz.

'Mit Auch und Krach' - Die Anfänge: Sonntag, 13.11., 23h20
'Feuer und Flamme' - Die 70er Jahre: Sonntag, 20.11., 22h50
'Weit und breit' - Die 80er Jahre: Sonntag, 27.11., 22h50
'Party! Party' - Die Neuzeit: Sonntag, 4.12., 23h20

Check out the official German language website @ rockumentation.ch for more information and details.

See the BWW Monthly Planner for [complete listings].


---
TAKE A QUICK BUTCHERS...
6th November 2005

Apologies for the lack of news updates at the beginning of this month... major problems in Jakarta and India... as well as computer problems at home - don't ask! Anyway watch this space this week for a brand new BWW competition to win one of ten of something...

Thanks to everyone who voted for BowieWonderworld in the recent BT Digital Music Awards 2005 in the People's Choice category. BWW made the top 200 list and came in 80th place...


---
THE PLATINUM COLLECTION RELEASED
6th November 2005

Tomorrow sees the release of DAVID BOWIE The Platinum Collection from EMI. The Collection contains three discs (Cat. No. 3113042) and contains the following fifty-seven tracks:



The Best Of David Bowie 1969/1974

01. The Jean Genie
02. Space Oddity
03. Starman
04. Ziggy Stardust
05. John, I'm Only Dancing
06. Rebel Rebel
07. Let's Spend The Night Together
08. Suffragette City
09. Oh! You Pretty Things
10. Velvet Goldmine
11. Drive-In Saturday
12. Diamond Dogs
13. Changes
14. Sorrow
15. The Prettiest Star
16. Life On Mars?
17. Aladdin Sane
18. The Man Who Sold The World
19. Rock 'N' Roll Suicide
20. All The Young Dudes


The Best Of David Bowie 1974/1979

01. Sound And Vision
02. Golden Years
03. Fame
04. Young Americans
05. John, I'm Only Dancing (Again)
06. Can You Hear Me
07. Wild Is The Wind
08. Knock On Wood
09. TVC 15
10. 1984
11. It's Hard To Be A Saint In The City
12. Look Back In Anger
13. The Secret Life Of Arabia
14. D.J.
15. Beauty And The Beast
16. Breaking Glass
17. Boys Keep Swinging
18. "Heroes"


The Best Of David Bowie 1980/1987

01. Let's Dance (single version)
02. Ashes To Ashes (single version)
03. Under Pressure (Queen with David Bowie)
04. Fashion (single version)
05. Modern Love (single version)
06. China Girl (single version)
07. Scary Monsters (single version)
08. Up The Hill Backwards
09. Alabama Song
10. Drowned Girl
11. Cat People (film version single edit)
12. This Is Not America (David Bowie and The Pat Metheny Group)
13. Loving The Alien (album version)
14. Absolute Beginners (single version)
15. When The Wind Blows
16. Blue Jean
17. Day-In Day-Out (single version)
18. Time Will Crawl
19. Underground (single version)

You can purchase David Bowie The Platinum Collection
NOW for only £11.99.

Tesco are currently running a UK TV advertising campaign for the album with its first screening on Channel 4 tonight.


---
SERIOUS AND RICOCHET ON DVD
5th November 2005

BOWIENET have released details of the forthcoming DVD release of SERIOUS MOONLIGHT (ICPN: 094634153997) which is scheduled for release on 13th March.

The concert filmed by David Mallet in Vancouver, Canada at the Pacific National Exhibition Coliseum on 11/12th September 1983.

Also included as a bonus is an extended version the RICOCHET documentary that was filmed on and off stage at the end of the Serious Moonlight during December named the 'Bungle In The Jungle' in Singapore, Bangkok and Hong Kong.

The DVD is released in PAL (English, French, German, Spanish, Italian, Portuguese) and NTSC (English, Spanish and Portuguese).

Also to be released a month earlier is the digital audio CD of the Serious Moonlight Live EP (ICPN: 00946-349734-5-8).

From BowieNet


---
DAVID DOES WHATEVER IT TAKES
2nd November 2005

You'll remember back in June I told you about DAVID BOWIE and IMAN's artwork designs for the charity organisation 21st CENTURY LEADERS.

Well David's designed limited edition wristband which contains the message 'Peace Thru Art' is now available to purchase online via WhateverItTakes Shop





21st Century Leaders is a unique charity artwork project. The concept is simple. They gather artworks from leaders in all fields; royalty, film, music, noble peace laureates, sports, literature etc. Each ambassador donates a symbol of hope, a self portrait and a message of hope for the future.

These artworks are being used to create products, initially charity wristbands, clothing, tableware, ethical cosmetics and stationary released on the 21CL label. The goal of 21st Century Leaders' charitable brand is to sell 'merchandise with a meaning'. All products are manufactured under fair working conditions and are sold to raise funds for charitable causes chosen by each contributing leader.

100% of net profits are donated to charity. The aim is to raise a minimum of $3 million over three years to fund charitable projects in developing countries, contribute to the protection of the environment and other charitable causes.

David's limited edition wristband is priced at mere £2.99 (UK), $5.47 (US) and €4.55 (Euro). Be a proper Bowie fan and buy two for your left wrist.

All proceeds go to David and Iman's chosen charity Save The Children. Purchase now via WhateverItTakes Shop


---
WATCH MANCHESTER MOVE IN THE USA
1st November 2005

Reminder: Highlights of DAVID BOWIE's live performance from his 2002 appearance at the Manchester MOVE FESTIVAL is to be shown on US television this month.

Rockers such as David Bowie, New Order, Madness, The Cure, Green Day, No Doubt and Morrissey join such newer acts as Suede, Elbow, Stereophonics, 22-20's, Electric Soft Parade, The Bees, Haven and Rial Schools at this four-day festival held in Manchester, England.

New TV channel SHOWTIME NEXT are to broadcast throughout November, David appears on the following dates...

2nd November at 1:30pm ET
3rd November at 3:00am ET
6th November at 8:30pm ET
7th November at 4:35am ET
12th November at 6:00am and 3:55pm ET
21st November at 2:15pm and 10:00pm ET
25th November at 9:45am ET
29th November at 1:99pm ET

If you're based in America you find out more details via the www.sho.com website.


---
THE MAN WHO FELL TO EARTH REVISITED
1st November 2005

SCI FI LOG are reporting that NICOLAS ROEG's sci-fi classic THE MAN WHO FELL TO EARTH, which showed off DAVID BOWIE's unworldly acting talents, is to be remade. Warner Independent Pictures and Cherry Road Films have acquired the remake rights to the 1976 film as well as the rights to the Walter Tevis novel on which it was based. If you've only just recently landed on Earth, the story concerns an alien who comes here in the guise of a businessman on a mission to gain water for his home planet. Once here, he becomes embroiled in the greed of mankind as the head of a powerful international company.

There's no word yet on who's playing 'Thomas Jerome Newton' but if it comes anywhere near David's performance I'll eat my hat.



Incidentally, the brand new December issue of UK magazine UNCUT features our David on the cover. Inside is a special feature covering the movie where Uncut talk to the main players behind this landmark movie including director Nic Roeg and takes a look at this interesting period in his life.

This issue also features a free 15-track CD of the best of this year's music including The Arcade Fire, Franz Ferdinand, Robert Plant, Ry Cooder and many more.

If you're into paranoia, weird sex with some cocaine dementia thrown in you'll do no better than purchasing the Criterion DVD Collection special collectors edition of THE MAN WHO FELL TO EARTH
is absolutely fantastic. A must buy. The DVD features exclusive audio commentary by David Bowie, Nicolas Roeg and Buck Henry.

The director-approved special edition double-disc DVD set features



New, restored high-definition digital transfer, supervised and approved by director Nicolas Roeg.
Exclusive audio commentary by Roeg and actors David Bowie and Buck Henry.
Performance, a compilation of new video interviews with actors Candy Clark and Rip Torn.
New video interview with screenwriter Paul Mayersberg.
Audio interviews with costume designer May Routh and production designer Brian Eatwell.
Multiple stills galleries, including Routh's costume sketches; behind-the-scenes photos.
Production and publicity stills, introduced by set photographer David James.
Gallery of posters from Roeg's films.
Trailers and television spots.
Optional English subtitles for the deaf and hard of hearing.
Plus: an exclusive reprint of Walter Tevis's original novel, courtesy of Vintage Books.
A booklet featuring a new essay on the film by critic Graham Fuller and an appreciation of Tevis by novelist Jack Matthews.

You can Purchase The Man Who Fell to Earth
DVD now and save 20% discount.


---
HALLOWEEN JACK IS A REAL COOL CAT
1st November 2005




For all you DAVID BOWIE collectors out there - here are over one hundred incredibly rare HALLOWEEN JACK photographs taken by legendary 'Sunset Strip' photographer MARVIN RINNIG

Marvin took these fabulous shots at the Universal Ampitheatre, Los Angeles in September 1974 during David's 'The Year Of The Diamond Dogs' Tour.

Hope you enjoy these fabulous photographs... and what's more... you can purchase any of these 10x8 limited edition prints for an amazing $5.99 each!

There are also larger prints available: 11x4 @ $8.99 and 13x9 @ $11.99. There's even an extra two special offers available - Buy any 5 and get the 6th FREE... or Buy any 10 and get 3 more FREE of charge!



CLICK HERE TO VIEW THE PHOTOGRAPHS



You can purchase online via PayPal or if you prefer email for order information at

Visit musikfoto.com and check out the amazing rare vintage photographs available.


---
DAVID AND IMAN HELP OUT THE LUNCHBOX AUCTION
1st November 2005

Update: The auction for the Bowie family lunchbox realised an amazing total of $2,025.

DAVID BOWIE and IMAN along with assistance from their daughter LEXI have contributed towards the THE LUNCHBOX AUCTION.

The Lunchbox Auction is a unique partnership between Food Bank For New York City and The Lunchbox Fund to benefit children's programs in New York City and South Africa.

Each lunchbox is reflective of the artists' personal expression and no two lunchboxes are alike. Whether you are an art lover who is looking for a wonderful new collectible, or simply a dedicated fan of the artist - you'll find this to be a diverse and extraordinary collection.

Over 100 top celebrities from the entertainment, fashion, art, music, literary and culinary worlds, have designed lunchbox art to be auctioned online to benefit children's programs. Some of the celebs include: Halle Berry, Mike Myers, Brad Pitt, Angelina Jolie, Spike Lee, Cameron Crowe, Bono, Clint Eastwood, Liv Tyler, Flea, Patti Smith, Michael Stipe and Perry Farrell.

You can find out more information about The Food Bank For New York City at their website @ foodbanknyc.org and at The Lunchbox Fund website @ thelunchboxfund.org


---
NO BALANCE PALACE OUT
1st November 2005

All set for release on 5th November... as mentioned in August here's the artwork and tracklisting from Danish band KASHMIR new album 'No Balance Palace'.

The album is produced by Tony Visconti and features DAVID BOWIE singing on the track 'The Cynic' and LOU REED on 'Black Building'. Released by Columbia/Sony Music (Cat. No. 82876727672).

The full tracklisting is as follows:


01. Kalifornia
02. Jewel Drop
03. The Cynic (with David Bowie)
04. Ophelia
05. Diana Ross
06. The Curse Of Being A Girl
07. She's Made Of Chalk
08. Ether
09. Snowman
10. Black Building (with Lou Reed)
11. No Balance Palace

You can purchase
No Balance Palace now or via these other two online stores - No Balance Palace
at 18.99 Euros or No Balance Palace
at 19.61 Euros.


---

OLDER NEWS


October | September | August | July
June | May | April | March | February | January

2004 Bowie News Archives | 2003 Bowie News Archives
2002 Bowie News Archives | 2001 Bowie News Archives
2000 Bowie News Archives | 1999 Bowie News Archives
1998 Bowie News Archives