BOWIE TV and WHAT'S REALLY HAPPENING IN JUNE - MONTHLY PLANNER

[BOWIEWONDERWORLD SHOP] [LATEST DAVID BOWIE ITEMS ON eBAY]

[BW POLL: FAVOURITE BOWIE ALBUM? Round 2 - VOTE HERE]


Have YOU got some DAVID BOWIE related news or a hot scoop?
Well don't just sit there keeping it to yourself - send it in to
All news items are credited if you so wish


---
(SHE CAN) DO THAT
30th June 2005

BOWIENET members can listen to an exclusive 30 second sample of DAVID BOWIE's fab new song '(She Can) Do That' over on davidbowie.com.

David collaborated with BT (aka Brian Transeau). David wrote the lyrics and top line melody and recorded his part at the Looking Glass Studios in New York City, whilst BT did this thing in Los Angeles.

The track features on forthcoming official soundtrack to the movie Stealth, which is released by Sony on Tuesday 12th July.

You can pre-order the official soundtrack Stealth
now. You can also now pre-order Stealth
on import for UK and Europe.

See below (24th June) for tracklisting and more information.


---
BEAMING DAVID BOWIE UPDATE
28th June 2005



BEAMING DAVID BOWIE - NEW BOOK FINISHED BUT PUBLICATION DELAYED





Beaming David Bowie, scheduled for release on June 27th, has been set back to early August while the final edit and proof-reading are completed. Author Marc John comments: "I hope all the fans who have emailed me, eager to read the book, can be patient and wait just a little longer. The process has taken longer than I originally anticipated, but the book is actually finished now and is just going through the end stages of editing and manufacturing."

Beaming David Bowie is now be expected to be available by mid-August at the latest, with another announcement to be made a week before the first copies are guaranteed to come off the printing presses.

From Marc John.


Marc was the person responsible for setting up the live global cinema Reality gig David did in September 2003, which was a pioneering, world first event that played to 50,000 fans in sold out cinemas across five continents. And the adventure of it all is the thrust of the book, told in the context of how the experience affected his spirituality and actually helped him rediscover it.

A rising hotshot in the cinema business loses and then rediscovers his spirituality along the way to making history with David Bowie. In the autumn of 2003 author Marc John organised a live satellite broadcast of a specially produced David Bowie concert which was shown exclusively in cinemas around the world. This marked the first time ever that a live event had been beamed to cinemas world-wide, and reflects the coming of 'digital cinema', which is seeing the cinema industry steadily adopt satellite dishes, hard drives and digital projectors to diversify cinema programming to include live music, sport, interactivity and video games, for the first time in cinema's 100 year old history.

This book goes revealingly behind the scenes as this major, digital transition takes place, culminating with the fast paced, high flying experience of beaming David Bowie to tens of thousand of fans across five continents in sold out, rocking cinemas. But at what price to the author's spiritual direction did this historic landmark and career height cost? As an aspiring actor/playwright in New York in his teenage years, a former political candidate back home in England in his 20's and a guerrilla moviemaker whose low budget digital video experiments brought him into the executive ranks of Odeon, the UK's biggest cinema chain, the author discovered, through many improbable adventures leading up to the Bowie gig, the journey in life that we are all on. And this book is as much about the change within as it is about the change around us as the digital age gathers pace in transforming every area of our work and lives.

Synopsis: In the 21st century something called the digital age came upon us. It swept quickly through the entertainment, telecoms and broadcast industries transforming businesses, careers, homes, lives and destinies. Music, television, film and cinema were just a few of society's great pastimes to feel the force of the digital age. Entrepreneurs and pioneers burst forth with great visions. Grand ambitions could not be held back. This is the story of one of them. The Event. A live and interactive pop concert beamed via satellite to cinemas worldwide. The Star: Pop icon David Bowie. The Catalyst: A guerrilla moviemaker who wanted to change the world. The Result: A real life adventure like no other...

More details and information can be found at www.beamingdavidbowie.com where you can read sample pages from chapter one.

You can pre-order Beaming David Bowie now for only £11.99.


---
BW POLL: FAVORITE BOWIE ALBUM? 2ND ROUND
26th June 2005

Which is your favourite DAVID BOWIE album? The second round of voting currently has 'Low' in poll position with 25% of the votes.

The top ten poll results so far are:

01. Low
02. Station To Station
03. The Rise and Fall of Ziggy Stardust and The Spiders from Mars
04. Diamond Dogs
05. 1.Outside
06. Scary Monsters (And Super Creeps)
07. Heathen
08. Aladdin Sane
09. Reality
10. Earthling

As soon as the poll reaches a thousand votes, the final and third round comes into play, which removes the lowest scoring five albums.



REGISTER YOUR VOTE HERE FOR ROUND 2


---
DAVID COLLABORATES ON BRAND NEW SONG!
24th June 2005

DAVID BOWIE has collaborated with artist BRIAN TRANSEAU (aka BT) on a fabulous brand new song entitled '(She Can) Do That' which appears on the official soundtrack for the forthcoming movie Stealth.

David wrote the lyrics and recorded at Looking Glass Studios in New York City. The album is scheduled for release by Sony in the USA on Tuesday, 12th July.

The full tracklisting runs as follows:



01. Make A Move - Incubus
02. Admiration - Incubus
03. Neither Of Us Can See - Incubus
04. (She Can) Do That - DAVID BOWIE and BT
05. Dance To The Music - Sly And The Family Stone with Will.I.Am
06. Bullet-Proof Skin - Institute (aka Gavin Rossdale)
07. L.S.F. (Lost Souls Forever) - Kasabian
08. Bug Eyes - Dredg
09. Over My Head - The Fray
10. One Day - Trading Yesterday
11. Different - Acceptance
12. Nights In White Satin - Glenn Hughes with Chad Smith and John Frusciante
13. Aqueous Transmission - Incubus

You can pre-order the official soundtrack Stealth
now and save 21% discount.

You can also now pre-order Stealth
on import for UK and Europe.

Who's BT I hear you ask? Well go check out his official website @ btmusic.com and over on bowienet news pages you can read some exclusive comments from David about this brand new song and collaboration.


---
DICK CAVETT DVD UPDATE
24th June 2005

A late thumbs-up from MICK JAGGER has forced the distributor of a DVD featuring musical performances from "The Dick Cavett Show" to postpone its release by two weeks to August 16th.

In addition to segments featuring the likes of DAVID BOWIE, Stevie Wonder, Paul Simon, Janis Joplin and George Harrison, 'The Dick Cavett Show: Rock Icons' will now boast almost 15 minutes of the Rolling Stones.

Jagger has allowed archival label Shout! Factory to include performances of 'Brown Sugar' and 'Street Fighting Man' - albeit trimmed to two minutes each - filmed during a July 25, 1972 performance at Madison Square Garden in New York, and two backstage interviews he did with Cavett. The segment aired on August 4th of that year.

'The Dick Cavett Show,' which ran from 1969 to 1975, mixed lively debate on topical issues like Vietnam and women's rights with celebrity interviews and musical performances. All the guests would remain on stage for the entire show, making for some interesting interactions.

You can pre-order The Dick Cavett Show: Rock Icons
DVD featuring David Bowie from December 1974 show - 3 disc set (region 1) and save 25% discount.

From Reuters.


---
USHER HALL WANT BOWIE AND DYLAN
23rd June 2005

DAVID BOWIE and Bob Dylan are two of the acts that are to be targeted for rare shows in Edinburgh, Scotland by the city's leading concert arena.

Usher Hall bosses have put the iconic figures at the top of a "shopping list" of stars they want to grace the stage of the flagship venue once the £24 million-pound overhaul is completed in three years' time.

Mr. Chapman said the venue was now competing with the likes of the Barbican and Royal Festival Hall, in London, the Royal Symphony Hall, in Birmingham, and Bridgewater Hall, in Manchester. He added: "It would be great to have a whole series of gala events when the building is finished, in the run-up to the 2009 Edinburgh International Festival."

Work is to due to start in January on the second stage of the revamp, which will see almost £12m worth of improvements. On top of that, the whole area outside the theatre is to undergo a £2m transformation.

You can read the full story at Scotsman.com website.


---
MEMORY OF A FREE FESTIVAL #2
23rd June 2005

Put yourself in a time-machine and set the clock to go back thirty-four years to 1971. Land it in a field in Pilton, Somerset and you will be in the presence of DAVID BOWIE's first ever performance at the Glastonbury Festival.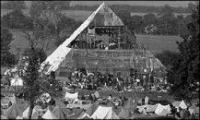 Back in 1971 it was known as Glastonbury Fayre and the second time the event had taken place. The event was timed to coincide with the summer solstice and featured the first Pyramid Stage, which was made out of scaffolding and plastic sheeting and positioned on a spring near a ley line.

John Coleman who was responsible for booking the acts for the festival recalls: "I'd met David through Mick Ronson after I'd praised Mick's guitar playing on a Mike Chapman album." says Coleman. "We'd been out for dinner a couple of times, so I rang him and asked if he wanted to play. At that point, he was definitely into alternative lifestyles, but he was also in the process of turning into Ziggy Stardust and his new manager Tony Defries wasn't keen on him doing this hippie festival at all."

For the punters, entrance to the festival was free but the police had enforced a 10:30pm curfew on the music which caused major problems for Coleman. "David was due to play on the Tuesday night at nine o'clock before Traffic, but the schedule was so chaotic I said to him, 'How do you feel about playing at 4.30 in the morning as the sun comes up?'. He loved it, but Tony DeFries hated my guts."

Jeff Dexter, who introduced David's set remembers that David swanned around the place in a huge pair of Oxford bags, a floppy hat, a long cloak and women's shoes.

For his set, David performed alone with an acoustic guitar, a keyboard and, briefly, a zonked-out Swedish girl who'd wandered onstage to add some impromptu backing vocals - much to David's amusement. That wasn't the only interruption. "Something blew on stage and there was a cacophony for about five minutes while he tried to get something out from between the keys of his keyboard." remembers Coleman.

According to original documentation the songs performed were: 'Oh! You Pretty Things', 'Quicksand', 'Kooks', 'Changes', 'Amsterdam', 'The Supermen', 'Amsterdam', 'Memory Of A Free Festival' and 'Song For Bob Dylan'.

"It was absolutely wonderful," remembers John Coleman. "People were waking up and running down the hillside so they could hear him. Everyone was smiling all over their faces and clapping and cheering. He was very charismatic."

After David's performance 'Accrington Stanley' were the next act to perform.

Recently Glastonbury Festival boss MICHAEL EAVIS was asked to name his top ten acts of all-time at the festival. Included in his list was David Bowie. "He was just breaking as a star and wandered in on foot, hair down to his waist and a guitar over his back. We recorded his set on a little recorder. The festival was free and Bowie's music matched the mood of the moment. We didn't know he would be a superstar."

Courtesy of the BBC - click on the News Report to watch a John Craven tv news report from the festival in 1971.

In today's Belfast Telegraph GLENN TILBROOK singer with the Squeeze remembers back to 1971: "I first went to Glastonbury in 1971 when I was just 13. My greatest memory is of camping next to the stage and waking up at four in the morning to watch David Bowie do a solo acoustic set. It was fantastic, really brilliant. Other names on the bill that year included Traffic, Edgar Broughton Band, Quintessence and Terry Reid. I remember going down with a few friends in a van owned by an old hippie guy. It was my first festival and it was brilliant. I never came back to any other Glastonbury's until 1994, by which time I had played at a lot of festivals with Squeeze. When I came back I was amazed that this fantastic memory I had as a teenage boy of a festival which was magical had somehow grown but retained almost exactly the same spirit."

You can read the full article at the Belfast Telegraph website which includes various people reminiscing on their fondness for Glastonbury over the years.


---
DAVID CHECKS OUT MOVABLE HYPE EVENT
22nd June 2005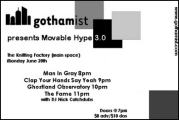 DAVID BOWIE turned up at the MOVABLE HYPE 3.0 do at the Knitting Factory in New York City on Monday evening (20th June).

David was spotted sat upstairs in the balcony wearing a baseball hat and clapped along to Clap Your Hands Say Yeah.

Artists at the event included: Man In Gray, Clap Your Hands Say Yeah, Ghostland Observatory and The Fame with DJ Nick Catchdubs.

Clap Your Hands Say Yeah are: Alec Ounsworth, Lee Sargent, Robbie Guertin, Tyler Sargent, and Sean Greenhalgh.

You can find out more about the band at their official website @ clapyourhandssayyeah.com as well as downloading some of their material in mp3 format.


---
PIN UP EXHIBITION NOW ONLINE
22nd June 2005

No doubt you will all have remembered that the DAVID BOWIE photographic exhibition at Redferns in London is now underway.

'David Bowie - Pin -Up' runs until Saturday 13th August at the Redferns Gallery at 3 Bramley Road in West London.

The opening times are: Tuesday to Friday 10:00 am to 6:00 pm and Saturdays 11:00 am to 6:00 pm. (Closed Mondays).

You can now preview and purchase all 41 of the DB photographs by visiting the redferns.com website.



One particular photographic exhibit features a previously unseen shot of Davy Jones taken by Blam's Auntie Fiona in Kingley Street, London in 1965. This was one of several taken for a Carnaby Street fashion spread special for Fabulous magazine in 1965.

For the trivialists out there, Davy was sporting a casual knit shirt and elephant corduroy slacks and playing the violin. And before anyone asks... Jeanette was the name of the model with him on the shoot and boy could she play a mean flute ;)

The image used for the magazine on 2nd October 1965 was this one on the right.

For more information and details please visit the redferns.com website.


---
THE BOWIE ROOM
19th June 2005

Brand new indie tribute act THE BOWIE ROOM based in the Greater Manchester / Lancashire area are looking for a couple of musicians to complete their line-up.

They are on the look-out for a drummer and a guitarist, mainly to cover DAVID BOWIE, Iggy Pop, Lou Reed and Roxy Music material.

If you think you fit the bill please email

From Nick @


---
THE GUNSLINGER'S REVENGE
15th June 2005



I've not seen this information out anywhere just yet but be on the look out on September 6th for the Stateside release of GUNSLINGER'S REVENGE from Columbia on DVD.

'Why on earth would I be interested in a spaghetti western film?' I hear you say. Well here's a clue... given that the movie stars DAVID BOWIE as 'Jack Sikora' and Harvey Keitel, this is obviously the renamed title for the USA release of 'Il Mio West'.

Directed by Giovanni Veronesi, also starring Leonardo Pieraccioni and Sandrine Holt, the movie was originally released in Italy in 1998.

IMHO The movie has the "best ever entrance" by a rock star ever committed to film.

From Mark (via US Video Distribution company).


---
YOUR FAVORITE BOWIE ALBUM? ROUND 1 RESULTS
14th June 2005

Which is your favourite DAVID BOWIE album? The poll result for the first round of voting went as follows:

01. The Rise and Fall of Ziggy Stardust and The Spiders from Mars
02. 1.Outside
03. Diamond Dogs
04. Low
05. Station To Station
06. Earthling
07. Scary Monsters (And Super Creeps)
08. Heathen
09. Aladdin Sane
10. Reality
11. Young Americans
12. Hunky Dory
13. &quotHeroes&quot
14. The Man Who Sold The World
15. Black Tie White Noise
16. David Live
17. 'hours...'
18. The Buddha of Suburbia
19. Lodger
20. Let's Dance
21. Space Oddity
22. Ziggy Stardust: The Motion Picture
23. Stage
24. Tin Machine
25. David Bowie
26. Never Let Me Down
27. Tin Machine II
28. Oy Vey Baby
29. Pin Ups
30. Tonight

The top ten albums now go into the second round.



REGISTER YOUR VOTE HERE FOR ROUND 2


---
AND THE BITS FLEW FAR AND WIDE
12th June 2005

The early bird catches the worm... we are only in June but you can now pre-order the DAVID BOWIE Official 2006 Wall Calendar to be published on September 1st 2005 by Slow Dazzle Worldwide - Pre-Order NOW
Only £6.99 save 30% discount...

Scheduled for publication by Virgin Books on August 4th is DAVID BUCKLEY's Strange Fascination. Revised and updated to 688 pages (ISBN: 0753510022). You can Pre-ORDER NOW
at £9.09 and receive a 30% discount...


---
HE CAME FROM OUTER SPACE...
12th June 2005

He came from outer space to save the human race... Released tomorrow on DVD is the KLAUS NOMI movie 'The Nomi Song: The Klaus Nomi Odyssey' which features the NBC TV 'Saturday Night Live' performance of DAVID BOWIE with Klaus Nomi from December 15th, 1979.

For the quite outrageous SNL performance David and his band performed three songs. First up was 'The Man Who Sold The World' with Joey Arias and Klaus carrying David on-stage because his plastic Dadaist costume - emulating the poet Tristan Tzara - which encased his legs.

For the second song David appeared with a puppet for 'Boys Keep Swinging' and finally for 'TVC15' David appeared in a blue dress as a Chinese airline stewardess. If you watch carefully you'll also see a pink poodle with a small tv monitor in its mouth, broadcasting the song as it was performed.

DVD Features: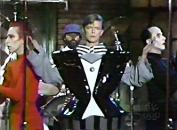 Available Audio Tracks: English (Dolby Digital 2.0)
Commentary by The Director
Deleted scenes
Behind the scenes interviews
3 full length musical numbers
Mini-tour of the East Village
Two exclusive audio tracks featuring remixes of 'Total Eclipse'
Theatrical trailer
Interviews with songwriters Kristian Hoffman, Lou Chrisitie, and other artists
Full performance of "The Cold Song" and "After the Fall"
SNL performance David Bowie and Klaus Nomi from December 15, 1979
How to bake the Klaus Nomi lime tart
Fan club mail bag

You can purchase 'The Nomi Song' DVD Region 0 UK Europe
version or the Region 1 US and Canada
version.

There some movie clips and trailers available to watch movies.yahoo.com which includes The Man Who Sold The World' from SNL.

If you don't know who KLAUS NOMI was check out the new website @ thenomisong.com there's some great stuff on there.


---
DAVID BOWIE CD PLATINUM COLLECTION
12th June 2005

The forthcoming 3-CD DAVID BOWIE Platinum Collection is scheduled for release in October via EMI.

The 57-track 3 CD set is made up from the previously released 'The Best Of David Bowie 1969/1974' and 'The Best Of David Bowie 1974/1979', along with the brand new 'The Best Of David Bowie 1980/1987'.

The tracklisting for 'The Best Of David Bowie 1980/1987' runs as follows:

01. Let's Dance (single version)
02. Ashes To Ashes (single version)
03. Under Pressure (Queen with David Bowie)
04. Fashion (single version)
05. Modern Love (single version)
06. China Girl (single version)
07. Scary Monsters (single version)
08. Up The Hill Backwards
09. Alabama Song
10. Drowned Girl
11. Cat People (film version single edit)
12. This Is Not America (David Bowie and The Pat Metheny Group)
13. Loving The Alien (album version)
14. Absolute Beginners (single version)
15. When The Wind Blows
16. Blue Jean
17. Day-In Day-Out (single version)
18. Time Will Crawl
19. Underground (single version)

Tracklisting courtesy of BowieNet.


---
KEEP YOUR 'LECTRIC EYE ON ME BABE
11th June 2005



As mentioned on here back in March there is to be a hardcover version of the MICK ROCK publication 'Moonage Daydream: The Life and Times of Ziggy Stardust'. The publication date is scheduled for 20th September from Universe. The 320-page publication with text by David Bowie is available to - Order NOW at £24.76 and receive a 10% discount.

Synopsis: In 1972, talented photographer Mick Rock spent 2 years as DAVID BOWIE's official photographer. Rock accompanied Bowie on tour to the US and the UK, capturing his life both on stage and behind the scenes at the height of his Ziggy Stardust period. During this time Rock documented the rise and descent of Ziggy Stardust, and shot promotional films, album jackets, posters, artwork, videos like Life On Mars? and Space Oddity and thousands of photographs. Rock's camera caught more of the Ziggy legend than any other and followed Bowie into hotel rooms and dressing rooms, on the road and socialising with musicians and friends including Lou Reed, Iggy Pop and Mick Jagger. The results are shown in this extraordinary book. The parties, costumes, hair-styles, photo shoots and concerts are all pictured in a fantastical style that sums up the spirit of the time. Bowie provides a fascinating running commentary to Mick Rock's photographs, recalling his personal memories of life as Ziggy. A must-have for any David Bowie fan.


---
AND THE BITS FLEW FAR AND WIDE
10th June 2005

Update: 21st Century Leaders charity organisation... You can now view the DAVID BOWIE and IMAN plate designs both front and reverse. Peace Throu Art 2005 (Plate Reference: DBow1) and Peace Thru Tolerance - (Plate Reference: Iman). The porcelain plates will be sold by tableware distributors to high-end stores in 23 countries. You can view a flash presentation here which explains the whole process. Selected wristbands will be available from 19th June at whateverittakes.org and also at 130 Virgin Megastores throughout the country. See below (8th June) for original news piece...

Legendary saxophonist DAVID SANBORN who appeared on DAVID BOWIE's 1974 'The Year Of The Diamond Dogs Tour' and played on the albums 'David Live' and 'Young Americans' makes a rare guest TV appearance tonight on LATER WITH JOOLS HOLLAND. He'll be playing from his new album 'Time Again' and he'll be duetting with Jools. Tune into BBC2 at 11:35pm tonight. Visit the david-sanborn.com website and check out what's happening...

MANI of The Stone Roses and Primal Scream lets the cat out of the bag in today's BELFAST TELEGRAPH about his impromptu comedy duet with DAVID BOWIE a few years back. He classes this as his "best ever rock festival moment" which was and I quote... 'Hanging out with my childhood hero David Bowie at a festival in Ostend, North Belgium a couple of years ago. As David was about to go on stage I sang to him in a Bowie voice, "Hey David, are you going to play 'The Laughing Gnome'?" He just turned round to me onstage and sang back to me in the same voice "No Mani... I'm not!" I've never forgotten that moment!' - [Read the full article]...


---
BW POLL: FAVORITE BOWIE ALBUM?
10th June 2005

Which is your favourite DAVID BOWIE album? The first round of votes currently has 'The Rise of Fall of Ziggy Stardust and The Spiders from Mars' way out in poll position.

The top ten poll results so far are:

01. The Rise and Fall of Ziggy Stardust and The Spiders from Mars
02. 1.Outside
03. Earthling
04. Diamond Dogs
05. Low
06. Station To Station
07. Hunky Dory
08. Heathen
09. Scary Monsters and Super Creeps
10. Reality

As soon as the poll reaches a thousand votes, the second round comes into play, which removes the lowest scoring twenty albums. Then voting starts again on the remaining ten.


---
BOWIE'S DISC RAISES MUCH-NEEDED CASH
9th June 2005

A gold disc presented to DAVID BOWIE for his Diamond Dogs album raised £425 at an auction for the new stroke unit being set up at Wycombe Hospital.

The signed disc was provided by Wycombe Lions Club and was among several goodies auctioned, which together raised more than £2,500 for the unit.

The auction was held as part of a fundraising ball at Wycombe Town Hall, which brought in more than £5,500 for equipment for the new unit.

As well as providing the David Bowie gold disc singers often donate their discs for charity events Wycombe Lions also ran a casino at the ball.

The fund for the unit was set up by Susie MacTavish, stroke co-ordinator at the hospital.

The money raised will be spent on equipment to help people get better and includes chairs, parallel bars and exercise equipment. The 20 bedded unit will take people from all over the county who have had acute strokes.

You can read the full story at the bucksfreepress.co.uk website.


---
THE RISE AND FALL OF ZIGGY STARDUST
9th June 2005



Taking to the stage next month with 'The Rise and Fall of Ziggy Stardust' - a theatrical presentation of DAVID BOWIE's music are the EPAC Repertory Company in New York.

The EPAC Repertory Company presents high quality musical theatre and dramatic theatre productions for the enjoyment of the community. EPAC Artistic Director Patrick Foti and Business Manager Lou Ligouri spearhead this project.

Three performances of this original EPAC production take place on 8th, 9th, 10th July at the Endicott Performing Arts Center, 102 Washington Avenue, Endicott, New York 13760.

July 8th (Friday) at 8:00 pm. July 9th (Saturday) at 8:00 pm and July 10th (Sunday) at 3:00 pm.

Adult tickets are priced at $15. Contact: 785-8903 or visit www.EndicottArts.com website for more details and information.


---
D&I DO WHATEVER IT TAKES
8th June 2005

Both DAVID and IMAN have contributed their own artwork, self portraits and 'Messages of Hope' designs to the charity organisation 21st CENTURY LEADERS who will be producing plates, wristbands and t-shirts which will be available shortly for purchase.

David artwork is entitled 'Peace Thru Art' and Iman's is 'Peace Thru Tolerance'.

The first limited edition music wristbands will be sold at £2.99 from 10th June and at 130 Virgin Megastores across the country from June 17th.

21st Century Leaders is a unique charity artwork project. The concept is simple. They gather artworks from leaders in all fields; royalty, film, music, noble peace laureates, sports, literature etc. Each ambassador donates a symbol of hope, a self portrait and a message of hope for the future.

These artworks are being used to create products, initially charity wristbands, clothing, tableware, ethical cosmetics and stationary released on the 21CL label. The goal of 21st Century Leaders' charitable brand is to sell 'merchandise with a meaning'. All products are manufactured under fair working conditions and are sold to raise funds for charitable causes chosen by each contributing leader.

100% of net profits are donated to charity. The aim is to raise a minimum of $3 million over three years to fund charitable projects in developing countries, contribute to the protection of the environment and other charitable causes.

Products are sold, with the promotional support of our leaders, through retail partnerships, editorial, brand promotional partnerships and on the 21CL website. In the process they strive to assist and encourage a generation of influencers, to take ownership, positive action and raise awareness among their fans, for a global international development cause. They call the campaign www.whateverittakes.org

21st Century Leaders is a wholly owned trading subsidiary of Trade plus Aid, charity registration number 1061376.

Surf on over to 21CL and www.whateverittakes.org and see who's taking part in this very worthwhile cause.

David appears in the 'Music' category (number 027) and Iman appears in the 'Fashion' category (number 037). Select the selection from the drop down list.

View David and Iman's plate designs Peace Thru Art (Plate Reference: DBow1) and Peace Thru Tolerance - (Plate Reference: Iman1).

Artwork © David Bowie/21st Century Leaders/Trade plus Aid 2004 and © Iman/21st Century Leaders/Trade plus Aid 2004.

Thanks to StHeathen for the pointer on the MB.


---
THE THIN WHITE DUKE AND THE WHITE KNIGHT
8th June 2005

Newly formed DAVID BOWIE tribute band THE THIN WHITE DUKE perform their debut gig next month on 2nd July at The White Knight in Crawley, West Sussex. The show kicks off at 9:00 pm

Venue: The White Knight, Worth Road, Crawley, West Sussex RH10 4DY [Map].

Details of how to get there are on our website @ thinwhiteduke.biz which also has band biographies, photos, MP3's and more.

From Scott.


---
THERE IS A HAPPY LAND
8th June 2005

American singer/songwriter HAPPY RHODES who worships DAVID BOWIE and often cites him as a major influence regularly performs DB songs in her set.

You can now listen to some samples of her cover versions at wretchawry.com where you'll find a live version of 'Space Oddity' from her gig at the Tin Angel in Philadelphia in 1996. There's also a performance of 'Ashes To Ashes' on her compilation RhodeSongs along with a short snippet of 'Starman' in the song 'Feed The Fire' (Acoustic Tribute Version).

From Vickie @ Vickie'sPlace


---
ARTHUR AND THE MINIMOYS UPDATE
7th June 2005



Variety reports that the ARTHUR AND THE MINIMOYS film started shooting in Normandy, France a few weeks back and will wrap sometime in July. The film is set for delivery at next year's Cannes Film Festival.

The film has already been in the making for two years, and will have cost 60 million Euros.

There's no doubting Luc Besson has been a busy boy lately - his production company Europacorp, has been knocking out about a dozen features a year since it's conception four years ago. Fortunately the drought is now being broken with Arthur And The Minimoys, which he's just started shooting, having signed Freddie Highmore and Mia Farrow.

Freddie will be playing Arthur, a boy who, in order to fix his grandfather's house, calls upon the help of the titular Minimoys - a particular breed of fairy, which are to be voiced by the musical trifecta of DAVID BOWIE, Snoop Dogg and Madonna. Farrow is playing Arthur's mum.

Although the setting is New York State and the film will be in English language, principal photography commenced this week in France. Pre-production has already been going on for about a year, and Europacorp are aiming to deliver the film in time for Cannes 2006. We assume this to give an indication of how many effects will be in the film - which will also be 3D. Whether this means that Besson is getting in on the new 3D technology that several cutting edge Hollywood filmmakers were getting all excited about last month remains to be confirmed.

Luc has adapted the screenplay from his own strong selling line of children's books, the first of which has recently been released in the US.

You can read the full article on the empireonline.co.uk website.


---
IN THE MOSS GARDEN
6th June 2005

The Council of Fashion Designers of America is honouring KATE MOSS for her fashion sense. During the early 1990s, Moss fueled the craze for waifish models, showing off her exceptionally slim frame in controversial ads for Calvin Klein fragrances. In recent years, though, Moss, 31, became a mother and has become well known for setting trends in her classically eclectic British style.

Among the items Moss popularised are the now ubiquitous Ugg Australia boots and the much coveted Balenciaga handbag. She's modelled for many of the top fashion houses, including Chanel and Burberry.





DAVID BOWIE is to present Kate with her style icon award tonight at a black-tie gala at Manhattan's public library.

Other honoree's include Diane von Furstenberg, receiving a lifetime achievement award, and Elle publication director Gilles Bensimon for &quotshaping&quot fashion visually. Lanvin artistic director Alber Elbaz was to receive the International Award, given to a designer working outside of the U.S. who has made an outstanding creative contribution to the world of fashion.

Vera Wang, Marc Jacobs and Ralph Rucci were competing as the year's top womenswear designers, and John Bartlett, Ralph Lauren and John Varvatos as the best menswear designers. The nominees for best accessories designer were Jacobs, Michael Kors, jewelers M+J Savitt and Gerard Yosca.

Presenters were to include Liev Schrieber, Iman, Sean P. Diddy Combs and Catherine Deneuve. Winners are selected by more than 450 fashion designers, press, retailers and stylists.

Update: Iman and Heidi Klum each arrived with their singer-husbands David Bowie and Seal, respectively. Iman wore a silver beaded gown with spaghetti straps and a pregnant Heidi was in a black jersey Donna Karan gown.

More photographs from the event can be found on the following websites:

[PatrickMcMullan] [wireimage.com] [Rexfeatures.com] [GettyImages]


---
33 YEARS OF ZIGGY STARDUST
6th June 2005

Another special day for DAVID BOWIE... Today marks the 33rd year anniversary of the release of his immortal rock 'n' roll album 'The Rise and Fall of Ziggy Stardust and the Spiders from Mars'.



Recorded at Trident Studios in Soho and released on 6th June 1972 on RCA Records, this monumental album tells the story of Ziggy Stardust - the definitive rock star.

And talking of Ziggy Stardust, pop on over to AIDAN O'ROURKE's website at www.aidan.co.uk and check out an interesting composite image inspired by the cover photograph of the Ziggy Stardust album.

Aidan states: The very first pop album I bought, back in 1972. I was fascinated by the cover photographs by Brian Ward, and the similarity of Heddon Street, London with streets in Manchester city centre. Here I have captured and combined two Manchester streets into one - St James Square (off John Dalton St) and Hilton Street (off Dale St) in the Northern Quarter.

Ziggy Stardust - still 'to be played at maximum volume'.


---
DAVID CELEBRATES 41 YEARS RECORDING
5th June 2005



Today marks the anniversary of DAVID BOWIE's first ever single release 'Liza Jane' credited to Davie Jones with The King Bees, which was released 41 years ago today, 5th June 1964 on the Vocalion Pop label (V 9221).

Featuring seventeen-year-old Davie Jones (vocals and saxophone), George Underwood (guitar), Roger Bluck (guitar), Francis Howard (bass) and Robert Allen (drums).

Although credited to Leslie Conn, David's then manager who had negotiated a one-single deal with Decca Records, George Underwood said the song was originally an old Negro spiritual that the band played around with and came up with this R'n'B song.

Leslie Conn's recollection of the events:


"I can tell you that I have got a pretty retentive memory, but that is something I can't clearly recall. I used to write songs except that I don't write music and I don't play piano. When the boys were jamming to kind of come up with some ideas to make a record, they came up with some six bar blues, which everyone uses. As they were doing that, I came up with my own idea, which came from nowhere, and we improvised and the song came together. I mean, I would never take credit for something that I never did and I know David wouldn't have agreed for me to sign the contract as writer if he had wrote it himself. I would never have stolen someone else's song on principle. I know that I'm quite vague on that and I can't be absolutely sure how it all came about, but I know that I did come up with a lot of ideas. As for the production of the song that was most certainly me, I arranged and organised the whole thing and I always produced the material I was arranging with Decca at that time. George Underwood is definitely wrong on that point.

"There is a funny story while were still on the subject of 'Liza Jane'. When David and I parted company I went off to live and work in Majorca for a few years and one day I was on the phone to my mother and she said, 'what shall I do with those records I have in the garage' which were a few hundred copies of 'Liza Jane'. So I replied, 'Throw them out', and she did. The last time David came up here he said, 'Have you got any of those records we made, you know they're worth over a hundred pounds each!' I told him I got my mother to throw them all out! We had to laugh."


Backed with 'Louie Louie Go Home', written by Paul Revere and Mark Lindsay, which was incidentally pencilled in as the A-side, both songs were recorded in a seven-hour session at Decca Studios in Broadhurst Gardens, West Hampstead.

The single was re-released by Decca in September 1978 (catalogue number F 13807) and beware there are counterfeit Vocalion copies in circulation. Produced in the USA in 70s, the tell-tale difference between the original and the illegal pressings is the matrix number. On the original 1964 issue the matrix number is machine stamped on the vinyl and on the fake copies it is handwritten.

The official press release for the single from the press room of the Dick James Organisation in May 1964 read...

INTRODUCING DAVIE JONES WITH THE KING-BEES... AND THEIR FIRST DISC 'LIZA JANE'

Pop Music isn't all affluence. Just ask new seventeen year old recording star Davie Jones. Time was (two months ago, in fact) when he and his group were almost on their uppers. No money, bad equipment. Then Davie had a brainwave. "I had been reading a lot in the papers about John Bloom," says Davie. "So I put pen to paper and wrote him a letter." David told Bloom that he had the chance of backing one of the most talented and up-and-coming groups on the pop scene. All he had to do was advance the several hundred pounds it requires to outfit a pop group with the best equipment.

Davie didn't get the money, but he did get a telegram next day from John Bloom giving the phone number of Artist's Manager Leslie Conn. Davie got in touch, he was rewarded with a booking at Bloom's Wedding Anniversary Party. "We were a dismal failure", recalls Davie. "It was a dinner dress affair and we turned up in jeans and sweat shirts and played our usual brand of rhythm and blues. It didn't go down too well. Still we'll know better next time."

However, all's well that ends well. Leslie Conn liked the earthy type of music the group played, arranged an audition with Decca Records which resulted in a contract and the first release by David Jones with the King-Bees. "Liza Jane", released by Decca (Vocalion 9221) on June 5th.

DAVIE JONES WITH THE KING-BEES MET AT BARBERS

Davie Jones met up with his four member backing group the King-Bees when he visited his local barber shop in Bromley. In between clips he got chatting to the four lads, also there to be sheared, about their musical interests, and before you could say "Short back and sides", they decided to join forces.

The group specialise in hard-driving, uncompromising R & B, a brand of music that has won for them a dedicated following in the London area, a following which should soon be spreading throughout the length and breadth of England on the strength of their first disc.

"LIZA JANE", is a beaty, action packed disc which features the direct no-holds-barred Davie Jones vocal delivery. The King-Bees supply a hard core, R & B backing and the whole thing is crowned by a catchy chorus featuring the line "Little Liza Jane".

DAVIE JONES - Seventeen years old, fair haired Davie first got interested in pop music when he was ten. His father's secretary (Davie's father in P.R.O. for Dr. Barnardo's homes) who had previously worked for a disc company, sent Davie a 'Demo' copy of a new Little Richard disc. As the phrase goes, Davie was "knocked out", and when he had scraped together a few pounds of his pocket money, bought a plastic saxophone. Eventually he progressed on to the real thing. Lessons were the next step. "My idol on saxophone has always been Ronnie Ross", says Davie, "So I looked up his name up in the phone book and asked him if he would give me lessons." Ross agreed, but after Davie played him a few bars Ross's comment was: "Right now we can start working on you, that was bloody awful!" Davie gave up his music to take his G.C.E. at 15, then left school and joined an advertising agency as a commercial artist, where he still works.

When he left school Davie was able to concentrated on his music again, this time mainly as a vocalist, playing dance halls and clubs in and around the Bromley area. Then came the hair-cut and the letter to John Bloom...

Davie's favourite vocalists are Little Richard, Bob Dylan and John Lee Hooker. Apart from the saxophone he also plays the guitar. He dislikes Adams apples, and lists as his interests Baseball, American Football and collecting Boots. A handsome six footer with a warm and engaging personality, Davie Jones has all it takes to get to the show business heights, including... talent.


---
EL HOMBRE QUE CONQUISTO AL MUNDO
4th June 2005

My understanding of the Spanish/Argentinian or Chilean language isn't much to shout home about but I've managed to understand the gist of this DAVID BOWIE tribute in two volumes with recordings from various artists.

Ya esta on line el disco doble del tributo a David Bowie te los podes bajar gratis!!! Entra a la web del sello Licor de Mono Records http://www.licordemono.com.ar además en el sitio encontraras temas del tributo a Smashing Pumpkins y el Homenaje a Peligrosos Gorriones, Entrevistas a bandas y discos de bandas under de Argentina y Chile.

David Bowie. El Hombre que Conquisto al Mundo. Tributo - Volume One.
01. Nancyboy - 'Dead Man Walking'
02. Pampa Mía - 'Slow Burn'
03. Casco - 'Fashion'
04. Denise - 'As The World Falls Down'
05. Titán Flor - 'Be My Wife'
06. Nave India - 'Loving The Alien'
07. The Brainerds - 'Girl Keep Swinging'
08. Aloof - 'Strangers When We Meet'
09. RRRRRRR - 'Scary Monsters'
10. Lobruno - 'Outside'
11. Sebastián Kramer - 'Absolute Beginners'

David Bowie. El Hombre que Conquisto al Mundo. Tributo - Volume Two.
01. Trigger - 'Little Wonder'
02. Dr. Lú y Los Hombres Topos - 'Sunday'
03. Pablo - 'The Hearts Filthy Lesson'
04. Portal 7 & Maneco - 'Ashes To Ashes'
05. Johonosoyyoko - 'Velvet Goldmine'
06. Starpunks - 'Moonage Daydream'
07. Desilusionados - 'Rebel, Rebel'
08. Chico_Show - "Modern Love'
09. Linterna Verde - 'Let's Dance'
10. Flormaleva & Lorena Rizzo - 'Wild Is The Wind'
11. Pampas Eléctricas - 'China Girl'

All you information you need is available at www.licordemono.com.ar where you can download samples of the tracks in mp3 format

From Adrián Belfiglio.


---
AND THE BITS FLEW FAR AND WIDE
3rd June 2005

In the Times newspaper T2 magazine supplement on 25th May 2005, in an article headed, 'Shareholders Are Evil? Don't Be Such Chumps, Coldplay', journalist Daniel Finkelstein wrote: &quotThe real money, then, comes from touring. This is becoming more and more the case as new technologies develop. 'Music itself is going to become like running water or electricity&quot said the great DAVID BOWIE, advising his fellow musicians that, &quotyou'd better be prepared for doing a lot of touring because that's really the only unique situation that's going to be left&quot. Economists now call this the &quotBowie Theory&quot - from JtF...

The Chelsea Art Museum in New York City unveil an exhibition 'Star Art' curated by Baird Jones, in the project room on May 28th until June 14th, 2005. Among the celebrity art-makers in the show are DAVID BOWIE, Kim Novak, Herb Alpert, Peter Falk, William Burroughs, Sophia Loren, Fedrico Fellini, Jack Kevorkian, Richard Chamberlain, Miles Davis, James Dean, Grace Kelly, Red Skelton, Jonathan Winters, Gloria Vanderbilt, Jack Lemmon, Bob Dylan, Richie Havens, Donna Summer, Buddy Ebsen, Dee Dee Ramone, Emilio Pucci, Allen Ginsberg, Victoria Gotti, Lawrence Ferlinghetti, Muhammad Ali, Kurt Vonnegut, and others. Check out chelseaartmuseum.org website for more details....


---
STALKING THE BEAT
1st June 2005

Some of you may remember a while back I mentioned on here about the forthcoming planned CD release from THE BEATSTALKERS Scotlands No.1 Beat Group who recorded three DAVID BOWIE songs namely 'Silver Tree Top School For Boys', 'Everything Is You' and 'When I'm Five'. David sang backing vocals on all three and played acoustic guitar on a couple of them.

The CD (Cat No: IKA 002) is now finished and the songs have turned out absolutely brilliant. The sound quality is vastly improved on the originals and there is a 24 page booklet... the release date is 11th June. Copies can be bought directly from Alan's website at fieldofone.com or via amazon.co.uk
website.

'Stalking The Beat 1962-69' After years of fruitless waiting, here is the first ever anthology of The Beatstalkers: A 1960s Scottish pop phenomenon. The Beatstalkers were famed for their riotous shows, which attracted hordes of screaming girls wherever they played their authentic brand of r 'n' b sounds. They were also known for their ultra-loud, self-created fashions. This soulful Glasgow beat outfit reached Beatle-like "superstar" status in their homeland, even if, criminally, they missed out on any national chart success. Revered by fans and collectors over the passing decades, only snatches of the group's material has in recent years trickled out on compilation sets aimed at the '60s beat-mod connoisseur.

For this compilation we are proud to present all the group's releases: three Decca singles from 1965-66, and four on CBS from 1967-69. As an exciting extra for fans, two unreleased demo recordings from the very earliest days of the group have been made available.

The Beatstalkers' story is told over 24 staggering pages of sensational newspaper headlines, candid recollections from founder members Alan Mair and Davie Lennox and there's a wealth of eye-catching photographs, many seen here for the first time. If it's top class sounds you're after from the original era that gave us beat, mod, soul and psychedelic styles, then this CD is a must. The Beatstalkers are up there with the best of them.

The tracklisting runs as follows:



01. Ev'rybody's Talkin 'Bout My Baby
02. Mr, Disappointed
03. Left Right Left
04. You'd Better Get A Better Hold On
05. A Love Like Yours
06. Bass Line
07. My One Chance To Make It
08. Ain't No Soul (Left In These 'Ole Shoes)
09. Silver Tree Top School For Boys (written by and features David Bowie)
10. Sugar Chocolate Machine
11. Rain Coloured Roses
12. Everything Is You (written by and features David Bowie)
13. Little Boy
14. When I'm Five (written by and features David Bowie)
15. Ramble On
16. St. Louis Blues

The CD can now be pre-ordered via amazon.co.uk
or from fieldofone.com - Payments are accepted securely through PayPal, or via personal cheque.

(Ed. Trivia: If some of you ever wondered who 'Little Frankie Mair' was in the song 'Little Bombardier' it's the name of Alan's son)

From Alan Mair.


---
LET ME GIVE IT ALL TO YOU
1st June 2005

It's pretty common knowledge that back in 1969 DAVID BOWIE appeared in a television commercial to promote a brand new product, namely 'Luv' the latest ice-cream lolly from Lyons Maid.

The commercial directed by the one-and-only Ridley Scott was shot at 7 Eccleston Square in London on 22nd January 1969 and featured David running up the stairs of a London double-decker bus proudly showing off his 9 pence Luv ice-lolly in his hand. He also featured as an member of the band and you get to hear them playing and singing a segment of a song called 'Luv'.

After a bit of research I've discovered that this obscure song was originally released on the Tangerine label in 1969 by an equally obscure band called MINT. It was written by the undisputed king of library music composers Alan Hawkshaw along with Ray Cameron.

I've managed to track down this obscure track on CD - the best quality version appears on a UK compilation entitled We Can Fly Volume 4
Psychedelic Obscurities - 25 Psych Rarities 1966-1971. (Past & Present Records. Cat. PAPRCD2054)

The full tracklisting is:



01. Brass Tacks: 'Maxwell Ferguson'
02. Neo Maya: 'I Won't Hurt You' (aka Episode Six)
03. Russell Morris: 'The Real Thing'
04. The Rokes: 'When The Wind Arises'
05. The Eire Apparent: 'Here I Go Again'
06. The Wimple Winch: 'I Really Love You'
07. Keith Shields: 'So Hard Living Without You'
08. 14: 'Drizzle'
09. Lucas Tyson: 'Daylight Child'
10. Hopscotch: 'Look At The Lights Go Up'
11. The Truth: 'Sueno'
12. The Bunch: 'We're Not What We Appear To Be'
13. Griffin: 'I Am The Noise In Your Head' (aka Skip Bifferty)
14. Five Steps Beyond: 'Not So Young Today'
15. The Tangerine Peel: 'Trapped'
16. Los Canarios: 'What Can I Do For You?'
17. Strange Fox: 'Time And Tide'
18. Mint: 'Luv'
19. The Orange Machine: 'Dr. Crippen's Waiting Room'
20. The Ferris Wheel: 'I Can't Break The Habit'
21. The Beatstalkers: 'Silver Chocolate Machine'
22. The Mindbenders: 'My New Day And Age'
23. Les Baroques: 'Love Is The Sun'
24. Terry Reid: 'Fires Alive'
25. Magnet: 'Mr. Guy Fawkes'

There are some great, weird and wonderful tracks on this compilation CD. Most of the tracks are very &quotmind-warp pavilion&quot which you would expect from 25 Psychedelic Obscurities, but listening to the complete song 'Luv' it's very Bowie-esque in it's style. Uncannily so.

You can purchase We Can Fly Volume 4
Psychedelic Obscurities - 25 Psych Rarities 1966-1971 now.


---
THE THIN WHITE DUKE TRIBUTE BAND
1st June 2005

THE THIN WHITE DUKE are a newly formed DAVID BOWIE tribute band located in London and the surrounding areas.

The band line-up features: Scott (vocals/rhythm guitar), Ben (lead guitar), Mik (bass guitar), Tom (drums) and Halina (piano/keyboards). On stage they will hope to capture the sound, look and spirit of Bowie - drawing from across his whole back catalogue.

You can sample their sound by heading over to their MP3 page and downloading some tracks including 'Changes', 'John I'm Only Dancing' and 'The Man Who Sold The World'.

Go visit their newly created website @ www.thinwhiteduke.biz


---
MOJO SHORTLISTS ICON DAVID BOWIE
1st June 2005

DAVID BOWIE has got a second consecutive Mojo Icon award nomination Music stars David Bowie, Morrissey and Paul Weller have made it on to the shortlist for the second annual Mojo magazine awards.

The Mojo Honours List winners will be announced at the Porchester Hall in Bayswater, London, on 16th June.

Mojo editor-in-chief Phil Alexander said the awards honoured stars &quotwhose careers have been responsible for enhancing our rich musical culture&quot.

David Bowie is on the shortlist for the Mojo icon award for the second year running. Other nominees include Siouxsie Sioux, the late Marc Bolan, John Lydon and The Ramones.

&quotWhile other awards celebrate the biggest names and the best releases of the preceding year, we believe there's long been a need to properly honour the extraordinary talents of the artists, bands and songwriters whose careers have been responsible for enhancing our rich musical culture,&quot said Mr Alexander.

You can read the full article here at the BBC News website.

More articles are at:
The Independent Online and Volume10.com websites.


---

OLDER NEWS


May | April | March | February | January

2004 Bowie News Archives | 2003 Bowie News Archives
2002 Bowie News Archives | 2001 Bowie News Archives
2000 Bowie News Archives | 1999 Bowie News Archives
1998 Bowie News Archives