BOWIE TV and WHAT'S REALLY HAPPENING IN SEPTEMBER - MONTHLY PLANNER

[ BOWIEWONDERWORLD SHOP ] [ LATEST DAVID BOWIE ITEMS ON eBAY ]

[ Get your @bowiewonderworld.com email address HERE sponsored by Everyone.net
]

[ BW POLL: FAVOURITE OPENING BOWIE TRACK? - VOTE HERE ]


Have YOU got some DAVID BOWIE related news or a hot scoop?
Well don't just sit there keeping it to yourself - send it in to
All news items are credited if you so wish


---
ANNIE TOUCHES FAME
26th September 2005

All the EURYTHMICS studio albums are set to be re-released with extra bonus tracks. Each album will feature 4-7 bonus tracks including a previously unreleased cover version.

Special cover versions set to feature include a version of Lou Reed's 'Satellite of Love' on the 1983 album 'Sweet Dreams (Are Made Of This)', the 'Touch' album comes with a cover of DAVID BOWIE's 'Fame', while 1988's 'Savage' includes a version of The Beatles' 'Come Together'.

Each album comes with rare 'never seen before' photographs and special artwork.

The eight CD's are released simultaneously on 14th November and come separately or as a box set through Sony.


---
MICK ROCK IN MANCHESTER
26th September 2005

To coincede with the upcoming exhibition 'Rock 'n' Roll Icons: The Photography of Mick Rock which opens this Thursday 29th September at Urbis in Manchester there are several special events happening including.

-------------------------------------------------------

An evening with Mick Rock and Chris Sullivan

Thursday 29 September, 6.30 - 8pm
£10 / £8 concs

Strap yourself in for an energising evening with the award winning photographer and one of his former subjects.

Mick Rock has captured the sole and tunnelled under the skin of countless stars in his long and illustrious career - now it's his turn to sweat under the spotlight, with Sullivan (writer for the Times, the Daily Telegraph, the Guardian & the Independent) who's been given an access all areas brief as chief interrogator.

Expect salacious anecdotes from the golden years of glam, a healthy dose of Mick's motordrive wit and an exclusive insight into his philosophy of 'a world of endless imagery.'

-------------------------------------------------------

An exhibition tour of Rock 'n' Roll Icons

Led by Mick Rock
Saturday 1 and 8 October, 2 - 3.30pm
£10 / £8 concs

'I am not in the business of documenting or revealing personalities. I am in the business of freezing shadows and bottling auras'. Mick Rock

Experience a unique and intimate tour of the exhibition with the legendary lensman himself - an opportunity to get up close and personal with the man who shot the 70s and visually defined some of the most iconic personas of the last 30 years.

The tour will be available to a limited number of guests, who'll get the inside and backstage stories behind Mick Rock's incredible body of work.

-------------------------------------------------------

Public Screening of The Rocky Horror Picture Show

Saturday 29 October, from 8pm
BBC Big Screen, Exchange Square
Free

To celebrate the 30th anniversary of this classic cult film and Mick Rock's role as its official photographer, Urbis is hosting a public screening of The Rocky Horror Picture Show.

Be sure to arrive early as seat capacity is limited; bring your own cushion and popcorn. Transsexual Transylvania style costume is optional!

-------------------------------------------------------

Mick Rock's Masterclass

Sunday 9 October, 10am - 4pm
£30 / £20 concs

Spend a day in the company of the one of the world's most eccentric and loved photographers, who was responsible for pioneering music video and art-directing the imagery of Ziggy Stardust and Queen.

Mick will pass on priceless tips and tricks, then set a mini project that will involve exploring the city and finding a new approach to tired rock 'n' roll imagery. The day will conclude with an informal critique and guidance from the master himself.

This day-long workshop is perfect for photography students, hobby-snappers or professional photographers looking for a burst of inspiration. There are only 40 places available, so booking is essential.

Participants are required to supply a digital camera with removable media.

-------------------------------------------------------

Rock 'n' Roll Anthems

Performed by Chetham's School of Music
Wednesday 30 November, 6.30 - 8pm
£5 / £3 concs

Taking the Mick Rock exhibition and the rock 'n' roll icons it features as inspiration, the students from Chetham's have been working on their own arrangements of some seminal counter culture classics.

Featuring the best tunes of rock, punk and glam as you've only ever dreamed of hearing them, this will be an instrumental evening set in the foyer of Urbis, with Mick Rock on hand to offer anecdotes of high times spent with the original musicians.

-------------------------------------------------------

All tickets can be purchased by visiting the Mick Rock exhibition ticket desk located on Level One or by phoning 0161 605 8264.

Your event ticket will entitle you to free exhibition entry for the day that corresponds to your event ticket. Please note that although the exhibition is open until 6pm and that last admission is at 5pm.

More details and information can be found at urbis.org.uk website.


---
LIKE DOLPHINS CAN SWIM
26th September 2005

A host of A-list celebrities from film, music and sport have donated items to UK-based charity MARINE CONNECTION to help raise funds for dolphin and whale conservation work. Signed items from celebrities, such as DAVID BOWIE, Ozzy Osbourne, Brad Pitt, Tom Cruise and sporting idols Sir Geoff Hurst and Michael Schumacher and the winning Ashes England cricket squad, will be under the hammer at the prestigious London nightclub Chinawhite on Thursday 6th October.

Guest can also bid for a VIP whale-watching trip to Boston, a dolphin-watching weekend in the UK and a host of other prizes. A limited amount of tickets are available at a cost of £50 per person. Complimentary drinks, canapés and entertainment are included in the price. Tickets holders are also entitled to stay at the club until 3am following the auction.

For tickets call Marine Connection on 020 7499 9196 or email


---
ROCK SNAPSHOT: DAVID BOWIE: SCOTLAND 1973
25th September 2005



Over on the GUARDIAN UNLIMITED website today there's a lovely article entitled: 'Snapshot: DAVID BOWIE, Scotland, 1973' by WILL HODGKINSON which is promoting the forthcoming MICK ROCK / DAVID BOWIE publication.

At first glance, it looks like a woman enjoying a self-congratulatory hug at being able to reveal so much of her toned and well-formed buttocks. Then you notice the 'Spiders' drum kit, the mullet-like hairstyle and the revealing leotard, and realise this is David Bowie, bringing Ziggy Stardust glamour to a drab Dundee hall in May 1973.

Bowie was at the height of his creative, if not financial, powers. "Even in 73, David wasn't playing big places," says Mick Rock, who took the picture alongside thousands of others as he documented the entire Ziggy Stardust period for its 20-month duration. "And although it was called rock theatre, there was never any production - just David's make-up, his haircut and the sheer force of his artistry. It was all done on a bloody shoestring."

Before the Ziggy Stardust tour Bowie was not a big star; just a hip and extremely ambitious one. His outfits created a sensation, but the band were still using a small and cheap sound system. He hired three bodyguards, but as Rock remembers, "you couldn't pay people to jump up on stage".

Rock was dubbed Bowie's "official photographer", despite receiving little more than the odd motorway service-station meal by way of payment. But what Rock did have was total access to Bowie, who had created a larger-than-life rock figure that stood in glittering contrast to the earnest, denim-clad singer-songwriters of the time. "At the beginning of the tour at the start of 72, audiences were fascinated but not engaged - they would just stare at him," remembers Rock. "Then something shifted. By the time of the Scotland gigs in 73, the fans were creating pandemonium."

Ziggy would only exist for two more months after this picture was taken. Bowie broke up his band, the Spiders, and relocated to a studio near Paris to record his covers album Pin Ups with, among others, Lulu. He was to perform again with his Ziggy-era guitarist Mick Ronson at the Marquee Club in London for The 1980 Floor Show, a musical theatre piece based on George Orwell's 1984 and also starring Marianne Faithfull (as a naughty nun) and Amanda Lear (as a Russian heroine). But Bowie was preparing for his Diamond Dogs era and massive international fame. Even by the time of the Scotland shows in May, Bowie had had enough. "I was now writing for a different kind of project," says Bowie. "Exhausted and completely bored with the whole Ziggy concept, I couldn't keep my attention on the performances with much heart. Strangely enough, the rest of the tour was an astounding success."

Written by Will Hodgkinson

Moonage Daydream: The Life and Times of Ziggy Stardust by Mick Rock and David Bowie is out on Cassell Illustrated on October 1st and is available to - Order NOW
at £15.00 and receive a 40% discount!

The book will be launched officially at his upcoming Urbis Cultural Centre exhibition in Manchester on Thursday 29th September.


---
TAKE A QUICK BUTCHERS...
25th September 2005

Nice to see the rather attractive TV presenter HOLLY WILLOUGHBY wearing a replica DAVID BOWIE 1978 World Tour t-shirt yesterday throughout the Saturday morning childrens programme the 'Ministry Of Mayhem'...

Scottish songstress KT TUNSTALL says her favourite album of all time is DAVID BOWIE's 1971 Hunky Dory. She says: "Its sound really touched my love for songwriting and spacey stuff," she says. "I was really into sci-fi books as a kid. My dad is a physicist and he used to take my brothers and I into his lab when we were little. We played games with liquid nitrogen and Van de Graaff generators. He had the keys to the observatory at St Andrew's University and he'd get us up in the middle of the night to show us Halley's Comet. That's partly why the album is called 'Eye To The Telescope.'"...

101CD currently have DAVID BOWIE's 'Reality' CD album on special offer for an amazing £3.99! There are also lots of other albums priced at £4.99. Once again there are some truly vintage moments on 'Reality', with the rejuvenated talents of the Duke sublimely accompanied by the co-production of long-time friend Tony Visconti. Also featured on the album are two superbly executed covers, of George Harrison and Jonathan Richman tracks respectively. As always the themes are varied and lyrics captivating, and the sights and sounds of 'Reality' invoke a real sense of history that will have dedicated fans scratching their heads in approval and wondering where the years have gone. A classic in the making. RECOMMENDED. For those of you still looking for the German import of the same album with the 'Rebel Never Get Old' bonus CD you'll also find it at 101. Search for Bowie and then scroll down to German Imports. You will also come acrosss the hard-to-find Kristeen Young album 'Breasticles' that features David singing on the track 'Saviour'...


---
BOWIE: THE FASHION ROCKS Q&A
23rd September 2005

DAVID BOWIE's recent live activity with ARCADE FIRE over in New York at Fashion Rocks 2005 and Central Park saw a few interview quotes from the man himself emerge, namely The Mirror and The Sun newspapers in the UK. But the longest and best interview by far was conducted by David Itzkoff who talked with David from his summer home in the Catskills.

David speaks about his résumé of stylish alter egos, his sartorial inspirations and, of course, codpieces.

The interview entitled 'Bowie: The Fashion Rocks Q&A' was published in 'Fashion Rocks' a special issue supplement to Lucky magazine (October 2005).

Read Bowie: The Fashion Rocks Q&A Interview by David Itzkoff


---
DEBBIE, DAVID AND TONY: WHAT D'YOU SAY
22nd September 2005

Starting next month is a brand new radio series starting on BBC RADIO TWO entitled 'Classic Singles'. DEBBIE HARRY presents the first in an eight-part series exploring the most popular and influential singles ever released.

For this opening show, she examines DAVID BOWIE's "Heroes". Including interviews with Bowie and his producer Tony Visconti, describing how they recorded the track in Berlin.

The programme airs on Wednesday 5th October at 22:00 to 22:30 GMT (30 minutes long).

You can listen in from anywhere in the world by visiting the Radio Two website


---
GET THE LATEST VOYEUR FANZINE
21st September 2005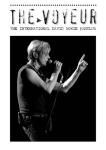 As always at this time of year the International DAVID BOWIE fanclub THE VOYEUR proudly announce another fabulous edition of 'The Voyeur'.

Featured inside this issue of 'The Voyeur':

A new(s) item called Rumours and lies and stories they made up
Outrageous, an interview by Playboy's Cameron Crowe
The Elephant Man, 25 years ago
Haubtstrasse 155 anno 2005', a visit to Berlin
Awesome' The 'Voyeur's' fan(club)meeting reviewed
A special edition of DVD 15
The Superman experience, a concert review by Cora Deacon

[You can click here for a Sneak Preview of six pages from this brand new issue].

More details about the new edition and information on how to become a member can be found on their homepage at http://go.to/bowiefanclub or alternatively you can also send them an email at

From Peter Smit


---
TAKE A QUICK BUTCHERS...
21st September 2005

DAVID BOWIE will feature in this weeks NME newspaper, with a couple of colour photographs of David on stage and also backstage with Arcade Fire at the recent Central Park concert in New York City...

Check out a nice review on the ECHOPLEX blogspot containing some cool photographs of ARCADE FIRE and DAVID BOWIE at the Central Park NYC gig - [Read and View here]...


---
JOHN PEEL TRIBUTE ALBUM TO BE RELEASED
21st September 2005

A 2-CD compilation album featuring bands championed by legendary DJ JOHN PEEL is to be released to mark the first anniversary of his death.

The 2-CD is scheduled for release on 17th October following on from a tribute concert at the Queen Elizabeth Hall in London.

The album features DAVID BOWIE's 1971 classic 'Life On Mars?'. The full tracklisting is as follows:

CD1
Lonnie Donegan - 'Lost John'
Tyrannosaurus Rex - 'Deborah'
Pink Floyd - 'Set The Controls For The Heart Of The Sun'
The Jimi Hendrix Experience - 'Spanish Castle Magic'
Van Morrison - 'Sweet Thing'
David Bowie - 'Life On Mars?'
The Doors - 'Five To One'
Tim Buckley - 'Song To The Siren'
The Faces - 'Stay With Me'
The Misunderstood -'I Can Take You To The Sun'
Country Joe and The Fish - 'Not So Sweet Martha Lorraine'
Fairport Convention - 'Meet On The Ledge'
Captain Beefheart - 'Big Eyed Beans From Venus'
Loudon Wainwright III - 'Be Careful There Is A Baby In The House'
Roy Buchanan - 'I Am A Lonesome Fugitive'
The Bonzo Dog Doo Dah Band - 'Mr Apollo'
The Ramones - 'I Don't Want To Walk Around With You'
The Clash - 'Complete Control'
Joy Division - 'Love Will Tear Us Apart'
New Order - 'Ceremony'

CD2
The Undertones - 'Teenage Kicks'
Altered Images - 'Happy Birthday'
The Smiths - 'How Soon Is Now?'
The Cocteau Twins - 'Pearly-Dewdrops Drops'
The Jesus and Mary Chain - 'Sidewalking'
Blur - 'Song 2'
Culture - 'Lion Rock'
Billy Bragg - 'A New England'
Robert Wyatt - 'Shipbuilding'
The Wedding Present - 'Brassneck'
PJ Harvey - 'Sheela-Na-Gig'
Pulp - 'Common People'
The Fall - 'Theme From Sparta F.C.'
Super Furry Animals - 'Something For The Weekend'
Nina Nastasia - 'Bird Of Cuzco'
The Delgados - 'Pull The Wires From The Wall'
Belle and Sebastian - 'Lazy Line Painter Jane'
Laura Cantrell - 'Two Seconds'
Orbital - 'Chime'
Elmore James - 'Dust My Blues'


---
TAKE A QUICK BUTCHERS...
20th September 2005

The 30th TORONTO INTERNATIONAL FILM FESTIVAL rolled up its red carpets last weekend, finishing off another successful 10-day run. In all, more than 300 films were screened, over 100 of those were world premieres. One particular movie that you might well be interested in was C.R.A.Z.Y. directed by Jean-Marc Vallée. The movie revolves around Zachary Beaulieu, a sexually confused DAVID BOWIE obsessed teenager in the 1970s, as he tries to win the affection of his loving but old-fashioned father. The film won the Toronto-City Award for Best Canadian Feature Film...

UK singer MICHAEL BALL who returns to Broadway this season in Andrew Lloyd Webber's 'The Woman In White', has recorded a new CD of entitled 'Music' to be released on 17th October. One of the tracks is a cover version of DAVID BOWIE's classic song Life On Mars?...

New band SUESHE have released their debut album this week featuring ex Spider From Mars drummer WOODY WOODMANSEY on skin bashing duties. The songs can be heard on sueshe.com and the album is available to purchase...


---
DAVID BACK ONSTAGE WITH ARCADE FIRE
18th September 2005

As hinted at the other day DAVID BOWIE made a guest appearance at ARCADE FIRE's CMJ 2005 show in Central Park in New York City.

For the encore, David took to the stage wearing a lilac suit, Panama hat and Cuban heeled boots - which stood in stark contrast to Arcade Fire's all-black attire.

With a rapturous response from the audience David performed his 1971 'Hunky Dory' classic 'Queen Bitch'. He then strapped on his Takamine 12-string acoustic guitar and joined Win Butler in singing the band's own 'Wake Up'.

Reviews and Photos:
Brooklyn Vegan: Arcade Fire and Bowie @ Summerstage NYC - [Read and view pics here]
Aversion: David Bowie jams with Arcade Fire - [Read here]
Monsters and Critics: David Bowie thrills fans with surprise appearance - [Read here]
Globe and Mail: Bowie joins Arcade Fire in surprise performance - [Read here]
Ireland Online: Bowie delights fans with surprise - [Read here]
New York Post: Fire ends with a Bowie - [Read here]
Edmonton Sun: Bowie onstage for Arcade gig - [Read here]
Contact Music: Bowie surprise fans with surprise appearance - [Read here]


---
PLEASE CAST YOUR VOTE FOR BOWIE WONDERWORLD!
13th September 2005

The PEOPLE'S CHOICE awards are back! You decide the winners at the Digital Music Awards 05 now! They are looking for the best unofficial fan sites on the web in the past year as chosen by you! This is your chance to say your say.

All voters will be automatically entered in their free draw to win BT Broadband for a year and 100 music downloads courtesy of iTunes.

The shortlists will be announced in late September and you can vote for your favourite artists, music and sites of the past year.

The trophies will be handed out at the official Digital Music Awards ceremony in London at the Hammersmith Palais on October 18th.

Click on the logo to vote for BowieWonderworld in the unofficial fan site category and then vote for David Bowie in the official fan site category.


---
I HEARD A RUMOUR FROM GROUND CONTROL
12th September 2005

There are rumours and whisperings going around stating that DAVID BOWIE is to be the special guest of ARCADE FIRE this coming Thursday (15th September) at their gig at Central Park Summerstage in New York.

A few in the know have whispered in my ear, as well as BowieNet news also hinting. Apparently there are still some tickets available.


---
TAKE A QUICK BUTCHERS...
11th September 2005

In the UK on BBC2 tonight TOP OF THE POPS trawl through their archives and all set to show DAVID BOWIE's 1972 live performance of 'Starman'. The programme kicks off at 19:00 until 19:35 GMT.

DURAN DURAN frontman SIMON LE BON was so shocked by DAVID BOWIE 's stage make-up at Thursday's Fashion Rocks event in New York, that he visited the star in his dressing room to check he wasn't hurt. David's return to the stage saw him wearing a bandaged hand and dark make-up over his eye. Le Bon says, "We were a bit worried. I should have known better."...

DAVID BOWIE talking about his Fashion Rocks performance said: "I didn't want to come off, I could have stayed up there all night."...

BOY GEORGE talking from New York about 'B-Rude' his new fashion line describes it as "loud and colourful and not for people who are shy". He remembered the first fashion item he ever nagged his parents for: "Platform shoes," he said. "DAVID BOWIE had these shoes, they were girl's shoes, kind of cork-heeled slingbacks, and I wanted those. My mum went out four or five times and came back with shoes that weren't right, basically. When I first started Culture Club I got someone to make me those shoes, so I did eventually get the ones I wanted."...


---
THE BLACK-EYED BOWIE IS BACK AND ON FIRE
9th September 2005

DAVID BOWIE returned to the stage last night at the Conde Nast's sponsored 2005 Fashion Rocks Awards in New York City.



After being introduced by Alicia Keys, David dressed in a charcoal grey suit, with half mast trousers, and to finish off the look - a bandaged hand and blackened right eye - performed his classic 'Life On Mars?' with Mike Garson on piano.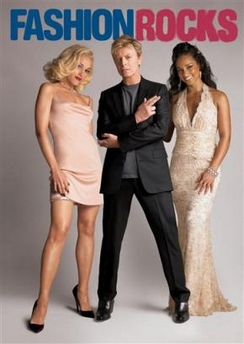 David and Mike left the stage to thunderous applause and a standing ovation.

Later Lisa Marie Presley announced David back onto the Radio City Music stage to perform the Ziggy opener 'Five Years'. He played 12-string acoustic guitar with Arcade Fire backing him. Five Years segued into Arcade's own song 'Wake Up'.

You can watch his performance tonight on the CBS Special in the USA, the broadcast kicks off at 9:00pm till 1:00pm EST.

All proceeds from the concert were being donated to Hurricane Katrina relief by the event organiser Conde Nast Media Group.

Check out some photographs @ Getty Images and WireImage websites.


---
I AM THE BEST JAZZ YOU'VE EVER HEARD
5th September 2005

DAVID BOWIE was special guest tonight on COURTNEY PINE's Jazz Crusade Radio 2 programme. David talked about all sorts including Little Richard band... buying his first Selmar Alto saxophone on hire purchase from a music shop on the Tottenham Court Road with his father... the first two jazz albums he listened to... watching Charlie Mingus and Stan Kenton live in the USA... his liking for Matthew Shipp and especially the track 'Rocket Ship' from his album Nu Bop... working with Lester Bowie in the studio... his favourite jazz track 'Hog Calling Blues' by Charlie Mingus...

He also mentioned that he's currently writing for his next studio album.

If you missed the interview you can listen in again online at the bbc.co.uk website.


---
ALIEN ROCK, ZIGGY AND BOWIE
4th September 2005



A newly published book entitled ALIEN ROCK: THE ROCK 'N' ROLL EXTRATERRESTRIAL CONNECTION has just been published by VH1 and Pocket Books.

Written by Michael C. Luckman the book explores the 50-year plus link between such rock icons as Elvis, The Beatles, The Rolling Stones, DAVID BOWIE and Jimi Hendrix and space beings.

The chapter on Bowie refers to his UFO sightings and many other intriguing events not generally known by the public at large. David is pictured on the cover. A Mick Rock photo of Bowie sitting in front of a mirror applying makeup and transforming himself into Ziggy Stardust is featured in the opening of the Bowie chapter.

The New York Post called 'Alien Rock' "required reading". VH1 said that it is "the most unusual rock 'n' roll book ever published."

UK purchasers can buy Alien Rock: The Rock 'n' Roll Extraterrestrial Connection
now and US residents here
---
SO WHAT'S WOODY UP TO?
4th September 2005

Former DAVID BOWIE / Spiders From Mars drummer WOODY WOODMANSEY is currently recording with THE GILLIAN GLOVER BAND in London. The band is a new, innovative, blues-based rock project inspired by Gillian's exceptional and passionate voice.

The expected release date is late 2005. The session will be produced by Tom Urzi, vocalist in the band 'The Chavs', whose debut album 'Angry Sex' was released last year.

Piano will be played by Rod Melvin, former member of Kilburn and The High Road's, who wrote 'What A Waste' with Ian Dury and has recorded with Brian Eno, including on the album 'Another Green World'.

Gillian Glover's first release was a guest appearance on the Roger Glover (her father) 2002 album 'Snapshot', including lead vocals on the song 'Bargain Basement'. Snapshot also featured Bowie guitarist Gerry Leonard.

From Tom Wilcox Manager of The Gillian Glover Band.


---
TAKE A QUICK BUTCHERS...
3rd September 2005

As mentioned last month 'Balance Palace' the new album from Danish band KASHMIR that features DAVID BOWIE and LOU REED on can be pre-ordered online at these two stores - No Balance Palace
at 18.99 Euros or No Balance Palace
at 19.61 Euros. The album is scheduled for release next month on 10th October..

At present in the current BWW Poll - (Which is your favourite opening DAVID BOWIE album track?) - in first place with 247 votes is 'Station To Station', followed closely by 'Sunday' from his Heathen album. In third position is 'Space Oddity' and in fourth 'Five Years'. Please place your vote here...

Note the new price and publication date for the forthcoming MICK ROCK / DAVID BOWIE book 'Moonage Daydream: The Life and Times of Ziggy Stardust' - publication date 13th October and the price is a mere £17.50 - that's a 30% saving! Order NOW
...


---
THE BEATSTALKERS BACK ON STAGE
3rd September 2005

They were dubbed "the Scottish Beatles", count DAVID BOWIE as a former backing singer and once sparked a teenage riot in Glasgow city centre. Now, almost 40 years since they last played live - making young Glasgow girls faint at their feet - THE BEATSTALKERS are taking to the stage again.

Despite not strumming a note together since early 1969 or even meeting since the early 1970s, the Beatstalkers - all now hitting 60 - are planning to rock Glasgow with a gig at the Barrowland on December 23rd.

Fans are even jetting in from Vancouver to make the one-off special, with the band receiving inquiries from as far afield as Serbia, Japan and Argentina.

In their 1960s heyday the Beatstalkers sold out shows across Scotland, with thousands of fans cramming into venues such as the Barrowland and the Dennistoun Palais to hear their raw R'n'B. They also had a residency at London's legendary Marquee Club.

Earlier this year, on the 40th anniversary of the George Square concert and on the back of renewed interest in them, the Beatstalkers released a CD of their recordings. The interest sparked instant calls for the band to reform for live performances.

Bassist Alan Mair, who now lives in London and was part of punk outfit The Only Ones, said the first problem was trying to find all the original members. The others are Ronnie Smith, David Lennox, Eddie Campbell and Jeff Allen.

With three of the band based down south the plan is for separate rehearsals until November, when the guys will jam together for the first time in 37 years.

The album released in June entitled 'Stalking The Beat 1962-69' features three David Bowie songs 'Silver Tree Top School For Boys', 'Everything Is You' and 'When I'm Five', also features David on backing vocals and guitar - Purchase NOW


You can read the full article here on the Evening Times website.


---
MAJOR RETROSPECTIVE MICK ROCK EXHIBITION AT URBIS
1st September 2005



MEDIA RELEASE: ROCK 'N' ROLL ICONS: THE PHOTOGRAPHY OF MICK ROCK
AT URBIS, MANCHESTER, ENGLAND
29th September - 8th January 2006



Legendary photographer MICK ROCK comes to Manchester in a new exhibition spanning 40 years of rock 'n' roll - in his largest ever exhibition to date. At Urbis, Manchester 29 September to 8 January 2006, this will be the UKs only venue before it tours internationally.

Described as the 'man who shot the 70s' and the 'photo-laureate of glam', Rock's illustrious career has both defined and documented an era where music, theatre and showmanship went hand in hand and has profoundly influenced contemporary culture today. This exhibition, taken from his vast archive is an extraordinary chronicle of the lives and music of many of rock's seminal artists, including Syd Barrett, David Bowie, Sex Pistols, The Ramones, Iggy Pop, Queen and Lou Reed through to his work contemporary bands such as Razorlight, the YeahYeahYeahs, The Killers, Kasabian, The Chemical Brothers, Marilyn Manson and Manchester's own legendary guitarist Johnny Marr, who comments

"I first met Mick in 2001 when he was doing a big article for a French magazine and we did some pictures in New York. It's great working with him because he's looking for magic, he tries to create it. When he works it's pretty high energy and quite intense in a way, always interesting. So many images which marked out my musical discoveries were made by Mick. They're iconic because he saw them that way."

Featured will be over 150 images, including previously unseen video footage, rare images, out-takes, private recordings and personal interviews with some of the greatest rock legends, as experienced by Rock through his life on the rock 'n' roll party circuit. Based for the past 20 years in New York, and the official photographer Bowie's most incandescent alter-ego Ziggy Stardust, Rock hung-out with Bowie, Lou Reed and Iggy Pop and lived - just - to tell the tale. A series of heart attacks during Christmas 1997 almost killed him, resulting in a quadruple heart bypass and a conversion from chemicals to yoga. The last ten years have seen a renewed hunger for his work with contemporary artists citing him as an influence and designers designers Mosley Meets Wilcox on behalf of Mick and Paul Smith developing and establishing entire product lines based around his imagery examples of which will be shown at the exhibition.

Scott Burnham, Creative Director of Urbis commented, "In the same way that Urbis showed how Peter Saville influenced a generation of graphic designers with his work, we're now exploring how the imagery of Mick Rock helped define a period of rock history and went on to inspire imagery and fashion in popular culture and the music scenes of cities around the world. Even for those people who don't know him by name, we've all at one time or another been captivated by his photographs."

Rock has shot many famous album covers such as David Bowie - Space Oddity (1971), Lou Reed - Transformer (1972) and Coney Island Baby (1975), Iggy and the Stooges - Raw Power (1973), Queen - Queen II (1974) and Sheer Heart Attack (1974) and The Ramones - End of the Century (1979). He was the pioneer of seminal music videos by David Bowie - Life on Mars (1973), Space Oddity, John I'm Only Dancing, The Jean Genie (1972) and was the official photographer for The Rocky Horror Picture Show (1975).

Urbis has worked closely with Mick Rock and Mancunian design agency Igloo Design to assemble this unique exhibition for its world premiere in Manchester.

As Mick Rock comments, "I was struck by the imagination, ambition and enthusiasm at Urbis and by Manchester's rich musical heritage and knew that that this was the city where I wanted to do my biggest exhibition to date. I couldn't think of a better backdrop for my work than the scene of Manchester - you could say the city itself provides a neat piece of the rock 'n' roll jigsaw that has been my life".

All prints in the exhibition have been supplied courtesy of Fujifilm UK.

Venue: Urbis, Cathedral Gardens, Manchester M4 3BG.
Open 10.00am - 6.00pm, Tuesday - Sunday
Christmas Opening: Open 28, 29, 30 Dec, 2 Jan. Closed 24, 25, 26, 27 Dec, 1 January 2006.

Entry to Urbis is free. Entry to the Mick Rock exhibition is £5 / £3.50
U12s free, 12s - 16s £3.50
Family tickets also available
Tel: 0161 605 8200

More information available at www.urbis.org.uk




The forthcoming book 'Moonage Daydream, The Life and Times of Ziggy Stardust' - with photographs by Mick Rock and text by David Bowie will be launched at Urbis to coincide with this exhibition.

Published by Cassell Illustrated, this 320-page publication with text by David Bowie is available to - Order NOW
at £15.00 and receive a 40% discount!

Synopsis: In 1972, talented photographer Mick Rock spent 2 years as David Bowie's official photographer. Rock accompanied Bowie on tour to the US and the UK, capturing his life both on stage and behind the scenes at the height of his Ziggy Stardust period. During this time Rock documented the rise and descent of Ziggy Stardust, and shot promotional films, album jackets, posters, artwork, videos like Life On Mars? and Space Oddity and thousands of photographs. Rock's camera caught more of the Ziggy legend than any other and followed Bowie into hotel rooms and dressing rooms, on the road and socialising with musicians and friends including Lou Reed, Iggy Pop and Mick Jagger. The results are shown in this extraordinary book. The parties, costumes, hair-styles, photo shoots and concerts are all pictured in a fantastical style that sums up the spirit of the time. Bowie provides a fascinating running commentary to Mick Rock's photographs, recalling his personal memories of life as Ziggy. A must-have for any David Bowie fan.

Mick Rock is the focus of a Channel 4 TV documentary of his life and work. The programme is scheduled for transmission in November 2005.

British fashion designer Paul Smith launches a new Mick Rock furniture range this month. Visit mosleymeetswilcox.com/rock for more information.


---
GO VOTE FOR BOWIE WONDERWORLD!
1st September 2005

The PEOPLE'S CHOICE awards are back! You decide the winners at the Digital Music Awards 05 now! They are looking for the best unofficial fan sites on the web in the past year as chosen by you! This is your chance to say your say.

All voters will be automatically entered in their free draw to win BT Broadband for a year and 100 music downloads courtesy of iTunes.

The shortlists will be announced in late September and you can vote for your favourite artists, music and sites of the past year.

The trophies will be handed out at the official Digital Music Awards ceremony in London at the Hammersmith Palais on October 18th.

Click on the logo to vote for BowieWonderworld in the unofficial fan site category and then vote for David Bowie in the official fan site category.


---
I AM THE BEST JAZZ YOU'VE EVER SEEN
1st September 2005

Reminder: Don't forget that DAVID BOWIE is all set to be the very special guest on COURTNEY PINE's radio show 'Jazz Crusade' on BBC Radio 2 (88-91 FM) this coming Monday 5th September at 21:00 until 22:00 GMT.

Courtney's 'Jazz Crusade' radio programme now in it's eighth series showcases a diverse collection of acts as well as Courtney's picks from the best jazz albums of the year.

Anyone anywhere in the world can tune into the show and listen in online - simply visit the bbc.co.uk Radio 2 website and bookmark it ready.


---
NEW BOWIE BOOK ON THE WAY
1st September 2005



Scheduled for publication in October is LOW (33 1/3 S.) by author HUGO WILCKEN. Hugo is an Australian-born writer who has lived in London and Paris, where he now makes his home. Recently he was named by The Guardian newspaper as one of the 'Top Five Writers to Watch'.

'Low (33 1/3 S.)' is published by Continuum International Publishing Group - Academi. Paperback 136 pages. (ISBN: 0826416845).

Synopsis: "One day I blew my nose and half my brains came out." Los Angeles, 1976. David Bowie is holed up in his Bel-Air mansion, drifting into drug-induced paranoia and confusion. Obsessed with black magic and the Holy Grail, he's built an altar in the living room and keeps his fingernail clippings in the fridge. There are occasional trips out to visit his friend Iggy Pop in a mental institution. His latest album is the cocaine-fuelled 'Station To Station' (Bowie: "I know it was recorded in LA because I read it was"), which welds R&B rhythms to lyrics that mix the occult with a yearning for Europe, after three mad years in the New World. Bowie has long been haunted by the angst-ridden, emotional work of the Die Brucke movement and the Expressionists. Berlin is their spiritual home, and after a chaotic world tour, Bowie adopts this city as his new sanctuary. Immediately he sets to work on 'Low', his own expressionist mood-piece.

You can pre-order David Bowie "Low" (33 1/3 S.)
NOW for a mere £6.99.


---

OLDER NEWS

August | July | June | May | April | March | February | January

2004 Bowie News Archives | 2003 Bowie News Archives
2002 Bowie News Archives | 2001 Bowie News Archives
2000 Bowie News Archives | 1999 Bowie News Archives
1998 Bowie News Archives