BOWIE TV and WHAT'S REALLY HAPPENING IN OCTOBER - MONTHLY PLANNER

[BOWIEWONDERWORLD SHOP] [LATEST DAVID BOWIE ITEMS ON eBAY]

Got some DAVID BOWIE related news or a hot scoop?
Well don't just sit there keeping it to yourself send it in to
All news items are credited if you so wish


---
FAME WHAT'S YOUR NAME?
24th October 2004

Reminder: Don't forget that tonight on the CHANNEL 4 television programme 'UK Music Hall of Fame' - which this week covers the 70s - features DAVID BOWIE as one of the artists to vote for.

The two-hour 10 minute programme starts at 21:00 GMT and is also showing on S4C at 22:05 GMT. There are also the repeat showings at the end of the week on 29th November on Channel 4 at at 23:30 GMT and the following day (30th) on S4C at 01:15 GMT.

The series honours the best bands and pop stars over the past 50 years, with the likes of David Bowie, The Beatles, Rolling Stones, Queen, The Who, Madonna and Elvis Presley who will battle it out for a place in the UK Music Hall of Fame.

Over six weeks acts from the 50s to the 90s will be put through a rigorous nomination process. By the end of the series five will be allowed into the Hall of Fame. Each instalment is focused on a specific decade with finalists decided by a viewer vote.

Once all votes have been received, a finale show will be staged at the Hackney Empire, London. This historic venue where the Beatles once performed will feature live performances from international legends and exclusive collaborations paying tribute to the Founding Members. All the winners or their representatives will receive their inauguration into the UK Music Hall of Fame at the ceremony, which will be shown on Channel 4 on November 14th 2004.

24th October: UK Music Hall of Fame, Channel 4, UK, 21:00 GMT
24th October: UK Music Hall of Fame, S4C, UK, 22:05 GMT

29th November: (Repeat) UK Music Hall of Fame, Channel 4, UK, 23:30 GMT
30th November: (Repeat) UK Music Hall of Fame, S4C, UK, 01:15 GMT

Vote for David by calling 09011 33 11 33 or for digital satellite viewers by pressing the red button on your remote. Calls cost 50p. Mobiles and other networks may vary 16p goes to charity. Lines close 6:00pm Saturday 30th October.

More information about this programme can be found at www.channel4.com


---
AND THE BITS FLEW FAR AND WIDE
23rd October 2004

BBC THREE television are currently broadcasting 'Band Aid: The Song That Rocked the World' which celebrates the 20th anniversary of Band Aid's 'Do They Know It's Christmas'. Presented by Midge Ure, the producer and co-author of the record. The programme features DAVID BOWIE towards the end showing the advertisement commercial he did for the promotion of the single. Showing tonight just after midnight on Sunday 24th October at 1:25 am - 2:25 am 60mins. Also repeated the next night at 11:30pm...

Inside the new book by SIMON NAPIER-BELL entitled 'Black Vinyl, White Powder', he comments on DAVID BOWIE as "probably Britain's most influential solo pop/rock star ever" - (from TheNextBardot)...

Pop legend TINA TURNER is interviewed on femalefirst.co.uk explaining how DAVID BOWIE saved her career. You can read the full article online here...


---
REALITY SCREENING IN NYC
20th October 2004

CINEMA CLASSICS in New York City will be screening 'Reality' on October 23rd @ 9:00pm with free admission for everyone.

The screening also coincides nicely with the monthly glam-nite "Glamdammit" which starts at 11:00pm.

Address: Cinema Classics, 332 East 11th Street, New York City
Website: cinemaclassics.com/glamdammit

From Antonio.

---
GAIL ANN: NEW ALBUM AND UK GIGS
19th October 2004

GAIL ANN DORSEY will be supporting Ani DiFranco on these UK dates in November:

November 6th: Lowry Quay, Salford, Greater Manchester.
November 7th: The Barbican, London

Gail Ann Dorsey, the striking Philadelphia born singer/songwriter/musician and long-time bassist with DAVID BOWIE's band, releases her first solo album in over a decade, 'I Used To Be', on Sad Bunny records in November 2004. An eclectic collection of previously unreleased original songs written by Dorsey throughout her career, the CD is co-produced by Gail and Brandon Mason; executive producer is her longtime friend and fellow bassist Sara Lee. Dorsey herself sings and plays bass guitar, bass synthesizer, and guitar.

Gail Ann Dorsey has built up a reputation as one of the music industry's most powerful singers, instrumentalists, and performers. She first came to the UK in 1983 (where she settled until 1994), and following a stint as guest vocalist with the first incarnation of Charlie Watt's Big Band she was invited to perform solo on Channel 4's The Tube. Accompanying herself on bass guitar, Dorsey performed a show-stopping rendition of Bobby Womack's 'Stop On By' which led to a bidding war amongst the major labels and she soon signed to WEA.

Her first album, the appropriately named 'The Corporate World', was a critical success in the UK, for instance receiving a 5-Star review in Q Magazine - who also was voted it one of the Top 50 Albums of that Year - and spawned top ten singles in Europe. However, Gail Ann was not happy on the label and subsequently Chris Blackwell signed her to his Island Records label, who released her second well-received album, 'Rude Blue', in 1992. When her relationship with Island also proved problematic, Dorsey removed herself from the spotlight and returned to session work.

Since then she has toured the world and recorded with a hugely diverse collection of artists including Dar Williams, Tears For Fears, The Indigo Girls, Jane Siberry, Khaled, Rachid Taha, The B-52's, Gang Of Four, Skin, and - for the past decade - with David Bowie. Health problems led to the summer UK leg of the latter's world tour being cancelled - although the legendary performer recently enjoyed his first evening out since surgery when he was in the audience as Dorsey played a solo show at New York venue Joe's Pub in mid-October.

'I Used To Be' showcases the breadth of Dorsey's compositions, which over the years have ranged from rock to funk, from country to pop in it's purest sense; there is also the undeniable connection with her hometown sound of Philadelphia soul.

They lead the listener through a rich musical terrain of fanciful imagination, human dilemma and self-discovery. Gail Ann wrote all the tracks - two in collaboration with Tears For Fears' Roland Orzabal and one with singer-songwriter Kristen Hall.

"I love these songs and had a great time recording them with my friends. Sara Lee and I had a good idea of what we wanted the CD to be and I think we accomplished it! In the process, it also turned out to be a record to be proud of, much for the spirit in which it came together." It is also her first independent release; Gail has expressed no desire to return to a major label.

In addition to her two UK shows with Ani DiFranco, Gail Ann is expected to return to the UK for a solo London gig at the end of this year. Dorsey often cites a deep passion for the rich arrangements of Burt Bacharach, and for a long time a frequent feature of her live sets is her rendition, which in the US is fast becoming an underground classic, of his theme tune to the movie 'Alfie'.

Gail Ann plans to begin work on a new album early in 2005. More details and information can be found at www.gailanndorsey.com

From Kelly Pike Publicity.

---
DAVID BOWIE - LIVE IN DUBLIN DVD OUT NOW!
18th October 2004



Released today in the UK is the highly anticipated DVD release of DAVID BOWIE - LIVE IN DUBLIN.

Recorded in Dublin in November 2003, the 30-track DVD will be his first live concert film in over 15 years. 'David Bowie - A Reality Tour' is produced by Blink TV, edited by Emmy Award winner Guy Harding and the Creative Director is Marcus Viner. The DVD's 5.1 surround sound mix was engineered by Tony Visconti.

The complete tracklisting is as follows:

01. Rebel Rebel
02. New Killer Star
03. Reality
04. Fame
05. Cactus
06. Sister Midnight
07. Afraid
08. All The Young Dudes
09. Be My Wife
10. The Loneliest Guy
11. The Man Who Sold The World
12. Fantastic Voyage
13. Hallo Spaceboy
14. Sunday
15. Under Pressure
16. Life On Mars?
17. Battle For Britain (The Letter)
18. Ashes To Ashes
19. The Motel
20. Loving The Alien
21. Never Get Old
22. Changes
23. I'm Afraid Of Americans
24. "Heroes"
25. Bring Me The Disco King
26. Slip Away
27. Heathen (The Rays)
28. Five Years
29. Hang On To Yourself
30. Ziggy Stardust

Region 2 encoding (Europe, Japan, South Africa and the Middle East including Egypt) - Purchase NOW and receive a 25% discount - Our Price: £10.49.

Region 1 (U.S. and Canada only) - Buy now and receive a 25% discount - Our Price: $11.24. The DVD is released in US and Canada tomorrow.


---
BACKSTAGE WITH BOWIE
16th October 2004

Scotland Today's Billy Sloan spoke to FRANZ FERDINAND's Nick McCarthy and Alex Kapranos just before the first of three sold out show at Glasgow's Barrowlands Ballroom.

The band spoke about how their recent shows in the USA had gone, including their surprise at DAVID BOWIE and Lou Reed turning up to one of their concerts.

They also discussed how their ideas for their striking videos come together and talked about how work on their much-anticipated second album was going.

You can watch and listen to the interview online either via Quicktime, RealAudio or Windows Media by Clicking here


---
HE PLAYED IT LEFT HAND
15th October 2004

Some useless anniversary trivia... Exactly thirty years ago this very day Grand Valley Radio Station WSRX 88.5 FM went live on air for the first time ever. The first broadcast of WSRX was the beginning of an era of over-the-air radio broadcasts from a basement room at then Grand Valley State College.

On October 15th, 1974 at 5:00 pm the first radio waves were broadcast, starting a progression of growth that has since led to the development of a university-run National Public Radio affiliate and a student-run radio station.

Yeah so what I hear you all thinking... well DJ Bruce Donahue manned the microphone for the first two hours of broadcast and the first song ever aired on WSRX was 'Ziggy Stardust' by DAVID BOWIE.


---
AND THE BITS FLEW FAR AND WIDE
14th October 2004

TERRY DE HAVILLAND, the self-titled "rock 'n' roll cobbler" spent the Seventies creating iconic, platformed footwear for the likes of Jackie Onassis and Bianca Jagger, which still sell at auction for up to £800-a-pair. After disappearing from the scene in the Eighties, he is back with major plans for today's fashion icons. "I've just exhibited two pairs of shoes I made in the image of DAVID BOWIE and Debbie Harry," he told The Daily Telegraph...

Duran Duran's SIMON LE BON talking to Canada's The Globe and Mail - Besides, it's not as if these guys have forgotten what it's like to have idols... "If I ever run into DAVID BOWIE, which I do from time to time, I can't speak," confesses LeBon. "I still can't speak. I have to go, 'C'mon Simon - time to say hello now.' Because he still means so much to me."...


---
REALITY DUAL DISC A REALITY
14th October 2004

Remember those "flipper" dual discs that went on "test market" sale in select stores in Boston and Seattle last February? Well certain titles are now available to buy. In fact you can now order DAVID BOWIE's Reality Dual Disc which is scheduled for release next month on 2nd November.



DualDiscs are double-sided, on one, Compact Disc compatible digital audio at 44.1kHz 16-bit and on the other, DVD-Video, with the possibility of including high-resolution DVD-Audio content. Many uninformed industry commentators claimed DualDisc would be impossible, the obstacles being disc thickness and CD patents, but both issues were overcome by a consortium of five major record labels - Sony Music, BMG, EMI, Warner Music Group and Universal - all of which have titles amongst the initial batch of thirteen.

Identical in size and looks to a Compact Disc or DVD disc, the DualDisc offers consumers the option of playing the disc in either a CD player and or DVD player. The DVD-Audio technology, which includes Advanced Resolution, multi-channel audio and the option of including video footage, still images and photos, lyrics, and Web links. The result is a product that provides the consumer with an exciting new dimension to the recorded music experience.

Statement from Sony: "Sony Music today confirmed that it has joined an effort to test a new product in two markets. The product, known as DualDisc, offers dramatically expanded capabilities beyond those of the traditional CD by combining CD audio and DVD video on a single two-sided disc. DualDisc is playable on existing CD and DVD hardware, personal computers and game consoles. The new product capitalises on the popularity of DVD by including a DVD compatible portion that can contain exclusive video footage, unique films or other video content that will help to expand the relationship between artists and their fans. In addition, the DualDisc features surround sound capabilities and web-based interactivity, and can provide maximum portability by including digital music files right on the disc. By combining music, video, interactivity and portability in a single disc, DualDisc will provide music consumers enhanced value and greater convenience."

The DualDisc packaging is similar to a standard CD jewel case, but with significant improvements. The hinge area is smaller than on a Jewel case, allowing room on the opposite side for a small lever, which opens the cover when pressed. When viewed from the front, the case has a curve on the right side that is both aesthetically pleasing and an easy visual identifier, signifying this is something more than just a CD. The dimensions are about the same as a Jewel case so it will fit in standard racks.

David Bowie: Reality Dual Disc - ORDER now!


---
BOWIE TOP CHOICE FOR SPACE TOURISTS
13th October 2004

DAVID BOWIE's classic song 'Space Oddity' has been chosen as the first track to be played on the first commercial space trip for tourists. The song, first released in 1969, came top in a poll to find the ultimate playlist for the trips which are due within three years.

Virgin Radio listeners voted for the songs to be heard on the new three-hour Virgin Galactic flights which will cost £100,000 per person.

"Space Oddity is one of those haunting songs that seems timeless so it was fitting it came out top for the first commercial flight," said Pete Mitchell, of the Pete and Geoff Breakfast Show.

"It was a ground-breaking track when it was first released and still sounds amazing today. "Back then, it still seemed a distant idea that the common man could pop up to space on a flight, but in just a few years we'll be ready to take passenger flights in space."

Other tracks that featured highly in the poll were Walking on the Moon by The Police, All Around the World from Oasis, Man on the Moon by REM and Here Comes the Sun by The Beatles.

Sir Richard Branson has signed a £14 million deal to develop the project which could see the VSS Enterprise taking off from the Mojave Desert in California with the first fare-paying space tourists.

From Ananova.com

---
LIVE AID 4 DISC DVD SET
12th October 2004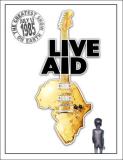 After nineteen years in the vaults, LIVE AID is to be officially released on DVD by WARNER VISION INTERNATIONAL. The 4-disc set, originally put together after Sir Bob Geldof caught a bootlegger selling pirate versions on the web, is set for release next month on 8th November making it the must have present for music lovers worldwide.

The DVD set will contain all the performances from the extravaganza, except Led Zeppelin's set which the band were unhappy to include. The DVD will also feature bonus footage from Sydney and Holland, Michael Buerk's historic report from Ethiopia and the videos for Band Aid's 'Do They Know It's Christmas?', USA For Africa's 'We Are The World' and DAVID BOWIE and Mick Jagger's 'Dancing In The Street'.

The remaining Led Zeppelin members Robert Plant, Jimmy Page and John Paul Jones have agreed instead to contribute proceeds from their own upcoming DVD package to the cause.

DISC 1:
01. BBC News report including Michael Buerk's report from Ethiopia
02. Band Aid 'Do They Know It's Christmas?' (video)
03. USA for Africa 'We Are The World' (video)
04. Status Quo 'Rockin' All Over the World', 'Caroline'
05. Style Council 'Internationalists', 'Walls Come Tumbling Down'
06. Boomtown Rats 'I Don't Like Mondays', 'Drag Me Down'
07. Adam Ant 'Vive Le Rock'
08. Ultravox 'Dancing With Tears In My Eyes', 'Vienna'
09. Spandau Ballet 'Only When you Leave', 'True'
10. Elvis Costello 'All You Need Is Love'
11. Nik Kershaw 'Wouldn't It Be Good'
12. Sade 'Your Love Is King'
13. Sting 'Roxanne'
14. Phil Collins 'Against All Odds'
15. Sting and Phil Collins 'Every Breath You Take'
16. Howard Jones 'Hide and Seek'
17. Bryan Ferry 'Slave to Love', 'Jealous Guy'
18. Paul Young 'Do They Know It's Christmas?' (acappella version), 'Come Back and Stay'
19. Paul Young and Alison Moyet 'That's the Way Love Is'
20. Paul Young 'Every Time You Go Away'
21. Bryan Adams 'Kids Wanna Rock', 'Summer of 69'
22. U2 'Sunday Bloody Sunday', 'Bad'

DISC 2
01. Beach Boys 'Wouldn't It Be Nice', 'Good Vibrations', 'Surfin' USA'
02. Dire Straits and Sting 'Money For Nothing'
03. Dire Straits 'Sultans of Swing'
04. George Thorogood and The Destroyers 'Madison Blues'
05. Queen 'Bohemian Rhapsody', 'Radio Gaga', 'Hammer To Fall', 'Crazy Little Thing Called Love',
'We Will Rock You', 'We Are The Champions'
06. Simple Minds 'Ghost Dancing', 'Don't You Forget About Me'
07. David Bowie 'TVC15', 'Rebel Rebel', 'Modern Love', "Heroes"
08. CBC Footage (video) 'Drive' by The Cars
09. Joan Baez 'Amazing Grace'
10. Pretenders 'Stop Your Sobbing', 'Chain Gang', 'Middle Of The Road'
11. The Who 'Love Reign O'er Me', 'Won't Get Fooled Again'
12. Kenny Loggins 'Footloose'
13. Elton John 'Bennie and The Jets', 'Rocket Man'
14. Elton John and Kiki Dee 'Don't Go Breaking My Heart'
15. Elton John and George Michael 'Don't Let The Sun Go Down On Me'

DISC 3
01. Madonna 'Holiday', 'Get Into The Groove'
02. Freddie Mercury and Brian May 'Is This The World We Created?'
03. Paul McCartney 'Let It Be'
04. Band Aid UK Finale 'Do They Know It's Christmas?'
05. Tom Petty and The Heartbreakers 'American Girl', 'Refugee'
06. Black Sabbath feat. Ozzy Osbourne 'Paranoid'
07. REO Speedwagon 'Can't Fight This Feeling', 'Roll With The Changes'
08. Crosby Stills and Nash 'Teach Your Children'
09. Judas Priest 'Living After Midnight', 'Green Manalishi'
10. The Cars 'Just What I Needed', 'Heartbreak City'
11. Neil Young 'The Needle and The Damage Done', 'Nothing is Perfect (in God's Perfect Plan)'
12. Thompson Twins, Steve Stevens, Nile Rodgers and Madonna 'Revolution'
13. Eric Clapton 'White Room', 'She's Waiting', 'Layla'
14. Phil Collins (in Philadelphia) 'In The Air Tonight'
15. Duran Duran 'Union Of The Snake', 'Save A Prayer', 'The Reflex'
16. Patti Labelle 'Imagine', 'Forever Young'

DISC 4
01. Hall and Oates 'Maneater'
02. Hall and Oates with Eddie Kendricks 'Get Ready (Cos Here I Come)'
03. Hall and Oates with Eddie Kendricks and David Ruffin 'Ain't Too Proud To Beg', 'My Girl'
04. Mick Jagger 'Just Another Night', 'Miss You'
05. Mick Jagger and Tina Turner 'State Of Shock', 'It's Only Rock 'n' Roll'
06. Bob Dylan, Keith Richards, Ron Wood 'Blowin' In The Wind'
07. USA For Africa Finale 'We Are The World'

Extras:
01. INXS - from Australia 'What You Need', 'Don't Change'
02. B.B. King from North Sea Jazz Festival 'Why I Sing The Blues', 'Don't Answer The Door',
'Rock Me Baby'
03. Ashford and Simpson with Teddy Pendergrass 'Reach Out And Touch'
04. Cliff Richard from London 'A World Of Difference'
05. Bowie and Jagger 'Dancing In The Street' (video)
06. Documentary: 'Food and Trucks and Rock 'n' Roll'

You can purchase NOW.


---
CAST YOUR VOTE FOR BOWIE & WONDERWORLD!
11th October 2004

Last chance to get your votes in!... The PEOPLE'S CHOICE awards are here! You decide the winners at the Digital Music Awards 04 now! They are looking for the best music sites on the web in the past year as chosen by you! This is your chance to have your say.

Vote for your favourite sites, and you'll be automatically entered into the prize draw to win one of 5 Xboxes and tickets for the awards ceremony and after party.

The trophies will be handed out at the official Digital Music Awards ceremony in London on October 19th.

Not much time left to click on the logo to vote for BowieWonderworld in the fan site category and then vote for David Bowie in the Artist of the Year category.


---
DAVID BOWIE - LIVE IN DUBLIN AVAILABLE TO ORDER
11th October 2004



This months sees the highly anticipated DVD release of DAVID BOWIE - LIVE IN DUBLIN which is now finally available to order.

Recorded in Dublin in November 2003, the 30-track DVD will be his first live concert film in over 15 years. 'David Bowie - A Reality Tour' is produced by Blink TV, edited by Emmy Award winner Guy Harding and the Creative Director is Marcus Viner. The DVD's 5.1 surround sound mix was engineered by Tony Visconti.

Region 2 encoding (Europe, Japan, South Africa and the Middle East including Egypt) - Order now and receive a 25% discount - Our Price: £10.49.

Region 1 (U.S. and Canada only) - Order now and receive a 30% discount - Our Price: $10.49.


---
BOWIE ON 'GO' IN CANADA
9th October 2004

DAVID BOWIE is the main topic of conversation today on Canada's GO show on CBC Radio 1. Anyone anywhere can tune in and listen to the programme.

Saturday, October 9, 2004, 10:00 a.m.
What's your favourite David Bowie song? Space Oddity? Ashes to Ashes? Changes? Now, try to imagine the 1970's without those songs. Imagine the impoverishment of your soul. This week on GO, Brent Bambury helps a woman who knows next to nothing about the Thin White Duke discover her inner Ziggy Stardust. Plus Richard Crouse on rock documentaries, and Cameron Philips asks the burning question: "Why is everyone using Scottish accents in commercials these days?"

Listen in here

From Brocccoli


---
BABY NEW YEAR MUSIC ACQUIRES DB COPYRIGHTS
6th October 2004

LOS ANGELES, CA - (Market Wire) - 10/06/2004 - BABY NEW YEAR MUSIC has announced the acquisition of the publishing of several great DAVID BOWIE albums, including Outside, 'hours...' and Earthling. These are co-writes with his bandleader for these albums Reeves Gabrels. Bowie was inducted into the Rock and Roll Hall of Fame in 1996. He is currently the face of the fall Tommy Hilfiger campaign with his wife Iman.

On the album, Outside, Bowie again records with Brian Eno, He concentrates on atmospheric, disturbing electronic soundscapes adding elements of industrial, grunge and ambient techno. Bowie raised the stakes by making a concept album about art, murder, and technology. He remains a brilliant artist with standout tracks such as "The Heart's Filthy Lesson" as heard in the smash Brad Pitt film Seven. The album reached the top 20 of the US charts. The song "A Small Plot of Land" written with Eno was featured in the film Basquiat. With the album Earthling, Bowie sounds rejuvenated, exploring techno and jungle. The record features the avant-garde drum and bass track "Little Wonder" which he performed on SNL, which became a top 20 hit in the U.K. "Law (Earthling on Fire)" was featured in Fox's animated hit King of the Hill. 'hours...' is the last album Bowie recorded in the 90's and is a relaxed, natural record. The tone is set by the album's opener, "Thursday's Child," an engaging mid tempo song which he also performed on SNL. "Something in the Air" was recently featured in the hit CBS TV show Without a Trace as well as being used earlier in such films as Memento and American Psycho. "The Pretty Things are Going to Hell" was featured in the hit film Stigmata.

David Bowie experienced his breakthrough in 1972 redefining glam rock with his ambiguously sexy Ziggy Stardust persona. His most famous incarnation, Ziggy Stardust was an androgynous bisexual rock star from another planet. 1972 also saw him produce Lou Reed's Transformer and The Stooges Raw Power as well as penning and producing Mott the Hoople's "All The Young Dudes." 1974 saw the release of Diamond Dogs and the hit "Rebel Rebel." In 1975, he released Young Americans which contained his first US number one hit "Fame." In 1977, he produced Iggy Pop's seminal Lust for Life album. In the early 1980's he moved to Berlin and recorded three experimental electronic albums with Brian Eno. 1981 also saw his collaboration with Queen for the smash "Under Pressure." He followed this by hiring Chic guitarist Nile Rodgers to produce his blockbuster Let's Dance in 1983 where he hired the then-unknown lead guitarist Stevie Ray Vaughan. The album contained the hits, "Let's Dance" and "China Girl." Each one of his phases sparked a number of sub genres including punk, new wave, Goth rock and electronica. The list of bands he influenced is astonishing from Lou Reed and Iggy Pop to Nine Inch Nails and Depeche Mode.

Baby New Year Music is a music publishing and film music supervision company that has evolved from a base of copyrights from the Mammoth Records label previously owned by BNYM principal Jay Faires. In addition to hundreds of copyrights from Mammoth acts, including the works of the multi platinum neo swing act the Squirrel Nut Zippers, Baby New Year has recently acquired the New Orleans publishing catalog for the New Orleans blues and zydeco label Black Top Records. In the last year, the company has placed music in Fox's smash The O.C. and the CBS hit drama Without a Trace along with NBC's Queer Eye for the Straight Guy among many others. BNYM is currently music supervising the upcoming Ed Norton, Evan Rachel Wood film Down in the Valley. For further information, please visit www.bnymusic.com


---
8th BOWIE BASH IN ITALY
5th October 2004

All DAVID BOWIE fans are invited to the 8th Bowie Bash on 31st October 2004 in Bassano del Grappa (VI) in Italy.

The timetable of events runs as follows:

H. 5.00 pm - Let's meet at PALAZZO ROBERTI BOOKSHOP (www.palazzoroberti.it) to gain your seat. Only 100 seats available!

H. 6.00 pm - The PASSENGER PREMIERE begins! The Editor Daniele Pensavalle and Mauro Luppi, Mr. Philippe Auliac and Laurence Geslin join in the conversation with you and will answer to all yours questions about the book and about The Thin White Duke character.

H. 6.45 pm - Mr. Philippe Auliac will autograph an inedit and exclusive picture only for the premiere.

H. 7.00 pm - Moonagedaydream.it will offer you a local 'alcoholic' good aperitif.

H. 8.30 pm - Let's go to dinner at SHI-VAA (Indian Restaurant www.shindy.it).

H. 11.00 pm - Join to the live acoustic concert with PIOL & MASTICA. Dinner + Party euros 25.

H. 00.30 am - THE BOWIE HORROR PICTURE SHOW - A Glam night with 3 famous djs playing for you all Bowie Hits and various related artist.

More details and information can be found at www.moonagedaydream.it


---
AND THE BITS FLEW FAR AND WIDE...
3rd October 2004

Bowie's back! Nice to see DAVID BOWIE writing a journal snippet on BowieNet and preparing another one for early next week :) ...

MIX MAGAZINE feature TONY VISCONTI on their website with 'Tony Visconti employs Yamaha's DM2000/Pro Tools Setup for Bowie 5.1 Remixes' - you can read the full article online here...

DAVID BOWIE's classic album 'The Rise and Fall of Ziggy Stardust and The Spiders from Mars' has re-entered the UK album charts this week at number 17...

MARILYN MANSON interviewed in The Mirror yesterday stated: "I'd prefer working with someone I could learn from. I got to meet DAVID BOWIE recently. He didn't disappoint me. He was the person I always wanted him to be. We talked about writing a song together - and that would fulfil a childhood dream."...


---
GAIL ANN GIGS THIS MONTH
1st October 2004

DAVID BOWIE band member GAIL ANN DORSEY performs several gigs this month on October 2nd, 13th and 14th.

The Tin Angel Acoustic Cafe - Thursday, October 14th, 2004 @ 8:30pm. Tickets priced at $10
20 South 2nd Street (between Market and Chestnut Streets), Philadelphia, PA 19106.

Joe's Pub @ The Public Theater - Wednesday, October 13th, 2004 @ 7:30pm. Tickets priced at $15
425 Lafayette Street, New York, NY 10003.

The Hudson River Theater - Saturday, October 2nd, 2004
521 Warren Street, Hudson, NY 12534.

Upcoming European solo gigs are planned with Gail Ann Dorsey as the opening act for Ani Difranco in early November.

More details can be found by clicking on the venue links and at www.gailanndorsey.com


---
DAVID BOWIE - LIVE IN DUBLIN AVAILABLE
1st October 2004



This months sees the highly anticipated DVD release of DAVID BOWIE - LIVE IN DUBLIN which is now finally available to order.

Recorded in Dublin in November 2003, the 30-track DVD will be his first live concert film in over 15 years. 'David Bowie - A Reality Tour' is produced by Blink TV, edited by Emmy Award winner Guy Harding and the Creative Director is Marcus Viner. The DVD's 5.1 surround sound mix was engineered by Tony Visconti.

Region 2 encoding (Europe, Japan, South Africa and the Middle East including Egypt) - Order now and receive a 25% discount - Our Price: £10.49.

Region 1 (U.S. and Canada only) - Order now and receive a 30% discount - Our Price: $10.49.


---
PASSENGER PRESS RELEASE
1st October 2004



Press Communication:
PASSENGER - A DAVID BOWIE PHOTOBOOK



On collector Mauro Luppi and publisher Daniele Pensavalle's initiative, here is a collection of photographs of David Bowie and Iggy Pop taken by Philippe Auliac in London and Paris in 1976 and 1977, published in book form for the first time.

After the American episode and the crossing of Siberia with Iggy Pop on the famous Trans-Siberian Railway, David Bowie is back in Europe under the name and guise of The Thin White Duke for the Station To Station tour. After shooting Nicolas Roeg's The Man Who Fell to Earth, he arrived in the wake of his ambiguous statements to the press. Play-acting, cocaine or delusions of "folie des grandeur". Fans are destabilized when he compares the rise of a rock star to that of a far right political leader. Philippe Auliac becomes an appointed photographer for the European part of the tour, from the first Wembley concert to the May 18th 1976 show at the Pavillon de Paris.

This book is the first edition of Philippe Auliac's work on this controversial time. The full-page pictures come in the form of a photographic account of a flexible chronology that leaves much to the reader's imagination while nonetheless leading him firmly to the show marking the disappearance of The Thin White Duke, who vanishes of his own accord. The three texts by Véronique Pintelon, Christophe Geudin and Laurence Geslin ponctuate the syncopated sequence of the pictures by each addressing the character's different aspects, whether it be his style, his appearance, his musical world or his place in the late 70s, now synonymous with the end of communal utopia.This book - whose purpose is not to add an umpteenth biographic page to all those already published on David Bowie - is an opportunity to discover a series of mostly rare and previously unpublished photographs gathered together in an album to be read, looked through and decoded.

This first publication (30th October 2004) will be issued in a limited edition of 2000 copies including an original printing autographed by the photographer.

By Elge.

Click here for more details and how to pre-order yourself a copy of the the book.


---
NOTHING HUMAN LOVES FOREVER
1st October 2004

Vampire movie THE HUNGER which stars DAVID BOWIE, Catherine Deneuve and Susan Sarandon is all set for a DVD Region 2 re-release by Warner Home Video this month on October 18th.

Synopsis: Miriam (Catherine Deneuve), an ancient vampire who survives on the blood of her lovers, promises the gift of eternal youth in return for her continued longevity... and that is until she tires of them. When her current beau, John (David Bowie), falls victim to this very fate he attracts the attention of premature aging specialist Dr. Sarah Roberts (Susan Sarandon).

The special features on this DVD release include: Commentary by director Tony Scott and Susan Sarandon, a stills gallery and theatrical trailer.



Release details:
Certificate: 18.
Category: Drama.
No. of Discs: 1.
Running Time: 92 minutes.
Year Produced: 1983.
Region: 2 (UK and Europe/Japan, South Africa and the Middle East including Egypt).
Audio: English - Dolby Digital Mono.
Aspect Ratio: 2.35 (Widescreen).
Anamorphic: Yes.
Encoding: PAL.
Interactive Features: Interactive Menus, Scene Selection, Theatrical Trailer.

You can order The Hunger available with a 25% saving.


---
LOOK OUT FOR THE VOYEUR
1st October 2004

The September 2004 issue of THE VOYEUR is out now! As always also this time the guys (and girl) from The Voyeur have managed to create another beautiful fanclub magazine.



Next to stories created by The Voyeurs themselves DAVID BOWIE fans David Emerson, Colin Creaven, Alert van Harten and Nancy Holtzman have contributed some great stories and beautiful photographs.

In this issue:
Watch out for The Voyeur
Welcome to The Voyeur
DVD15 (official and unofficial DVD releases)
My Sweet Lollipop (Norwegian Wood Festival review)
Reality In Amsterdam (by Alert van Harten)
Reality ends Reality
Beware of the Savage Jaw (by Colin Creaven)
Eight Line Poem (by David Emerson)
Reality Tour 2004 (part 3)
Reality World tour 2004 (song schedule)
The Voyeur Fanclub meeting (review)

If you ever wanted to become a member of The Voyeur this is the time to do so. Until the end of November 2004 all new Voyeur fanclub members receive a free Voyeur fanclub T-shirt.

For more details visit their website at http://go.to/bowiefanclub or send them an email at thevoyeur@home.nl

[Click here for a sneak preview of six pages from this latest issue]

From Peter Smit.

---

OLDER NEWS

September | August | July
June | May | April | March | February | January

2003 Bowie News Archives | 2002 Bowie News Archives
2001 Bowie News Archives | 2000 Bowie News Archives
1999 Bowie News Archives | 1998 Bowie News Archives