BOWIE TV and WHAT'S REALLY HAPPENING IN NOVEMBER - MONTHLY PLANNER

[BOWIEWONDERWORLD SHOP] [LATEST DAVID BOWIE ITEMS ON eBAY]

Got some DAVID BOWIE related news or a hot scoop?
Well don't just sit there keeping it to yourself send it in to
All news items are credited if you so wish


---
SO YOU TRAIN BY SHADOW BOXING
25th November 2004

Today's GUARDIAN features an interview with legendary Irish boxer STEVE COLLINS on blushing at DAVID BOWIE, explaining why semi-skimmed milk is for sissies - and why a tiger would definitely win a fight with a lion.

Have you ever met a celeb who's blown you away?
The only guy I've ever met that I was gobsmacked with, and my mouth went dry, was David Bowie. I saw him in a private lounge in Heathrow Airport, and went up to shake his hand but I went all shy. So I sat down, had a cup of coffee and thought: I've got to say something.

Did you?
Yeah, eventually I shook his hand, but I spoke to him like he was a boxer. "Pleased to meet you," I said. "You're doing really great. Keep it up." And he just looked at me and started laughing. So I walked away and thought 'Oh f**k!' I wanted to disappear. I sat down and I was so in awe of the man. I have met a lot of people but he is a great artist. Just great.

You can read the full article here on the Guardian website.


---
AND THE BITS FLEW FAR AND WIDE
25th November 2004

DAVID BOWIE is featured in JANE GAZZO's radio show 'Dream Ticket' on Monday 29th November on BBC Radio 6 Music at 22:00 until 1:00 GMT- [Listen in here]...

Reminder: The end of this month (30th) sees the brand new DVD release Region 2 of 'Merry Christmas Mr. Lawrence' which stars DAVID BOWIE as Major Jack Celliers. This war-time drama finds a group of POWs in a Japanese POW camp. When Major Celliers arrives at the camp, the Japanese camp commander believes him to be an evil spirit. A battle of wills begins between the two men. You can Order here with a 25% discount...

Reminder: DAVID BOWIE tribute band CHANGES BOWIE perform at The Beacon Court, Gillingham, Kent, UK this weekend (27th Saturday). [More info]...

DAVID BOWIE is featured in the next MOJO Special magazine on electronica due out in January 2005...

GLAMDAMMIT! Twig the Wonderkid and the Astronettes will put their arms around your head whilst spinning early-Seventies glam accompanied by glam-era video projections... DAVID BOWIE's 1978 NHK 'Heroes' special screening at 10pm!! Saturday November 27th @ 11pm - no cover. NHK 'Heroes' special @ 10pm - no cover. Address: Cinema Classics, 332 E 11th St, New York City. [Check out the flyer]...


---
MUSICIANS WANTED FOR TRIBUTE BAND
24th November 2004

SCOTT is currently forming a DAVID BOWIE tribute band based in the Surrey/South London area (rehearsals in Croydon).

He is looking for guitarists (rhythm and lead) and an excellent piano/keyboard player to join singer (25), bass player and drummer.

If you are interested please email him at


---
BOWIE OUT ON THE TOWN
24th November 2004

DAVID BOWIE has recently been out and about band watching in New York City. Last Thursday on 11th November he checked out Montreal-based band ARCADE FIRE at the Bowery Ballroom.

One eye-witness at the sold-out gig stated that David was "very giddy and eager for the show to start. During the set, he tapped his toes and bobbed side to side. It was distractingly adorable."

Other celebs spotted at the Bowery were David Byrne, Eric Clapton and Melissa Etheridge, along with John Cameron Mitchell, Stephen Winter, Kevin Wolfe, Matt Paco, Jada Yuan and Sean Kennedy.

David has also been championing their new album 'Funeral' out now on Merge Records via the BowieNet message boards. You can check out song samples from the album here via WindowsMedia, RealOne and Music Sampler. [UK: Listen here] or [US: Listen here].

David was also spotted at the INTERPOL show in NYC at the Hammerstein Ballroom on Friday (12th). He was sitting in the floor level box to the right of the stage, sporting some round eyeglasses and a killer pair of turquoise Chuck Taylor high-tops.

You'll also recall that David went out to see FRANZ FERDINAND last month... a couple of fans sent in these comments: "Last night at Roseland (3rd October), I saw rock legends David Bowie and Lou Reed sitting together in the balcony VIP section checking out Scottish band Franz Ferdinand. Bowie was at the previous FF show on September 9th so he must really dig them! I also saw Daniel from Interpol at the show as well."

"I was at the Franz Ferdinand show at Roseland and was happily enjoying the natty Scots when I happened to look up in the balcony. Who do I see but David Bowie, calmly enjoying the same show. He was in semi-disguise, as he was wearing glasses and had grown a moustache (!), but I recognized him nonetheless. At the end of the show, he was watching everyone on the floor leave, and I waved to him from the crowd. He waved back at me and grinned before retreating to the recesses of the VIP section. I feel very special today."


---
Q's TOP TEN MUSIC ICONS
18th November 2004

In Q magazine the top 20 music icons from a list of 100 as voted for by readers of the magazine saw John Lennon voted into top place, with DAVID BOWIE placed in third behind Elvis. The remaining top music icons were placed as follows: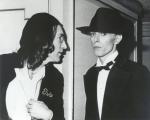 01. John Lennon
02. Elvis Presley
03. DAVID BOWIE
04. Keith Richards
05. Kurt Cobain
06. Madonna
07. Bono
08. Bob Marley
09. Joe Strummer
10. Bob Dylan
11. Morrissey


12. Paul McCartney
13. Johnny Cash
14. Liam Gallagher
15. Eminem
16. Freddie Mercury
17. Mick Jagger
18. Robbie Williams
19. Jimi Hendrix
20. 2Pac

(Ed. Photographs taken in 1975 backstage for the 1974 Grammy Awards where David presented Aretha Franklin with her Grammy for the Best Rhythm and Blues Vocal Performance Female with her song 'Ain't Nothing Like the Real Thing')


---
HOLLY AND EMM ON THE ROAD
14th November 2004

HOLLY PALMER and her DAVID BOWIE cohort EMM GRYNER are going travelling. They are gonna jump in Emm's Honda and hit the East Coast. They'll each do solo acoustic sets and maybe sing a song or two together. Holly will be playing songs off of all three albums, as well as previewing a few she's just written for her new album. By the way, 'Tenderhooks' is scheduled for delivery to cdbaby on December 5th! Just in time for somebody's shiny stocking.

18th November: Bryn Mawr @ The Point
880 West Lancaster Avenue, Bryn Mawr, PA, 610-527-0988
Show starts at 8pm

19th November: Providence, RI @ The Call
15 Elbow Street, Providence, RI 02903, 401-751-2255
This show will be Holly only, call the club for show time.
If you're in Boston, go see Emm at the Paradise.

20th November: NYC, NY @ The Fez under Time Cafe
380 Lafayette Street @ Great Jones, New York, NY 10003, (212) 533-7000
Emm at 7:30pm, Holly at 8:30pm.

21st November: Charlottesville, VA @ The Gallery
709 West Main Street, Charlottesville, VA 22903, (434) 977-0017
This show will be Holly only at 7:45pm.

23rd November: Arlington, VA @ Iota Restaurant and Bar
2832 Wilson Boulevard, Arlington, VA 22201, (703) 522-8340
Call club for showtimes.

From Bombshell Records.

---
PLACEBO ONCE MORE WITH BOWIE
12th November 2004

The latest CD and DVD releases from PLACEBO Once More With Feeling feature DAVID BOWIE.

The DVD contains all the band's promotional videos to date, previously unseen footage and a recent interview with the band (Care In The Community) filmed specifically to mark the occasion of the album's release.




Tracklisting for DVD and CD Disc One
36 Degrees
Teenage Angst
Nancy Boy
Bruise Pristine
Pure Morning
You Don't Care About Us
Every You Every Me
Without You I'm Nothing (featuring David Bowie)
Taste In Men
Slave To The Wage
Special K



Black-Eyed
The Bitter End
This Picture
Special Needs
English Summer Rain
Protège Moi
I Do (CD only)
Twenty Years



Disc Two (bonus disc with CD)
01. Special K (Timo Maas Remix)
02. Without You I'm Nothing (UNKLE Remix)
03. Every You Every Me (Infected By The Scourge Of The Earth)
04. Protège Moi (M83 Remix)
05. Slave To The Wage (I Can't Believe It's A Remix)
06. Pure Morning (Les Rythmes Digitales Remix)
07. Taste In Men (Alpinestars Kamikaze Skimix)
08. Black-Eyed (Placebo Vs Le Vibrator Mix)
09. English Summer Rain (Freelance Hellraiser Remix)
10. This Picture (Junior Sanchez Remix) DVD Content



DVD Extras:
Twenty Years video
Care In The Community band interview
Spite and Malice (featuring Justin Warfield Live at Reading Festival 2000)
20th Century Boy (featuring David Bowie live at the Brit Awards 1999)
Nancy Boy and Peeping Tom - Live tour visuals
Soulmates Never Die - Placebo Live in Paris, DVD trailer
English Summer Rain (live video)
Includes exclusive Audio Commentary on all tracks by Placebo

You can purchase Placebo - Once More With Feeling -... DVD with a 25% discount now!

Also the CD Once More With Feeling: Singles 1996-2004 for only £8.99

Thanks to Peter for the pointer.

---
AND THE BITS FLEW FAR AND WIDE
11th November 2004

Q currently have streaming videos online of DAVID BOWIE performing "Heroes" at the Live Aid concert - view here and also check out the new Live Aid DVD official website @ www.liveaiddvd.net...

The quite excellent GREEN DAY talking about their new album 'American Idiot' on MTV said: "There was a lot of different sources of inspiration and, like, none of them at the same time, because we really wanted to try to do our own thing," Armstrong says. Although less obvious, American Idiot was also inspired by two of the singer's favorite acts, the Clash and DAVID BOWIE. "They really put everything into those records as a piece of art," he explains. "I think that's something that's missing in a lot of rock records nowadays. A lot of these guys are afraid to put themselves out there, to be ambitious. This record is about making mistakes and fixing them. We definitely threw ourselves out there and said, 'Whatever is on your mind, just throw it out there, be bold.'" - Read here...

Tribute band CHANGES BOWIE have a gig lined up this month on Saturday 27th at The Beacon Court, Gillingham, Kent, UK. For more info visit www.changesbowie.co.uk...


---
THE NEED TO HAVE SEEN IT ALL
11th November 2004



Last chance to get yourself a free 'VOYEUR' fanclub T-shirt!

Our news item on September 24th provided International David Bowie fanclub 'The Voyeur' with an enormous amount of new fanclub members.

Maybe, giving new fanclub members a beautiful free 'Voyeur' T-shirt helped 'The Voyeur' in this success.

If you ever wanted to become a member of 'The Voyeur' this is the time to do so. Until the end of November 2004 all new fanclub members still receive a free 'Voyeur' fanclub T-shirt.

The only rule is that you may not have been a member in 2004 yet and your payment must be received before December 1st.

See the news item on September 24th or visit the 'Voyeur' website at http://go.to/bowiefanclub for more details.

From Peter Smit.

---
AND THE BITS FLEW FAR AND WIDE
8th November 2004

Released today is the fabulous 4-disc LIVE AID DVD from Warner Vision International. Besides featuring the four song set by DAVID BOWIE ('TVC15', 'Rebel Rebel', 'Modern Love' and "Heroes"), bonus extras include David and Mick Jagger's 'Dancing In The Street' charity promotional video. See below for further details and tracklisting. You can Purchase NOW and receive a 30% discount with the proceeds and sales tax going to charity. The government said this week that VAT sales tax on the box DVD set and CD would be refunded, raising an estimated four million pounds for the Band Aid Trust charity...

SHREK 2 music supervisor CHRIS DOURIDAS explains the thought process behind the movie sound track: "In the first movie you had Bob Dylan, Leonard Cohen, and Bowie is an example of that. We had David Bowie's version of 'Changes' temped in the film for quite a while, and we always had it starred as a possible thing to replace as a new song, but not replace it if we couldn't find something to top it, to re-do. There are several examples of that. 'Funky Town' was the same thing, 'Ever Fallen In Love.' When we were thinking about redoing 'Changes' we had thought about a lot of people, nobody seemed right, topping Bowie is a challenge. Butterfly Boucher was someone who had contributed some of her own songs to the movie back when she was circulating demos. I befriended her and she sent us some material, they never made it into the movie, so one day it suddenly hit us to have her do 'Changes' and she nailed it. Bowie decided to be on board after hearing it." - [Read full article here]...

DAVID BOWIE tribute act ROB STORM performs at The Stags Head, Goodsnargh, Preston, Lancashire this coming Friday 12th, November. More details can be found at the venue website www.stagsheadgoosnargh.com...

Check out a great new DAVID BOWIE 'Ziggy' T-Shirt available via the BowieWonderworld Shop in the What's Hot section...


---
FAME... WHAT'S YOUR NAME?
7th November 2004

Released tomorrow on the Umtv label is Channel 4's UK MUSIC HALL OF FAME 2CD set which features DAVID BOWIE's classic track 'Life On Mars?' The full tracklisting runs as follows:

Disc: 1
01. Radio Gaga - Queen
02. Electrical Storm - U2
03. Dancing In The Dark - Bruce Springsteen
04. Purple Haze - Jimi Hendrix Experience
05. Orange Crush - R.E.M.
06. Let Me Entertain You - Robbie Williams
07. Vouge - Madonna
08. Fastlove - George Michael
09. Live And Let Die - Paul McCartney And Wings
10. Goodbye Yellow Brick Road - Elton John
11. Mrs. Robinson - Simon and Garfunkel
12. A Boy Named Sue - Johnny Cash
13. Subterranean Homesick Blues - Bob Dylan
14. For Once In My Life - Stevie Wonder
15. Sex Machine (Part 1) - James Brown
16. I Say A Little Prayer For You - Aretha Franklin
17. Baby Love - The Supremes
18. (You Gotta) Fight For Your Right (To Party) - The Beastie Boys
19. Don't Believe The Hype - Public Enemy
20. Firestarter - The Prodigy

Disc: 2
01. Woman - John Lennon
02. No Woman No Cry - Bob Marley and The Wailers
03. Life On Mars? - David Bowie
04. Don't Look Back In Anger - Oasis
05. Paranoid Android - Radiohead
06. How Soon Is Now? - The Smiths
07. London Calling - The Clash
08. Venus In Furs - Velvet Underground and Nico
09. Waterloo Sunset - The Kinks
10. Good Vibrations - The Beach Boys
11. Got To Be There - Michael Jackson
12. Good Golly, Miss Molly - Little Richard
13. The Young Ones - Cliff Richard And The Shadows
14. Peggy Sue - Buddy Holly
15. Johnny B. Goode - Chuck Berry
16. Tragedy - The Bee Gees
17. Take A Chance - Abba
18. Wannabe - Spice Girls
19. Purple Rain - Prince

Click here to purchase the UK Music Hall of Fame 2CD.


---
I-IMAN GOES GLOBAL
7th November 2004

DAVID BOWIE's wife IMAN is set to give her fans all over the world the chance to buy her make-up line, after signing a deal for international distribution.



Impala, which manufactures Iman and I-Iman, has entered into a deal with Proctor & Gamble Cosmetics for a multi-year licensing agreement, which transports the products to six global markets around the world.

Iman, who founded her company 10 years ago after retiring from modeling, says, "This is a strategic next step in the evolution of the Iman brands and what I offer women with skin of color around the world."

She adds, "I could never find exactly what I needed for my own make-up, and that's why I started the company."

Check out Iman's official website @ www.i-iman.com


---
LIVE AID IN THEIR OWN WORDS
7th November 2004

Better late than never... the other week GUARDIAN UNLIMITED ran a piece entitled 'Live Aid In Their Own Words'. For the first time, the full backstage story of Live Aid, in the words of the people who made it happen. Interviews by Carl Wilkinson. The David Bowie related highlights include:

TV presenter Noel Edmonds: I had a helicopter company based in Battersea at the time. We shuttled people into London Transport's cricket ground, about 400 yards from Wembley Stadium. On the day it was the climax of their cricket tournament, and they wouldn't abandon their game for us so the umpires had whistles and when they saw a helicopter coming they blew the whistles and cleared the field for us to land. I seem to remember that David Bowie's management said he only flew in a blue helicopter - that's blue on the inside - and we managed to find one. I was killing time with him at Battersea before he flew in and I said, 'look at the inside of this helicopter!' He looked at me as if I were mad. He didn't give a shit what colour the helicopter was.

Andy Zweck, production manager: People now say, how could an artist refuse to be on a show like that? But my memory prior to the event was how Bob and Harvey Goldsmith struggled to get the artists and struggled to get the show in America. Bob had to play some tricks to get artists involved. He had to call Elton and say Queen are in and Bowie's in, and of course they weren't. Then he'd call Bowie and say Elton and Queen are in. It was a game of bluff.

Harvey Goldsmith: At one point Bob and I sat in my boardroom with David Bowie and Mick Jagger at the other end, trying to figure out how we could do a duet with one of them in America and the other one in the UK, and could we send one of them up in a rocket? It was just nuts.

Bernard Doherty, PR chief: Everybody showed - Bowie, Elton, everyone. They lined up around the edge of the banqueting room with its shiny floor and stood looking at one another.

Francis Rossi: Bowie was the only one sober, immaculately dressed, when everyone else looked shit-faced. I never found out how he'd managed it.

Harvey Goldsmith: One afternoon before the concert, Bowie was up in the office and we started looking through some videos of news footage, and we watched the CBC piece. Everyone just stopped. Bowie said, 'You've got to put that in the show, it's the most dramatic thing I've ever seen. I'll give up one of my numbers.' That was probably one of the most evocative things in the whole show and really got the money rolling in.

Jill S Sinclair: Paula and I were filming backstage for a Tube special that was due to go out at Christmas. The interviews were more like a gossip between old friends - what was it like and so on. In a break Paula and I sat down and tried to figure out some questions that would spark a different response. We came up with a list including, 'What are you going to do now?' The first person we thought we'd try it on was David Bowie. I grabbed him and she asked the new question - 'What are you going to do now?' He looked at her, then straight into the camera and said, 'I'm going to go home, and I'm going to have a really good f**k.'

You can read the full article here.


---
GAIL ANN NEW ALBUM AND UK GIGS
1st November 2004

GAIL ANN DORSEY will be supporting Ani DiFranco on these UK dates this month:

November 6th: Lowry Quay, Salford, Greater Manchester.
November 7th: The Barbican, London

Gail Ann Dorsey, the striking Philadelphia born singer/songwriter/musician and long-time bassist with DAVID BOWIE's band, releases her first solo album in over a decade, 'I Used To Be', on Sad Bunny records in November 2004. An eclectic collection of previously unreleased original songs written by Dorsey throughout her career, the CD is co-produced by Gail and Brandon Mason; executive producer is her longtime friend and fellow bassist Sara Lee. Dorsey herself sings and plays bass guitar, bass synthesizer, and guitar.

Gail Ann Dorsey has built up a reputation as one of the music industry's most powerful singers, instrumentalists, and performers. She first came to the UK in 1983 (where she settled until 1994), and following a stint as guest vocalist with the first incarnation of Charlie Watt's Big Band she was invited to perform solo on Channel 4's The Tube. Accompanying herself on bass guitar, Dorsey performed a show-stopping rendition of Bobby Womack's 'Stop On By' which led to a bidding war amongst the major labels and she soon signed to WEA.

Her first album, the appropriately named 'The Corporate World', was a critical success in the UK, for instance receiving a 5-Star review in Q Magazine - who also was voted it one of the Top 50 Albums of that Year - and spawned top ten singles in Europe. However, Gail Ann was not happy on the label and subsequently Chris Blackwell signed her to his Island Records label, who released her second well-received album, 'Rude Blue', in 1992. When her relationship with Island also proved problematic, Dorsey removed herself from the spotlight and returned to session work.

Since then she has toured the world and recorded with a hugely diverse collection of artists including Dar Williams, Tears For Fears, The Indigo Girls, Jane Siberry, Khaled, Rachid Taha, The B-52's, Gang Of Four, Skin, and - for the past decade - with David Bowie. Health problems led to the summer UK leg of the latter's world tour being cancelled - although the legendary performer recently enjoyed his first evening out since surgery when he was in the audience as Dorsey played a solo show at New York venue Joe's Pub in mid-October.

'I Used To Be' showcases the breadth of Dorsey's compositions, which over the years have ranged from rock to funk, from country to pop in it's purest sense; there is also the undeniable connection with her hometown sound of Philadelphia soul.

They lead the listener through a rich musical terrain of fanciful imagination, human dilemma and self-discovery. Gail Ann wrote all the tracks - two in collaboration with Tears For Fears' Roland Orzabal and one with singer-songwriter Kristen Hall.

"I love these songs and had a great time recording them with my friends. Sara Lee and I had a good idea of what we wanted the CD to be and I think we accomplished it! In the process, it also turned out to be a record to be proud of, much for the spirit in which it came together." It is also her first independent release; Gail has expressed no desire to return to a major label.

In addition to her two UK shows with Ani DiFranco, Gail Ann is expected to return to the UK for a solo London gig at the end of this year. Dorsey often cites a deep passion for the rich arrangements of Burt Bacharach, and for a long time a frequent feature of her live sets is her rendition, which in the US is fast becoming an underground classic, of his theme tune to the movie 'Alfie'.

Gail Ann plans to begin work on a new album early in 2005. More details and information can be found at www.gailanndorsey.com

From Kelly Pike Publicity.

---
DAVID BOWIE - A REALITY TOUR DVD OUT NOW!
1st November 2004



Out now worldwide is the eagerly awaited DVD release of DAVID BOWIE - A REALITY TOUR.

Recorded in Dublin in November 2003, the 30-track DVD is his first live concert film in over 15 years. 'David Bowie - A Reality Tour' is produced by Blink TV, edited by Emmy Award winner Guy Harding and the Creative Director is Marcus Viner. The DVD's 5.1 surround sound mix was engineered by Tony Visconti.

The complete tracklisting is as follows:

01. Rebel Rebel
02. New Killer Star
03. Reality
04. Fame
05. Cactus
06. Sister Midnight
07. Afraid
08. All The Young Dudes
09. Be My Wife
10. The Loneliest Guy
11. The Man Who Sold The World
12. Fantastic Voyage
13. Hallo Spaceboy
14. Sunday
15. Under Pressure
16. Life On Mars?
17. Battle For Britain (The Letter)
18. Ashes To Ashes
19. The Motel
20. Loving The Alien
21. Never Get Old
22. Changes
23. I'm Afraid Of Americans
24. "Heroes"
25. Bring Me The Disco King
26. Slip Away
27. Heathen (The Rays)
28. Five Years
29. Hang On To Yourself
30. Ziggy Stardust

Region 2 encoding (Europe, Japan, South Africa and the Middle East including Egypt) - Purchase NOW and receive a 25% discount - Our Price: £10.49.

Region 1 (U.S. and Canada only) - Buy now and receive a 25% discount - Our Price: $11.24.


---
REALITY DUAL DISC A REALITY
1st November 2004

Remember those "flipper" dual discs that went on "test market" sale in select stores in Boston and Seattle last February? Well certain titles are now available to buy. In fact you can now order DAVID BOWIE's Reality Dual Disc which is scheduled for release tomorrow 2nd November.



DualDiscs are double-sided, on one, Compact Disc compatible digital audio at 44.1kHz 16-bit and on the other, DVD-Video, with the possibility of including high-resolution DVD-Audio content. Many uninformed industry commentators claimed DualDisc would be impossible, the obstacles being disc thickness and CD patents, but both issues were overcome by a consortium of five major record labels - Sony Music, BMG, EMI, Warner Music Group and Universal - all of which have titles amongst the initial batch of thirteen.

Identical in size and looks to a Compact Disc or DVD disc, the DualDisc offers consumers the option of playing the disc in either a CD player and or DVD player. The DVD-Audio technology, which includes Advanced Resolution, multi-channel audio and the option of including video footage, still images and photos, lyrics, and Web links. The result is a product that provides the consumer with an exciting new dimension to the recorded music experience.

Statement from Sony: "Sony Music today confirmed that it has joined an effort to test a new product in two markets. The product, known as DualDisc, offers dramatically expanded capabilities beyond those of the traditional CD by combining CD audio and DVD video on a single two-sided disc. DualDisc is playable on existing CD and DVD hardware, personal computers and game consoles. The new product capitalises on the popularity of DVD by including a DVD compatible portion that can contain exclusive video footage, unique films or other video content that will help to expand the relationship between artists and their fans. In addition, the DualDisc features surround sound capabilities and web-based interactivity, and can provide maximum portability by including digital music files right on the disc. By combining music, video, interactivity and portability in a single disc, DualDisc will provide music consumers enhanced value and greater convenience."

The DualDisc packaging is similar to a standard CD jewel case, but with significant improvements. The hinge area is smaller than on a Jewel case, allowing room on the opposite side for a small lever, which opens the cover when pressed. When viewed from the front, the case has a curve on the right side that is both aesthetically pleasing and an easy visual identifier, signifying this is something more than just a CD. The dimensions are about the same as a Jewel case so it will fit in standard racks.

David Bowie: Reality Dual Disc - ORDER now!


---
LIVE AID 4 DISC DVD SET
1st November 2004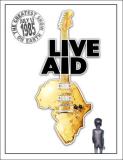 After nineteen years in the vaults, LIVE AID is to be officially released on DVD by WARNER VISION INTERNATIONAL. The 4-disc set, originally put together after Sir Bob Geldof caught a bootlegger selling pirate versions on the web, is released next week on 8th November making it the must have present for music lovers worldwide.

The DVD set will contain all the performances from the extravaganza, except Led Zeppelin's set which the band were unhappy to include. The DVD will also feature bonus footage from Sydney and Holland, Michael Buerk's historic report from Ethiopia and the videos for Band Aid's 'Do They Know It's Christmas?', USA For Africa's 'We Are The World' and DAVID BOWIE and Mick Jagger's 'Dancing In The Street'.

The remaining Led Zeppelin members Robert Plant, Jimmy Page and John Paul Jones have agreed instead to contribute proceeds from their own upcoming DVD package to the cause.

DISC 1:
01. BBC News report including Michael Buerk's report from Ethiopia
02. Band Aid 'Do They Know It's Christmas?' (video)
03. USA for Africa 'We Are The World' (video)
04. Status Quo 'Rockin' All Over the World', 'Caroline'
05. Style Council 'Internationalists', 'Walls Come Tumbling Down'
06. Boomtown Rats 'I Don't Like Mondays', 'Drag Me Down'
07. Adam Ant 'Vive Le Rock'
08. Ultravox 'Dancing With Tears In My Eyes', 'Vienna'
09. Spandau Ballet 'Only When you Leave', 'True'
10. Elvis Costello 'All You Need Is Love'
11. Nik Kershaw 'Wouldn't It Be Good'
12. Sade 'Your Love Is King'
13. Sting 'Roxanne'
14. Phil Collins 'Against All Odds'
15. Sting and Phil Collins 'Every Breath You Take'
16. Howard Jones 'Hide and Seek'
17. Bryan Ferry 'Slave to Love', 'Jealous Guy'
18. Paul Young 'Do They Know It's Christmas?' (acappella version), 'Come Back and Stay'
19. Paul Young and Alison Moyet 'That's the Way Love Is'
20. Paul Young 'Every Time You Go Away'
21. Bryan Adams 'Kids Wanna Rock', 'Summer of 69'
22. U2 'Sunday Bloody Sunday', 'Bad'

DISC 2
01. Beach Boys 'Wouldn't It Be Nice', 'Good Vibrations', 'Surfin' USA'
02. Dire Straits and Sting 'Money For Nothing'
03. Dire Straits 'Sultans of Swing'
04. George Thorogood and The Destroyers 'Madison Blues'
05. Queen 'Bohemian Rhapsody', 'Radio Gaga', 'Hammer To Fall', 'Crazy Little Thing Called Love',
'We Will Rock You', 'We Are The Champions'
06. Simple Minds 'Ghost Dancing', 'Don't You Forget About Me'
07. David Bowie 'TVC15', 'Rebel Rebel', 'Modern Love', "Heroes"
08. CBC Footage (video) 'Drive' by The Cars
09. Joan Baez 'Amazing Grace'
10. Pretenders 'Stop Your Sobbing', 'Chain Gang', 'Middle Of The Road'
11. The Who 'Love Reign O'er Me', 'Won't Get Fooled Again'
12. Kenny Loggins 'Footloose'
13. Elton John 'Bennie and The Jets', 'Rocket Man'
14. Elton John and Kiki Dee 'Don't Go Breaking My Heart'
15. Elton John and George Michael 'Don't Let The Sun Go Down On Me'

DISC 3
01. Madonna 'Holiday', 'Get Into The Groove'
02. Freddie Mercury and Brian May 'Is This The World We Created?'
03. Paul McCartney 'Let It Be'
04. Band Aid UK Finale 'Do They Know It's Christmas?'
05. Tom Petty and The Heartbreakers 'American Girl', 'Refugee'
06. Black Sabbath feat. Ozzy Osbourne 'Paranoid'
07. REO Speedwagon 'Can't Fight This Feeling', 'Roll With The Changes'
08. Crosby Stills and Nash 'Teach Your Children'
09. Judas Priest 'Living After Midnight', 'Green Manalishi'
10. The Cars 'Just What I Needed', 'Heartbreak City'
11. Neil Young 'The Needle and The Damage Done', 'Nothing is Perfect (in God's Perfect Plan)'
12. Thompson Twins, Steve Stevens, Nile Rodgers and Madonna 'Revolution'
13. Eric Clapton 'White Room', 'She's Waiting', 'Layla'
14. Phil Collins (in Philadelphia) 'In The Air Tonight'
15. Duran Duran 'Union Of The Snake', 'Save A Prayer', 'The Reflex'
16. Patti Labelle 'Imagine', 'Forever Young'

DISC 4
01. Hall and Oates 'Maneater'
02. Hall and Oates with Eddie Kendricks 'Get Ready (Cos Here I Come)'
03. Hall and Oates with Eddie Kendricks and David Ruffin 'Ain't Too Proud To Beg', 'My Girl'
04. Mick Jagger 'Just Another Night', 'Miss You'
05. Mick Jagger and Tina Turner 'State Of Shock', 'It's Only Rock 'n' Roll'
06. Bob Dylan, Keith Richards, Ron Wood 'Blowin' In The Wind'
07. USA For Africa Finale 'We Are The World'

Extras:
01. INXS - from Australia 'What You Need', 'Don't Change'
02. B.B. King from North Sea Jazz Festival 'Why I Sing The Blues', 'Don't Answer The Door',
'Rock Me Baby'
03. Ashford and Simpson with Teddy Pendergrass 'Reach Out And Touch'
04. Cliff Richard from London 'A World Of Difference'
05. Bowie and Jagger 'Dancing In The Street' (video)
06. Documentary: 'Food and Trucks and Rock 'n' Roll'

You can Purchase NOW and receive a 30% discount.


---
PASSENGER PRESS RELEASE
1st November 2004



Press Communication:
PASSENGER - A DAVID BOWIE PHOTOBOOK



On collector Mauro Luppi and publisher Daniele Pensavalle's initiative, here is a collection of photographs of David Bowie and Iggy Pop taken by Philippe Auliac in London and Paris in 1976 and 1977, published in book form for the first time.

After the American episode and the crossing of Siberia with Iggy Pop on the famous Trans-Siberian Railway, David Bowie is back in Europe under the name and guise of The Thin White Duke for the Station To Station tour. After shooting Nicolas Roeg's The Man Who Fell To Earth, he arrived in the wake of his ambiguous statements to the press. Play-acting, cocaine or delusions of "folie des grandeur". Fans are destabilized when he compares the rise of a rock star to that of a far right political leader. Philippe Auliac becomes an appointed photographer for the European part of the tour, from the first Wembley concert to the May 18th 1976 show at the Pavillon de Paris.

This book is the first edition of Philippe Auliac's work on this controversial time. The full-page pictures come in the form of a photographic account of a flexible chronology that leaves much to the reader's imagination while nonetheless leading him firmly to the show marking the disappearance of The Thin White Duke, who vanishes of his own accord. The three texts by Véronique Pintelon, Christophe Geudin and Laurence Geslin ponctuate the syncopated sequence of the pictures by each addressing the character's different aspects, whether it be his style, his appearance, his musical world or his place in the late 70s, now synonymous with the end of communal utopia.This book - whose purpose is not to add an umpteenth biographic page to all those already published on David Bowie - is an opportunity to discover a series of mostly rare and previously unpublished photographs gathered together in an album to be read, looked through and decoded.

This first publication (30th October 2004) will be issued in a limited edition of 2000 copies including an original printing autographed by the photographer.

By Elge.

Click here for more details and how to purchase yourself a copy of the the book.


---

OLDER NEWS

October | September | August | July
June | May | April | March | February | January

2003 Bowie News Archives | 2002 Bowie News Archives
2001 Bowie News Archives | 2000 Bowie News Archives
1999 Bowie News Archives | 1998 Bowie News Archives