BOWIE TV and WHAT'S REALLY HAPPENING IN FEBRUARY - MONTHLY PLANNER

[BOWIEWONDERWORLD SHOP] [LATEST DAVID BOWIE ITEMS ON eBAY]

[Get your @bowiewonderworld.com email address HERE]







Have YOU got some DAVID BOWIE related news or a hot scoop?
Well don't just sit there keeping it to yourself - send it in to
All news items are credited if you so wish

[BW POLL: FAVOURITE MALLET/BOWIE PROMO VIDEO? - VOTE HERE]



---
AND THE BITS FLEW FAR AND WIDE
26th February 2007

The North American CD and DVD releases of 'Young Americans' Special Edition and 'The Best of David Bowie 1980-1987' from EMI have been rescheduled for release on 8th May. The release date in Europe remains the same on 19th March [More details
]...

TONY VISCONTI has updated his news page with a large write up and lots of photos covering his new autobiography book and his promotional signings. Visit tonyvisconti.com website to check it out...


---
GRAB A BOWIE BARGAIN!
25th February 2007

101 are doing a pretty damn good deal on nine of DAVID BOWIE's 24-bit remastered back catalogue CDs.

For a mere £4.95 each you can grab hold of Hunky Dory, The Rise and Fall of Ziggy Stardust and The Spiders from Mars, Diamond Dogs, Aladdin Sane, Young Americans, "Heroes", Scary Monsters And Super Creeps and The Best Of David Bowie: 1969-1974 and 1974-1979 albums.


---
NEW BW POLL UNDERWAY
25th February 2007

Voting is now well underway on the latest BW poll...

The question now being asked is: 'Which is your favourite DAVID MALLET / DAVID BOWIE promotional video?'

So far, 'Ashes To Ashes' is way out in front with 35.54% , followed by 'Boys Keep Swinging' 15.26% and thirdly 'Loving The Alien' with 7.23%.



[BW POLL: FAVOURITE MALLET / BOWIE PROMO VIDEO? - VOTE HERE]




---
EXTRAS 2ND SERIES DVD RELEASE
24th February 2007



The hit UK comedy series EXTRAS series two which starred DAVID BOWIE gets released on a two-disc DVD (Region 2) on 26th March by Universal Pictures Video.

As you know, David starred as himself in programme 2 which saw him performing a new song at the piano 'Pug Nosed Face' written by himself, Ricky Dene Gervais and Stephen Merchant.

Series two saw appearances from: Orlando Bloom, David Bowie, Daniel Radcliffe, Diana Rigg, Chris Martin, Ronnie Corbett, Richard Briers, Stephen Fry, Moira Stewart, Sir Ian McKellen, Robert Lindsay, Jonathan Ross and Robert De Niro.

You can pre-order Extras - Series 2 DVD
NOW and receive a 32% discount!


---
BOREALIS vs REALITY
24th February 2007

AMONN-V2 has remixed three DAVID BOWIE tracks from the Reality album for Apple iTunes
plus one extra cover.

Borealis vs. Reality remixes 'Never Get Old (Heaven-888 Remix)', 'New Killer Star (Red Giant Beta Remix)' and 'Bring Me The Disco King (Meat Loaf Boogie Took Mix)' along with one extra cover of 'Nite Flights'.

You can check out the tracks at myspace.com/bowiemix - Download iTunes


From Damien Veen.


---
LIFE ON MARS SOUNDTRACK
21st February 2007

Released this week and currently being advertised on UK TV is the original TV soundtrack to the BBC drama Life On Mars
from Sony BMG.

The CD soundtrack inevitably features DAVID BOWIE's 'Life On Mars?', along with the DB produced and arranged 'One Of The Boys' by Mott The Hoople. Other artists featured are: T.Rex, Roxy Music, Slade, The Faces, Free and many others.


---
THIN WHITE DUKE TRIBUTE GIGS
20th February 2007

DAVID BOWIE tribute band THIN WHITE DUKE have their next gig lined up next month in Surrey.

They will be performing at the Grey Horse, Kingston-upon-Thames on Saturday 10th March. The show will start at 9:00pm and entry is £5.

Venue: The Grey Horse, 46 Richmond Road, Kingston, KT2 5EE. Tel: 0208 541 4328.

More details, information and other upcoming gigs can be found at thinwhiteduke.biz website.


---
TO BE RIGHT IN THAT PHOTOGRAPH
17th February 2007

Published today in THE DAILY TELEGRAPH supplement magazine is an interview and a large photograph of TONY VISCONTI and his family, along with DAVID BOWIE and his gorgeous girlfriend Kitty Mitchell back in 1967.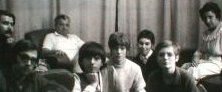 The short interview 'Tony Visconti remembers a gathering with his grumpy parents and David Bowie at his London flat. 1967'. Tony took the photograph using a self-timer and describes the event in a 'every picture tells a story' scenario.

He also talks about moving to London, Denny Cordell, meeting David for the first time and living at Haddon Hall in Beckenham.

Featured in the photograph are Tony and his then wife Siegrid, David Bowie, David's girlfriend Kitty, Tony's parents Tony and Josephine who were visiting from the US, Stan Bronstein and Myron Yules who were members of and Elephant's Memory who later went on to become the Plastic Ono Band.

Tony's brand new book The Autobiography: Bowie, Bolan and the Brooklyn Boy
is now published and available in all good book shops.


---
HEROES: A PDX TRIBUTE
15th February 2007

Taking place in Portland, Oregon, USA on 22nd February is 'Heroes': A PDX Tribute to DAVID BOWIE.

The show features: The Sorts Of's, Lael Alderman, The Ones, Jim Brunberg, The Very Foundation, Miraflores and others to be announced.

Doors open at 8pm, show kicks off at 9pm. Free admission.

Venue: The Doug Fir Lounge, 830 E. Burnside Street, Portland.

More details can be found at DougFirLounge.com website.


---
AND THE BITS FLEW FAR AND WIDE...
14th February 2007

Legendary producer and musician TONY VISCONTI is the subject of the '60 Seconds' interview feature in today's METRO newspaper - [Read here] - there is also another article in the Bromley Times [Read here]...

Released this week (12th Feb) is Mashed
- it's the first ever official release album of mash-up tracks from EMI. Track 5 is: 'David X' - David Bowie vs Liberty X...


---
TAKE A QUICK BUTCHERS...
13th February 2007

The March issue of THE WORD magazine features a two-page article 'Golden Years' which sees Nita Clarke (nee Bowes) recalling the days at DAVID BOWIE's rented home at Haddon Hall in Beckenham. There are some fabulous photographs taken from Tony Visconti's new autobiography and there is a whole page review of 'The Man Who Fell to Earth' DVD and a lovely picture from the film - (thanks to Snowdrop for the pointer)...

Today's DAILY TELEGRAPH newspaper in the UK ran a piece entitled 'It was a dog's life in the 70s' with journalist Jim White remembering the 70s along with his comments on seeing DAVID BOWIE at the Hardrock Concert Theatre in Stretford, Manchester in 1972 and tying it in with the current BBC 'Life On Mars' TV drama - [Read here]...

TONY VISCONTI has forwarded a message for BW members who attended his book signing session in London over the weekend. Scroll down to 'TV marathon book signing session' news piece below - [thanks to SweetyThang]...


---
NGAPARTJI NGAPARTJI
13th February 2007

Well you learn something new every day... The Desert is the regional focus for this year's PERTH INTERNATIONAL ARTS FESTIVAL in Australia which runs from 23rd February until 2nd March.

The Festival provides Australian indigenous communities with a platform to showcase their own culture and connect with other cultures of the world.

For example, this year, in a world first, audiences can learn the Pitjantjatjara language online through stories, songs, animations and short films, before experiencing the indigenous multi-media Festival production Ngapartji Ngapartji, which runs from 23rd February at the Playhouse Theatre, in Perth.

Pitjantjatjara is one of the Western Desert languages, spoken by around 3,000 people across the north western parts of South Australia and adjacent areas of Western Australia and the Northern Territory.

Ngapartji Ngapartji, meaning 'I Give You Something, You Give Me Something', takes its name from the Pitjantjatjara concept of reciprocity and exchange. Ngapartji Ngapartji is the true story of Trevor Jamieson and his family, that centres around the nuclear tests at Maralinga and explores the impact of Cold War politics on a small desert family from the Spinifex region.

Spanning five countries and 50 years, the production is performed in Pitjantjatjara language, as well as English, Japanese, Hazari and Greek! The performance also includes DAVID BOWIE and David Byrne songs in Pitjantjatjara.

Ngapartji Ngapartji has been directed by playwright Scott Rankin, co-founder of Big hART. Trevor Jamieson, who co-created the production, performs the lead role.

Visit http://www.ngapartji.org and the PerthFestival.com.au websites for more details and information.


---
DON'T FORGET YOUR HAT, MR. ANGIER
13th February 2007



The outfits worn by DAVID BOWIE in his excellent portrayal of NIKOLA TESLA in the movie THE PRESTIGE is on show at a new exhibition 'And the winner is' which is co-hosted by The Envelope and the Hollywood Museum.

Venue: The Hollywood Museum, 1660 N. Highland Avenue, Hollywood, CA 90028, USA.

The exhibit runs from 15th February until 1st April. Tickets are $15 for adults; $12 for seniors, children under 12.

For more information tel (323) 464-7776 or visit thehollywoodmuseum.com website.

And talking of The Prestige you can now pre-order the DVD which is scheduled for release on 12th March Region 2 DVD
and receive a massive 37% discount.

You can also pre-order the Region 1 DVD
scheduled for release on 20th February.


---
AND THE BITS FLEW FAR AND WIDE...
12th February 2007

EMI / VIRGIN are about to release a massive 5-CD box set entitled 101 80's Hits
containing the very best of their 80's catalogue. DAVID BOWIE features with two number one hits 'Let's Dance' (Disc 1) and 'Ashes To Ashes' (Disc 4). The box set is scheduled for release on 26th February...

Yes we're desperate for news... The Great Dane dog that appeared with DAVID BOWIE on his Diamond Dogs album and photographed by Terry O'Neill is one of the 2,628 entries at the Westminster Kennel Club dog show at Madison Square Garden in New York City. Westminster is a champions-only show for purebreds...

For those of you heavily into the hit UK BBC TV time travel/police drama programme 'Life On Mars' will no doubt be aware that there has been tentative, tantalising talk of a Life On Mars spin-off, following the character into the Eighties - Gene with his jacket sleeves rolled up - which, to continue the DAVID BOWIE theme, has been given the working title Ashes To Ashes...

Came across a rather unusual remix of DAVID BOWIE's 'Oh You Pretty Things' the other day. On the Remix Sunday 50 you can download and listen to (The Scar Remix) as well as quite a few other remixes that warrant a listen. Visit Palms Out Sounds blog site...


---
TV MARATHON BOOK SIGNING SESSION
12th February 2007

The TONY VISCONTI book signing on Sunday afternoon took place in London at the Corner Store in Covent Garden.

His autobiography The Autobiography: Bowie, Bolan and the Brooklyn Boy
is now published and available in all good book shops.

Visit the BW Message Board to check out what went on, who did what, who signed what, who heard what and who turned up.

Ardent reports on the BW MB: After the lengthy signing of all possible memorabilia, Tony had time for a Question and Answer session, which was fun, and he also allowed us to hear some extremely interesting rough working tracks from the Scary Monsters Sessions.

No doubt there will be plenty more postings but for now you can read Visconti Book Signing and A First Report after the Tony Visconti Book Signing

Thanks to Tony and everyone who posted about the day and especially to SweetyThang for organising and David for his photos.

Also a few days previously on Wednesday (7th Feb) Tony also did a book signing session at Harrods - check out TheLodgers fab Review and photos from the event.


Update: 13th Feb A message to BW just in from our Mr Visconti...

I am overwhelmed with the brilliant BW reports about the book signing event. I'd love to express my thanks for all the BW peeps that came to the Corner Store and a special thanks to those who travelled great distances, and those who ran to Waterstones when the books ran out. It meant a lot to me. Not for one minute was I bored. I was grateful to rest upstairs with you afterwards and continue some of the chats started downstairs. If I appeared tired, well, I was! As I've never done this before I wasn't aware of the stamina it required. But, again, it was a great day. And you, my dear, what great planning! You are simply THE BEST! It was really a perfect event. Now that I know that BWs don't bite I'll see you more often. Love, Tony.


---
NEW BW POLL UNDERWAY
11th February 2007

Voting is now well underway on the latest BW poll...

The question now being asked is: 'Which is your favourite DAVID MALLET / DAVID BOWIE promotional video?'

So far, 'Ashes To Ashes' is way out in front, followed by 'Boys Keep Swinging' and thirdly 'Loving The Alien'.



[BW POLL: FAVOURITE MALLET / BOWIE PROMO VIDEO? - VOTE HERE]




---
AND ME I'M ON A RADIO SHOW
2nd February 2007

TONY VISCONTI is appearing on FRONT ROW on BBC Radio Four this coming Monday 5th February at 19:15pm GMT. With host Mark Lawson, includes an interview with TV which reflects on his collaborations with musicians including Marc Bolan and David Bowie...

Part One of THE WHISTLE TEST YEARS documentary on 6 MUSIC Plays it Again with Bob Harris looking back at The Old Grey Whistle Test, which he presented. With interviews and music from the original TV series including DAVID BOWIE's 'Five Years'. Broadcast on BBC 6 Music at 21:30 GMT on Monday 12th February...

Check out the February Monthly Planner to see what's happening this month around the world.


---
DARK COVENANT
2nd February 2007



Welsh author and huge DAVID BOWIE fan PETER LUTHER has his first novel due for publication on Tuesday 6th February by Y Lolfa. (ISBN-10: 086243954X).

'Dark Covenant' involves a supernatural crossword, and the first clue to the crossword is Bowie related. One of his songs is then featured throughout the novel.

If you go to Peter's website @ peterluther.co.uk and click the link 'Dark Covenant' you can access the first two chapters of the book.

On page 31 you'll see the clue and the answer.

You can purchase Dark Covenant
now.



---
STARBUCKS COVERS PROJECT
2nd February 2007

STARBUCKS in a collaboration with California radio station KCRW for 'Sounds Eclectic: The Covers Project' have created a 15-track compilation CD.

The Covers Project includes M. WARD's version of DAVID BOWIE's worldwide smash 'Let's Dance'.

The disc also features performances from Flaming Lips, Radiohead, Magic Numbers, M. Ward, REM, Robert Plant, k.d. lang and Damien Rice and will be sold exclusively at select Starbucks locations starting next month on Tuesday 13th March.


---
UNSEEN THOMAS JEROME NEWTON
1st February 2007



THE DEL VALLE ARCHIVE and the DRKM. GALLERY are proud to present a collection of rare images from two contemporary masterpieces of cinema created by the late Donald Cammell and Nicolas Roeg. 'Performance' and 'The Man Who Fell to Earth'.

The 'Performance' exhibition is now showing at the DRKM Gallery in Los Angeles, with many of the photographs having never been seen by the public before, including plenty of DAVID BOWIE on the set and on location of the 'The Man Who Fell To Earth' filming.

Venue: Drkrm. Gallery, 2121 San Fernando Road, Suite 3, Los Angeles, CA 90065.
Open: Tuesday - Saturday at 11am-5pm through to 24th February. Admission is Free.
Tel: (323) 223-6867 or visit drkrm.com for more details and information.

If you can't get to the exhibition you can view the catalogue online here as well as an interview, video footage and some alien sex.


---
EXTRAS DOWN UNDER THIS MONTH
1st February 2007

DAVID BOWIE fans Down Under finally get the chance to see David appearing in the Ricky Gervais and Stephen Merchant comedy series EXTRAS this month.

This new 2nd series kicks off on 14th February, with David appearing on the second episode which airs on Wednesday 21st February on ABC Channel 2 at 9:00pm.

There's a great Gervais interview on the A.V. Club website - one of the questions posed was:

AVC: One of the funniest scenes in season two is when David Bowie writes a song about you in a bar. Did he write that himself?

RG: "He wrote the music, [but not] the lyrics. I sent him the script and I said, 'We thought maybe it could be quite retro, something off Hunky Dory, with an anthemic chorus, like 'Life On Mars.' He went, 'Oh, sure, I'll just knock off a 'Life On Mars.' And I laughed and went, 'Oh, yeah, that did sound quite insulting, didn't it?' He knew what to give us. He gave us über-Bowie. [Sings.] 'See his pug-nosed face' The crew was singing it for about a week."


---
30 CENTURY MAN AT 3 FESTIVALS
1st February 2007

The new SCOTT WALKER documentary movie directed by Stephen Kijak and featuring the executive producer DAVID BOWIE is screened at the Berlin, Glasgow and Dublin film festivals throughout this month.

Berlin 57th Film Festival
13th February: CineStar 7 at 17:00
14th February: CineStar 7 at 12:00
16th February: Colosseum 1 at 15:30
17th February: CineStar 7 at 22:30
More information and details can be found at berlinale.de website.

Glasgow Film Festival 2007
24th February: Grosvenor Cinema, Screen 1 at 11:30pm
25th February: GFT Screen 1 at 1:30pm
Tickets on sale now [More details]

The Jameson Dublin International Film Festival
18th February: IFI Screen 1 at 6:20pm
[More details]

The documentary movie looks at the influential and enigmatic musician, featuring interviews with friends and fans including David Bowie, Brian Eno, Jarvis Cocker, Radiohead, Damon Albarn, Neil Hannon, Alison Goldfrapp, Sting, Richard Hawley, Johnny Marr, Simon Raymonde, Lulu, Ute Lemper, Marc Almond and more.

The movie is due in selected theatres via Verve Pictures on 27th April and you can also check out the official UK theatrical trailer below via YouTube.






---
TONY VISCONTI BOOK SIGNINGS
1st February 2007

As you may have read last October TONY VISCONTI long-time producer and musician with DAVID BOWIE is to publish his autobiography this Monday (5th February).

There will be a book signing session taking place on Sunday 11th February at 1pm until 4:30pm at Corner Store, 33/35 Wellington Street, Covent Garden, London WC2E 7BM. [Map]

There is also a book signing session taking place at Harrods Rocks department, 2nd Floor, Harrods, 87 Brompton Road, Knightsbridge, London SW1X 7XL on Wednesday 7th February at 5:30pm



Synopsis: A name synonymous with ground-breaking music, Tony Visconti has worked with the most dynamic and influential names in pop, from T.Rex and Iggy Pop to David Bowie and U2. This is the compelling life story of the man who helped shape music history, and gives a unique, first-hand insight into life in London during the late 1960s and '70s.

Soon after abandoning his native New York to pursue his musical career in the UK, Visconti was soon in the thick of the emerging glam rock movement, launching T.Rex to commercial success and working with the then-unknown David Bowie. Since his fateful move to the land of tea and beer drunk straight from the can, Visconti has worked with such names as T.Rex, Thin Lizzy, Wings, The Boomtown Rats, Marsha Hunt, Procol Harum, and more recently Ziggy Marley, Mercury Rev, the Manic Street Preachers and Morrissey on his acclaimed new album 'Ringleader of the Tormentors'. Even Visconti's personal life betrays an existence utterly immersed in music. Married to first to Siegrid Berman, then to Mary Hopkin and later to May Pang, he counts many of the musicians and producers he has worked with as close friends and is himself a celebrated musician.

This memoir takes you on a roller-coaster journey through the glory days of pop music, when men wore sequins and pop could truly rock. Visconti's unique access to the biggest names and hottest talent, both on stage and off, for over five decades is complemented by unseen photographs from his own personal archive, and offers a glimpse at music history that few have witnessed so intimately.

You can order Tony Visconti: The Autobiography: Bowie, Bolan and the Brooklyn Boy
NOW and receive a 32% discount.

Tony is appearing on FRONT ROW on BBC Radio Four on Monday 5th February at 19:15pm GMT, with Mark Lawson, including an interview which reflects on his collaborations with musicians including Marc Bolan and David Bowie.

Thanks to Sweetythang for the book signing info and updates.


---
JEAN GENIE IN SOUTHAMPTON THIS WEEKEND
1st February 2007

DAVID BOWIE tribute band JEAN GENIE are playing The Brook, in Southampton, England this coming Saturday night (3rd February).

Tickets are available at £8. Box Office Hours - 1.00pm - 7.00pm Mon - Sat (023) 8055 5366 or via the website Buy 24 Hours.

Venue: The Brook, 466 Portswood Road, Portswood, Southampton SO17 3AN.

Jean Genie were formed in 1993 in Birmingham by John Mainwaring the lead vocalist of the band. They play all over the world and pay tribute to Bowie's music of the 70s, 80s and 90s. John has had many recording contracts with major companies under different guises and has toured with David Bowie's original band of the early 70s - The Spiders From Mars - being their vocalist. John has been produced by Bowie's producer Tony Visconti in the early 80s and worked with Jarvis Cocker of Pulp and Joe Elliott of Def Leppard. He has also had a number one hit in The Lebanon in 1990. John also performed at the ICA in London for the Ziggy Stardust show.

More details and information can be found @ The-Brook.com website.

Thanks to Aladinvein for the pointer.


---

OLDER NEWS

January
2006 Bowie News Archives
2005 Bowie News Archives | 2004 Bowie News Archives
2003 Bowie News Archives | 2002 Bowie News Archives
2001 Bowie News Archives | 2000 Bowie News Archives
1999 Bowie News Archives | 1998 Bowie News Archives