BOWIE TV and WHAT'S REALLY HAPPENING IN OCTOBER - MONTHLY PLANNER

[BOWIEWONDERWORLD SHOP] [LATEST DAVID BOWIE ITEMS ON eBAY]

[Get your @bowiewonderworld.com email address HERE]







Have YOU got some DAVID BOWIE related news or a hot scoop?
Well don't just sit there keeping it to yourself - send it in to
All news items are credited if you so wish

[BW POLL: FAVOURITE INSTRUMENTAL TRACK? - VOTE HERE]


---
THE RANKS OF THE GLAMOROUS
31st October 2006



Last night IMAN along with her husband DAVID BOWIE attended the US Glamour Women Of The Year Awards in New York City at the Carnegie Hall.

The Glamour Magazine awards, now in their 17th year, honour "gutsy female leaders in their field who inspire us all."

Also present were Catherine Zeta Jones, Sandra Bullock, Queen Latifah, Rosario Dawson and Emmy Rossum, among many others.

You can see more photos from the event by clicking on the various links below:

Getty Images / Rex / Wire Image / Yahoo!


---
DAVID BOWIE: GOD AND MAN
24th October 2006

A new publication is in the Pipeline... MARC SPITZ - not the swimmer, but the Vanity Fair and former Spin contributor - is writing a biography on DAVID BOWIE for Crown to be entitled: 'David Bowie: God And Man'.

Carrie Thornton at Crown has preempted the world rights in a mid-six-figure deal with agent James Fitzgerald.

The book will chronicle Bowie's long career, his impact on the current music scene, his evolution as both musician and businessman, and his enduring legacy.

Crown is scheduled to publish Spitz's book in the fall of 2008.


---
THE PRESTIGE TOPS US BOX OFFICE
23rd October 2006

Newly released movie THE PRESTIGE has topped the North US box office and became the highest grossing film in it's first weekend of release.

According to studio estimates issued on Sunday, 'The Prestige' sold about $14.8 million worth of tickets during its first three days.

The Prestige was released in 2,281 theatres by Walt Disney Co.'s Touchstone Pictures.


---
IN THIS AGE OF GRAND ILLUSION
19th October 2006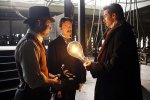 Opening tomorrow in the US is THE PRESTIGE directed by Christopher Nolan and starring DAVID BOWIE as Nikola Tesla, along with Hugh Jackman, Christian Bale, Michael Caine and Scarlett Johansson. There are reviews everywhere... below are several highlights from various sources:

Los Angeles Times: ...'Finally, however, these men care more about secrets than people, especially the secret behind a trick of Borden's called the New Transported Man that has Angier (Jakman) take a trip to Colorado to meet with real-life rogue scientist Nikola Tesla. Having this great original played by another great original, David Bowie, was a stroke of casting genius. Bowie gives an immaculate performance, using an undefinable accent to utter gnomic pronouncements to wonderful effect.' - [Read full review]

Star Tribune: ...'Angier commissions a transporting device from the maverick electrical genius Nikola Tesla (played with an air of somber wisdom by David Bowie, whose eyes snap and crackle).' - [Read full review]

St Paul Pioneer Press: ...'David Bowie has a witty cameo and the three leads are outstanding.' - [Read full review]

Tonawanda News: ...'As Tesla, Bowie's a hoot with his prim suit, stoic demeanor and Serbian accent. Andy Serkis, who played Gollum in 'The Lord of the Rings' films, injects welcome gusto and humor as Tesla's assistant.' - [Read full review]

MSNBC: ...'Jackman is a strong match for Bale, and Bowie effectively plays Tesla as if he were an indifferent alien, resigned to the unfortunate fact that mankind can tolerate only so many innovations at a time.' - [Read full review]

Arizona Daily Star: ...'Bale and Jackman are intense and passionate. David Bowie matches their efforts, entering the film at the midpoint as scientist Nikola Tesla, whose inventions could tip the balance between the two.' - [Read full review]

ABC News: ...'Add David Bowie and Michael Caine and 'The Prestige' is a very good film.' - [Read full review]

Relish Now: ...'David Bowie (the one and only), Piper Perabo, Roger Rees, W. Morgan Sheppard and a very funny Andy Serkis also lend their talents to the endeavor, each one providing a piece - or, perhaps, a red herring - to the puzzle Nolan has created.' - [Read full review]

Fox News: ...'The fact that Tesla is played by none other than David Bowie only makes his character more cool.' - [Read full review]

The world premiere of The Prestige took place last night at the World Famous El Capitan Theatre in Hollywood, California. You can view photographs from the event as well as some promo movie and interview footage.


---
BOWIE, BOLAN AND THE BROOKLYN BOY
17th October 2006

Scheduled for publication next February is TONY VISCONTI: THE AUTOBIOGRAPHY Bowie, Bolan and the Brooklyn Boy (ISBN: 0007229445).



Synopsis: A name synonymous with ground-breaking music, Tony Visconti has worked with the most dynamic and influential names in pop, from T.Rex and Iggy Pop to David Bowie and U2. This is the compelling life story of the man who helped shape music history, and gives a unique, first-hand insight into life in London during the late 1960s and '70s.

Soon after abandoning his native New York to pursue his musical career in the UK, Visconti was soon in the thick of the emerging glam rock movement, launching T.Rex to commercial success and working with the then-unknown David Bowie. Since his fateful move to the land of tea and beer drunk straight from the can, Visconti has worked with such names as T.Rex, Thin Lizzy, Wings, The Boomtown Rats, Marsha Hunt, Procol Harum, and more recently Ziggy Marley, Mercury Rev, the Manic Street Preachers and Morrissey on his acclaimed new album 'Ringleader of the Tormentors'. Even Visconti's personal life betrays an existence utterly immersed in music. Married to first to Siegrid Berman, then to Mary Hopkin and later to May Pang, he counts many of the musicians and producers he has worked with as close friends and is himself a celebrated musician.

This memoir takes you on a roller-coaster journey through the glory days of pop music, when men wore sequins and pop could truly rock. Visconti's unique access to the biggest names and hottest talent, both on stage and off, for over five decades is complemented by unseen photographs from his own personal archive, and offers a glimpse at music history that few have witnessed so intimately.

You can pre-order Tony Visconti: The Autobiography: Bowie, Bolan and the Brooklyn Boy
NOW and receive a massive 32% discount.


---
BOY YOU'RE TERRIFIC
16th October 2006



CHRISTOPHER NOLAN director of The Prestige which stars DAVID BOWIE as Nikola Tesla has been interviewed by MoviesOnline in Canada.

Q: Can you talk about casting David Bowie? Was that like a personal 'I want to work with him'?

CN: Yeah. I've been a huge fan of his ever since I was a kid and casting Tesla who has this small but pivotal role, you need somebody who immediately communicates this sort of otherworldly qualities and extraordinary charisma. I felt that any movie star, for example, doing that would be distracting in the wrong way whereas Bowie's charisma comes from a different place, a little left of center really. It was quite fascinating so to get him was very exciting. He was terrific to work with.

You can read the complete interview with Christopher Nolan via the moviesonline.ca website.

The movie released by Touchstone Pictures opens this Friday in the USA.


---
BACK TO MINE
16th October 2006

Ready for release next Monday (23rd) is Back to Mine
'a personal collection mixed for after hours grooving' from MERCURY REV.

The opening track is DAVID BOWIE's 'A New Career In A New Town'.

The full tracklisting for this compilation runs as follows:

01. A New Career In A New Town - David Bowie
02. Hotel Borg - Johan Johannsson
03. Seasons In The Sun - Terry Jacks
04. When Will You Come Home - Galaxie 500
05. I'm A Fool To Want You - Billie Holliday
06. Days Of Steam - John Cale
07. /=/=/ - Andrew Bird
08. The Grand Tour - George Jones
09. I Were A Little Star - Nicolai Dunger
10. Wrap Your Troubles In Dreams - Nico
11. Cecilia's Lunar Exposé - Mercury Rev (Exclusive Track)
12. Big City - Spacemen 3
13. Dream Baby Dream - Suicide
14. Let Me Get Close To You - Alex Chilton
15. Astral Traveling - Pharoah Sanders
16. Cast Anchor - Hanne Hukkleberg
17. Uncle Bob's Midnight Blues - Randy Newman
18. When You Wish Upon A Star - Cliff Edwards

You can purchase Back to Mine - Mercury Rev
NOW.

Thanks to John for the pointer.


---
BOWIE AT THE BEEB
15th October 2006

Tune into BBC 6 MUSIC this coming Wednesday and Thursday to listen in to 'BBC 6 Music Plays it Again' which is broadcasting a repeat of their BOWIE AT THE BEEB documentary.

Andy Peebles charts the path of David Bowie's many exclusive recording sessions for the BBC - from 1967 when he was struggling to establish his career, and 1972 when he recorded versions of songs that appeared on the Ziggy Stardust album.

Bowie At The Beeb: Part 1 on Wednesday 18th October at 21:30 GMT
Bowie At The Beeb: Part 2 on Thursday 19th October at 21:30 GMT

You can listen in online from anywhere in the world via the bbc.co.uk website.


---
THE UNSEEN DAVID BOWIE
15th October 2006

OBJECTIVE NORTH is currently developing an idea for a television programme called THE UNSEEN DAVID BOWIE.

The basic idea for the programme is to combine rare archive footage of David Bowie along with interview footage of music journalists and experts into a one hour show. In order for the programme to work though we need some genuinely unseen footage. By unseen we mean footage that has never been broadcast on television in the UK.

This is where we are hoping the fans of David Bowie might be able to help. Do you have any footage of Bowie that you believe to be unique, something that you own the copyright to? Be it backstage footage, performance footage or actuality, if you shot it then we are interested. If so please contact me at

We would be willing to pay a fee for any footage used and this is negotiable, also all footage suppliers will be credited at the end of the programme. Please be aware though we are only able to pay a fee to the copyright holder.

We are also interested in any still images you might have as well as moving footage. Again we would be willing to pay a fee should we use them in the programme.

Please contact me if you have any questions. Even if you don't have any footage that suits our purposes but you know of someone who does then we would love to hear from them or you.

Many thanks Joel @ Objective North.


---
THE GREATEST LIVING CULTURAL ICON IN THE UK
14th October 2006

UK's BBC2 programme THE CULTURE SHOW presents Living Icons, a quest to discover who you consider to be the greatest British cultural icon alive today.

The voting has now started - let's make sure that DAVID BOWIE deservably wins this accolade.

To nominate David as your favourite icon, you can either send an email or Text ICON followed by David Bowie to 83199. Texts charged at your standard rate.



VOTE FOR DAVID BOWIE HERE



You are permitted only one nomination per email or one nomination per text. Nominations open at 7.25pm on Saturday 14th October 2006 and close at midday on Monday 30th October 2006.

Once the nominations have been collated a shortlist of the Top 10 icons will be drawn up and voting will commence from 7.30pm on Saturday 11th November 2006.

The voting process: The voting will be structured in the following stages:

Saturday 11th November 2006 - The Top 10 most popular icons drawn up from the nominations will be announced on their website and on BBC Two's The Culture Show from 7.30pm. Voting to decide the Top 3 commences.
Monday 27th November 2006 - Voting closes at midday.
Saturday 2nd December 2006 - The Top 3 icons are announced on the BBC website and on BBC Two's The Culture Show from 7.30pm. Voting to decide the winner commences.
Monday 11th December 2006 - Voting closes at midday.
Saturday 16th December 2006 - The winner of Living Icons is announced on the website and on BBC Two's The Culture Show from 7.30pm.

More details and information can be found at bbc.co.uk/cultureshow


---
INSPIRATIONAL BOWIE
14th October 2006

BBC RADIO TWO are currently making the programme 'Inspirational Bowie' which will be broadcast on Saturday 6th January 2007 at 9:00pm.

The one-hour documentary to tie in with David's 60th birthday, will contain various contributions from other artists who have been influenced by David such as: Brett Anderson, The Dandy Warhols, Annie Lennox, New Order, Moby, Elbow, Boy George, Simple Minds, Marc Almond and many others.


---
ZIGGY STARDUST FINE ART PRINT
11th October 2006



ST. PAUL'S GALLERY are a publishing company based in the UK and have just produced under license a fine art limited edition print of the 'The Rise and Fall of Ziggy Stardust and The Spiders from Mars' album cover.

It was produced from the original artwork with the involvement of both Henry Wrenn-Meleck and DAVID BOWIE himself. There are only 195 prints available worldwide and each one is signed in pencil by David and Terry Pastor - the artwork creator who worked for George Underwood's company Main Artery.

Ziggy Stardust - Pencil Signed By David Bowie and Terry Pastor
Medium: Screenprint and Giclee on Somerset Velvet Enhanced, 330 gsm
Artist: Terry Pastor
Date: 1972. Published 2006.
Signed By: David Bowie and Terry Pastor in Pencil
Edition: 95 World Wide
Atelier: Kaleidoscope, UK
Dimensions: Print size 28" x 27", Image size 19" x 19"

Visit the St Pauls Gallery website to order and view other fine art publications with Pink Floyd, Led Zeppelin, The Who and many more.

From Symon Bland.


---
THE VENTURE BROS
10th October 2006



Characterisations of DAVID BOWIE, Iggy Pop and Klaus Nomi appear in The Venture Bros episode 'Showdown at Cremation Creek (Part I)'.

According to the veronic-mars.tvsquad.com website... 'David Bowie (voiced by James Urbaniak, I'm pretty sure) popping up with his posse (Iggy Pop and Klaus Nomi) was absolutely hysterical. After the numerous Bowie references throughout The Venture Bros. (example: Brisby's panda belonged to Bowie), it was high time for an appearance from the man himself. He was there to give away Dr. Girlfriend, which was kind of surprising. The wedding started quite smoothly, with Henry Killinger performing the ceremony and 21 and 24 doing musical duties'.

More details, links and information can be found at the veronica-mats.tvspaquad.com website.


---
TAKE A QUICK BUTCHERS...
7th October 2006

DAVID BOWIE has landed a character part in none other than Nickelodeon's hit cartoon SPONGEBOB SQUAREPANTS cartoon series. His character - Lord Royal Highness - appears in this half hour special which will air in around June/July 2007...

Yorkshire-born crooner TONY CHRISTIE is about to release a new album of new material after a near thirty year wait. Included on the album is a cover of DAVID BOWIE's classic Life On Mars? The album entitled 'Simply In Love' is released on 6th November via Gut Records...

Just in case you haven't seen it yet - check out the official website for the forthcoming THE PRESTIGE movie which stars DAVID BOWIE as Nikola Tesla...


---
BOWIE TICKETS ON SALE NOW
4th October 2006

As you are no doubt aware that DAVID BOWIE is to perform next month for the 'Keep A Child Alive' charity in New York City.

This very special evening will take place at Hammerstein Ballroom in New York City on Thursday, 9th November. The evening will entail a cocktail hour, seated dinner, photo exhibit and silent auction.

The hallmark of the night will be extraordinary live performances by Alicia Keys, David Bowie, Angelique Kidjo, and more exciting artists.

This event is honoring Richard D. Beckman, president of Condé Nast Media Group; Partners in Health; and Carol Dyantyl of Ikageng Ministries in Soweto, South Africa.

Keep A Child Alive is an urgent response to the AIDS pandemic ravaging Africa. With 25 million already dead, the disease continues, wiping out whole societies, threatening economic infrastructure and devastating family structure.

Tickets for this event are on sale now via Ticketmaster. Pre-Concert Cocktail Party and Concert: $500 each - Doors open at 8:00pm. Concert: $250 each - Doors open at 8:30pm.


---
NEW BW POLL UNDERWAY
2nd October 2006

Voting has now begun on the latest BW poll...

The question now being asked is: 'Which is your favourite DAVID BOWIE instrumental track?'...



[BW POLL: FAVOURITE INSTRUMENTAL TRACK? - VOTE HERE]




---
BOWIE: THE BERLIN TRILOGY DVD
1st October 2006



Update: More details have now have emerged of the forthcoming DVD release DAVID BOWIE - Under Review 1976-79 The Berlin Trilogy that was mentioned on here at the beginning of the month...

David Bowie - Under Review 1976-79 The Berlin Trilogy (DVD)
Additional Information Includes Rare Performance Footage Never Seen Before On DVD.
Format DVD Region 2
# Discs/Units 1
Release Date 9/11/2006 by Nova Sales and Distribution
Catalogue Number SIDVD512

Synopsis: By the mid 1970s David Bowie was the biggest pop star in the UK, but his personal life was in turmoil. In a bid to escape the chaos of his drug problems and to flea from the media spotlight, the singer eventually found his way to Berlin, where he started to work on what would become some of the most memorable and critically lauded recordings of his entire career.

With Low, "Heroes" and Lodger, Bowie stopped moving from persona to persona as he had previously done, settling instead on being simply himself. He began to blend the music he was hearing in his adopted homeland (Krautrock, Kraftwerk) with thrilling and often avant-garde methodologies as used by his friend and colleague Brian Eno.

David Bowie - Under Review 1976 - 1979: The Berlin Trilogy features live and studio performances by Bowie, rare interviews, and a host of other features, all interspersed with independent review and criticism from a panel of esteemed experts. These include; former members of both Neu! and Cluster (and key Bowie influences), Dieter Moebius and Michael Rother; broadcaster, journalist and ambient author of The Ambient Century, Mark Prendergast; ex-Melody Maker/Mojo scribe and Reviews Editor at Wire, David Stubbs; music expert and author Daryl Easlea; style aficionado, Paolo Hewitt amongst others.

Extras include: Extended Interviews, Special feature, 'Bowie After Berlin', Interactive digital David Bowie quiz, Beyond DVD section and more.

You can Order NOW
RRP: £12.99. Our Price: £9.74. You Save: 25%.


---
DAVID TO PERFORM FOR KCA NEXT MONTH
1st October 2006




BowieNet have announced that DAVID BOWIE is to perform "a couple of songs" for the Keep A Child Alive (KCA) Annual Black Ball to be held on Thursday 9th November at the Hammerstein Ballroom in New York City.

The evening will be co-hosted by the Global Ambassador for Keep A Child Alive IMAN and ALICIA KEYS.

David and Iman both appear on the forthcoming poster campaign for the charity, which gives the message: I am African. Help us to stop the dying. Pay for lifesaving AIDS drugs that can keep a child, a mother, a father, a family alive. Visit keepachildalive.org to help.

The list of celebrities that appear so far in the Keep A Child Alive poster campaign, who were all photographed by Michael Thompson are: David Bowie, Iman, Alicia Keys, Gisele Bundchen, Liv Tyler, Alan Cumming, Tyson Beckford, Mischa Barton, Lucy Liu, Elizabeth Hurley, Lenny Kravitz, Elijah Wood, Gwenyth Paltrow, Heidi Klum and Seal, Richard Gere and Sarah Jessica Parker.

Please visit keepachildalove.org website for more details and how you can help this worthy cause.


---

OLDER NEWS

September | August
July | June | May | April | March | February | January

2005 Bowie News Archives | 2004 Bowie News Archives
2003 Bowie News Archives | 2002 Bowie News Archives
2001 Bowie News Archives | 2000 Bowie News Archives
1999 Bowie News Archives | 1998 Bowie News Archives