BOWIE TV and WHAT'S REALLY HAPPENING IN AUGUST - MONTHLY PLANNER

[ BOWIEWONDERWORLD SHOP ] [ LATEST DAVID BOWIE ITEMS ON eBAY ]

[ Get your @bowiewonderworld.com email address HERE sponsored by Everyone.net
]







Have YOU got some DAVID BOWIE related news or a hot scoop?
Well don't just sit there keeping it to yourself - send it in to
All news items are credited if you so wish

[ BW POLL: FAVOURITE ALBUM COVER ARTWORK? - VOTE HERE ]


---
STOP THE WORLD: IT'S ANTHONY NEWLEY
26th August 2006

Next month DAVID BOWIE appears on the BBC Radio Two documentary 'Stop The World: It's Anthony Newley'.

Jonathan Ross marks the 75th birthday (on 24th September) of Anthony Newley, a man who had a mixture of talents: actor, singer, songwriter, recording star, musical star of the West End and Broadway and film star.

In this special series, Jonathan delves into the complex life and career of the legendary British entertainer who died in 1999. Newley fan Ross reveals his own passion for the boy from Hackney in the East End of London, who earned fame and fortune around the world. Despite his many accomplishments, however, Newley was strangely dissatisfied with his life.

Jonathan says: "For the next four weeks on Radio 2, we're celebrating the career of a man who I think was a genius. So take your seats for Stop The World - It's Anthony Newley."

The series includes a never-before-broadcast interview with Newley and rare recordings from across his career. Among those taking part in the series, sharing their insights into the man and his music, are: Newley fan David Bowie; songwriting partner Leslie Bricusse; second wife Joan Collins; son Sacha Newley; musical director Ian Fraser; choreographer Gillian Lynne; actress Anna Quayle; songwriter Don Black; theatre producer Bill Kenwright; manager Peter Charlesworth; biographer Garth Bardsley; Oscar-winning writer Julian Fellowes; and singer and Radio 2 presenter Elaine Paige.

The first programme is entitled Pop Star and celebrates Newley's 139 weeks in the UK charts in the late Fifties and early Sixties. His hits included two No. 1 records, Why? and Do You Mind?, and re-workings of folk songs such as Strawberry Fair and Pop Goes The Weasel.

The series climaxes in a special edition of Friday Night Is Music Night on 22nd September, presented by Michael Ball, showcasing all the songs and music strongly associated with Anthony Newley.

Thanks to JackieC for the pointer.


---
OH IT'S THE ANIMAL IN ME
24th August 2006

Over on the San Francisco Chronicle newspaper website SF band MUSIC FOR ANIMALS were interviewed for an article. One particular question asked was:

Q: If you could collaborate on a song with any person, living or dead, who would that be?

A: David Byrne, DAVID BOWIE. Both those guys understood how to surpass genres and just make music that made them feel good. Bowie is one of the most diverse pop-rock-front-man-whatevers that there has ever been and we think that's one of best attributes a band or musician can have. Byrne as well is a master of diversity. He can write a song like 'Once in a Lifetime', which has elements of humor but overall has meaningful commentary about life itself. They're both crazy musicians with amazing voices.

You can read the full interview @ San Francisco Chronicle website.


---
CHECK OUT HUTCH IN LONDON
20th August 2006

Reminder: Don't forget that next week in London JOHN HUTCHINSON will be performing as special guest with his daughter Hayley at the Whitechapel on Friday 25th August.

Hayley Hutchinson's debut album 'Independently Blue' is a collection of hook-laden roots, country folk and bluesy pop and was released to critical acclaim in 2005.

Hayley's debut single, 'Here's The Love', was the Guardian's Single Of The Week and alongside the second single 'Independently Blue', both tracks were playlisted at BBC Radio 2.

Former DAVID BOWIE band member John Hutchinson (Hutch) will accompany his daughter Hayley for this performance. Hutch first found success in 60's Gothenburg with a solo hit single 'It Ain't Me Babe' (Bob Dylan song) and where the Swedes called him 'Sweden's Donovan'.

On his return to England in 1966 Hutch met by chance a then unknown David Bowie, who asked Hutch to join 'David Bowie and the Buzz' in a residency at the legendary Marquee Club. Hutch later joined Bowie to make the original recorded version of 'Space Oddity'. In 1973 David called upon Hutch again to join his 'Spiders from Mars' as 12-string guitarist for his 'Aladdin Sane' tours in USA, Japan and the UK.

Check out hayleyhutchinson.net for more details.

Ticket Information: Hayley Hutchinson with special guest John Hutchinson, supported by Vita Ross play live in the Whitechapel Café Bar on Friday 25th August 7:00pm - 11pm.

Whitechapel Gallery, Angel Alley Entrance, 80-82 Whitechapel High St, London E1. (Aldgate East tube station).

Book now - visit whitechapel.org or call +44 (0)20 7522 7888. Admision only £5/4 concessions.


---
JOE MEEK LOST ARCHIVE UNEARTHED
20th August 2006

A treasure trove of unheard songs from legendary producer JOE MEEK has been unearthed which includes several songs from DAVID BOWIE.

Producer Joe Meek, a volatile genius who shaped some of the biggest chart hits of the early Sixties with stars such as David Bowie, Rod Stewart, Status Quo and Tom Jones passing through the doors of his studio. The cache, known as the "tea chest tapes", includes master recordings of many of the string of number one hits he created, as well as unheard sessions which never saw the light of day.

But fans of the charismatic record producer are now concerned that the uncatalogued boxes of 10 inch reels are simply rotting away as they oxidise and age. With the approach of the 40th anniversary of Meek's death, fans and artists who appear on the tapes are demanding the recordings are properly preserved to protect his legacy.

Meek, who played no instruments himself but had a brilliant ear for sound, built up his ramshackle studio in a split-level flat at 304 Holloway Road, North London. His unconventional recording methods became the stuff of legend as he sought to create new effects. He would record vocals in the toilet, or put the string section on the stairs, to create the right sound, twist screws that weren't meant to be touched on the mixing desk and bash tacks into the hammers of his piano to alter its sound.

In February 1967, long after his hits had dried up, he committed suicide, moments after murdering his landlady. His equipment was sold off to pay his debts and a huge cache of tapes was sold to businessman Cliff Cooper - who had performed in a Meek band, The Millionaires - on the proviso that he held them for the study of the producer's methods.

Mr Cooper has held on to the collection ever since, but many Meek fans are now angry that the tapes - said to include sessions featuring Bowie, Jones and Stewart, as well as thousands of hours of unheard recordings - are crumbling away. Campaigners say if work is done now they can be preserved.

Mr Cooper told The Independent on Sunday: "I do feel guilty that this has gone on for so long but I was advised that it could be a litigation nightmare. I would love to do something with them. I intend to over the next few weeks."

You can read the whole article @ Independent.co.uk web site.


---
BOWIE AND ME IS BACK!
20th August 2006

You might remember quite a while back viewing an online comic entitled BOWIE AND ME by Matthew Haddon-Brown and Daniel North. Well you might very well be pleased to hear that 'Bowie and Me' has returned.

Episode 7 'Heroes' is now available for your viewing pleasure at beertarot.com

We left our heroes in the grip of an earth shattering alien invasion, thus providing the answer to Bowie's inquisitive question as to whether there is life on Mars? Click on the link above to find the horrifying truth of it all! Will earth survive the advancing menace of the heat ray and the toxic ooze of the red weed? Will Matthew ever get his book published and will David ever stay in the same costume for more than five minutes?

You're just a couple of clicks away from all these answers and more!

From Matthew Haddon-Brown


---
TAKE A QUICK BUTCHERS...
19th August 2006

Last Thursday evening (17th) DAVID BOWIE checked out GNARLS BARKLEY who was performing at the Central Park SummerStage benefit concert in New York City. You can view several photographs of David arriving at the venue by clicking here courtesy of P-Lo via Nunez...

There is a special new edition of the DAVID BOWIE album Heathen that has been issued by German News Magazine 'Der Spiegel', hence the name 'Spiegel Edition'. The vinyl edition contains the same tracks, but nicely repacked and the disc itself is made like a little vinyl record - from Chakora. If you're after a copy of this new edition of Heathen it can be purchased online via the BW Shop - find the lion.cc store on the right hand side...


---
NEW SPIDERS ON MARS GLASGOW GIGS
19th August 2006

The DAVID BOWIE tribute band SPIDERS ON MARS have several forthcoming gigs lined up in Glasgow in September and October.

After an unforgettable night a few weeks ago, they're back at The Halt Bar - by genuine public demand!!!! Saturday 9th September will be a belter.

Next, could be even better, (bearing in mind it was a full bar 'record takings' night at the bar last time and even Nicky was impressed!) - McChuill's in High Street on Saturday 30th September and they'll be on at 8:30 sharp with a 2+ hour set! A great venue with the band putting on the full show (This gig will be filmed for inclusion in a TV documentary).

After that you can catch them playing on 'home turf' at Bar Bia in West Regent Street on Saturday 7th October. It's where the band hang out and also band manager Lee's place so no ripping the place apart and no lock-ins!!

Finally, watch this space - the band are due to announce a major show in Glasgow or find out more by visiting spidersonmars.co.uk

From Billy.


---
DAVID TO PERFORM FOR KCA IN NOVEMBER
15th August 2006




BowieNet have announced that DAVID BOWIE is to perform "a couple of songs" for the Keep A Child Alive (KCA) Annual Black Ball to be held on Thursday 9th November at the Hammerstein Ballroom in New York City.

The evening will be co-hosted by the Global Ambassador for Keep A Child Alive IMAN and ALICIA KEYS.

David and Iman both appear on the forthcoming poster campaign for the charity, which gives the message: I am African. Help us to stop the dying. Pay for lifesaving AIDS drugs that can keep a child, a mother, a father, a family alive. Visit keepachildalive.org to help.

The list of celebrities that appear so far in the Keep A Child Alive poster campaign, who were all photographed by Michael Thompson are: David Bowie, Iman, Alicia Keys, Gisele Bundchen, Liv Tyler, Alan Cumming, Tyson Beckford, Mischa Barton, Lucy Liu, Elizabeth Hurley, Lenny Kravitz, Elijah Wood, Gwenyth Paltrow, Heidi Klum and Seal, Richard Gere and Sarah Jessica Parker.

Please visit keepachildalove.org website for more details and how you can help this worthy cause.


---
HAPPY 6th BIRTHDAY TO ALEXANDRIA!!!
15th August 2006



Happy 6th Birthday Alexandria!
Have a wonderfully happy day!

Best wishes and lots of love from
Paul, Dawn, Michael and Jade xxxx
and everyone on Wonderworld



---
VISIT THE BW FORUM
11th August 2006

For the next few days please could check the BowieWonderworld Message Board for DAVID BOWIE news, information and updates.



BowieWonderworld Message Board



Many thanks Paul (aka Rednik)


---
DB's DB TRIBUTE IN MI
10th August 2006

DAVID BRIGHTON's Tribute to DAVID BOWIE sees him perform on August 15th - 27th at The Mackinaw Theater.

(David and Paul will be appearing with the British Invasion Show - Live Tributes to David Bowie, Elton John and Rod Stewart).

Address: 220 S Huron Avenue, Mackinaw City, MI 49769, US.
Show times: 3:00pm and 7:30pm daily
Box Office: Toll-Free: 877-43-STAGE (78243). Phone: 231-436-2200
Website: mackinawtheater.com

Tickets available at ticketmaster website.

More details can be found at DavidBowieTribute.com and MySpace.com/davidbowietribute

From David Brighton


---
BERLIN BROMLEY BY BERTIE
6th August 2006

Recently published by SAF Books is 'Berlin Bromley' by BERTIE MARSHALL - JBK emailed in to say he's just finished reading this great new book. There are loads of references to DAVID BOWIE in there and some interesting stuff about the scene back in the late Seventies and Eighties. It's very funny and also quite near the knuckle in places.

Author Bertie moved into the house a few doors up from Bowie and there a couple of funny accounts of meeting Mrs Jones and also there is a strange tale of Bertie/Berlin, Bowie and an eel in a bucket. Loads of stuff about Siouxsie and the Sex Pistols and the whole London punk scene.

If you became a teenager in the late 70s or early 80s you will love this book. It's a great read. I read it last night in one sitting.

You can purchase Berlin Bromley
now and receive a 34% discount!


---
THE RETURN OF THE THIN WHITE DUKE
6th August 2006

The next gig for the DAVID BOWIE tribute band THE THIN WHITE DUKE is a return visit to the The Ship Inn pub in East Grinstead, East Sussex, England on Saturday 19th August. Entry is free with the music kicking off around 9pm.

Other gigs lined up are as follows:

Sep 3rd: Goldsmith's Arms, Penge, Kent, England
Sep 30th: Rose and Crown, Crawley, West Sussex, England
Oct 28th: White Knight, Crawley, West Sussex, England
Nov 17th: Red Deer, Croydon, Surrey, England
Dec 9th: White Knight, Crawley, West Sussex, England

Head on over to thinwhiteduke.biz for more details and directions.

From Scott


---
ZIGGY STARDUST REPRISE!
6th August 2006

Due to 'popular demand' LEISURE have decided to do an encore performance of the ZIGGY STARDUST show! But this is the last time. It's slated for August 11th at the Southgate House.

We're adding some new songs to the non-album song list, and we've recruited additional musicians on keyboards and sax/flute to re-create the sound of the album as faithfully as possible.

We've scoured the local Goodwill stores for the most glamtastic clothing we could find and we'll perform the show (which includes almost 15 other Bowie classics thrown in for good measure) just once more before retiring Ziggy for good.

We'd absolutely love for other fans to come out and enjoy the show. The best result of the previous show was finding out about young people (who'd never previously heard the album) going out and buying it after seeing our performance.

Come love the alien before he's whisked back into the stars. Also, we're thrilled to have Jason Arbenz (Goose) and Wake the Bear opening for this final Ziggy event.

Where: Southgate House, 24 E 3rd St, Newport, Kentucky, KY 41071
When: Friday, August 11; doors at 8:30
Who: Leisure, plus opening acts Jason Arbenz and Wake The Bear
How much: $5. Ages 21+

Check out leisureband.com for audio and pictures from the Ziggy show in January 2006, or to contact us with any questions.

From Mark Griffin


---
BLACK HOLE KIDS
5th August 2006

DAVID BOWIE checked out English band MUSE on Thursday night (3rd) at the Hammerstein Ballroom in New York City.

David seemed really into the music - bopping his sneakered feet to the beat. He gracefully ignored the wasted girl screaming out "Ground control to Major Tom!"

Two gig-goers Chris and Shaun wrote in their blog Whiskey for the Monkey 'So we're over by the side, and I'm looking at the seats that are about 12 feet away from us, and there's this guy sitting there - baggy corduroy pants, Pony sneakers, and a sweatjacket, which is kind of weird because it's the middle of Summer in NYC, right? And DAMN if he doesn't look like David Bowie.

So we start staring at him. He starts staring back. We use the Super Sean Computer Phone to look at pictures of Bowie for comparison. We keeps looking. He keeps staring back. Finally, Sean whips out his subtle array of facial expressions: the "hey, are you who I think you are" look. We are rewarded with Bowie's own use of the resigned "yes, you caught me. Thanks for noticing. Now bugger off and let me enjoy the show please." We cheer, the lights go down, and the show starts. Bowie looked like he was smiling.

You might recall a while back that David popped into the studio to listen to Muse recording their latest album 'Black Holes And Revelations' in New York.

Lead singer/guitarists Matt Bellamy said: "We played him a few tracks. He liked 'Invincible'. We were going to ask him to play on it but I bottled out."

Coincidentially, David wrote a "fascinating" song called 'Black Hole Kids' back in the Ziggy days, which was one of six unfinished tracks which unfortunately have never seen the light of day.


---
THE BOWIE ROOM
5th August 2006

THE BOWIE ROOM need a percussionist or percussionist/musician or musician/percussionist to complete line up.

We are an unpluggedish band based in Manchester, England. The plan is to gig probably twice a month and to perform Bowie of course 70's to 80's Roxy, Pop n' Reed.

Age irrelevant, you just gotta dig this groove. Don't be shy, you may just be who we need, or maybe you know of someone? More details? Please email me at or

From Nick @ TheBowieRoom.


---
SO SURE YOU'D HIT THE ROOF
4th August 2006



Last Wednesday (2nd) DAVID BOWIE was present at the Hugo Boss sponsored Interview magazine party held on the rooftop at 610 W. 26th St in New York City.

The Private Rooftop Concert Series with guest band ARCKID to help celebrate the magazine's music issue saw a whole host of guests including: Steven Tyler, Liv Tyler, Bebe Buell, Ingrid Sischy, Todd Rundgren, Damien Fahey, Bob Gruen and Donna Karan.

Arckid, which consists of Antony Langdon, Royston Langdon, Christian Langdon and Jonny Cragg. All of them have been in various bands over the years. Spacehog, Kid Symphony, Cube to mention but a few.

So far they have recorded eight songs with Bryce Goggin at Trout Studios in Brooklyn who Spacehog worked with on Resident Alien and The Chinese Album. So a new chapter in the story of The Langdon's and the first chapter for Arckid.


---
LATEST BW POLL ONLINE
1st August 2006

Check out the results so far in the current BW poll that's now well underway... What is your favourite DAVID BOWIE album cover artwork?

No change in the top five positions and still in the lead is 'Aladdin Sane' followed closely by 'Diamond Dogs'.

The top five positions so far are as follows:

1. Aladdin Sane
2. Diamond Dogs
3. Low
4. Heathen
5. Scary Monsters (And Super Creeps)

Have your say and [VOTE HERE] for your favourite David Bowie album artwork.


---
THE COMPLETE DAVID BOWIE: LAUNCH EVENT
1st August 2006

Reminder: Publishers REYNOLDS & HEARN LTD are pleased to announce a signing and launch party for THE COMPLETE DAVID BOWIE Revised and Expanded Fourth Edition by NICHOLAS PEGG on Saturday 5th August 2006 at 2.00 pm till 6.00 pm.

In the basement room at: The Corner Store, 33 Wellington Street, Covent Garden, London WC2E 7BN.

Nearest tube stations: Covent Garden (Piccadilly Line), Leicester Square (Northern and Piccadilly Lines), Temple (Circle and District Lines).

Directions: The Corner Store is on Wellington Street, on the same side and just a few doors up from the Lyceum Theatre (where 'The Lion King' is playing).

Admission is free. The book will be available to buy, and the author will be in attendance to sign copies.

The bar will be open of course, and there's even a (very tiny!) dance floor, so feel free to pop in for a drink, a chat and a boogie. You can guess what the music will be!

We hope to see you there! With best wishes Reynolds & Hearn Ltd.


---
SPACE ODDITY SPECIAL THEATRE TRIBUTE
1st August 2006

Reminder: Don't forget that SPACE ODDITY - David Brighton's Tribute To David Bowie have a special theatre show coming up this weekend on Saturday August 5th at the Orange County Pavilion, 801 N. Main St, Santa Ana, CA 92701 USA.

Doors open: 5:00pm, with Showtime at: 8:00pm.

Ticket prices are: Theatre $25 / Balcony $30 / Orchestra table $35 / Orchestra booth $35.

Telephone for Tickets on: 714-.550-0550.

For a reservation at Ambrosia, the OC Pavilion's 5 star restaurant, call 714-550-0811.

More details and information can be found at DavidBowieTribute.com

From David Brighton.


---
STARMAN DVD SPECIAL EDITION
1st August 2006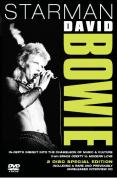 The recently released DVD DAVID BOWIE: Starman - Special Edition includes a bonus CD and a 32-page booklet, the DVD provides an in-depth insight into his music and culture.

Press Release: Bowie is simply one of the world's most dynamic stars; he has dared to stretch musical boundaries further than ever before and through his stylish, sometimes flamboyant, dress code this genius has set himself apart from his peers.

Through these incredibly frank and entertaining programmes we discover the reasons and effects of Bowie's actions. Using candid interview footage with Bowie himself, his wife Iman, and friends and contemporaries such as Iggy Pop, Brian Eno and Eric Idle, we give you a rare insight into Bowie - an iconic figure without equal on the world stage. The numerous musical clips spanning the decades between 1969 and 2002, together with rare family photos, serve to illustrate the invention and drive of an artist who has been at the top of his profession for forty years and counting.

To compliment the collection, a fabulous audio CD presents further exclusive interviews revealing Bowie in a whole new, relaxed light. The answers to the questions provide an enlightening perspective on the life of an unique performer... essentially, in car entertainment at its unbeatable best, an unparalleld opportunity to listen and learn more about one of the world's most enduring talents.

Technical Details: Fullscreen 4:3 / Languages English - Dolby (2.0) Stereo / Region 2.

You can purchase NOW via Play.com website and save 23%.

(Ed. This DVD is the excellent A&E documenary release).


---

OLDER NEWS

July | June | May | April | March | February | January
2005 Bowie News Archives | 2004 Bowie News Archives
2003 Bowie News Archives | 2002 Bowie News Archives
2001 Bowie News Archives | 2000 Bowie News Archives
1999 Bowie News Archives | 1998 Bowie News Archives