BOWIE TV and WHAT'S REALLY HAPPENING IN MAY - MONTHLY PLANNER

[ BOWIEWONDERWORLD SHOP ] [ LATEST DAVID BOWIE ITEMS ON eBAY ]

[ Get your @bowiewonderworld.com email address HERE sponsored by Everyone.net
]

[ BW POLL: FAVOURITE CLOSING BOWIE TRACK? - VOTE HERE ]

Have YOU got some DAVID BOWIE related news or a hot scoop?
Well don't just sit there keeping it to yourself - send it in to
All news items are credited if you so wish


---
DAVID LIVE AT THE ROYAL ABERT
30th May 2006

DAVID BOWIE made a surprise live appearance in London last night at the Royal Albert Hall as a special guest of DAVID GILMOUR.

David appeared during the last two encores and received a standing ovation before performing the Pink Floyd songs 'Arnold Layne' and 'Comfortably Numb'.

BowieNet: DB Surprise Guest at London Gilmour Gig (Plus Photos)
NME: David Bowie makes surprise appearance in London
BBC News: Bowie surprise at Gilmour concert
TimesOnline: David Gilmour at the Albert Hall
Newswire.co.nz: Bowie Surprises With Gig Appearance

A very surprised BWer Tony P emailed in to say:

I just got back from seeing David Gilmour at the Royal Albert Hall this evening. I was surprised and delighted, and slightly disbelieving, when - two numbers before the end - Gilmour announced "I'd like to invite Mr David Bowie onstage to sing a song."

Mr. Bowie did indeed take the stage before the band launched into the intro to 'Arnold Layne'! What a treat! David sang lead vocal for the whole number which, as I'm sure you are aware, was Pink Floyd's first ever single!

This was followed by 'Comfortably Numb', with the vocal duties shared between the two David's (Bowie and Gilmour). That was the final number of the evening and my wife and I left the Albert Hall suitably dazed, gobsmacked, stunned, etc, etc, the two of us being mega Bowie fans (since 1972) even more than we are Pink Floyd fans (though it's a close call).


---
HAPPY BIRTHDAY DUNCAN!
30th May 2006



Wishing you a very Happy 35th Birthday!

Have a great day and I hope you get everything you ever wish for

Best wishes from

Paul - aka 'Rednik' and everyone at Wonderworld




---
MESSAGE FROM THE ACTION MAN
28th May 2006





Commercial Sculptor ADAM BEANE is the man responsible for the latest action figure set from Plan B Toys namely 'Jareth' aka DAVID BOWIE from the 1986 movie Labyrinth.

Bowie fan, Adam is reponsible for the first ever Bowie-approved and licensed sculpted likeness of the man himself and he has been commissioned to do others, so keep your eye out.

The action figure will be available through comic stores nationwide and online through DiamondSelect plus others. At present there is no date finalised for the release of the figure or the cost of the piece.

The photographs you can view here are from the original unpainted sculpture, the painted production piece can look pretty different.

You can see more of Adam's work at adambeane.com

From Adam Beane


---
WE SHOULD BE ON BY NOW
27th May 2006


STEVEN SPRATT is to appear as the real DAVID BOWIE (aka Ziggy Stardust) in a brand new six-part comedy show titled 'Time Trumpet'.

Time Trumpet is described as a Rock 'n' Roll Years-style nostalgia series, but looking back at fictional events yet to happen.

The comedy show is written and directed by Armando Iannucci.

Others appearing in the show include: Paul-Antony-Barber, Rufus Hound (futuristic presenter), Natalie Haynes, Jon Holmes, Sam Battersea, Alexander Kirk, Tim Key (special effects man), and Tony Bowden.

The half-hour programme is scheduled to be broadcast on BBC2, week commencing July 2nd, 2006.


---
RETURN TO COOKIE MOUNTAIN RELEASE IN JULY
26th May 2006



Scheduled for release on July 3rd is the new album from TV ON THE RADIO which features the vocal talents of a certain DAVID BOWIE on the track 'Province'.

Released on the 4ad label (cat. no. CAD2607CD) there is no definitive tracklisting available at present. Expect the following tracks to be featured:

01. Playhouses
02. I Was A Lover
03. Province (featuring David Bowie on vocals)
04. Snakes + Martyrs
05. Wolf Like Me
06. Tonight
07. Dirty Whirlwind
08. A Method
09. Let The Devil In
10. Blues From Down Here
11. Wash The Day Away

You can now pre-order Return to My Cookie Mountain
NOW for only £9.99.


---
SUBSTANCES AND STYLE
26th May 2006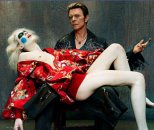 Photographer STEVEN KLEIN hits the East End in New York this weekend with the unveiling of 'Fashion Portraits' at East Hampton's Vered Gallery.

The exhibition features nineteen dramatically staged images taken between 1995 and 2004, including shots of DAVID BOWIE, Madonna and JT Leroy.

Klein's David Bowie photo shoot appeared on the front cover of L'Uomo Vogue magazine back in September 2003 along with the editorial piece 'Is This Concrete All Around'.

Fashion Portraits starts tomorrow through until June 19th, at Vered Gallery, 68 Park Place, East Hampton, New York. Tel: (631) 324-3303.

Summer gallery opening hours are: Sunday, Monday and Thursday 11am - 6pm and Friday and Saturday 11am - 9pm.

More details can be found at the veredart.com website.


---
NEVER MASTER MIND, SAY SOMETHING
23rd May 2006



"I've started so I'll finish"...

You might recall a while back on here, last November to be precise, the BBC invited DAVID BOWIE fans to be audience members during the recording of their MASTERMIND quiz show.

The show recorded last December in Manchester featured a contestant answering questions on 'The Life and Music of David Bowie' as their specialist subject.

Mastermind is widely regarded as the most rigorous and intellectual British quiz show. Over more than 30 years it has become a national institution.

Coming up next month on Thursday 1st June if you tune into BBC2 at 10:00pm you'll be able to see how he faired with the questions.

If I remember correctly, the other contestants answered questions on The Ashes (Cricket), Stanley Kubrick films and English/Scottish Wars.


---
DAVID UP FOR MOJO ICON AWARD
23rd May 2006

DAVID BOWIE has been nominated again in the MOJO Icon Awards. For the magazine's top honour, he is up against Neil Young, Van Morrison, Scott Walker and Johnny Cash.

This is David's third consecutive nomination in the icon category. He was beaten to the title last year by punk singer Siouxsie Sioux.

The Mojo Honours List aims to reward artists for a body of work instead of focusing on current favourites. "It is not about the biggest names or the hottest acts," said the magazine's editor-in-chief Phil Alexander. "The event was created to recognise those artists that have enriched our rich musical culture and that's what it continues to do."

The winners will be announced at a ceremony in Shoreditch Town Hall, London, on 5th June.

Go and vote for David now by clicking here


---
OH! YOU PRETTY THINGS ON THEIR WAY
22nd May 2006

Upate: Below is the revised tracklisting that appears on the promo release. Now included is Simon Turner's version of 'The Prettiest Star' and also includes two previously unreleased mixes - 'Andy Warhol' by Dana Gillespie and Lulu's 'The Man Who Sold The World' - which by the way includes some studio talking from David during the session. Also the cover artwork is not the definitive artwork - it is a 'work in progress'.

Scheduled for release this month on May 29th is a brand new compilation CD entitled Oh You Pretty Things (The Songs Of David Bowie 1967-74).

Released on the Castle/Sanctuary label (Cat. No. CMQCD1311) the twenty-three track album contains a unique collection of early covers of the works of music's greatest living artist.

The promo tracklisting runs as follows:



01. Over The Wall We Go - Oscar
02. The Laughing Gnome - Ronnie Hilton
03. Silver Tree Top School For Boys - The Beatstalkers
04. Silly Boy Blue - Billy Fury
05. Everything Is You - The Beatstalkers
06. When I'm Five - The Beatstalkers
07. Oh You Pretty Thing - Peter Noone
08. Andy Warhol (alt mix) - Dana Gillespie (previously unreleased)*
09. All The Young Dudes - Mott The Hoople
10. Wagon Wheel - Lou Reed
11. The Prettiest Star - Simon Turner
12. I Am A Laser - Ava Cherry
13. People From Bad Homes - Ava Cherry
14. I Am Divine - The Astronettes
15. Things To Do - The Astronettes
16. The Man Who Sold The World (alt mix) - Lulu (previously unreleased)*
17. Watch That Man - Lulu
18. Growing Up And I'm Fine - Mick Ronson
19. Music Is Lethal - Mick Ronson
20. Hey Ma Get Papa - Mick Ronson
21. Backed A Loser - Dana Gillespie
22. Rock 'n' Roll With Me - Donovan
Bonus track:
22. The Man Who Sold The World - John Cougar Mellencamp

You can pre-order Oh You Pretty Things: The Songs of David Bowie
NOW.


---
BOWIE SONG FOR WORLD CUP THEME
20th May 2006

ITV television have announced that a new cover version of DAVID BOWIE's classic song "Heroes" will be used on their opening titles for their World Cup coverage.

This exclusive new recording is by British band Kasabian.

Kasabian said: "We are delighted to be asked to cover this classic song for the World Cup. Come on England!"


---
LABYRINTH GOES MANGA
18th May 2006

If you're the sort of person who's into comic books and/or manga, you might want to check out some serious action from the Henson Company in the coming months.

In July, the manga company TokyoPop will be rolling out RETURN TO LABYRINTH, a manga story which follows the life of the child Toby (cruelly stolen by Jareth aka DAVID BOWIE in his infancy), who is still being secretly watched and guarded by the minions of the Goblin King who have been tasked with keeping him safe until the time comes for him to return to King Jareth's side and rule.

Also rolling out in early 2007 will be a 'Legends of the Dark Crystal' manga, but no story details have been released for that title at this time.

You can read the whole piece via the cinematical website.


---
REST IN PEACE: SKEETER RABBIT
16th May 2006



Very sad news to report the death of SKEETER RABBIT aka STEPHEN NICHOLS who toured with DAVID BOWIE in 1987 during his Glass Spider world tour.

Stephen passed away on Saturday, but the details surrounding the dancer's death are still unclear. Expect an official announcement via the Electric Boogaloo's website.

Skeet started dancing as a young kid growing up in the streets of Los Angeles. Skeet started out locking and soon after started popping with his cousins Boogaloo Sam and Poppin Pete around 1978. In 1979 Skeet became an official member of the Electric Boogaloo's and went on to become a pioneer and innovator of the dance styles popping and boogaloo.

He was a featured dancer in David's 1987 Glass Spider World Tour, and appeared in David's 'Time Will Crawl' promo video, as well as appearing in video alongside artists including Thomas Dolby, Talking Heads, Toni Basil, Chaka Khan, Madonna, Usher, Michael and Janet Jackson.

News: LA Loses Its Third Hip Hop Legend in a Month
EB Member: Skeeter Rabbit
My Space: Skeeter Rabbit


---
TAKE A QUICK BUTCHERS...
13th May 2006

Those of you with the eye of an eagle might have spotted former backing singer GEORGE SIMMS on the recent episode of LOST. It wasn't quite the "don't blink or you'll miss my part" as he appeared briefly several times behind a bar...

CARLOS ALOMAR appears on the next SCISSOR SISTERS album which is scheduled for release later this year...

The first-ever Australian DVD release of THE LINGUINI INCIDENT is scheluded for released around about now (11th May). Although this new release maintains the basic 4:3 screen format and has no bonus features. (Region 4 and PAL) - (from Adam @ BowieDownUnder)...

This coming Thursday (18th May) sees DAVID BOWIE's Ziggy Stardust album performed at the Phoenix Concert Theatre in Toronto, ON, Canada. The group based of around 30 musicians. 'Classic Albums Live' takes the world's greatest albums and recreates them live on stage using the world's greatest musicians. Note for note, cut for cut - you have to hear it to believe it! More details and information can be found at ClassicAlbumsLive.com - (from MikeV)...


---
BOWIE'S BACK ON STAGE NEXT YEAR IN NYC
9th May 2006

Update: 22/1/07 Due to ongoing work on a new project, DAVID BOWIE has announced that it will not be possible for him to perform at the Highline Festival, in New York City in May. He will however continue to curate the event alongside Highline producers David Binder and Josh Wood. - from BowieNet.

DAVID BOWIE today announced plans for a return to the concert stage next year when he curates the first HIGH LINE FESTIVAL, a new annual arts and music event for New York City, established by David Bowie himself, David Binder and Josh Wood.

The High Line Festival will be shaped each year by a different visionary curator, and as first curator David will be the creative voice behind the festival in May 2007, choosing a diverse collection of artists and musicians who inspire him and capture his point of view.

The 10-day marathon event will take place at street level and at neighbouring venues alongside the High Line, New York's biggest and most prestigious public works project in over 50 years - a public park is being created from the abandoned elevated train tracks on New York City's West Side.

The High Line Festival will include music, nightlife, visual art, performance and film - featuring superstars and emerging talent - all of which celebrate the spirit of David Bowie's creative vision, and it will culminate in an enormous outdoor David Bowie concert.

His live performance will be enjoyed by tens of thousands of spectators at the festival itself, while millions more will experience the concert online and on satellite radio.

More details and information can be found at the official site @ davidbowie.com

From BowieNet.


---
ZIGGY STARDUST: ESSENTIAL ALBUM DVD
6th May 2006



Out in the shops and available now is DAVID BOWIE'S ZIGGY STARDUST a new DVD release by Edgehill Publishing as part of their Essential Albums of All Time series.

Sypnosis: David Bowie - Ziggy Stardust: The Essential Albums of All Time.

1972 was the year when Bowie finally broke into the mainstream and Ziggy Stardust was the album that did it. This is the definitive independent review of an all time classic album featuring rare interviews with Bowie and the people around him, along with classic performances of material from the album. Also featured are in-depth interviews with Trevor Bolder and Woody Woodmansey, along with rare archive interviews with Mick Ronson. These were the musicians and insiders who took part in the making of the album and their uncensored interviews produce a candid, honest and frank retrospective on a modern masterpiece.

Featured tracks include: Space Oddity/ Five Years/ Changes / Life On Mars? / Moonage Daydream / Starman / Suffragette City/ Rock'n' Roll Suicide / John, I'm Only Dancing / The Jean Genie.

Released on 27th March, Region 0, PAL, Run Time: 60 minutes. Catalogue Number: RMS2015.

You can order David Bowie - Ziggy Stardust
NOW.


---
HOGGLE BACK HOME AT UBC
4th May 2006



The scary Jim Henson creature known as "Hoggle" is back on display at Unclaimed Baggage after a long visit with a doll doctor who brought the movie marvel back to its original frightening splendor.

Hoggle lives full time in the store's "museum" area located near the men's department. The bushy-eyebrowed, crinkly-skinned munchkin has friends in high places. He was originally brought to life by Muppet and Sesame Street character creator Jim Henson for the 1986 movie "Labyrinth," which Henson directed and "Star Wars" creator George Lucas produced.

The movie starred DAVID BOWIE and Jennifer Connelly, along with a host of other fantastical Henson creatures, and is a sort of cult classic these days, with whole websites devoted to serving its many fans.

The character of Hoggle showed up like most other treasures at Unclaimed, as checked contents from an airplane. His arrival dates to sometime in the late 1980s.

"The guy cracked the crate open and it scared him to death," said Caleb Manning, director of finance and operations for the company. But, they knew they had something unique on their hands, and now, he said, "we have so many people who actually want to see this character when they come here."

Time had taken its toll on Hoggle, however, and he had suffered several injuries, according to Wisconsin doll doctor Gary Sowatzka, who has completed over 5,000 doll restorations. Sowatzka spent eight hours a day for three weeks rebuilding, repairing and polishing Hoggle.

Sowatzka describes Hoggle's character in the film as a kind of meek troll who aids Connelly's character in navigating a complex maze to save her younger brother from becoming a goblin.

Sowatzka said he and his wife Louise, who helped him through "the though process" behind the project, watched "Labyrinth" upwards of a dozen times to glean a sense of Hoggle's original appearance and gestures - and because they fell in love with the movie (they soon had their grandkids watching).

But Hoggle had literally fallen on his face, Sowatzka said, and the first order of business was to "rebuild areas busted and broken away" before he could begin the revitalization. Sowatzka said, he used penetrating oils to loose the controls for Hoggle's eyes, mouth, chin and lip, which were all frozen.

He re-sculpted Hoggle's bulging blue eyes, cheeks and jowels and used rubber, styrofoam and fabric to simulate the flesh of his face. He also repaired the hands and had to match the color of Hoggle's flesh to his original skin color based upon pictures. He saved a few original fingernails and rebuilt the others based on those. And Sowatzka removed, cleansed and re-attached Hoggle's wig and eyebrows.

Unclaimed will soon launch an annual "Hoggle Day," says Unclaimed's marketing and sales director Brenda Cantrell, details of which will be announced.

Hoggle greets Unclaimed's worldwide visitors in the museum alongside other valuable oddities happily discovered in lost luggage, such as Egyptian artifacts and French newspapers from the early 1900s.

By Carolyn Acree @ The Daily Sentinel


---
BLOC PARTY INSPIRED BY BOWIE
4th May 2006



Manchester band BLOC PARTY are citing DAVID BOWIE as a major influence on their latest album due later this year.

Revealed in an Billboard interview Bloc Party frontman KELE OKEREKE stated: "This next record is hopefully going to be a lot more intricate and layered. We learnt so much about the power of arrangements. I know it sound cheesy, but I guess it is going to be a more grown up Bloc Party."

One place Okereke himself has found inspiration is in the back catalogue of David Bowie. Spending months on tour with the British icon in rotation on the stereo has had a major impact.

"[Bowie's] had a career where you can actually trace influences and styles. He's just a real sort of artist in the way a lot of rock musicians now aren't given the scope to develop," he says. "That's something that became really fascinating to me toward the last half of the year. There's more we can do as a band than being fast, loud and shouty and I think these songs are going some way to explore that."

You can read the whole interview via the Billboard website @ billboard.com

Check out the band's official website @ blocparty.com


---
ATHUR AND THE MINIMOYS FACT SHEET
4th May 2006

Title: Arthur and the Minimoys
Genre: Action-Adventure
Platform: Playstation®2, PSP™, Nintendo DS™, Game Boy Advance™, and Windows
Developer: Etranges Libellules (PS2, PSP, PC), Neko (NDS), and Mistic (GBA)
Launch date: November 2006

Story and Product Overview:
The eponymously titled official game of the forthcoming Luc Besson film, Arthur and the Minimoys, is currently in development for PlayStation 2, PSP (PlayStation Portable) system, Nintendo DS, Game Boy Advance, and the Windows platform, and is planned for release in November 2006. The game allows players to re-live the fantastic adventures of young Arthur and his two pals, Selenia and Bétamèche, in their mission to save the Minimoys' world from destruction. The game is based on the world of Luc Besson's Arthur and the Minimoys and follows the gripping story of the film, with all the richness and extraordinary visuals of the Arthur universe.

'Arthur and the Minimoys' in a nutshell:
Originally a four-volume literary adventure written by Luc Besson, with more than 950,000 books sold in France alone, and translations into over twenty different languages.
The highest budget ever for a European animated film ($85 million).
Currently being filmed using three technologies (2D, 3D and real film footage) and a unique graphical style that is groundbreaking in the world of animation.
The film will be distributed in more than 40 countries, including the United States, Europe and Asia.
A $125 million global advertising campaign will support the film launch.
Voices and original music for the film by internationally renowned artists including DAVID BOWIE, Madonna, and Snoop Dogg.

Game Features:
Game play is based on the concept of the "trio" - each phase of a puzzle or combat requires utilizing the skills of all three characters (Arthur, Selenia and Bétamèche).
Each character has unique but complementary powers which players must use to their advantage. The three heroes have their own specific objectives, but they must also aid one other.
Players can watch integrated scenes from the film offered in the form of parallel action phases.

To play the game visit Atari at E3 2006, Petree Hall #4003.

For more information on Atari please visit www.atari.com


---
FUNKY BAR ALL FULL OF FACES
3rd May 2006

The next date for the Swedish, monthly Bowie-club BOWIE BAR is on Wednesday 10th May in Stockholm, Sweden, at KGB Bar and Restaurant, Malmskillnadsgatan 45 (subway station 'Hötorget').

DJs Jonas and Fredrik will play a six-hour non-stop-set of Bowie and Bowie related music - from music hall to drum 'n' bass!

The club is open between 20.00 and 02.00 (Swedish time!)

You have to be at least 20 years old to get in. The entrance is FREE for all Earthlings...

And as if that is not enough... Bowie Look-a-likes will receive an exclusive gift! Show up in time - since 'the place was packed' last time.

From Jonas and Fredrik


---
THE DAD WHO FELL TO EARTH
2nd May 2006

NEW YORK METRO have reported that DAVID BOWIE is taking a break from being David Bowie, at least for a year. "I'm fed up with the industry," he said at the Vanity Fair party last week. "And I've been fed up for quite some time." He greeted strangers with, "Hi! I'm David. I have seven children. And I'm f**king freezing."

So how does an icon slack? "Just don't participate. I'm taking a year off - no touring, no albums. I go for a walk every morning, and I watch a ton of movies. One day, I watched three Woody Allen movies in a row. I like going out to the Angelika: If the first one's only okay, I'll sneak into one after the other. It's so easy."

He says he has no plans to take up hobbies either. "I've been listening to Arcade Fire and Secret Machines and this great opera from the eighties called Nixon in China. It's just that. He gets off the plane. He has dinner with Mao. Someday, I might do opera. But I don't have a musical in me, much less a vampire musical."

You can read the full piece over at New York Metro and check out a photo by Gregory Pace/FilmMagic.


---
BOWIE TRIBUTE: SPIDERS ON MARS
2nd May 2006

SPIDERS ON MARS are a DAVID BOWIE tribute band who have been gigging regularly over the course of the last two years and are building a decent following. They focus mainly on Bowie's 70's and early 80's period and include songs from all his albums up to Scary Monsters.

It's a two-set show lasting to nearly 2 hours with a fabulous frontman in Sean Steele and a backing band of Droogs (from A Clockwork Orange!). Visually very strong with a fabulous lightshow and 100% commitment from the band.

There's an upcoming gig at Elbo Room on the 6th May and McCuills in High Street on 3rd June. Both are well known Glasgow venues. More summer dates will be added soon.

For more information and details you can check out their website at spidersonmars.co.uk

From Big Billy Spider.


---
THE RETURN OF THE PASSENGER BOOK
1st May 2006

For those of you trying to get hold of a copy of PASSENGER - A DAVID BOWIE PHOTOBOOK by PHILIPPE AULIAC you're in luck.

To mark the occasion of the 30th anniversary of David's return to England on May 2nd 1976, a limited number of copies have been made available.



On collector Mauro Luppi and publisher Daniele Pensavalle's initiative, here is a collection of photographs of David Bowie and Iggy Pop taken by Philippe Auliac in London and Paris in 1976 and 1977, published in book form for the first time.

After the American episode and the crossing of Siberia with Iggy Pop on the famous Trans-Siberian Railway, David Bowie is back in Europe under the name and guise of The Thin White Duke for the Station To Station tour.

After shooting Nicolas Roeg's The Man Who Fell to Earth, he arrived in the wake of his ambiguous statements to the press. Play-acting, cocaine or delusions of "folie des grandeur". Fans are destabilized when he compares the rise of a rock star to that of a far right political leader. Philippe Auliac becomes an appointed photographer for the European part of the tour, from the first Wembley concert to the May 18th 1976 show at the Pavillon de Paris.

This book is the first edition of Philippe Auliac's work on this controversial time. The full-page pictures come in the form of a photographic account of a flexible chronology that leaves much to the reader's imagination while nonetheless leading him firmly to the show marking the disappearance of The Thin White Duke, who vanishes of his own accord. The three texts by Véronique Pintelon, Christophe Geudin and Laurence Geslin ponctuate the syncopated sequence of the pictures by each addressing the character's different aspects, whether it be his style, his appearance, his musical world or his place in the late 70s, now synonymous with the end of communal utopia.This book - whose purpose is not to add an umpteenth biographic page to all those already published on David Bowie - is an opportunity to discover a series of mostly rare and previously unpublished photographs gathered together in an album to be read, looked through and decoded.

For more details and information on how to get hold of your copy can be found @ moonagedaydream.it website.

From Philippe Auliac


---
YELLOWBEARD ON DVD IN JUNE
1st May 2006

Sony Pictures Home Entertainment will release YELLOWBEARD next month on 27th June which features a cameo appearance of DAVID BOWIE as 'The Shark'.

Originally released back in 1983, the pirate comedy stars Monty Python's Eric Idle and Graham Chapman, Madeline Kahn and Peter Boyle, along with other cameo roles from Peter Cook, Cheech and Chong, John Cleese, Spike Milligan, James Mason and in his final role - Marty Feldman.

The DVD release will include an anamorphic widescreen transfer and Dolby Digital Surround track. Expect to pay around $14.

From SteveP.


---
OH! YOU PRETTY THINGS ON THEIR WAY
1st May 2006

Scheduled for release this month on May 29th is a brand new compilation CD entitled Oh You Pretty Things (The Songs Of David Bowie).

Released on the Castle/Sanctuary label (Cat. No. CMQCD1311) the twenty-two track album contains a unique collection of early covers of the works of music's greatest living artist.

With contributions from Dana Gillespie, Ronnie Hilton, Billy Fury, The Beatstalkers, Lulu, John Cougar Melencamp, Peter Noone, Donovan and the marvellous Ava Cherry And The Astronettes and the inevitable Mick Ronson, Lou Reed and Mott The Hoople, this is a must for all hardcore Bowiephiles and glittermonsters.

The tracklisting runs as follows:



01. I Am Divine - The Astronettes
02. Things To Do - The Astronettes
03. Silver Tree Top School For Boys - The Beatstalkers
04. Everything Is You - The Beatstalkers
05. When I'm Five - The Beatstalkers
06. I Am A Laser - Ava Cherry
07. People From Bad Homes - Ava Cherry
08. Rock 'n' Roll With Me - Donovan
09. Silly Boy Blue - Billy Fury
10. Andy Warhol - Dana Gillespie
11. Backed A Loser - Dana Gillespie
12. The Laughing Gnome - Ronnie Hilton
13. The Man Who Sold The World - Lulu
14. Watch That Man - Lulu
15. The Man Who Sold The World - John Cougar Mellencamp
16. All The Young Dudes - Mott The Hoople
17. Oh! You Pretty Things - Peter Noone
18. Over The Wall We Go - Oscar
19. Wagon Wheel - Lou Reed
20. Growing Up And I'm Fine - Mick Ronson
21. Music Is Lethal - Mick Ronson
22. Hey Ma Get Papa - Mick Ronson

You can pre-order Oh You Pretty Things: The Songs of David Bowie
NOW.


---

OLDER NEWS

April | March | February | January
2005 Bowie News Archives | 2004 Bowie News Archives
2003 Bowie News Archives | 2002 Bowie News Archives
2001 Bowie News Archives | 2000 Bowie News Archives
1999 Bowie News Archives | 1998 Bowie News Archives