BOWIE TV and WHAT'S REALLY HAPPENING IN JUNE - MONTHLY PLANNER

[ BOWIEWONDERWORLD SHOP ] [ LATEST DAVID BOWIE ITEMS ON eBAY ]

[Get your @bowiewonderworld.com email address HERE sponsored by Everyone.net
]







[ BW POLL: FAVOURITE ALBUM COVER ARTWORK? - VOTE HERE ]

Have YOU got some DAVID BOWIE related news or a hot scoop?
Well don't just sit there keeping it to yourself - send it in to
All news items are credited if you so wish


---
THREE MORE BOWIE DVDs
30th June 2006



Scheduled for release on 4th September is DAVID BOWIE: Total Rock Review DVD from Classic Rock Legends.

This DVD series cover the ultimate case studios from rock history on DVD.

Edition Details: - Region 2 encoding (Europe, Japan, South Africa and the Middle East including Egypt). PAL.

You can Pre-Order David Bowie-Total Rock Review
and receive a 25% discount.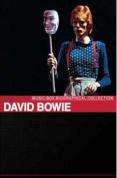 Already released is the David Bowie: Music Box Biographical Collection DVD (Region 2) which contains rare archive footage - I haven't received this item yet, so I can't comment. Nice cover though. Update: (Ed. Watched this today - only purchase this one if you're an utter completist).

Available here for a mere £7.49 including FREE delivery.

The press release states: The Music Box collection presents the complete story of David Bowie. We follow Bowie's rise to stardom, featuring rare and archive footage courtesy of private collectors from around the world. This documentary provides a fascinating insight into Bowie's remarkable career to date, and is a must for any fan of this talented star.

And last but least, another DVD release due is David Bowie: Starman - Special Edition which includes a bonus CD and a 32-page booklet. Scheduled for release on 24th July this DVD provides an in-depth insight into his music and culture. English (Region 2). I've only seen this for sale via Play.com at present.


---
SHE'LL LAY BELIEF ON YOU
28th June 2006

Which is your favourite DAVID BOWIE closing album track? The voting in the BW Visitors Poll placed 'Lady Grinning Soul' in top position with 14.69% of the total votes marginally ahead of 'Rock 'N' Roll Suicide' by a mere three votes.

The top five favourite album closing songs after a total of 2,920 votes cast were as follows:

01. Lady Grinning Soul (429)
02. Rock 'N' Roll Suicide (426)
03. Wild Is The Wind (419)
04. Heathen (The Rays) (385)
05. The Bewlay Brothers (243)

To view the full breakdown of the voting please [VIEW HERE]

Thanks to everyone for voting... and in the blink of an eye... here's another brand new BW poll underway...

What is your favourite DAVID BOWIE album cover artwork? [VOTE HERE]


---
GRAB A BOWIE BARGAIN
28th June 2006

101 currently have on special offer three DAVID BOWIE Double CD set albums 'David Live', 'Stage' and 'Ziggy Stardust: The Motion Picture Soundtrack' for a mere £5.99 each!

David Live (At The Tower Theatre Philadelphia/Remastered): Released 28/11/2005
Stage (Live/Remastered): Released 28/11/2005
Ziggy Stardust: The Motion Picture Soundtrack (CD Album): Released 24/3/2003





Originally priced at £10.99, they are both now just £5.99 each and are available on a FIRST COME, FIRST SERVED basis. Be quick!


---
NOT DAVID BOWIE ON A PIANO
27th June 2006

TORI AMOS will be the subject of a 5-disc boxed set entitled 'A Piano,' due for release on 26th September from Rhino Records.

The 86-track compendium will be housed in a piano-inspired package and rounds up material from her studio albums, alternate mixes and new mixes recently supervised by Amos.

The tracklisting runs in chronological order and is explained in liner notes penned by Amos. Among the songs appearing on 'A Piano' for the first time is a studio outtake interestingly entitled 'Not David Bowie'.


---
BWWers MANAGE THE GREAT ESCAPE
27th June 2006

Those of you who frequent the BWW Message Board will already know that last month six lucky Wonderworlders went to Brighton to listen to legendary record producer and recording engineer KEN SCOTT with his talk 'Me and Mr. Jones'.

As you know, Ken worked with DAVID BOWIE on classic albums such as 'Man Of Words, Man Of Music' (Space Oddity), 'The Man Who Sold The World', 'Hunky Dory', 'The Rise and Fall of Ziggy Stardust and The Spiders From Mars', 'Aladdin Sane', 'PinUps' and also the '1984/Dodo' recording. Ken also mixed the recent 30th anniversary 'Ziggy Stardust' re-release in 5.1 surround sound.

'Me and Mr Jones' covered the technicalities, the stories and the history leading to some of the seminal albums of the Seventies from 'Space Oddity' to 'The 1980 Floor Show' and all stops in between.

The BWW Six: TheLodger, Sweetythang, Sunrise, UncleFloyd, Jackie and Mr C - took their seats for what was to prove an illuminating and highly enjoyable 90 minutes with the man responsible for producing and engineering some of the greatest albums in rock history.

If you pop on over to the Special Features section you'll see the link 'Me and Mr Jones' - click there and read their collective review, view photographs and watch a special video message from Ken.

(Ed. Big thanks to one and all six for a great collective review, video and photo's - a wonderful and enlightening read - I only wish I could have been there myself).


---
REST IN PEACE ARIF
26th June 2006

Sad news to report the passing away of legendary producer/arranger/musician ARIF MARDIN who worked with DAVID BOWIE on the Labyrinth film soundtrack and his 1984 'Tonight' album.

According to his longtime friend and colleague Ian Ralfini, he died at his New York home from pancreatic cancer, at the age of seventy-four.

Mardin built his reputation at Atlantic Records, where he worked as a producer and arranger from 1963 to 2001. Afterwards he set up his own label at EMI, Manhattan Records, where his signings included Norah Jones.

Born in 1932 in Turkey, Mardin studied economics at Istanbul University and the London School of Economics, but his career path changed when he met jazz greats Dizzy Gillespie and Quincy Jones in 1956.

Besides working with David, Arif also worked with such artists as Aretha Franklin, Diana Ross and the Bee Gees. The holder of more than 40 gold and platinum albums, he was named best producer at the Grammy Awards in 1976 and 2003.

Arif will be buried in his native Istanbul next week.


---
HEY JIM, I'M IN CONTROL
25th June 2006

DAVID BOWIE, Iggy Pop and Roxy Music are all set to feature on the soundtrack for movie about IAN CURTIS of Joy Division.

The movie entitled 'Control' will be directed by Anton Corbijn and co-produced by Tony Wilson and Deborah Curtis, who's book 'Touching From A Distance' the film will be based upon.

The role of Curtis will be taken up by 10,000 Things front man Sam Riley while Samantha Morton will play his widow.


---
BOWIE ON BROADWAY
24th June 2006

Last Tuesday evening (20th June) DAVID BOWIE and IMAN along with Jodie Foster and Mike Nichols were in the audience at 'The Lieutenant of Inishmore', the black comedy about Irish terrorists at the Lyceum Theatre on Broadway, in New York City.

McDonagh's scorchingly black comedy is set in 1993 in County Galway on the rocky island of Inishmore, off the coast of Ireland. Padraic is a terrorist with no feeling for those he blows up, but has an obsessive attachment to Thomas, his beloved cat, but someone has killed poor wee Thomas. Was it an accident or an execution? Either way, the death must be concealed before 'Mad Padraic' returns from a stint of torture and bombing. Otherwise the recriminations will be horrifying.

The Lieutenant of Inishmore won the 2003 Olivier Award for Best New Comedy and was nominated for the 2002 London Evening Standard Theatre Award for Best Play.


---
RETURN TO COOKIE MOUNTAIN OUT NEXT MONTH
19th June 2006



Scheduled for release on July 3rd is the new album from TV ON THE RADIO which features the vocal talents of a certain DAVID BOWIE on the track 'Province'.

Released on the 4ad label (cat. no. CAD2607CD) the tracklisting is as follows:

01. I Was A Lover
02. Hours
03. Province (featuring David Bowie on vocals)
04. Playhouses
05. Wolf Like Me
06. A Method
07. Let The Devil In
08. Dirtywhirl
09. Blues From Down Here
10. Tonight
11. Wash The Day

You can now pre-order Return to My Cookie Mountain
NOW for only £9.99.

The album will also be released on good old vinyl (cat. no. CAD2607).

For you collectors... at some of their recent shows a limited edition one-sided promo 7" vinyl of the track featuring David Bowie 'Province' was available. I've heard it was limited to 200, then 250 and finally 500 - so take your pick from one of those three.

There are actually three different versions of this promo, all are marbled green vinyl, white label promo, one sided (cat no. RTMC2) contained in a plain brown, die cut card sleeve, but there are two sleeve variations featuring a rubber stamped title/logo in red or black.


---
OH TARZIE GO MAN GO
18th June 2006

DAVID BOWIE and his wife IMAN checked out the loincloth musical 'Tarzan' at the Richard Rodgers Theatre in New York City the other night.

Michael J. Fox with his wife, Tracy Pollan were also in attendance.

The play features Josh Strickland as 'Tarzan' and Jenn Gambatese as 'Jane', along with Merle Dandridge, Shuler Hensley, Chester Gregory II, Timothy Jerome, Donnie Kershawarz, Daniel Manche and Alex Rutherford.

Phil Collins wrote the music and lyrics, expanding his songs for Disney's film into a complete theatre score.


---
THERE'S A BRAND NEW TALK
18th June 2006

THE BEST OF TALK is a brand new series just started on ITV3 this week which is a celebration of various chat shows, their hosts and their guests.

Narrated by DJ Mark Goodier, each episode looks at the career of a long-suffering host and their guest be they sweet, sexy - or sometimes just plain rude! The impressive line-up of hosts includes Sir David Frost, Michael Aspel and Paul O'Grady.

The edition on Sunday 28th June at 21:00 GMT features highlights from the affable Russell Harty's decade-long ITV career, and includes interviews with the legendary Gloria Swanson, Ralph Richardson, Rita Hayworth, Princess Grace of Monaco, DAVID BOWIE, The Who, Arnold Schwartzenegger, Roger Moore, Peter Sellars, Gracie Fields, Ringo Starr, George Harrison, Lana Turner, Marianne Faithful and Elton John among others.


---
OH! YOU PRETTY THINGS ARE OUT
17th June 2006

Released now is the brand new compilation CD entitled Oh You Pretty Things (The Songs Of David Bowie 1967-74) released on the Castle/Sanctuary label (Cat. No. CMQCD1311).

The twenty-three track album contains a unique collection of early covers of the works of music's greatest living artist.

Included on the release are three previously unreleased songs: 'Andy Warhol' (alternative mix) by Dana Gillespie, 'The Man Who Sold The World' (alternative mix) by Lulu and 'The Man Who Sold The World' by John Cougar Mellencamp.



View the E-card to check out the full tracklisting and listen to four of the tracks - CLICK HERE

Please feel free to email this e-card out to your friends


---
DAVID CHECKS OUT RUFUS DOING JUDY
16th June 2006

DAVID BOWIE was spotted out and about in New York City on Wednesday evening (14th). He checked out RUFUS WAINWRIGHT performing at a sold out Carnegie Hall for his recreation of the Judy Garland's legendary April 23rd 1961 performance at the hallowed venue.

David was sat in the orchestra seating area with other celebs around him including David Byrne, Kate Winslet, Kristen Johnston, Laurie Anderson, John Waters, Sam Mendes, Maggie Gyllenhaal, The B52's, Jimmy Fallon, Lorna Luft, Patricia Fields, Kristen Johnston, Sarah Jessica Parker and Peter Saarsgard.


---
TAP MY PRETTY LITTLE FEET
14th June 2006


CHICAGO TAP THEATRE present 'Changes: A Science Fiction Tap Opera' on July 7th through to July 30th at the Athenaeum Theatre Studio 3, which sees the company dancing to the music of DAVID BOWIE.

Told through the medium of tap, Changes is a world premiere sci-fi story that starts with Bowie's 'Space Oddity' and then rockets to an alien planet ruled by an egotistical leader. Major Tom foments an uprising among the downtrodden locals, for which he is thrown in a prison and tortured.

Chicago Tap Theatre artistic director Mark Yonally explains: "While I didn't intentionally set out to create a show with political overtones, I think it's impossible not to be influenced by what's happening in our culture right now." Yonally believes that delving into tap dance's conceptual and narrative possibilities remains relatively unexplored. "When I founded the company I knew that audiences love being told a story and that tap dance could serve as a rich and dynamic way to propel a plot," he says.

Chicago Tap Theatre is a non-profit 501(c)3 with a multifaceted mission: to preserve America's indigenous dance form, to promote that dance through story-based shows and innovative presentation, to educate the community and make tap dance accessible to a broad spectrum of people and to foster relationships with other arts organisations.

Tickets and info @ chicagotaptheatre.com or telephone: 312-902-1500.

From Windy City Media Group


---
TAKE A QUICK BUTCHERS...
13th June 2006

LOVERBOY is the big-screen directed debut by KEVIN BACON - the film focuses on single-mum Emily (Sedgwick) who becomes a selfless mother to the point of derangement. In the best scene a young Emily belts out an impressive a cappella rendition of DAVID BOWIE's 'Life On Mars?' Movie opens June 16th at Angelika, NYC...

CATHERINE RUSSELL band member of DAVID BOWIE's 'A Reality Tour' is establishing her own identity with her new solo debut entitled Cat
released on the World Village label (Cat No 468063)...

Besides the one-and-only DAVID BOWIE appearing in RICKY GERVAIS second series of 'Extras' other stars who have signed up to appear in this second series include Stephen Fry, Ronnie Corbett and The Avengers actress Diana Rigg...


---
MEMORIES ABOARD THE SS FRANCE
12th June 2006

Over on the BBC news website there's an article by Patrick Jackson entitled 'Surreal times on the SS France' which he writes about ship-lovers and ecologists who are battling to prevent the scrapping of a former French ocean liner in India. The article looks back at the slightly surreal glory days of the SS France.

One particular recollection concerns DAVID BOWIE who travelled onboard in April 1974, departing from Cannes and heading for New York.

It was quite a time, recalls Bruno Rabreau, who as a receptionist in the 1970s - not only did David Bowie perform - he played for the crew.

Travelling as a first-class passenger, the rock star was not scheduled to play aboard the France but apparently had heard the crew were disappointed, so he turned up in the canteen with an acoustic guitar.

"We enjoyed more than 10 songs and especially 'Space Oddity' which was the first one, and a few crew members took instruments too and played with him," Bruno says.

"It was a really, really good time. He was a very ordinary person and very friendly to us. We really enjoyed it."

You can read the whole article @ BBC website.


---
WE CAN BE HEROES
10th June 2006

As previously mentioned on here KASABIAN have recorded an England World Cup song despite having rejected the FA's overtures to write the team's official song.

The band from Leicester, fronted by Tom Meighan, have covered DAVID BOWIE's "Heroes" to be ITV's theme music.

Meighan, an avid Leicester City fan, explained the offer to write the official song did not really appeal but that this chance was too tempting to turn down.

"We never wanted to do the official song - it is too much of a burden," he told The Sun newspaper. "But it is wonderful to know our song will be part of the World Cup soundtrack."

"Bowie has heard it and told me it's like Velvet Underground - but heavier."


---
BOWIE FILMS IN HERTFORD
9th June 2006

The HERTFORDSHIRE MERCURY newspaper have reported on DAVID BOWIE filming his part in a Hertford bar to film a scene for the second series of Ricky Gervais's BBC comedy 'Extras'.

Gervais, smiled and signed autographs in the car park of Elberts, in Pegs Lane, but security staff desperately tried to prevent paparazzi photographers spotting Bowie.

On Monday, the 59-year-old singer tried to evade a flock of Fleet Street's finest by leaping from his polished black Mercedes and ducking in a side entrance.

Elberts was used as a private members' bar in Bowie's scene. In it, Gervais's character Andy is desperate to meet the rock legend and finds his way into the VIP area but is asked to leave when Bowie begins singing.

Builders put in overtime to ensure Elberts - previously Elbert Wurlings - was ready for the arrival of the crew on Monday. The bar has been shut for a month for refurbishment but reopened with a stylish new look last night following its week in the spotlight.

Filming ended on Wednesday afternoon, by which time unfounded rumours that film star Johnny Depp was due on set had circulated around town.

You can read the full article over @ Herts and Essex Online website where you can also see a couple of shots of DB.


---
DAVID JOINS THE A LIST ON 'EXTRAS'
8th June 2006

You might recall a while back that British comedian RICKY GERVAIS asked DAVID BOWIE if he would appear in his BBC comedy show EXTRAS - well guess what - he's already done it.

Ricky began filming on Monday in Hertfordshire with co-creator Stephen Merchant, who helped write The Office.

David has already filmed his part which includes him singing in a private members' club. Ricky (aka Andy) bribes his way into the VIP area, but is asked to leave just as Bowie bursts into song.

Other 'extras' who have roles in this second series include Sir Ian McKellen, Orlando Bloom, Coldplay's Chris Martin and Daniel Radcliffe of Harry Potter fame.

Other names in the series will include Jonathan Ross, Richard and Judy, Diana Rigg, Richard Briers, Ronnie Corbett, Germaine Greer, Stephen Fry and the cast of Holby City.

There are a couple of photos of David meeting Ricky over at The Sun website - click here to view.


---
TO BE RIGHT IN THAT PHOTOGRAPH
7th June 2006



DAVID BOWIE's boat race is featured on this months cover of UK PROFESSIONAL PHOTOGRAPHER magazine.

The June issue, as you can see, features a shot circa his 1997 Earthling period

I'm still waiting for my copy to arrive, as soon as it does I'll let you know what exactly is featured inside.

More details about the magazine can be found at the Professional Photographer website - but at present they are still showing last month's issue.


---
DAVID, IMAN AND ZIGGY
6th June 2006

Today marks the 14th anniversary of DAVID and IMAN's wedding ceremony at Saint James Episcopal Church, in Florence, Italy.

The best man was David's son Duncan with chief usher Alan Edwards. Iman's maid of honour was her best friend Bethann Hardison.

Besides their immediate family, among the sixty-eight invited guests were Yoko Ono, Brian Eno, Bono, Eric Idle, Geoff MacCormack, George Underwood, Herve Leger and Thierry Mugler.

You can click here to read an article from Hello! magazine entitled 'The Wedding of David Bowie and Iman' in the BW archives.

Today also marks the 34th Anniversary release of the immortal 1972 album 'The Rise and Fall of Ziggy Stardust and The Spiders From Mars'.


Any self respecting Bowie fan should play the album right now - put on a pair of headphones and play it at " maximum volume". - and follow it up with 'Black Tie White Noise' which celebrates their marriage.


---
ON AN ISLAND DVD SET FOR RELEASE
4th June 2006

The surprise live appearance of DAVID BOWIE at the DAVID GILMOUR gig last Monday at the Royal Albert Hall hopefully will be featured on the DVD to be released later this year.

All three London dates were professionally filmed for the official 'On An Island' tour DVD.

Of the three dates, the first night saw special guest appearances from David Bowie, David Crosby, Graham Nash and Robert Wyatt. The second night Mica Paris guested, and the third and final night saw Nick Mason joining Gilmour and Richard Wright for the encores. Guests David Crosby, Graham Nash and Robert Wyatt were present for all three London performances.

Fingers crossed that both 'Arnold Layne' and 'Comfortably Numb' performed by DB will see the light of day on the DVD release.


---
HANGING BY THE WALL
3rd June 2006



Artist LUKE PEPPER is selling an original piece of artwork he's produced of DAVID BOWIE during his "Heroes" period in 1977.

Luke says: The piece is 14 by 14 inches, drawn in pencil (1987) and is a direct reproduction of the "Heroes" album cover. I'm letting it go at the low price of just £220, this includes postage/packing.

You can check out his artwork @ parisketch.com and look for (Luke Pepper/David Bowie). There are also other pieces of his works including John Lennon, Bob Dylan, The Who, Doctor Who and Elvis.

From Luke Pepper


---
BOWIE WORSHIP!!!
3rd June 2006

TWINKLEDOME - Sparkle and be seen! Get ready to get down and get glammy on Friday June 9th at Star Bar in Little 5. A night to dress-up and shake your wild thing to rock, glam, punk and new wave spun by DJ Tiny Tears of Glitterdome fame and DJ Micah.

This event is about coming out as you are or however you want to be. Think glam... think rock star... think feather boas, platform shoes, colored wigs, wild make-up and glitter! Be punk... be Goth... be rock-a-billy... be whatever you dare! Just BE there!

Live music with The Sexual Side Effects at 10pm. Performances by Amber Taylor and Kristiva Diva.

9pm, $7 cover. Star Bar, 437 Moreland Ave., Atlanta GA 30307, 404-681-9018.

TWINKLEDOME 11: Bowie Worship on Friday June 9th at Star Bar is also our 1 YEAR ANNIVERSARY! Many thanks to each and every one of you for making this glam-packed year happen. So to celebrate, all "you pretty things" bring it on to Little 5 and let's christen Star Bar in balls to the wall rock-n-roll style!

This month we have an earful for you starting by kicking off the night at 10pm with The Sexual Side Effects headed up by the infamous and always androgynous Amber Taylor. Also performing with the band in her triumphant return to the stage, the original, the one and only Kristiva Diva! Then at 11pm, DJ Tiny Tears and DJ Micah take over to get yo' butt movin' under the disco ball all night long.

And last but not least, a little wardrobe inspiration. Bowie. The man is timeless so take your pick from one of his rock personas to a character he's played on film, a character in one of his songs, a line from a song... whatever! The key, as always, is to "let yourself go-oh-oh-oh!" So mark those calendars, tell all your friends and let's worship at the alter of Ziggy as we celebrate our fabulous year together!

More details and information can be found at twinkledome.com and starbar.net

From *Twinkle*


---
NEVER MIND, SAY SOMETHING
1st June 2006

For those of you who missed the contestant on BBC2's MASTERMIND tonight answering questions on 'The Life and Music of David Bowie' here's the low-down.

Derek Blackburn, a Healthcare Trainer from The Wirral scored a total of 7, with 6 passes and 5 wrong answers.

I'm not sure whether nerves got the better of him, but it was a pretty poor attempt at answering some fairly easy questions.

To view all 18 questions and see how well you do - CLICK HERE - No cheating!


---
THE BOWIE CONTINGENT
1st June 2006

The Tribute band THE BOWIE CONTINGENT are playing at The Fleets, Smithies Lane, Honeywell, Barnsley, South Yorkshire this month on Friday 16th June.

Doors open at 8:00pm and there are no dress restrictions. The ticket price is £5.00 or on the door £6.50.

Other confirmed upcoming shows are on June 18th in Sheffield at The Corporation and August 26th in Leicester at The Shed at 8pm.

The Bowie Contingent originally formed for a one-performance at Bowiefest in 2004, but after the success of their performance they stayed together and starting playing shows throughout the Midlands and North of England.

A few line-up changes later and the band look set for a busy summer, with gigs nationally and an ever growing fan base.The Bowie Contingent are: Jason (Vocals), Tash (Vocals/Guitar/Percussion), Craig (Guitars), Mikey (Guitars), Johnny (Bass) and Richard (Drums).

More details can be found at The Bowie Contingent

From Keith Young


---
LABYRINTH IN A TIN
1st June 2006

Soon to be released downunder in Oz... LABYRINTH LIMITED EDITION! on June 21st - forthcoming and exclusive to easydvd.com.au is a limited edition of Labyrinth comprising of the Jim Henson classic, an embossed collector's tin and a 12 page booklet.

The website (Australia's largest online DVD retailer) is also offering other popular films in similar formats.

The projected release date for Labyrinth is June 21st and the price is $22.83 (available for pre-order).

From Adam @ Bowie Dowunder


---
YELLOWBEARD ON DVD THIS MONTH
1st June 2006

Sony Pictures Home Entertainment will release YELLOWBEARD this month on 27th June which features a cameo appearance of DAVID BOWIE as 'The Shark'.

Originally released back in 1983, the pirate comedy stars Monty Python's Eric Idle and Graham Chapman, Madeline Kahn and Peter Boyle, along with other cameo roles from Peter Cook, Cheech and Chong, John Cleese, Spike Milligan, James Mason and in his final role - Marty Feldman.

The DVD release will include an anamorphic widescreen transfer and Dolby Digital Surround track. Expect to pay around $14.

From SteveP.


---
OH! YOU PRETTY THINGS ON THEIR WAY
1st June 2006

Upate: Below is the revised tracklisting that appears on the promo release. Now included is Simon Turner's version of 'The Prettiest Star' and also includes two previously unreleased mixes - 'Andy Warhol' by Dana Gillespie and Lulu's 'The Man Who Sold The World' - which by the way includes some studio talking from David during the session.

Now scheduled for release on 12th June, this is a brand new compilation CD entitled Oh You Pretty Things (The Songs Of David Bowie 1967-74).

Released on the Castle/Sanctuary label (Cat. No. CMQCD1311) the twenty-three track album contains a unique collection of early covers of the works of music's greatest living artist.

The promo tracklisting runs as follows:



01. Over The Wall We Go - Oscar
02. The Laughing Gnome - Ronnie Hilton
03. Silver Tree Top School For Boys - The Beatstalkers
04. Silly Boy Blue - Billy Fury
05. Everything Is You - The Beatstalkers
06. When I'm Five - The Beatstalkers
07. Oh You Pretty Thing - Peter Noone
08. Andy Warhol (alt mix) - Dana Gillespie (previously unreleased)*
09. All The Young Dudes - Mott The Hoople
10. Wagon Wheel - Lou Reed
11. The Prettiest Star - Simon Turner
12. I Am A Laser - Ava Cherry
13. People From Bad Homes - Ava Cherry
14. I Am Divine - The Astronettes
15. Things To Do - The Astronettes
16. The Man Who Sold The World (alt mix) - Lulu (previously unreleased)*
17. Watch That Man - Lulu
18. Growing Up And I'm Fine - Mick Ronson
19. Music Is Lethal - Mick Ronson
20. Hey Ma Get Papa - Mick Ronson
21. Backed A Loser - Dana Gillespie
22. Rock 'n' Roll With Me - Donovan
Bonus track:
22. The Man Who Sold The World - John Cougar Mellencamp

You can pre-order Oh You Pretty Things: The Songs of David Bowie
NOW.


---

OLDER NEWS

May | April | March | February | January
2005 Bowie News Archives | 2004 Bowie News Archives
2003 Bowie News Archives | 2002 Bowie News Archives
2001 Bowie News Archives | 2000 Bowie News Archives
1999 Bowie News Archives | 1998 Bowie News Archives