BOWIE TV and WHAT'S REALLY HAPPENING IN JULY - MONTHLY PLANNER

[ BOWIEWONDERWORLD SHOP ] [ LATEST DAVID BOWIE ITEMS ON eBAY ]

[ Get your @bowiewonderworld.com email address HERE sponsored by Everyone.net
]







Have YOU got some DAVID BOWIE related news or a hot scoop?
Well don't just sit there keeping it to yourself - send it in to
All news items are credited if you so wish

[ BW POLL: FAVOURITE ALBUM COVER ARTWORK? - VOTE HERE ]


---
SPECIAL GUEST SPOT FOR HUTCH
30th July 2006

HAYLEY HUTCHINSON with special guest JOHN HUTCHINSON play live at the Whitechapel, London on Friday 25th August.

Hayley Hutchinson's debut album 'Independently Blue' is a collection of hook-laden roots, country folk and bluesy pop and was released to critical acclaim in 2005.

Hayley's debut single, 'Here's The Love', was the Guardian's Single Of The Week and alongside the second single 'Independently Blue', both tracks were playlisted at BBC Radio 2.

Former DAVID BOWIE band member John Hutchinson (Hutch) will accompany his daughter Hayley for this performance. Hutch first found success in 60's Gothenburg with a solo hit single 'It Ain't Me Babe' (Bob Dylan song) and where the Swedes called him 'Sweden's Donovan'.

On his return to England in 1966 Hutch met by chance a then unknown David Bowie, who asked Hutch to join 'David Bowie and the Buzz' in a residency at the legendary Marquee Club. Hutch later joined Bowie to make the original recorded version of 'Space Oddity'. In 1973 David called upon Hutch again to join his 'Spiders from Mars' as 12-string guitarist for his 'Aladdin Sane' tours in USA, Japan and the UK.

Check out hayleyhutchinson.net for more details.

Ticket Information: Hayley Hutchinson with special guest John Hutchinson, supported by Vita Ross play live in the Whitechapel Café Bar on Friday 25th August 7:00pm - 11pm.

Whitechapel Gallery, Angel Alley Entrance, 80-82 Whitechapel High St, London E1. (Aldgate East tube station).

Book now - visit whitechapel.org or call +44 (0)20 7522 7888. Admision only £5/4 concessions.


---
JUST TO TOUCH THE FLAMING DOVE
29th July 2006

Welsh songstress CERYS MATTHEWS formerly of Catatonia, will be releasing a cover version of DAVID BOWIE's 'Soul Love'.

The track will appear on the b-side of her forthcoming new single 'Open Roads' to be released by Rough Trade on August 7th.

The full tracklisting for the UK 4-track enhanced CD is as follows:

1. Open Roads - Edit
2. Soul Love (David Bowie cover)
3. Grace Cathedral Hill (The Decemberists cover)
4. Open Roads - CD-Rom Video

Cerys also performed the song live at the Scala in London last Wednesday night.


---
MUSIC IN THE PARK FESTIVAL
29th July 2006

Tomorrow sees the 'Music In The Park' 6th Annual Festival taking place in Lincolnshire and headlining this year's festival will be the DAVID BOWIE tribute act ALADDIN SANE.

As well as offering fine live music there will be a host of family entertainment including a fun fair, inflatable slides and assault courses, barbecues and bars.

All the action takes place at Carter's Park, Holbeach, from noon on Sunday. Entry costs £3 for adults, £2 for students and pensioners and £1 for children. Discounts will be available for families and large groups.


---
HAPPY BIRTHDAY TO IMAN!
25th July 2006



To Iman
Wishing you a very very Happy Birthday
Have a wonderful day

Best wishes from Paul and family
and everyone at BowieWonderworld xxxxx




---
MUSEUM FINDS SPACE FOR ROCK ODDITY
20th July 2006



A jacket that belonged to a young DAVID BOWIE has been bought by a museum to feature in an exhibition exploring the borough's rock history.

The green striped blazer, which was onced owned by the then David Jones, was bought by Bromley Museum for £400 at an auction at Christie's.

The jacket, decorated with cartridge ink by the star himself, will feature in an exhibition at the museum dedicated to Bowie and the punk movement. A letter, signed by a 'J Deacon', came with the jacket confirming its authenticity.

The letter, dated August 29 1991, reads: "This jacket came into my possession in the mid 1960s. It was owned and decorated by David Bowie, then known as David Jones. I offered to return it to David when he was recording his Pin Ups album in France but he said I should keep it."

Adrian Green, curator of the Bromley Museum in The Priory, Orpington, said: "The style of the jacket and the colour green is certainly right for the period and it is really quite small, so it would fit the build he was at the time, probably when he was under the age of 18.

"It is nice to have because it is homemade by Bowie, and was probably used by him when he was young and living in Plaistow Grove in Bromley. It actually looks a bit like a schoolboy's jacket!"

An exhibition at the museum is due to take place in November about the borough influence on the music scene in the 1960s and 1970s, from Bowie and the Beckenham Arts Club to the punk movement and the Bromley Contingent.

Mr Green added: "We are trying to find as many people out there with memorabilia from that age who would be willing to donate stuff to us or indeed anyone who was into the glam rock movement who still has some clothes that they wore. "We are also interested in getting people's memories of the time, anyone who has any anecdotes about David Jones, the arts club or if they were at the Beckenham Free Festival, we would love to hear from them."

To contribute artefacts or memories to the exhibition, call Mr. Green on 01689 873826.

From The Bromley Times website @ bromleytimes.co.uk

You might recall the news item on here back in April last year when the Chrisities Auction took place.


---
MAKES NO SENSE AT ALL
19th July 2006

Broadcast tomorrow tonight on BBC RADIO TWO at 22:00 GMT the show that is RADIO RIVRON which sees funny man Rowland Rivron presenting the fourth in a six-part series of a lighthearted celebration of music.

Included on the show is a meeting with Leo Sayer and Michelle Collins, and Doctor Dave Radio offering help to those in need of some good music.

Rivron tries to discover when DAVID BOWIE's lyrics stopped making sense and asks John Otway Where He Is, Right Now?

The comedy programme is repeated on Saturday 22nd July, at 13:30 GMT

You can listen in here from anywhere in the world via the BBC Radio Two website.


---
THE COMPLETE DAVID BOWIE: UPDATED NEW EDITION
17th July 2006



PRESS RELEASE

Reynolds & Hearn Ltd announces the official publication of
THE COMPLETE DAVID BOWIE
by Nicholas Pegg

Expanded and Updated Fourth Edition
5 August 2006

'I can't imagine how this book could be better ... the definitive read for Bowiephiles' - Uncut

'Absolutely thorough, absolutely definitive and absolutely entertaining' - BBC Radio 5 Live

'An indispensable guide for all serious collectors of David Bowie's music' - BowieNet

'This is not just a trainspotter's manual - Nicholas Pegg has a keen critical intelligence' - Sunday Telegraph

'The Complete David Bowie certainly lives up to its title ... Pegg's opinionated and witty prose turns it into that rare thing: a reference book that sparkles' - MOJO



Critically acclaimed in its previous editions, Nicholas Pegg's ground-breaking reference book The Complete David Bowie has been widely recognized as the foremost source of detailed information and perceptive critical analysis of every aspect of David Bowie's career. Previous editions have won nominations as music book of the year from Uncut magazine ('I can't imagine how this book could be any better') and BBC Radio 5 Live ('Absolutely thorough, absolutely definitive and absolutely entertaining') among many other plaudits.

Reynolds & Hearn Ltd are now delighted to announce the publication of the fourth edition. Published on 5 August 2006, The Complete David Bowie will once again be fully revised and updated, expanding on previous editions to provide even more detail and discussion than before.

All the latest developments will be included in the new edition, ranging from Bowie's recent collaborations with artists like David Gilmour, Kashmir, TV On The Radio, BT and Arcade Fire, to his latest forays into acting in Extras, The Prestige and Arthur and the Minimoys, soundtrack projects like Shrek 2 and The Life Aquatic, the flood of archive releases that have appeared over the last few years including the Serious Moonlight, Love You Till Tuesday, Live Aid and A Reality Tour DVDs, and the expanded reissues of classic albums David Live and Stage.

'This new edition offers the chance to bring everything right up to date', says Nicholas Pegg. 'When the last edition appeared, David Bowie's mammoth 2003-2004 world tour was still in full swing. The new edition includes the full story of A Reality Tour and its unexpected curtailment - and, on a happier note, Bowie's spectacular return to live performances with Arcade Fire and David Gilmour.'

As well as incorporating all the latest updates, the new edition will revise and expand the detail of the earlier chapters. 'The encyclopaedic nature of the book means that every chapter needs constant updating', Pegg explains. 'Just like last time it's been a long and thorough overhaul incorporating thousands of words of new material, so there are fresh nuggets of information everywhere you look!'

As before, The Complete David Bowie will include:

* The Albums - detailed production history and analysis of every album from 1967 to the present day.

* The Songs - hundreds of individual entries reveal the facts and anecdotes behind not just the famous recordings, but also the most obscure of unreleased rarities - from 'Absolute Beginners' to 'Ziggy Stardust', from 'Abdulmajid' to 'Zion'.

* The Tours - set-lists and histories of every live show.

* The Actor - a complete guide to Bowie's work on stage and screen.

* Dateline - the most exhaustive day-by-day calendar of Bowie's career ever published.

* Plus - the videos, the BBC radio sessions, the paintings, the Internet and much more.

From the 11-year-old's skiffle performance at the 18th Bromley Scouts' Summer Camp in 1958, to the 59-year-old's appointment as curator of New York City's High Line Festival in 2007, The Complete David Bowie discusses and dissects every last move in rock's most fascinating career.


---
THE COMPLETE DAVID BOWIE: LAUNCH EVENT
17th July 2006

Publishers REYNOLDS & HEARN LTD are pleased to announce a signing and launch party for THE COMPLETE DAVID BOWIE Revised and Expanded Fourth Edition by NICHOLAS PEGG on Saturday 5th August 2006 at 2.00 pm till 6.00 pm.

In the basement room at: The Corner Store, 33 Wellington Street, Covent Garden, London WC2E 7BN.

Nearest tube stations: Covent Garden (Piccadilly Line), Leicester Square (Northern and Piccadilly Lines), Temple (Circle and District Lines).

Directions: The Corner Store is on Wellington Street, on the same side and just a few doors up from the Lyceum Theatre (where 'The Lion King' is playing).

Admission is free. The book will be available to buy, and the author will be in attendance to sign copies.

The bar will be open of course, and there's even a (very tiny!) dance floor, so feel free to pop in for a drink, a chat and a boogie. You can guess what the music will be!

We hope to see you there! With best wishes Reynolds & Hearn Ltd.


---
ROBBIE PENS 'THE ACTOR'
17th July 2006

ROBBIE WILLIAMS has delayed the release of his forthcoming album '1974' until the beginning of October.

The album which was scheduled for September 11th release coincided with the release of the next Justin Timberlake album.

Someone I know who heard the album the other day says and I quote: "one absolute cracker of a song on there is called THE ACTOR, which is obviously inspired by his hero DAVID BOWIE.

After previously recording 'Kooks', Robbie obviously is heavily into the 'Hunky Dory' album.


---
LATEST BW POLL ONLINE
16th July 2006

The current BW poll that's underway... What is your favourite DAVID BOWIE album cover artwork?

So far 'Aladdin Sane' is still in the lead, with 'Diamond Dogs' following up from behind.

The top five positions so far are as follows:

1. Aladdin Sane
2. Diamond Dogs
3. Low
4. Heathen
5. Scary Monsters (And Super Creeps)

Have your say and [VOTE HERE] for your favourite David Bowie album artwork.


---
TAKE A QUICK BUTCHERS...
14th July 2006

For those of you having problems viewing THE PRESTIGE trailer featuring DAVID BOWIE via the QuickTime player can also check it out via YouTube.com web site...



As you already surely must know DAVID BOWIE is to appear in the upcoming 2nd series of the RICKY GERVAIS / STEPHEN MERCHANT BBC2 comedy 'Extras'. This 2nd series starts on Friday 15th September. The previous day a teaser trailer will be broadcast also on BBC Two at 10:00 pm. Pop on over to the Ricky Gervais web site @ rickygervais.com where you can download a podcast and find out more information..


TV ON THE RADIO drummer Jaleel Bunton has been interviewed for The Japan Times Online website... here's the highlight...

Since TVOTR is more interested in indulging inspiration than forging a distinctive sound, anything can qualify as a contribution, and there's no mistaking that voice on 'Province' off Return To Cookie Mountain
"The story goes, DAVID BOWIE's doorman bought a painting from Dave, Dave gave him 'Young Liars,' and he passed it on to Bowie. Much later, we were at a gas station in Oklahoma, and this guy calls Dave's cell and says [soft Brit accent], 'This is David Bowie,' and Dave said, 'Don't f**k with me.' 'No, no, it's really David Bowie.'" Bunton laughed. "Of course, we had to ask him if he wanted to sing on our record." - You can read the whole article @ Japan Times Online website...


---
THE 2ND PRESTIGE TRAILER ONLINE
14th July 2006



The second trailer for the forthcoming movie THE PRESTIGE is now online and the good news for all of us is this one features DAVID BOWIE as Nikola Tesla.

The movie due for release on October 27th is based on Christopher Priest's 1996 novel, Rival magicians in turn-of-the-century London battle each other for trade secrets. The rivalry is so intense that it turns them into murderers.

Directed by Christopher Nolan, which reunited 'Batman Begins' stars Christian Bale and Michael Caine. Nolan also directed Memento and Insomnia. The movie also stars Hugh Jackman, DAVID BOWIE and Scarlett Johansson.

You can view the full trailer in QuickTime, High Definition or download to your iPod at Apple.com

For those of you having problems viewing the trailer via QuickTime - view here

Thanks to Mooch for posting on the BW Message Board.


---
DAVID PAYS TRIBUTE TO SYD
12th July 2006

DAVID BOWIE has paid tribute to SYD BARRETT following his death on Friday, citing the former Pink Floyd frontman as a "major inspiration".

Barrett passed away following complications relating to diabetes at the age of 60.

David said on BowieNet: "I can't tell you how sad I feel. Syd was a major inspiration for me. The few times I saw him perform in London at UFO and the Marquee clubs during the Sixties will forever be etched in my mind. He was so charismatic and such a startlingly original songwriter.

"Also, along with Anthony Newley, he was the first guy I'd heard to sing pop or rock with a British accent. His impact on my thinking was enormous. A major regret is that I never got to know him. A diamond indeed."

Barrett had lived a reclusive life since suffering a LSD-induced breakdown at the start of the band's fame in the 1960s.

He left the band in 1968, just three years after bassist Roger Waters invited him to join, and was replaced as frontman by David Gilmour.


---
JUSTIN TIME, AT TIMES, I GUESS
8th July 2006

Yesterday at a press conference in Paris JUSTIN TIMBERLAKE namedropped DAVID BOWIE as one of his influences in order to get his main message across that he "...wanted to sing the song like a rock and roll singer, not an R&B singer, that's the approach."

Timberlake modeled himself after DAVID BOWIE and Prince, and says of his new track 'SexyBack'... "The best way I can describe that song is say David Bowie and David Byrne decided to do a cover of James Brown's 'Sex Machine'. That's the closest I could come," he said. "That's all of my influences for that song."

Timberlake wants to push the boundaries of pop music with his new album, 'FutureSex/LoveSounds', scheduled for release on September 11th, that marks a departure from his earlier chart-topping style.


---
SPACE ODDITY SPECIAL THEATRE TRIBUTE
8th July 2006

SPACE ODDITY - David Brighton's Tribute To David Bowie have a special theatre show coming up on Saturday August 5th at the Orange County Pavilion, 801 N. Main St, Santa Ana, CA 92701 USA.

Doors open: 5:00pm, with Showtime at: 8:00pm.

Ticket prices are: Theatre $25 / Balcony $30 / Orchestra table $35 / Orchestra booth $35.

Telephone for Tickets on: 714-.550-0550.

For a reservation at Ambrosia, the OC Pavilion's 5 star restaurant, call 714-550-0811.

More details and information can be found at DavidBowieTribute.com

From David Brighton.


---
CLIMB COOKIE MOUNTAIN AND FIND BOWIE ON TOP
7th July 2006

New York art rockers TV ON THE RADIO have been interviewed by Bernard Zuel for The Sydney Morning Herald. As expected the envitible question about DAVID BOWIE guesting on their brand new released album Return To Cookie Mountain
crops ups...

...And people who know people. People such as David Bowie. A resident of New York and a regular in the visual arts and musical underground, Bowie was an early fan of TVOTR. He regularly dropped their name in interviews and turned up at tiny gigs, encouraging them personally. He has taken his involvement one step further on Return to Cookie Mountain, contributing backing vocals on 'Province'.

"He respected what we were doing and he wanted to be a part of it," Sitek says. "He didn't want to be showcased or anything, he didn't want to be in charge of it. It was done in the most altruistic spirit that someone could record."

No amount of the herb can dampen the enthusiasm in Sitek's voice as he talks about Bowie's involvement.

"You can't pick a bigger influence for me personally than Brian Eno and David Bowie," he says. "That's it. That was the first time I realised that recording was an art. It wasn't like lab-coat bullshit but wild experimentation and no allegiance to habit. The [Roxy Music] song Virginia Plain was the most punk-rock thing I'd ever heard and that was after I had heard punk bands.

"Talking Heads, Bowie and Roxy Music had a fierce loyalty to try to do things. And that's something I adopted really early. I was in hardcore bands but immediately had to get out of them because the music was just too limited for me now."

You can read the whole article over @ The Sydney Morning Herald website.


---
AND THE BITS FLEW FAR AND WIDE
5th July 2006

DAVID BOWIE tribute act ROB STORM is doing a one-off public performance on Saltcoats Beach, Scotland this month on Saturday 15th July. More details and information can be found at VirtualBowie.co.uk...

NEVERENDING WHITE LIGHTS fronted by DANIEL VICTOR performing the Edgefest in Toronto last weekend played their version of DAVID BOWIE's 'I'm Afraid Of Americans', which included Victor doing an eerily spot-on Bowie impression while unfurling a Canadian flag and playing on the patriotic fervour that was running high all day...


---
I LEANED BACK ON MY RADIO
4th July 2006

Be sure to tune into AFTERNOON PLAY to be broadcast on BBC Radio Four on Tuesday 11th July where you can listen to 'Star Man' by Alistair Jessiman.

On a visit home to Glasgow for his father's funeral, Tom's thoughts go back to 1974, the year when as a 15-year-old schoolboy he was fascinated by stars: the constellations of the night sky, glamorous rock stars like DAVID BOWIE, and would-be local stars like the charismatic and sexually ambiguous Danny who he meets one day on the bus. Directed by David Jackson Young. Starring: Paul Young, William Barlow, Finlay Walsh, Carol Ann Crawford.

Afternoon Play (Drama)
Starting: 14:15 on Tuesday 11th July. Duration: 45 minutes.
BBC Radio Four and BBC Radio Four Longwave.

You can listen in online from anywhere in the world - visit bbc.co.uk website.

If you miss the broadcast you can still tune in and listen to the archive which is kept for seven days.


---
STARMAN DVD SPECIAL EDITION
4th July 2006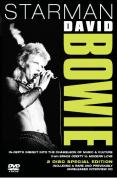 Update: The forthcoming DVD release DAVID BOWIE: Starman - Special Edition includes a bonus CD and a 32-page booklet and is scheduled for release this month on 24th July this DVD provides an in-depth insight into his music and culture.

Press Release: Bowie is simply one of the world's most dynamic stars; he has dared to stretch musical boundaries further than ever before and through his stylish, sometimes flamboyant, dress code this genius has set himself apart from his peers.

Through these incredibly frank and entertaining programmes we discover the reasons and effects of Bowie's actions. Using candid interview footage with Bowie himself, his wife Iman, and friends and contemporaries such as Iggy Pop, Brian Eno and Eric Idle, we give you a rare insight into Bowie - an iconic figure without equal on the world stage. The numerous musical clips spanning the decades between 1969 and 2002, together with rare family photos, serve to illustrate the invention and drive of an artist who has been at the top of his profession for forty years and counting.

To compliment the collection, a fabulous audio CD presents further exclusive interviews revealing Bowie in a whole new, relaxed light. The answers to the questions provide an enlightening perspective on the life of an unique performer... essentially, in car entertainment at its unbeatable best, an unparalleld opportunity to listen and learn more about one of the world's most enduring talents.

Technical Details: Fullscreen 4:3 / Languages English - Dolby (2.0) Stereo / Region 2.

You can pre-order NOW via Play.com website and save 23%.


---
RETURN TO COOKIE MOUNTAIN OUT TODAY
3rd July 2006



Released today July 3rd is the new album from TV ON THE RADIO which features the vocal talents of a certain Mr. DAVID BOWIE on the track 'Province'.

Released on the 4ad label (cat. no. CAD2607CD) the tracklisting is as follows:

01. I Was A Lover
02. Hours
03. Province (featuring David Bowie on vocals)
04. Playhouses
05. Wolf Like Me
06. A Method
07. Let The Devil In
08. Dirtywhirl
09. Blues From Down Here
10. Tonight
11. Wash The Day

You can order Return to My Cookie Mountain
NOW for only £8.99.

The album will also be released on vinyl (cat. no. CAD2607).


---
LATEST BW POLL
2nd July 2006

There's another brand new BW poll underway...

What is your favourite DAVID BOWIE album cover artwork? [VOTE HERE]

So far 'Aladdin Sane' is in the lead, with 'Diamond Dogs' following up from behind.


---
MORE BOWIE DVDs
1st July 2006



Scheduled for release on 4th September is DAVID BOWIE: Total Rock Review DVD from Classic Rock Legends.

This DVD series cover the ultimate case studios from rock history on DVD.

Edition Details: - Region 2 encoding (Europe, Japan, South Africa and the Middle East including Egypt). PAL.

You can Pre-Order David Bowie-Total Rock Review
and receive a 25% discount.

And last but least, another DVD release due is David Bowie: Starman - Special Edition which includes a bonus CD and a 32-page booklet. Scheduled for release on 24th July this DVD provides an in-depth insight into his music and culture. English (Region 2). I've only seen this for sale via Play.com at present.


---

OLDER NEWS

June | May | April | March | February | January
2005 Bowie News Archives | 2004 Bowie News Archives
2003 Bowie News Archives | 2002 Bowie News Archives
2001 Bowie News Archives | 2000 Bowie News Archives
1999 Bowie News Archives | 1998 Bowie News Archives