BOWIE TV and WHAT'S REALLY HAPPENING IN SEPTEMBER - MONTHLY PLANNER

[BOWIEWONDERWORLD SHOP] [LATEST DAVID BOWIE ITEMS ON eBAY]

[Get your @bowiewonderworld.com email address HERE]







Have YOU got some DAVID BOWIE related news or a hot scoop?
Well don't just sit there keeping it to yourself - send it in to
All news items are credited if you so wish

[BW POLL: FAVOURITE ALBUM COVER ARTWORK? - VOTE HERE]


---
WHO WILL LOVE ALADDIN SANE?
30th September 2006

Which is your favourite DAVID BOWIE album cover artwork? The voting in the BW Visitors Poll placed 'Aladdin Sane' in top position throughout with 15.79% of the total votes.

The top five favourite album cover artwork after a total of 1,286 votes cast were as follows:

01. Aladdin Sane (203)
02. Diamond Dogs (186)
03. Low (175)
04. Heathen (102)
05. Scary Monsters (and Super Creeps) (84)

To view the full breakdown of the voting please [VIEW HERE]

Watch this space for next poll.


---
DAVID INTRODUCES GNARLS ON STAGE
27th September 2006

DAVID BOWIE was back on stage last night to introduce GNARLS BARKLEY at his gig at the Nokia Theatre in Times Square, New York City.

Several bloggers have posted up their comments along with a couple of photos and you can also check out video footage.

Simply click here to see what you need to see.

Thanks to IamRockinhorse for the initial pointer on the BW MB and Vejgurl / ColdBeverage and SlashGear.


---
DAVID AND IMAN ATTEND MADAMA BUTTERFLY
26th September 2006




Last night in New York saw the opening of the Metropolitan Opera's fall season, with Oscar-winner Anthony Minghella directing Giacomo Puccini's MADAMA BUTTERFLY to standing ovations from all over the opera house.

DAVID BOWIE and his wife IMAN were present at the opening, watching the opera from the Gold Coast seats and afterwards at the dinner held at the Lincoln Centre.

Other guests included: Salman Rushdie and his wife Padma Lakshmi, Susan Sarandon and Tim Robbins, Lou Reed, Rufus Wainwright, Jude Law and Sienna Miller, Sean Connery, Liv Tyler, Sigourney Weaver, Meg Ryan and many, many others.

Further reading on the event:

International Herald Tribune: From The Met, Puccini for the people
Fox News: Fox28 Review
Hello Magazine: Galaxy of stars [Includes Photos]
New York Sun: On Stage and Screen
Photos: Rex / WireImage / Yahoo! / BW MB


---
BOWIE THE NEW MUSIC 'GODFATHER'
26th September 2006

DAVID BOWIE is to act as New Music 'Godfather' for Innovative Music Recommendations...

NOKIA have launched the International Community of Music Connoisseurs - The Music Recommenders where forty leading independent music stores from around the world are working with Nokia to create unique and customisable music recommendations. Music Recommenders brings together great new music across continents and genres, keeping music enthusiasts in touch with the latest tracks as well as helping them discover new artists.

Internationally influential independent record stores including Fat Beats (New York), Reckless (Chicago), Pure Groove (London), Hard Wax (Berlin) and Mona Records (Tokyo) will offer a personalised selection of new music across 12 genres - from Pop to Rock to Classical, Jazz and Electronic.

Every month, experts from each of the stores will bring together music from their specialist genre. No other music recommendation experience offers such an extensive combination of human insight, knowledge and expertise, coupled with global reach.

As a fanatical explorer and discoverer of music from around the world, David Bowie is taking the role of music 'godfather'. He will be contributing to Music Recommenders every month through features and podcasts, sharing his most exciting discoveries as well as appearing in a short film, shot by Wim Wenders (Buena Vista Social Club), which advocates new music and the culture of record stores around the world.

Users can freely browse the music, search for music according to recommender, genre or style, listen to music clips and read weekly updates, artist interviews, city music guides and even information on the stores and recommenders themselves. Once registered, subscribers can receive an instant playlist of 30 second samples tailored specifically to their tastes and purchase the tracks they like. Once a month, users will receive the latest recommendations and editorial features direct to their email inbox.

"We've searched around the world to find the most passionate and credible music specialists. The stores featured on Music Recommenders have the experts who are supporting and breaking new artists," commented Tommi Mustonen, Director, Multimedia, Nokia. "And we're thrilled to have David Bowie - a musical icon - sharing his own passion for what's new in music. We are able to make a wealth of knowledge, passion and foresight available on a global scale - something that has never before been attempted."

"Waking up to a new sound or new band is something that makes my day just that bit more exciting," said David Bowie. "Unfortunately, so much music goes unheard, especially things that don't bow to the mainstream. Music Recommenders help navigate the undiscovered music that is out there. I've actually been to some of the stores featured on Music Recommenders in various parts of the world, and found them to be a wonderful source for new and less traditional music."

You can read the complete official press release here.


---
DAVID FROM THE ATTIC
25th September 2006

DAVID BOWIE dropped in on the live webcast show 'In The Attic' last Tuesday evening (Sept 19th).

The webcast show is hosted by Pete Townshend's girlfriend Rachel Fuller, and took place backstage at the Madison Square Garden in New York.

Unfortunately, you only hear his voice. You can fast forward to 44.40 and listen in.

Go to ITA from Madison Square Garden at intheattic.tv/watch/

Thanks to Paul for the pointer on the BW MB.


---
YOU DECIDE THE WINNERS
24th September 2006

Voting for the BT DIGITAL MUSIC AWARDS 2006 is in full swing, and well over 250,000 votes have been cast so far!

BowieWonderworld is in the Best Unofficial Site category - This award is for anyone who runs an unofficial or 'fan' site for an artist, music product, service or event which is currently online.

This is your chance to have your say.... please click on the logo to vote for this site.





Voting ends next Saturday on 30th September and the winners will be announced at the awards ceremony on October 3rd, so time is running out to get your votes in.

To vote for your favourite nominees visit the Voting page, select the category you want to vote in and choose your favourite nominee - and remember, you can vote for each category once every day.

We're still giving away exclusive tickets to the DMAs ceremony on October 3rd at the Roundhouse. All you need to do is play our StageDiver game and get far enough to register yourself for your chance to win a pair of tickets to this prestigious event, so good luck and get diving!

From The DMA 06 Team.


---
KASHMIR ON TOUR DOWNUNDER
22nd September 2006

DAVID BOWIE's cameo on Danish rock outfit Kashmir's latest album has been a big help to the band. But frontman Kasper Eistrup says he doesn't want Bowie to be the sole focus of the group's fifth album, No Balance Palace
. "It is a great advantage for us to have David Bowie on board because it has given us a lot of extra attention," said Eistrup. "But still we're trying not to let it overshadow the rest of the album." The album features 11 songs, and also includes a duet with Lou Reed.

Kashmir - Eistrup, Mads Tunebjerg, Asger Techau and Henrik Lindstrand - were all fans of Bowie, and were extremely excited when he agreed to record a duet, The Cynic.

Meeting the singer was a "freaky" experience, said Eistrup. "We are all great fans of his, how could you not be?" he said. "He is like one of the big guns so for us it was almost unbelievable to even meet him and of course to work with him was crazy."

Kashmir, which formed in 1991 and has won several Danish Grammys, including best group, has performed for Princess Mary and Prince Frederik. Eistrup described the Australian-born princess as "pretty" and said playing at the royal wedding party was "great fun".

The group arrived in Australia this week for a series of gigs to promote their new album and are touring with local band Something for Kate.

Following the brief Australian tour, Kashmir will fly back to Europe to tour before returning to the studio to begin work on another album.

You can read the full article via the West Australian website.


---
SOME CAT WAS LAYIN' DOWN SOME ROCK 'N' ROLL
22nd September 2006

TV audiences last night watched DAVID BOWIE performing in a Hertford bar, a week after they saw Orlando Bloom kissing a woman at an historic mansion in the town.

The stars appeared in Extras, the BBC2 comedy series written by Ricky Gervais and Stephen Merchant.

Elberts, the Pegs Lane bar, and Balls Park in Mangrove Road, the former home of the University of Hertfordshire's business school, were used as locations for the acclaimed Thursday night series.

Rock star Bowie was on set in June at Elberts, as the Mercury reported, while Hollywood heartthrob Bloom was spotted on the Balls Park estate at the same time by astonished passers-by.

Bowie's visit came as workmen completed a refurbishment of Elberts and fixed the hole blown in its front wall by a huge lorry.

"It was very exciting. There was so much going on," said owner Nick Shipton. "At the first meeting Gervais was saying, 'Are these guys going to be ready?' "We had people working through the night and at weekends and when Ricky and Stephen walked back in, Ricky said: 'Wow, I can't believe what you've done'.

"Work stopped at the tax office next door. Everyone was leaning out the window. We had people with magazines and DVDs they wanted to get signed, but there was a ring of steel around here.

"Ricky was brilliant - he's a really funny guy. And Bowie even sang 'Starman' to the crew during a break in filming!"

In last night's episode, which will be repeated on BBC2 at 10.45pm on Sunday, Elberts featured as a private members bar at which Gervais's character, aspiring writer Andy, desperately tries to meet Bowie.

You can read the full article here online at the Hertfordshire Mercury News website.


---
BOWIE: THE BERLIN TRILOGY DVD
21st September 2006



Update: More details have now have emerged of the forthcoming DVD release DAVID BOWIE - Under Review 1976-79 The Berlin Trilogy that was mentioned on here at the beginning of the month...

David Bowie - Under Review 1976-79 The Berlin Trilogy (DVD)
Additional Information Includes Rare Performance Footage Never Seen Before On DVD.
Format DVD Region 2
# Discs/Units 1
Release Date 09/10/2006 by Nova Sales and Distribution
Catalogue Number SIDVD512

Synopsis: By the mid 1970s David Bowie was the biggest pop star in the UK, but his personal life was in turmoil. In a bid to escape the chaos of his drug problems and to flea from the media spotlight, the singer eventually found his way to Berlin, where he started to work on what would become some of the most memorable and critically lauded recordings of his entire career.

With Low, "Heroes" and Lodger, Bowie stopped moving from persona to persona as he had previously done, settling instead on being simply himself. He began to blend the music he was hearing in his adopted homeland (Krautrock, Kraftwerk) with thrilling and often avant-garde methodologies as used by his friend and colleague Brian Eno.

David Bowie - Under Review 1976 - 1979: The Berlin Trilogy features live and studio performances by Bowie, rare interviews, and a host of other features, all interspersed with independent review and criticism from a panel of esteemed experts. These include; former members of both Neu! and Cluster (and key Bowie influences), Dieter Moebius and Michael Rother; broadcaster, journalist and ambient author of The Ambient Century, Mark Prendergast; ex-Melody Maker/Mojo scribe and Reviews Editor at Wire, David Stubbs; music expert and author Daryl Easlea; style aficionado, Paolo Hewitt amongst others.

Extras include: Extended Interviews, Special feature, 'Bowie After Berlin', Interactive digital David Bowie quiz, Beyond DVD section and more.

You can Order NOW
RRP: £12.99. Our Price: £9.74. You Save: 25%.


---
RICKY'S TOP TEN BOWIE
21st September 2006

Along with very much anticipated event of DAVID BOWIE appearing on BBC2 comedy Extras tonight - the TELEGRAPH newspaper online has a fab article with RICKY GERVAIS entitled 'Perfect playlist: Ricky Gervais' favourite David Bowie songs'.

In the article, Ricky names and describes his favourite ten DAVID BOWIE songs - which by the way you can also listen to online.





You can read the whole interview via the Telegraph online website.

Thanks to Stevee for the pointer on BW MB.


---
101 BOWIE CD CAMPAIGN
21st September 2006

101 are running a special DAVID BOWIE CD Campaign which ends tomorrow at midday. Several Bowie albums have been reduced...

Bowie At The Beeb (The Best Of The BBC Radio Sessions 1968-1972) - (CD Album) £7.95
Ziggy Stardust And The Spiders From Mars (The Motion Picture Soundtrack - 30th Anniversary - (CD Album) £7.95
David Live (At The Tower Theatre Philadelphia/Remastered) - (CD Album) £7.95
Stage (Live/Remastered) - (CD Album) £7.95

Space Oddity [Remastered] (CD Album) £5.95
The Man Who Sold The World [Remastered] - (CD Album) £5.95
Hunky Dory [Remastered] - (CD Album) £5.95
Aladdin Sane [Remastered] - (CD Album) £5.95
Young Americans [Remastered]





Bowie CD Campaign Ends 22 September at mid-day - all reduced - don't miss out - order now!!


---
ONE OF THE FUNNIEST PEOPLE
21st September 2006

Comedian RICKY GERVAIS has described his all-time hero DAVID BOWIE as 'one of the funniest people you will ever meet' in the run up to his appearance on his BBC2 sitcom.

In the show, Extras, due to be aired tonight at 9pm, Gervais's character Andy attempts to get himself into a private members club where the Brixton-born rocker is performing only to get kicked out.

The veteran rocker writes and sings a song to Gervais which says: "Little fat man who sold his soul, little fat man who sold his dream, chubby little loser... pathetic little fat man, no one's bloody laughing."

In a recent interview by NME, Gervais said: "David Bowie is one of the funniest people you will ever meet.

"You forget that he's still David Jones from Beckenham. When he goes home he still kicks his shoes off and sits in his slippers watching telly."

On how he convinced Bowie to join the stars who have appeared on the show, that includes Kate Winslet, Orlando Bloom and Samuel L Jackson, he added: "I met him at a charity concert. Obviously someone told him, 'That's the bloke out of The Office.' Then I got an email that said, 'I've watched, I've laughed, what do I do now?'"

Co-writer Stephen Merchant said: "David Bowie is a person of enormous fame and credibility. We used him [in the show] to accentuate the fact that he's everything Ricky's character isn't."

You can read the full article and photo over at the Bromley Times website.

By Kate Mead

(Ed. Don't forget Extras airs tonight Thursday at 21:00 GMT on BBC2 and in case you miss it the repeat is shown on Sunday at 22:45 GMT same channel).


---
IMAN HONOURED BY CAW
20th September 2006



IMAN and her husband DAVID BOWIE were attendees at The Center for the Advancement of Women in New York City annual gala at the Waldorf Astoria Hotel in the grand ballroom last Wednesday.

Iman, along with Jane Fonda were honoured by the center for being 'outstanding women who have demonstrated vision and leadership for the advancement of rights and opportunities of women'.

Iman was dressed in a striking ruffled, floor-length Angel Sanchez gown, escorted by David in black tie attire.

You can view more photographs from the gala event at the AdvanceWomen.org website.


---
TAKE A QUICK BUTCHERS...
19th September 2006

DAVID BOWIE features on the cover of Q 20th Anniversary Special magazine. The November issue contains twenty exclusive interviews along with twenty special covers. All new DB photos taken by Frank W Ockenfels III...

Former DAVID BOWIE backing singer EMM GRYNER has a new album 'The Summer Of High Hopes' released on 26th September nationwide through Dead Daisy/Outside Music. Emm is to open for David Usher at Scotiabank Toronto Waterfront Marathon Welcome Concert on Friday, 22nd September (6pm to 9:30pm) at Nathan Phillips Square. FREE and open to the public!...

GLENN DANZIG former frontman with Misfits and Samhain frontman has a new album due for release on 17th October entitled 'Black Aria II'. Included on the album is a cover version of DAVID BOWIE's 'Cat People'...


---
WOODY GIG NEXT MONTH
18th September 2006

Ex-Spiders drummer MICK 'WOODY' WOODMANSEY is playing a gig as special guest drummer with Maniac Squat on Thursday 26th October at Colchester Arts Centre.

Maniac Squat were active in the 90's and play this rare reunion gig in their hometown. The set will include some DAVID BOWIE songs.

More details and tickets are available @ Colchester Arts Centre website.

Other acts include Giles Smith and Martin Newell, who formerly collaborated in the 1980s band Cleaners From Venus, made famous by Giles Smith's book 'Lost in Music'.

From Tom Wilcox MySpace


---
SIMMS BROTHERS BAND AT JIMMY'S
18th September 2006

When vocalist FRANK SIMMS asked Jimmy Love if his band could play at Jimmy's Seaside on September 2nd, Love didn't hesitate. The owner of the Cove Road restaurant called the five bands he had booked for the Labor Day date and rescheduled.

"If the SIMMS BROTHERS are available, they're playing," Love said in an interview.

The Stamford-based Simms Brothers Band, who released two albums through Elektra Records in 1979 and 1981, reunited after more than 25 years at Jimmy's in June.

"We just got together around the spring, and it was 'Oh you're around? You want to play? Yeah I want to play, do you want to play?'" Simms said. They performed before a packed house in front of a "mesmerized" audience, Love said.

"It was a magical night - and I said it to Frank later - it was like lightning in a bottle," Love said. "I think they turned on at 10 o'clock and it was like they never missed a day in 20 years."

The Simms Brothers Band, which plays a blend of jazz, rock and R&B, performed at Alive @ Five in July.

The seven-man group still has five of its original members and local roots, Simms said.

They rehearse in a basement music studio at drummer Budd Tunick's Stamford home. Singer Dennis Collins also lives in the city, and Simms, a Darien resident, grew up in Stamford. Playing in the hometown atmosphere, especially at Alive @ Five, allowed him to reunite with old friends, Simms, 58, said. "There were guys who I went to high school and junior high school with at that gig," he said.

Tunick said he was at first apprehensive about doing such a large event so early in the reunion effort, but everything fell into place quickly. "When we were in the height of our career we played all the time," he said. "We were playing, four, five, sometimes six nights a week and when we didn't play we rehearsed ... a lot of it just came back to us because we'd done it so many times."

The Simms Brothers Band perform a variety of original songs, as well as cover tunes from artists like Smokey Robinson, The Beatles and Steely Dan. Formed in 1974, they soon became a favorite at Toad's Place in New Haven and were named top band in Connecticut on WPLR. Still, Simms contends, they were not "real artists," back then, and imitated a lot of what they heard elsewhere. Now, Simms said, the band mates, who are also song writers, are more sophisticated and are excited to play more original works.

"Music is such a wonderful, spiritual thing, and you have to cultivate it like that," Simms said.

Despite the band's double decade break, most of the members stayed active in the recording industry. Simms and his brother George, who does not currently perform with the group because he lives in Hawaii, toured and provided back-up vocals for artists like DAVID BOWIE Chic, Madonna and Billy Joel.

Tunick said that Simms has become one of New York's premier singers."Frank's on all the sessions, people won't start a session until Frank arrives," Tunick said. "He's just so good and so versatile that he rose to the top."

Simms has also mastered voice overs, providing the voice of the Kool-Aid Man, and the vocals for several television commercials for products like Bounty and Charmin. He is also the voice of "TV Fun House," and several other jingles for recurring sketches on Saturday Night Live.

Tunick, who works in production management, served as a management consultant for artists like Duran Duran, Stevie Ray Vaughn and the B-52s. He is currently managing many artists, including Fannypack, a group which just shot a commercial for Old Navy.

Tunick, 56, said jumping from behind the scenes to back on stage challenged his endurance, and drove him back to the gym where he worked to build up his arm strength.

Small hurdles aside, Tunick said he and his band mates are in prime form. "I don't know if it's just that we've matured, but I feel like I'm playing better than ever and everybody's playing better than ever," he said.

Both Simms and Tunick said they are hoping for a big turnout at Jimmy's and are toying with the idea of an overseas tour next summer. "We hope a lot of people show up and give us the momentum to keep on going," Tunick said.

Love said he is thrilled to have the Simms Brothers Band return to his venue, after such a successful show in June. "The way that night went I don't know if it can be duplicated," Love said. "But we're happy to try."

By Amanda Pinto @ Stamford Times website.

Check out Simms Brothers Band on MySpace.


---
PLEASE VOTE FOR BOWIE WONDERWORLD
17th September 2006

The 2006 PEOPLE'S CHOICE AWARDS are underway! You decide the winners at the Digital Music Awards 2006 now!

Best Unofficial Site: This award is for anyone who runs an unofficial or 'fan' site for an artist, music product, service or event which is currently online.

This is your chance to have your say.... please click on the logo to vote for BowieWonderworld in the best unofficial fan site category.



---
GET THE LATEST VOYEUR FANZINE
15th September 2006

Uncage the colours? Unfurl the flag? The latest edition of International DAVID BOWIE Fan club The Voyeur's new magazine is even more beautiful than ever before.

To celebrate The Voyeur's complete new full colour look, this edition of 'The Voyeur' comes with a free 'File Under Shane' introduction sampler.

Especially for this sampler Dutch singer-songwriter 'Shane' recorded unique versions of 'Rubber Band' and 'Amsterdam'.

For this edition 'The Voyeur' had an exclusive interview with George Underwood. George very openly talks about the friendship between him and David, rare unreleased recordings and much more.



In this issue:

Watch out for 'The Voyeur'
Welcome to 'The Voyeur'
George Underwood (an exclusive interview)
The Letter (the opinion of a fan club member)
Rumours and Lies and Stories they made up (news items)
Dressing room extravaganza?
Four page full colour David Bowie centrefold
File Under Shane ('The Voyeur' meets the artist)
How Glam Rock started (by Marion Ziemke)
Yellowbeard (a review)
Invasion of the British ('The Voyeur' Fan(club) meeting reviewed)

[You can click here for a Sneak Preview of several pages from this brand new issue].

More details about the latest edition or how to become a member of 'The Voyeur' can be found on the homepage at http://go.to/bowiefanclub

From Peter Smit


---
BRATZ REMAKE/REMODEL BOWIE
14th September 2006

"We are The Bratz and now we're coming to town."... Believe it or not my 11-year-old daughter JADE is over the moon and hasn't stopped dancing all evening. Why? Well her favourite childrens programme BRATZ are all set to release their third CD 'Bratz Forever Diamondz' on 19th September.

The CD features brand new songs by some of today's hottest pop songwriters and producers, notably Matthew Gerrard, best-known for his work on the #1-charting soundtrack to High School Musical and for hits by Kelly Clarkson, Hilary Duff and Jessica Simpson, to name a few.

One particular stand-out track is a brand new remake of the DAVID BOWIE 1980 hit 'Fashion' - retitled 'Ooooh Fashion' and yes you can listen to it here

All the music is inspired by MGA Entertainment's new Bratz Forever Diamondz fashion doll line hitting stores now. The full tracklisting runs as follows:



01. Ooooh Fashion
02. Wazz Up
03. Keep It Up
04. What's Going On
05. Best Friends
06. My Attitude
07. Express Yourself
08. You've Got It
09. Just Having Some Fun
10. Let Go
11. Hang On
12. Forever Diamondz
13. Beautiful
14. Que Tal

You can order Forever Diamondz
NOW or preorder the Collectors Edition
version.


---
MIRABELLE DIARIES: HELP REQUIRED!
13th September 2006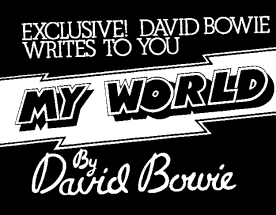 Can anyone out there help BW with the DAVID BOWIE 'My World' columns that appeared in MIRABELLE the seventies teenage girls magazine?

I've just discovered that very first one was actually published on July 21st 1973 and not 5th May 1973 as previously thought. Therefore I've gone through every single column I have in my archives running through to 3rd May 1975 with the known confirmed dates from the magazine cover. Plus a lot of help from people selling Mirabelle magazines on eBay.

After over thirty years of searching, purchasing and photostat donations, I reckon I'm now only 4 columns missing from a total of 94.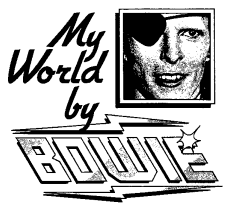 Is there anyone out there with any of the columns glued in a scrapbook or magazines hidden away in a trunk in the attic? If so, any help on confirming the remaining dates would be more than helpful.

If you have any Mirabelle magazines in your possession please could you email me the opening line of the Bowie 'My World' column and date if known.

A list of definite dates July 1973 - May 1975 appear here.

Many thanks Rednik


---
BETWEEN THE COVERS FOR CHARITY
12th September 2006

Released today by Sony is a charity benefit CD entitled BETWEEN THE COVERS which contains an all-star line-up including DAVID BOWIE Mick Jagger, Eric Clapton, Madonna, Alicia Keys, Lenny Kravitz and more.

Proceeds from the album, a compilation of covers of some of the greatest songs of this generation, will go to benefit the T.J. Martell Foundation, which supports cancer, leukemia, and AIDS research.

The full tracklisting runs as follows:


01. Lenny Kravitz - American Woman
02. U2 - Everlasting Love
03. Madonna - American Pie
04. Rod Stewart - Downtown Train
05. Sarah McLachlan - Ol' 55
06. Tori Amos - Smells Like Teen Spirit
07. Dixie Chicks - Landslide
08. Eric Clapton - Nobody Knows You When You're Down And Out (Unplugged Version)
09. Norah Jones - Cold, Cold Heart
10. Maxwell - This Woman's Work
11. Alicia Keys - If I Was Your Woman/Walk On By
12. The Bacon Brothers - If I Needed Someone
13. David Bowie and Mick Jagger - Dancing In The Street

You can purchase Between the Covers
NOW on import via UK and Europe or directly from the US click here
---
EXTRA DATE FOR HIGH LINE FESTIVAL
11th September 2006

Update: 22/1/07 Due to ongoing work on a new project, DAVID BOWIE has announced that it will not be possible for him to perform at the Highline Festival, in New York City in May. He will however continue to curate the event alongside Highline producers David Binder and Josh Wood. - from BowieNet.

In case you missed the update below... an extra date has been added to DAVID BOWIE's HIGH FESTIVAL to be held in New York next year.

David will perform live at the 11-day festival which now runs from Wednesday 9th May through to Saturday 19th May 2007.

The High Line Festival is a new annual arts and music event for New York City, established by David Bowie himself, David Binder and Josh Wood.

His live performance will be enjoyed by tens of thousands of spectators at the festival itself, while millions more will experience the concert online and on satellite radio.


---
SCARLETT LEFT SPEECHLESS
11th September 2006

Hollywood actress SCARLETT JOHANSSON was left speechless when she met DAVID BOWIE recently, because the rock icon was her first love.

The Lost In Translation actress became a such huge fan of Bowie after seeing him in 1986 movie Labyrinth, she struggled for words when they came face-to-face.

She says, "I couldn't tell him he was my first love because I couldn't actually speak when he shook my hand."

As you must know Scarlett stars in the forthcoming movie THE PRESTIGE which also sees David starring as Nikola Tesla.


---
WHAT'S WOODY UP TO?
10th September 2006

GILLIAN GLOVER will release her debut album in the New Year, featuring WOODY WOODMANSEY on drums, and Maggie Ronson on backing vocals.

Gillian Glover is an exquisite singer/songwriter, with an exceptional sense of melody. Gillian plays with funk band Beatroot and this is her first solo album; a collection of rockin' blues based numbers and beautiful acoustic songs laced with pathos.

This project was started at Flower Power Studios, London, in August 2005, then finished at Miloco Studios, London, in July 2006. The album is due to be released in the New Year on the Maniac Squat label, distributed by Plastic Head.

Gillian's album features Woody Woodmansey on drums and percussion - legendary drummer with DAVID BOWIE / The Spiders From Mars, playing on the classic albums Ziggy Stardust, Hunky Dory, Aladdin Sane and The Man Who Sold The World.

Woody wrote the song 'Who Had' for the album. Woody has also worked with Art Garfunkel, Paul McCartney, Dexy's Midnight Runners, among others, and is currently in the Cybernauts with TREVOR BOLDER from the Spiders from Mars and Uriah Heep, and Joe Elliott and Phil Collen from Def Leppard.

Check out WoodyWoodmansey.co.uk or his MySpace pages.

From Tom Wilcox.


---
THE KILLERS COVER BOWIE
9th September 2006

THE KILLERS performed an exclusive gig for Radio 1 on Friday evening at the Blackpool Empress Ballroom.

Their opening song of their encore finale was the DAVID BOWIE / GEOFF MacCORMACK 1974 song 'Rock 'N Roll With Me' from his Diamond Dogs album.

From AladdinStoke.


---
GARSON ON THE TONIGHT SHOW 9/11
9th September 2006

MIKE GARSON is to perform on Monday September 11th on 'The Tonight Show With Jay Leno'.

Mike will be using his MusicPad Pro when he accompanies Daniel Rodriguez, the 'singing policeman', - the New York City cop who helped bring the country an uplifting spirit after the September 11 terrorist attacks.

In addition to this performance, Mike Garson will be performing at three Guitar Center stores as FreeHand Systems launches its product in Guitar Center stores. The three Guitar Center clinics will be in the San Jose store on September 13th at 7:00pm, the Las Vegas store on September 16th at 2:00pm, and the Hollywood, CA store on September 19th at 7:00pm.


---
NEW BOWIE POSTERS IN STOCK
9th September 2006

Push have several new DAVID BOWIE posters up for grabs. There's the Ziggy Stardust movie poster, original gig posters from two Berlin shows in 1990, Black Tie White Noise promo 'Bowie's Back' and Tin Machine gig poster Berlin 17th Oct 1991.










Visit DAVID BOWIE
to check 'em out.

There are also 3 different 'A Reality' tour crew t-shirts available - be quick with these - they are sure to sell out.


---
SLAPPER PROJECT
9th September 2006

CLIFFORD SLAPPER one of the top pianists working in London today, runs his shows at the Arts Club in Frith Street in Soho.

He recently completed a project with DAVID BOWIE for BBC2 to be shown in September.

You can read the complete Press Release here.

(Ed. Presumably the project is the new song that David performs on the 'Extras' show with Ricky Gervais).


---
DB TRIBUTE TO DAVID BOWIE
8th September 2006

Tribute band DAVID BRIGHTON - SPACE ODDITY have two gigs lined up for this month on 16th and 20th September in California.

Sept. 16th: Pala Casino Spa Resort
The Grand Cabaret. Show time: 8:00 pm. Admission Free.
11154 HWY 76, Pala, CA 92059 USA (1-877-946-7252).
Directions: palacasino.com

Sept. 30th: Ojai Classic Rock Festival
Space Oddity's show time: 6:00 pm. (Bands will be performing from 12:00 noon on).
Libbey Bowl, Libbey Park, 200 S. Signal St. Ojai, California, 93023, US All Day Admission: $25 (Six Bands) (805) 640-9014.
To Order Tickets: howardpresents.com (they've asked that you would please mention Space Oddity when you order).

For more information and details please visit: davidbowietribute.com and myspace.com/davidbowietribute

From David Brighton.


---
EXTRA EXTRA READ ALL ABOUT IT
5th September 2006

Update: DAVID BOWIE appears on the second programme of the brand new series of the hit comedy show EXTRAS by Ricky Gervais and Stephen Merchant. The show airs on BBC2 at 21:00 GMT on 21st September.

The RADIO TIMES TV magazine now on sale features David on the front cover of the magazine, which is one of six different covers which portray six of the guest stars appearing on the show.

More details at RadioTimes.com website.

There is also four-page interview with Ricky talking about Extras in this month's issue of Empire which also features a couple of DB photographs and last but not least a half page in the TV Choice magazine featuring David entitled 'Star Man'.


---
THE BERLIN TRILOGY DVD
4th September 2006

Details have emerged of another DAVID BOWIE DVD to be released on 6th November. Entitled 'David Bowie - Under Review 1976-79 The Berlin Trilogy', the DVD released by Nova Sales and Distribution obviously covers his Low, "Heroes" and Lodger albums.

Format: PAL. Language: English. DVD: Region 2.

You can Order NOW
RRP: £12.99. Our Price: £9.74. You Save: 25%.


---
OFFICIAL DAVID BOWIE 2007 CALENDAR
4th September 2006



Published now is the official DAVID BOWIE 2007 calendar. All photographs contained were taken by legendary photographer MICK ROCK.

The calendar is again published by Slow Dazzle Worldwide.

You can Purchase NOW
RRP: £9.99 - Our Price: £6.59. You Save: 34%.

Note: Fans who are members of BowieNet can also purchase a limited edition version of the 2007 calendar with a different cover. Any then remaining from the 1,000 limited edition will go on sale to the general public.


---
PLEASE VOTE FOR BOWIE WONDERWORLD
3rd September 2006

The 2006 PEOPLE'S CHOICE AWARDS are underway! You decide the winners at the Digital Music Awards 2006 now!

Best Unofficial Site: This award is for anyone who runs an unofficial or 'fan' site for an artist, music product, service or event which is currently online.

This is your chance to have your say.... please click on the logo to vote for BowieWonderworld in the best unofficial fan site category.



---
TAKE A QUICK BUTCHERS...
3rd September 2006

The first programme of six in the new series of EXTRAS by RICKY GERVAIS and Stephen Merchant will feature Orlando Bloom (14th Sept). Not sure which episode DAVID BOWIE will appear in but I'll hazard at guess at the second one which airs Thursday 21st September. Whichever, make sure you watch them all. Maybe Ricky will let slip when he appears on Jonathan Ross show this coming Friday evening (8th September)...

Inside the HMV store in Vancouver, Canada... included inside the DAVID BOWIE cd rack was a notice that read 'New David Bowie Release October 3rd 2006' (TBD = To Be Determined). The clerk inside the store said they didn't know anything about it other than what the posting said - (from Jung)...

Tomorrow sees the release of another DAVID BOWIE DVD 'Total Rock Review' from Storm Bird Ltd studios which covers 'the ultimate case studies from rock history' - (More details
)...

Update: The forthcoming RADIO TWO documentary 'Stop The World: It's Anthony Newley' hosted by Jonathan Ross and featuring DAVID BOWIE is hosted over four programmes. Starting on Friday 8th September each week through to 29th September at 19:00 GMT. The first of four programmes is entitled: 'The Pop Star': A look at Newley's 139 weeks in the UK charts in the late 1950s and early 60s, including his two number one records and reworking of folk songs such as Strawberry Fair and Pop Goes the Weasel...


---
CURRENT BW POLL RESULTS
2nd September 2006

Check out the results so far in the current BW poll that's now well underway... What is your favourite DAVID BOWIE album cover artwork?

No change in the top five positions and still in the lead is 'Aladdin Sane' followed closely by 'Diamond Dogs'.

The top five positions so far are as follows:

1. Aladdin Sane
2. Diamond Dogs
3. Low
4. Heathen
5. Scary Monsters (And Super Creeps)

Have your say and [VOTE HERE] for your favourite David Bowie album artwork.

A brand new poll kicks off next week.


---
BOW BELLS STRIKES ANOTHER NIGHT
1st September 2006

Former Soft Cell frontman MARC ALMOND is all set to release a new album 'My Life' which features some of his favourite cover songs.

Songs include DAVID BOWIE's 1966 song 'The London Boys', the Dusty Springfield hit 'I Close My Eyes and Count To Ten' (which is a duet with St Etienne's Sarah Cracknell) and Antony and the Johnsons' 'River of Sorrow'.

The album has gone through several different titles over the past few months namely 'My Life' or 'Stardom Road' or 'Me, My Life And I' but I think he's settled on 'My Life' as the title.

Apparently it will be released commercially in January 2007, although I've seen late September also touted as a release date.


---
BOWIE TRIBUTE BANDS AROUND THE WORLD
1st September 2006

The planned gig by DAVID BOWIE tribute band The Thin White Duke for this Sunday on 3rd September at Goldsmith's Arms, Penge in England has unfortunately been cancelled due to a mix-up. An alternative date is being re-arranged - (from Scott)...

Dutch DAVID BOWIE Tribute Band ALL THE YOUNG DUDES are performing tonight (Sept 1st) at De Paap pub in Den Haag, The Netherlands. They are also performing at Dinxerpop in Dinxperlo (SW NL) on September 16th and at Schiedam next month on 28th October. More details can be found at alltheyoungdudes.nl - (from Ade)...

Coming up next month downunder in Sydney is a special tribute show ZIGGY PLAYED THE VANGUARD with The Alien Sex Gods featuring Peter Northcote, the glittering songbook of DAVID BOWIE will be posed, pouted and strutted with raunchy glam attitude! The show also includes Jeff Duff, Iota, Steve Balbi and special guests. Two nights from Sydney's best paying homage on Friday and Saturday 13th/14th October at The Vanguard in Newtown, Sydney, New South Wales, Australia - (from Adam)...


---
HIGH LINE FESTIVAL DATES CONFIRMED
1st September 2006

Update: 22/1/07 Due to ongoing work on a new project, DAVID BOWIE has announced that it will not be possible for him to perform at the Highline Festival, in New York City in May. He will however continue to curate the event alongside Highline producers David Binder and Josh Wood. - from BowieNet.

Update 11/9/06: BowieNet have confirmed the dates of the HIGH LINE FESTIVAL to be held next year in New York City.

DAVID BOWIE will perform live at the festival which runs from Wednesday 9th May through to Saturday 19th May 2007.

The High Line Festival is a new annual arts and music event for New York City, established by David Bowie himself, David Binder and Josh Wood.

The festival will be shaped each year by a different visionary curator, and as first curator David will be the creative voice behind the festival in May 2007, choosing a diverse collection of artists and musicians who inspire him and capture his point of view.

The 11-day marathon event will take place at street level and at neighbouring venues alongside the High Line, New York's biggest and most prestigious public works project in over 50 years - a public park is being created from the abandoned elevated train tracks on New York City's West Side.

The High Line Festival will include music, nightlife, visual art, performance and film - featuring superstars and emerging talent - all of which celebrate the spirit of David Bowie's creative vision, and it will culminate in an enormous outdoor David Bowie concert.

His live performance will be enjoyed by tens of thousands of spectators at the festival itself, while millions more will experience the concert online and on satellite radio.


---
STOP THE WORLD: IT'S ANTHONY NEWLEY
1st September 2006

This month DAVID BOWIE appears on the BBC Radio Two documentary 'Stop The World: It's Anthony Newley'.

Jonathan Ross marks the 75th birthday (on 24th September) of Anthony Newley, a man who had a mixture of talents: actor, singer, songwriter, recording star, musical star of the West End and Broadway and film star.

In this special series, Jonathan delves into the complex life and career of the legendary British entertainer who died in 1999. Newley fan Ross reveals his own passion for the boy from Hackney in the East End of London, who earned fame and fortune around the world. Despite his many accomplishments, however, Newley was strangely dissatisfied with his life.

Jonathan says: "For the next four weeks on Radio 2, we're celebrating the career of a man who I think was a genius. So take your seats for Stop The World - It's Anthony Newley."

The series includes a never-before-broadcast interview with Newley and rare recordings from across his career. Among those taking part in the series, sharing their insights into the man and his music, are: Newley fan David Bowie; songwriting partner Leslie Bricusse; second wife Joan Collins; son Sacha Newley; musical director Ian Fraser; choreographer Gillian Lynne; actress Anna Quayle; songwriter Don Black; theatre producer Bill Kenwright; manager Peter Charlesworth; biographer Garth Bardsley; Oscar-winning writer Julian Fellowes; and singer and Radio 2 presenter Elaine Paige.

The first programme is entitled Pop Star and celebrates Newley's 139 weeks in the UK charts in the late Fifties and early Sixties. His hits included two No. 1 records, Why? and Do You Mind?, and re-workings of folk songs such as Strawberry Fair and Pop Goes The Weasel.

The series climaxes in a special edition of Friday Night Is Music Night on 22nd September, presented by Michael Ball, showcasing all the songs and music strongly associated with Anthony Newley.

Thanks to JackieC for the pointer.


---
LET'S DANCE IMMORTALISED
1st September 2006

DAVID BOWIE's promotional video for 'Let's Dance' has been immortalised in Australian art history by appearing at the Museum and Art Gallery of the Northern Territory.

The 'Let's Dance' video which featured Aboriginal actors Joelene King and Terry Roberts appears as a special video installation at the 23rd Telstra National Aboriginal and Torres Strait Islanders Art Award.

As reported by an article for the ABC, the Bowie video installation 'draws you in and makes you want to know more'.

Courtesy of an 1983 article from Rolling Stone and some video captures, BowieDownunder now has this extensive background on the 'Let's Dance' video.

The Northern Territory gallery exhibit runs from 11th August 2006 to 22nd October.

From Adam at bowiedownunder.com


---
NEW SPIDERS ON MARS GLASGOW GIGS
1st September 2006

The DAVID BOWIE tribute band SPIDERS ON MARS have several forthcoming gigs lined up in Glasgow this month and October.

After an unforgettable night a few weeks ago, they're back at The Halt Bar - by genuine public demand!!!! Saturday 9th September will be a belter.

Next, could be even better, (bearing in mind it was a full bar 'record takings' night at the bar last time and even Nicky was impressed!) - McChuill's in High Street on Saturday 30th September and they'll be on at 8:30 sharp with a 2+ hour set! A great venue with the band putting on the full show (This gig will be filmed for inclusion in a TV documentary).

After that you can catch them playing on 'home turf' at Bar Bia in West Regent Street on Saturday 7th October. It's where the band hang out and also band manager Lee's place so no ripping the place apart and no lock-ins!!

Finally, watch this space - the band are due to announce a major show in Glasgow or find out more by visiting spidersonmars.co.uk

From Billy.


---
DAVID TO PERFORM FOR KCA IN NOVEMBER
1st September 2006




BowieNet have announced that DAVID BOWIE is to perform "a couple of songs" for the Keep A Child Alive (KCA) Annual Black Ball to be held on Thursday 9th November at the Hammerstein Ballroom in New York City.

The evening will be co-hosted by the Global Ambassador for Keep A Child Alive IMAN and ALICIA KEYS.

David and Iman both appear on the forthcoming poster campaign for the charity, which gives the message: I am African. Help us to stop the dying. Pay for lifesaving AIDS drugs that can keep a child, a mother, a father, a family alive. Visit keepachildalive.org to help.

The list of celebrities that appear so far in the Keep A Child Alive poster campaign, who were all photographed by Michael Thompson are: David Bowie, Iman, Alicia Keys, Gisele Bundchen, Liv Tyler, Alan Cumming, Tyson Beckford, Mischa Barton, Lucy Liu, Elizabeth Hurley, Lenny Kravitz, Elijah Wood, Gwenyth Paltrow, Heidi Klum and Seal, Richard Gere and Sarah Jessica Parker.

Please visit keepachildalove.org website for more details and how you can help this worthy cause.


---

OLDER NEWS

August
July | June | May | April | March | February | January

2005 Bowie News Archives | 2004 Bowie News Archives
2003 Bowie News Archives | 2002 Bowie News Archives
2001 Bowie News Archives | 2000 Bowie News Archives
1999 Bowie News Archives | 1998 Bowie News Archives