BOWIE TV and WHAT'S REALLY HAPPENING IN FEBRUARY - MONTHLY PLANNER

[BOWIEWONDERWORLD SHOP] [LATEST DAVID BOWIE ITEMS ON eBAY]

[@bowiewonderworld.com email addresses HERE]

Have YOU got some DAVID BOWIE related news or a hot scoop?
Well don't just sit there keeping it to yourself - send it in to
All news items are credited if you so wish



---
THE ENEMY COVER ZIGGY
25th February 2008

THE ENEMY have covered the classic song 'Five Years' DAVID BOWIE and you can download it now for FREE only via nme.com

The Coventry trio are giving away an exclusive studio version of 'The Rise And Fall Of Ziggy Stardust And The Spiders From Mars' opening album track 'Five Years' on the site now.

To get The Enemy's cover version simply head to the band's nme.com artist page and fill in the form to download for free.


---
FIRST OFFICIAL BOWIE GLAM BALL IN VANCOUVER
25th February 2008



Vancouver's first official BOWIE GLAM BALL event presented by 'Luv n' Grace-Affair Entertainment' takes place on Thursday 27th March in Vancouver, Canada at Celebrities Nightclub.

Vancouver's first real exclusive and ultimate homage to all things Bowie, glam, fashion, art, hairstyles, make-up, androgeny and genderbender!

Too young to remember Ziggy Stardust? Never fear. Breaking boundaries between gay, straight, transgender and other, costume themed parties allow everyone, whether the night reflects their usual Saturday shenanigans or a voyeuristic journey into the nightlife underworld, letting your inner goddess loose and getting schooled in all things glitter provides kids with a chance to learn about something old, and turn it into something new.

Parties like BowieBall, celebrating the living legend and rock god David Bowie, hints at the resurgence of paying proper homage to the people and decades that have had a major impact on the music, fashion, and culture of today. To many of us he is a hero, a dude, a poet, a prophet, a shifting ball of contradictions, a great singer, a great mover and strider. An icon who always eschewed the obvious, darting down the more challenging path.

Chameleon, comedian, Corinthian and caricature? and that's just the 'C's. As Major Tom, Ziggy Stardust, Aladdin Sane, the Thin White Duke, he initiated psychic jailbreaks, messed with minds, started fires. Always starting fires, even when ashes were indisputably ashes. David Bowie has always been ahead of the cultural curve.

The oft-mimicked, style-setting musician is renowned more for his ground-breaking influence on subsequent generations of performers - from metal heads to glam rockers to punks to new-wavers to disco devotees to lounge lizards to electro-philes - than for achieving consistent commercial success in any particular genre. Glam rock, plastic soul, art attacks. Jumping the silent cars, looking for a plane or two, a new dimension or three. Still he lingers; we don't forget.

The glam era presented to the world a new and radically fluid model for sexual identity: no longer defined by its permanence, but the multi-colored result of constant change and reinvention.

At Vancouver's first BOWIE GLAM BALL there will be Bowie multi-media and video's, 2 spectacular DJ's, Glam Fashions, Fashionshow, glamtastic go-go-burlesque dancers, specialized Bowie and Glam Art by legendary local artist Jim Cummins aka Braineater, gratis glam makeup makeovers, local fashion photographers, the Vancouver Sun/24 Hours and Province Newspapers will covering the event etc. And don't worry about blowing any New Year's resolutions with your debauching; a portion of the proceeds go to the Caroline MacGillivray's east-side BeautyNight Society. More details to come soon!

Tickets $17 (CDN) beforehand and $20 on the door available. Tickets go on sale next Friday (29th). More information and ticket sales are available at luvngraceaffair.com or celebritiesnightclub.com

From Vernard and Julia Goud.


---
HALLO STAGBOY
24th February 2008



This is what I love about the Internet... a brand new DAVID BOWIE related discovery that's just come to light after thirty-six years...

'Stag Boy' written by William Alexander Rayner was first published in the UK by Collins 1972 hardback (ISBN 0 00 184766X), then reprinted in 1973 (ISBN-13: 9780001847668) and this was later followed by the paperback edition in March 1976 via Armada Books/Lions (ISBN-10: 0006711553).

The first American edition was published by New York, Harcourt Brace Jovanovich in 1973.

'Stag Boy' is a strange disturbing tale of teenage rivalry and relationships set amidst the backdrop of the wild hunting country of Exmoor, with supernatural overtones. Jim returns to his childhood home in a quiet English valley hoping the country air will cure the asthma that has made him a sickly, ailing teenager. Instead, he finds himself drawn into an increasingly powerful and mysterious union with the black stag.

The book cover illustration that features David Bowie was created by Michael P. Heslop.



London born Michael was Senior Lecturer at Falmouth School of Art and Design, from 1983-1986, before moving to live and work in Stockholm, Sweden for two years as resident artist for Studio Frank. This was followed by representation in New York, by the agent Artco. Michael now concentrates on commissioning primarily golfing and horse racing works for his wide range of collectors.

Michael has exhibited and won awards worldwide and is collected by many of the world's leading sportsmen and women. His career spans a period of some forty years, having trained for five years at the Somerset College of Art and Brighton College of Art and Design, England. His work is collected both in the U.S. and throughout the world.

He now resides in Canada - check out his website @ michaelheslop.com


---
BOWIE GLAM BALL IN VANCOUVER
24th February 2008

Vancouver's first Official Bowie Glam Ball Event takes place on 27th March... any hardcore DAVID BOWIE (or Glam-New Wave) fans in the Vancouver, rest of BC, Victoria and Washington State should try and come down.

This is not some small, unorganized Bowie tribute night just so you know beforehand!

This event is on par with BowieBall NYC or the long-running popular London Club Bohemia Bowie-Nights except that it will have a few original Vancouver elements added to it. The fabulous, glamorous venue which is located downtown Vancouver holds up to 700 people and will sell out.

Bowie-GlamBall Vancouver is a side project (and true dream of mine) besides my regular wildly popular bi-monthly Event in Vancouver called 'Luv n' Grace-Affair' (New-Wave, Electro, Indie).

The Bowie-Glamball Info will be added to my official Luv n' Grace-Affair website by the 28th February where one will be able to purchase tickets before the event.

More information can also be found at myspace.com/luvngraceaffair


---
'AUGUST' MOVIE PROMO
23rd February 2008

Check out the Toronto promo trailer for the forthcoming movie AUGUST directed by Austin Chick and starring Josh Hartnett, Naomie Harris, Rip Torn and DAVID BOWIE as 'Ogilvie'.

The movie premiered last month at the Sundance Festival in Utah and should be ready for a general release later this year.






Thanks to WoodlandCreature for the pointer.


---
FALLING DOWN ON FANNIN' STREET
12th February 2008

SCARLETT JOHANSSON unveiled her debut album, 'Anywhere I Lay My Head' for journalists today at New York's Joe's Pub.

As previously reported on Billboard, the album includes 10 Tom Waits covers and one original ('Song For Jo'), and will be released on 20th May via Atco/Rhino.

DAVID BOWIE, whom Scarlett met a party just prior to beginning work on the album, lends his distinctive vocals to the tracks 'Falling Down' and 'Fannin' Street', while Yeah Yeah Yeahs guitarist Nick Zinner and members of the band Celebration contribute throughout.

The album was produced by TV On The Radio's Dave Sitek, who told the journo crowd he was going for a "cough medicine/Tinker Bell" vibe, sound-wise.

Johansson said she initially considered making an album of standards, but that the project slowly morphed into a Waits-dominated affair. "His melodies are so beautiful and his voice is so distinct," she said.

The result, according to Johansson, has met with the notoriously persnickety Waits' approval. "I sent him some of the early, early recordings, and he said, 'Go ahead,'" she said. "I've heard he's very pleased."

While the majority of the album lives up to Sitek's prior description, there are some up-tempo departures, particularly on 'I Don't Want To Grow Up', which boasts drum machine beats straight out of a New Order song.

Apparently, days before recording commenced, Scarlett found herself sitting next to David at a party. "He said, 'Hey, I hear you're working with Dave Sitek,'" Johansson says. "I said, 'Yeah, I'm super excited.' In my mind I was thinking, 'If you get a chance come down to Louisiana, we'll be down there for five weeks.'" Bowie didn't show while Scarlett was working on the album, but while she was filming a movie in Spain, she received a call from Sitek saying Bowie had dropped by during mixing to lay down a couple vocal tracks. "It was the best phone call I ever got," Johansson says.

There are no plans for Johansson to perform live in support of the project, but she says she'd be intrigued by "getting everybody together," perhaps at a festival, at some point in the future. "It would be a missed opportunity not to."

The trackisting runs as follows:

Fawn / Town With No Cheer / Falling Down / Anywhere I Lay My Head / Fannin' Street / Song for Jo / Green Grass / I Wish I Was in New Orleans / I Don't Want To Grow Up / No One Knows I'm Gone / Who Are You?

Via Billboard

Update: Further links: RollingStone.com


---
DUNCAN'S DIRECTORIAL DEBUT
10th February 2008

DUNCAN JONES son of DAVID has just finished the first week of production in London directing his first feature film.



Duncan says: "I'm finally directing my first feature film, a grown up piece of science fiction starring the incredibly lovely and talented SAM ROCKWELL."

It's an original story by Nathan Parker and the working title.. and possible final title is MOON.

"...the film is already looking pretty damn special. Think 'some sci-fi classic from the 70s that somehow was overlooked and has only now been unearthed."

Duncan let slip he will make a VERY brief cameo appearance in an outrageous, home-grown beard!

Last month at the Sundance Film Festival in Utah, Sam Rockwell was asked why he was sporting a long beard. He let slip that it's all in preparation for his latest role. "I'm doing a sci-fi movie where I'm stranded on the moon for three years." he revealed.

db trivia: Sam had a minor role as a thug in Basquiat directed by Julian Schnabel and as you know starred DAVID BOWIE as Andy Warhol.


---
DEAN AND BRITTA ON TV AND DB
7th February 2008

DEAN WAREHAM and BRITTA PHILLIPS have just released 'Variations' a seven-song remix EP which revises their favourite tracks from their previous album 'Black Numbers' (Zoe/Rounder).

Legendary producer and musican TONY VISCONTI produced their first album L'Avventura in 2003, and last year the 'Back Numbers' album. Tony has now also contributed an outtake to the 'Variations' EP with a track entitled 'Song Of You'.

Whilst they were in a NYC studio with Tony they had a tale to tell...

"Actually, while we were working, DAVID BOWIE walked in through the back door, and as much as I wanted to ask him to sing on a track, I was too shocked to make my mouth work. Evidently, he lives just a block or two away. David told us about recording in Jamaica, where they had this really good groove but couldn't figure out the right lyrics."

For more information check out deanandbritta.com


---
TAKE A QUICK BUTCHERS...
6th February 2008

• DUNCAN JONES son of DAVID is to direct the new sci-fi movie 'Moon' which stars Sam Rockwell. Sam was asked at the Sundance Film Festival why he was sporting a long beard. He let slip that it's all in preparation for his latest role. "I'm doing a sci-fi movie where I'm stranded on the moon for three years." he revealed...

• '30 Century Man' the SCOTT WALKER documentary exec produced and featuring DAVID BOWIE has upcoming screenings at the Istanbul Independent Film Festival. Dates are as follows: Feb 22nd: Istanbul AFM Fita? Beyo?lu 2 / Feb 23rd: Istanbul AFM Budak Caddebostan / Feb 24th: Istanbul AFM Fita? Beyo?lu 7 / Feb 28th: Ankara AFM CEPA Ankara 2. More information available here - Viewers in the UK get the chance to watch it on Friday evening on BBC 4 at 21:00 GMT and repeated later after midnight at 00:55 GMT. Visit MySpace for other upcoming film festival showings in Mexico...

• Watch this space for another BW competition on the way... your chance to win one of three copies of the new biography BOWIE IN BERLIN: A New Career In A New Town written by Thomas Jerome Seabrook. Prizes kindly donated by publishers Jawbone Press...

• REEVES GABRELS And His Imaginary Friends perform on Saturday night (8th Feb) at The Family Wash, 2038 Greenwood Ave, East Nashville, Tennessee, USA. Show starts at 9:30pm and it's free!!! More info on MySpace pages...

DAVID BOWIE tribute band TIGERS ON VASELINE perform at the Catwalk Rock Lounge, 95 Union Street, Glasgow, Scotland on Saturday 23rd February at 8.30pm. Admission free. More details...


---
YOU'RE NOT ALONE
5th February 2008

To celebrate Mardi Gras, OK GO and BONERAMA will release 'You're Not Alone', a five-song digital EP today, with proceeds from its sale to benefit the New Orleans music community.

OK Go spent the second anniversary of Hurricane Katrina recording with the New Orleans soul trombone band at Piety Street Studios in the city's Upper Ninth Ward.

The EP - available at iTunes - will benefit members of the music community, such as R&B legend Al Johnson, who are struggling to rebuild their homes and lives in the aftermath of the flood, according to the press release.

Both acts re-interpret three tracks from OK Go's recent album, 'Oh No.' The trackisting covers DAVID BOWIE's 'Rock 'N' Roll Suicide' and Bob Dylan's 'I Shall Be Released' round out the EP.

Proceeds from 'You're Not Alone' will go toward building a Habitat For Humanity home for Johnson as well as to Sweet Home New Orleans, an organisation dedicated to helping repatriate and support the thousands of local musicians who were scattered by Katrina.

For more information go to tulsaworld.com/OkGo


---
A LAD IN MEMPHIS
4th February 2008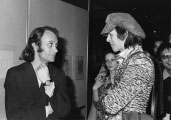 The MEMPHIS COLLEGE OF ART are running a special film course by MIKE McCARTHY which celebrates the 35th Anniversary of DAVID BOWIE's visit to the MCA.



Students will use David Bowie's visit to MCA in 1973 to conceptualize Memphis (and Overton Park's) impact on American Pop Culture.

Stories by Dolph Smith and others, rock and roll films, and pre-production emphasis on writing, storyboards, directing and producing will encourage students to create a short narrative piece using Bowie's visit as a metaphor or literal device for their own experiences and imagination.

Thirty-five years ago this month David was in the USA on his USA Tour 2. On 25th February the band rolled into Tennessee for two performances in Memphis at the Ellis Auditorium.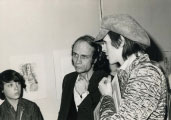 Earlier in the month on 9th February, artist and teacher DOLPH SMITH heard a Cherry Vanilla radio interview on FM100 promoting their forthcoming Memphis gigs. He decided to call her. A meeting was arranged for a visit to the academy.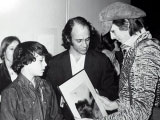 Dolph loved the February 25th performance and then next evening at around 9:45 an eyebrowless David, with bandmates Mick Ronson and Woody Woodmansey turned up at the Memphis Academy of Art. They spent a couple of hours viewing at all the work and walking through most of the departments.

The college and students presented David with a piece of artwork entitled 'Paper Airplane Having Just Spotted A Fallen Comrade'.

You can read Dolph's diary entries HERE - a wonderful read.

Dolph will be updating more things on the site. He is receiving marvellous input from Grove DeLuca who was hired (from Memphis) by Mainman to promote David through those first American shows. He will be posting his essays (and others) on guerrillamonsterfilms.com soon. The most common stories are fascinating when seen through this embryonic period of Bowie's reinvention.

Check out guerrillamonsterfilms.com website.

Other links to check out:
Course Description
The Film Class That Fell To Earth


---
TAKE A QUICK BUTCHERS...
1st February 2008

• According to Variety DAVID BOWIE is currently in talks over appearing with Lisa Kudrow in the new comedy musical WILL. The film tells the story of a misfit who makes friends with a like-minded female at his school. High School Musical star Vanessa Hudgens and Friday Night Lights' Scott Parker have also been confirmed for the cast. Todd Graff of Camp fame will direct and co-write the movie which is scheduled for a 2009 release...

• THE SPICE GIRLS currently on tour in the USA are performing a techno remake of DAVID BOWIE's smash-hit 'Fashion' and apparently it is going down a storm...

• The sleeve notes contained inside the Deluxe 2CD expanded edition of THE MOVE's first album it states that their 'Flower In The Rain' multi tracks were the last to be recovered and were eventually found right by the tape of DAVID BOWIE's 'Let Me Sleep Beside You' in a 'long forgotten tape vault near London Bridge railway station...' - [thanks to Stranger for the heads-up]...

• MR. RICE'S SECRET which stars DAVID BOWIE as 'Mr. Rice' gets a Region 2 DVD re-release on 17th March via Infinity...

• SPACE ODDITY - David Brighton's Tribute To DAVID BOWIE returns to Southern California on February 9th at the Pala Casino - the Grand Cabaret, 11154 HWY 76, Pala, CA 92059 US. Showtime: 8:00pm. Followed by a return to Las Vegas on February 22nd - 23rd at the Cannery Hotel and Casino, 2121 East Craig Road, Las Vegas, NV, US. (702) 507-5700. For more details and information check out davidbowietribute.com or their MySpace pages...

• DAVID BOWIE impersonator STEPHEN SPRATT appears on The Weakest Link quiz show on BBC2 Tuesday 5th February at 5:15 for what promises to be the best ever recording of The Weakest Link...


---
LAST CHANCE TO VOTE IN THE BW POLL
1st February 2008

Last chance to vote in the current BW poll...

The question being asked is: 'Which is your favourite track from the DAVID BOWIE album 'Station To Station?'

So far the top three choices are as follows: 'Station To Station' way out in front with 34.07%, followed by 'Word On A Wing' with 19.59% and thirdly 'Stay' with 15.85% of the vote.



[BW POLL: WHICH IS YOUR FAVOURITE TRACK FROM STATION TO STATION? - VOTE HERE]




---
BOWIE IN BERLIN
1st February 2008



Update: Now scheduled for publication next month is another DAVID BOWIE biography entitled 'BOWIE IN BERLIN: A NEW CAREER IN A NEW TOWN' by author Thomas Jerome Seabrook.

Published by UK company Jawbone Press (ISBN-10: 1906002088) and (ISBN-13: 978-1906002084) in paperback form and containing 272 pages.

Sypnosis: Bowie In Berlin tells the fascinating story of the three years David Bowie spent in Germany in the mid 1970s, making the most extraordinary music of his career.

Driven to the brink of madness by cocaine, overwork, marital strife, and a paranoid obsession with the occult, Bowie fled Los Angeles in 1975 and ended up in Berlin, the divided city on the frontline between communist East and capitalist West. There he sought anonymity, taking an apartment in a run-down district with his sometime collaborator Iggy Pop, another refugee from drugs and debauchery, while they explored the city and its notorious nightlife.

In this intensely creative period, Bowie put together three classic albums - Low, "Heroes", and Lodger - with collaborators who included Brian Eno, Robert Fripp, and Tony Visconti. He also found time to produce two albums for Iggy Pop - The Idiot and Lust For Life - and to take a leading role in a movie, the ill-starred Just A Gigolo.

Bowie In Berlin tells the story of that period and those records, exploring Bowie's fascination with the city, unearthing his sources of inspiration, detailing his working methods, and teasing out the elusive meanings of the songs. Painstakingly researched and vividly written, the book casts new light on the most creative and influential era in David Bowie's career.

Thomas Jerome Seabrook is a writer and editor based in South-East England. He has contributed to the Faber Companion To Twentieth Century Popular Music, the Jawbone titles The Totally Interactive Band Bible and Classic Tracks: Back To Back and edited the highly acclaimed Riot On Sunset Strip: Rock And Roll's Last Stand In Hollywood (Jawbone). He has also written numerous articles for Future Music magazine.

RRP: £14.95. Our Price: £9.86 - You can Pre-Order NOW
and receive a generous 34% discount.


---

OLDER NEWS

January
2007 Bowie News Archives | 2006 Bowie News Archives
2005 Bowie News Archives | 2004 Bowie News Archives
2003 Bowie News Archives | 2002 Bowie News Archives
2001 Bowie News Archives | 2000 Bowie News Archives
1999 Bowie News Archives | 1998 Bowie News Archives