MARCH 1999 - DAVID BOWIE NEWS
---
BOWIE SPECIAL GUEST WITH PLACEBO
30th March 1999

As I expected DAVID BOWIE WAS PLACEBO'S special guest at their New York show last night at the Irving Plaza. He joined them for the encore consisting of two songs, Placebo's own 'Without You I'm Nothing' and another rendition of MARC BOLAN'S 'Twentieth Century Boy' as performed at the Brit Awards.

---
BOWIE/PLACEBO CHAT AND WEBCAST TODAY
29th March 1999

PLACEBO and DAVID BOWIE
Monday, March 29, 2:00 PM (ET), 11.00 AM (PT), 7.00 PM (GMT)

SonicNet in association with Virgin Records and BowieNet proudly present a special online chat featuring PLACEBO and hosted by DAVID BOWIE.

Bowie fans read the announcement from Sonic - make the logical connection on who the "certain surprise guest" will be!!!

Fresh off the success of their new album "Without You I'm Nothing," Placebo take their awe-inspiring stage show to New York's Irving Plaza for a live webcast, just possibly with a Certain Surprise Guest.
Placebo Video Cybercast
8.30pm EST, (Note: GMT 5 hours later for UK - 1.30am - 30th)
Monday March 29th
http://www.sonicnet.com/channels/

See below for more information.

You can read the Placebo live chat with host David Bowie from SonicNet here


---
"I AM A DJ... I AM WHAT I PLAY"
29th March 1999

Tunes.com, the Internet's definitive music hub site, today announced the availability of a new version of Rolling Stone Radio (www.rsradio.com) and plans for its broad distribution. The new release of the multi-station Internet music service features a station programmed and deejayed by legendary rocker and Internet visionary David Bowie, as well as enhancements to the tuner and expanded server capacity.

"Rolling Stone Radio is ready to take its place as the big gorilla of Internet radio," said Howard A. Tullman, chairman and CEO of Tunes.com. "Our model is different from most Internet radio services, in that we are creating stations with mass appeal, so users are in genre-specific, global listening communities large enough to be compelling platforms for launching new artists and singles."

David Bowie's Radio Network debuts today as Rolling Stone Radio's 13th station, with a playlist created by Bowie, spanning five decades of his favorite music. He personally introduces each track. Selections include everything from chart-topping hits like Elvis Presley's "Heartbreak Hotel" and "Do You Really Want to Hurt Me?" by Culture Club, to less familiar choices such as Scott Walker's "The Electrician."

David Bowie is most at home on the Internet because it reflects the way that he thinks - constant chaos making perfect sense, and always, always ch-ch-ch-changing. Above all, Bowie loves the access to music fans it gives him (and them, in turn, to him) through his UltraStar ISP, BowieNet, at www.davidbowie.com, and the Web at large. Both have opened a dialog for Bowie to discuss and share both the inspired, as seen through www.bowieart.com where his works are on view, and the inspiring, demonstrated here at Rolling Stone Radio where Bowie shares his favorite tunes with fellow music lovers.

"Nothing like having your own gig on the world's largest radio station," said David Bowie. "As deejay, I'm going to introduce listeners to my personal favorites and pay homage to the great artists who have influenced me over the years."

---
BOWIE TO FEATURE IN ART.COM
29th March 1999

Art.com(SM) (www.art.com) the world's most inviting destination for discovering and buying art, is paying homage to the art and events of the 20th Century with the unveiling of its Art of the Century gallery. Each decade gallery will include events, historical milestones, people, artists and their art, giving site visitors the opportunity to view and/or purchase featured prints.

As a celebratory farewell to the millennium and a welcome to the year 2000, Art.com has created a ten-month serial online exhibit that will highlight each decade of the 20th Century, focusing on the impact of major historical events on society and on the artists who depicted them. During Art of the Century, Art.com site visitors will discover and celebrate the greatest, most representative works of the 20th Century. In addition, audiences will be able to vote for the century's top artist and qualify to win prizes, including the chance to travel to London, the center of the art world, at the beginning of the new millennium.

The Art of the Century gallery will run from March 15, 1999 through December 1999. Each month, a new display will be posted on the Art.com site, following a serial timeline that focuses on the art, pop culture and events of each succeeding decade. As each new gallery is posted, visitors will have the unique opportunity to compare decades in order to understand how history and art have evolved. They will also be able to view and purchase the art included in the current and previously posted galleries. As always, Art.com will offer gift certificates, and all framed and unframed prints featured in Art of the Century will be sold at the traditional Art.com discounts of 20 to 50 percent off traditional costs.

March
1901-1910 - Art Nouveau, Vintage Opera, Einstein.
April
1911-1920 - Surrealism, Rudolph Valentino, WWI.
May
1921-1930 - Bauhaus, Charlie Chaplin, Prohibition.
June
1931-1940 - Ansel Adams, Gone with the Wind, WWII.
July
1941-1950 - Minimalism, Mambo, Women at Home.
August
1951-1960 - Abstract, Poodle Skirts, Sputnik.
September
1961-1970 - Andy Warhol, Marvin Gaye, Martin Luther King.
October
1971-1980 - Mural Art, David Bowie, Personal Computers.
November
1981-1990 - Annie Liebowitz, Farm-Aid, Tiannamen Square.
December
1991-2000 - Multi Media Art, Cellular Phones, OJ Simpson.

In addition to an added decade gallery, each month, site visitors will have the opportunity to vote for the artist they believe is the most representative of the 20th Century. Beginning in April, Art.com will publish a monthly tally of the artists who have received the most votes. Final results, which will be announced in December, will represent votes from site visitors and leading art critics.

Take a visit to Art.com

---
IMAN INTERVIEW
29th March 1999

A three page interview with IMAN entitled 'Rock Chic' appeared in the The Express colour supplement last weekend (27th March-2nd April).

Iman was briefly visiting London to launch a nationwide search for the Asian face of IMAN 1999, to work alongside the African American, Hispanic, Oriental and Native American models representing her products.

---
BOWIE TO GIVE COMMENCEMENT SPEECH
27th March 1999

Chameleon-like rocker DAVID BOWIE will be the principal speaker at Berklee College of Music's commencement ceremony in May. Bowie will receive an honorary doctor of music degree from the prestigious, Boston-based music school and will address more than 600 graduates and 3,000 guests, according to a statement from the school. The ceremony, which also will feature a speech by jazz saxophonist Wayne Shorter, is scheduled to take place 8th May at the Hynes Convention Center in Boston.

---
BOWIE TALK RADIO INTERVIEW
26th March 1999

DAVID BOWIE was Nicky Horne's studio guest on his ACCESS ALL AREAS show on Talk Radio on 31st January.

You can listen to the interview here The Talk Radio Interview

---
BOWIE TO HOST PLACEBO YAHOO! CHAT
25th March 1999

PLACEBO and DAVID BOWIE
Monday, March 29, 2:00 PM (ET), 11.00 AM (PT), 7.00 PM (GMT)

SonicNet in association with Virgin Records and BowieNet proudly present a special online chat featuring PLACEBO and hosted by DAVID BOWIE. Watch a video simulcast of the chat with Bowie acting as host and moderator. Submit advance questions NOW on BowieNet and be automatically registered to win special prizes courtesy of BowieNet (www.davidbowie.com).

http://www.sonicnet.com/channels/

SonicNet Music News

This Yahoo! chat is available to ANYONE - no BowieNet membership required. Then surprise, surprise, following on later that day... SonicNet present a live cybercast of the Placebo concert live from the Irving Plaza, New York City, USA.

To access the show visit the SonicNet Channels page.

Bowie fans read the announcement from Sonic - make the logical connection on who the "certain surprise guest" will be!!!

Fresh off the success of their new album "Without You I'm Nothing," Placebo take their awe-inspiring stage show to New York's Irving Plaza for a live webcast, just possibly with a Certain Surprise Guest.
Placebo Video Cybercast
8.30pm EST, (Note: GMT 5 hours later for UK - 1.30am - 30th)
Monday March 29th
http://www.sonicnet.com/channels/

You can read the Placebo live chat with host David Bowie from SonicNet here

From SonicNet Music News

---
BOWIE DIRECTORY LINKS
25th March 1999

The BowieDirectory page now contains a massive 300 different DAVID BOWIE web sites and links!

A huge thank you to everyone who sent in their URLs and suggested links! It saved me a vast amount of time, thanks ever so.

---
BOWIENET CHAT GUESTS TONIGHT
24th March 1999

Special guests RONNIE SPECTOR and JOEY RAMONE are to visit the BOWIENET Chat Room. The members only chat is TODAY at 4.00pm (EST) / 9.00pm (GMT).

Read the chat transcription here.

---
'BOWIE BONDS AND BEYOND'
20th March 1999


SXSW Bowie Bonds Panel Advocates Artists Selling Future To Public

Pssst! Wanna buy a rock star? Or at least, invest in their catalogue to share in their royalties? If financier DAVID PULLMAN has his way, most of the public will have that opportunity in time, as he explained, in part, at a panel called 'Bowie Bonds and Beyond' at South by Southwest in Austin, Texas on Friday (March 19).

Pullman engineered a bond sale for DAVID BOWIE in 1997 that netted the artist $55 million. Since then he's completed similar deals for '60s songwriting teams such as Holland-Dozier-Holland (who wrote most of the hits in the Motown catalogue) and Ashford & Simpson.

While the financial details are complicated, the concept is relatively simple: the artist sells bonds to investors who agree to pay a fixed rate (say, 7-8% per year over 15 years), for which the revenue is generated by either publishing fees, record sales, or both. So far, Pullman has played it relatively safe, brokering deals with artists or songwriters whose catalogues have proven themselves over time, to better minimise the risk for conservative investors.

Why have those artists agreed to the deal? Pullman said he sees a pattern with all three: "As songwriters, they've always had the genius to pick up on new ideas quickly, so they're more receptive to new ideas in the business world as well."

Unfortunately, the average person can't invest in Bowie right now - his original deal was a private one, said Pullman, that was sold mostly to insurance companies (although Pullman claims he's had over 1000 requests since from large investment firms and individual investors who are interested in buying more).

But doesn't this raise serious questions in the age-old struggle of art vs. commerce? For instance, wouldn't Bowie now feel more obligated to his investors to maximise the revenue of his catalogue, and thus say yes to more corporate advertisers who request the use of his songs? Will we now hear 'Changes' in a Kodak commercial? 'China Girl' advertising a Far East airline? 'Golden Years' as the theme for the AARP?

Pullman explained that Bowie agreed to the deal so he could raise the money to buy out the rights to his songs from his former manager. This means he now controls 100% of his copyrights; so, being both an artist and a businessman, he understands the need for steady revenue, yet he's as conscious as ever about the risk of over-exposing his songs. Thus, it's ultimately his choice, not that of a publishing company, record label, or former manager.

Pullman also advocates similar deals for newer artists - recommending, in one example, that the Dave Matthews Band would be far better off issuing bonds when their current label contract is up for renegotiation. By doing so, it would give them more capital to control their own destiny, and thus lessen the need for the up-front advances so prevalent in the music business.

Meanwhile, Pullman is working on new bond deals with such artists as Crosby, Stills & Nash, Patti Smith, Joan Jett, Rod Stewart, Tupac Shakur's estate, Kim Carnes, and Pat Benatar.

Ultimately, by this line of reasoning, artists could eventually control all their own publishing rights and their recorded masters, and thus the tricky commercial decisions will be in the hands of those, like Bowie, who created them. And that, reasons Pullman, benefits everyone.

John Bitzer

---
JOEY ARIAS BOWIENET CHAT GUEST TODAY
18th March 1999

The next chat guest appearing on BOWIENET will be avant-garde performance artist JOEY ARIAS today Thursday, 18th March at 11.00pm GMT / 6.00 pm EST.

Read the chat transcription here.

Also today don't forget DAVID BOWIE is one of the judges at the Webby Awards live broadcast. Information here.

---
MODERN PAINTERS WEB SITE LAUNCHED
18th March 1999

Today sees the launch of the MODERN PAINTERS web site. The site gives you all the information that you need about the magazine and also 21 PUBLISHING

DAVID BOWIE is a frequent contributor to Modern Painters and also serves on the editorial board.

Go check it out now www.modernpainters.co.uk

---
BOWIE AT THE BEEB - UPDATE
18th March 1999

A future release entitled 'BOWIE AT THE BEEB' is due for release on 31st December 1999 on the New Millennium (Trident) label.

CAPITAL FM CD Shop are talking advance orders on 'Bowie At The Beeb' Volumes 1, 2 and 3. Priced LP £9.89 Cassette £8.99 CD £14.99

Info from DARREN

UPDATE: Absolutely no way are New Millennium Comm. releasing Bowie @ the Beeb all the rights have now gone to EMI.

Info from CARLTON New Millennium.

---
THE HEROES ARE COMING
18th March 1999

THE HEROES - 'ACCESS ALL AREAS' TOUR in association with McDonalds are to play at the following Greater Manchester venues:

2nd May - Lostock High School Theatre, Stretford, Manchester.
9th May - Abraham Moss Centre Theatre, Manchester.
16th May - The Witchwood, Ashton under Lyne.
23rd May - The Orient at The Trafford Centre.

Ticket Hotline: 0161 236 1878.

Tickets also available from the venues.

Their album ACCESS ALL AREAS (Cat. No. RFRCD5) is to be released 19th April 1999.

For further information contact CLP on 0161 236 1878.

The Heroes Project
Community Leisure Projects

---
BOWIE COLLECTORS DISCOGRAPHY
18th March 1999

I have a quantity of about 30 copies of the book by Robert Bruna: David Bowie: A Collectors Discography 1964-1982.

This book is written in French and English and describes the Bowie discography (from a collectors point of view) of promos, regular releases, bootlegs, 45s with a estimated value (in 1982!). It describes about 500 records. Price is 150 FF per book, not including postage, all copies are new and sealed.

Please contact Bruno Liénard at blienard@mail.asi.fr

From BRUNO

---
SPACE ODDITY ON THE LIVING CHANNEL
16th March 1999

There is a show coming up on THE LEARNING CHANNEL called 'Blast Off - True Stories From The Final Frontier' and it's about astronauts, space exploration, etc. On the ad for this upcoming show, they use DAVID BOWIE'S 'Space Oddity' song. I'm guessing that they will use it during the show as well, but don't quote me on that!

The show airs on Sunday, March 28 at 9pm and midnight EST.

Thanks to Sq

---
WEBBY AWARDS LIVE WEBCAST
14th March 1999



TUNE INTO WEBCAST OF THE 1999 WEBBY AWARDS(TM)

LIVE FROM SAN FRANCISCO ON MARCH 18th



WHAT: A live Webcast of The 1999 Webby Awards(TM), "the Oscars of the Internet." More than 3,000 movers and shakers in cyberculture, entertainment, the arts, and media will descend on the Herbst Theatre in San Francisco to honor the best Web sites of the year in 22 different categories from Film and Finance to Science and Sports. Comic Mark Maron, a Late Night with Conan O'Brien regular, will emcee the awards ceremony. Funskters G. Love & Special Sauce and ABSOLUT DJ Tour headliner Emergency Broadcast Network will perform at the post-ceremony bash. Winners will be chosen prior to the event by a judging panel that includes Gillian Anderson, DAVID BOWIE, Francis Ford Coppola, and Bjork.

CNET-TV personalities Daphne Brogdon and Desmond Crisis will host the Webcast and conduct interviews throughout the night with winners, judges, VIP guests, G. Love & Special Sauce, and EBN.

WHEN: Thursday, March 18, 1999

URL: http://www.webbyawards.com

TIME: Webby Awards Preview Show and VIP Pre-Party: 6:30 p.m. PST
Webby Awards Ceremony: 8:00 p.m. PST
Webby Awards Post-Party: 9:30 p.m. PST

NOTES: For the full experience, viewers will need to download the basic RealPlayer G2 and the Windows Media Player plug-in or Netshow player. Viewers can also download CU-SeeMe video conferencing software to join the WebbyAwards post-party virtually. There will be a CU-SeeMe conferencing center at the event, complete with a wall-sized projection of the users. For more information on setting up your computer for the Webcast, visit http://www.webbyawards.com/awards/webcast.html

---
'REQUIEM FOR A LAUGHING GNOME'
13th March 1999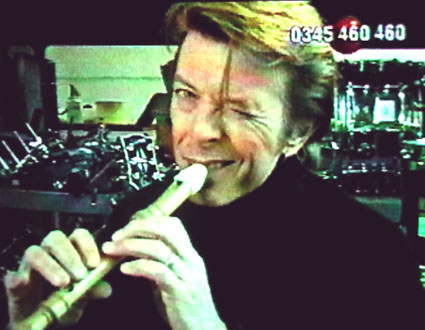 DAVID BOWIE DID appear on tonight's COMIC RELIEF charity show performing a new composition entitled 'Requiem For A Laughing Gnome'.

Firstly, on the Alan Partridge Radio Norwich Show on BBC2 9.00pm, Alan played a Tin Machine track, followed by an interview with BRYAN FERRY. Then later, on BBC1 after the Alan Partridge medley of Kate Bush songs, a film of David Bowie was shown.

David says:
"Hello boys and girls, erm... I'm David Bowie and... I'm talking to you for Comic Relief. Tonight I thought I'd do something a little bit different so I'm gonna play a new composition for you, erm... that I think you may enjoy. It's called 'Requiem For A Laughing Gnome'. It's for recorder and erm... it has some choreography that was... erm... I picked up from an Navaho Indian erm... that I met last week in the Croydon chapter. It's in four movements, probably I should begin with the first one. Thank you."
David starts playing the recorder, stamps his feet and shuffles them on the floor. A message appears on the screen - 'THIS LASTS 4 HOURS'.

David stops playing and says in a Northern English accent: "Aww put your clothes on Sooty." David continues playing... another message appears: 'WE'LL GO ON SHOWING IT IF YOU DON'T CALL'. David winks. More messages appear PLEASE... PLEASE... PLEASE! David finishes playing and looking reflective says: "So long ago." Final message 'THANK YOU'. David says "Thank you."

The amount of money raised in the following 30 minutes of the show went through the roof.

The amount of money raised through their internet site is already the highest amount ever donated to charity through this medium. Please go visit the Comic Relief/BBC web site and make a donation to this worthy cause at Comic Relief.

Thanks to Don/Spidey/Evan for the photo.

---
BOWIE TO APPEAR ON COMIC RELIEF
12th March 1999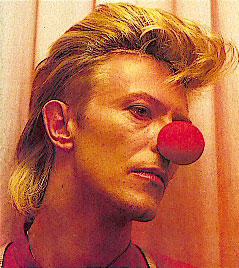 On the JO WHILEY show this week, the producer of Comic Relief when asked which big names were appearing in this year appeal he mentioned David Bowie. A UK newspaper TV listing also lists David as a guest on the charity show.
Today Friday, 12th March (BBC1 & BBC2 7pm-1am) is COMIC RELIEF DAY hints and rumours abound of DAVID BOWIE appearing in the charity event being interviewed by ALAN PARTRIDGE (9.00pm BBC2) played by the brilliant STEVE COOGAN.
Red Nose Day from the BBC
(Ed. Update: confirmed in this weeks NME).
---
DUTCH DAVID BOWIE FAN CLUB MEET
12th March 1999

The INTERNATIONAL DAVID BOWIE FAN CLUB will have it's annual fan meeting on MARCH 14th in De Meern (Near Utrecht), Holland.

The meeting will be from 13.00 till 18.00

What to expect this year:

- Merchandise: Dealers from Holland and England will sell CD's, Singles, LP's, Magazines, Video's, Books, Posters etc. etc.
- Free Market Place: Here you can swap your own Bowie material.
- Video's in the movie theatre.
- Great lottery with a lot of Bowie prices.
- "The Shop" from The Voyeur.
- Live Bowie music from the band 'The Madmen'.
- Exposition: The original HAT that Bowie wore during "The Man Who Fell To Earth" and more.
- And of course, meet other Bowie fans.

Place:
Cultureel Centrum Azotod, Meerendijk 126, De Meern (near Utrecht)

Admission:
Members: Fl. 7,50 (you can bring 1 guest that will pay the same price).
Others: Fl.12, 50

Every visitor gets a nice surprise, as far as stock lasts!

How to get there:
By car: Take the A12 exit De Meern
By bus: From station Utrecht take bus 180 to Gouda. The bus goes 11.50, 12.20, 12,50 13.20 etc.

Information at The Voyeur web site http://huizen.daxis.nl/wopereis/TheVoyeur.htm

---
BOWIENET CHAT GUESTS COMING SOON
11th March 1999

Special guests RONNIE SPECTOR and JOEY RAMONE are to visit the BOWIENET Chat Room. The members only chat is planned for Wednesday, 24th March at 4.00pm (EST) / 9.00pm (GMT).

Read the chat transcription here.

---
ADRIAN BELEW IRC CHAT
11th March 1999

Solo artist and King Crimson vocalist/guitarist ADRIAN BELEW will join The Artist Shop and Talk City for an IRC Chat on Sunday, March 14th at 3pm Eastern / 12 noon Pacific.

Adrian has previously joined us on Wednesday evenings, but this Sunday afternoon chat will allow the fans in Europe to join in as well since it will be 8pm and 9pm in most of Europe!

Adrian has recently joined the Thirsty Ear label and just last month released a new solo acoustic CD called 'Salad Days'. Salad Days features acoustic performances of songs from throughout Adrian's career including some King Crimson as well. Adrian will be taking questions on his new album and his association with Thirsty Ear, plans for the future, and, no doubt, a question or two on the future of King Crimson will be entertained as well!

Full details on joining this chat are at: www.artist-shop.com/irc

GARY DAVIS The Artist Shop

Thanks Stephen King

---
TONY VISCONTI HELMS NEW BOWIE SET
11th March 1999

DAVID BOWIE is reuniting with producer TONY VISCONTI for a new album. The pair, who worked together for the first time in twenty years last Autumn when they cut a track for the 'Rugrats' movie soundtrack, are heading to the studio this month.

Visconti says he expects to record material that could harken back to their earliest collaborations, such as 'The Man Who Sold The World' from 1972 and 'Low' from 1977.

---
INTERACTIVE DB DISCOGRAPHY UPDATED
11th March 1999

A major update of RUUD ALTENBURG'S INTERACTIVE DB DISCOGRAPHY is on TEENAGE WILDLIFE. The discography is now fully illustrated, plus it has a brand new section covering ALL of Bowie's 12's, including some rare ones you've probably never seen before!

Thanks RUUD

---
AMAZING NEW BOWIE WEB SITE!
10th March 1999

Hi, We are ready to launch our super-kick ass Bowie site!

Not only does this site feature free email accounts, funny DB FAQ's and a cool GuestBook, it is also promising the upcoming Contest of the Millennium with cool Bowie-related prizes!

Check it out at http://www.squeakie.com/sod and you'll see what we mean by "a super kick-ass web site"...

From: Paula (Squeakie)

---
CALLING DR. JONES - CONGRATULATIONS!
10th March 1999

The BERKLEE COLLEGE OF MUSIC in Boston, MA, USA are awarding DAVID BOWIE their Honorary Doctorate Degree at their commencement this Spring.

(Ed. Many congratulations David!).

---
'THIN WIRED DUKE' INTERVIEW & COVER
8th March 1999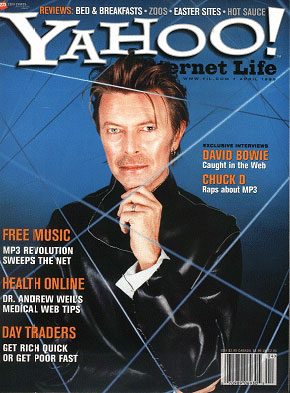 DAVID BOWIE appears on the cover of the April edition of YAHOO! INTERNET LIFE magazine. (Volume 5, Number 4). There are some pictures inside and a rather lengthy and exclusive interview entitled 'Thin Wired Duke'.

Extracts: "In edition to his web site, he has two albums planned for release in 1999..."

When asked how often he is on his site? (BowieNet), he replies: "I go on daily. Because I get up so early, I can at least put in a half an hour daily."

Thanks Raven



---
MIKE GARSON'S NOW! MUSIC NETWORK
9th March 1999

You've heard his inspiring piano playing with DAVID BOWIE, the SMASHING PUMPKINS and on many solo projects. Now you can learn all about Mike and his unique approach to composing. Plus, you can listen to samples of his rock, jazz and classical work and buy seven of his solo CDs.

The "Now! Music Network" promises to be an on-line experience like no other...stop by today! http://www.nowmusic.net

---
ON-LINE DAVID BOWIE NEWSLETTER
8th March 1999

To read the web edition of BONSTER'S Lazy and Web-IMpaired #153 go and visit http://hometown.aol.com/dbfan/fan2/index.htm

---
HUNKY DORY REVIEW
7th March 1999

INK BLOT is a free and bi-weekly music magazine. Go check out their review of DB's HUNKY DORY in their archives which you can view at www.inkblotmagazine.com/rev-archive/bowie1.htm

---
TWO BOWIE DOCUMENTARIES
7th March 1999

UK ARENA on Cable and Sky Digital are repeating two DAVID BOWIE documentaries, the BBC programmes BOWIE AT 50 and the wonderful CRACKED ACTOR several times this month starting on Friday 12th March at 9.35pm.

---
THE VIRGIN SOLDIERS
7th March 1999

See if you can spot DAVID BOWIE in his 'don't blink or you'll miss my part' in the movie THE VIRGIN SOLDIERS on UK TV, Wednesday evening, 10th March at 12.35am on ITV.

Clue: Bar scene - David gets carried across behind the bar.

---
DAVID BOWIE ITEMS FOR SALE
7th March 1999

Go check out Diane's DAVID BOWIE items up for sale at http://home.pacbell.net/ronos/

---
DAVID BOWIE INTERVIEW FROM 1971
7th March 1999

You can listen to a playback of a David Bowie Interview transmitted on WYSP Philadelphia Radio from February 1971.

Many thanks to David Priest.

---
BOWIENET CHAT GUEST
6th March 1999

The next chat guest appearing on BOWIENET will be avant-garde performance artist JOEY ARIAS on Thursday, 18th March at 11.00pm GMT / 6.00 pm EST.

Read the chat transcription here.

---
DAILY MIRROR CHARITY CAMPAIGN
5th March 1999

MATTHEW WRIGHT the entertainment editor of The Daily Mirror has launched a campaign to have the DAVID BOWIE/PLACEBO 20th Century Boy duet recorded and released for charity.

Matthew is asking people to contact him via email at matthew.wright@mirror.co.uk or by telephone on 0171 293 3950.

---
APOLOGIES BOWIEFANDATABASE MEMBERS
3rd March 1999

Many apologies for the mess up yesterday caused my email programme and my server it totally messed up my outgoing mail.

The problem has now been fixed. Sorry if you received either multiple copies or a blank email, but it was completely out of my control.

Cheers
Paul

---
BOWIENET MOUSE MATS
2nd March 1999

Official BOWIENET Mouse Mats are now available for at only $7.75 each

Be quick before stock sells out! (Click on accessories).

---
.net MAGAZINE BOWIE INTERVIEW ONLINE
1st March 1999

The DAVID BOWIE in-depth exclusive interview featured in .net magazine is now available at their web site including some excellent photographs.

Go check it out now at http://www.futurenet.com/net/features/55bowie

From Chris Mitchell On-Line Editor.


---