BOWIE TV and WHAT'S REALLY HAPPENING IN MAY - MONTHLY PLANNER

[BOWIEWONDERWORLD SHOP] [LATEST DAVID BOWIE ITEMS ON eBAY]

[@bowiewonderworld.com email addresses HERE]







myspace.com/bowiewonderworld

Have YOU got some DAVID BOWIE related news or a hot scoop?
Well don't just sit there keeping it to yourself - send it in to
All news items are credited if you so wish

[BW POLL: FAVOURITE MALLET/BOWIE PROMO VIDEO? - VOTE HERE]



---
BW SNEAK PREVIEW
31st May 2007

Here's a sneak preview for BW visitors of just some of the photographs taken by PHILIPPE AULIAC to be shown in the upcoming 'Point Ephemere Performance' in Paris, France on Saturday 9th June.





You can also view and print out the catalogue of events here.

Best wishes Philippe Auliac.


---
TAKE A QUICK BUTCHERS...
31st May 2007

• New SCOTT WALKER documentary film '30 Century Man' exec produced and also featuring DAVID BOWIE starts a five-day run from tomorrow, June 1st at the Manchester Cornerhouse cinema...

• Ex Tin Machine HUNT and TONY SALES both appear on the new album by ELIJAH BLUE which is expected to be released later this year. Elijah Blue (aka. P. Exeter Blue I), son of actress/singer Cher and Gregg Allman and frontman for the art-industrial-rock band Deadsy...

• JUNK FOOD have manufacturered several new snazzy designed DAVID BOWIE t-shirts for both girls and boys, all priced at around $20 to $26 [View here]...

• Hi there fellow DAVID BOWIE fans... I've created a linkpage: http://davidbowie.startingiseasy.com - check it out - [from Leonard]...

• The 2 disc DVD special edition of THE MAN WHO FELL TO EARTH is available from Virgin online for a mere £7, that is quite a bit cheaper than anywhere else currently - [from Nigel]...


---
IMAN TO HOST TV FASHION SHOW
30th May 2007

IMAN is to host the Canadian TV version of PROJECT RUNWAY which will be broadcast by Slice in October.

Iman got the role after her stellar appearance as a judge on the American version of the show.

The American show which received an Emmy nomination, gives struggling fashion designers a chance to showcase their creations to the world. They compete against each other in a series of challenges and are eliminated one-by-one.

From the twelve hopeful Canadians who will compete on the show, the last one standing receives $100,000 to launch a collection and a spread in a fashion magazine.


---
THE MIDNIGHT SPECIAL ON DVD
30th May 2007

Burt Sugarman's groundbreaking late-night TV concert show 'The Midnight Special' is to be released on DVD on 5th June via Video Service Corp (VSC).

These first releases next month showcase some fo the greatest musical artists of the era. Featuring live performances from the show's first four seasons, 1973-1976, the four DVDs incorporate an eclectic lineup. Each has been remastered in Dolby® 5.1 Surround Sound, making the performances sound better than the original airings!

DAVID BOWIE who conceived 'The 1980 Floor Show' for the programme isn't included in these first 4 DVDs BUT five more 'Midnight Special' DVDs are expected later in the year, covering such artists as David Bowie, REO Speedwagon, Marvin Gaye, Van Morrison, Tom Petty, Blondie, The Beach Boys and Dolly Parton. The featured comedians will include Andy Kaufman, Billy Crystal, Richard Pryor, Lily Tomlin and Steve Martin.

The previously released compilation DVD - only available by special order subscription - included just one song 'Space Oddity' from David's 1973 performance at the Marquee.

You can read the official press release here.


---
OPEN UP AND BLEED
29th May 2007



OPEN UP AND BLEED is the fabulous new biography written by PAUL TRYNKA covering the life and times of the inimitable IGGY POP.

Published by Sphere and containing 464 pages 'Open Up and Bleed' is an impressive feat of research. Containing new interviews... new insights and new values, it's an absolutely compelling read. IMHO the best book on Iggy by a mile.

There is obviously lots of DAVID BOWIE related information inside, especially the Berlin period - which is a fascinating read - and the recording of 'The Idiot' throws out lots of new details.

To compliment the book, Paul has a new website, which features lots of interviews relating to the biography. As you'd expect, there's a lot of Bowie content - for instance, some of the interviews and photos relating to Berlin.

Visit trynka.net for a fascinating read and some great photographs.

You can purchase Iggy Pop - Open Up and Bleed: The Biography
NOW and save a massive 40%.


---
UPDATE ON AUGUST
28th May 2007

Check out some more info on the forthcoming movie AUGUST which stars DAVID BOWIE who play 'Ogilvie', a hard-nosed British Chief Executive Officer of a dotcom company...



Synopsis: Meet Tom Sterling (Josh Hartnett), CEO of Landshark, a revolutionary new dotcom company that's going to make him a millionaire many times over. That is, if it can stay afloat long enough to get out of stock market 'lock-up'.

On paper, Tom's got it all: A flash car, a loft apartment and his own hip, one-of-a-kind start-up business. He's got style, charm and an ego the size of Manhattan. He's the 'Jerry McGuire' of the internet set, with enough self-confidence to back it all up. Enough of it to get through a crucial business meeting with major Wall Street investors without so much as a concept of a proposal on paper. Enough of it to be appointed key-speaker at a conference of fellow internet entrepreneurs, then stand up in front of the smartest people in the industry without even preparing a speech. Enough of it to justify - scratch that - demand, from his accountant the purchase of a brand new Learjet that'll cost his cash-strapped company upwards of a million bucks a month, before their 'product' has even been launched. Tom Sterling thinks he understands business. Tom Sterling is about to get a nasty shock.

When the bottom suddenly falls out of the dotcom industry, Landshark's shares plummet and the company looks like it won't survive the weekend. Suddenly Tom is forced to face some unpleasant facts. His brash over-confidence is alienating his family, not least his younger brother Joshua (Adam Scott), the computer-whiz who invented the Landshark model, who has a wife and child to support and is near breakdown on account of Tom's cocky attitude and lack of respect for investors and business etiquette...

But then Sarrah (Naomie Harris), an old-flame of Tom's, re-enters his life and soon shows him the selfish, self-centered bastard he's become, and his walls come crashing down around him, forcing him to make drastic changes - fast.

With a stellar young cast and a rip-roaring screenplay that will grip you right up to its thrilling conclusion, AUGUST is an era-defining story about risking everything to make one's dreams reality - and the effects that may have on those who truly love you...

The movie directed and exec produced by Austin Chick is currently in post-production and is expected to hit cinema theatres in 2009.


---
'1977' LIMITED EDITION IGGY LIVE SET
27th May 2007

French photographer and filmmaker PHILIPPLE AULIAC is currently working on a re-issue of IGGY POP's first Paris show from 1977 which includes 'Nightclubbing', a very nice insert of unpublished pictures of Iggy he shot during this period, an exclusive interview he made at the same time about his work with DAVID BOWIE, raw mixes of 4 tracks from 'The Idiot', the London Rainbow show and some others great bonuses.

All sounds are taken from the open reel master. More information and details available at the Easy Action website.

Hang on there's more...

Also at last a picture performance takes place in 7 widescreen at 'Le Point Ephemere' in Paris on 9th June from 7 to 8 pm. The one-hour performance called 'Rock and Roll Suicide' contains photographs of David Bowie, Iggy Pop and Lou Reed that Phillipe took supported by an audio performance of rarities, demos and discussion features David, Iggy and Lou discussions at the mixing board. [View flyer].

From Philippe Auliac


---
TIGERS ON VASELINE: UPCOMING GIGS
27th May 2007

TIGERS ON VASELINE are an incredible Glasgow-based DAVID BOWIE Tribute and have a busy schedule planned for the next few months.

The band have been heralded as the best Bowie Tribute in the UK and 4 tracks can be heard on the band,s Myspace. No words can describe just how closely the band come to sounding like the original Spiders and John O'Brien's vocal is uncanny.

Tigers on Vaseline will be live at McChuill's in Glasgow on Saturday 2nd June and play an unplugged set at Glasgow's Bar Brel on 11th June.

Scheduled dates are as follows:

02 Jun 2007 21:00 - McChuills Bar Glasgow
11 Jun 2007 20:00 - Bar Brel - Glasgow
11 Aug 2007 20:00 - McChuills Bar Glasgow
25 Aug 2007 20:00 - Cue Here Airdrie, Scotland
13 Sep 2007 20:30 - McSorley's Bar Glasgow
29 Sep 2007 20:00 - Hamishes' Hoose Paisley, Scotland

Check out the band on their Myspace at: myspace.com/tigers0nvaseline

The band can also be contacted on: Mobile number 07907 954118 or Email @

From John O'Brien.


---
STARDUST MEMORIES IN THE SUNDAY TIMES
27th May 2007

In today's SUNDAY TIMES magazine there's an excellent eight-page full colour feature entitled 'Stardust Memories' on the new DAVID BOWIE publication 'From Station To Station: Travels with Bowie 1973-1976' by GEOFF MacCORMACK.

Reported by Tony Barrel - the feature entitled 'Stardust Memories' contains many photogaphs from the book. Besides on-set movie shots from The Man Who Fell To Earth, there's some from on-the-road in Russian and Japan, Madeira in 1974, Chicago in 1973 and a couple from the Cherokee Studios in LA during the recording of the Station To Station album.

You can read the article @ timesonline.co.uk website.

The book is available from Genesis Publications - more details and information @ genesis-publications.com website.


---
RAH 5 MINUTE TASTER PROMO REEL
26th May 2007

You can check out an exclusive five-minute promo reel on the DAVID GILMOUR website of the forthcoming DVD release 'Remember That Night: Live At The Royal Albert Hall'.

As you know, the concert filmed at the Royal Albert Hall last year saw DAVID BOWIE appear live on stage singing 'Arnold Layne' and 'Comfortably Numb'.

Read David Gilmour's blog for a few more tit-bits of information about the forthcoming DVD release directed by David Mallet, with additional footage by Gavin Elder.

The promo taster reel shows David on stage rehearsing Comfortably Numb and there's a interview backstage (1:55).

The DVD will contain twenty-three songs on Disc 1 and Disc 2 will contain bonus material. So far it is known that it will contain 3 documentaries, bonus tracks which did not fit in at Disc 1, footage from the Mermaid Theatre, and some additional songs from the summer tour.

The two-disc special edition DVD is scheduled for release on 17th September in the UK and Europe and on 18th September in the USA and Canada. [Pre-Order
] [More info].

Thanks to Michel for the pointer.


---
BOWIE ON BBC2 TONIGHT
26th May 2007

Reminder: Don't forget that tonight's the night for the second episode of THE SEVEN AGES OF ROCK BBC2 documentary.

'White Light, White Heat: Art Rock'. Episode 2 features previously unseen footage of DAVID BOWIE.

A journey through the history of rock music. Rock enters its second age to a psychedelic soundtrack and freaky lightshow. Inspired by Andy Warhol-managed New York band The Velvet Underground, music attempted to be taken seriously as an art form for the first time. This episode explores how rock became synonymous with theatricality and moved on from boy meets girl to boy meets ideas and beyond. Featuring a wealth of rare performance footage of David Bowie, Pink Floyd, Lou Reed and Roxy Music. (Stereo, Widescreen, Subtitles).

Showing on BBC2 at 21:05 to 22:05 (1 hour long) and for those of you that miss the programme it is repeated next night on Sunday 11:00pm on BBC1.


---
BOWIE ON BBC4 TONIGHT
26th May 2007

DAVID BOWIE appears on BBC4 tonight with the channel showing the 'Ziggy Stardust and The Spiders From Mars' D.A. Pennebaker documentary and the still best-ever Omnibus: Cracked Actor.

10:05 pm: Ziggy Stardust and the Spiders from Mars: DA Pennebaker's glam-rock classic features David Bowie as his gender-bending alter-ego Ziggy Stardust in his final performance, given at London's Hammersmith Odeon in 1973. [S]

11:35 pm Omnibus: Cracked Actor. Classic 1975 documentary about David Bowie, which sets out to discover what has become of him in America after the death of Ziggy Stardust. [S].


---
CORNELIUS FLY
24th May 2007

According to ICELAND REVIEW website DAVID BOWIE has agreed to star in a new movie entitled 'Cornelius Fly' directed by Gus Olafsson.

Gudjón Hafthór Ólafsson, aka Gus Olafsson, is currently preparing to direct his first film, an adventure film titled Cornelius Fly, about a British boy who loses his parents. Both Roger Moore and David Bowie have agreed to star in the film.

English singer-songwriter David Bowie will play the part of a greedy opportunist who tries to gain custody of the unfortunate boy, while English actor Sir Roger Moore, best known for his role as James Bond, plays a judge, Fréttabladid reports.

Cornelius Fly will start shooting September 3 in Toulumne County, 150 miles outside San Francisco. The film will also be shot in Hollywood and in the UK.

Other actors include US actors Karen Grassle, who played Caroline Ingalls in The Little House on the Prairie, and Richard Bakalyan, who allegedly was a good friend of Frank Sinatra.

Olafsson has lived in Los Angeles for 16 years, where he studied interior architecture. For the last two years he has worked for the Icelandic film production company Pegasus PanArctica.

From icelandreview.com

Update: Yet another story fed to drum up interest in a movie. DB on BowieNet: "This is total b.s. I've never heard of it."


---
LOOKING FOR WATER
23rd May 2007

MIKE SCOTT of The Waterboys writes in his blog on MySpace his 'Thoughts On Bowie'...

He writes during their current Book of Lightning tour, on the road listening to DAVID BOWIE on his iPod and CD listening / biography / reading / YouTube watching phase.

Specifically talking about Kooks, Starman, The Supermen, Ziggy's live version of White Light/White Heat in detail, he goes on to list his ten absolute favourite Bowie records in order of release.

You can read the blog here

From Steph


---
SONG FOR TOP GEAR
23rd May 2007

TOP GEAR - the UK's favourite authority on all things auto and the BBC's much acclaimed TV series returns, with a new collection of TOP GEAR ANTHEMS The Great Ever Driving Songs.

This 2CD collection features the very best of rock and indie sounds with a cherry-picked selection of classic anthems which includes DAVID BOWIE's 'Song For Bob Dylan' taken from his 1971 Hunky Dory album.

Others artists include: Placebo, Blur, Streophonics, The Killers, Franz Ferdinand, Primal Scream, Oasis, Queen, Coldplay and many, many others.

You can purchase Top Gear Anthems
now.


---
D&I OUT ON THE TOWN
22nd May 2007

DAVID BOWIE and his wife IMAN attended the Elie Wiesel Foundation for Humanity Awards Dinner at the Waldorf-Astoria Hotel in New York City on Sunday evening.

Their grand table boasted the Wall Street Journal's Peggy Noonan, moviedom's Sydney Pollack, Dustin and Lisa Hoffman, Time magazine's Rick Stengel, Ms. Couric, New York Post's Lisa Smith and P.R. guy Matthew Hiltzik.

Oprah Winfrey was the Guest of Honour and recipient of the Foundation's Humanitarian Award.

More than 800 congregated in the Grand Ballroom for dinner and more than $3 million was raised for the Foundation.

You can check out some photographs at Rex Features / Patrick McMullan / WENN / East News


---
HIGH LINE FESTIVAL ROUND UP
22nd May 2007

On Saturday evening (19th) for the finale of the HIGH LINE FESTIVAL in New York City, curator DAVID BOWIE introduced RICKY GERVAIS onto the stage with a rendition of 'Pug Nosed Face'.

As you know the song written by David Bowie, Ricky Dene Gervais and Stephen Merchant was created for the UK comedy show 'Extras' which was broadcast last September.

Ricky said to the audience that because he was introduced by David singing that song - that he could already imagine the puns that would follow. His favourites being: 'The Thin White Duke brings out the Fat White Duck,' 'Piggy Stardust' and 'Chunky Dory'.

After the sold-out Gervais show at Madison Square Garden, David then went on to check out THE SECRET MACHINES at the High Line Ballroom.



May 19th: - The Secret Machines at the High Line Ballroom - [Photos]
May 19th: - Ricky Gervais at Madison Square Garden - [Photos]

May 18th: David visited LAURIE ANDERSON at the High Line Ballroom and also saw the MEOW MEOW performance - Photos]

May 17th: David checked out DEERHOOF and visited backstage at the Irving Plaza and visited KEN NORDINE at The Kitchen in New York City - [Photos] - Photos]

May 16th: - David watched the Bang On A Can All-Stars show, also featuring Daniel Johnston, The Legendary Stardust Cowboy - [Photos]


---
DAVID TO STAR IN AUGUST
21st May 2007

BowieNet have reported that DAVID BOWIE has filmed his part for a new movie AUGUST last week in New York City.

August tells the tale of two brothers fighting to keep their dot.com company afloat in August of 2001, a month before the 9/11 attacks.

The movie directed and produced by Austin Chick also stars JOSH HARTNETT as well as Naomie Harris, Adam Scott, Zoe Kazan, Andre Royo, Alan Cox, Laila Robins, Robin Taylor, Caroline Lagerfelt, Matthew Martini and Rip Torn (aka Doctor Nathan Brice in The Man Who Fell to Earth).

The movie is scheduled for release in 2009.


---
TAKE A QUICK BUTCHERS...
21st May 2007

• PHILIP GLENISTER who plays DCI Gene Hunt in the BBC drama 'Life On Mars' wants DAVID BOWIE to make a guest appearance in the spin-off 'Ashes To Ashes'. When he appeared as a guest on BBC Radio 4's Loose Ends recently he was asked if Life On Mars and Ashes To Ashes might then be followed by yet more projects named after a certain performer's song titles?... "We're going to go through Bowie's entire catalogue, so hopefully I should have quite a long career in drama," he joked...

• ARTHUR AND THE INVISIBLES gets released on DVD (Region 2) on 25th June - the movie which featured DAVID BOWIE as Malthazard also starred Robert De Niro, Madonna, Snoop Dogg and Freddie Highmore. You can pre-Order Arthur and the Invisibles [2007]
now and save a massive 35%...

• DAVID BOWIE UK tribute band ALADDIN SANE are playing a series of gigs up in the North East of England. This coming Friday they play Newcastle, followed by two gigs in Sunderland. The dates are follows: Fri 25th May - Marquis Of Granby (Newcastle) / Fri 26th May - Smugglers (Roker - Sunderland) / Fri 27th May - Ropery (Sunderland). Check out aladdinsane.co.uk for more details...


---
SPACE ODDITY TRIBUTE: TWO EVENTS
20th May 2007



DAVID BOWIE tribute band SPACE ODDITY have a couple of special upcoming events...

May 26th: Fiesta Hermosa - outdoor beach side festival.
Showtime 3:00pm. Hermosa Beach, CA, USA
For directions, maps and info: fiestahermosa.com

June 7th: The Candlelight Pavilion Dinner Theater
(The Candlelight Pavilion is a beautiful dinner theater and a great venue to experience the full David Bowie tribute stage production)
455 W. Foothill, Claremont, CA USA 91711. 909 626-1254.
Ticket Price $45.00 per person includes Dinner and Show.
To make reservations please call (909) 626-1254 ext.1. Online ticketing not available.
Candlelight Pavilion Dinner Theater @ candlelightpavilion.com

For more information and details check out DavidBowieTribute.com and myspace.com/davidbowietribute

From David Brighton.


---
NEW VOYEUR MAGAZINE HITS THE STREETS
20th May 2007



As always at this time of year, your International DAVID BOWIE fan club THE VOYEUR publish their new Voyeur fan club magazine.

Next to previously unreleased full colour photographs from the personal archives of the girls and guys from 'The Voyeur', this magazine is filled with great items.

In this magazine:
Watch out for 'The Voyeur'
Sitting in the Laugh Motel
Welcome to 'The Voyeur'
Starman
Every picture tells a story
The Laughing Gnostic (David Bowie and the occult)
Part 2 of Peter R. Koenig's search for the connection between Bowie and Gnosticism
Four page full colour David Bowie centrefold
New kid on the blog: An introduction to MySpace.com
My David Bowie: An exclusive story by French Rock & Folk Journalist Jérôme Soligny
Announcement of the 2007 fan(club) meeting
Bowie in Holland - Glass Spider (by Antoine Loogman)
A preview of the forthcoming book by 'The Voyeur's' Antoine Loogman

[You can click here for a Sneak Preview of several pages from this brand new issue].

More information about 'The Voyeur' can be found on their website on http://go.to/bowiefanclub

You can also send them an email at

From Peter Smit


---
THE GIG OF A LIFETIME
17th May 2007

In today's DAILY TELEGRAPH JERRY CASALE of DEVO proclaims that seeing DAVID BOWIE in concert in Cleveland in 1974 was his 'gig of a lifetime'.

Jerry Casale of Devo on David Bowie at the Public Auditorium, Cleveland, Ohio, 1974.

The gig was part of David Bowie's Diamond Dogs tour. I'd never seen anything as spectacular before. The tour was choreographed by Toni Basil, and the stage was designed by a New York theatre company. The result was hypnotic, weird and fantastic.

At the start, an 8ft diamond descended to the floor of the stage. The front opened forward and Bowie jumped out wearing a Kabuki outfit, pulling dance moves reminiscent of Broadway.

I lost count of the number of set changes and dance routines. It was seamless - an incredible fusion of rock music energy, theatrics and disturbing assexual innuendos.

The show solidified right then and there what I wanted to do with Devo. We'd spent way too much time smoking pot talking about ideas and doing nothing about it. Here was someone who'd taken the time to do it for real.

You can read the whole article plus a nice Ziggy shot @ telegraph.co.uk website.

(Ed. He must taken too much pot if he remembers David wearing a Kabuki outfit in 1974!)


---
CULTURE VULTURE
16th May 2007

RICKY GERVAIS interviewed by the NY DAILY NEWS today is posed the question...

What do you think of the High Line reinvention?

Ricky: I love the idea of nature in an urban background. New York and London are great at that - eking out oases in this concrete jungle. And it's great that David Bowie has got behind something like this. He's always there, isn't he? I think of him of him like this strange futuristic sort of genie in the basement - rather like 'The Man Who Fell to Earth'. He knows about everything.

I give him a cultural reference that David Bowie shouldn't know about and he knows about it. He's like 'Lawnmower Man'. I think he's plugged himself into the World Wide Web.

You can read the whole interview at nydailynews.com website.


---
TAKE A QUICK BUTCHERS...
16th May 2007

• The BBC2 SEVEN AGES OF ROCK documentary - which kicks off this coming weekend - has an online timeline history about the series - several mentions of DAVID BOWIE - check it out @ bbc.co.uk website...

• Published in THE SUN newspaper today is EastEnder ADAM WOODYATT - that's Ian Beale to you and me - going all glam in a barmy take-off of DAVID BOWIE. He donned a bright red wig and Bowie's Aladdin Sane 'lightning flash' make-up for an EastEnders rock star-themed photoshoot. The pictures can be seen in the latest TV Times. Visit the thesun.co.uk website...


---
DAVID ON RADIO TIMES COVER
14th May 2007



The RADIO TIMES TV listing magazine (out tomorrow) is doing a special tribute to Rock with four illustrated collectable covers featuring various rock stars, one of which includes DAVID BOWIE.

The cover is to promote the new UK documentary series on BBC2 THE SEVEN AGES OF ROCK mentioned on here at the beginning of the month.

The new series breaks the history of Rock down into seven Ages - but which was the greatest? Radio Times asks the stars who were there in this week's issue.

The first of the seven documentaries in broadcast this weekend on Satrurday 19th May with programme one: The Road To Woodstock primarily focusing on Jimi Hendrix. This episode also explores the influence of rhythm and blues on a generation of British musicians such as The Rolling Stones, and shows how Bob Dylan and The Beatles transformed the ambitions of rock.

The second programme on 26th May features previously unseen footage of David Bowie.

Scroll down to 2nd May news item or [click here] to see a breakdown of each programme.

Visit the Radio Times website to see all four covers and more information.

From Neelam Rhodes @ Radio Times.


---
BACKSTAGE BOWIE
12th May 2007

Last night curator DAVID BOWIE checked out the third night of his H&M High Line Festival by watching THE POLYPHONIC SPREE at the Hammerstein Ballroom in New York City.

As expected he also attended the Air, TV On The Radio performances at Theatre at Madison Square Garden on Thursday evening.

All exclusive photos are via WireImage - who have exclusive coverage of the festival:

May 11th: David backstage with The Polyphonic Spree - [View photos]
May 11th: David at the opening night of 'El Automovil Gris' with Teatro De Ciertos Habitantes (Fabrina Melon, Claudio Valdes Kuri, Ernesto Gomez Santana and Irene Akiko Lida) at The Quad Cinema, NYC - [View photos]

May 10th: David backstage with TV On The Radio - [View photos]
May 10th: David backstage with Air - [View photos]

Check out BowieNet news where David is writing reviews of the concerts and events.


---
THE SPIDERS FROM MARS GIGS
12th May 2007

THE SPIDERS ON MARS an outstanding DAVID BOWIE tribute act from Glasgow have started to line up some summer dates with everything kicking off at McChuill's' in Glasgow, Scotland on 19th May followed by an intimate gig at Bar Bia in West Regent Street on 9th June.

You really need to check this act out to believe the intensity and thrill of their live performances. If you don't believe me, check out myspace.com/spidersonmars where you'll find some great live action showing Sean Steele and the rest of the dudes giving it their all.

More dates will follow including a residency from August in Bar Bia.

From Billy Spider @ spidersfrommars.co.uk


---
UKE-Y STARDUST
11th May 2007



This is quite possibly one of the strangest and maddest happenings I've reported in the last ten years on this site.... the concept alone is quite utterly brilliant...

UKE-Y STARDUST will be performing DAVID BOWIE's 1972 album masterpiece 'The Rise And Fall Of Ziggy Stardust And The Spiders From Mars' entirely on ukulele in front of a giant version of Mousetrap!

The performance takes place on 19th May at the Maker Fair, San Francisco Bay Area, California.

Location: San Mateo Fairgrounds. 2495 South Delaware Street, San Mateo San Francisco Bay Area, California 94403 USA.

Another upcoming 'Ziggy Stardust' gig takes place at The Rickshaw Shop in San Francisco on 16th June where in addition, they'll have new Bowie interpretations available for your delectation!

Check out Kelly McCubbin - The Ukulele Apocalypse @ ukeapocalypse.com


---
DAVID ATTENDS HIGH LINE OPENING NIGHT
10th May 2007

High Line Festival curator and co-founder DAVD BOWIE along with IMAN attended the opening gig of the inaugural 2007 High Line Festival.

D&I checked out the sold out ARCADE FIRE performance at the Radio City Music Hall in New York City last night.

David didn't join the band for the encore as some maybe of anticipated - he, Iman and Lou Reed and Laurie Anderson watched the performance from the wings stage left. During the encore David came down into the orchestra area to get a full on view.

D&I did the backstage thing and had photographs taken with the band. You can check out some exclusive photographs via the WireImage website.

No doubt David will be attending the AIR gig tonight, also playing is KATE HAVNEIK, with TV ON THE RADIO performing a rare acoustic set at Theatre at Madison Square Garden.


---
VARIATIONS ON SPACE ODDITY
10th May 2007

Revealed on MIKE GARSON's myspace blog yesterday: 'Exciting new Bowie track to be unveiled'...

At the upcoming Highline Shows taking part on the 16th and 17th of May, Mike has been preparing a new composition called 'Variations on Space Oddity' which no Bowie fan should miss... this track is something which Mike is quite excited to share with fans...

Tickets are selling fast, and are almost sold out! To buy the remaining few you can click here for shows on the 16th and HERE for tickets for the show on the 17th!!

These show are not to be missed.

From myspace.com/mikegarson.com

After the High Line dates, Mike and his trio will take to the stage again for a third night at the intimate Blue Note in New York! The show will start at 12.30am for any of the Late Night crowd who want to hang out and see Mike in smaller more relaxed surroundings.

Mike has also requested that ticket prices be kept low to only $8 a ticket for fans, and will need to be reserved!!

Get more information at: Blue Note, 131 W. 3rd St, New York, NY 10012. 212-475-8592.


---
FORTY DEUCE: DEAL SIGNED
10th May 2007

After reading various stories and an official press release from Ivan Kane over the past few months - apparently now, according to The New York Observer it's now and done and signed deal... read below...

It's official. DAVID BOWIE, STING and club owner IVAN KANE have finally gone to contract to bring Kane's burlesque show FORTY DEUCE to New York. Late yesterday, the trio signed on with New York Commercial Realty's James Famularo to open Kane's Las Vegas-based show at 19 Kenmare Street in the space that currently houses Little Charlie's Clam House. The contract is for approximately 5,500 square feet on the basement and first floor.

"Sting and David Bowie are direct partners," Mr. Famularo told The Observer. "They are going to be involved in the creative process."

Forty Deuce is a burlesque show that Kane started in Las Vegas in 2002. He has since opened a branch in Los Angeles, and has been in talks to bring the show to New York for some time.

As The Observer reported last week, David Zahabian purchased the 14,000-square-foot, six-story building at 19 Kenmare on April 30 for approximately $10 million. There were questions as to whether Little Charlie's, a neighborhood institution, would survive the acquisition.

"This will take the place of Little Charlie's," Mr. Famularo said. "It will be Kane's performance space with tiered seating and a stage for the girls."

Forty Deuce hopes to open its doors by fall of 2007.

You can read the full article via the The New York Observer website.

By Mark Wellborn


---
CLAN OF XYMOX RELEASE TWO "HEROES"
9th May 2007


The notorious CLAN OF XYMOX release their latest single "Heroes" on Friday 18th May via Metropolis Records USA label and also via download from iTunes


The single contains two interpretations of the DAVID BOWIE original track. It is not simply a cover of this great song but interpreted as such.

One version has a more slow industrial approach and the other is a more say, "pop-like" approach. The single will also contain a brand new hard edged song aimed at the scene's dance floor. A further bonus track will be included.

Check out the excellent promo video for the the slow industrial version by clicking below.





You can find out more information and details about the band at clanofxymox.com or myspace.com/clanofxymox

From sungod


---
THE RETURN OF THE THIN WHITE DUKE
9th May 2007

On the Saturday 26th May, DAVID BOWIE tribute band THE THIN WHITE DUKE play a gig at the Crows Nest, East Grinstead, West Sussex, England. Entry is free and things should kick off around 9pm.

The very next day on Sunday 27th May, the Dukes will be piling back into the van to head over to Bournemouth for our contribution to the Gander Classic Albums Festival. This two-week event sees a different tribute band every night performing one of their chosen artist's albums in its entirity. It was a tough decision what with so many of Bowie's albums being deemed "classic", but we have settled on 'The Rise And Fall Of Ziggy Stardust And The Spiders From Mars' due to its sheer popularity across the board. We'll also be throwing in a selection of Bowie's greatest hits after performing the album.

This gig will take place at The Portman Hotel, Ashley Road, Kings Park, Bournemouth BH1 4LT at about 9pm.

You can pre-order tickets (£6) at ticketweb.co.uk

For more details and information visit thinwhiteduke.biz and myspace.com/thegander

From Scott (aka Nature_Boy)


---
FA-FA-FA-FA-FASHION
8th May 2007

Last night DAVID BOWIE and IMAN attended The Metropolitan Museum of Art Costume Institute Benefit Gala 'Poiret: King Of Fashion' at the Metropolitan Museum of Art in New York City.

Iman looked stunning in a custom Stella McCartney suit, Fred Leighton jewels on one lapel and a stylish silver-topped cane, with David smartly wearing a black tux and bow tie.

Anyone who was anyone was there - take a big breath - including: Jennifer Connelly, Paul Bettany, Kate Moss, Amber Valletta, Stella McCartney, Scarlett Johansson, Mick Jagger, L'Wren Scott, Rihanna, Cameron Diaz, Cate Blanchett, Bee Shaffer, Harry Connick Jr, Jill Goodacre, Charlotte Gainsbourg, Cat Deeley, Jennifer Garner, Jennifer Lopez, Claudia Schiffer, Kerry Washington, Salma Hayek, Naomi Campbell, Eva Mendes, Renée Zellweger, Winona Ryder, Christina Ricci, Kirsten Dunst, Johnny Borrell, Christy Turlington, Edward Burns, Kate Bosworth, Mischa Barton, George Lucas, Jessica Stam, Josh Hartnett, Natasha Richardson, Vanessa Redgrave, Jennifer Hudson, Naomi Watts, Liev Schrieber, Brooke Shields, Liv Tyler, Gisele Bündchen, Alberta Ferretti, Sandra Bullock, Mary-Kate and Ashley Olsen, Rose McGowan, Zac Posen, Lucy Liu, America Ferrera, Helena Christensen, Alicia Keys, Jessica Simpson, Queen Rania of Jordan, Selita Ebanks, Nick Cannon and many, many others.

The gala kicked off the 'Poiret: King of Fashion' exhibition at the museum's Costume Institute. The exhibit, which runs until 5th August, honours early 20th Century designer Paul Poiret.

You can view more photographs of David and Iman on the links below:

[WireImage] [WENN] [Yahoo! News Pics] [Rex Features] Getty Images]

You can also view here guests arriving for the gala. David and Iman appear at 6:17 into the footage (WindowsMedia).


---
HIGH LINE FESTIVAL ROUND-UP
7th May 2007

As the High Line Festival in New York City nears ever closer - only two days to go - with curator king DAVID BOWIE busy finalising those last minute details - more articles and interviews appear online from various sources covering the event.

The New York Times published 'Chosen by David Bowie, Shows That He'd Attend' by Ben Sisario, which includes a short telephone interview done with David last week - [Read here]...

From The New York Daily News check out the article 'Let's Dance' - Who's performing at the High Line Festival - [Read here]...

In the UK, The Independent newspaper publish 'The High Line Gala: Bowie plans a Manhattan Meltdown' - [Read here]...

am New York have published 'Elevating Experience' - [Read here]...

For more information and who's playing where and when - visit highlinefestival.com website.


---
UNIQUE UNDERGROUND BOWIE MEMORABILIA
6th May 2007



Check out this unique piece of DAVID BOWIE memorabilia that will shortly be offered for sale on the eBay auction website.

In 1986, SOLWEIG VON KLEIST designed the animation that appears in the video clip 'Underground' by David Bowie.

The drawings for the animated sequence were scratched image by image, directly onto 35mm black film leader. All the movements are complete invention, created wholly from imagination.

There are 2 rolls of film drawings: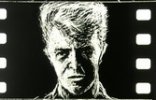 Roll A shows the whole animation sequence from beginning to the end, drawn on one single piece of film. There are 380 images in total, including some errors and mistakes as well! Length ca. 23,7 feet / diameter of the roll: 3 inches.

Roll B holds all the corrections added afterwards, mainly to slow down the movements. These additional images were inserted into the final film during the shooting of the images (on an optical printer): 235 images, length ca. 14,7 feet / diameter 2 ½ inches. This roll shows some imperfections (5 film pieces scotched together, 3 drawings missing).

Solweig still has the original storyboard which he drew for the animation of the video, some Super-8 tests of the movements, as well as the original 35mm film piece with the scratched dancers and David Bowie disappearing into the ground, at the end of the clip.

(Click on the text links above to view other images).

Update: Memorabilia now up for grabs on eBay website.

From Solweig.


---
CHERRY VANILLA: ZIGGY'S PAPERS BOOK LAUNCH PARTY
5th May 2007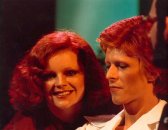 Celebrate DAVID BOWIE with author CHERRY VANILLA at the 'Ziggy's Papers' Book Launch Party in Milan, Italy.

"The most frustrating thing about re-reading these diaries now is trying to remember what I was actually doing as opposed to what Cherry was doing. The embarrassment is that I sometimes remember." - David Bowie.




On Tuesday 22nd May Milan's literary scene will take a step back in time, to the 1970s, with the launch party for Cherry Vanilla's Ziggy's Papers (No Reply Publishing), celebrating the years when David Bowie broke into the American market with hits such as 'Pin-Ups', 'Diamond Dogs' and 'Young Americans', supported by endless touring that soon made him into a megastar.

Back then, Bowie met Miss Cherry Vanilla while she was performing in Andy Warhol's 'Pork', and asked her to become his press agent. It was during this crucial period, in May 1973, that the English magazine Mirabelle suggested that Bowie write a weekly column for the benefit of his British fans, in which he described his everyday activities, both work and personal. Bowie gave the job to Cherry Vanilla, and the result is a little masterpiece of sly frivolity, a spirited story, with a certain unrealism that after all suits the subject treated particularly well. Vanilla was able to give the readership just what they wanted, and now throws the candid light of day on a weird fairy tale about the every more accelerated tribulations of the artist.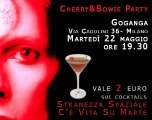 Organised by the book's Italian publisher, No Reply and Velvet Goldmine, the Italian fan club, the party will run from 7pm to midnight (or later!) at the Goganga Club in Milan, via Cadolini 39. The event's guest star will be Cherry Vanilla, along with the Italian popstars Garbo and Andy from BluVertigo and many other artists and friends.

A make up artist will be at disposal to help the public create their Seventies look and atmosphere; and once everybody's dressed to impress and wearing a colourful make up, the party's photographer will be ready to take pretty, unforgettable shots of everyone!


Party's schedule:

7:00 pm - David Bowie: videos and rarities
7:30 pm - Cherry introduces Ziggy's Papers - interview by Fabio De Stefani, journalist
8:30 pm - Tribute video by Giorgio Magarò
9:00 pm - Ziggy Played Guitar 2007 - acoustic set
10:30 pm - Scary Monsters Ltd - tribute band, Garbo and Andy (BluVertigo)
11:30 pm - Glam DJ set, videos and rarities


FREE ENTRANCE to Goganga Club.

How to reach Goganga:
Goganga Club is in via Cadolini 39, close to Piazzale Lodi; subway MM3 (Lodi TIBB stop), tramcar 4, bus 84, 90, 91.


Author's mini-biography: Cherry Vanilla was raised in New York. Before working with David Bowie, she made commercials, worked as a disc jockey, and became a poet (Pop Tart Compositions), as well as starring in Andy Warhol's 'Pork'. After her relationship with Bowie ended, she became a singer in punk rock bands Bad Girl and Venus d'Vinyl, a cabaret artiste, magazine editor, sex chat line operator and film music supervisor. Celebrities she has worked with include photographer Bruce Weber, jazz trumpeter Chet Baker, movie-maker Tim Burton and singer Rufus Wainwright. She currently lives in Hollywood, where she acts as agent for the world-famous composer Vangelis.

From Stefano @ Velvet Goldmine Italian fan website.


---
ALADDINSANE TRIBUTE BAND
5th May 2007

DAVID BOWIE UK tribute band ALADDINSANE perform tomorrow night (6th May) at the Hollywood Restaurant in Benfleet, Essex.

This gig has been hastily arranged after another Bowie tribute act pulled out earlier this week.

Venue address: 140 Shipwrights Drive, Thundersley, Benfleet, Essex, SS7 1RF.

Doors open at 8pm with the band kicking off around 9pm, entrance is £7 payable on the door.

Aladdinsane are: Paul Henderson (lead vocals/guitar), Carl Stones (lead guitar), Mark Hatton (drums and percussion) and Dave Duffy (bass guitar).

This is an opportunity to see Aladdinsane performing in this part of the country for the first time this year. Paul, Carl, Mark and Dave look forward to playing this well known and respected venue and can't wait to see you there!!!

Other gigs lined up for this month are: 12th: The Cherry Tree, Peterborough / 19th: The Comet, Peterborough / 25th: Marquis Of Granby, Newcastle-upon-Tyne / 26th: The Smugglers, Sunderland / 27th: The Ropery, Sunderland, (gig starts at 5pm).

Check out their website @ aladdinsane.co.uk where you can read and listen to the band and check out forthcoming gigs around the country.


---
THE BAD PLUS BOWIE
5th May 2007

THE BAD PLUS is a collective made up of bassist Reid Anderson, pianist Ethan Iverson and drummer David King. All three are from the Midwest and they have known each other since their teens.

Nonetheless, with the exception of one unimpressive meeting in 1990, it is only after spending their formative 20s apart - King as a session player in Los Angeles, Iverson as the musical director for the prestigious Mark Morris Dance Group, Anderson as a prominent up-and-coming player on the New York jazz scene - that they reunited in late 2000 to play a weekend club date in Minneapolis. The chemistry was immediate and obvious. They planned a second gig and a one-day recording session for the indie jazz label Fresh Sound and The Bad Plus was born.

Their brand new album PROG
is released this Tuesday 8th May on the Heads Up label. The album features their interpretation of the DAVID BOWIE classic 'Life On Mars?'.

Pianist Ethan says of the track: "There is no more hardcore improvising on our new record than on 'Life On Mars.' It's almost just like pure free jazz, although Reid and I have some distant idea of what the chord structure is. It's a way of playing I'm intensely proud of. Basically playing free but within a structure."

The full trackisting for Prog runs as follows:

01. Everybody Wants To Rule The World
02. Physical Cities
03. Life On Mars?
04. Mint
05. Giant
06. Thriftstore Jewelry
07. Tom Sawyer
08. This Guy's In Love With You
09. World Is The Same, The
10. 1980 World Champion

You can order the new album from the UK
here or Worldwide


Check their myspace.com/badplus pages where the tracks are to be posted online available to download.


---
DO YOU WANT MIKE TO PLAY WITH YOUR BAND???
4th May 2007

Pianist extraordinaire MIKE GARSON is offering his services to play with your band.

Mike says "Through myspace I have discovered great acts such as Kuta , and Sleepyard who I collaborated with to produce new and exciting tracks. This collaboration exposed Kuta to a new audience (they received press to 200,000 readers in one newspaper alone) and helped Sleepyard to be offered a recording contract."

Mike would like to extend the invitation to work with new or existing bands out there who would like his own sound on your recordings.

He has set up a special session rate that most bands can afford, which is far within the reach of unsigned acts that might need that extra help.

If you want more information on how to have Mike Garson play with you, please email or send a message to myspace.com/mikegarson


---
THE HIGH LINE FESTIVAL REVS UP
4th May 2007

If DAVID BOWIE asked you over to listen to records, you'd go.

Well, the High Line Festival isn't an invitation to the Bowie den, but it's as close as you'll get. The Thin White Duke has programmed a week and a half of his favorite musicians, comedians, artists and films for the festival, which planners are hoping will become an annual event.

"It will be like spending 10 days with David Bowie, and him showing you all his favorite artists," said JOSH WOOD, a co-producer of the festival with DAVID BINDER.

Wood, who comes from a background in concert promotion and festival management, and Binder, a theater production veteran, created the High Line Festival to celebrate New York City's varied culture. Wood said it was important to them that the High Line Festival surveyed the various media that makes the city unique.

"We thought, 'Wouldn't it be great if we could do a festival for people who were into different things that the city has to offer; interested in seeing film mixed with a DJ set, mixed with a concert," Wood said. "There are very few cultural institutions that wrap them up together, which is what we want to do."

Also important to the duo's vision was getting a different celebrity curator each year. Their criteria were: "someone who was multidisciplinary, lived in New York, had a very strong aesthetic point of view, was very interested in nurturing new talent."

Which describes Bowie to a T. They reached out to him through every possible outlet, and eventually he responded with interest.

And this year's festival is evocative of Bowie's viewpoint. Of course he's asked his favorite band of the moment, The Arcade Fire, to participate. But the festival's line-up stays true to Bowie's eclectic tastes with off-the-beaten path acts like experimental collective Bang on a Can All-Stars. "There are a lot of indie bands on the bill," said David Cossin, Bang's percussionist, "and I think that adding Bang on a Can to it mixes it up a little in an interesting way."

If you can't find anything musically that tickles your fancy, perhaps you'll be intrigued by a Ricky Gervais stand-up comedy performance, or a screening of one of Bowie's favorite Spanish language films, or a viewing of the photographs of Claude Cahun.

"The intention is that it will connect with all New Yorkers," Wood said. "As long as you're interested in culture and being entertained, there's something for you."

What does this all have to do with the High Line - that stretch of unused train track that stretches along the lower West Side? The Festival is donating a portion of the proceeds to Friends of the High Line, the group working with the city to turn the unused structure into a city park. Though they're unaffiliated, both the Festival and Friends of the High Line want to see New Yorkers come together in celebration of our shared culture.

By Emily Hulme @ amNewYork

For more information and the listings of who's playing where and when check out highlinefestival.com website and you can buy tickets via ticketmaster (click on Interrnational link top right).


---
BOWIE TAKES MANHATTAN
2nd May 2007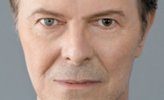 DAVID BOWIE graces the cover of the May issue (605) of TIME OUT New York magazine to promote the forthcoming High Line Festival.

Inside there's an exclusive interview with David, as well as interviews that David did with Laurie Anderson and Ricky Gervais.

The interviews can be read online at the Time Out New York website...

David Bowie curates the High Line Festival, recruiting pals Ricky Gervais, Arcade Fire and more to benefit the elevated park. Our exclusive behind-the-scenes preview explains it all - [High Fidelity] interview.

Performance artist Laurie Anderson gets 'weird' again, filling another show with feathered friends. A David Bowie interview - [Flipping the bird] interview.

Exclusive! Bowie interviews Ricky Gervais by e-mail - sort of! - [Cyberspace oddity] interview.

Ziggy zeroes in on ten Spanish-language flicks - [Must si]


---
THE SEVEN AGES OF ROCK
2nd May 2007

The new upcoming BBC2 TV documentary series THE SEVEN AGES OF ROCK which begins later this month is to broadcast previously unseen footage of DAVID BOWIE performing at London's Rainbow Theatre on 19th August 1972.

Besides the Rainbow footage, there will also be swathes of never-seen-before Bowie clips including his perfomance of 'Space Oddity' at the Ivor Novello Awards in May 1970. Both are being broadcast for the first time.

These seven-part programmes delve into the history of rock music from the 1960s onward, features interviews and rare performance footage including the last video Syd Barrett made with Pink Floyd, the first colour clip of David Gilmour in Pink Floyd and The Velvet Underground playing at the Annual Dinner Of The New York Society For Clinical Psychiatry in January 1966.

The seven 60-minute documentaries are listed as follows:

19th MAY: Programme 1. The Road to Woodstock - The rock revolution of the 1960's as seen through the life and music of Jimi Hendrix. This episode also explores the influence of rhythm and blues on a generation of British musicians such as The Rolling Stones, and shows how Bob Dylan and The Beatles transformed the ambitions of rock.

26th MAY: Programme 2. Between Rock And an Art Place - From the pop-art multi-media experiments of Andy Warhol and the Velvet Underground to the sinister gentility of Peter Gabriel's Genesis, this episode will trace the story of how artistic and conceptual expression permeated rock.

2nd JUNE: Programme 3. Blank Generation - A tale of two cities, class and race-driven London and bankrupt New York. Each city gave birth to a bastard child that changed popular music forever - punk. We will explore the music of The Sex Pistols, The Clash, Ramones, Television, Patti Smith, The Damned and Buzzcocks.

9th JUNE: Programme 4. Never Say Die - The longest surviving genre in rock, certainly the loudest, Heavy Metal is the most controversial and misunderstood of all rock genres, emerging at the tail end of the hippy dream. With Black Sabbath as the undisputed Godfathers, we follow their highs and lows, and meet Deep Purple, Judas Priest, Iron Maiden and Metallica.

16th JUNE: Programme 5. Global Jukebox - We follow the development of some the biggest names in rock in the 70s and 80s (Queen, The Police, Dire Straits) and examine how rock achieved a global influence on culture and politics through MTV and events such as Live Aid. We see how U2 effectively brought this era to a close, re-imagining what it meant to be a successful rock band.

23rd JUNE: Programme 6. The Last Rock Star - We trace the history of the American underground music scene that produced bands like REM, Nirvana and The Pixies, and why they resonated with 'Generation X' - offering an alternative to the established music industry and Reaganesque politics. Of course this includes a fresh look at the Seattle 'grunge' scene, culminating in the short life of Kurt Cobain - an artist whose triumph and tragedy continues to cast an inescapable shadow.

30th JUNE: Programme 7. What the World is Waiting For - British Indie music was once seen as the bastion of the earnest 'High Fidelity' snob. Often political, indie was a way of defining oneself in a sea of vapid chart fodder, a redoubt against Blur v Oasis, indie was a marketing device, ultimately losing it's integrity at Oasis's Knebworth spectacle in 1996. Indie was mainstream. Indie was dead. But was it? From The Libertines to Franz Ferdinand and The Arctic Monkeys, indie labels reconnected to their fans, using both new technology and good old rock 'n' roll to inspire and motivate a new generation to ditch the decks and pick up a guitar. Rock is back.

The series begins on Saturday 19th May on BBC2 at 9:00pm.


---
DAVID TO GET LIFETIME ACHIEVEMENT WEBBY
1st May 2007



DAVID BOWIE is to be honoured with a lifetime achievement award from THE WEBBYS presented by The International Academy of Digital Arts and Sciences.

In recognition of his legendary career pushing the boundaries of art and technology, a Webby Lifetime Achievement Award will be presented to rock icon and Internet visionary David Bowie. From BowieNet, the seminal Internet service provider he launched in 1998, to BowieArt, an innovative Website that connects the next generation of visual artists with art collectors worldwide, David Bowie has set the standard for musicians active online.

The 11th Annual Webby Awards Gala takes place on 5th June in New York City.

The star-studded ceremony with special guests and the celebrated 5-word acceptance speeches will be held for the second year in a row at the beautiful Cipriani Wall Street and will include appearances by rock legend David Bowie, YouTube founders Chad Hurley and Steve Chen, and eBay President and CEO Meg Whitman.

The Webby Awards is the leading international award honoring excellence on the Internet. Established in 1996 during the Web's infancy, the Webbys are presented by The International Academy of Digital Arts and Sciences, a 550-member body of leading Web experts, business figures, luminaries, visionaries and creative celebrities.

The Academy is an intellectually diverse organisation that includes members such as musicians David Bowie and Beck, Internet inventor Vint Cerf, political columnist Arianna Huffington, Real Networks CEO Rob Glaser, 'The Simpsons' creator Matt Groening, R/GA Founder and Chairman Robert Greenberg, Virgin Atlantic Chairman and Founder Richard Branson, and The Weinstein Company Co-Founder Harvey Weinstein. Members also include writers and editors from publications such as The New York Times, Wired, Details, Fast Company, Elle, The Los Angeles Times, Vibe, and WallPaper. The 11th Annual Webby Awards received over 8,000 entries from over 60 countries and all 50 states and generated over 750 million media impressions worldwide.

Reflecting the tremendous growth of the Internet as a tool for business and everyday lives, the 11th Annual Webby Awards expands the mission of the Webby by honouring excellence in over 100+ Website, Interactive Advertising, Online Film and Video, and Mobile categories.

More details, information and ticket purchasing can be found at the webbyawards.com website.


---
VOTE IN THE CURRENT BW POLL
1st May 2007

Only a few more days left for voting in the current BW poll...

The question now being asked is: 'Which is your favourite DAVID MALLET / DAVID BOWIE promotional video?'

So far the top five are placed as follows, 'Ashes To Ashes' is way out in front with 32.26% , followed by 'Boys Keep Swinging' 14.96%, 'Loving The Alien' with 7.91%, 'DJ' with 7.66% and China Girl 7.29% of the vote.



[BW POLL: FAVOURITE MALLET / BOWIE PROMO VIDEO? - VOTE HERE]




---

OLDER NEWS

April | March | February | January
2006 Bowie News Archives
2005 Bowie News Archives | 2004 Bowie News Archives
2003 Bowie News Archives | 2002 Bowie News Archives
2001 Bowie News Archives | 2000 Bowie News Archives
1999 Bowie News Archives | 1998 Bowie News Archives