BOWIE TV and WHAT'S REALLY HAPPENING IN JANUARY - MONTHLY PLANNER

[BOWIEWONDERWORLD SHOP] [LATEST DAVID BOWIE ITEMS ON eBAY]

[@bowiewonderworld.com email addresses HERE]

Have YOU got some DAVID BOWIE related news or a hot scoop?
Well don't just sit there keeping it to yourself - send it in to
All news items are credited if you so wish

[DOWNLOAD DAVID BOWIE MUSIC from Amazon
]



---
ALADDINSANE 2011 GIGS
25th January 2011

DAVID BOWIE UK tribute band The Best of Bowie - ALADDINSANE have an abundance of gigs lined up for this year in both the north and south of the country, along with six dates headlining alongside the MARC BOLAN tribute act T-REXTASY.


Saturday 29th January:
Palace Theatre, 430 London Road, Southend on Sea, Essex, SS0 9LA
Box Office: 01702 351135 [Venue website]

Sunday 20th February:
Embassy Theatre, Grand Parade, Skegness, Lincolnshire, PE25 2UG
Box Office: 0845 674 0505 [Venue website]

Friday 4th March:
The Beck Theatre, Grange Road, Hayes, Middlesex, UB3 2UE
Box Office: 0208 561 8371 [Venue website]

Friday 18th March: (with T-Rextasy)
The Harlequin Theatre, Warwick Quadrant, Redhill, Surrey, RH1 1NN
Box Office: 01737 276500 [Venue website]

Saturday 26th March: (with T-Rextasy)
Fairfield Halls, Park Lane, Croydon, Surrey, CR9 1DG
Box Office: 0208 688 9291 [Book online]

Friday 8th April: (with T-Rextasy)
City Hall, Malthouse Lane, Salisbury, Wiltshire, SP2 7TU
Box Office: 01722 434434 [Book online]

Thursday 5th May:
The Sands, Old Palace Discothèque, Promenade, Blackpool, FY1 4TQ
Tel: 01253 625262 [Venue website]

Friday 6th May: (with T-Rextasy)
The Muni, Albert Road, Colne, Lancashire, BB8 0AE
Box Office: 01282 661234 [Venue website]

Thursday 19th May: (with T-Rextasy)
The Orchard, Home Gardens, Dartford, Kent, DA1 1ED
Box Office: 01322 220000 [Venue website]

Saturday 11th June:
The Millfield Theatre, Silver Street, Edmonton, London, N18 1PJ
Box Office: 0208 807 6680 [Venue website]

Saturday 25th June: (with T-Rextasy)
The Spa, Undercliff Road West, Felixstowe, Suffolk, IP11 2DX
Box Office: 01394 282126 [Venue website]

Friday 23rd September:
Playhouse, Ashley Avenue, Epsom, Surrey, KT18 5AL
Box Office: 01372 742555/742227 [Venue website]

Saturday 29th October:
The Pavillion Theatre, The Pier, Promenade, Cromer, Norfolk, NR27 9HE
Box Office: 01263 512495 [Venue website]

Thursday 3rd November:
The Capitol, North Street, Horsham, West Sussex, RH12 1RG
Box Office: 01403 750220 [Venue website]


There are also several pub gigs in the Peterborough area starting this coming Friday - check the BW Monthly Planner for more info.

More details and information can be found over at the aladdinsane.co.uk website.


---
AND THE BITS FLEW FAR AND WIDE...
24th January 2011

• The February issue of RECORD COLLECTOR magazine celebrates the 35th anniversary of DAVID BOWIE's 'Station To Station' album. David is featured on the front cover and inside there's a ten-page feature penned by Thomas Jerome Seabrook entitled 'White Shirt Black Noise' - [More details]...

• DAVID BOWIE along with Corinne Schwab were papped as they left a matinee performance of the Broadway musical Spiderman at Foxwoods Theatre in New York City on Wednesday 20th January...

• Check out the photos taken at the recent Oh! You Pretty Things: Best Of Bowie - A Glam Birthday Celebration do in New York at Le Poisson Rouge - [View here]...

• Director DUNCAN JONES is interviewed by comingsoon.net about his forthcoming movie Source Code and also reveals in the interview that he was on the shortlist to direct the next Superman movie. Source Code hits theatres on 15th April. You can read the complete interview here...


---
VIBRATIONS: BOWIE SPECIAL
23rd January 2011



French/Swiss magazine VIBRATIONS are publishing a DAVID BOWIE special collectors edition with a whooping eighty-four pages!

Inside there are 100 rare and unseen photographs, interviews, Nick Kent article on 1973 era, Berlin period, Bowie in film, a discography, etc, etc.

You can view the English translation and 60 excerpts from a low-res pdf version online here

Check out the vibrationsmusic.com website.



---
MORE BOWIE CLASSICS FOR ROCK BAND
21st January 2011

Official Press Release: (Cambridge, Mass) - HARMONIX today announced that five of DAVID BOWIE's most-loved classic songs will be available beginning 25th January in the Rock Band 3 Music Store of downloadable content for the Xbox 360 video game and entertainment system from Microsoft, PlayStation 3 computer entertainment system and Wii.

David Bowie is simply a music legend. He has sold more than 136 million albums worldwide, been awarded nine Platinum albums in the United Kingdom and five in the United States, is ranked No. 39 on the Rolling Stone's 100 Greatest Rock Artists of All Time and No. 23 on their Best Singers of All Time, and was named No. 29 on the BBC's list of 100 Greatest Britons. And now, get psyched! We're bringing you more David Bowie with a five-pack of songs sure to make any Bowie fan happy.

David Bowie Pack 02 features 'Blue Jean' from his album Tonight, 'Fame', which was the first Bowie song to reach the No. 1 spot on Billboard in the United States; 'Modern Love' from his album Let's Dance, 'Young Americans', the title track from the album of the same name; and 'Ziggy Stardust', which is included in Rolling Stone's 500 Greatest Songs of All Time.

As always, songs available as downloadable content for Rock Band 3 feature five-button guitar and bass parts, drums, Pro Drums, and keys, Pro Keys and harmonies, where applicable. Some songs also feature Pro Guitar and Pro Bass upgrades available for an additional $0.99 upgrade download.

Available on Xbox 360, Wii and PlayStation 3 system (Jan. 25):

'Blue Jean'
'Fame'
'Modern Love' (X)
'Young Americans'
'Ziggy Stardust' (X)

(All tracks are original master recordings)
(These tracks will be available in Europe on PlayStation 3 system Jan. 26).

These tracks will be available for purchase as individual tracks and as 'David Bowie Pack 02' on Xbox 360, PlayStation 3 system and Wii. Tracks marked with 'X' will include Pro Guitar and Pro Bass expansions for $0.99 per song.

Prices:
$1.99 USD, .99 UK, €1.49 EU (160 Microsoft Points) per song
$2.00USD (200 Wii Points) per song
$0.99 USD (100 Wii Points/80 Microsoft Points), 0.59 UK, €0.79 EU per song for eligible Pro Guitar/Pro Bass upgrade
$8.49, 4.39 UK, €6.59 EU (680 Microsoft Points, 850 Wii Points) for David Bowie Pack 02

** Dates for Rock Band game tracks are tentative and subject to change. **

*Available on-disc, via download and disc export. Internet connection and export key purchase required. Wii has more than 1,500 song tracks available for purchase on the Rock Band platform on-disc, via song import, and download. Not applicable to Nintendo DS.

Rock Band 3 is available for Xbox 360, PlayStation 3 system, Wii and Nintendo DS. Xbox 360, PlayStation 3 system and Wii versions support downloadable content.

Downloadable content for Wii is purchased via the in-game Rock Band Music Store using Wii Points purchased through the Wii Shop Channel and can be downloaded to the system memory or to an SD card for additional storage. The tracks stream directly from the SD card for seamless play.

The Rock Band Music Store allows players to preview and purchase downloadable individual music tracks and packs from the vast selection of offerings available to date without ever leaving the game as they build their own custom Rock Band library. The complete list of tracks can be found at rockband.com/songs

For more information on Rock Band 3 and Harmonix Music Systems please visit rockband.com and harmonixmusic.com


---
I SEE THINGS
19th January 2011



The eagerly anticipated release of The Man Who Fell To Earth on Blu-ray (Region 2 format) finally arrives on 30th March via Optimum Home Entertainment.

Format: Anamorphic, Colour, PAL, Widescreen
Language English
Region: Region 2
Aspect Ratio: 16:9 - 1.78:1 Number of discs: 1
Studio: Optimum Home Entertainment
DVD Release Date: 30th March 2011
Run Time: 133 minutes

Synopsis: From director Nicolas Roeg, The Man Who Fell To Earth is a science-fiction cult classic starring DAVID BOWIE. Crash landing on Earth from his dying planet, an alien humanoid traveling by the name Thomas Jerome Newton uses his superior intelligence to build a vast business empire. As he takes on, and beats, every US corporation, people can only guess his true purpose: to save his dying world from agonizing death by drought. Newton's ageless fall from grace, as he becomes prey to lust, alcohol, business rivals and the US Government makes The Man Who Fell To Earth not only a bitingly caustic indictment of the modern world but also a poignant commentary on the loneliness of an outsider.

You can pre-order NOW
and save a massive 35%.


---
FALL DOG BOMBS THE FULL MOON
19th January 2011

DAVID BOWIE appears on the front cover of Czech Republic magazine 'Full Moon' for their January issue (No #9).

Inside there are six-pages with some lovely photographs.

You can view the online version of the magazine here


---
I HOPE I MAKE IT ON MY OWN
14th January 2011



Back in 1966, forty-five years ago this very day, saw DAVID JONES release his first ever single 'Can't Help Thinking About Me' as 'DAVID BOWIE with The Lower Third', backed with 'And I Say To Myself'.



Released on the Pye label (Pye 7N 17020) in the United Kingdom , the single reached number 34 in the Melody Maker chart and peaked at number 14 on 20th February in the Radio London Fabulous Forty chart.

The musicians on the single were: David Bowie: vocals/tambourine, Dennis Taylor: guitar, Graham Rivens: bass and Phil Lancaster: drums. The producer was Tony Hatch.

Four months later the single was released in the USA on the Warner Brothers label (WB 5815). Later the same year, the track appeared on the Pye compilation album 'Hitmakers Volume 4' (Pye NPL 18144), which marks the first track on an album by 'David Bowie'.

David said of the song during an interview for Melody Maker on 26th February 1966... "Several of the younger teenagers' programmes wouldn't play 'Can't Helping Thinking About Me', because it is about leaving home. The number relates several incidents in every teenager's life - and leaving home is something which always comes up."




Six years later in October 1972, the song was re-released as an EP in the United Kingdom (Pye 7NX.8002) and New Zealand (Pye 7NX 8002).

Also the same month, saw the Japanese 7" single released, backed with 'I'm Not Losing Sleep' (Pye/Teichiku UP-408-Y).



The following year in March 1973, saw a 7" release in Spain (Pye 11.603) backed with 'I Dig Everything', complete with as you can see a rather nice picture sleeve.

June 1978 saw a Canadian-only 7" release on the Pye blue label backed with 'Do Anything You Say' (7N8002), there then follows a list as long as your aunty's left arm of compilations, reissues and repackages containing the track.

In more recent times, David re-recorded a newer version of this song - which was first performed live again during the VH1 StoryTellers show - as well as his Roseland Ballroom 1999 gig in New York City.

Something for the trivia anoraks out there, he actually performed a snippet of this song in San Francisco during his 1997 Earthling world tour.


---
TO BE PLAYED AT MAXIMUM VOLUME
12th January 2011

Colleen got in touch to let everyone know that she hosts a monthly audiophile listening party called 'Classic Album Sundays' in London.

This coming weekend on Sunday 16th January at 17:00 they are presenting DAVID BOWIE's classic album 'The Rise and Fall of Ziggy Stardust and The Spiders From Mars'.

For your listening pleasure they are playing the remastered vinyl version on Mobile Fidelity.

Word Magazine reviewed it and called it "a book club for albums". I believe the BBC are coming down to cover the event as well.

Venue: The Hanbury Arms, 33 Linton Street, Islington London N1 7DU, England.

If you're on FB - more details and information can be found over on Facebook.com

From Colleen.


---
ITALIAN MAG: BOWIE SPECIAL
12th January 2011



To celebrate DAVID BOWIE's birthday, Italian magazine 'La Repubblica XL' has a special issue on sale with David gracing their front cover.

The editorial is written by Luca Valtorta entitled: 'Why we love Bowie, the Spiders From Mars', and all aliens who are not afraid to dare.'

The ten-page feature also includes Italian artists such as Morgan, Francesco Bianconi, Enrico Ruggeri, Beatrice Antolini and Boost Subsonica who give their insights.

This January 2011 issue attachment is available now FOR 8 DAYS ONLY at all good newsstands priced at 1.50 euros.

Check out the English translated page at videodrome-xl.blogautore.repubblica.it


---
ZIGGY ON THE ONE SHOW
9th January 2011



BBC One TV programme THE ONE SHOW will be broadcasting their piece about DAVID BOWIE's 'Ziggy Stardust' on Friday 14th January at 19:00 GMT.

The film about iconic hairstyles of the twentieth century has Suzi Ronson appearing, along with Paul Henderson (of Aladdinsane tribute band) and celebrity hairdresser Michael Douglas.



---
HAPPY BIRTHDAY WISHES TO DAVID


8th January 2011
To David
Wishing you a very happy birthday - have an absolutely fabulous day

Best wishes and love from
everyone here at Wonderworld xxx
---
OTHER BIRTHDAY WISHES...
8th January 2011

Besides our DAVID, other famous and well known people also born on the 8th January include...

Elvis Presley (singer), Ron Moody (actor), Larry Storch (actor/comedian), Soupy Sales (aka Milton Hinkes) (comedian and father of Tony and Hunt Sales of Tin Machine), Graham Chapman (comedian), Charles Osgood (CBS TV newsman/host/author), Shirley Bassey (singer), Cristy Lane (singer), William Henry Hartnell (actor, the first Doctor Who), Robby Krieger (musician), R. Kelly (singer), Mike Reno (singer), Paul Dresher (composer), Paul King (musician), Jeff Abercrombie (musician), Terry Sylvester (musician), Paul Hester (musician), Stephen Hawking (professor, astrophysicist, author), Amanda Burton (actress), Gil Grand (musician), Ami Dolenz (actress), Amber Benson (actress), Yvette Mimieux (actress), Thelma 'Butterfly' McQueen (actress), Simone De Beauvoir (writer), Evelyn Wood (reading teacher), Gypsy Rose Lee (burlesque entertainer), Bill Graham (concert promoter), Wilkie Collins (author), Frank Doubleday (publisher), Sir Frank Dyson (scientist), Lee Jackson (musician), Vladimir Feltsman (Russian pianist), Little Anthony aka Anthony Gourdine (singer), Ted McDougall (footballer), Michael Ridley (cricketer), Harriet Sansom Harris (actress), Sean Paul (musician), Karen Poole (musician), Jenny Lewis (actress), Richard Cromwell (actor), Jose Ferrer (actor/director), Sam Riley (actor), Ryan Frances (actor), Roy Kinnear (actor), John McTiernan (director), Scott Whyte (actor), Sander Vanocur (broadcaster), Joan Rivers (comedian), Maria Pitillo (actress), Sarah Polley (actress), Loretta Lee (actress), Gabby Hoffman (actress), Maria Pitillo (actress), Brad Snyder (shot putter), Kent Jones (golfer), Virgil Hill (boxer), Vyacheslav Dmitriyevich Zudov (USSR cosmonaut), Terry Brooks (author), Antai Ribari (composer), Serge Poliakoff (Russian/French painter/guitarist), Queen Marie of Yugoslavia, Bronislava Nijinska (ballet choreographer), Storm Jameson (novelist), Frank Nelson Doubleday (publisher), William Wallace Gilchrist (composer), Fannie M Jackson (pioneer and educator), Lawrence Alma Tadema (Dutch/British painter), Nicolas Coustou (French sculptor) and Henry V (Roman German king/emperor).

It's also BowieWonderworld's birthday - now fourteen years online! Thanks to everyone who supports the site - it's really appreciated :)


---
AND THE BITS FLEW FAR AND WIDE...
8th January 2011

• Check out a playful article commemorating DAVID BOWIE's birthday and the fact that he shares that special day with Elvis - [Read here] - from Russell Hall...

• Web video magazine WatchMojo.com have created a video profile entitled 'The Life and Career of DAVID BOWIE - it's well worth checking out - [View here] - from Stephanie @ WatchMojo...

• DAVID BUCKLEY has created a DAVID BOWIE birthday special on his website which includes an exclusive interview with photographer Denis O'Regan, the man who shot Bowie in the Eighties and db's random '64 Classic Bowie Moments' which is now available for your reading pleasure @ david-buckley.com...

• Rescheduled publication date for DAVID BOWIE: The Story Behind Every Song book by Chris Welch. The new date is now January 19th - January 28th...


---
OH! YOU PRETTY THINGS: BEST OF BOWIE
7th January 2011



Michael T, Ben Ickies, Shien Lee and Twig the Wonderkid Present: Oh! You Pretty Things: BEST OF BOWIE - A Glam Birthday Celebration.

Oh! You Pretty Things brings you the fifth installation of their glam-rock jubilee in homage to David Bowie for his 64th birthday featuring live Bowie covers by famed 22-piece chamber rock group This Ambitious Orchestra and the legendary Michael T & the Vanities along with Le Mood and a slew of special musical guests.

The incomparable Empress Chi Chi Valenti and Mistress Formika emcee and DJs Twig, Ceremony, Bill Coleman, and W. Jeremy spin glam, goth, and new wave with late night cabaret by the Daisy Spurs followed by an all-out Bowie costume contest.

DRESS CODE: Classic Bowie, Weimar Decadence, Victorian, Futuristic Dandy, 70s Coke Chic.

TICKETS: $15 Advance / $20 Door - brownpapertickets.com

RSVP to going.com/oypt

Date: Sunday January 16th @ 10pm 21+ID
Venue: Le Poisson Rouge, 158 Bleecker St, New York City, USA.

Note: Advance tickets priced at $10 are now sale from now until David's birthday on Saturday.

From Twig the Wonderkid.


---
ANN MAGNUSON DOES DAVID BOWIE
6th January 2011

ANN MAGNUSON is performing a glittering glam-rock tribute to DAVID BOWIE on the occasion of his birthday January 8th PLUS another show added by popular demand on January 9th!

Starring Ann Magnuson. Kristian Hoffman, Musical Director with The Star Whackers From Mars featuring Kristian Hoffman (keyboards), Jonathan Lea (guitar), Joe Berardi (drums) and Miiko Watanabe (bass). PLUS Special Guest Michael Des Barres!

TWO SHOWS ONLY! on Saturday, January 8th / 9th at 8:00 pm at The Steve Allen Theater at The Center For Inquiry.

Address: 4773 Hollywood Blvd, Hollywood, CA 90027, USA.
Phone: (323) 666-4268
Website: steveallentheater.com


---
BOWIE BIRTHDAY CELEBRATIONS
5th January 2011

There's plenty happening this coming Saturday 8th January to celebrate DAVID BOWIE's sixty-fourth birthday...

• Bowie 64th Party, av.Azcapotzalco #608 Col.Villas de Azcapotzalco Frente a la Casa de la Cultura, Mexico 21:30pm - [More details]...

• Bowie Birthday Party Event, Casa Poblano 15, rue Lavoisier 93100 Montreuil, France - [see flyer]...

• Bowie tribute band Echo Bowie gig at Spoorzoeker, Alkmaar, Holland at 17.30 - [More details]...

• Space Oddity David Brighton's Tribute to David Bowie perform at Pala Casino - The Grand Cabaret, 11154 HWY 76, Pala, CA 92059, USA. Showtime at 8pm. FREE admission - [More details]...

• David Bowie Tribute Show by Ann Magnuson at The Steve Allen Theater at The Center For Inquiry, 4773 Hollywood Blvd, Hollywood, CA 90027, USA at 8pm - [More details]...


Also the following night on the 9th January these events are taking place...

• Update: Cancelled Bowie Birthday Bash at Bug Jar, 219 Monroe Ave, Rochester, New York 14607, USA. $5-$7. 454-2966 at 9pm - [More details]...

• Tribute band Mr. Ziggy and The GlassSpiders gig at Geronimo's, Via Appia Vecchia Sede, 57 Rome, Italy at 22:00 - [More details]...

• David Bowie Tribute Show by Ann Magnuson at The Steve Allen Theater at The Center For Inquiry, 4773 Hollywood Blvd, Hollywood, CA 90027, USA at 8pm - [More details]...

Check out the BW Monthly Planner to see the full details and what's showing on TV.


---
GELDOF and BOWIE AT LIVE AID
4th January 2011

BOB GELDOF is interviewed by Danny Eccleston for MOJO magazine talking about Live Aid and Live 8 on the eve of his latest solo album release.

Bob explains in detail how and why DAVID BOWIE cut his Live Aid set short to accommodate Michael Buerk's BBC Ethiopian famine film report...

Q: What lessons did you learn from Live Aid that you applied to Live 8?

There was no correlation. Put it in purely financial terms. Live Aid: 150 million. Live 8: 50 billion, per annum. But Live Aid had the 'give me your f**kin' money' moment. And Bowie introducing the famine film.

I showed that film to David at Harvey Goldsmith's about 7.30 at night. Let's remember for a minute that Bowie is an absolute God. I got to know him when I was a kid. I hitch-hiked to see him in Belgium on the Station To Station tour, told him I was in a band and showed him pictures of the Rats. I blagged backstage and he was so nice. Don't forget he launched Band Aid pre-Top Of The Pops, he wore this lame T-shirt, Feed The World, looked like a doofus. But he's the sweetest man. You just never think about David Bowie like that.

We showed him the film, famine footage cut to the Cars' song Drive. He sat there in tears and said, 'Right, I'm giving up a song.' I said, 'Hang on...' I didn't want David Bowie giving up a f**king song. I mean, hello? But of course he was right. That was the moment that people said, Fuck everything, take whatever you want from me.

You can read the complete interview over at the excellent mojo4music.com website.


---
THE STORY BEHIND EVERY SONG
3rd January 2011



As mentioned on here way back in June DAVID BOWIE: The Story Behind Every Song by Chris Welch is scheduled for publication this week on Thursday 6th January.

Published by Carlton Books Ltd, the book contains 160 pages with each chapter covering the fascinating story behind one of David Bowie's albums: Early Releases; The Man Who Sold The World; Hunky Dory; The Rise and Fall of Ziggy Stardust and The Spiders From Mars; Aladdin Sane; Pinups and Diamond Dogs; Young Americans; Station To Station; Low; "Heroes"; The Lodger; Scary Monsters (And Super Creeps).

Outline: Chameleon, entertainer, cracked actor, and iconoclast. It would be difficult to think of a rock star who has had a more varied and influential career than David Bowie and the list of bands and musicians who have been influenced by Bowie reads like an A to Z of popular music. But Bowie himself has skillfully and consistently maintained his credibility as the most innovative performer of his generation by staying one jump ahead of the many who seek to imitate him. While his many artistic incarnations are known, few know David Bowie the man, and as this book will show, through its exploration of his diverse body of work, the only real constant factors in his career are his incredible voice, his imagination and his supreme talent for artistic reincarnation.

You can pre-order David Bowie: The Story Behind Every Song
NOW and receive a 25% discount.

Update: Publication date now January 19th. This book is an A5 reprint of the original published version.


---
THE VOYEUR LAUNCHES NEW WEBSITE
3rd January 2011

The International DAVID BOWIE Fanclub THE VOYEUR have launched their new website at davidbowiefanclub.com

Visitors can read previously published fanclub magazines (full screen) from December 2001 through to the last issue in July 2008, along with interviews with Bowie-related artists such as, amongst others, Earl Slick, Gail Ann Dorsey, George Underwood and George Simms.

This David Bowie website is a fan to fan website. Registered fans can publish David Bowie (related) news and videos.

By letting registered fans publish their own news and videos we think we add a unique website to the existing David Bowie fansites.

For those of you that don't know... The International David Bowie fanclub 'The Voyeur' is the longest running David Bowie fanclub in the World. The fanclub, named 'Stage', started in the Netherlands in February 1979. In 1982 Stage was renamed to 'Bowie Now'. In 1990 the name changed to 'Best Of Bowie Now'. Best of Bowie Now started publishing the fan magazine in English. In 1995 Best of Bowie Now became 'The Voyeur'.

The International David Bowie Fanclub 'The Voyeur' is run by Antoine Loogman, Angela Palermo, Peter Smit and Ludo Wopereis.

From Peter Smit.


---
ECHO BOWIE 2011 TOUR
2nd January 2011

Dutch DAVID BOWIE Tribute Band ECHO BOWIE are happy to announce the first seven gigs of Winter-Spring 2011.

The tour starts very appropriately on January 8th, which will make the gig a special and intimate Bowie 64 Birthday Bash.

Next to well-known songs like 'Life On Mars?', 'Golden Years' and 'China Girl', Echo Bowie will play fan favourites like 'Hang On To Yourself', 'Cat People' and 'New Killer Star'. The ever setlist-changing Echo Bowie are planning to play songs they haven't played for ages (among them 'Station To Station') and some pearls they haven't touched before ('we look forward to playing 'Rock'n'Roll Suicide').

Below are the Echo Bowie Winter Spring 2011 dates:

January 8th: Spoorzoeker, Alkmaar, Holland, 17.30 hrs.
January 16th: De Klomp, Etten-Leur, Holland, 17.00 hrs.
February 25th: Muziekcafe Helmond, Helmond, Holland, 21.00 hrs. (Rescheduled for May)
March 26th: Cafe De Bakkerij, Zevenbergen, Holland, 21.00 hrs.
April 2nd: The Rambler, Eindhoven, Holland, 21.00 hrs.
April 23rd: Poppodium De Graauwe Hengst, Schiedam, Holland, 21.30 hrs.
April 30th: Le Vagabond, Rotterdam, Holland, 15.00 hrs.
April 30th: De Bel, Rotterdam, Holland, 19.30 hrs.
May 27th: Muziekcafe Helmond, Helmond, Holland, 21.00 hrs.

From Echo Bowie.


---
FRENCH BOWIE BIRTHDAY PARTY
1st January 2011



Minute Papillon Prod are presenting a DAVID BOWIE birthday party event on 8th January in Montreuil, France.

Performing live at the party will be: Enrique Seknadje, Minute Papillon, Philippe Pascal, Mariani, Vincent L, Atallah, Corilsani, plus guests.

The event is FREE and starts at 19 hrs at Casa Poblano 15, rue Lavoisier 93100 Montreuil, France.

Click on the flyer here for more information.



---
MIKE GARSON TRIO LIVE IN THOUSAND OAKS
1st January 2011

Legendary pianist MIKE GARSON will perform as part of the 'Jumpin' Jazz' music series at 8:00 pm next Saturday on 8th January at the Grant R. Brimhall Library, 1401 E. Janss Road, Thousand Oaks, California, CA 91362.

Mike has played with DAVID BOWIE, Freddie Hubbard, Stan Getz, Elvin Jones, Lee Konitz, Stanley Clarke, Nine Inch Nails, Smashing Pumpkins, Gwen Stefani, Seal, Los Angeles Philharmonic, Nneena Freelon and Martha Reeves.

The suggested donation is $20.

To reserve a spot, email

For more information, please call library director Steve Brogden on (805) 449-2660, ext. 200 or visit the toaks.org website.

Also the same month sees the Mike Garson Duo performing with Marian Petruscu in Los Angeles at Pierre's Fine Pianos on 16th January.

Check out mikegarson.com for full details and information.


---
WE SAW A MINOTAUR
1st January 2011

Two privately-owned DAVID BOWIE prints are available for the art collectors out there, to be sold either as a pair or separately.

They are both from the split set 4 of the 14 sets of We Saw A Minotaur - A New Play By Joni Ve Sadd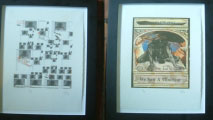 Both are numbered 4/14 as both are from set 4 of 14 sets. They are dated 1994 and signed by his Rockgodliness!

As you might be aware, there were 14 sets of 17 prints and set 4 was deliberately split and framed at the instruction of David Bowie and his art dealer Kate Chertavian.

The fact that one day someone might want to collect them all would bump up value if you are buying for an investment. They are really beautiful to just treasure which was my intention, but alas fate the bounder has decided I have to sell.

They are titled (embossed) 'A Preliminary Sketch' and 'The Complete Text'.

'The Complete Text' is a crouching minotaur and is really beautiful, the other 'A Preliminary Sketch' is small black and white images similar to something a design artist or photographer would produce for an example layout board.

The photographs obviously don't do justice to the quality of the prints with the colour much more vibrant, its just the light I took them in.

The prints are available at £750 for EACH plus postage (as these will be valuable one day when someone wants to collect the set). As I SAY I will SPLIT them if necessary.

Please email me for further details and information at

Check out ownart.org.uk - which is an Arts Council England sponsored scheme to offer INTEREST-FREE loans for purchasing art.


---
HAPPY NEW YEAR 2011!
1st January 2011



HAPPY NEW YEAR 2011 TO EVERYONE, EVERYWHERE

I hope you all receive everything you wish for

Very Best Wishes from Paul (aka Rednik)



---

DAVID BOWIE NEWS ARCHIVES

2010 Bowie News | 2009 Bowie News
2008 Bowie News | 2007 Bowie News | 2006 Bowie News | 2005 Bowie News
2004 Bowie News | 2003 Bowie News | 2002 Bowie News | 2001 Bowie News
2000 Bowie News | 1999 Bowie News | 1998 Bowie News | 1997 Bowie News









| | |
| --- | --- |
| Created: January 2011 © Paul Kinder | Last Updated: 31/1/11 |