BOWIE TV and WHAT'S REALLY HAPPENING IN DECEMBER - MONTHLY PLANNER

[BOWIEWONDERWORLD SHOP] [LATEST DAVID BOWIE ITEMS ON eBAY]

[@bowiewonderworld.com email addresses HERE]

Have YOU got some DAVID BOWIE related news or a hot scoop?
Well don't just sit there keeping it to yourself - send it in to
All news items are credited if you so wish

[DOWNLOAD DAVID BOWIE MUSIC from Amazon
]



---
MIKE GARSON TRIO LIVE IN THOUSAND OAKS
30th December 2010

Legendary pianist MIKE GARSON will perform as part of the 'Jumpin' Jazz' music series at 8:00 pm on Saturday 8th January 2011 at the Grant R. Brimhall Library, 1401 E. Janss Road, Thousand Oaks, California, CA 91362.

Mike has played with DAVID BOWIE, Freddie Hubbard, Stan Getz, Elvin Jones, Lee Konitz, Stanley Clarke, Nine Inch Nails, Smashing Pumpkins, Gwen Stefani, Seal, Los Angeles Philharmonic, Nneena Freelon and Martha Reeves.

The suggested donation is $20.

To reserve a spot, email

For more information, please call library director Steve Brogden on (805) 449-2660, ext. 200 or visit the toaks.org website.

Also the same month sees the Mike Garson Duo performing with Marian Petruscu in Los Angeles at Pierre's Fine Pianos on 16th January.

Check out mikegarson.com for full details and information.


---
MERRY CHRISTMAS EVERYONE!
25th December 2010



WISHING EVERYONE EVERYWHERE A VERY MERRY CHRISTMAS

Have a Cool Yule! I hope you all receive everything you ever wish for

Very Best Wishes from Paul (aka Rednik)



---
AND THE BITS FLEW FAR AND WIDE...
16th December 2010

• Keep your 'lectric eye on eBay... a metal acetate of DAVID BOWIE's 1973 album 'Aladdin Sane' realised an impressive price of $3,750.00 (approximately £2,400) over on eBay. The acetate with mis-spelt title 'Alladin Sane' is dated 16th February 1973 and the release number is RCA: CPRS-4543-1. Check it out here on eBay....

• The DAVID BOWIE classic 1971 album 'Hunky Dory' was released thirty-nine years ago this very day...

• 'Source Code' the new movie by director DUNCAN JONES will make its world premiere as the opening-night movie at the South By Southwest Film Festival in Austin, Texas, USA on 11th March. 'Source Code' stars Jake Gyllenhaal, Vera Farmiga, Michelle Monaghan and Jeffrey Wright. The Summit Entertainment release will open in theatres on 1st April 2011...


---
DAVID AND IMAN AT STUDIO 54
16th December 2010

Yesterday afternoon DAVID BOWIE and IMAN caught the matinee performance of 'Brief Encounter' at Studio 54 In New York City.

The Noël Coward classic is being performed by The Roundabout Theatre Company, which has an extended run until 2nd January.

'Brief Encounter' is the breakout hit from London that transforms Coward's classic tale of forbidden passion into a jaw-dropping fusion of whimsical humour, dreamy romance and stunning multimedia effects. Using elements of the beloved film and the play on which it was based, along with song and dance, this ingenious new work is adapted and directed by EMMA RICE.

More information on the play can be found at the roundabouttheatre.org official website.


---
EMI CHRISTMAS BOWIE COMPETITION
16th December 2010

EMI are currently running a huge Christmas DAVID BOWIE competition to win goodies.

1st PRIZE:
Signed Station To Station Deluxe Box Set
Space Oddity 40th Anniversary Vinyl
Aladdin Sane CD
Best Of Bowie
Ziggy Stardust and The Spiders From Mars (The Motion Picture Soundtrack) CD
Bowie at the Beeb CD
Diamond Dogs CD
Hunky Dory CD
Pin Ups CD
The Man Who Sold The World CD
Station To Station t-shirt

Also TEN runners-up will each receive a 'Station To Station' t-shirt.

All you have to do to enter is answer a simple question and fill in the form on the link below.



ENTER COMPETITION HERE



The competition closes at midnight on 4th January 2011.


---
FUNKY LITTLE BOAT RACE
15th December 2010



DEIVIDS BOVIJS yes that's DAVID BOWIE to you and me... gets his funky little boat race on the first magazine cover of 2011 by appearing on the Latvian magazine 'Legendas'.

This January 2011 edition boasts eleven pages of written material with the cover blurb stating Deivids Bovijs - Hameleon Flirts Ar Realitati.

Obviously everything is in Latvian, but apparently you get an impressive twenty-two photographs of the man inside.

(Ed. 'Deivids Bovijs' - I don't know why, but I'll never remember that name).


---
ANOTHER BOWIE BING SPOOF
14th December 2010

Same old thing in brand new drag... WILL FERRELL and JOHN C. REILLY have created their exclusive comedy version of the DAVID BOWIE and BING CROSBY Christmas duet 'Peace On Earth / Little Drummer Boy' on the excellent Funny Or Die website.

Stick with it till the end, it does get funnier... WATCH HERE


---
BOWIE SIGNED GUITAR UP FOR GRABS
13th December 2010



DAVID BOWIE has put his signature to an 'Amnesty International' Limited Edition Anniversary Fender Guitar.

Fender created this special acoustic guitar for Amnesty International to commemorate the 60th Anniversary of the Universal Declaration of Human Rights in 2008. This 'green' guitar has an Amnesty International inlay logo on the 1st fret, a standard Strat maple neck with a smaller acoustic body that has a sitka spruce top and a maple back.

Bidding ends on Wednesday 15th December at 3:00pm EST. The estimated value is $1,500 with proceeds going to Amnesty International.

More details and bidding can be found at charityfolks.com website.

Update: The winning bid for the guitar realised $1,600.


---
AND THE BITS FLEW FAR AND WIDE...
7th December 2010

• Check out the rocking cover version of DAVID BOWIE/BING CROSBY 1977 hit 'Peace On Earth/Little Drummer Boy' 2010 by comedy actors JACK BLACK and JASON SEGEL. The track will be sold exclusively on iTunes from today 7th December. 100% of the U.S. proceeds from sales will directly benefit Blue Star Families - watch the 2-D animated video here via collegehumour.com...

• The DAVID BOWIE / BRIAN ENO penned 1977 classic song "Heroes" covered by the X FACTOR finalists is still placed at number one for the second week running in the UK Official Singles chart. All monies raised goes directly to the Help For Heroes
Charity...

• Actor JEFFREY WRIGHT who is currently performing on Broadway in 'A Free Man of Color' and starred as artist Jean-Michel in Basquiat with DAVID BOWIE is interviewed by nymag.com - one question asked...

Q: I recently saw the trailer for your upcoming movie 'Source Code', which is directed by Duncan Jones, whose dad, David Bowie, starred with you in Basquiat. Did he have anything to do with this upcoming collaboration?

A: You're asking if David is now my agent? [Laughs.] I had met Duncan some years ago, I think at a birthday party for his dad. So that factored into it as well. But moreover, it was this compelling vision that he brought to 'Moon', which is what drew me in. It was his work, not his father's, although I have the highest regard for his dad.

You can read the complete interview here...


---
JOHN LENNON - THE NEW YORK YEARS
7th December 2010

BBC RADIO 2 are to broadcast a JOHN LENNON documentary about his life in New York tonight and tomorrow.

Actress Susan Sarandon is presenting the two-part-documentary, 'John Lennon - The New York Years' which airs at 10pm tonight and tomorrow night (7th and 8th).

Contributors to the documentary include Yoko Ono, DAVID BOWIE, Elton John, Klaus Voormann, Alan White, May Pang and Julian Lennon.

The documentary explores how the US city shaped Lennon's career once he had left the Beatles, focussing on moments such as his struggle to get a green card, his writing and recording 'Fame' with David Bowie and recording at Madison Square Garden with Elton John.

Tune into the show here using the BBC iPlayer.


---
PEOPLE ON STREETS
5th December 2010

Check out the video below currently receiving massive hits on YouTube.

Kermit duo doing 'Under Pressure' by QUEEN and DAVID BOWIE. Excellent stuff!






The guy isn't really homeless, he's an LA comedian named Sky Soleil.


---
DISCOVERING DAVID BOWIE
1st December 2010



For those of you out there who own a Kindle check out DISCOVERING DAVID BOWIE by author John Mendelssohn published by Mohandas Kleopatra.

When David Bowie first visited the USA in February 1971, he was an obscure English folkie in what he described as a man's dress.

By the time the author was finished with him, though, he was an obscure English folkie in a man's dress with a Rolling Stone article about him forthcoming, and a newfound appreciation of an obscure Midwestern garage band called The Stooges.

For a mere £0.74p you can purchase Discovering David Bowie
NOW.


---
BOWIE NIGHT IN CHRISTCHURCH
1st December 2010



Taking place this coming weekend is a DAVID BOWIE night in Christchurch, New Zealand.

'Hairdresser On Fire' presents 'Moonage Daydream' - David Bowie and other glam rock tribute night!

Freak out to the music of David Bowie and other glam rock with DJ's Queen Bitch, The Goblin King and Sister Midnight.
Dress up!

Venue: Goodbye Blue Monday, Christchurch, New Zealand.
Date: Saturday, 4th December.
Website: goodbyebluemonday.co.nz

From Mark Catley.


---
BOWIE SONG HITS NUMBER ONE!
1st December 2010



As expected the DAVID BOWIE / BRIAN ENO penned 1977 classic song "Heroes" covered by the X FACTOR finalists has topped both the Official Singles and Single Download charts in the United Kingdom.

The track is one of the fastest selling of the year, it sold 144,000 copies in its first week on release last week and went straight into the number one spot.

All monies raised goes directly to the Help For Heroes
Charity.

Unbelievably "Heroes" only made it to number twenty-four in the UK charts back in September 1977 when it was first released. Since then it has become an iconic classic.

For the record, it is now David's sixth number one hit single in the UK.


---
DORSEY / GARSON SHOW IN MEXICO
1st December 2010

This month for the first time, GAIL ANN DORSEY and MIKE GARSON are to perform a special gig together on Saturday 11th December at Voila in Mexico City, Mexico.

Doors open at 21:00 with tickets priced at 599 pesos available at the box office or online at ticketmaster.com.mx

From David Calvano.


---
'ANY DAY NOW' PUBLISHED
1st December 2010


ANY DAY NOW the excellent new DAVID BOWIE book by KEVIN CANN has been reviewed in the DAILY EXPRESS newspaper by Christopher Bray.

Christopher quite rightly states: "The insight the superb photographs, many of them unseen, alone gives into a man bent on stardom would arguably make Any Day Now the music book of the year.

"Given its 140-odd thousand words of wisdom, though, it may well be the music book of the decade. Christmas for the pop fan in your life is sorted."

Check out the review here on the Express website.

You can purchase Any Day Now: David Bowie The London Years (1947-1974)
NOW and save a MASSIVE 40%. (Book now back in stock after pre-order sell out).


---
WE SAW A MINOTAUR
1st December 2010

Two privately-owned DAVID BOWIE prints are available for the art collectors out there, to be sold either as a pair or separately.

They are both from the split set 4 of the 14 sets of We Saw A Minotaur - A New Play By Joni Ve Sadd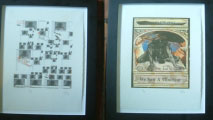 Both are numbered 4/14 as both are from set 4 of 14 sets. They are dated 1994 and signed by his Rockgodliness!

As you might be aware, there were 14 sets of 17 prints and set 4 was deliberately split and framed at the instruction of David Bowie and his art dealer Kate Chertavian.

The fact that one day someone might want to collect them all would bump up value if you are buying for an investment. They are really beautiful to just treasure which was my intention, but alas fate the bounder has decided I have to sell.

They are titled (embossed) 'A Preliminary Sketch' and 'The Complete Text'.

'The Complete Text' is a crouching minotaur and is really beautiful, the other 'A Preliminary Sketch' is small black and white images similar to something a design artist or photographer would produce for an example layout board.

The photographs obviously don't do justice to the quality of the prints with the colour much more vibrant, its just the light I took them in.

The prints are available at £750 for EACH plus postage (as these will be valuable one day when someone wants to collect the set). As I SAY I will SPLIT them if necessary.

Please email me for further details and information at


---

DAVID BOWIE NEWS ARCHIVES

November | October | September | August | July
June | May | April | March | February | January
2009 Bowie News
2008 Bowie News | 2007 Bowie News | 2006 Bowie News | 2005 Bowie News
2004 Bowie News | 2003 Bowie News | 2002 Bowie News | 2001 Bowie News
2000 Bowie News | 1999 Bowie News | 1998 Bowie News | 1997 Bowie News