BOWIE TV and WHAT'S REALLY HAPPENING IN OCTOBER - MONTHLY PLANNER

[BOWIEWONDERWORLD SHOP] [LATEST DAVID BOWIE ITEMS ON eBAY]

[@bowiewonderworld.com email addresses HERE]

Have YOU got some DAVID BOWIE related news or a hot scoop?
Well don't just sit there keeping it to yourself - send it in to
All news items are credited if you so wish

[DOWNLOAD DAVID BOWIE MUSIC from Amazon
]



---
AND THE BITS FLEW FAR AND WIDE...
30th October 2010

• ROBYN HITCHCOCK and Heavy Friends played DAVID BOWIE's 'Hunky Dory' album for the international medical and humanitarian aid organisation Medécins Sans Frontières on 30th and 31st October at the Three Kings in Clerkenwell Close, London. The Heavy Friends included Graham Coxon from Blur, Sean Nelson from Harvey Danger and Nick Lowe - from Tony P...

• Scottish DAVID BOWIE tribute band TIGERS ON VASELINE are to perform at Café Drummond, 1 Belmont Street, Aberdeen, Scotland on Saturday 20th November at 9.00pm till 2.00am. Admission £4.00...

• Got some time to kill? Check out the Rocktober Mega Strung-Out DAVID BOWIE Edition crossword variant over at 4.bp.blogspot.com - from Benji B...


---
CREATIVE CHARACTERS
28th October 2010

British Graphic designer JONATHAN BARNBROOK is interviewed in Creative Characters (Issue #39) for October 2010.

Jonathan created the fonts for DAVID BOWIE albums 'Heathen' and 'Reality'.

Q: And finally, here is a question that many of our readers may be dying to ask: what was it like to work with David Bowie?

I am happy to say he is pleasure to work with. It is always interesting to see how much 'being worshipped' affects people. They can become a spoiled child, a person detached from reality. I am happy to say that David Bowie is none of these. He has come out of a pretty 'eventful' life - drug addiction, leader of rebellion for a generation, messiah to each wave of disaffected youths - with a sense of humor and a level head. He is always very good in his criticism, respectful of my creativity and respectful of the people who like his music. I just wish more of the famous people who I had worked with were like him.

I always think it's a great test if you like somebody's music or art more after you have worked with them than before, as you get to see them at their worst, when they are angry, disappointed, egotistical, but (and I hope I don't sound too gushing) I have gained an insight into his work knowing the person, and I like it much more because of it. He really has been the perfect person to work with. Thankfully he seems to enjoy working with me too as we are continuing to collaborate on a few projects.

You can read the whole interview over at new.myfonts.com.

Thanks to Jeff M for the pointer.


---
PRESS RELEASE: ANY DAY NOW
19th October 2010

FOR IMMEDIATE RELEASE - NEW BOWIE BOOK
DAVID BOWIE'S EARLY LONDON LIFE


Any Day Now: David Bowie The London Years (1947-1974) by KEVIN CANN, is a 336pp, in-depth, highly visual chronology charting the early life and career of an icon, from his birth in London in 1947 to his departure from the city in 1974 and the release of Diamond Dogs.

Any Day Now
contains rare and never-published-before images and memorabilia, including outtakes from the Aladdin Sane album cover shoot, the first time Bowie was photographed in make-up and the historic letter confirming his name change from David Jones to David Bowie.

Author, Kevin Cann, is a Bowie archivist who has spent over 20 years compiling this book which includes hundreds of interviews with Bowie's friends and colleagues, as well as in-depth album analysis that feature rare insights into the album cover designs and the influences and inspirations behind many of the songs. Bowie's manager from 1967-1970, Kenneth Pitt, has contributed a foreword.

In this year-by-year account of Bowie's London life, Cann unravels many of the myths that have surrounded Bowie's early career. It also includes the most extensive listing of early live dates and rare recordings published to date.

Cann has contributed sleeve notes and chronologies for numerous David Bowie 30th and 40th anniversary releases, including Ziggy Stardust, Diamond Dogs and the recently released Station To Station Deluxe edition. He also worked with EMI on researching and co-ordinating Bowie's back catalogue, and worked as an assistant with Bowie on his first solo art exhibition, held in London in 1995.

The standard edition is a 336pp paperback, priced at £24.99, available Thursday 25th November 2010. Additionally, a limited edition of just 475 copies, individually numbered and signed by the author is available to order. Presented in a black cloth-bound clamshell case, the handfinished hardback book comes complete with tip-ins of rare early career memorabilia, and also includes an exclusive individually signed colour print by Gerald Fearnley from Bowie's first album shoot.

Any Day Now is launched in the UK with a six-week exhibition at Proud Galleries, London (28 October - 5 December).

Title: Any Day Now: David Bowie The London Years (1947-1974)
Author: Kevin Cann
Trim: 280 x 230mm
Extent: 336pp
Word count: 140,000
Images: 850+
ISBN (standard edition): 978-0-9552017-7-6

Downloadable pdfs:
[Any Day Now Bowie Press Release.pdf] [ADN Ltd Edition Fearnley.pdf] [ADN Ltd Edition.pdf]


You can pre-order Any Day Now: David Bowie The London Years (1947-1974)
NOW and receive a massive 30% discount!

For the limited edition: please visit anydaynowbook.com

From Jenny Ross @ Adelita Ltd.


---
THE ONE SHOW WANT A ZIGGY
18th October 2010



BBC's THE ONE SHOW is about to film an item about DAVID BOWIE's 'Ziggy Stardust' in Beckenham on Thursday 28th October.

The film will be one of a series, about iconic hairstyles of the twentieth century and Suzi Ronson is flying over from New York to take part. Our presenter will be celebrity hairdresser Michael Douglas. He will be recreating the Ziggy cut and we are looking for a game Bowie fan to allow him to do this. You would need reasonably long hair for the cut and we can use temporary dye if you would prefer.

It would be great to hear as soon as possible from anyone who is available and interested. Please email

If anyone has photographs of themselves with a Ziggy haircut we would also love to use it for the item. We'll be talking about how many people imitated the style - to demonstrate what a phenomenon Ziggy became.

We would also really benefit from any photos of David Bowie performing in the Three Tuns. Again email

Lastly if you are a huge Ziggy fan, saw him live and have kept memorabilia from the time it would be great to hear from you too. If you are based close (ish) to London then all the better.

We want to make this item a real celebration of both Ziggy and Glam Rock - so the more enthusiasm the better. Looking forward to hearing from you.

From Carla Wright
Associate Producer (The One Show).


---
SKIN MACHINE GIG IN BEDFORD
13th October 2010



David Priest's SKIN MACHINE are performing at The Ent Shed on Friday 29th October in Bedford, England.

The band consists of Bedford's finest and most well respected musicians. Skin Machine are: David Priest (Vocals); Dave King (Guitars); Garry Cutress (Guitars); John Morey (Bass); Jez Green (Keyboards); Tony Morton (Drums); Penny Lane (Backing Vocals) and Marva Meehan (Backing Vocals).

All proceeds will go to The Sid Worth Memorial Tribute Fund.

The gig is also being filmed and recorded for a DVD/CD to be sold in both the UK and USA. Distribution has already been arranged as is in place.

A limited number (250 copies) of my first single 'Scream' c/w 'Pain' (Badville Records) will also be available on the night along with an exclusive CD that will only be available on the night. All sales also adding to the fund.

Support for the gig is Robert Hallward and there will also be a special appearance by Sister Ray. Doors open at 8pm and admission is £3.00 on the door.

Venue: The Ent Shed, Castle Road, Beford, England.

Click here for press release/bio written by David Buckley.

More details and information can be found at swmtf.org.uk

From David Priest.


---
BOWIE ON POPULAR 1 COVER
6th October 2010



DAVID BOWIE appears on the front cover of Spanish magazine POPULAR 1 October. issue #444.

Besides the front cover, featured inside there is a twenty-two page article entitled: 'Bowie Golden Years: The Rise and Fall of Ziggy Stardust' by Alex Cerrato.

For Spanish readers:

Por primera vez en muchos años, David Bowie reina en la portada del Popu. En el número de Octubre encontraréis un artículo de 22 páginas sobre los años dorados de Bowie: el auge y caída de Ziggy Stardust, el lanzamiento en solitario de Bowie sin sus Spiders from Mars, sus conexiones con Marc Bolan, la etapa berlinesa, sus colaboraciones con Iggy, Lou Reed o Mott The Hoople, las grabaciones de álbumes como 'Aladdin Sane', 'The Rise and Fall of Ziggy Stardust and The Spiders from Mars', 'Diamond Dogs', 'Pin Ups', "Heroes", 'Station to Station' o 'Young Americans', etc. El reportaje lo firma Alex Cerrato.


---
ALADDINSANE and T.REXTASY GIG
2nd October 2010



DAVID BOWIE tribute band ALADDINSANE and T.Rextasy are performing a double bill at the Charter Hall in Colchester, England on Friday 8th October.

Doors open at 7pm for an 8pm start. Tickets are priced £17.50 and £16.50.

Venue: Colchester Leisure World
Address:, Cowdray Avenue, Colchester, England CO1 1YH.
Box Office: 01206 282020.

Aladdinsane present an impressive tribute to David Bowie, focussing on his classic works of the 1970s. Taking you back to the height of the glam rock period from Ziggy Stardust, working through Bowie's colourful career, Aladdinsane faithfully recreate the sights and sounds of many of the classic songs.

When you see Aladdinsane perform, they leave you spellbound with the trance-like songs Space Oddity, The Man Who Sold The World and Life On Mars? and rocking to glam favourites The Jean Genie and Diamond Dogs.

This show is an absolute must for all fans of glam rock, performed at its best!

The two bands also perform together at the Assembly Rooms in Derby on Friday 29th October.

For more information and other gigs check out the aladdinsane.co.uk website.


---
THE LONDON YEARS EXHIBITION
1st October 2010

Proud Galleries are launching an exhibition featuring rare and unseen photographs of DAVID BOWIE.

The exhibition starts this month on Thursday 28th October through to Sunday 5th December 2010.

PROUD CAMDEN presents ANY DAY NOW: DAVID BOWIE - THE LONDON YEARS (1947-1974), an exclusive photographic portrait of the icon's formative years in London, in conjunction with the publication of the book of the same title. This exhibition charts the rise of one of the most influential artists of our time, David Bowie, from his birth in London in 1947 to the height of his success in 1974 with the release of his album Diamond Dogs - and his departure from the UK.

Changing his name from David Jones to Davy Jones to David Bowie and emerging as the icon Ziggy Stardust, this exhibition is an insight into the early Bowie whose distinctive voice, style and quintessential Englishness bear testimony to his enduring appeal.

Including rare and unseen portraits from photographers including Terry O'Neill, Ray Stevenson, Geoff MacCormack, David Bebbington, Jak Kilby and Bob Solly among others; this exhibition provides an insider's view into the early years of one of the most successful and stylish recording artists of all time who has sold over 136 million albums since his rise to success in the late 1960s.

Proud Galleries is launching this exhibition in conjunction with the publication of 'Any Day Now: David Bowie - The London Years (1947-1974)' by Kevin Cann, co-curator of the exhibition.

Any Day Now, published by Adelita Ltd. Spec: 336pp, paperback, 280mm x 230mm, RRP £24.99.

Proud Galleries are located at The Horse Hospital, Stables Market, Chalk Farm Road, London NW1.

The exhibition is open between 11am and 5.30pm Monday to Friday and admission is free.

More details and information can be found over at the proud.co.uk website.


---
BOWIEBALL 2010
1st October 2010



Get out your glitter platforms as another BOWIEBALL is quickly approaching this month on Columbus Day Weekend on Sunday 10th October at hot spot Santos Party House in New York.

Participants include Brooklyn-based video/performance collaborative Cheryl, downtown chanteuses Taylor Mac and Bridget Everett and rock n' roll darling Michael T.

The Hunger screening will be at 8pm sharp... David Bowie does not like to wait, so be on time! DJs will spin at 10pm with stunning performance sets peppered through out the night. We'll have glam make up make overs, Bumble&bumble hair overs and costume contest give aways from Vespa Brooklyn and Ben Sherman.

You can download both the press release and flyer here.

For more details and info check out bowieballnyc.com

From Deryck Todd.


---
WE SAW A MINOTAUR
1st October 2010

Two privately-owned DAVID BOWIE prints are available for the art collectors out there, to be sold either as a pair or separately.

They are both from the split set 4 of the 14 sets of We Saw A Minotaur - A New Play By Joni Ve Sadd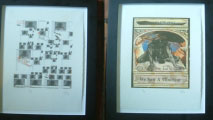 Both are numbered 4/14 as both are from set 4 of 14 sets. They are dated 1994 and signed by his Rockgodliness!

As you might be aware, there were 14 sets of 17 prints and set 4 was deliberately split and framed at the instruction of David Bowie and his art dealer Kate Chertavian.

The fact that one day someone might want to collect them all would bump up value if you are buying for an investment. They are really beautiful to just treasure which was my intention, but alas fate the bounder has decided I have to sell.

They are titled (embossed) 'A Preliminary Sketch' and 'The Complete Text'.

'The Complete Text' is a crouching minotaur and is really beautiful, the other 'A Preliminary Sketch' is small black and white images similar to something a design artist or photographer would produce for an example layout board.

The photographs obviously don't do justice to the quality of the prints with the colour much more vibrant, its just the light I took them in.

The prints are available at £750 for EACH plus postage (as these will be valuable one day when someone wants to collect the set). As I SAY I will SPLIT them if necessary.

Please email me for further details and information at


---

DAVID BOWIE NEWS ARCHIVES

September | August | July | June | May | April | March | February | January
2009 Bowie News
2008 Bowie News | 2007 Bowie News | 2006 Bowie News | 2005 Bowie News
2004 Bowie News | 2003 Bowie News | 2002 Bowie News | 2001 Bowie News
2000 Bowie News | 1999 Bowie News | 1998 Bowie News | 1997 Bowie News