BOWIE TV and WHAT'S REALLY HAPPENING IN MARCH - MONTHLY PLANNER

[BOWIEWONDERWORLD SHOP] [LATEST DAVID BOWIE ITEMS ON eBAY]
[@bowiewonderworld.com email addresses HERE]
Have YOU got some DAVID BOWIE related news or a hot scoop?
Well don't just sit there keeping it to yourself - send it in to
All news items are credited if you so wish
---
BOWIE BOOKS IN THE PIPELINE
31st March 2012

A new hardcover publication entitled DAVID BOWIE STYLE is all set for publication on 30th October.
Author Danny Lewis has put together 128 pages and A&C Black are the publishers.
As you can see the book cover is still at the draft stage, so maybe expect a change or two.

You can pre-order David Bowie Style
NOW and receive a 10% discount.
Also scheduled for October this year is 'The Man Who Sold The World: DAVID BOWIE And The 1970s' by Peter Doggett which is to be republished in paperback form.
Containing 400-pages, the paperback is scheduled for publication by Vintage on 4th October.
You can pre-order The Man Who Sold The World: David Bowie And The 1970s
NOW and save 10%.
---
A LETTER FROM HERMIONE
30th March 2012
Author PAUL TRYNKA has finally managed to speak with HERMIONE FARTHINGALE after she contacted him wanting to correct some interpretations in his book 'Starman' DAVID BOWIE that was published last year.
You can read some of her insights and thoughts on David's song 'Letter To Hermione' over at trynka.net
All of Hermione's new information is reflected in the new UK paperback of 'Starman'. The chapter that features her is heavily revised with new additions and amendments.
---
THE BUDDHA OF SUBURBIA
30th March 2012

Living in lies by the railway line... The house that DAVID BOWIE lived in with his parents from June 1955 until April 1965 is currently for sale.
David lived there for ten years... from eight years of age until he was eighteen.
The beautifully presented Victorian terrace situated at 4 Plaistow Grove in Bromley, BR1 3PB is available for £279,950 via Independent Estate Agents George Proctor and Partners.
Situated in a sought after road literally around the corner from Sundridge Park Station. The property benefits from a ground floor rear extension that provides for a good size kitchen/dining room, the kitchen having been re-fitted. This is situated behind the 21' reception room with its bay window to front and attractive brick fireplace. Stairs from here lead to the first floor where there are 2 bedrooms and a bathroom with modern white suite. The property features sealed unit double glazing and gas central heating via radiators.
Visit georgeproctor.co.uk to view multiple photographs, floor plans and more details on this property.
The property is also listed on Rightmove and DezRez property portals.
Thanks to Chris R for the pointer.
---
ZIGGY ON CROSSBEAT
29th March 2012

The May issue of Japanese magazine CROSSBEAT features DAVID BOWIE on the front cover, as well as a special feature inside covering David Bowie 1972 - 40 Year Anniversary - Miracle of Ziggy Stardust.
The Bowie feature covers an impressive forty-five pages and includes plenty of photographs.
Also included is a supplement booklet: 'The Complete Guide to Glam Rock'.
The magazine published by Shinko Music Inc, goes on sale next week on 2nd April.
---
ZIGGY LANDS BACK ON HEDDON STREET
27th March 2012
THE CROWN ESTATE unveiled the ZIGGY STARDUST commemorative plaque this morning in Heddon Street, London W1 to celebrate forty years of the iconic character created by DAVID BOWIE.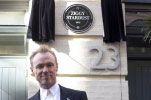 Spandau Ballet's Gary Kemp did the honours and also in attendance were two Spiders From Mars - bassist TREVOR BOLDER and drummer MICK 'WOODY' WOODMANSEY.
Other invited guests included producer KEN SCOTT who flew in from his home Los Angeles and illustrator/artist TERRY PASTOR who hand coloured the iconic album artwork from the Brian Ward photographs.
The black plaque is placed where the K. West sign was originally sited outside number 23.

TV news crews and reporters were in attendance, including ITV [view here] and the BBC who both filmed the event and interviewed guests [view here].
Althought the event was not public, several fans were there to witness the event - [view photos courtesy of AlanG on the BW MB].
It was a nice touch to see Gary Kemp sporting a George Underwood designed Ziggy Stardust badge on his lapel.
This plaque pays homage to an enduring iconic creation of British Pop, meaning fans from all over the world can visit the place where the dynamic character of Ziggy was immortalised on camera.
Check out the links below for news reports from various websites...
The Independent: Bowie gets Stardust treatment - [Read here]
Express: David Bowie iconic Ziggy Stardust honoured in London - [Read here]
CBS News: Ziggy Stardust spot marked with heritage plaque - [Read here]
BBC News: Site of Ziggy Stardust album cover shoot marked with plaque - [Read here]
BBC Radio 4: Ziggy Stardust at 40 - [Read here]
The Telegraph: Ziggy Stardust 'is one of London's great fictional characters' - [Read here]
London Evening Standard: Space Oddity for Ziggy - a plaque in London street - [Read here]
The Telegraph: David Bowie's Ziggy Stardust commemorated on plaque - [Read here]
The Telegraph: Photographs from the event - [Read here]
ITV News: Ziggy Stardust plaque unveiled - [Read here]
The Press Association: Plaque celebrates Ziggy Stardust - [Read here]
The Guardian: David Bowie's Ziggy Stardust album marked with blue plaque - [Read here]
Mirror: Bow down to David - [Read here]
---
LET'S SPEND THE NIGHT TOGETHER... DAVID BOWIE NIGHT
26th March 2012
Update: EVENT CANCELLED
Following the success of DB512 - The 2012 UK DAVID BOWIE Convention, we are celebrating the 40th Anniversary of David Bowie and The Spiders From Mars' fantastic performance at the Santa Monica Civic Auditorium with a night of Bowie / Bowie-related music including live music by Portraits In Flesh and Friends.

Those that were present at the Bowie Convention know what a wonderful atmosphere it was... this will be just the same and it is expected to sell out fast.
'Lets' Spend The Night Together'... David Bowie Night takes place on Saturday 20th October at 7:00 pm until 2:00 am at Holy Moly's @ Esquires in Bedford, England.
Tickets are available at £8.50 in advance from or tickets £10.00 on the door. Telephone: 0234 3273.
Hot food will also be available. Anyone arriving early will be able to drink in Danny/s Bar until Holy Moly's opens.
Check out the Facebook events page for more information.
---
FUNKY LITTLE BOAT RACE
25th March 2012

Thirty-six years ago on this very day... DAVID BOWIE has this rather debonair mugshot taken by the Rochester Police Department when he appeared at the City Court for arraignment.
David was arrested a few days earlier for possessing marijuana in Rochester, New York on 21st March 1976.
The 5x4 inch photograph was found and rescued by Gary Hess from the trash during an estate sale of a retired Rochester police officer. It was later auctioned on eBay and raised $2,556 (£1,247.44 GBP).
The picture was taken four days after David was arrested, along with singer James Newell Osterberg, Jr. (aka Iggy Pop), bodyguard Dwaine A. Vaughns (22), of Brooklyn and Chi Wah Soo (20) of Rochester on drug possession charges.
The four were arrested at 2:25 a.m. in a three-room suite in the hotel at 70 State Street by four city vice squad detectives and a State Police investigator. They were all charged with fifth-degree criminal possession of marijuana. Police said they confiscated what they described as about half a pound of marijuana (182 grams). The charge was a Class C felony, carrying a maximum sentence of 15 years in prison.
They were busted at the Americana Rochester Hotel and held in the Monroe County jail for a few hours before being released. David's $2,000 bail was ordered in cash, and $2,000 in bond was set for the others.
David pleaded innocent in court and was eventually found not guilty by the Rochester City Court.
---
DAVID BOWIE CONVENTION DVD
25th March 2012

The DB512 DAVID BOWIE Convention DVD will be ready to mail out this week if anyone is interested.
It features the live performances by Nick Fielding, Rob Hallward, Funmilayo, Lipstick Torpedo and Mudhoney. Plus the reading of David Bowie's personal message by Paul Kinder and my own presentation of David Buckley's 'Strange Fascination' book to Phil Calvert.
Lots of bonus features: 400+ high quality digital images split into 3 slideshows. Bonus footage filmed from the floor level in front of the stage during the performances and the sound checks.
Please contact me @ for more details and information.
From David Priest.
---
40TH ANNIVERSARY ZIGGY RELEASE
21st March 2012
EMI are to release a 40th Anniversary Edition of DAVID BOWIE's 1972 masterpiece album 'The Rise and Fall of Ziggy Stardust and The Spiders From Mars' on 4th June.
The various formats will include:
CD: A new 2012 remaster of the original album. Remastered digitally by Ray Staff, original mastering engineer at Trident Studios and Ken Scott - original co-producer.
LP: A new 2012 remaster of the original album on heavyweight 180 gram vinyl. Digitally remastered by Ray Staff.
DVD: 2012 remaster (96/24 PCM stereo) Digitally remastered by Ray Staff.
Ken Scott 2003 5.1 mixes (DTS 48/24 and Dolby Digital) and stereo fold downs (48/24 PCM) - original album plus the following 5.1 previously unreleased bonus tracks:
Moonage Daydream (instrumental).
The Supermen.
Velvet Goldmine.
Sweet Head.
There will also be a digital download of the new 2012 remaster.
Pre-ordering is now available for both the 40th Anniversary Editions of the vinyl and DVD
and the CD release
From David Bowie Official FB.
---
LADY STARDUST COMPETITION
20th March 2012

Unfortunately this DAVID BOWIE related competition has now finished, but why not have a go just for fun?
There is a new David Bowie-inspired IRIS WILDTHYME collection entitled 'Lady Stardust', which features artwork by Paul Hanley, along with new short stories from Paul Magrs and George Mann and others.
All you need to do is take a look at the wrap-round cover and find as many Bowie references as you can. There should be an intended 27 - I've found more than that.
More details and information on these books can be found over at obversebooks.co.uk and on paulmagrs.com blog.
---
BLACK COUNTRY ROCK
16th March 2012
Holden's Brewery Ltd located in Dudley in the West Midlands are one of only thirty-three independent family brewers left in Britain.

In January they produced a specially named guest ale in honour of DAVID BOWIE named 'Major Tom'. This was opener of their 2012 Monthly Guest Ales entitled 'Rock Gods'. February's was 'Temple of Love', and this month it is 'Purple Haze'.
'Major Tom' has a 4.2% alcohol content, this blonde beer has a sweet fruity dominance with a moreish full malty body. The climax of fruit, malt and a bitter tang gives a pint that's out of this world.
Feel free to visit holdensbrewery.co.uk
If you search online you can find websites that list various real ale public houses around the UK that are selling this product.
---
AND THE BITS FLEW AND WIDE...
15th March 2012
• Film director NICOLAS ROEG is interviewed by Andy Morris for GQ magazine, specifically talking about working with DAVID BOWIE on The Man Who Fell To Earth - [Read here]...
• BOWIE VARIATIONS - the full concert and exclusive interview part 3 of 4 podcast with MIKE GARSON is now online for your listening pleasure over at the goingthruvinyl.com website. The interview was done the Detroit Institute of Arts back in December. Mike talks about performing live and in the studio with David, Outside1 outtakes, and so on - from Jason H....
• GARY KEMP who will be unveiling the ZIGGY STARDUST plaque in Heddon Street on 27th March was the guest on the Wogan BBC Radio 2 show last Sunday. Gary tells about meeting and interviewing George Underwood, Ken Scott and others for a radio show documentary about Ziggy's 40th that he is presenting and is coming up for broadcast on 6th June on Radio 2. Listen in now at bbc.co.uk it's available for another three days. The Bowie mention comes in just after Starman at 1.37.39 mins...
---
EARL SLICK INTERVIEWED
15th March 2012
Guitarist EARL SLICK was interviewed by Eric Blair at Namm 2012 for the The Eric Blair Show. Earl talks about The New York Dolls, touring, his new album, recording Station To Station and working with DAVID BOWIE.
Thanks to Gabe for the pointer.
---
EVERY MOTHER COUNTS VOL. 2
10th March 2012
DAVID BOWIE features on the forthcoming compilation 'Every Mother Counts Vol. 2', which is the second album to benefit the organisation of the same name, which is organised by model Christy Turlington Burns.
Every Mother Counts is a campaign to help reduce the maternal mortality rate on a global scale and with the help of Starbucks the album is set for release on 1st May.
Besides David Bowie, other featured artists include: Bono, The Edge, Seal, Sting, Lauryn Hill, Beck, Coldplay, Sade and Patti Smith.
The full tracklisting runs as follows: (Songs with an asterisk indicate previously unreleased tracks).
Bono and the Edge 'Original of the Species' (acoustic) *
Eddie Vedder ' Skipping' *
Paul Simon and Edie Brickell 'Pretty Day' *
Faith Hill 'Wish for You'
Sade 'The Sweetest Gift'
Lauryn Hill 'I Remember'
Rita Wilson 'Baby I'm Yours' *
Diana Krall 'Don't Fence Me In' *
Seal 'Secret'
Dave Matthews Band 'Sister' (live) *
Sting 'Fragilidad'
Alanis Morissette 'Magical Child' *
Edward Sharpe & the Magnetic Zeros 'Mother' *
David Bowie 'Everyone Says 'Hi''
Cedella Marley 'Get Up Stand Up' *
Beck 'Corrina, Corrina' *
Rufus Wainwright 'Instead of the Dead' *
Patti Smith 'Somalia' *
Coldplay 'Yellow' (acoustic) *
---
OPR: ZIGGY STARDUST PLAQUE
10th March 2012
Official Press Release: To celebrate the 40th Anniversary of Ziggy Stardust
The Crown Estate place a commemorative plaque in Heddon Street, London W1.
In March 2012, The Crown Estate will unveil a commemorative plaque to DAVID BOWIE's iconic creation, Ziggy Stardust, marking the 40th anniversary of his album, 'The Rise and Fall of Ziggy Stardust and The Spiders from Mars'. The plaque will be unveiled on Heddon Street, just off Regent Street, London, W1, where the photograph on the front cover of the album was taken.

Part of The Crown Estate's ongoing vision for the development of Regent Street and surrounding areas, Heddon Street today is completely different from that of 1972, when the album cover was created. Now one of Regent Street's main Food Quarters, it has been transformed into a pedestrianised courtyard ideal for al fresco dining with restaurants including Momo, Aubaine, Below Zero, The Ice Bar, Strada, Piccolino's, Strawberry Moons and The Living Room.
Back in 1972, the Bowie album depicts 'Ziggy' outside on a cold wet January night with his foot resting on a step outside 23 Heddon Street. The late Brian Ward, had rented a space upstairs in the building as a makeshift photographic studio, and had already shot 17 pictures when he persuaded Bowie to step outside onto Heddon Street. The other band members thought it too cold and declined to join him for the picture. Wearing the green jumpsuit that he later wore on the BBC 2 TV show 'The Old Grey Whistle Test', Bowie posed for the photograph. The images were shot using Royal -X- Pan black and white film and then lovingly hand coloured by artist Terry Pastor. In the finished image, Ziggy's jumpsuit is coloured blue.
"It was cold and it rained and I felt like an actor" Bowie recollected, "we did the photographs outside on a rainy night and then upstairs in the studio we did the Clockwork Orange look-a-likes that became the inner album sleeve."
The iconic image cover catapulted David Bowie to international stardom, creating an army of pop stars with spikey hair and edgy alter egos, a trend which later evolved into the glam rock movement for which Ziggy was the poster boy. This plaque pays homage to an enduring iconic creation of British Pop, meaning fans from all over the world can visit the place where the dynamic character of Ziggy was immortalised on camera.
The album was produced by Ken Scott who went on to work with Elton John, George Harrison, Supertramp and many more. The Spiders were Mick Ronson who sadly died of liver cancer in 1993 aged 46, Trevor Bolder on bass, Mick Woodmansey on drums, all accompanying David Bowie on guitar with Dana Gillespie on backing vocals.
---
DB UK CONVENTION DVD
9th March 2012

Currently being created is the DB512 UK DAVID BOWIE CONVENTION DVD which will feature the live performances of Nick Fielding as Amannin Sane, Mudhoney (David Priest and John Morey with Garry Cutress), Funmilayo, Rob Hallward, and Lipstick Torpedo. Including the sound-checks, the presentation and the reading of David Bowie's message.

Sally Newhouse and Frank Toal filmed all of the performances. The DVD will only be available in PAL format 4:3 full screen, with both LPCM remastered audio and DTS 5.1 audio tracks.

If you were at the event and are able to supply any good quality photos or video footage of the bands, the fans, or anything from the event that I can use in digital slide-shows, please email me at - You will of course receive a credit on the DVD and a copy of the final product.

From David Priest.
---
SHE'D SIGH LIKE TWIG THE WONDER KID
5th March 2012

Lesley Lawson that's TWIGGY to you and I is interviwed by the Edmonton Sun in Canada about her new album. She is asked the inevitable question... what it was like to shoot the Pinups LP cover with DAVID BOWIE?
'It was brilliant. I was a huge fan; still am. Before we did that, he'd done a song called Drive-In Saturday, and there was a line where he said, 'She sighed like Twig the Wonder Kid.' I heard it on the radio and went, 'Oh my God, David Bowie just mentioned me in a song!' I rushed out to buy it because I thought maybe I'd misheard it.
Then about a year later, we shot that picture for the cover of English Vogue. We did it in Paris, and he was gorgeous and lovely and really nice. And then English Vogue decided in their great wisdom not to publish it because they said they couldn't put a man on the cover. And I said, 'You're crazy.' But they wouldn't do it. So David, said, 'It'll be a great cover for the Pin Ups album.' And as a result, it's had a much longer life.'
You can read the whole interview here
---
BOWIE UK CONVENTION VIDEO CLIPS
5th March 2012
Some videos shot during the DB512 DAVID BOWIE UK CONVENTON last weekend in Bedford are now appearing online.
I believe a DVD of the full day is currently being created. In the meantime to whet your appetite check out some of the performances below. (More to follow).
There are also some of the projection screen animations created by Frank Toal especially for the event.
---
KEEP YOUR 'LECTRIC EYE ON EBAY
4th March 2012


Up for grabs over on eBay is this DAVID BOWIE original UK metal acetate four-track on the RCA label, 12 inch two-sided.
The acetate was issued on 26th September 1972 with an RCA Victor white label. The catalogue number is CLE-106.
Even though it's a four track Special Radio EP, 'Lady Stardust' appears twice with different running times.
1. Ziggy Stardust (3:04)
2. Soul Love (3:14)
3. Lady Stardust (1:03)
4. Lady Stardust (3:14)
5. Suffragette City (3:08)
At present the auction has 7 days remaining, with 5 bids so far and the current price is at £80 (GBP).
For more photographs and details see here
Update: The acetate sold for an impressive 1,250.00 GBP with twenty-four bids in total.
---
HADDON HALL PUBLICATION
4th March 2012

'Haddon Hall' by Najib is a French cartoon illustrated book that has just been published in the past few weeks in France.
Published by Gallimard Editions, it contains 144 pages in French (ISBN: 9782070642403).
I've had a bash and roughly translated the synopsis into English...
At dusk the Sixties, David Bowie, multifaceted artist unknown, moved with wife and friends into an old mansion called 'Haddon Hall', located in a London suburb of Beckenham. The whole company tries to live the hippie community ideal. Between ego conflicts, difficulties of everyday life and collective art projects, will be for better or for worse?...
If your French is up to scratch it's well worth buying this cute and funny publication, alternatively if your French is like mine, the illustrations are beautiful to look at. The third and final option is: if you have a beautiful French person to read it out to you it's even better!
You can purchase Haddon Hall: Quand David Inventa Bowie
NOW.
Thanks to Eric for the heads up.
---
ZIGGY AT THE TOBY JUG
4th March 2012

To commemorate 40 years since DAVID BOWIE appeared at The Toby Jug in Tolworth, a poster has been put up at the site of the venue on 10th February 2012 , it's still on view.
The banner was put up on the yellow hoarding that surrounds where The Toby Jug Public House once stood on the A3 at 1 Hook Rise South, Tolworth, Surrey KT6 7LE, England.
The banner was created by Bowie enthusiast Chris Rosam.
From John Mather.
---
ZIGGY STARDUST PLAQUE
3rd March 2012
Back in July 2005 Westminster City Council published a report [download here] from the Director of Planning and City Development about the proposal for a Commemorative plaque to Ziggy Stardust (1972).
It's taken a while, but the spot where DAVID BOWIE stood on Heddon Street, London W1 is finally to see that request granted.
The Ziggy Stardust plaque will be unveiled on Tuesday 27th March and hosted by The Crown Estate at The Hub, 10 Heddon Street, W1 (opposite number 23).
Spandau Ballet's GARY KEMP is the guest who shall be doing the unveiling. Also David Shaw, Head of The Crown Estate Retail Portfolio will speak at the event and also a councillor from Westminster City.
---
KEN SCOTT AT UAB
3rd March 2012
Legendary producer and engineer KEN SCOTT who is about to have his forthcoming book 'Abbey Road To Ziggy Stardust' by Ken Scott published by Alfred Music Publishing in May is to visit the Unversity of Alabama at Birmingham in the USA on March 5th-6th.
If you've ever wondered what it was like to work at London's Abbey Road Studios, just ask Ken Scott. He came up through the ranks at Abbey Road, doing sessions with acts such as The Beatles, Procol Harum, Pink Floyd and The Rolling Stones. Later, he moved on to other studios and other artists, teaming with DAVID BOWIE, Elton John, Harry Nilsson, Supertramp and more.
Scott will meet with UAB students and give a 7:30 p.m. lecture on Monday in the university's Hulsey Recital Hall, 950 13th St. South.
The topic, 'From Abbey Road to Ziggy Stardust' is linked to the forthcoming book on Scott's life and career. Scott's partner for the book project, producer and author Bobby Owsinski, will be here, as well.
Admission to the lecture is free. It's part of the Jemison Visiting Professorship in the Humanities, presented by UAB's music department and college of arts and sciences.
More details and information can be found at the UAB website.
---
ABBEY ROAD TO ZIGGY STARDUST
3rd March 2012
The long-awaited memoirs of legendary producer/engineer KEN SCOTT are scheuled to be published on Monday 28th May.
Abbey Road To Ziggy Stardust
by Ken Scott and Bobby Owsinski will be published by Alfred Music Publishing.

There's no question that producer/engineer Ken Scott holds a unique place in music history. As one of only five engineers on The Beatles records, Ken's work has left an indelible mark on hundreds of millions of fans with his skilled contributions to Magical Mystery Tour and The White Album. As producer of four David Bowie albums (including the seminal Ziggy Stardust and The Spiders From Mars) and two of the biggest-selling Supertramp albums (Crime of the Century and Crisis, What Crisis?), the sound Ken crafted has influenced several generations of music makers that continues to this day.
Those credits alone would be enough to set his name in the annals of music, but that's only a brief slice of what Ken has done. He has literally worked with a who's-who of classic rock acts, including Elton John, Pink Floyd, Procul Harum, Jeff Beck, Duran Duran, Harry Nilsson, The Rolling Stones, Lou Reed, America, Devo, Kansas, The Tubes and Missing Persons, among many others. Ken has also played a big part in the world of jazz, being the first to integrate a more powerful rock sound into the genre via albums by Mahavishnu Orchestra, Billy Cobham, Dixie Dregs, Jeff Beck and Stanley Clarke.
'Abbey Road To Ziggy Stardust' shares the intimate memories of Ken Scott about his days working with not only the biggest acts in the world, but some of the most overlooked as well. Funny, poignant, and oh, so honest, Ken pulls no punches as he tells it as he saw it, as corroborated by a host of famous and not-so famous guests who were there as well.
With enough techy 'how we did it' to satisfy all but the geekiest engineers, Abbey Road To Ziggy Stardust is a book for the fans, as Ken describes his time with the stars of the day as only a insider can. Plus, you'll be privy to several never-known-before stories and facts that will make the years worth the wait.
National press campaign planned around 40th anniversary of Ziggy Stardust release on 6th June 2012 includes never-before-told stories of The Beatles, David Bowie and Elton John. Many never-before-seen photographs.
You can pre-order Abbey Road To Ziggy Stardust
NOW.
You can also check out the Chapter Summary here
---
AN AXE TO BREAK THE ICE
3rd March 2012

DAVID BOWIE graces the front cover of the March issue of RECORD COLLECTOR magazine (issue #399).
Scary Monsters: Better not mess with Major Tom... It was the record that David Bowie had wanted to be his Sgt Pepper - thought-out, mature, intelligent and rounded.
It propelled him into the 80s as a rock icon at the top of his game, but did it also mark the moment when the great icon began looking backward rather than forward?
Thomas Jerome Seabrook investigates the creation and aftermath of Scary Monsters... And Super Creeps.
Check out the Record Collector website @ recordcollectormag.com for more details.
---
DAVID BOWIE TALK IN SHEFFIELD
2nd March 2012

Tomorrow sees the Off the Shelf Highlighting History Festival taking place in Sheffield, England and UK DAVID BOWIE fans might be interested to know that the 'The Man Who Sold The World - David Bowie and the 1970s ' talk is part of the event.

The festival starts on Thursday 2nd March through to Sunday 4th March.

The Man Who Sold the World - David Bowie and the 1970s talk is by the cultural historian PETER DOGGETT, who follows Bowie's career from 'Space Oddity' to 'Scary Monsters', tracing the way in which his music reflected and influenced the world, mixing brilliant musical critique, biographical insight and cultuiral amalysis to create a uinique study of a major artist and his times.

The event takes place at the University of Sheffield Students' Union, Western Bank S10 2TG.The two-hour Bowie talk is on Saturday 3rd March in the SU Auditorium at 4pm and tickets priced at £7 full and £5 concessions are on sale now.

More details and information can be found over at shef.ac.uk website or on their Facebook Events page.
---
HOW ZIGGY CHANGED HIS WORLD... AND OURS
1st March 2012

DAVID BOWIE graces the front cover of the April issue of UNCUT magazine in the UK.
For the new-look magazine, the front cover Ziggy Stardust studio shot was taken by Sukita from his forthcoming publication 'Speed of Life'.
Inside there are thirteen-pages entitled 'Stardust Memories' by Garry Mulholland... four decades on, the main players tell the whole story of Ziggy Stardust which includes eyewitness comments from Ken Scott, Lindsay Kemp, Trevor Bolder, Geoff MacCormack, Mike Garson, Terry Pastor, DA Pennebaker, Suzi Ronson and Lenny Kaye.
There are some wonderful unseen Sukita photographs including some captions from David himself taken from the forthcoming book.
Interestingly, DA Pennebaker states that the whole film crew from the July 3rd Hammersmith Odeon final show got an invite to the Cafe Royal aftershow party. The crew decided to film it. He still has it in his archive somewhere. Would he make it available? He says: "Maybe. I'd have to find it first!"
There is also confirmation of the forthcoming book 'Abbey Road To Ziggy Stardust' by Ken Scott which will be published in the Spring by Alfred Music Publishing.
There are also two full page advertisements for the Speed of Life book by David Bowie and Sukita published by Genesis Publications and the Uncut David Bowie Ultimate Music Guide app for the iPad.
Check out the Uncut magazine website @ uncut.co.uk
---
ZIGGY IN BLITZ MAGAZINE
1st March 2012
DAVID BOWIE along with Twig the Wonderkid graces the front cover of the March issue of Blitz magazine (issue 69) in Portugal.

The cover blurb states: 'The history of the great chameleon' [groan] and the twelve-page feature inside celebrates forty years of Ziggy Stardust and is on sale now priced at 2.90 euros.
Extract: The Rise and Fall of Ziggy Stardust and the Spiders From Mars came six months after Hunky Dory, giving the idea of a constant presence of Bowie which was becoming before the watchful eyes of their fans.
In 1987, Bowie described this step as difficult, reporting that it was difficult to explain his vision to the rest of the band: "We did not think the same way. It was like: for God's sake, let's go, let's try not to limit ourselves to just another rock band." But they were a great rock band. And embraced the idea so poorly realised that they could serve more girls.
If your Portuguese is as good as mine check out the blitz.aeious.pt website, where you can view more details and information.
Alternatively, view the English translation here
---
'hours...' COLLECTORS EDITION
1st March 2012
Released this month is 'hours...' The Collectors Edition by DAVID BOWIE - this exclusive limited edition CD is released on the Friday Music label.
Scheduled for release on Monday 26th March the CD contains five bonus tracks, an amazing ten-panel digi-pak graphics, song lyrics, retro Columbia Records Eye label and really great remastering.
The tracklisting runs as follows:

01. Thursday's Child
02. Something In The Air
03. Survive
04. If I'm Dreaming My Life
05. Seven
06. What's Really Happening?
07. The Pretty Things Are Going To Hell
08. New Angels Of Promise
09. Brilliant Adventure
10. The Dreamers
11. Something In The Air [American Psycho Remix]
12. Survive [Maruis Devries Mix]
13. Seven [Demo]
14. The Pretty Things Are Going To Hell [Stigmata Film Version]
15. We All Go Through
You can pre-order 'hours...' / The Collectors Edition
NOW.
---
CALL FOR PAPERS
1st March 2012
Strange Fascination? - A Symposium on DAVID BOWIE.
What: It is 40 years since the release of the single 'Changes' by David Bowie. Following on from a number of very successful symposia on Morrissey, the University of Limerick, Ireland is convening a symposium later this year on the iconic performer David Bowie.
Organisers: Dr. Eoin Devereux (Department of Sociology, UL); Dr. Martin J. Power (Department of Sociology, UL) and Dr. Aileen Dillane (Irish World Academy of Music and Dance, UL).
When: October 2012.
Where: University of Limerick, IRELAND.
Theme: This is an open-call for papers. We invite scholars working across a range of disciplines and approaches (such as, cultural studies, ethnomusicology, gender studies, musicology, media studies, popular music studies, queer studies and sociology) to propose papers on David Bowie's lengthy creative career as a singer, songwriter, actor, artist, collaborator and producer. We are interested in papers which deal with the many facets of Bowies career as a singer and the multitude of styles he has embraced (e.g. r'n'b; drum and bass; dance etc). The symposium will assess the lasting legacy of Bowie's career.
Publication Plans: It is intended to publish an edited and refereed book based on a selection of the symposium's papers.
Deadline: Abstracts of 250 words should be emailed to
The closing date for abstracts is 14th April 2012.
---
DAVID BOWIE WONDERWORLD NEWS ARCHIVE
February | January
2011 Bowie News | 2010 Bowie News | 2009 Bowie News
2008 Bowie News | 2007 Bowie News | 2006 Bowie News | 2005 Bowie News
2004 Bowie News | 2003 Bowie News | 2002 Bowie News | 2001 Bowie News
2000 Bowie News | 1999 Bowie News | 1998 Bowie News | 1997 Bowie News






| | |
| --- | --- |
| Created: March 2012 © Paul Kinder | Last Updated: 30/3/12 |