BOWIE TV and WHAT'S REALLY HAPPENING IN JULY - MONTHLY PLANNER

[BOWIEWONDERWORLD SHOP] [LATEST DAVID BOWIE ITEMS ON eBAY]

[@bowiewonderworld.com email addresses HERE]







myspace.com/bowiewonderworld

Have YOU got some DAVID BOWIE related news or a hot scoop?
Well don't just sit there keeping it to yourself - send it in to
All news items are credited if you so wish

[BW POLL: WHICH DVD RELEASE FROM THE BOWIE ARCHIVES? - VOTE HERE]



---
BOWIE'S IN SPACE
25th July 2007

FLIGHT ON THE CONCHORDS follows the trials and tribulations of a two man, digi-folk band from New Zealand as they try to make a name for themselves in their adopted home of New York City. The band is made up of Bret McKenzie on guitar and vocals, and Jemaine Clement on guitar and vocals.

Their show broadcast on HBO saw DAVID BOWIE crop up twice in episode six. Firstly there was a dream sequence, which was followed by their original song 'Bowie's In Space' complete with a take-off of David's original 'Space Oddity' promo film.




David Bowie Dream clip





'Bowie's In Space' song clip






If you want to read the lyrics as you watch the clip you can read them here

Flight of the Conchords have finally put up a website on the internet. A spokesman from the band (Bret) said it there was a five year delay launching the website online due to a 'disagreement'. Apparently there was debate over how many times letter 'W' should appear in the 'WWW' part of the web address. While Bret wanted four making the domain name wwww.conchords.co.nz Jemaine was vying for seven with wwwwwww.conchords.co.nz. It turns out that you're only allowed three anyway.

Check out www.conchords.co.nz


---
HAPPY BIRTHDAY TO IMAN!
25th July 2007



To Iman
Wishing you a very Happy Birthday
Have a wonderful day

Best wishes from everyone at BowieWonderworld xxxxx


---
FUN TO FUNKY
21st July 2007

Which is your favourite DAVID MALLET / DAVID BOWIE promotional video? The voting in the BW Visitors Poll placed 'Ashes To Ashes' in top position with 29.87% of the total votes.

The top five instrumental tracks after a total of 1,088 votes cast were as follows:

01. Ashes To Ashes - (325)
02. Boys Keep Swinging - (150)
03. DJ - (120)
04. China Girl - (83)
05. Loving The Alien - (81)

To view the full breakdown of the voting please [VIEW HERE]

Thanks to everyone for voting... and in the blink of an eye... here's another brand new BW poll now underway... If you could choose one David Bowie film from the archives to be officially released on DVD which would you like to see released first? [VOTE HERE]


---
TAKE A QUICK BUTCHERS...
20th July 2007

• Former Spiders From Mars drummer WOODY WOODMANSEY is playing at the WOMAD Festival next weekend 28th/29th July as part of 3-D as well as doing a drum master class with Bill Cobham...

• Photographer MICK ROCK is featured in THE SUN newspaper Bizarre Podcast - he talks briefly about DAVID BOWIE - [Download here] - if you want to find the Rock/Bowie section move forward to 16:10...

• UK breakfast GMTV presenter LORRAINE KELLY who is a well-known and totally besotted fan of DAVID BOWIE surprisingly says in a The Daily Record newspaper interview today that: "I've never interviewed David Bowie, and I'd love to interview him..." - yes we know Lorraine... we know already!...

• Missed this DAVID BOWIE story last month - well worth the read though. Some minor inaccuracies but strangely fascinating in parts... Published on the DAILY MAIL website was 'My night in Bowie's bed' by LESLEY-ANN JONES - no it's not a kiss-and-tell - it's all completely innocent and charming - [Read here]...


---
INTOXICATED, OH SO AMAZED
20th July 2007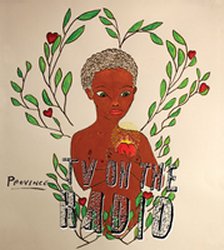 'Province' by TV ON THE RADIO and featuring DAVID BOWIE on vocals was reissued this month on the 4AD label.

Released on a 7" single (AD 2724) and digital (AAC) (EAD 2724S) via download from iTunes


The three tracks are 1. Province / 2. Dumb Animal / 3. Wasted Weekend.

The release is restricted to a limited edition of 1,000 copies only as an exclusive 'Chain With No Name'.

The promo video directed by Jeff Scheven can be viewed on YouTube by clicking here - unfortunately embedding is disabled because of copyright law outside of the USA.

Alternatively, USA residents only can view at the MTV.com website.


---
TAKE A QUICK BUTCHERS...
16th July 2007

• VH1 CLASSIC will feature the U.S. premiere of the seven-part series SEVEN AGES OF ROCK, a co-production with the BBC that explored the progression of rock music. The new series makes its U.S. debut on VH1 Classic on Monday, 17th December. The second programme 'White Light, White Heat': Art Rock 1966-1980 heavily features DAVID BOWIE...

• As you know DAVID BOWIE released a cover version of SIGUE SIGUE SPUTNIK's 'Love Missile F1-11' back in 2003. Check out a new remix of the original track '2007 Spinelli vs Sputnik' from DJ SPINELLI - visit myspace.com/djspinello72 - (from Dean)...

• Plenty of DAVID BOWIE bargains to be had at PLAY (UK) in their Summer Sale. Save up to 80% on certain items. DVDs under a fiver include LABYRINTH Collectors Edition was £12.99 now only £3.99 delivered, TWIN PEAKS: Fire Walk With Me was £19.99 now £4.99 delivered, THE PRESTIGE was £17.99 now only £5.99 delivered and CHRISTIANE F was £19.99 now £6.99 delivered. Visit Play.com for the lowest prices on games, DVDs and CDs...


---
TRIBUTE TO DAVID BOWIE CD
10th July 2007

TRIBUTE TO DAVID BOWIE is the new budget priced compilation CD just released by German record label ZYX Records.

Featuring David Bowie cover versions by artists such as Alien Sex Fiend, Michael Aston, Gene Loves Jezebel, Trance To The Sun and Christian Death, see below for the known tracklisting so far...



01. After All - The Mission UK
02. All The Madmen [Padded Cell Mix] - Alien Sex Fiend
03. All The Young Dudes - Michael Aston/Gene Loves Jezebel
04. Starman - Nosferatu
05. Scary Monsters - Ex-Voto
06. "Heroes" - Wreckage
07. China Girl - Trance To The Sun
08. Time - Cinema Strange
09. Always Crashing In The Same Car - Silent Order
10. Andy Warhol - Tubalcain
11. Hang On To Yourself - Kommunity FK
12. Suffragette City - Corpus Delicti
13. Panic In Detroit - Christian Death
14. Cat People (Putting Out Fire) - Big Electric Cat

You can purchase Tribute To David Bowie
now at a mere £4.99.

Tip: You can listen to samples of each track on amazon.de in RealPlayer or the Amazon Music Sampler player.

Update: This tribute album is a re-release of 'Goth Oddity' from 1999. - (thanks to Marc for the pointer).


---
TAKE A QUICK BUTCHERS...
9th July 2007

• EA and MTV have let slip a few new details for their upcoming rhythm-action game ROCK BAND, 'Suffragette City' by DAVID BOWIE is one of the tracks featured in the game. The full song list is expected to be vast, with developer Harmonix being given access to the vaults of the biggest record labels in the world. Rock Band is due for release on Xbox 360 and PS3 this winter...

• During the LIVE EARTH concert on Saturday rockers AFI cleverly mixed in a cover of DAVID BOWIE's 'Ziggy Stardust' during their set. Frontman Davey Havok waxed poetical about veganism and David Bowie before the band launched into the cover song...

• Also during the LIVE EARTH concert did everyone clock the ad trailer where a guy is the bath wearing headphones and singing along to DAVID BOWIE's apocalyptic 'Five Years' - with the message 'five years - that's all we've got'...

• Several Italian newspapers feature an advert for the new VIRGIN RADIO ITALIA station which contained a drawing of DAVID BOWIE taken from one of Mick Rock's photographs. I won't show the advert here... it will scare you... it's on the BW Message Board


---
ZIGGY'S LAST STAND...
3rd July 2007

July 3rd 1973: Thirty-four years ago today at the Hammersmith Odeon in London, DAVID BOWIE laid to rest his persona 'Ziggy Stardust' and retired from live performing.

When the kids had killed the man, he had to break up the band. At the time fans didn't realise it was Ziggy and not David himself announcing the now legendary statement: "Everybody... this has been one of the greatest tours of our lives. I would like to thank the band... I would like to thank our road crew... I would like to thank our lighting people Of all of the shows on this tour, this particular show will remain with us the longest because not only is it... not only is it the last show of the tour, but it's the last show that we'll ever do. Thank you."

This momentous performance was released on DVD which features remastered footage and new stereo and 5.1 mixes by Tony Visconti, as well as a commentary by Visconti and the director D.A. Pennebaker.


---
SLEEPING BOWIE BEAUTY UNDER DOWN
1st July 2007

The new play devised and directed by MICHAEL KANTOR 'Sleeping Beauty' will feature Renee Geyer, Alison Bell and Ian Stenlake and a live band in an examination of a woman's life through the fabric of the fairy tale.

It will include songs by DAVID BOWIE, Elvis Costello, Nick Cave and John Lennon. The play opens at the Merlyn Theatre in Melbourne, Australia on 6th July and runs until 28th July.

More details, information and ticket purchases can be found at the malthousetheatre.com.au website.


---
NEW PEACE THRU ART BOWIE PLATE
1st July 2007



The WHATEVER IT TAKES charity has the next DAVID BOWIE 'Peace Thru Art' designed item lined-up and now ready for pre-ordering.

The David Bowie Churchill China 8 inch plate is priced at a mere £9.99, with all proceeds going to '21st Century Leaders' and 'Save The Children' charities as chosen by David himself.



Each plate measures 8" x 20.5cm in diameter and comes complete in a special presentation gift box.

You can pre-order now - stock of this item is expected next month on 21st July - order now to avoid disappointment.

Also available in the Bowie 'Peace Thru Art' design series are:

Mug Price: £9.99 Available Now
Blue Wristband Price: £2.99 Available Now
Green Wristband Price: £2.99 Sold Out (some still available via Virgin Megastores)

Please visit whateverittakes.org for more details and information.


---
THE WORDS AND MUSIC OF DAVID BOWIE
1st July 2007



Ready for publication at the end of this month is THE WORDS AND MUSIC OF DAVID BOWIE by author James E. Perone.

In this comprehensive analysis of David Bowie's career, author James Perone examines the many identities and styles Bowie has developed over the years, and in so doing provides a stunning chronicle of creativity at work.

After a biographical introduction, chronologically arranged chapters discuss the singer's fascinating - and iconoclastic - body of work. A discography and annotated bibliography conclude the book.

About the Author: James E. Perone is the series editor for 'The Praeger Singer-Songwriter Collection'. He is Professor of Music at Mount Union College, where he teaches American music, music theory, and clarinet.

The hardcover published by Praeger is available now to pre-order in the United Kingdom
and US/World
priced around $44 / £25.


---

OLDER NEWS

June | May | April | March | February | January
2006 Bowie News Archives
2005 Bowie News Archives | 2004 Bowie News Archives
2003 Bowie News Archives | 2002 Bowie News Archives
2001 Bowie News Archives | 2000 Bowie News Archives
1999 Bowie News Archives | 1998 Bowie News Archives