JULY 1999 - DAVID BOWIE NEWS
---
THURSDAY'S CHILD THREE DIFFERENT MIXES
31st July 1999


Exclusive to BowieNet members only: Listen and vote for your favourite version of the forthcoming new single 'Thursday's Child'.

With the release of the new album fast approaching in early October, David Bowie wants the BowieNet community to help him select which version of the new single "Thursday's Child" you prefer.

There are three different mixes probably best described as:
1. Original Mix
2. Rock Guitar Mix
3. Light Hip Hop Mix
Not only can you listen to the song before anyone else, you can actually effect the course of the single release. Virgin Records and David will take the voting into account when deciding what mix to release as a single.

(Ed. The song is definitely "a grower". Mix two seems to be the favourite in the BNet chat room).

---
GLAM ROCK PHOTO EXHIBITION
31st July 1999


Exhibition of Glam Rock photographs

Greetings. This is to inform you that there will be an exhibition of original photographs by celebrated Glam Rock photographer MICK ROCK at Great Modern Pictures, New York, September 16 - November 7, 1999.

Included will be icon images of DAVID BOWIE, Lou Reed, Iggy Pop, Queen and others.

For details please visit Great Modern Pictures

If you have any questions feel free to contact us.

From BONITA
Great Modern Pictures, NYC.

---
THE VOYEUR FANZINE
31st July 1999


The July 1999 issue of the Dutch fanzine THE VOYEUR is now available. Check out their web site for more information.

From Ludo Wopereis

---
BOWIE TRACK LOOP ON IMAN'S SITE?
30th July 1999


Go check out IMAN'S new official web site at www.i-iman.com and listen to the music loop. This is one of the pieces from THE NOMAD SOUL computer game?

It says music by XO100 Hmmm I wonder? - update: the piece was written by David himself.

---
CNN FEATURES BOWIE TODAY
29th July 1999

The DAVID BOWIE cyber song interview, done in May during the taping of the 'Cyber Song Contest' will be shown on CNN's 'Showbiz Today' (today) Thursday, July 29 at 1:00 PM (Pacific)/4:00 PM (Eastern).

---
'WE ALL GO THROUGH' BONUS TRACK
28th July 1999

The forthcoming Japanese release of the new DAVID BOWIE album 'hours...' contains a bonus track not included on the UK or US versions. According to David himself: "it will be a piece of 'faux-pyschodelic chantin' drone' called 'WE ALL GO THROUGH'".

---
HOURS JAPANESE RELEASE
26th July 1999


The forthcoming Japanese release of the new DAVID BOWIE album 'hours...' contains a bonus track not included on the UK or US versions. Also another confirmation states that 'Thursday's Child' will be the first single to be released from the album. More details to follow shortly.
---
CALLING SISTER MIDNIGHT
26th July 1999


Due for release in the forthcoming week is 'SISTER MIDNIGHT' by IGGY POP featuring DAVID BOWIE this live show was recorded in Cleveland, Ohio in March 1977, which features David on keyboards.

The recording has been digitally remastered on a limited edition gold CD, US release only on Cleopatra Records.

---
REEVES JOINS DANNY SABER PROJECT
25th July 1999



SABER AND DANGERS BYPASS LABEL OPTIONS FOR THE NET

Former BLACK GRAPE guitarist and record producer DANNY SABER is developing a project with JACK DANGERS (aka Meat Beat Manifesto) and 25-year-old vocalist COPE TILL called SPONTANEOUS HUMAN COMBUSTION. It has been described as a soundclash between Nine Inch Nails, Prodigy and Massive Attack.

Earlier this year, the group spent 10 days in the studio and wrote 5 songs entitled "All For Nothin'", "Ketaject", "Products Of The Disease", "Numb" and "Million $ Monkey". "All For Nothin'" features guest performances by SEAN BEAVAN on guitar and BERNARD FOWLER on backing vocals; with guitarist REEVES GABRELS guest performing on "Million $ Monkey".

Despite tracks being unfinished, word leaked out in April, and manager Shannon O'Shea was inundated with phone calls from labels, press and radio. Former Garbage manager O'Shea said, "The level of interest came as a surprise as we hadn't planned to present the project until we were further down the road. It encouraged us to meet with labels earlier than we had intended, which was an interesting exercise amidst the industry's dramatic changes. We're convinced the process of change is still evolving within labels, and find new technology a more intriguing option at this time."

As a result, SHC finished "All For Nothin'". The single, which will include a Jack Dangers remix, can be downloaded for free via the band's web site on http://www.SHCombustion.com as of July 23, 1999. It will also be included on Virtually Alternative's July 23rd CD sampler.

Saber and O'Shea have formed a label (title forthcoming), which will facilitate Spontaneous Human Combustion and consider signing other bands in future. As the internet has not yet reached the level of market penetration overseas that it has in the U.S., they are in discussion with UK labels with regards to a more traditional approach outside of America .

Go check out the band's web site at www.SHCombustion.com

You can also download the tracks there too
"All For Nothin'"
"Million $ Monkey"

---
HAPPY BIRTHDAY RAVEN
24th July 1999


HAPPY BIRTHDAY VAL

HAVE A WONDERFUL DAY
I hope you get everything you wish for


Lots of love Paul xxxx

---
IMAN ON BIG BREAKFAST TOMORROW
22nd July 1999


IMAN is a guest on Channel 4's TV THE BIG BREAKFAST show on FRIDAY morning (7.00am).

Go check out Iman's new official web site at www.i-iman.com

---
RONSON REVIEW: JUST LIKE THIS
22nd July 1999


MICK RONSON: 'JUST LIKE THIS' Label: (NMC).

Although MICK RONSON like many a rock star, died too young, unlike many, he did get the chance to reflect on his career in the face of impending mortality. Taking that opportunity with uncommon grace and courage, he approached death as an opportunity to heal past wounds and, rather than claim long overdue credits, express gratitude to his many stellar collaborators - David Bowie, in particular. Ronson's generous spirit comes shining through on 'Just Like This'. his long-lost 1977 album that no-one wanted to release at the time. Inexplicable, since this is easily some of Ronson's best material as front-man. When 'Slaughter On Tenth Avenue' and 'Play Don't Worry' both suffered from misdirection and glammy poseuritus, this album finds Ronno grounded in rootsy, honest, middle-American and muscular Brit rock. An appealing graininess replaces slickness, and there is a decided improvement in the songwriting on the likes of 'Hard Life'. David Bowie once told me that one of his greatest regrets about Ronno was his missed opportunity to produce his one-time musical right hand. Taking stock of these holdovers, that loss is all the more palpable. "I've got no secrets I'm gonna take to my grave/Just my music," sings the main in 'I've Got No Secrets'. Well, almost.

Review by Ben Fisher for MoJo.

---
QUEEN INTERVIEW EXTRACTS
22nd July 1999


Various extracts from QUEEN interview by David Thomas in MoJo magazine (August issue).

ROGER TAYLOR: "A lot of people were saying they were interested, but nobody was actually signing anything. We were turned down by EMI. Then we signed to Trident Productions, a very happening studio at the time. The Beatles were in there, George Harrison. Bowie did 'Ziggy' and 'Hunky Dory' there, loads of stuff. In fact Freddie and I saw the first Ziggy gig at Friar's Aylesbury. We drove down in my Mini. We loved it. I'd seen him there about three weeks before in the long hair and the dress. Suddenly you saw this spiky head coming on stage. You thought, wha-a-at??? They looked like spacemen."

----------

In a recent internet interview, Bowie was asked if he had been influenced by Queen, to which he replied, "I doubt it, since Freddie asked me to produce his first album." "Certainly not!" Taylor exclaims. "But David was producing Lou at the time. We were taking the down-time. Literally, they'd be coming up the stairs and we'd be going down the stairs. David probably remembers it slightly differently, but I doubt he was being 100 per cent serious. Knowing David, very little he says is!"

----------

Trident licensed Queen to EMI, but for eighteen months, with the album in the can, nothing seemed to happen. May remembers "going on the number 9 bus up to town every day with Freddie to pummel the company into doing something, because we felt that the album had gone cold. David Bowie had risen from Aylesbury to heaven. Groups like Nazareth were all over the radio and we couldn't get our foot in the door."

----------

By then, too, they were beginning to develop a distinctive visual image, due in large part to their meeting with the photographer Mick Rock. He had been working with David Bowie, then making 'Pin-Ups' at the Chateau d'Herouville, when Ken Scott suggested he go to meet this new band that had a management contract with Trident: Queen.

At that point, Rock, a 24-year-old Cambridge graduate, was a bigger player in the business than Queen. The four band-members were hugely impressed by his work with Bowie and the fact that he had shot the covers for both Lou Reed's 'Transformer' and the Stooges' 'Raw Power'. As for Rock. "The first thing that struck me was how confident they were. No one knew who they were - I didn't have a clue what their music was like - but they had a sense of their own destiny. They were obviously very intelligent, too, but I'd been spoiled working with David Bowie and Lou Reed, because they were both extremely bright."

---
GAY DAD REASON NUMBER 9
22nd July 1999


One of ten reasons why 'Queen Rule' from CLIFF JONES (GAY DAD) featured in MoJo magazine (August issue).

'UNDER PRESSURE'


HOT SPACE (EMI 1982)

Noel Gallagher once said that there's no record where the bass line or drums made a difference to a hit - that was his justification for keeping all the song-writing royalties. Bollocks to that, because this record is basically a bass line - but what a bass line. The band and Bowie had a day's studio time, John Deacon came in played the bass riff, and it happened in about an hour and a half. The interplay between Freddie and Bowie is perfect. It's a beautiful record, all about the friends they've known who've folded under pressure. For me, it's the only time Bowie sounded like he had something personal to say; Freddie was like Iggy, untamed, and he encouraged Bowie to bring out a personal, real side.

---
TEN QUESTIONS FOR IGGY POP
22nd July 1999


Question number 6/10 for IGGY POP from Barney Hoskyns in MoJo (August issue).

How did you feel seeing yourself in bed with David Bowie in Velvet Goldmine?

"Dude, I have not seen the film. I'm a hard sell when it comes to cultural product. I saw a trailer for the movie and I thought Ewan looked a little too porky to play me. It didn't seem that compelling to me. I can give you no comment about the scene in question. I have no comment or opinion on what people say about the things I've done - my blood, my heroin, my dick, my pussy if I had a pussy, my mouth, my butthole... I've absolutely nothing to add!"

---
STORYTELLERS SHOW
21st July 1999


On August 8th, MIKE GARSON will join DAVID BOWIE to rehearse for the upcoming VH-1 Storytellers show. The actual programme will be filmed later in the month on August 23rd in New York.
---
IMAN GUESTS ON BIG BREAKFAST
20th July 1999


IMAN is due to make a guest appearance on Channel 4's THE BIG BREAKFAST show towards the end of this week.

Go check out Iman's new official web site at www.i-iman.com

---
RARESTBOXBOWIE DUE NEXT YEAR
19th July 1999


EMI's upgrades of some seventeen DAVID BOWIE titles, spanning Space Oddity to Tin Machine, are due in September. All sport 20-bit remastering and 16-page lyric booklets, but contrary to expectation (and unlike the earlier Rykodisc editions) no bonus tracks will be included. Instead, the label promises sound that's as close to the original un-EQ'd analogue albums as possible. See EMI Reissues press release here.

Rarities, and we're assured there are plenty, are currently being stockpiled for a box anthology due next year. "It's definitely gonna happen," says a source close to the singer. "David is very hands-on with the whole project."

(Ed. This ties in with something I was told about six months ago. I imagine you can expect something similar to The Beatles Anthology Box Set which EMI released a few years back).

---
DAVID'S CONTRIBUTIONS TO RUSTIC'S
18th July 1999



DAVID BOWIE made contributions on two songs for the forthcoming RUSTIC OVERTONES album, which is due out on September 28th, on Arista Records.

David sang the choruses and added spoken word to the track "Sector Z", a humorous "message" to people on other planets.

The second track, entitled "Man Without A Mouth", has David adding some backing vocals that are very haunting indeed.

Check the band out on their website: www.rusticovertones.com

From BowieNet

---
PLACEBO/BOWIE OFFICIAL PRESS RELEASE
17th July 1999


PLACEBO
DAVID BOWIE
Join forces for new EP:

"Without You I'm Nothing" released in August

DAVID BOWIE joins PLACEBO on a new recording of the band's "Without You I'm Nothing" to be released as a limited edition gatefold CD EP by Hut recordings on Monday 16th August.

The track, recorded in New York earlier this year cements a relationship that started when Placebo supported David Bowie on his European tour in 1996. Early the next year Placebo were invited by Bowie to play at his 50th birthday party in New York's Madison Square Garden.

Bowie also joined Placebo on stage to perform "Twentieth Century Boy" at the 1999 Brit Awards in February this year, followed by an appearance with the band at their Irving Plaza show in New York the following month.

The original version of "Without You I'm Nothing" is the title track to Placebo's current album, released October last year. The album has subsequently sold over 250,000 copies in the UK, with a further 800,000 sales around the rest of the world.

The new EP, credited to PLACEBO FEATURING DAVID BOWIE, will be released only on CD (Hut FLOORCD10), with 20,000 copies available. "Without You I'm Nothing" also contains a web link to the band's site, thus making the release ineligible for the UK chart.

From Chapple Davies

---
PLACEBO/BOWIE EP - Another Update
16th July 1999


The new PLACEBO/DAVID BOWIE EP 'Without You I'm Nothing' is to be released on 16th August, in a limited edition gatefold wallet CD EP of 20,000 copies. The interactive CD will have a link to the official Placebo web site and BowieNet which makes the single ineligible for chart inclusion under the current rules. In addition to the hyperlinks, the CD will also contain exclusive pictures from their Irving Plaza performance in New York last March.

The single is produced by Steve Osborne and features mixes from Unkle, Americruiser and Brothers In Rhythm.

Tracklisting:
1.Single Mix
2. Unkle Remix
3. Flexirol Remix
4. Brothers In Rhythm Club Mix.
In the UK, Steve Lamacq's 'Evening Session' Radio One show is currently plugging the track until the release date.

The promo CD EP is in a dark blue sleeve with same colour CD label, catalogue number Hut FLOORCD10 LC03098.

Photographs: Placebo and David Bowie at The Brit Awards 99. Go check them out at the excellent official Placebo web site.

---
MILLENNIUM BOWIE 2000 CALENDAR
15th July 1999


Here's a sneak preview of the cover of the new DAVID BOWIE 2000 millennium calendar.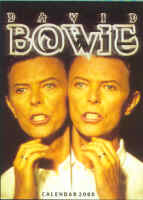 ---
STIGMATA SOUNDTRACK PRESS RELEASE
14th July 1999


Virgin Records Releases 'Stigmata' Soundtrack Featuring Original Score From Billy Corgan and New Songs from David Bowie and Natalie Imbruglia.

Virgin Records is pleased to announce the release of "Stigmata," the highly anticipated soundtrack to the MGM motion picture, in stores on August 24.

The "Stigmata" soundtrack features over forty minutes of original orchestral score by The Smashing Pumpkins' Billy Corgan and industry veteran Mike Garson. Corgan and Garson have also penned the album's title song, "identify," a new track written expressly for the film with vocals by pop sensation Natalie Imbruglia. Stigmata also features "The Pretty Things Are Going To Hell," an electrifying new track from the legendary David Bowie and remixes of Chumbawamba's "Mary Mary" and Bjork's "All Is Full of Love," both exclusive to the soundtrack. Finally, rounding out this exceptional collection of music are previously released tracks from Massive Attack, Remy Zero and Afro Celt Sound System featuring Sinead O'Connor.

Billy Corgan has had his songs featured in films before, and composed part of the score for the feature film "Ransom." Composing score for a film brings its own demands. Corgan recounted his and Mike Garson's initial intentions: "Mike Garson and I set out trying to make music that did not rely on well-worn movie cliches to support the movie, and also to make music that would hopefully stand up on its own without the movie." Addressing the film's opening track, "identify," Corgan continues, "The idea of writing a title song came from trying to do something a little different. Back in the day people used to write songs that were directly connected to a movie's score. The music for 'identify' came from one of the love scenes in the movie. Mike Garson and I decided to make that cue the title song, and the words were written with the story in mind, from Patricia Arquette's character, Frankie's, perspective."

Mike Garson began studying piano at the age of seven and, to date, has written more than 3,000 pieces. In his early years Garson studied classical composition with Leonard Eisner of Julliard and attained degrees in Music and Education from Brooklyn College. He also studied with Bill Evans, Herbie Hancock, Hal Overton, Robert Starer and Lennie Tristano. While still in school, he perfected his performance style in New York jazz clubs, where he played with notables such as Stanley Clarke, Elvin Jones, Lee Konitz and Freddie Hubbard. With a reputation for virtuosity and versatility Garson is in demand by high-profile rock artists, and has worked with David Bowie, Seal and Nine Inch Nails. Garson's groundbreaking piano solo on the title track to David Bowie's "Aladdin Sane" has inspired a new generation of musicians to push the envelope of creativity. Garson spent a greater part of 1998 touring with The Smashing Pumpkins.

One of the main draws of David Bowie's involvement in the "Stigmata" soundtrack was the movie's parallel to an extremely controversial story tied to a phenomenon that many believe to be true. David Bowie has long been interested in religion in film (i.e. "The Man Who Fell To Earth" and "The Last Temptation Of Christ"), and this movie's subject matter piqued his interest. "I was delighted to be asked to contribute to the soundtrack," says Bowie, "as the movie's subject matter has interested me since the publication of The Jesus Scroll, a book written by Donovan Joyce in 1973. It outlined an alarming conspiracy involving the Catholic Church trying to put the lid on the supposed discovery of the last writings of Jesus himself. These were written in Masada, where Jesus was serving as a freedom fighter and presumably died in the slaughter there, thirty years after his presumed crucifixion. In short, this singular scroll suggested that the Church, the priest and the trappings of ritual were not necessary the link with God and that God was in fact, inside our very selves."




About Stigmata

Frankie Paige (Patricia Arquette) is in her twenties. She works as a hairdresser. She has a boyfriend. There are a hundred other girls like Frankie Paige within a mile radius of her apartment.

But unlike all of them, things happen to Frankie - terrible things she can't understand or explain. And though she has tried everything to make them stop, they're just getting worse. She goes to doctors and psychologists, but they don't have answers any more than she does to the most important question: why her?

At the darkest moment of one of her episodes, a chance encounter with a local priest is caught on tape and the frightening implications of the incident drive the Vatican to send their own investigator, Andrew Kiernan (Gabriel Byrne). Confronted with the powerful force that has taken control of Frankie, Kiernan immediately recognises the true danger she is in and he must search his own soul for the strength to save her life, even if it goes against everything he believes.

Patricia Arquette, Gabriel Byrne and Jonathan Pryce star in MGM Pictures' gripping supernatural thriller "Stigmata," produced by Frank Mancuso Jr. and directed by Rupert Wainwright. The screenplay is by Tom Lazarus and Rick Ramage from a story by Tom Lazarus. The film features music by Billy Corgan and Elia Cmiral.

Nia Long (Soul Food), Patrick Muldoon (Starship Troopers) and Portia de Rossi (TV's Ally McBeal) also star in the film, which was filmed on location in Los Angeles, San Francisco, Rome, Pittsburgh and Mexico City.

Stigmata will be released through MGM Distribution Co. on Sept. 10.

See here for tracklisting from previous news story.

---
THE SUN READERS POLL: BOWIE THE BEST!
14th July 1999


BOWIE THE BEST

An army of fans from twenty-three countries have flooded me with e-mails saying DAVID BOWIE is the biggest music star of the 20th century.

The messages poured in to my Millennium poll to find the ten most influential names after Q magazine readers strangely voted Happy Monday maraca player Bez more important than Robbie Williams.

From the hundreds of entries, here is the Bizarre readers' Top Ten:..1. DAVID BOWIE.
..2. Noel Gallagher/Oasis.
..3. Robbie Williams.
..4. The Spice Girls.
..5. Ronan Keating.
..6. Five.
..7. Bono.
..8. John Lennon.
..9. Mick Jagger.
10. Freddie Mercury.By Dominic Mohan - The Sun newspaper.

---
THURSDAY'S CHILD RELEASES CD1 & CD2?
13th July 1999


SirenCD have listed the title and release date of the first DAVID BOWIE single to be released from the forthcoming 'hours...' album.

They are claiming that 'Thursday's Child' is to be released in two single CD's - CD1 and CD2.

BOWIE, DAVID
'Thursday's Child' (Part 1), CDS $9.99
Release Date: 20th September 1999
'Thursday's Child' (Part 2), CDS $9.99
Release Date: 20th September 1999

Please note: This is NOT official confirmation of release date or title.

---
NEW BOWIE BOOK ON THE WAY
11th July 1999


A new book entitled: 'CHANGES: DAVID BOWIE SONGS 1970-1980' is due for publication in October 1999. Written by CHRIS WELCH and published by Carlton Publishing (ISBN 1858688108). Paperback with 144 pages.
---
BOWIE BARGAIN OF THE MONTH
11th July 1999

Morrisons supermarket chain in the UK are selling the movie ABSOLUTE BEGINNERS on video for £2.99.

---
BOWIENET FEATURED IN PLAYBOY
11th July 1999


BOWIENET gets a top ranking mention in the August edition of PLAYBOY as part of their feature 'Net Sound' which discusses music, MP3s, bands etc on the internet.
davidbowie.com: Here members can access BowieNet, where the deathless starman can be found wandering the corridors at all hours. The site is a full blown Internet Provider, so one can get e-mail here and port into the web.
(Ed. At least I've got a viable reason to buy it this month now ;) )

---
MORE STIGMATA TRACKS SURFACE
11th July 1999


The long-awaited soundtrack to STIGMATA finally has a confirmed track listing, with ten tracks composed by BILLY CORGAN leading the way. All but seven songs on the album were scored by the Smashing Pumpkins frontman, along with composer-jazz artist MIKE GARSON - his first major foray into music scoring. The soundtrack includes a different version of DAVID BOWIE'S 'The Pretty Things Are Going To Hell'.

In addition to previously confirmed tracks by Massive Attack ("Inertia Creeps"), Remy Zero ("Gramarye"), Chumbawamba ("Mary Mary"), David Bowie ("The Pretty Things Are Going To Hell"), and the Afro Celt Sound System featuring Sinead O'Connor ("Release"), Natalie Imbruglia has added a Corgan-penned track, "Identify," to the album's line-up.

The soundtrack to Stigmata will hit stores on August 24th on Virgin Records. The film, starring Patricia Arquette and Gabriel Byrne, will hit theatres in August.

Here is the track listing for the soundtrack to Stigmata (*denotes tracks written by Mike Garson):

..1. "Mary Mary," Chumbawamba
..2. "Gramarye," Remy Zero
..3. "All Is Full Of Love," Bjork
..4. "The Pretty Things Are Going To Hell," David Bowie
..5. "Release," Afro Celt Sound System featuring Sinead O'Connor
..6. "Inertia Creeps," Massive Attack
..7. "Identify"
..8. "Identify (Dust)," "1,000,000 Voices," Billy Corgan
..9. "Pop Pop," "Await*," "Reflect (Pretty)," Billy Corgan
10. "Reflect (Clouds)," "Truth," Billy Corgan
11. "Of Square Waves," "Random Thought," Billy Corgan
12. "Reflection/Possession," Billy Corgan
13. "Reflect (Gray)," "Of Sine Waves," Billy Corgan
14. "Distrbnce (After Sckhausen)*," "Reflect (Pause)*," "Orah," Billy Corgan
15. "Sustain," "Identify (Affectation)*," Billy Corgan
16. "All Answers Revealed*," "Reflect (Devotion)*"
17. "Purge," "10,000,000 Voices," "Reflect (Purity)," "Identify (Peace)*," Billy Corgan
18. "Reflect (Time)," "Tree Whispers," Billy Corgan
The version of 'The Pretty Things Are Going To Hell' by David Bowie on this soundtrack is different to the version due to appear on 'hours...'

---
PLACEBO/BOWIE EP - Update
10th July 1999


The new PLACEBO/DAVID BOWIE EP 'Without You I'm Nothing' is to be released on 9th August, in a limited edition of 20,000 copies. The CD will have a link to the official Placebo web site which makes the single ineligible for chart inclusion under the current rules.

Update: Read the official press release here.

---
NEW 3D OMIKRON DEMOS AND REVIEWS
10th July 1999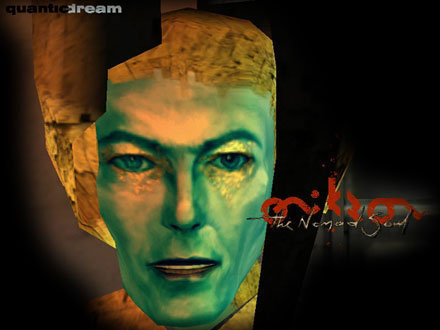 The 3D computer game OMIKRON: THE NOMAD SOUL featuring DAVID BOWIE and REEVES GABRELS who together collaborated with EIDOS and games developer QUANTIC DREAM has two new downloadable demos available for free.
Omikron is a brilliant, strikingly stylistic and futuristic 3D action-adventure game, (which took 35 people two years to develop), in which the player battles a satanic figure named 'Astaroth'. It will be released on PC CD-ROM and other games platforms in October 1999.
OMIKRON DEMO: FULL VERSION - 13.3 meg
Click here to download full zip file
OMIKRON DEMO: LIGHT VERSION - 4.42 meg
Click here to download light zip file
OMIKRON FIRST RELEASED DEMO - 3.86 meg
Click here to download the original first demo
David and Reeves worked closely with Quantic Dream, based in Paris, France. They spent several weeks with the development team and created original songs for the game. In the game itself, Bowie plays "Boz," the Virtual Being and leader of The Awakened, while he, Gabrels and bassist GAIL ANN DORSEY appear as the virtual band performing in several bars in the streets of Omikron City. David contributed his voice and allowed a graphic fantasy rendition to be made of himself for the role.
VARIOUS WEB SITES, REVIEWS AND WRITE UPS
Quantic Dream: Omikron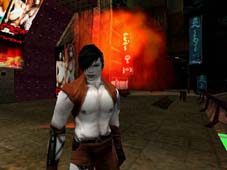 3D Files Download Demo
Gamespot Download Demo
Gamespot News
Gamespot Review
IGN Preview
PC Games Review
PlayStation Version
Video Games Review

Check out the older news item from May for further details and information.

---
VH1 STORYTELLERS - Update
9th July 1999


DAVID BOWIE mentions today in his BowieNet journal that he is currently working on ideas for the Story Tellers show and also putting together an horrendous schedule for the rest of the year!

David is to perform a show for an upcoming VH-1 Story Tellers episode later this year.

Story Tellers is somewhat similar to MTV 'Unplugged' albeit with chat inbetween the songs. More information as it becomes available.

---
THE SUN HITS BACK!
8th July 1999


The biggest selling UK daily newspaper The Sun seem to disagree with the Q magazine's Top 100 results and have decided to run their very own readers poll.

The Sun are accepting votes via email, so here is a good opportunity to let your voice be heard in this matter. So, who are your "Top 5 Favourite Artists Of All Time?"

BowieNet have set up an auto-mailer form that will send your vote directly to The Sun newspaper. Fill in the form with your Favourite Artists of all time, (they've made the number one choice easy for you!) and click the send button to fire it straight off to The Sun.

The results will be published by The Sun at the end of this week so don't hang about too long before you send off your answers.

Click here for the voting form.

---
TWO NEW BOWIE SONGBOOKS PUBLISHED
8th July 1999


MUSIC SALES have just released two new DAVID BOWIE songbooks:

'The Best Of David Bowie 1969/1974'
'The Best Of David Bowie 1974/1979'

Both are P.V.G. and each contain previously unreleased printed songs. You can order them through your local music shop or purchase on-line at www.musicsales.co.uk

From Lance Hoskins

(Good sales will ensure more Bowie releases).

---
Q READERS POLL RESULTS
8th July 1999


Q magazine readers poll - 'The 100 Greatest Stars Of The 20th Century'.

..1. John Lennon
..2. Paul McCartney
..3. Kurt Cobain
..4. Bob Dylan
..5. Elvis Presley
..6. DAVID BOWIE
..7. Madonna
..8. Noel Gallagher
..9. Liam Gallagher
10. Michael Stipe
---
TRACKLISTING FOR 'hours...' - Update
6th July 1999


From a total of twelve tracks featured on the new DAVID BOWIE album 'hours...' to be released 5th October on Virgin Records - nine of the titles known so far are:
The Pretty Things Are Going To Hell
Brilliant Adventure
If I'm Dreaming My Life
New Angels Of Promise
Survive
Something In The Air
The Dreamers
Thursday's Child
What's Really Happening
'Brilliant Adventure' is an instrumental track with koto that David and Reeves recorded together in the front room of David's house in Bermuda.

---
'HOURS...' ALBUM COVER SHOOT
3rd July 1999

DAVID BOWIE has just completed a photo session for his forthcoming 'hours...' album in London with photographer TIM BRET-DAY.

---
IMAN OFFICIAL WEB SITE LAUNCHED!
2nd July 1999


IMAN has launched her new official web site at i-iman.com

The site will keep you up to date on new items and events with Iman Cosmetics, as well as Iman's personal life, including photos, personal diary, videos and lots of fun stuff too.

Go check it out at www.i-iman.com

---
STRANGE FASCINATION
2nd July 1999


The much anticipated publication DAVID BOWIE - 'STRANGE FASCINATION' written by DR. DAVID BUCKLEY is due for publication by Virgin on 21st September 1999.
---
KEN SCOTT INTERVIEW
2nd July 1999


Mike Harvey's web site THE ZIGGY STARDUST COMPANION has an interview on-line that Mike managed to have with KEN SCOTT about the recording of Ziggy Stardust. Some interesting stuff! Go read.

The Ziggy Stardust Companion: A David Bowie Web Site

---
ARE YOU SITTING COMFORTABLY?
1st July 1999


DAVID BOWIE is to perform a show for an upcoming VH-1 StoryTellers episode later this year.

Story Tellers is somewhat similar to MTV 'Unplugged' albeit with chat inbetween the songs. More information as it becomes available.

---
THE ROCK GOD AND THE KING...
1st July 1999


DAVID BOWIE has contributed towards the written liner notes included in the forthcoming ELVIS PRESLEY 3-CD box set entitled 'Artist Of A Century'.

BMG are nominating Elvis Presley as the greatest performer of the 20th Century with a unique 3-CD box set of the King's finest recordings, chosen by fans and musicians from around the world.

Voting forms were sent out to a variety of journalists, musicians and devotees of Elvis, who had the task of choosing their favourite tracks and describing what the man and his music meant to them. A cross section of these quotes - including ones from noted Presley fans David Bowie, Bruce Springsteen, Bob Dylan, Eric Clapton and archive praise from John Lennon.

---
BOWIE/PLACEBO EP OUT THIS MONTH
1st July 1999


Hut/Virgin Records are releasing 'Without You I'm Nothing' as a limited edition release EP from PLACEBO featuring DAVID BOWIE on July 26th 1999.

David Bowie and Placebo spent the day in a New York studio (28th March) recording a new song together, plus their live version of '20th Century Boy' from The Brit Awards and also the encores at Placebo's NY Irving Plaza, 20th Century Boy and 'Without You I'm Nothing' - hopefully the EP will contain all the tracks.

Update: Read the official press release here.

---
TRACK LISTING FOR 'hours...'
1st July 1999


From a total of twelve tracks featured on the new DAVID BOWIE album 'hours...' to be released 5th October on Virgin Records - eight of the titles known so far are:
The Pretty Things Are Going To Hell
If I'm Dreaming My Life
New Angels Of Promise
Survive
Something In The Air
The Dreamers
Thursday's Child
What's Really Happening
---