MAY 1999 - DAVID BOWIE NEWS
---
SONGS IN THE KEY OF LIFE
27th May 1999


This week's NME has NICK SANDERSON from EARL BRUTUS naming the tunes that made him a man!

RECORDS THAT INSPIRED YOU TO FORM A BAND:
'THE RISE AND FALL OF ZIGGY STARDUST AND THE SPIDERS FROM MARS' - DAVID BOWIE

"When I first saw Bowie on Top Of The Pops, I remember my dad nearly fell out of his chair. He went berserk. Top Of The Pops was so bland, and then you suddenly see this skinny, big Adam's apple, f**king bat teeth, weird sort of bisexual alien thing. That changed my life. I realised I didn't want to be what anybody else wanted me to be, I wanted to be like David Bowie. Then I went out and bought the album, and it was so f**king sexy, and so wrong. I went straight in and put on my mum's make-up. I know for a fact that's one of the greatest albums ever made."

NICK SANDERSON - NME

---
BOWIENET NEXT CHAT - Update
26th May 1999

The planned chat on BowieNet with JOHN CAMERON MITCHELL and STEPHEN TRASK has been rescheduled for another date. Details when announced.

---
BOWIENET NEXT CHAT GUESTS
25th May 1999


The next special guests on BowieNet in the members only chat room are JOHN CAMERON MITCHELL and STEPHEN TRASK creators of the off-broadway show 'Hedwig & the Angry Inch' tomorrow Wednesday, May 26th at 3:00 pm (EST), 12:00 midday (PST), 8.00 pm (GMT).

If you have any questions you would like to ask John Cameron Mitchell and Stephen Trask before the live chat, you can e-mail your questions to info@davidbowie.com - these pre-chat questions will be used in addition to your live questions.

---
ANOTHER DAME JOINS THE BILL
25th May 1999


DAME KIRI TE KANAWA has been confirmed as the third act at the Gisborne 2000 Millennium concert.

The Gisborne New Zealand native and world-renowned opera star will be accompanied by the New Zealand Symphony Orchestra in the First Light celebration, held at sunrise January 1, 2000.

Full information at gisborne2000.co.nz

---
'WHAT'S REALLY HAPPENING' STUDIO SHOTS
25th May 1999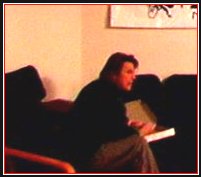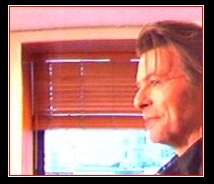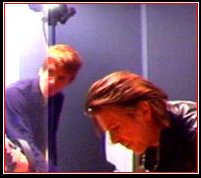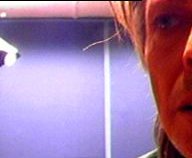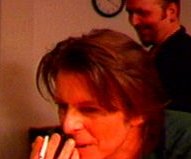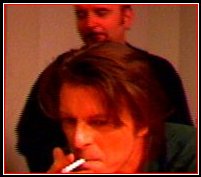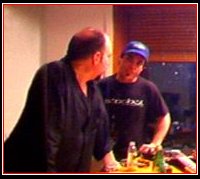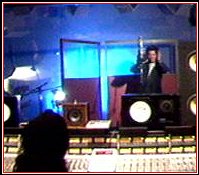 ---
CYBER SONG BROADCAST AND CHAT
23rd May 1999


BowieNet members will get an exclusive view into the 'What's Really Happening', cyber song recording session via an official chat during the event.

They will be having a BowieNet "insider" in the studio, checking things out and answering your questions. This event reporting will go on throughout the evening and will be held in the regular chat area.

Web cast times: Monday, May 24th at 7:00 pm till 10:00 pm (EST) / 4:00 pm till 7:00 pm (PST) / 12:00 midnight till 3:00am (GMT).

Read the 'What's Really Happening' press release here.

(Ed. Good luck in the studios everyone - enjoy yourself Alex!)

---
ROGER O'DONNELL CHAT TRANSCRIPTION
23rd May 1999

ROGER O'DONNELL of THE CURE was the special guest on BowieNet 21st May, you can read the chat transcription here

---
ZOETROPE MAGAZINE UPDATE
22nd May 1999


DAVID BOWIE is the guest designer for Francis Ford Coppola's short story magazine Zoetrope All Story. Stuffed full of short stories by talented young writers and illustrated with some amazing Bowie DHeads and drawings - this is definitely a collectors item. For purchase information please call: AZX Publications: 212 696 5720. Single copies can be obtained in US newsstands and bookshops.

More information here

---
MELISSA CHAT TRANSCRIPTION
21st May 1999

MELISSA AUF DER MAUR of HOLE was the special guest on BowieNet last Wednesday, you can read the chat transcription here

---
DAVID DONATES HIS "NIPPLES!"
21st May 1999


DAVID BOWIE has donated a piece of art to the New York Academy of Art's Ninth Annual 'Take Home A Nude' auction at the TriBeca Hall in New York City on 10th June, 1999.

The piece, done on a completely black canvas, spells out the word "Nipples" in Braille. Other artists contributing to the auction include Eric Fischl, Cecily Brown and Vincent Desederio.

---
ZIGGY'S IMPACT - A REQUEST
20th May 1999


RICHARD SMITH the editor of GAY TIMES is currently writing a long feature about the impact DAVID BOWIE/ZIGGY STARDUST had on gay men in the early Seventies.

It will include interviews with Neil Tennant, Marc Almond and Boy George, among others and will be appearing in the July 1999 issue of Gay Times.

Richard would love you to e-mail him on how David Bowie/Ziggy Stardust changed your life and he is just as interested in hearing what straight fans made of it all too.

Richard Smith
Gay Times, Millivres Ltd. Worldwide House, 116-134 Bayham Street, London NW1 0BA, United Kingdom
Tel: +44 (0)171-482 2576. Fax: +44 (0)171-284 0329

www.gaytimes.co.uk

---
SO WERE YOU AT VICTORIA STATION?
20th May 1999


Philippe Auliac is looking for fans and people who were present at Victoria Train Station, London in May 1976 to welcome DAVID BOWIE back home. Anyone with any stories relating to this happening please contact him.

Philippe: "I was of course in Victoria Station this famous day but I need the stories of other people who also attended for inclusion in a television documentary. Stories, pictures, film etc welcome."

Best regards Philippe Auliac
Email address auliactv@club-internet.fr

---
ICONS OF POP EXHIBITION
20th May 1999


Britain's pop rebels join the Establishment
The National Portrait Gallery is to prove once and for all that the route from youthful rebellion to pillar of the Establishment is a short one. 'ICONS OF POP' which opens on 4th June 1999, features The Sex Pistols at the height of their notoriety, alongside the likes of DAVID BOWIE and The Rolling Stones.

Photographs of fifty performers, representing forty years of British pop culture from The Beatles to Catatonia, have been chosen for the exhibition, which is a personal triumph for the gallery's photography expert, Terence Pepper. He had long wanted to stage an exhibition of pop pictures but had faced resistance from the gallery's trustees. Among the previously unseen images in the exhibition is a photograph taken during the making of a film early in the career of Roxy Music. Mr. Hoare tracked down the pictures of Bryan Ferry and the band in the days when Brian Eno was still a member.

The Independent

---
"HEROES" WINS BMI AWARD
19th May 1999


Performing rights organisation BMI presented the 47th edition of its Pop Awards on Tuesday night, hosted by President and Chief Executive Officer Frances W. Preston and Vice President Rick Riccobono, this salute to the creators of the past year's most performed songs culminated in the announcements of Pop Song, Songwriter and Publisher of the Year.

In all, BMI Citations of Achievement were bestowed on the writers and publishers of 70 songs during the black-tie gala, staged at the Regent Beverly Wilshire Hotel in Beverly Hills, California, USA.

With sixteen songs cited, EMI Music Publishing (through its companies EMI-Blackwood Music Inc., EMI-Virgin Songs Inc. and Screen Gems-EMI Music Inc.) enjoyed the BMI Pop Publisher of the Year spotlight for the second consecutive year; Chairman and CEO Martin Bandier accepted the crystal statue.

Amongst the winners was "Heroes" by DAVID BOWIE (PRS) and BRIAN ENO (PRS) - Careers-BMG Music Publishing Inc. / Screen Gems-EMI Music Inc. / Tintoretto Music / Wallflowers: Epic.

---
PHOEBE NAME DROPS
19th May 1999


PHOEBE ONE the new queen of Brit-hop who's debut album 'LONDON Style' (Mecca label) is released on Monday 24th May, mentioned in a NME interview this week:

"I wanna collaborate with all sorts of people, DAVID BOWIE, Catatonia and Blur... and that fella out of The Happy Mondays... Shaun Ryder.

---
CYBER SONG PRESS RELEASE
19th May 1999



David Bowie Records First Cyber Song 'What's Really Happening' Live on the Web

In a prolific career spanning over 30 years, DAVID BOWIE always been on the cutting edge of technology and artistic endeavours. As the first artist to launch his own Internet Service Provider (ISP), BowieNet (www.davidbowie.com) it is no surprise that Bowie has now turned to the Internet to let the whole world in on the creative process of writing, rehearsing, recording and mixing a song.

"What's Really Happening," the first cyber song, is the result of collaborative efforts between Bowie and co-writer ALEX GRANT who was one of 80,000 people who submitted lyrics online to the BUG MUSIC-sponsored BowieNet cyber song contest. Now, on May 24th, 1999, from 7 - 10 p.m. EDT, the world can watch a web cast of the recording session live on the Web, at BowieNet, Tunes.com/RollingStone.com (http://www.rollingstone.com) and Lucent Technology (http://www.lucent.com) as Bowie lays down the song tracks and makes history once again. What's more, the web cast will mark the first ever shot with Lucent Technology's 360-degree camera.

Commenting on the cyber song web cast, David Bowie said, "I was drawn to the idea of launching BowieNet in part because it serves as a forum for the exchange of ideas among people with common interests. Opening my initial thoughts on 'What's Really Happening' for input on the web was a unique songwriting experience. Now, I am looking forward to the next step where I share the final formation of the cyber song with my co-writer, Alex Grant, and the web-at-large in a 360-degree interactive adventure."

Alex Grant, winner of the Bug Music-sponsored cyber song contest for "What's Really Happening" will be flown from his home in Ohio to New York City where he will join Bowie for the Web cast recording of the song that incorporates his lyrics. Grant also receives a $15,000 publishing contract from Bug Music, a one-year subscription to BowieNet, a complete Bowie catalogue, $500 worth of music from CDNow and a three-year subscription to Rolling Stone magazine.

The live web cast of "What's Really Happening" will take Web viewers through the rehearsal, recording and mixing of the song. Those who tune in will hear everything in RealAudio through Real Network's G2 player. Those who view the video web cast at www.lucent.com will be amazed by how much they actually see with the formal debut of Lucent Technology's 360-degree camera. At www.rollingstone.com, fans can experience both the live audio and video, as well as search the rich artist archives which house Bowie's Rolling Stone magazine covers, song clips and exclusive photos. All in all, an event that is truly the first of its kind.

BowieNet memberships can be obtained anywhere in the world for a monthly fee of $US5.95. The membership offers subscribers not only essential news pertaining to business, sports and finance, but also music and entertainment content exclusive to BowieNet. In effect, BowieNet offers members the combination of special access to David Bowie's visual artistry, words and music and BowieNet's unparalleled technical capabilities. UltraStar's BowieNet ISP is currently available throughout North America and in the UK. Users who sign on to have BowieNet as their ISP pay a fee of $US19.95 per month. There is also a globally accessible portion of BowieNet that is free and open to the general public.

Established in 1975, Bug Music now administers and/or owns in excess of 60,000 copyrights on a worldwide basis. With offices in Los Angeles, Nashville, New York and London, Bug prides itself on its international collection and its administrative system as well as its ability to increase the value of the copyrights that it handles by placing them in films, television programs, commercials, compilation records and with other artists. Bug represent the pre-eminent blues catalogs of Willie Dixon, Muddy Waters, John Lee Hooker and Stevie Ray Vaughan as well as those of Johnny Cash, Richard Thompson, Del Shannon and other formidable songwriting talents.

BowieNet contacted Bug Music for the cyber song contest because it sought an independent, creative minded publisher. Bug represents the catalogue of IGGY POP who has co-written and collaborated with David Bowie on a number of occasions. Bug also represents REEVES GABRELS, Bowie's current guitarist and longtime songwriting partner. Bug is proud to be a partner in the BowieNet venture and welcomes the "What's Really Happening" cyber song contest winner, Alex Grant, as a new publishing client.

Web cast times: Monday, May 24th at 7:00 pm till 10:00 pm (EST) / 4:00 pm till 7:00 pm (PST) / 12:00 midnight till 3:00am (GMT).

---
GARSON CO-COMPOSER ON STIGMATA
18th May 1999



In addition to DAVID BOWIE contributing the song 'The Pretty Things Are Going To Hell' to the soundtrack of the MGM film STIGMATA, MIKE GARSON also co-composed the score with BILLY CORGAN. Plus, Mike also wrote the music to the end title (for which Billy wrote the lyrics).

For more info about Mike Garson, check out his web site at mikegarson.com

---
SUNSHINE ON SKY TV! - Update
16th May 1999



Sky TV are screening EVERYBODY LOVES SUNSHINE on 16th June on their Premier Channel.

The movie featuring DAVID BOWIE, GOLDIE, ANDREW GOTH and VINCENT DAVIES filmed last year in Liverpool and The Isle Of Man.

See previous news item

---
'THE PRETTY THINGS ARE GOING TO HELL'
15th May 1999


The DAVID BOWIE track for the STIGMATA film is entitled: 'The Pretty Things Are Going To Hell' and a different version of the song will also be included on the soundtrack which is currently scheduled for release on 10th August.

See below for film soundtrack information.

---
I DIG EVERYTHING - Update
15th May 1999

The newly re-released mini album DAVID BOWIE 'I Dig Everything: The 1966 Pye Singles', on Castle Records contains a new previously unheard mix/version of 'Do Anything You Say'.

---
BOWIENET GUESTS CHAT TIMES
15th May 1999


MELISSA AUF DER MAUR of HOLE Wednesday, May 19th at 2:00 pm (EST), 11:00 am (PST), 7:00 pm (GMT).

Read the Melissa Auf der Maur chat transcription here

ROGER O'DONNELL of THE CURE Friday, May 21st at 6:00 pm (EST), 3:00 pm (PST), 11:00 pm (GMT).

Log into the #ChatGuest room for this chat event. BowieNet members only.

Read the Roger O'Donnell chat transcription here

---
CYBER SONG RECORDING WEB CAST
15th May 1999


The three hour web cast for the cyber song competition studio recording of 'WHAT'S REALLY HAPPENING' written by DAVID BOWIE and competition winner ALEX GRANT is live on BowieNet on Monday, May 24th at 7:00 pm till 10:00 pm (EST) / 4:00 pm till 7:00 pm (PST) / 12:00 midnight till 3:00am (GMT).

Good luck in the studios everyone - enjoy yourself Alex!

---
BOWIE/EIDOS: NEW GAME, NEW SONGS
13th May 1999


DAVID BOWIE and REEVES GABRELS have collaborated with EIDOS one of the world's leading publishers of computer games to create original music for the new game Omikron: The Nomad Soul.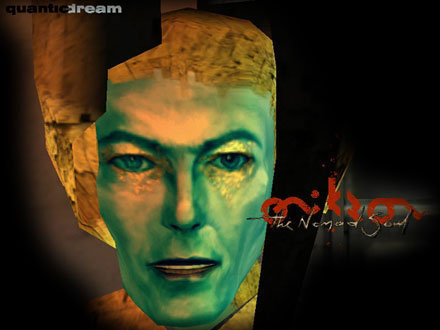 Omikron is a brilliant, strikingly stylistic and futuristic 3D action-adventure game, (which took 35 people two years to develop), in which the player battles a satanic figure named 'Astaroth'. It will be released on PC CD-ROM and other games platforms in October 1999.
The atmospheric track 'New Angels Of Promise' will be one of eight new Bowie songs co-written with Reeves, that will be exclusive to the game. A virtual CD featuring the songs and music can be purchased in the game by players and taken back to play in their virtual apartment.
The recording was played at a news conference attended by Bowie, along with collaborator Reeves Gabrels and executives of Eidos and the game's developer Quantic Dream.
Bowie said he and Gabrels are still writing songs for 'Omikron'. The pair have written about hundred songs in the past year, of which fifty "were crap", said Gabrels jokingly.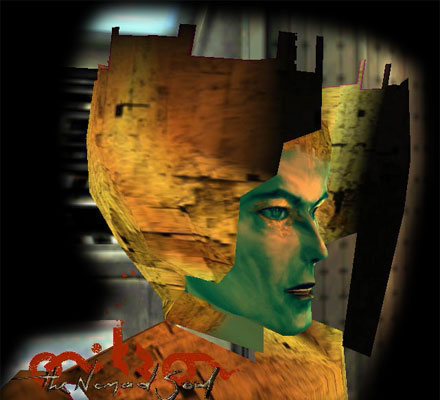 David and Reeves worked closely with Quantic Dream, based in Paris, France. They spent several weeks with the development team and created original songs for the game. In the game itself, Bowie plays "Boz," the Virtual Being and leader of The Awakened, while he, Gabrels and bassist GAIL ANN DORSEY appear as the virtual band performing in several bars in the streets of Omikron City. Bowie contributed his voice and allowed a graphic fantasy rendition to be made of himself for the role.

IMAN is also featured as an 'incarnable' character in the game. She portrays a bodyguard who sells her fighting skills to the highest bidder.

According to Bowie, "I moved right away from the stereotypical industrial game music sound. My priority in writing music for Omikron was to give it an emotional subtext. It feels to me as though Reeves and I have achieved that."

David also said the songs would bring "an emotional heart" to the game, something that other games lack. Another appealing aspect was the Buddhist subtext: whenever the player dies, his soul is reincarnated.

'Omikron: The Nomad Soul' has never-before-seen features. "It's set to be massive, leading-edge game," says Charles Cornwall, CEO of Eidos Plc. "David Bowie's involvement endorses the quality of the game and the fact that worldwide entertainment stars realise the value of the computer games market as an essential ingredient of the entertainment mix."

'Omikron' has been over two years in development. For the first time, it features facial motion captured in real-time. It contains over 400 different sets in four huge cities; 140 characters in 3D real time; and has four hours of dialogue, with more than 1,200 responses.

BowieNet have added the news/press conference footage with David and Reeves on the free section of the site. You can also hear the new track 'New Angels Of Promise' during the interview.

---
BOWIE & EIDOS SAGA CONTINUES
12th May 1999


UPI (United Press International) daybook listing... Wednesday, May 12 4:30 p.m. - Los Angeles - Computer game publisher Eidos Interactive announces details of a collaboration with musician DAVID BOWIE. RSVP is required.

Read some background information to the EIDOS collaboration: Fighting Force 64 and DB reply and the Hawk Manson character coincidence

From Bonster
---
NEW DAVID BOWIE TRACK FOR STIGMATA
12th May 1999


David Bowie Contribute To Stigmata

Details on the music for the film Stigmata, one of the most anticipated soundtracks of 1999, are finally emerging; and if Billy Corgan has anything to say about it, soundtrack fanatics won't be disappointed.

Half of the soundtrack will feature Corgan's score of the film. The other half will include a new, as-yet-unknown track from David Bowie, an as-yet-unknown track from the Afro Celt Sound System featuring Sinead O'Connor on vocals, as well as a new song penned by Corgan but sung by an as-yet-undecided female vocalist.

Other tracks confirmed for the record include a remix of Bjork's "All Is Full of Love," Massive Attack's "Inertia Creeps," Remy Zero's "Grammereye," and Chumbawamba's "Mary Mary."

Stigmata, starring Patricia Arquette and Gabriel Byrne, is scheduled for release by MGM Pictures in August. The soundtrack for the film is tentatively scheduled for an Aug. 27 release on Virgin Records.

Allstar Mag - Kevin Raub
---
EVERYBODY LOVES SUNSHINE ON SKY TV!
11th May 1999


Sky TV are currently running a trailer/commercial campaign for the screening of EVERYBODY LOVES SUNSHINE for transmission next month (16th June).

The gangster type movie featuring DAVID BOWIE, GOLDIE, ANDREW GOTH and VINCENT DAVIES filmed last year in Liverpool and The Isle Of Man.

Short Synopsis:
Two sleek black Jaguars cruise through the city, loud beats pumping from the sound system. People turn to stare. They have all been waiting for this day: friends, family and enemies alike. The Warlords are out and ready to take control.

In the Pepperhill Estate an ongoing battle rages between Triads and street gangs, fuelled by a quest for wealth, power, territory and respect but resulting only in violence. Ray and Terry, gang leaders, have been inside and in their absence the Triads have grown stronger and more daring. A revenge attack for the killing of gang member Kermit is called for and the gang turns to Terry and Ray for direction.

Cousins and lifelong friends, Ray and Terry have always trusted and relied on one another, but now Ray is talking of breaking the rules; he doesn't want to play gangsters anymore, he is looking for something else, something legitimate. But Terry, driven by an obsession far beyond friendship, is determined to make sure that Ray never leaves the gang.

You can read a worldwide exclusive interview I did with one of the cast, Vinny Davies on this web site.

---
WE'RE ALL ZIGGY NOW
11th May 1999

Check out Derek's new web site LOVE AMONG PUPPETS WE'RE ALL ZIGGY NOW the showcase for his music. MP3's RealPlayer G2 and 5.0. Excellent stuff... and even better - you can order a copy on CD. Check it out now!

---
DR. DAVID'S COMMENCEMENT SPEECH
10th May 1999


Rocker DAVID BOWIE and jazz innovator Wayne Shorter accepted honorary doctorates while 580 graduates received their diplomas at the 1999 Berklee Commencement last Saturday. On the day he became a doctor of music, Bowie also delivered the commencement address to a crowd of about 4,000 at the Hynes Convention Center. After praising students for Friday night's musical tribute to the two legends, Bowie described music as "my doorway of perception and the house that I live in."

You can watch and listen to the Commencement Concert, featuring student renditions of Bowie tunes such as "Space Oddity" and "Golden Years" and several Shorter standards, including "Footprints" and "Ana Maria" by following the link below. You can also catch Bowie's commencement address here.

---
FLORIA CHAT RESCHEDULED
9th May 1999


The arranged date for the FLORIA SIGISMONDI chat on BowieNet has been rescheduled. Also coming up in the next two weeks guests MELISSA AUF DER MAUR of HOLE and ROGER O'DONNELL of THE CURE.

Read the Melissa chat transcription here

Dates and times to be arranged shortly - see above.

---
BERKLEE COMMENCEMENT CONCERT
8th May 1999


The graduating students from Berklee celebrated DAVID BOWIE'S honorary doctorate on 7th May with their Berklee Commencement Concert. David himself was in the audience, along with fellow honoree Wayne Shorter, to watch the students perform a total of eleven Bowie songs.

1984 / Space Oddity / Modern Love / Changes / This Is Not America / Rebel Rebel / Golden Years / All The Young Dudes / Let's Dance / Young Americans / Black Tie White Noise

Watch the Berklee Commencement Concert here

Doctors Bowie and Shorter are speaking during Saturday's Commencement ceremony. You can hear David's Commencement address tomorrow on Monday, May 10th on the same link as above.

Check out the Berklee College of Music web site for more details here

---
BOWIENET NEXT CHAT GUEST
6th May 1999


The next special guest in the BowieNet chat room will be FLORIA SIGISMONDI the Canadian music video director and photographer. Her work with DAVID BOWIE includes the promotional videos for 'Little Wonder' and 'Dead Man Walking'.

See above for rescheduling date.

---
UNCUT MAG PROMO CD - UPDATE
6th May 1999


The June issue of UNCUT magazine contains a free cover mounted promo CD (Vol. 5) with the track 'Can't Help Thinking About Me' by DAVID BOWIE with THE LOWER THIRD.
'Family dishonour and personal shame are the subject of this burst of mid-Sixties freakbeat modpop, wherein Bowie relives adolescent nightmares and yearns for the security of the childhood. Before Lindsay Kemp, before his mockney Anthony Newley phase, before even 'The Laughing Gnome', rock's ultimate chameleon was a Steve Marriott acolyte, all Cuban heels and rock dynamics. Amazing to think 'Station To Station' was just 10 years away.....'
Taken from the new Castle mini-LP 'I Dig Everything - 1966'

---
RARE BOWIE PRINTS ON BOWIEART
6th May 1999


Five rare prints from 'The Minotaur Series' have become available to purchase from Bowieart web site.

The prints: 'Horns I', 'Horns II', 'Hoof', 'Hand And Leg' and 'Medieval Minotaur' were part of David's first ever group showing at the Berkeley Square Gallery, London in 1994.

---
BOWIE GUEST DESIGNER IN ZOETROPE
6th May 1999


DAVID BOWIE is the Guest Designer for the summer issue of 'Francis Ford Coppola's Zoetrope: All Story' magazine.

David's artwork illustrates the collection of short stories contained in this issue and well as the front cover. Available for purchase at Barnes & Noble, Borders and some smaller independent outlets.

Check out their web site at all-story.com

---
I DIG EVERYTHING REVIEW
6th May 1999

DAVID BOWIE - I DIG EVERYTHING - 1966
(Castle) 3 stars

Reissue of three Pye A- and B-sides from 1966

These six tracks were recorded before his eponymous 1967 debut album for Deram, and are more rock n' roll than any of his other Sixties work. 'I Dig Everything' is as optimistic as the decade got, which is to say utterly euphoric, whereas 'Can't Help Thinking About Me' is a thoughtful and introspective revisitation of a troubled childhood and adolescence set to a freakbeat assault worthy of The Who or The Small Faces, 'I'm Not Losing Sleep' keeps up the high standard with a rousing chorus celebrating a hedonistic and independent lifestyle. Essential for Bowie completists, and a fascinating historical curio for the rest of us.

Peter Huxley

---
ROLLINGSTONE.COM AUCTION - WAR CHILD
4th May 1999


The auction has now ended - thanks to everyone who bid




Beginning on May 3rd, RollingStone.com will host a silent online auction to benefit War Child and the innocent victims of the current war in Yugoslavia. Musical mastermind BRIAN ENO has produced a compilation CD to raise money for War Child, which many of you know is an organisation that helps to ease the crush of war for the children victimised during and following conflict all over the world. Brian Eno, DAVID BOWIE, U2, Luciano Pavarotti and many others actively support War Child's efforts.

And now it's your turn to help.

We will auction off 10 of these CDs - which feature music from Tricky, Portishead, Cornershop, Massive Attack v. The Mad Professor, Me'Shell Ndegeocello, Bomb The Bass, Laika, Lisa Germano, Little Axe, Acacia, 'O' Rang, Roger Eno, Tindersticks, Hector Zazou with the Voice Varttina, The SunKings and Scott Walker.

The bidding will begin at $100 per CD, each of which features unique, spray-painted cover art by Brian Eno; an original piece of artwork by Damien Hurst; and a piece of wallpaper designed by David Bowie.

Thank you Ari Bendersky

---
TOP 500 COLLECTABLE ARTISTS
3rd May 1999


The 1999 readers poll to find the 'Top 500 Collectable Artists' conducted by RECORD COLLECTOR magazine sees the following top ten results:

..1. The Beatles (1)
..2. The Rolling Stones (2)
..3. Queen (4)
..4. Elvis Presley (3)
..5. Pink Floyd (5)
..6. Bob Dylan (8)
..7. DAVID BOWIE (6)
..8. John Lennon (15)
..9. The Who (10)
10. Led Zeppelin (9) Figures in brackets denote last year's placings.

---
I DIG EVERYTHING
3rd May 1999


As part of an ongoing series of classic releases from 'Essential', sees the release of DAVID BOWIE 'I Dig Everything: The 1966 Pye Singles'. Catalogue number: ESMCD712.

All the classic albums at a classic price have been re-packaged with new notes, each designed for visual appeal.

Castle Music Limited
Email: info@castlemusic.com

Their web site is currently still under construction.

---
FIRST HEROES GIG
3rd May 1999


THE HEROES pop group, formed to influence the social integration of disabled people into mainstream society, are to perform for the first time in public, at the Witchwood, Old Street, Ashton under Lyne, on Sunday 16th May.

The group's concert has been staged as a warm-up gig for their 'Access All Areas' tour which has been scheduled for September to coincide with the launch of an album of the same name. Check out The Heroes web pages

---
GLENN HUGHES INTERVIEW
3rd May 1999


Wild man and ex-DEEP PURPLE band member GLENN HUGHES has a short interview in this months Record Collector magazine. (Extract):

RC: It was said that you were going to get David Bowie to produce your first solo album then?

Glenn: Yeah. I met David when he was doing 'David Live' and 'Young Americans' (1974/75) and he was into Philadelphia soul and Tamla Motown and so was I. We really hit it off, and he lived at my house for a while. He was gonna produce 'Pay Me Out', but he went on tour and never got round to it.

RC: Would you like to work with him now?

Glenn: No. I was also on a song on Tommy Bolin's 'Dreamer' at that time (1977) and he wanted me to sing more but I said 'no' cos the album needed the character of his voice.

---
THEMILLENNIUM VINYL COLLECTION
3rd May 1999

As part of the EMI's Millennium Vinyl Collection re-releases sees 'Aladdin Sane' by DAVID BOWIE get the executive treatment. Classic albums with original packaging, pressed in Virgin Audiophile (180gm) vinyl, heavy quality sleeves and analogue cutting from analogue tapes.

---
JUST LIKE THIS RONNO
3rd May 1999


A new CD release entitled 'JUST LIKE THIS' by MICK RONSON David Bowie's most influential sideman and Hull's most famous son, who died of cancer six year ago. These twelve 'lost' tracks from a never-released album project recorded in 1976 highlight his distinctive guitar stylings.

Tracks include: '(I'm Just A Junkie) For Your Love', 'Hey Grandma' and is 'That Anyway'.

---
A BIG THANK YOU
2nd May 1999

A big thank you to everyone who voted for this web site in the Surfers Site Top 100 Awards. Much appreciated.

---
BOWIE PHOTO BY LINDA McCARTNEY
1st May 1999


The bidding has opened at $600 on a signed framed photo of DAVID BOWIE in his dressing room during the Diamond Dogs Tour 1974 taken by LINDA McCARTNEY at WCollect.com web site.

David Bowie backstage signed photograph by Linda McCartney
Item Number: 20003. Auction closes at: Sun May 16th 23:30 1999

WCollect.com a leading E-commerce site, has recently joined forces with Celebrity Art to bring their highly regarded collection of art and memorabilia, valued at over $5,000,000, online.

Recently cited in Entertainment Weekly, WCollect.com has been receiving growing media attention for establishing a unique online auction and gallery store specialising in offering authentic art, sports and entertainment collectibles through partnerships with a broad base of dealers, store owners and private collectors.

The main thrust of the "Celebrity Art Collection" is original and limited edition art created by entertainment icons. A partial listing of these celebrity artists include: John Lennon and Yoko Ono, DAVID BOWIE, Jerry Garcia, John Entwistle, Jimi Hendrix, Ron Wood, Red Skelton, Charles Bronson, Tony Curtis, Jerry Lewis and even Sylvester Stallone.

WCollect.com will feature the most unusual and unique items from the "Celebrity Art Collection" both in their auction and Gallery Store sites.

Go visit the online gallery now at www.wcollect.com

---
DAVID ASKS...
1st May 1999


The next question posted by DAVID BOWIE in BowieNet section 'David Asks' is:

"What is the album The Man Who Sold The World about?"



---
YOUR STARING ROLE IN BOWIE'S VIDEO!
1st May 1999


In keeping with BowieNet's quest for cool stuff to do, DAVID BOWIE has asked that MEMBERS send in video taped questions for him to answer.

Simply get out your camcorder... and video tape yourself asking David a question. They will review the tapes and then Mr. Bowie will answer you in video format as well.

There are a couple of ground-rules:
1. Five question limit
2. They will ONLY accept the following formats: 8mm, Hi8, VHS and PAL.
3. They will NOT be returning these tapes.
4. Clearly print your name and email address on your tapes.
OPEN TO BOWIENET MEMBERS ONLY

Snail mail your submissions to:
Bowie Video, PO Box 358, Trumbull, CT 06611

---
UNCUT CD INCLUDES DAVID BOWIE TRACK
1st May 1999

The next issue of UNCUT magazine (Chrissie Hynde cover) contains a free cover mounted CD with tracks from DAVID BOWIE and LOU REED - available 6th May.

---
FREDDI AND THE DREAMER BOOTLEG CD
1st May 1999


A very interesting collectors single CD bootleg has just been released entitled: DAVID BOWIE 'FREDDI AND THE DREAMER' The Arnold Corns Sessions which includes some rare previously unheard outtake tracks:

LADY STARDUST / RIGHT ON MOTHER / MOONAGE DAYDREAM Radio Luxemburg Studios 10.03.71 / LOOKING FOR A FRIEND rough mono mix 04.06.71 / MAN IN THE MIDDLE mono mix 04.06.71 / LOOKING FOR A FRIEND mono mix Trident Studios 04.06.71 / MOONAGE DAYDREAM Arnold Corns single version / HANG ON TO YOURSELF Arnold Corns single version / LOOKING FOR A FRIEND Arnold Corns single version / MAN IN THE MIDDLE Arnold Corns single version / LOOKING FOR A FRIEND alternate version / HANG ON TO YOURSELF David Bowie and Gene Vincent 1971 / LOOKING FOR A FRIEND alternate take / HOW LUCKY YOU ARE outtake / SHADOWMAN outtake / I'VE GOT LIGHTNING outtake / RUPERT THE RILEY outtake / LOOKING FOR A FRIEND John Peel's Sunday Radio Show 20.06.71.

1999 Switch On! Label - Devil KWSK Records 99-04

---
DAVID BOWIE TV THIS MONTH
1st May 1999


David Bowie on TV for May include:

8th May Saturday
Bowie At 50 followed by Cracked Actor
UK Arena 8:10pm onwards.

11th May - Tuesday
Film Four 8:00pm onwards Merry Christmas Mr. Lawrence followed by The Man Who Fell To Earth.

16th May - Sunday
Buddha of Suburbia series on UK Arena 10:10 onwards and Sunday 23rd 10:20 onwards.



---