AUGUST 1998 - DAVID BOWIE NEWS
---
'SUNSHINE' WORLD EXCLUSIVE!
30th August 1998

Read the world exclusive interview with actor VINCENT DAVIES one of the major stars from the soon-to-be-released movie EVERYBODY LOVES SUNSHINE starring DAVID BOWIE and GOLDIE. Also includes previously unseen photographs.

Special Feature: Vincent Davies Interview now on.

---
THE COUNTDOWN TO BOWIENET!!!
30th August 1998

Get ready for countdown on August 31st at 9:00PM EST - with over 3 hours of webcast performances from - Ani DiFranco, The Specials, The Jayhawks, The Jesus and Mary Chain, Spacehog plus a surprise performance by special guest and 'never before seen on the Internet' highlights from David Bowie's 50th Birthday Show from Madison Square Garden featuring David and band with Billy Corgan and Lou Reed.

Go to davidbowie.com the webcast is be available to ANYBODY, ANYWHERE in the world to view COMPLETELY FREE of charge.

---
BOWIENET INFORMATION
30th August 1998

JOIN DAVID BOWIE AND EXPERIENCE THE INTERNET AS YOU NEVER HAVE BEFORE.

BowieNet gives you an exclusive virtual backstage pass to David, the world of music, art, film, and literature in a community-based forum plus full, uncensored access to the internet customised for the music fan.

An all access pass to David Bowie and the internet - all for the price of regular internet access.


BOWIENET GIVES YOU:

• Full internet access customised for the Bowie & music fan.

• davidbowie.com e-mail address (your.name@davidbowie.com)

• Local dial-up numbers throughout North America and soon throughout the World.

• North American members get roaming Internet services in 14 major International cities.

• Highly rated live technical and customer support provided by Concentric Network - 24 hours a day / 7 days a week.

• Uncensored access to the entire internet, including email, newsgroups, and the web.

• Exclusive Bowie content updated constantly - including personal content from David.

• Exclusive music content provided by The Rolling Stone Network which includes JAMtv, tunes.com, The Virtual Venue, Video-on-Demand, and all the latest music news.

• Featured links recommended by David and friends in a variety of categories.

• The latest Internet Explorer browser customised exclusively for BowieNet users.

• Daily content and search services provided by Lycos that features news, sports, weather, financial information, and more...

EXCLUSIVE ACCESS TO BOWIE PRODUCTS AND MATERIALS:
• Unreleased audio and video tracks - served up with the latest player from Real Networks - G2

• Never before seen video, photos, sketches and art.

• Backstage footage.

• B-sides, rarities, live tracks.

• Special access to new materials and recordings.

• Desktop themes such as Bowie screen savers, wallpaper, and icons for your desktop.

• The best Bowie fan sites.

• Weekly online newsletter.

• Chats with David and guests - including a new 3-D chat environment developed specifically for BowieNet by World's Inc.

• Chat rooms and bulletin boards with speciality areas.

• Live video feeds.

• Chat rooms and bulletin boards.

Plus special events such as:
• Live video cameras in the studio while David is recording and just out and about.

• Text, audio and video messages from David.

• Webcasts of performances from David and other featured artists - both live and recorded.

• New artist area for bands, the arts, and literature.

All for the price of regular internet access!


THERE WILL BE TWO WAYS TO JOIN BOWIENET:


1. Get full access to BowieNet, the world of music and the Internet for only $19.95 per month (US and Canada). You will receive all the benefits of BowieNet PLUS get unsurpassed uncensored Internet access with the most local dial-in numbers and great technical support from Concentric Network Corporation, one of the top Internet providers in the world.

2. Become a Premium Subscriber to BowieNet and receive access to all the content of davidbowie.com while remaining with your current Internet provider. All the special events and members privileges are yours for just $5.95/month.


When you think about it - for the same $19.95 or more you're paying now - you can join the first artist supported ISP and become part of Internet history...

You can get all of these features at BowieNet and nowhere else!

As a special bonus for a limited time, join now and receive one month free courtesy of BowieNet plus receive 2 unreleased videos shot at David's 50th Birthday Show - "Under Pressure" and "Space Oddity" and a NEW never released audio track "Fun" just for joining. You can play all these goodies directly on your computer for a high quality experience. This is our way of saying welcome aboard the next wave of Internet access services!

An UltraStar ISP.

---
BOWIENET FAQ
30th August 1998

Q: How can I see the 3 hour webcast on BowieNet?
You go to http://www.davidbowie.com and the 3 hour BowieNet Countdown Webcast will be available to ANYBODY, ANYWHERE in the world to view COMPLETELY FREE of charge.

Q: I don't live in North America. When can I join BowieNet?
Whichever country you live in, ANY COUNTRY, you can join BowieNet NOW through the PREMIUM subscriber plan which costs $5.95 per month if you dial up through your CURRENT ISP provider.

Q: How long before there's a direct access local call number from the UK and Europe?
The UK and European direct access numbers (POPs) are currently being set up. They will be in place in the forthcoming months. The people who wish to subscribe at $5.95 to BowieNet in the SHORT TERM would be advised to go to www.davidbowie.com for the full details about the subscriber plan.

Q: What is the 800-587STAR number for?
The above number is for NORTH AMERICAN ACCESS ONLY. All other countries - for the SHORT term - can subscribe through their current ISP provider at $5.95 per month.

---
THE ART OF DIANA
30th August 1998

Don't hold me to this but I think that DAVID will appear in tonight's BBC1 OMNIBUS programme at 10.00pm, about THE ART OF DIANA. I am positive I heard David's voice on the trailer last night.

---
BOWIE FAN DATABASE - UPDATE
1st August 1998

BowieArt.Com has now also officially linked with the BowieFan DataBase. If you would like to receive personal information from BowieNet and BowieArt.Com please send an email request.

If you have not received any personal official information via your mailing box concerning BowieNet from Little Wonderworld then you aren't on the database list. To get yourself listed click button.





If you would like to subscribe to Bonnie Powell's David Bowie newsletter for the Lazy And Web-IMpaired send her an email request.

---
VIC & BOB & DAVID
29th August 1998

Check out FAMILIES AT WAR a one-off family game show for the Bank Holiday on Saturday BBC1 at 8.15pm. Hosted by VIC REEVES & BOB MORTIMER and also featuring DAVID BOWIE in a 'feel the meat' game!

---
WORLDWIDE EXCLUSIVE INTERVIEW HERE!!!
28th August 1998

This weekend sees the first worldwide 'exclusive' interview with one of the major stars of the forthcoming movie EVERYBODY LOVES SUNSHINE which will appear here in the SPECIAL FEATURES section.

---
ZIGGY'S NEW ADDRESS
28th August 1998

Mike Harvey's The ZIGGY STARDUST COMPANION has now moved to a new web site. Plus its now all updated and online (finally). Lots of new images, layout and material.

The new URL is http://www.5years.com/

---
EVERYBODY LOVES SUNSHINE
23rd August 1998

There will be a special screening of EVERYBODY LOVES SUNSHINE on 1st September 1998 in the East End of London solely for the actors, crew, staff and buyers. The official premiere will be held at the Leicester Square Odeon, London later on in the year.

The movie is also entered in the TORONTO FILM FESTIVAL in Canada where it is hotly tipped to win. The script written by director/actor ANDREW GOTH has already won two prestigious awards: The 1995 European Script Fund Award and The 1996 Carl Foreman/BAFTA Award.

---
BOWIENET WINNER!
23rd August 1998

Many congratulations to PAM WRIGHT the Grand Prize Winner in the trivia competition at BowieNet. Well done!

---
NEWS SNIPPETS
18th August 1998

DAVID'S entry into this year's INTERNATIONAL WHO'S WHO lists his hobbies as "listening to Polish and Chinese Communist music."

DAVID and IMAN have sold their luxury Beverly Hills apartment to rapper HEAVY D.

---
A ROCK 'N ROLL SUICIDE TOUR PLANS
18th August 1998

News Update: For Immediate Release.

Following two spectacular sell-out shows at the Institute of Contemporary Arts (ICA, London) on 2nd and 3rd July this year, plans are now underway for a UK and European tour of A ROCK 'N ROLL SUICIDE later this year and / or early 1999. The two ICA shows celebrating the 25th anniversary of Bowie's legendary final performance as Ziggy Stardust were a huge success - with extensive publicity and an audience that included Boy George, Ian McCulloch from Echo & The Bunnymen, The Big Breakfast's Wayne Hemingway and Mick Ronson's sister, Maggie Ronson. Press coverage to date has included Mojo, Record Collector, Select, Xfm Radio, The Sunday Times, Sunday Express, The Big Breakfast, The Independent, The Guardian, The Evening Standard, Attitude, ABC Radio News Network USA, The Big Issue, BBC GLR Radio and World Entertainment News.

The band were initially hand-picked and formed by Iain Forsyth and Jane Pollard exclusively for their ICA event. During the planning stages for the tour the band will be performing a select number of special low-key warm up dates throughout the UK under the name of STARMAN - A tribute to Ziggy Stardust And The Spiders From Mars.

These shows will feature the same band line-up, including the amazing Ziggy look and soundalike Steve Harvey, Jonathan Coombes on lead guitar and 'Young Jazz Musician Of The Year 1998' Tom Cawley on piano and keyboards. The shows will also feature Natasha Kornilof's outstanding replica's of Kansai Yamamoto's original Ziggy costumes and a new set. Including many of the classic hits from Bowie's legendary farewell performance at Hammersmith in 1973 such as All The Young Dudes, Changes, Space Oddity, The Jean Genie, Moonage Daydream, Suffragette City, White Light/White Heat and Ziggy Stardust, the set may even include more songs from the Ziggy era.

Performance by Starman will be announced by each individual venue as part of their usual publicity. The first of these such shows has been CONFIRMED as follows:



Friday 2nd October
at The Venue, 2A Clifton Rise, New Cross, London SE14.



Admission to The Venue is £5/£3, doors open at around 9pm, band on stage around 10pm.

Further information about A Rock 'N Roll Suicide will be released as it becomes available.


"a long way from your typical tribute 'experience'... this time it's about that lost-in-music, life-changing moment that can put you in another place, sometimes forever..." - ATTITUDE MAGAZINE.

"Terrific Ronsonesque guitar playing." - THE INDEPENDENT.

"Of course, no one can do Bowie better than Bowie but Harvey and chums had the crowds screaming in disbelief. Every costume, movement and snippet of dialogue was perfect... I had a fun time singing along to all my favourites... I had a Moonage Daydream." - BOY GEORGE IN THE SUNDAY EXPRESS.
---
SO WHO REMEMBERS 'PIPS' THEN?
14th August 1998



Hands up who remembers, or has heard of the legendary
Bowie/Roxy Nights at Pips in Manchester?...

Relive the magical atmosphere and dance away the day and night...
or just pose leaning against the wall.

Featuring the sounds of David Bowie, Roxy Music, Iggy Pop, Lou Reed, Marc Bolan, Rocky Horror, Gary Numan and Siouxie.

Music from the 70's, Alternative and 80's
10 Hours of Music and Masquerade at

ISOBAR
Tib Street, Manchester, (under Afflecks Palace)
on 30th August, 2.00pm till 12.00 am.

All Day ticket @ £9 - Evening ticket @ £5

Contact: Tony McNamara for full information

Get 'yer eyeliner pencil out!

---
BOWIE LEGEND
9th August 1998

The DAVID BOWIE VH1 LEGENDS programme will air on 27th September at 9pm on VH1 in the U.S. only.

---
TWO NEW PRINTS AT BOWIEART.COM
9th August 1998

Gearing up for BowieNet with two more beautiful new C-chromes from the Eye series. These enormous prints come fully box framed and mounted, ready for your walls. Exhibited at the British Art Fair 1997, and Gramercy in New York, they are spectacular eye portraits of the Artist. And for the launch fans, look out for the rare co-signed print - launched with BowieNet on September 15th of course!

Kate Chertavian - BowieArt.Com

---
OUTSIDE ORGANISATION NOW ON-LINE


8th August 1998

DAVID'S PR company OUTSIDE ORGANISATION in the UK is now on-line. Go visit and bookmark their web site at Outside Organisation

---
NEW LOOK FOR TONY VISCONTI.COM
8th August 1998

Check out the revamp at TONY VISCONTI'S official web site at tonyvisconti.com

---
"TEN SPOT" ON IRISH NETWORK 2
6th August 1998

NETWORK 2 (the Irish national broadcaster's second channel) is broadcasting DAVID BOWIE'S "10 Spot" concert (recorded last year for MTV) at 1.10AM on Friday, August 14th.

From Dara

---
EXCLUSIVE BOWIENET NEWS
5th August 1998

One of the exciting new features will be a 3-D Chat World for BowieNet with a company called WORLD'S. There will be all kinds of (over 100) avatars users can pick from when they enter the 3-D Bowie World.

All BowieNet subscribers will be mailed with a separate CD that will contain all the high end graphics which will in-turn interact with the Internet for the ability to chat in this amazing 3-D world. It is very slick!

There will be a 3-D merchandising store, sound clips, events, guest star chats and much much more.

BowieNet/UltraStar

---
ALIENS SITCOM SOUNDTRACK
1st August 1998

DESHIMA RECORDS: The U.S. sitcom "ALIENS" featuring IGGY POP with the Monster Men on an advanced Maxi CD Single has been distributed by CM Distribution. The soundtrack album, with contributions from DAVID BOWIE and Germany's No. 1 punk rock band DIE TOTEN HOSEN, will be distributed later this year.

---
HAWK MANSON IN WIMBLEDON??? - Update
1st August 1998

If you heard the recent news about DAVID & IMAN visiting EIDOS INTERACTIVE in Wimbledon, London and wondered why they were there two weeks running? Is this the reason why?....

Apparently NOT according to the art department of CORE based in Derby. Core's art department said the drawings weren't based on David whatsoever. Well if you look at the original sketches on the EIDOS web site they indeed look nothing like David... but how come they do now?

Anyway, whatever, it makes a good story all the same, and is no denying that the characters looks incredibly like him. I put two and two together and came up with 3.9. Oh by the way... I've lost my house in a bet over this. Simon... the front door key is in the post!

Who's this then?...

Aged: 26... Height: 6' 2... Weight: 196 lbs... Hair: Blonde...
Eyes: Blue... Biceps: 36"... Chest: 48"... Neck: 20"... IQ: 187...

Is this DAVID BOWIE'S latest character? HAWK MANSON who features in the latest version of FIGHTING FORCE 64 for the N64, which is released at Christmas by CORE.

Games Master Magazine

"You've seen the Play Station and PC versions of this scrolling beat-em-up from Core. Four characters to choose from and plenty of crooks to kick in. It's got loads of moves plus you can use just about anything that's lying around as a weapon. Final Fight in 3D... almost."
The game features four characters: Hawk, Mace, Ben and Alana, who beat the crap out of each other in this final fight.

Who is Hawk Manson then?

An aggro vigilante now, Hawk Manson once was a freedom fighter for all the social wrongs in the world. Well, nice guys finish last and Hawk decided to let the weak be weak and the strong be strong.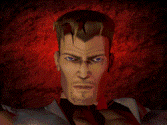 He has run into Mace several times and though the two are acquainted, they have never spent any real time together. Hawk has seen Mace fight and this is the one thing that stirs him inside like nothing else.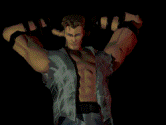 Hmmm. There's some sort of chemistry here, but both are too headstrong and stubborn to admit it.

Hawk has several jobs at any given time, but he takes on this job because it is the first job in a long time that is tinged with a bit of "goodness". Hawk is an optimist deep down and wants to help fight the good fight. This is his chance. Oh, that plus he loves the way Mace smells.








Visit the Eidos Interactive web site for more information, an animated slide show and more screen shots.

---
DAVID IN THE SUNDAY TIMES
1st August 1998

THE SUNDAY TIMES will feature an article this Sunday, 2nd August concerning the prospects of DAVID BOWIE remaking ZIGGY STARDUST in a movie or a stage play.

---
BOWIE FAN DATABASE - UPDATE
1st August 1998

BowieArt.Com has now also officially linked with the BowieFan DataBase. If you would like to receive personal information from BowieNet and BowieArt.Com please send an email request.

If you have not received any personal official information via your mailing box concerning BowieNet from Little Wonderworld then you aren't on the database list. To get yourself listed click button.






If you would like to subscribe to Bonnie Powell's David Bowie newsletter for the Lazy And Web-IMpaired send her an email request.

---
BOWIE SHOOTING MOVIE IN VANCOUVER
1st August 1998

From MTV News USA: DAVID BOWIE is in Vancouver, working on a Canadian feature film production called "EXHUMING MR. RICE," according to a report in the "Vancouver Province." Bowie is described as having a "small but pivotal role" as the title character - a 400-year old man. The story centers on a sick boy coming of age. The film opens with the funeral of Mr. Rice (Bowie), a mysterious old man who had been very close to Owen Walters, his cancer-stricken neighbor (played by 14-year-old Bill Switzer). Mr. Rice leaves young Owen the fixings of a scavenger hunt that will eventually lead to a potion that will extend his life. As it turns out, Mr. Rice had lived for 400-years by using such potions. The film's budget is just $3.2 million. The producer, Colleen Nystedt, told "The Province" that the script went through several layers of "gatekeepers" before reaching Bowie, and to the surprise of many, he accepted the role, which in turn secured Nystedt's financing. His part will only take a few days to shoot. She said she went after the rock star because of the "alien themes" that run through his work.

Bowie's previous movies include "The Man Who Fell To Earth," and "The Hunger." The Duke (as in Thin White) recently starred alongside Harvey Keitel in a $10 million Italian western called "My West" that just wrapped up filming in Italy. Just prior to that Bowie shot "Everybody Loves The Sunshine," with techno-star turned actor Goldie.

In even more Bowie movie news, the singer/actor recently told the BBC that he was developing a feature film based on his Ziggy Stardust character which spawned a 1972 album, tour and concert film. Apparently Bowie bowed out of supplying Ziggy music to the movie "Velvet Goldmine" because he wanted it for his own project. He told the BBC that his soundtrack would be a double disc set featuring music from the Ziggy glam era, including material recorded for but never used on the album.

---