BOWIE TV and WHAT'S REALLY HAPPENING IN FEBRUARY - MONTHLY PLANNER

[BOWIEWONDERWORLD SHOP] [LATEST DAVID BOWIE ITEMS ON eBAY]

[@bowiewonderworld.com email addresses HERE]

Have YOU got some DAVID BOWIE related news or a hot scoop?
Well don't just sit there keeping it to yourself - send it in to
All news items are credited if you so wish

[DOWNLOAD DAVID BOWIE MUSIC from Amazon
]



---
KEEP YOUR 'LECTRIC EYE ON EBAY
27th February 2011




Currently up for auction over on eBay is the mega rare DAVID BOWIE / DANA GILLESPIE 1971 BOWPROMO LP (rough mix) first pressing with GEM labels plus sticker.

This first issue promotional LP on GEM BOWPROMO 1A-1 / BOWPROMO 1B-1 stamped matrix numbers, thick vinyl and original 'Gem with credits' labels), along with handwritten flipback and pinched spine corners plain white sleeve with Gem label sticker at the back.

At present there is one bid and the eBay auction has six days left to run.


---
IF GERARD HAS HIS WAY...
23rd February 2011

MY CHEMICAL ROMANCE's lead singer GERARD WAY has said DAVID BOWIE is the artist he would like to work with in the future.

Speaking on Absolute Radio with presenter Ben Jones, the singer let it be known that he has always been inspired by Bowie and would love to go into the studio with him.

GW: "I think because he's a true artist, he's completely always done what he wanted, he's changed so much record-to-record and I completely look up to him,".

Describing David as a "genius", Gerard states how he admires how he does not let anything stop him from making his music.

You can read the whole interview here via the music-news.com website.


---
MORE DATES FOR THE DOLLS
22nd February 2011

Guitarist EARL SLICK has officially joined THE NEW YORK DOLLS as their new guitarist on their forthcoming dates in the United Kingdom.

The intimate London dates have now been announced. They will have a limited capacity, with only 500 tickets for each show due to go on sale.

The Dolls are performing next month on the following dates:

31st: London, Old Vic Tunnels (Waterloo Station).
30th: London, Old Vic Tunnels, (Waterloo Station).
29th: Manchester, Club Academy.
27th: Newcastle, O2 Academy.

The UK tour dates coincide with their new studio album 'Dancing Backwards In High Heels' which features David Johansen (vocals), Sylvain Sylvain (guitar, vocals), Frank Infante (guitar), Jason Hill (bass) and Brian Delaney (drums). The album is released in the UK on Blast Records on Monday 14th March.

Check out nydolls.org for more details and information, as well as other gigs in Japan and Spain.


---
NEW BW COMPETITION NOW UNDERWAY
21st February 2011



As promised here's the latest BOWIEWONDERWORLD competition...

It's your chance to win one of five STARMAN: DAVID BOWIE - THE DEFINITIVE BIOGRAPHY books by Paul Trynka.

Five books... five questions... five photographs... simply answer the questions and send them in.

This competition ends at midnight (GMT) on Wednesday 2nd MARCH 2011.




ENTER THE COMPETITION HERE



This eagerly anticipated new book is to be published by Sphere next month on Thursday 3rd March.

If competitions aren't your thing you can pre-order Starman: David Bowie - The Definitive Biography
NOW and receive a massive 36% discount!


---
THE MAN OF A THOUSAND FACES
21st February 2011

French TV broadcast a DAVID BOWIE documentary tonight entitled: Star Story: David Bowie: L'Homme Aux Mille Visages by Francois Chaumont.

'Mascara, glitter, a theatricality in the extreme: David Bowie, the chameleon of rock, hid his true face. Direct Star wanted to know who was really the icon of a thousand faces.

Painter, actor, poet, mime, Bowie is not a rock singer. Precursor of glam rock, new wave, industrial music, funk white, Bowie has never been where we expected, but its audience has always been there. The explosion with the character of Ziggy Stardust global success of the 80s, David Bowie left his mark during four decades on all contemporary music and beyond. Really hidden behind this man of many faces? What is behind this artistic schizophrenia? What was its impact on the music but also on the manners, fashion, society? Investigation into a pop superstar.'

You can watch the sixty minute documentary via the directstar.fr website.

Thanks to Michael for the pointer.


---
GLASS / BOWIE / ENO SYMPHONY NO. 4
18th February 2011

JONNY GREENWOOD of RADIOHEAD is to perform two New York City dates in May with his 'Doghouse' project which features the PHILIP GLASS / DAVID BOWIE / BRIAN ENO Symphony No. 4 "Heroes".

On May 20th and 21st, Wordless Music concludes its fourth season with the US premiere of 'Doghouse', the longest and largest work yet for orchestra by Jonny Greenwood.

This is the first New York City performance of Philip Glass / David Bowie / Brian Eno's Symphony No. 4 and György Ligeti's Chamber Concerto, all performed by Ensemble Signal with the Wordless Music Orchestra with conductor Brad Lubman.

Tickets for both concerts at the New York Society for Ethical Culture are now on sale now.

Venue: The Concert Hall, 2 West 64th Street, New York, USA.

For more information on the New York Society for Ethical Culture please visit their website @ nysec.org


---
BOWIE2001 - A SPACE ODDITY
17th February 2011





Bowie2001 is many things. It may even be what you are looking for.

It's a compilation of brand new remixes of many DAVID BOWIE songs. It is also, a non-stop continuous mixpiece comprising those remixes and other Bowie moments. And yet it is a movie, Kubrick's 2001, a re-imagined re-edited version of 2001, synchronised to this mixpiece.

It was done by Manchester based producer Fritz von Runte who has worked with Freebass, New Order, Lily Allen and others.

There are limited edition CDs and DVDs but everything's for free, watch the movie, download the mp3 and/or the mixpiece.

Go and check it out now at bowie2001.com - enjoy!

From Pete Z.


---
I AM WITH NAME
14th February 2011

Plenty of DAVID BOWIE namedropping around at the moment... here's just a few...

Australian singer LENKA now living in New York reveals she wants to work with David Bowie when asked the question... 'If you could collaborate with any musician in the world, who would it be and why?' You can watch an exclusive interactive interview here via flavorwire.com


X Factor judge LOUIS WALSH also namedrops David on Channel 5's new OK! TV show stating that his ideal Simon Cowell and Cheryl Cole 'dream' replacements, would be "David Bowie, Paul McCartney or Lenny Kravitz" LOL! Enough said! - [Read here]


Artist PHOEBE LEGERE is interviewed by BlackBook, one particular question asked was...

Q: Tell me about a star you have met or worked with that truly shined.

'I opened for DAVID BOWIE on his national tour. When he came into my dressing room for the first time, he was so beautiful that l fainted. I lost consciousness. My friend Susie Rakowski was standing behind me. She caught me and pushed me forward. I recovered and stuck out my hand. "Ahhh, Hello Mr. Bowie." His voice was soft, like a caress. He said, "Phoebe, I love your voice. I love your songs." It was like a dream.

Watching David Bowie perform every night was a revelation. He's good on records, but he's a thousand times better live. He mesmerizes the crowd with a resonant high baritone and charismatic, Kabuki gestures'.

You can read the complete interview here.

In case you were wondering, Phoebe opened for David during his 1990 Sound+Vision World Tour at the World Music Amphitheatre in Tinley Park, Chicago on 15th June.

You may recall another interview back in 2008 with White Hot Magazine where Phoebe talks about David. It includes probably one of the funniest lines I've ever read about David - [Read here].


---
AND THE BITS FLEW FAR AND WIDE...
11th February 2011

• Check out a very nice piece about DAVID BOWIE on Valentine's Day back in 1973 by Binky Philips published online over at The Huffington Post website - [Read here]...

• Well worth checking out the new trailer for the forthcoming remake ARTHUR movie starring Russell Brand and Helen Mirren. DAVID BOWIE features heavily on the soundtrack. Arthur hits the cinemas in April - [View here]

• Congratulations go to legendary producer TONY VISCONTI on winning the 'Joe Meek Award For Innovation' at the Music Producers Guild Awards 2011 - [More details and photos]...


---
SLICK JOINS THE NEW YORK DOLLS
11th February 2011

Guitarist EARL SLICK has officially joined THE NEW YORK DOLLS as their new guitarist on their forthcoming dates in the United Kingdom.

The Dolls are performing next month at the O2 Newcastle Academy on Sunday 27th March and the Manchester Club Academy on Tuesday 29th March.

Next week details of two further London concerts on their March UK tour will be revealed.

The UK tour dates coincide with their new studio album 'Dancing Backwards In High Heels' which features David Johansen (vocals), Sylvain Sylvain (guitar, vocals), Frank Infante (guitar), Jason Hill (bass) and Brian Delaney (drums). The album is released in the UK on Blast Records on Monday 14th March.


---
RADIO 2 IN CONCERT: MAIDA VALE SESSION
7th February 2011



BBC RADIO 2 In Concert: DAVID BOWIE.

Jo Whiley presents a headline gig from David Bowie, recorded exclusively for Radio 2 at the BBC's Maida Vale studios in September 2002.

Jo is also joined live in the studio for this week's Support Slot by The Mummers plus there's a look back at all the live music on Radio 2 over the past week and a live gig review and live music news.

The show is broadcast on Thursday 10th February at 20:00 to 22:00 GMT.

Tune in via the BBC iPlayer.


---
VA VA VOOM!
6th February 2011

Tonight saw the premiere broadcast on ITV 1 in the UK of the new RENAULT CLIO advertisement which features DAVID BOWIE.

The commercial features a snippet of 'Space Oddity' and a guy having an Aladdin Sane tattoo adorned on his shoulder.

Also featured are footballer Thierry Henry, burlesque artist Dita Von Teese, actors Audrey Hepburn and Marlon Brando and Rihanna.

The music is a mix of Claire Magure 'Ain't Nobody' (Breakage Remix) , David's 'Space Oddity' and Rihanna's 'S&M'.

The French car raunchy commercial has been banned from daytime viewing, but you can view it below...








---
I'M LOOKING FOR A VEHICLE
6th February 2011

In the USA DAVID BOWIE's iconic song 'Changes' features in the new BMW Advanced Diesel commercial.

The 'Changes' commercial was shown tonight during the Superbowl. BMW have returned to the Super Bowl broadcast after a ten-year hiatus, unveiling a strategy that forcefully communicates two competitive advantages of BMW.

'Changes' takes a playful jab at America's misperceptions of diesel and highlights BMW's Advanced Diesel vehicles as a cleaner, high-performance, efficient alternative.

The ad depicts a truck driver bellowing black smoke, an older-model diesel vehicle sputtering up a hill, and pedestrians surrounded by clouds of filthy exhaust. In the spot, the BMW 3 Series Advanced Diesel makes a grand entrance highlighting its smooth, clean, efficient performance and powers away leaving them all in its dust.







---
STARMAN: THE DEFINITIVE BIOGRAPHY
5th February 2011



The eagerly anticipated new publication STARMAN: DAVID BOWIE - The Definitive Biography by PAUL TRYNKA is published next month by Sphere on Thursday 3rd March.

David Bowie - famously described as rock's greatest chameleon - has lived an extraordinary life. From his early years in post-war, bombed out Brixton to a troubled later childhood in Bromley, to the decadent glamour of Ziggy Stardust to his controversial Berlin period, Bowie's life has been filled with drama. One of our most fascinating stars, his story has never been satisfactorily told until now.

Paul Trynka has interviewed over two hundred friends, ex-lovers and fellow musicians in order to write the definitive biography of Bowie. The result is a compelling, intimate and revealing book that will appeal to Bowie's millions of fans around the world.

Make sure you take a visit to trynka.net and read how and why Paul decided to write this book. Whilst you're there check out some of the images he took along the way.

You can pre-order Starman: David Bowie - The Definitive Biography
now and and save a massive 36%.

Check out bol.com where you can read the first ten pages of the book.

(Ed. Watch this space for an upcoming competition to bag yourself a copy).


---
BOWIE BOOKS IN THE PIPELINE
4th February 2011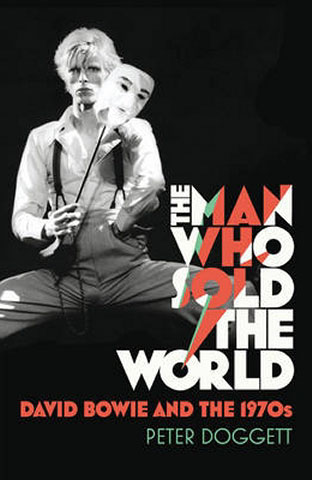 There are several new DAVID BOWIE publications in the pipeline for release this year.

3rd March: Starman: David Bowie - The Definitive Biography
by Paul Trynka, published by Sphere...

30th June: David Bowie: The Illustrated Biography
by Gareth Thomas and published by Transatlantic Press...

6th October: The Man Who Sold The World: David Bowie and The 1970s
by Peter Doggett, published by The Bodley Head Ltd...



---
STATION TO STATION TO REALITY
3rd February 2011



Taking place on 11th February is the DAVID BOWIE 'Station to Station to Reality' Exposition in Perpignan, France.

Part of the Tilt Festival - a multimedia festival featuring music, digital arts and performances, the expo features David Bowie and Iggy Pop photographs and videos produced by the artist PHILIPPE AULIAC.

Venue: 2nd floor Gateway Fnac Perpignan: Plaza Catalunya, France.

The expo runs through from Friday 11th February until Monday 21st February.

More details and full information can be found over at fnac.com

From Philippe Auliac.


---
KEEP YOUR 'LECTRIC EYE ON EBAY
1st February 2011




A unique and very rare two-sided drawing created by DAVID BOWIE is up for grabs on eBay with a starting bid of £100.

The drawing was created by David in 1969 and depicts his ideas for the back cover of his album 'David Bowie'.

It was given to George Underwood who was commissioned to paint the back cover and depicts various images related to the lyrics.

On the reverse is a running order of the songs, some doodles and some other wording.

It is in perfect condition, slightly yellowing now and the drawings are in black biro with some pencil doodles on one side. The size is 10 x 8 ins.

You can check out the full listing, description, reverse drawing here on eBay website.

Update: The bidding reached £410, but the reserved price was not met.


---
I SEE THINGS
1st February 2011



The eagerly anticipated release of The Man Who Fell To Earth on Blu-ray (Region 2 format) finally arrives next month on 30th March via Optimum Home Entertainment.

Format: Anamorphic, Colour, PAL, Widescreen
Language English
Region: Region 2
Aspect Ratio: 16:9 - 1.78:1 Number of discs: 1
Studio: Optimum Home Entertainment
DVD Release Date: 30th March 2011
Run Time: 133 minutes

Synopsis: From director Nicolas Roeg, The Man Who Fell To Earth is a science-fiction cult classic starring DAVID BOWIE. Crash landing on Earth from his dying planet, an alien humanoid traveling by the name Thomas Jerome Newton uses his superior intelligence to build a vast business empire. As he takes on, and beats, every US corporation, people can only guess his true purpose: to save his dying world from agonizing death by drought. Newton's ageless fall from grace, as he becomes prey to lust, alcohol, business rivals and the US Government makes The Man Who Fell To Earth not only a bitingly caustic indictment of the modern world but also a poignant commentary on the loneliness of an outsider.

You can pre-order NOW
and save a massive 35%.


---
ECHO BOWIE 2011 TOUR
1st February 2011

Dutch DAVID BOWIE Tribute Band ECHO BOWIE are part way through their Winter-Spring 2011 tour.

Next to well-known songs like 'Life On Mars?', 'Golden Years' and 'China Girl', Echo Bowie will play fan favourites like 'Hang On To Yourself', 'Cat People' and 'New Killer Star'. The ever setlist-changing Echo Bowie are planning to play songs they haven't played for ages (among them 'Station To Station') and some pearls they haven't touched before ('we look forward to playing 'Rock'n'Roll Suicide').

February 25th: Muziekcafe Helmond, Helmond, Holland, 21.00 hrs. (Rescheduled to May)
March 26th: Cafe De Bakkerij, Zevenbergen, Holland, 21.00 hrs.
April 2nd: The Rambler, Eindhoven, Holland, 21.00 hrs.
April 23rd: Poppodium De Graauwe Hengst, Schiedam, Holland, 21.30 hrs.
April 30th: Le Vagabond, Rotterdam, Holland, 15.00 hrs.
April 30th: De Bel, Rotterdam, Holland, 19.30 hrs.
May 27th: Muziekcafe Helmond, Helmond, Holland, 21.00 hrs.

From Echo Bowie.


---
ALADDINSANE 2011 GIGS
1st February 2011

DAVID BOWIE UK tribute band The Best of Bowie - ALADDINSANE have an abundance of gigs lined up for this year in both the north and south of the country, along with six dates headlining alongside the MARC BOLAN tribute act T-REXTASY.


Sunday 20th February:
Embassy Theatre, Grand Parade, Skegness, Lincolnshire, PE25 2UG
Box Office: 0845 674 0505 [Venue website]

Friday 4th March:
The Beck Theatre, Grange Road, Hayes, Middlesex, UB3 2UE
Box Office: 0208 561 8371 [Venue website]

Friday 18th March: (with T-Rextasy)
The Harlequin Theatre, Warwick Quadrant, Redhill, Surrey, RH1 1NN
Box Office: 01737 276500 [Venue website]

Saturday 26th March: (with T-Rextasy)
Fairfield Halls, Park Lane, Croydon, Surrey, CR9 1DG
Box Office: 0208 688 9291 [Book online]

Friday 8th April: (with T-Rextasy)
City Hall, Malthouse Lane, Salisbury, Wiltshire, SP2 7TU
Box Office: 01722 434434 [Book online]

Thursday 5th May:
The Sands, Old Palace Discothèque, Promenade, Blackpool, FY1 4TQ
Tel: 01253 625262 [Venue website]

Friday 6th May: (with T-Rextasy)
The Muni, Albert Road, Colne, Lancashire, BB8 0AE
Box Office: 01282 661234 [Venue website]

Thursday 19th May: (with T-Rextasy)
The Orchard, Home Gardens, Dartford, Kent, DA1 1ED
Box Office: 01322 220000 [Venue website]

Saturday 11th June:
The Millfield Theatre, Silver Street, Edmonton, London, N18 1PJ
Box Office: 0208 807 6680 [Venue website]

Saturday 25th June: (with T-Rextasy)
The Spa, Undercliff Road West, Felixstowe, Suffolk, IP11 2DX
Box Office: 01394 282126 [Venue website]

Friday 23rd September:
Playhouse, Ashley Avenue, Epsom, Surrey, KT18 5AL
Box Office: 01372 742555/742227 [Venue website]

Saturday 29th October:
The Pavillion Theatre, The Pier, Promenade, Cromer, Norfolk, NR27 9HE
Box Office: 01263 512495 [Venue website]

Thursday 3rd November:
The Capitol, North Street, Horsham, West Sussex, RH12 1RG
Box Office: 01403 750220 [Venue website]


Check out the BW Monthly Planner for more info.

More details and information can also be found over at the aladdinsane.co.uk website.


---

DAVID BOWIE WONDERWORLD NEWS ARCHIVE

January
2010 Bowie News | 2009 Bowie News
2008 Bowie News | 2007 Bowie News | 2006 Bowie News | 2005 Bowie News
2004 Bowie News | 2003 Bowie News | 2002 Bowie News | 2001 Bowie News
2000 Bowie News | 1999 Bowie News | 1998 Bowie News | 1997 Bowie News