BOWIE TV and WHAT'S REALLY HAPPENING IN MAY - MONTHLY PLANNER

[BOWIEWONDERWORLD SHOP] [LATEST DAVID BOWIE ITEMS ON eBAY]
[@bowiewonderworld.com email addresses HERE]
Have YOU got some DAVID BOWIE related news or a hot scoop?
Well don't just sit there keeping it to yourself - send it in to
All news items are credited if you so wish
---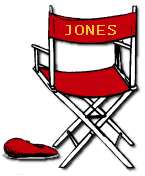 HAPPY BIRTHDAY TO DUNCAN!
30th May 2013
Wishing you a very Happy 42nd Birthday Duncan!

Have a great day and I hope you get everything you wish for

Many happy returns and best wishes from

Rednik and everyone at Wonderworld


---
FIVE YEARS DOCUMENTARY - EXTRA FOOTAGE
26th May 2013
After the broadcast of last nights wonderful BBC documentary DAVID BOWIE Five Years, as a bonus there are ten extra film clips for you to view via the BBC iPlayer.
There you'll find Carlos Alomar, Earl Slick, Gerry Leonard, Gail Ann Dorsey, Nile Rodgers and the Nationwide footage.
'Golden Years' [Duration: 02:45]
Carlos Alomar and Earl Slick talk about writing 'Golden Years'.
'Sunday' [Duration: 02:52]
Gerry Leonard talks about his work on David Bowie's 'Heathen' album.
'Loving The Alien' [Duration: 05:30]
Gerry Leonard describes crafting the guitar parts on 'Loving The Alien'.
'Modern Love' [Duration: 01:17]
Producer Nile Rodgers describes writing the intro to 'Modern Love'.
'Stay' [Duration: 02:23]
Earl Slick and Carlos Alomar describe crafting the guitar parts of 'Stay'.
'Ziggy Stardust' [Duration: 02:32]
Gail Ann Dorsey sings 'Ziggy Stardust'.
"He selects a satin psychedelic leotard" [Duration: 02:55]
BBC Nationwide on Bowie's sartorial style.
"It's the biggest kick I know" [Duration: 01:05]
David Bowie talks to BBC Nationwide about performing on stage.
A superstar of 'The Beat Age' [Duration: 02:37]
BBC Nationwide follow David Bowie backstage on his 1973 tour.
Trailer: David Bowie - Five Years [Duration: 00:30]
A uniquely intimate portrait of David Bowie in his own words and by the people who know him best.
You can view all ten extra clips at bbc.co.uk
---
MEMORY OF A FREE FESTIVAL AT BECKENHAM
23rd May 2013
Memory of a Free Festival at Beckenham (Croydon Road Recreation Ground) is taking place on 15th September 2013 in Beckenham, London.
This festival will be homage to the Free Festival, organised by DAVID BOWIE and the Beckenham Arts Lab, which was held at Croydon Road Recreational Ground in Beckenham on 16th August 1969.
The aim of the festival is to raise funds to save the Bandstand on which David Bowie has performed at the Free Festival in 1969. This is no ordinary bandstand! This late Victorian cast iron bandstand has historic and sentimental value and is presently in a desperate need of restoration.
Friends of the Park [becrec.net] are organising the Memory of a Free Festival musical festival in September 2013 and are looking for volunteers to help at the event. Any help is welcome!
We are looking for total of 4 bands to play at the bandstand who can perform any selection of David Bowie songs (a short tribute if you like) as well as their own music material.
We are also looking for volunteers to collect donations, security, face painting amongst other organisational tasks.
The entrance will be free, but as the purpose of the event is to help raise the funds for the bandstand renovations, there will be buckets shaken at the festival to collect donations.
If you are a band wishing to participate, please send a sample of your music or a link to where we can listen to it. I will finalise the response and reply in the second week of July.
Please contact Natasha by email if interested in participating. Otherwise look out for the final announcement of the date and come along!!
Please follow us on Facebook to hear the news on the event.
From Natasha.
---
TREVOR BOLDER - REST IN PEACE - 1950-2013
21st May 2013
Statement From Uriah Heep.
It is with great sadness that URIAH HEEP announce the passing of our friend the amazing TREVOR BOLDER, who has passed away after his long fight with cancer. Trevor was an all time great, one of the outstanding musicians of his generation, and one of the finest and most influential bass players that Britain ever produced.
His long time membership of Uriah Heep brought the band's music, and Trevor's virtuosity and enthusiasm, to hundreds of thousands of fans across the world. He joined the band in 1976 and, barring one short break, was a fixture until his ill health forced him to take a step back early this year. Prior to joining Heep he was a founder and ever-present member of DAVID BOWIE's legendary Spiders From Mars band, performing on all of their key albums and at countless shows. He also performed with Wishbone Ash, Cybernauts and The Rats.
Mick Box said, "Trevor was a 'World Class' bass player, singer and songwriter, and more importantly a 'World Class' friend. He will be sadly missed by family, friends and rock fans all over the world. We are all numb to the core."
From uriah-heep.com
---
I CAN SEE THE MAGAZINES
20th May 2013

DAVID BOWIE features on the front cover of RADIO TIMES magazine in the UK for their 25th-31st May issue.
This is to celebrate the brand new 90-minute BBC Two documentary airing this coming Saturday, followed by TMWFTE.
The front cover blurb states: 'The five faces of Bowie by the people who know him best'.
On sale at all good newsagents.
More details and information available over at radiotimes.com
Thanks to avcsar.
---
UPCOMING FIVE YEARS BBC DOC
19th May 2013
There are several articles online covering the upcoming DAVID BOWIE BBC TWO documentary entitled 'David Bowie - Five Years'.
This brand new 90-minute documentary airs next Saturday 25th May at 9.20pm on BBC Two and BBC Two HD in the UK.
The documentary is followed by an airing of wonderfully brilliant movie The Man Who Fell To Earth.
Mail Online: 'He weighed about 98lb for Young Americans and was the whitest white man I'd ever seen' David Bowie's biggest fans reveal all by Andrew Preston - [Read here].
The Telegraph: The secret of David Bowie's rock star success revealed: a screaming young wife with 'two men and a dog' by Hannah Furness - [Read here].
Uncut: First Look - David Bowie: Five Years by Michael Boner - [Read here].
Keep your eyes peeled for the two TV commercials currently showing on BBC channels.
---
LABYRINTH PLAY IN CUMBRIA
18th May 2013
Based in Cockermouth, Cumbria, England, the HAPPY THOUGHTS DRAMA COMPANY is a project based group of young actors.
Each year they meet once a week for two hours to work towards a performance in the local Kirkgate Theatre.
Their Spring 2013 production is LABYRINTH based on the Jim Henson's 1986 film which as you know starred DAVID BOWIE as Jareth.
There are two performances on Saturday 15th June - matinee at 1pm and evening at 5pm. The performances run for approximately two hours and are suitable for all the family.
Tickets: Adults £5 and Children (11 and under) £3. Tickets are available as doors open or can be reserved from Happy Thoughts Box Office: Tel 0790 027 5709 or 0782 651 9000.
Directed and adapted for stage by Millie Hardy-Sims, with costumes collected and created by Maria Sims, sound engineered by Jamie Sims and lighting designed by Ruben Smith.
More details and information can be found on their Facebook page or happythoughtsdramacompany.webs.com
---
SO HERE IS THE LOWDOWN
18th May 2013

Currently in the pipeline for release in July is a two-disc DVD and Interview Set entitled DAVID BOWIE - LOWDOWN.
Scheduled for an 8th July release by Sexy Intellectual this two disc set celebrates David Bowie's extraordinary body of work by way of a documentary covering his rise to fame in the '60s and early '70s.
The second disc contains over an hour of intimate audio interviews with the man himself from across his career.
Completed in deluxe packaging and including booklets with rare pictures, this set will prove a must-have item for Bowie fans everywhere.
You can pre-order David Bowie - Lowdown 2-Disc DVD and Interview Set
NOW.
---
THE NEXT SINGLE... THE NEXT DAY
17th May 2013
Scheduled for release next month is DAVID BOWIE 7 inch vinyl single 'The Next Day'.
The record will be issued as a limited edition white vinyl square, with the same track on both sides.
More details to follow...
From davidbowie.com
---
LIFE ON MARS? 40th ANNIVERSARY SINGLE
17th May 2013

Continuing the 40th Anniversary series... next month sees the 7 inch picture disc of the DAVID BOWIE classic track 'Life On Mars?' released.
The picture disc single (Catalogue No: DBMARS40) is released by EMI on Monday 24th June.
Side A: Life On Mars? (2003 Ken Scott mix).
Side AA: Life On Mars? Live (2013 Remaster).
The Ken Scott mix of the single was created at Abbey Road Studios in 2003 for the Ziggy Stardust 5.1 mixes and the AA side 'Life On Mars?' (Live) is taken from a recording at The Music Hall in Boston on 1st October 1972.
As you can see the front picture disc features a still from the Mick Rock promotional video of David wearing the wonderful Freddie Burretti designed sky blue suit and the flip side features a live in concert shot from The Music Hall in 1972.
You can pre-order
NOW and receive a pre-order price guarantee.
---
'TOO MUCH ASS FOR TV' NOMINATION
17th May 2013
DAVID BOWIE has been nominated in this years MTV O Music Awards.
David's promotional video for 'The Stars (Are Out Tonight)' has been nominated in the 'Too Much Ass for TV' award category.
Also nominated in this category are: 'Valtari' by Sigur Ros, 'Blurred Lines' by Robin Thicke, 'Pyramids' by Frank Ocean and 'Wait' by Diiv.
The 24-hour awards ceremony takes places on 19th June at 7pm ET and will be streamed live at omusicawards.com website.
You can now vote for db until 19th June via Facebook, Twitter or at omusicawards.com
---
PAUL SMITH FOR DAVID BOWIE
17th May 2013

As mentioned on here back in March DAVID BOWIE's The Next Day album has received the PAUL SMITH treatment.

Released today Paul Smith For David Bowie - The Next Day is a limited-edition double album featuring exclusive transparent red vinyl, designed by Paul Smith for David Bowie.

Unfortunately the album has sold-out and is now out of stock via paulsmith.co.uk but you can visit and fill in the form to be notified when they re-stock.

Besides the Paul Smith website and 'some' of his shops, the album is on sale at Nottingham Music Exchange, but you have to visit the store.

From paulsmith.co.uk
---
THE TOY SOLDIER EP
17th May 2013

A limited edition of 2,000 copies of The Toy Soldier EP
by THE RIOT SQUAD is to be released on 17th June on the Acid Jazz label (Cat. No. AJX3295).
As you know DAVID BOWIE was part of the band for a short-time in 1967 and recorded several tracks.
The tracklisting runs as follows:
01. Toy Soldier.
02. Silly Boy Blue.
03. I'm Waiting For My Man.
04. Silver Treetop School For Boys.
The EP should be generally available in the UK at local records stores. Outside of the UK you can purchase here
---
SUKITA RETURNS
17th May 2013
The return of Sukita... The exhibition of DAVID BOWIE photographs by MASAYOSHI SUKITA was one of the most popular exhibitions we have ever held at the gallery. With the V&A Museum show continuing to attract record numbers of visitors, and bringing Bowie fans from all around the globe to London until August, we have been looking for a way to prolong the Sukita-fest at the gallery.
When it became clear that our Tour De France exhibition was only going to occupy one floor of gallery space, the solution became clear! And so from 28th June until 27th July 2013 (inclusive), we will be showing Sukita-san's David Bowie photographs in our downstairs gallery space. The display will consist of approximately half the exhibition, rather than the complete selection we had up on the walls in March/April, but all choice cuts.
So if you didn't get to see it first time round, please come and see us, and tie it in with a visit to the V&A.
From Snap Galleries.
---
SITTING IN A TIN CAN
17th May 2013
Commander CHRIS HADFIELD returned to Planet Earth on Monday after six months in orbit.
On his last day in charge of International Space Station he performed his rendition of DAVID BOWIE's Space Oddity complete with lyric changes.
If you have been following Chris on Reddit and viewing his amazing photographs and reading about his experiences you'll know this is a fitting farwell to his time up in space.
Check the out-of-this-world video below...
---
'WHEN ZIGGY PLAYED GUITAR' EVENING TALK
8th May 2013
There is another unmissable upcoming DAVID BOWIE event taking place at the V&A London next week...
Date: Friday 17th May, 18.30 - 19.30 (talk); 19.30 - 20.15 (refreshments).
Dylan Jones: 'When Ziggy Played Guitar' Evening Talk - When David Bowie appeared on Top Of The Pops in July 1972, performing 'Starman', he set in motion a chain of events that would change British culture forever. At that time the programme was watched by a quarter of the population, close to fifteen million people, and his appearance that night would influence an entire generation. Dylan Jones, editor of GQ magazine, explores the effect that performance had on Bowie, himself, and the millions of others who saw it.
Admission: £15 (including wine reception).
To book please call 020 7942 2277. This event is open to both Members and non-Members.
Full details and information can be found at vam.ac.uk
---
'THE NEXT DAY' PROMO VIDEO
8th May 2013
DAVID BOWIE has released a brand new promotional video for the title track of his latest album 'The Next Day'.
The video directed by FLORIA SIGISMUNDI stars English actor GARY OLDMAN and French actress MARION COTILLARD.
No more spoilers or information - just watch it. Please be aware that the video below is the explicit version.
The Guardian: David Bowie video given adult-only rating on YouTube - [Read here].
Daily Mail: David Bowie's explicit video 'The Next Day', starring Gary Oldman and Marion Cotillard - [Read here].
The Hollywood Reporter: The 10 most shocking images from David Bowie's 'The Next Day' video - [Read here].
Rolling Stone: David Bowie features Gary Oldman, Marion Cotillard in 'The Next Day' - [Read here].
Flavorwide: Deconstructing the Christian Imagery in David Bowie's 'The Next Day' video - [Read here].
Evening Standard: David Bowie: new video for The Next Day stars Gary Oldman and Marion Cotillard - [Read here].
---
AND THE BITS FLEW FAR AND WIDE...
3rd May 2013
•

Make sure that you check out IAN BURUMA's excellent essay 'The Invention of DAVID BOWIE' for The New York Review of Books. Well worth reading. As you can see David is featured on the front cover of this May issue - [Read here]...
• DAVID BOWIE appears in the new documentary movie 'Twenty Feet From Stardom'. The movie was screened at the opening of the Montclair Film Festival (MFF) in New Jersey on Monday evening. Film director Morgan Neville explores the lives and careers of the people who sing some of the most memorable backing vocal parts of the most famous pop songs of all time which includes David Bowie's 'Young Americans' and Lou Reed's 'Walk on the Wild Side'. David Bowie, Stevie Wonder, Bruce Springsteen and Mick Jagger are among those who appear in the film to describe working with Janice Pendarvis, Claudia Lennear, Darlene Love, Merry Clayton and Janice Fischer. The movie hits theatres on 14th June - [View Official Trailer]...
• If you are still hunting down your DAVID BOWIE Record Store Day single releases there are lots ON HERE - don't pay over the odds! Don't forget there are FOUR different variations for collectors. Nice to see the UK version of TSAOT on an orange RCA label again...
• Drive-In Saturday 40th Anniversary 7" picture disc RSD exclusive [Cat. No. DBDRIVE40]...
• Bowie 1965! EP 7" RSD exclusive black vinyl [Cat. No. GEP 8968]...
• The Stars (Are Out Tonight) 7" disc limited edition RSD exclusive Worldwide release black/white square label [Cat. No. 888837049177]...
• The Stars (Are Out Tonight) 7" disc limited edition RSD exclusive UK ONLY release orange label RCA/ISO/Columbia [Cat. No. 88883705557]...
---
I CAN SEE THE MAGAZINES
3rd May 2013

DAVID BOWIE appears on the front cover of the UK issue of ESQUIRE magazine for their June issue.

David is one of the five exclusive front covers which have been chosen for their modern day 'Heroes' issue.

The other four inspirational celebs are: Michael Caine, Clint Eastwood, Jack Nicholson and Keith Richards.

The front cover photograph was taken at Cannes Film Festival on 23rd May 1978 for the screening of the Just A Gigolo movie, where David appeared as Prussian soldier Paul Ambrosius von Przygodski.

For more details and information pop on over to esquire.com
---
DAVID BOWIE IS WALKING IN SOHO
2nd May 2013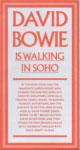 Update: Still a few left - be quick!..
GEOFF MARSH (V&A Director/David Bowie Is Co-Curator) has kindly sent in 100 David Bowie Is Walking In Soho promotional foldout walking map leaflets for BowieWonderworld to send out to Bowie fans.
These promotional only Bowie Soho maps were part of the official press pack for the exhibition and weren't available to the general public.
If you would like a FREE copy please send me a stamped SAE (self addressed envelope) no bigger than 8 inches x 4 inches and I'll pop one in the post for you.
Email for full details.
For non UK fans interested I'll get together a postage price list for various countries and you can pay for postage via Paypal if you want.
(Postage cost: standard air mail GBP: Europe £1.28 and Rest of the World £1.88).
---
DAVID BOWIE ZEIT! 77-79 BOX SET
1st May 2013
Next week EMI are to release the five-disc DAVID BOWIE Box Set entitled ZEIT! 77-79.
This budget-oriented box set scheduled for release on Monday 6th May collates together the so-called "Berlin Era" albums of Low, "Heroes" and Lodger, along with the double disc Stage live album.
The full tracklisting runs as follows:
LOW
01. Speed Of Life (1999 Digital Remaster).
02. Breaking Glass (1999 Digital Remaster).
03. What In The World (1999 Digital Remaster).
04. Sound And Vision (1999 Digital Remaster).
05. Always Crashing In The Same Car (1999 Digital Remaster).
06. Be My Wife (1999 Digital Remaster).
07. A New Career In A New Town (1999 Digital Remaster).
08. Warszawa (1999 Digital Remaster).
09. Art Decade (1999 Digital Remaster).
10. Weeping Wall (1999 Digital Remaster).
11. Subterraneans (1999 Digital Remaster).
"HEROES"
01. Beauty And The Beast (1999 Digital Remaster).
02. Joe The Lion (1999 Digital Remaster).
03. "Heroes" (1999 Digital Remaster).
04. Sons Of The Silent Age (1999 Digital Remaster).
05. Blackout (1999 Digital Remaster).
06. V-2 Schneider (1999 Digital Remaster).
07. Sense Of Doubt (1999 Digital Remaster).
08. Moss Garden (1999 Digital Remaster).
09. Neuköln (1999 Digital Remaster).
10. The Secret Life Of Arabia (1999 Digital Remaster).
STAGE (CD1)
01. Warszawa (Live).
02. "Heroes" (Live) (2005 Digital Remaster).
03. What In The World (Live).
04. Be My Wife (Live).
05. Blackout (Live).
06. Sense Of Doubt (Live).
07. Speed Of Life (Live).
08. Breaking Glass (Live).
09. Beauty And The Beast (Live).
10. Fame (Live).
STAGE (CD2)
01. Five Years (Live).
02. Soul Love (Live).
03. Star (Live).
04. Hang On To Yourself (Live).
05. Ziggy Stardust (Live) (2005 Digital Remaster).
06. Art Decade (Live).
07. Alabama Song (2005 Digital Remaster).
08. Station To Station (Live).
09. Stay (Live).
10. TVC 15 (Live).
LODGER
01. Fantastic Voyage (1999 Digital Remaster).
02. African Night Flight (1999 Digital Remaster).
03. Move On (1999 Digital Remaster).
04. Yassassin (1999 Digital Remaster).
05. Red Sails (1999 Digital Remaster).
06. DJ (1999 Digital Remaster).
07. Look Back In Anger (1999 Digital Remaster).
08. Boys Keep Swinging (1999 Digital Remaster).
09. Repetition (1999 Digital Remaster).
10. Red Money (1999 Digital Remaster).
You can pre-order Zeit
NOW and receive the pre-order Price Guarantee.
---
'THE PERIODIC TABLE OF BOWIE' EXCLUSIVE BW OFFER
1st May 2013
'DAVID BOWIE IS' is now well underway at London's Victoria & Albert, the first international retrospective of the extraordinary career of David Bowie. The exhibition explores the creative processes of Bowie as a musical innovator and cultural icon, tracing his shifting style and sustained reinvention across five decades.
The V&A's Theatre and Performance curators, VICTORIA BROACKES and GEOFFREY MARSH, have selected more than 300 items that the exhibition brings together for the first time, including handwritten lyrics, original costumes, set designs, photographs and other artwork, as well as Bowie's own instruments and artwork.
Here Geoff Marsh interviews one of the featured artists, PAUL ROBERTSON, on his piece in the exhibition.

GEOFF MARSH: The Periodic Table of Bowie is an extraordinarily effective and simple way of integrating a complex web of connections, influences and associations into a single diagram. How did you start constructing it for Bowie?
PAUL ROBERTSON: I use the structure of the 'Periodic Table' in my art for a number of reasons. Firstly, my background is in science. Before I became an artist-curator, I specialised in avian neurophysiology and pharmacology. My approach to art, whether acting as an artist, curator or a collector/dealer, has always been analytical and investigative. I think that comes from my scientific training. Secondly, I am interested in how relationships within certain models, such as the periodic table, can be used to create false taxonomies and influence how one sees a subject.
There are ten recognised "families" of elements in the real chemical table, and it is the creative manipulation of those connections that make the tables I create different from the others that exist. I usually think about a subject and try to tease out ten "themes" or areas of prevalence. With Bowie - and I have been a long term fan of his music right back to when I first heard Starman in 1973 on Top of the Pops - I imagined him right in the middle of the table and began to piece together names of his influences. They in turn were moved around so that they had some relationship with each other. There is also a sort of colour "pun" in The Periodic Table of Bowie. I'm waiting for someone to notice it.
GEOFF: The 'corners' are anchored by Wilde, Warhol, Basquiat and Iman - four extraordinary and, in their own field, highly creative individuals. Of the four, do you think one is more important than the others?
PAUL: One 'corner' Bowie never met, another corner is his wife, one he portrayed as an actor, and the other he met socially through his (or their) fame. So while I think they all influenced him either directly or indirectly, the influences are really quite different.
As to whom is the most important, I'm tempted to say Wilde simply because of the range of ways in which Oscar Wilde has influenced the entire English language, culture, sexuality and beyond, but I think that is unfair to Iman who presumably influences David Bowie on a more profound daily basis. There is a reason why she is the only single letter 'symbol' on the work. Warhol and Basquiat are different again. The former met David Bowie in 1971 (the same year that the song 'Andy Warhol' was written), although I think the influence of Warhol on Bowie was more mediated through general culture and Warhol's near universal presence in the American avant garde. In 1996 Bowie then played Warhol in Julian Schnabel's biopic of the Afro-American artist.
GEOFF: I am sure that people will argue about who has not been included and it must have been difficult selecting the final list. If three more elements were discovered in 2013, who would be your additions?
PAUL: Gosh, that's tricky! Deciding who to include was incredibly difficult. There were names I originally included in the table but then deleted. Even now I keep thinking of new influences on Bowie that could be added or placed differently. Tony Defries is there, for instance, because of his clear influence on bringing Bowie to the USA and the crazy methods by which he brought David to the attention of the American media but, as you know, some of his influence was not positive, so I did wrestle with the idea of replacing him. If three new elements were discovered, and three new names could be added instead of replaced, that would be reasonably easy as I'm sure the influences on Bowie and of Bowie are limitless. There are certainly several influences from the 'Thin White Duke Era': in film alone perhaps the actor Klaus Kinski, the fictional Nosferatu from Lang's great film of the same name (played by Max Schreck), and the British actor Malcolm McDowell who starred in Kubrick's A Clockwork Orange and the wonderful IF. Everyday a new pop star seems to emerge who has been influenced by Bowie's back catalogue and the new album will no doubt spawn more. In ten years' time I guess I could re-do this table and probably replace a good number of the names with new important figures in pop and culture.
GEOFF: You obviously don't see Bowie as an element since he is not on the table. If all these 'elements' make up Bowieworld, what does it look like and where is it?
PAUL: Well, it is a very colourful and vibrant place. And while Bowie is not featured in the actual table itself, I have created a separate artwork "B" (actually entitled SILVER CELL BOWIE), which is his own cell. This has been released as a separate signed and numbered print, jointly purchased along with a limited edition signed and numbered version of The Periodic Table of Bowie.
This is intended to represent Bowie as a metaphorical starting point for a theoretical 'universe', BowieWonderWorld if you wish, and the periodic table containing all the cultural elements that make up its parts. If you took all of these elements together, then the resulting universe would have to be some alternative one. Perhaps it would collapse in on itself due to its overwhelming mass of wonderfulness and become a super-massive black hole at the centre of some galaxy of Pop.Hmm, I think I'm stretching the metaphor a bit too far here! But I do know that universe would be great fun to live in.
Robertson's Periodic Table of Bowie is featured in the 'David Bowie is' exhibition at the Victoria and Albert Museum in London from 23 March - 11 August 2013, in partnership with Gucci, sound experience by Sennheiser.
Artist signed copies of the limited edition "B" and Periodic Table of Bowie will be sold together as a single art piece on BowieWonderWorld for a limited time only.
If you're missing DAVID BOWIE is in London, don't miss the chance to own this original and one-of-a-kind artwork that reflects the whole of this cultural icon's career.
Purchasers of this exclusive set will be given an A2 artist signed and numbered copy of the 'missing' element (an edition of 300), as well as an A1 artist signed and numbered copy of The Periodic Table of Bowie. The works are expected to be displayed together by the owner to create this special edition.
To make your purchase please send your order to .
For more information on Paul Robertson's periodic tables, visit paulrobertsonart.com
WORKS FOR SALE: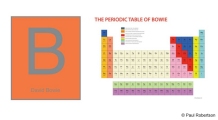 SPECIAL EDITION BOWIE CELL & PERIODIC TABLE - LIMITED PRINT TO 300 COPIES.
This special edition artwork is ONLY available to purchasers via BowieWonderWorld for a limited time.
The special edition comprises of two separate Giclee prints. The 'missing element' from the Periodic Table of Bowie is 594 x 420mm (23.4 x 16.5 inches) and is one of 300 artist signed and numbered prints in metallic silver and orange on 350gsm cartridge paper. Purchasers of this work are also given an artist signed and numbered 594 x 841mm (23.4 x 33.1) copy of The Periodic Table of Bowie also printed on 350gsm cartridge paper. The two works are expected to be displayed together by the owner to create this special edition.
Cost: £295 plus £10 packaging worldwide.
PERIODIC TABLE OF BOWIE POSTER - PAUL ROBERTSON
The final artwork in the major 'David Bowie is' exhibition at the Victoria and Albert Museum in London. 594 x 420mm (23.4 x1 6.5 inches) on 300gsm satin paper.
Cost: £20 plus £5 packaging worldwide.
BowieWonderworld Exclusive: To make your purchase please send your orders to .
---
FIVE YEARS DOCUMENTARY
1st May 2013
Update: The forthcoming DAVID BOWIE ninety-minute documentary created by the Beeb is now confirmed to be broadcast this month on Saturday 25th May on the BBC TWO channel at 9.20 pm.
'David Bowie - Five Years' is a documentary feature-length profile which tracks the critical points of his career - 1971, 1975, 1977, 1980 and 1983 - via unseen archive footage of Bowie and interviews with some of his closest collaborators. - [BBC Media Centre]
Q magazine report that the brand new documentary will contain:
- 'Overloaded with other newly-discovered footage'.
- 'Clever use of narration from Bowie himself as edited from decades of interviews'.
- 'Never-before-seen close-ups of Bowie biting his lips while 'masturbating' Mick Ronson's fretboard'.
- 'Benefits from new contributions from close collaborators...
Robert Fripp gets emotional dissecting "Heroes"...
Dennis Davis comes clean on how 'f**king out there' Bowie was...
Earl Slick demonstrates..the dramatic opening of Station to Station'.
Thanks to Nick Pegg and JustForOneDay for the heads up.
---
TREASURES OF DAVID BOWIE
1st May 2013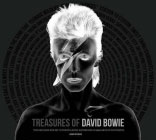 New hardcover publication TREASURES OF DAVID BOWIE by Mike Evans is to be published by Carlton Books Ltd next month on 6th June.
David Bowie Treasures tells the story of one of the world's most iconic and influential figures in popular music. With a career spanning over four decades, David Bowie has consistently topped charts all over the world, selling an estimated 140 million albums worldwide.
David Bowie Treasures, through beautiful photographs and unique memorabilia, illustrates his journey from humble beginnings to world superstardom.
This exclusive box set contains a book, posters and 15 rare archive documents.
You can pre-order David Bowie Treasures
NOW and receive a massive 36%.
---
TND: LATEST WORLDWIDE CHARTS
1st May 2013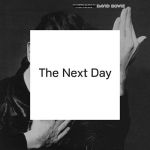 Today, today, is the 1st of May... The new DAVID BOWIE album The Next Day hit the #1 spot on worldwide charts in twenty countries and is still doing reasonably well worldwide.
If you want to see the full list of known worldwide chart positions - you can view The Next Day: Worldwide Album Charts here.
This will be continually updated as and when the info comes through.
(Ed. If you come across any updates to these worldwide charts please feel free to get in touch).
The Next Day was released in three different formats... Audio CD Deluxe Edition
/ Audio CD
/ Vinyl [2 LPs] plus free CD
and Exclusive Japanese Blu-spec CD2 which contains an exclusive 4th bonus track God Bless The Girl.
---
DAVID BOWIE WONDERWORLD NEWS ARCHIVE
April | March | February | January
2012 Bowie News | 2011 Bowie News | 2010 Bowie News | 2009 Bowie News
2008 Bowie News | 2007 Bowie News | 2006 Bowie News | 2005 Bowie News
2004 Bowie News | 2003 Bowie News | 2002 Bowie News | 2001 Bowie News
2000 Bowie News | 1999 Bowie News | 1998 Bowie News | 1997 Bowie News






| | |
| --- | --- |
| Created: May 2013 © Paul Kinder | Last Updated: 30/5/13 |