WHAT'S REALLY HAPPENING IN MAY - MONTHLY PLANNER

[BOWIEWONDERWORLD SHOP] [LATEST DAVID BOWIE ITEMS ON eBAY]
[@bowiewonderworld.com email addresses HERE]
Have YOU got some DAVID BOWIE related news or a hot scoop?
Well don't just sit there keeping it to yourself - send it in to
All news items are credited if you so wish
---
HAPPY BIRTHDAY WISHES TO DUNCAN JONES
30th May 2017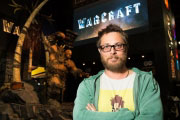 Wishing you a very Happy 46th Birthday

Have a fabulous day and I hope you get everything you wish for

Many happy returns and best wishes from

Rednik and everyone at Wonderworld
---
BLACKSTAR FANZINE: ISSUE #2
16th May 2017
Announcing issue #2 of the DAVID BOWIE BLACKSTAR fanzine - available to pre-order now...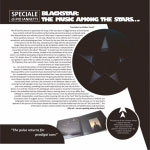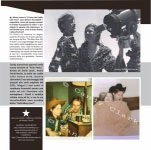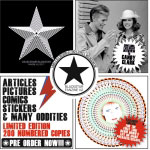 This new Italian fanzine contains articles in both Italian and English language: 28 colourful pages with insights and beautiful pictures, all printed on an opaque coated paper: a must have for all the fans of David Bowie.
Exclusive interviews with Bowie collaborators, essays by passionate fans and experts, great photos, comics, collectors area and more.
Inside this issue, you will find our exclusive interview with the actress Candy Clark, the astronomical mysteries behind the artwork of the album 'Blackstar', an insight on the collaboration between Bowie and Nine Inch Nails, a special essay by a writer who has already published a significant book about David.
There are also 4 new stickers to add of the 40th anniversary picture discs, and much more... plus a special and collectible gift: the 'Bowie Phenakistoscope Disc' - an amazing item created by the American artist Drew Tetz, who designed a Bowie-themed version especially for our fanzine!
This second issue of 200 copies is priced at 5,00 euros (+ shipment) for the members of our DB Blackstar association, and 8,00 euros (+ shipment) for non-associates. The 'Bowie Phenakistoscope Disc' will be available adding 2,00 euros.
All fanzines will be dispatched after 5th June. You can pre-order your copies via the davidbowieblackstar.it website.
Issue #1 contained two amazing interviews with photographers Mayasoshi Sukita and Gavin Evans, an exclusive comic dedicated to the love story of David and Hermione, an article about guitarist Page Hamilton, a review of the recently published book 'Golden Years', a contribution by the photographer Gijsbert Hanekroot on Ziggy... just to mention a few.
From Daniele Pensavalle.
---
NEW BOOK: BOWIE UNSEEN BY GERALD FEARNLEY
15th May 2017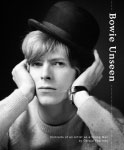 All set for publication on Friday 14th July is BOWIE UNSEEN
Portraits of an Artist as a Young Man' by GERALD FEARNLEY.
This publication collects original and rare photographs from Bowie's debut album shoot, which were released for the first time as fine art prints in 2016. These pictures show Bowie pre-fame, pre-Ziggy Stardust, as a young man unaware of what the future holds A glimpse at the origins of a late great pop-music icon.
Alongside the famous album shot are many completely unknown, unpublished and sought-after 'buried treasures' which were taken at Fearnley's studio in a basement beneath a church in Bryanston Street, near Marble Arch in London. They show a playful side to Bowie 'clowning around' in a superhero jumper, with face paint on, laughing and smiling while throwing shapes.
The link between the two men is Gerald's brother 'Dek', who was the bass player of Sixties band The Buzz. They backed Bowie in 1966-1967 and also featured on his first album. The whole of The Buzz and Bowie & co. would stay at Gerald's house, where they would prepare before their gigs. Bowie often also went there alone to write songs.
Now - fifty years since the original photo session and release of David Bowie's debut album - the unseen photos of Gerald Fearnley are presented here for the first time. These whimsical, youthful images capture the artist as a young man only a few years before he'd transform himself into Ziggy Stardust and launch a career that would become one of the most successful and influential in the history of modern music.
This 80-page hardback publication is sized at 230 mm x 190 mm, with illustrations: 10 colour, 80 black and white and is published via ACC Art Books.
About the Author: Gerald Fearnley is a professional photographer, famous for capturing the front cover shot for Bowie's debut album, David Bowie, in the '60s. The friendship between the Fearnley family and Bowie meant that Bowie spent a lot of time at Gerald's house in Worcester Park, Surrey, both preparing for gigs and writing songs.
You can pre-order Bowie Unseen: Portraits of an Artist as a Young Man
NOW!
---
UNPUBLISHED KONRADS PHOTOGRAPH
11th May 2017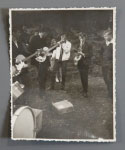 Updated: A rare and previously unseen and unpublished 1962 photograph of THE KONRADS is currently up for auction at Gorringe's in Lewes, East Sussex.
The photograph was taken by Sue Beal in 1962, who said: "We were about the same age. I used to live in Bromley and quite often I would go to the youth club in Keston where his band The Konrads played. He went out with a girl in my class. It was an awful long time ago so I can't quite remember when I took the photo but I guess it must have been somewhere in Bromley or Keston."
Lot 61:
Description: David Bowie unpublished photograph of his first band, The Konrads with himself, aka Davy Jones.
Estimate: £50 - £80 GBP.
View lot details
The photographs features The Konrads with Davy Jones (vocals, tenor saxophone), George Underwood (vocals), Neville Wills (guitar), Alan Dodds (guitar) and Dave Crook (drums).
Former band member Alan Dodds stated on Facebook he believes the photograph was taken at Chiselhurst Caves, personally I believe it is from Library Gardens in Bromley.
Update: The photograph realised £360 at auction.
Update #2: George Underwood has just confirmed to me it was a performance in Library Gardens in Bromley).
Daily Mirror: 'Picture of David Bowie playing the saxophone aged just 15 in his first band sold at auction' - [Read here].
Daily Mail: 'Absolute beginner! Never-before-seen photograph of 15-year-old David Bowie playing saxophone in his first band is tipped to sell for just £80 as it's unearthed after 55 years' - [Read here].
---
CRACKED ACTOR TO BE RELEASED ON CD
11th May 2017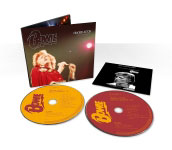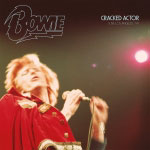 davidbowie.com have announced that DAVID BOWIE's Cracked Actor (Live Los Angeles '74)
album is to be released in CD format.
Released next month on 16th June this limited edition 2-CD digipak will contain a twelve-page booklet featuring notes from the original LA Amphitheatre show programme and a piece about the LA 'Philly Dogs' shows by Rolling Stone magazine Richard Cromelin.
The album released via Parlophone will also be available in hi-res 96/24 and standard downloads.
A standard jewel case 2CD with twelve page booklet will then replace the limited digipak.
Note: The vinyl edition will not be re-pressed or re-released.
The CD tracklisting runs as follows:
Disc: 1
01. Introduction (Live).
02. 1984 (Live).
03. Rebel Rebel (Live).
04. Moonage Daydream (Live).
05. Sweet Thing/Candidate/Sweet Thing (Reprise) (Live).
06. Changes (Live).
07. Suffragette City (Live).
08. Aladdin Sane (Live).
09. All The Young Dudes (Live).
10. Cracked Actor (Live).
11. Rock 'N' Roll With Me (Live).
Disc: 2
01. Knock On Wood (Live).
02. It's Gonna Be Me (Live).
03. Space Oddity (Live).
04. Diamond Dogs (Live).
05. Big Brother (Live).
06. Time (Live).
07. The Jean Genie (Live).
08. Rock 'N' Roll Suicide (Live).
09. John, I'm Only Dancing (Again) (Live).
You can pre-order Cracked Actor (Live in Los Angeles '74)
NOW!
Also released via Parlophone on the same day are strictly limited edition gold coloured vinyl retail editions of Hunky Dory and The Rise and Fall of Ziggy Stardust and The Spiders From Mars.
---
GOT TO KEEP SEARCHING AND SEARCHING
5th May 2017
If you are still searching for the RECORD STORE DAY 2017 - DAVID BOWIE releases, prices are slowing coming down...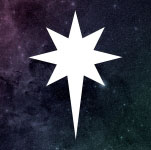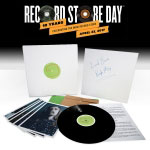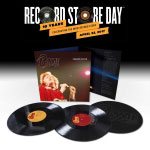 [NO PLAN (EP) (Coloured Vinyl/180gm)
] [BOWPROMO
] [CRACKED ACTOR (Live Los Angeles '74)
]
Alternatively, you maybe able to pick up a bargain via a multitude of eBay listings.
---
AND THE BITS FLEW FAR AND WIDE...
4th May 2017
• If you want to take a quick butchers at what's happening relating to DAVID BOWIE throughout May - check out the BW Monthy Planner - [Read here]...
• The BOWIE BY MICK ROCK photo exhibition is taking place at La Rural - Pabellon 8, Av. Sarmiento 2704, Buenos Aires, Argentina. Opens today through until 28th May - [More details]...
• Great news for everyone who's excited to see the latest production, BESIDE BOWIE: THE MICK RONSON STORY. Cardinal Releasing proudly announce that The Regent Cinema, 307 Regent Street, London W1B 2HW will be showing the film on Tuesday 9th May at 20:45 and Wednesday 10th May at 18:30. You can book your tickets now direct on their website - there is also a release coming to Sheffield soon, so keep your eyes peeled if you're up that way...
• The DAVID BOWIE UNSEEN photo exhibition by MARKUS KLINKO is to be held at Blender Gallery, 16 Elizabeth Street, Paddington, Sydney NSW 2021, Australia from 5th May through to 3rd June...
---
BE MY WIFE 40TH ANNIVERSARY RELEASE
3rd May 2017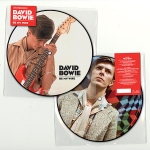 davidbowie.com have announced details of the next 40th Anniversary DAVID BOWIE 7" picture disc single...
The single is released via Parlophone on Friday June 16th.
Be My Wife
Limited Edition 40th Anniversary 7" Picture Disc.
A-side:
Be My Wife (2017 remaster).
(David Bowie).
Produced by David Bowie and Tony Visconti.
Mixed by Tony Visconti at Hansa by the Wall.

AA-side:
Art Decade (Live Perth '78).
(David Bowie).
Produced by David Bowie.
Recorded live at Perth Entertainment Centre, Perth, Australia on 15th November 1978.
Both photographs used on the disc were shot by Christian Simonpietri. Featuring a still taken during the Stanley Dorfman directed video and the other from a visit to Victor Vasarely studios in June 1977.
Update: You can now pre-order Be My Wife
For more details and info pop on over to the davidbowie.com website.
---
DAVID BOWIE IS IN BARCELONA VINYL
3rd May 2017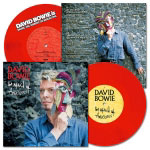 davidbowie.com have announced details of an exclusive limited edition release especially for the opening of DAVID BOWIE Is exhibition in Barcelona, Spain.
I'm Afraid Of Americans 7" Red Vinyl David Bowie Is - Barcelona Exhibition Exclusive.
A-side:
I'm Afraid Of Americans (V1 edit).
(David Bowie/Brian Eno).
Originally produced by David Bowie.
Reproduced by Nine Inch Nails.
Production and additional performances by Nine Inch Nails: Trent Reznor, Charlie Clouser, Keith Hillebrandt, Dave 'Rave' Ogilvie, Danny Lohner.
Mixed by Dave 'Rave' Ogilvie. Engineered by Brian Pollack at Nothing Studios, New Orleans.

AA-side:
"Heroes" (live at The Bridge School '96).
(David Bowie/Brian Eno).
Produced by John Hanlon.
Mixed by John Hanlon at Redwood Digital, Woodside, California.
For more details and info pop on over to the davidbowie.com website.
The DBI exhibition opens to the general public on Thursday 25th May at Museu del Disseny de Barcelona and tickets are available to book now via davidbowieis.es
---
DAVID BOWIE 'UNSEEN' EXHIBITION
2nd May 2017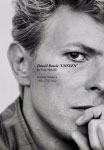 Upcoming photographic exhibition DAVID BOWIE 'UNSEEN' by TONY McGEE is showing this month at IMITATE MODERN in London.
Imitate Modern is proud to present a solo exhibition of British photographer Tony McGee, featuring a selection of photographs of David Bowie, some of which have never been seen or exhibited before.
Tony McGee: David Bowie is an icon, probably the most inventive musician during the last 80 years. To have worked with him on such a personal level was an enormous honour. This collection of images is 'Unseen' and it shows David in his private 'off camera' moments.
McGee first met Bowie at a private cocktail party hosted by theatrical impresario and producer Michael White, where the photographer was introduced to Bowie by Jerry Hall and Coco Schwab. The two immediately bonded, building the beginning of a friendship that would span for more than 30 years. A few days after their first meeting Tony was contacted by David's record company and the first of their many photographic shoots together was arranged. Their first collaboration was to shoot all of the publicity for the 'Serious Moonlight' Tour, 1983, and their photographic relationship continued well into the 90s. One of the portraits of David Bowie by Tony McGee is in the permanent collection of National Portrait Gallery. McGee photographed one of David's most famous covers for Face Magazine, which was regarded by GQ as one of the most the influential magazine covers of the 1980s.
Bowie was photographed by McGee on a number of occasions, and Tony would personally take the contact sheets from the photoshoots to Bowie who would the sign off on the images and put gold stars on the images of his choice. A number of the original contact sheets will be on display at Imitate Modern, in addition to a retrospective of portraits of David Bowie, many of which show a personal side of the musician, in contrast to the many characters that he impersonated throughout his career.
'David Bowie Unseen' runs from 18th May through 27th May.
Venue: Imitate Modern Gallery, 19 Shepherd Market, Mayfair, London W1J 7PJ.
Take a peek at the online exhibition catalogue
More details and information can be found at the imitatemodern.com website.
---
WHEN ZIGGY PLAYED THE MARQUEE
1st May 2017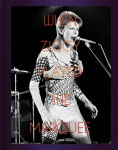 New book scheduled for publication in November is WHEN ZIGGY PLAYED THE MARQUEE: David Bowie's Last Performance as Ziggy Stardust by TERRY O'NEILL.
When Ziggy played The Marquee Club in Soho, London, in October 1973, most of those invited to the small venue did not realise that this would be the last performance David Bowie would ever give as Ziggy Stardust. Terry O'Neill, celebrated photographer, was given unprecedented access to document the event. O'Neill captured Bowie and his crew backstage as they went through costume changes, and Bowie transformed into the character he'd soon put to rest. On stage, dodging television cameras and lights, O'Neill snapped the incredible stage presence for which Bowie and his crew had become renowned. O'Neill remembers of Bowie: "He became a character on stage. As much as a person takes a role in a play for the West End or on Broadway, learning the lines, putting on the costumes - this was, I think, the way Bowie treated his stage. This night at the Marquee, I witnessed a modern-day Hamlet - and it was Ziggy Stardust". Foreword by Gary Kemp.
- Hardcover.
- 208 pages.
- Publisher: ACC Art Books.
- Date: 15th November.
- Foreword: Gary Kemp.
About the Author: Terry O'Neill has had a star-studded career. He has been in the business of capturing the most iconic, candid, and unguarded moments of the famous and infamous for six decades. His reportage photography chronicled the evolution of fashion in the postwar era, and later the emergence of bands such as The Beatles, The Rolling Stones, and The Animals, and icons like David Bowie and Elton John. He has been photographer-of-choice for a multitude of celebrities, from Frank Sinatra and Audrey Hepburn to Raquel Welch and Paul Newman, and remains the only photographer to have captured shots not only of every James Bond to date, but also more than 25 Bond girls and a staggering 150 Oscar-nominated actors and actresses. O'Neill was awarded with the Royal Society of Arts' highest honour, the Centenary Medal, in 2012.
You can pre-order When Ziggy Played the Marquee
NOW.
---
NEW BW FACEBOOK GROUP
1st May 2017
For those of you who use FACEBOOK - I've just set up a DAVID BOWIE Wonderworld Group.
I'm not automatically adding people, it's bad manners. Feel free to join and add yourself. You never know what might get posted...

---
NEW WORDS... 'SOUL LOVE' FROM CYGNET COMMITTEE
1st May 2017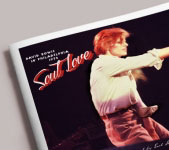 Available now is 'SOUL LOVE - DAVID BOWIE IN PHILADELPHIA 1974' the latest publication from CYGNET COMMITTEE.
Bowie's 'plastic soul' period produced an utter classic album in 'Young Americans', but the short 'Philly Dogs' tour which preceded it remains an enigmatic mystery to all but those who were lucky enough to attend in 1974.
Here, for the first time, is the illustrated story of David Bowie's soul revue as it played out in the City of Brotherly Love... the home of Sigma Sound... Philadelphia PA.
- 220mm x 220mm.
- 40 pages.
- Limited edition of 1,000 copies.
- Hand numbered with certificate.
- Printed on HP Indigo Presses.
This 40-page limited edition fan-published book is the fourth volume that has been produced.
If you are new to these wonderful publications, there is also a special offer where you can get the complete collection of all 4 books for a reduced price.
For more details and ordering information, please visit cygnetcommittee.co.uk
(Ed. I'm hearing the next issue planned will cover the Phoenix Festival performances at Stratford-upon-Avon in July 1997).
---
DBC17 TICKET UPDATE
1st May 2017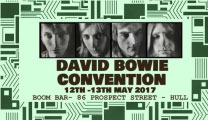 Update: Heads up! There are ONLY 10 tickets remaining for the UK 2017 DAVID BOWIE CONVENTION.
This year, the convention moves up to Hull - the home of The Spiders From Mars and the '2017 City of Culture'.
The event takes place this month on Friday and Saturday 12th / 13th May at Boom Bar, 86 Prospect Street, Kingston upon Hull, HU2 8PE.
For more details and ticket purchasing please visit FB events page - be really quick.
Or you can email Jimster at
---
DAVID BOWIE GLAMOUR FANZINE - ISSUE #2
1st May 2017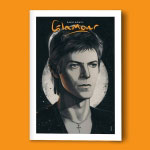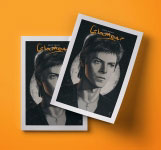 Issue #2 of this high quality fanzine created by fans for fans is now available to pre-order. Guarantee your copy!
Featuring contributions from: Carlos Alomar, Philippe Auliac, Dylan Jones, Liz Kershaw, Jessica Lee Morgan, Terry O'Neill, Nicholas Pegg, Tony Visconti.
The fanzine will be ready for posting around the middle of this month. We will confirm a specific date as soon as we are able. Issue #1 sold out within 3 days of being available. However, all issue #2 pre-orders will be met in full and pre-ordering will be available until at least early this month.
Helen Green has once again created the amazing bespoke David Bowie Glamour cover.
Chris Jones has once again beautifully designed this issue.
Andy Jones has gathered content and fan photos.
Nick Smart has gathered content and interviewed contributors.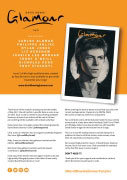 When ordering the fanzine please ensure that you select the correct postage option. Payment is by PAYPAL ONLY! We cannot accept any other form of payment.
Fan contributors who will be featured inside this issue will be announced when finalised. Both Terry O'Neill and Philippe Auliac have also provided us with beautiful David Bowie images for the fanzine free of charge.
This is a non-profit making venture and will always be a platform for fans to tell their stories, write reviews, show their art, fan photos and express views.
We received high praise for issue #1 of David Bowie Glamour fanzine. But in our view, issue #2 has exceeded the standard set by that first issue in every respect.
Don't miss it!
Thank you all for your support and contributions, without which the fanzine would cease to exist.
You'll be please to know that issue 1 is to be reprinted and is available to order.
For more information, details and ordering, please visit davidbowieglamour.wordpress.com
From Andy Jones.
In case you missed out... Issue #1 of the DAVID BOWIE GLAMOUR Fanzine is being reprinted due to demand. You can order both issues now - [More details].
---
BOWIE COLLECTORS BIBLE GETS SPECIAL TREATMENT
1st May 2017
Swiss company ATHERIS LABORATORIES are sponsoring and publishing an updated special deluxe edition of DAVID BOWIE WORLD 7" RECORDS DISCOGRAPHY 1964 - 1981 book by MARSHALL JARMAN and RETO STÖCKLIN.
The original 1994 much-in-demand Bowie collectors biblical discography has now finally got a complete makeover with this one-off special limited deluxe edition due this month.
- Addendums with dozens of records that weren't featured in the first edition, including many never seen before acetates.
- Most records now photographed in COLOUR.
- 1st printing in a strictly limited deluxe edition.
- A4, 180 pages, hard cover, gloss finish plus jacket, heavy 180g gloss paper.
Each copy will be numbered and signed by the authors with a personalised dedication.
The ONLY way to obtain this special limited deluxe edition is via a special gift deal from MATOXINE - the makers of 'Instant Moonlight' - a revolutionary new cosmetic range developed from the venom of the David Bowie spider.
You will also receive a unique deluxe box, on the cover of which the Instant Moonlight' logo is replaced by a picture of the label of the holy grail David Bowie 7" original acetate of 'Liza Jane', the first David Bowie ever from 1964. The box is also designed to store 7" records.
The box will contain one click-pen of 'Instant Moonlight' plus platinum with applicator and one instant moonlight gold dispenser, for woman or man. Ideal for the handbag or travelling.
To snap up one of the remaining copies please visit indiegogo.com and scroll down to $75 USD - collector's box with 7" book option - where you can order the book now by clicking on the pink 'GET THIS PERK' button.
(Ed. If you are wondering why the company is sponsoring this book, it's because the President and CEO Doctor Reto Stöcklin is a HUGE long-time Bowie fan and collector).
Update: #1
Dear all, we are glad to inform that the book can now be ordered via PayPal. Some of you couldn't buy it because the platform suddenly changed its rules to accept credit cards only. We also had a few requests for split payments, and we are flexible here for those of you who need some time. You can now contact us directly through a dedicated email: with any enquiries.
Alternatively, if you are a Facebook user you can also get in touch via their Closed Group David Bowie World 7" Records - simply click on JOIN GROUP and you will be added.
Update: #2
Dear all, we are amazed by the success and enthusiasm generated by our book project! Our original intention was to limit the edition to the number sold over a few weeks, which we never thought would reach a total of 100. Having 15 pre-reserved, we first offered 85, but orders came so quickly and 99 have been sold in one week, 46 of which just yesterday! As a result many friends of ours were angry that they couldn't order in time and were falling out with us. We hope you don't mind that it's more than 100. We don't want to make Bowie collectors unhappy and loose friends, so decided to offer more. It will in any case remain a very limited edition and we will keep you informed of the progress.
Best regards, Marshall and Reto.
---
RONSON FEATURE IN CR MAG
1st May 2017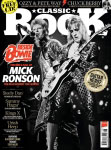 MICK RONSON and DAVID BOWIE feature on the front cover of the current issue of CLASSIC ROCK magazine.
Inside there's a profile feature and there's also a free cover-mounted CD entitled Total Blam Blam! featuring songs inspired by David Bowie.
The blurb states: Total Blam Blam! CD... a brilliant batch of Bowie-inspired bangers, including Jailbirds, Kola Koca Death Squad, V Sparks, The Killer Hearts, Bleach Party and more.
The magazine is on sale now at all good newsagents.
For more details and information, please visit teamrock.com website.
---
DAVID BOWIE WONDERWORLD NEWS ARCHIVE
April | March | February | January

2016 Bowie News | 2015 Bowie News | 2014 Bowie News | 2013 Bowie News
2012 Bowie News | 2011 Bowie News | 2010 Bowie News | 2009 Bowie News
2008 Bowie News | 2007 Bowie News | 2006 Bowie News | 2005 Bowie News
2004 Bowie News | 2003 Bowie News | 2002 Bowie News | 2001 Bowie News
2000 Bowie News | 1999 Bowie News | 1998 Bowie News | 1997 Bowie News



| | |
| --- | --- |
| Created: May 2017 © Paul Kinder | Last Updated: 30/5/17 |