BOWIE TV and WHAT'S REALLY HAPPENING IN JULY - MONTHLY PLANNER

[BOWIEWONDERWORLD SHOP] [LATEST DAVID BOWIE ITEMS ON eBAY]
[@bowiewonderworld.com email addresses HERE]
Have YOU got some DAVID BOWIE related news or a hot scoop?
Well don't just sit there keeping it to yourself - send it in to
All news items are credited if you so wish
---
BOWIEFEST AT THE ICA
29th July 2012
The Institute of Contemporary Arts, London (ICA) are paying tribute to DAVID BOWIE with the first film festival dedicated to his on-screen appearances next month.
BOWIEFEST will comprise of three days of screenings, Q&As, talks and club nights at the end of August. The films to be shown will include The Man Who Fell To Earth, The Hunger and Merry Christmas Mr. Lawrence.
To coincide with Bowiefest, Culture Now introduces Tom Wilcox in conversation with WOODY WOODMANSEY - drummer from David Bowie's legendary band the Spiders from Mars in a talk that will explore the artistic processes that created Ziggy Stardust, and assess its cultural impact.
The talk takes place on Friday (31st August) at 1:00pm in Cinema 1. Admission is FREE. Book TICKETS HERE.
Festival curator Natasha Dack said: "I can't believe no one's ever done this before, so we're thrilled to be the first and the ICA is just the perfect venue to capture Bowie's straddling of art forms, from performance to film and music."
"We've had an amazing response from many of the artists we've invited and the idea is mainly for fans to come and show their appreciation of a great British artist."
Venue: Institute of Contemporary Arts.
Address: The Mall, London SW1Y 5AH.
Tickets / Information: 020 7930 3647.
For more details and information keep checking the ica.org.uk website.
Thanks to JBK for the pointer.
---
THE NEW ELIZABETHANS
29th July 2012
BBC RADIO 4 have been running a series for the Queen's Diamond Jubilee with 60 programmes on the most influential people of the Queen's reign.
There is a 15 minute programme on weekdays with the Today Programme's James Naughtie presenting a bio of each one. Tomorrow on Monday 30th July at 12.45pm it will be the turn of DAVID BOWIE.
Here's the lowdown... The New Elizabethans: David Bowie - James Naughtie considers the musical influence of the man who first came to public attention in 1969 with his song 'Space Oddity', and then exploded onto the music scene in the early 70's with his glam rock, androgynous alter ego, Ziggy Stardust.
Bowie has proved the master of reinvention, breaking into the American market in the mid 70's with songs like 'Fame' - described by Bowie as "plastic soul" - a radical change in style and sound which confounded his UK fan base. He then reached a new commercial peak in 1983 with 'Let's Dance' and throughout his career has continued to experiment with musical styles, including blue-eyed soul, industrial, adult contemporary, and jungle. He is widely considered to be the most unique innovator of popular culture of his era.
The New Elizabethans have been chosen by a panel of leading historians, chaired by Lord (Tony) Hall, Chief Executive of London's Royal Opera House. The panellists were Dominic Sandbrook, Bamber Gascoigne, Sally Alexander, Jonathan Agar, Maria Misra and Sir Max Hastings.
They were asked to choose: "Men and women whose actions during the reign of Elizabeth II have had a significant impact on lives in these islands and/or given the age its character, for better or worse."
Producer: Alison Hughes.
More details and information can be found over at bbc.co.uk website.
Thanks to Alison for the heads up.
---
THERE'S A STARMAN
28th July 2012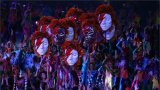 Hundreds of millions tuned in last night to watch the spectacular opening ceremony of the London 2012 Olympic Games, devised and directed by Danny Boyle.
The four-hour 27 million pound 'Isles of Wonder' spectacle contained references to a multitude of British icons which inevitably included DAVID BOWIE
Highlighting British history and culture and referencing music from across the ages David's 'Starman' was the main segment of the 70s section.
Hundreds of dancers dressed in Ziggy garb and glam rock type outfits danced and arranged themselves into a huge star.
David as alien Thomas Jerome Newton from The Man Who Fell To Earth movie was segued into the main Starman segment as jumpsuited platform boot wearing Starmen rose into the sky, as the dancers carried huge Bowie white and silver Aladdin Sane faces.
There was so much going on it was like watching five Glass Spider shows at the same time!
Then later on when the 558 Team GB athletes entered the stadium, David Bowie and Brian Eno's anthemic song "Heroes" was blasted out to a HUGE ovation from the spectators.
In total, four David Bowie songs were used during the ceremony: 'Starman', "Heroes" and 'Absolute Beginners', plus a snippet of the Bowie/Queen hit 'Under Pressure' during a medley by the Scottish-Indian bhangra duo Tigerstyle.
If you missed it, go and check it out on the BBC iPlayer - you won't be disappointed. The Bowie related sections are at: 59:36 and 2:55:17.
---
FUNKY LITTLE BOAT RACE
28th July 2012

DAVID BOWIE graces the front cover of the September issue of MOJO magazine. The front cover blurb states: 'How electronic music saved David Bowie by Jon Savage.'
In 1977 the motorik rhythms of German music transformed the mind of the 30-year-old Bowie, reinvigorating his music in the process. Then, in 1993, the singer returned to those strange sounds for a remarkable sonic rebirth. Jon Savage reassesses Bowie's electronic lives.
The free cover-mounted CD 'Electricity: A Brief History of the Future of Sound' compiled by Mute's Daniel Miller and starring Can, Moby, Throbbing Gristle, LCD Soundsystem, Daft Punk, Caberet Voltaire and many more!
For more details and information pop on over to the mojo4music.com website.
---
HAPPY BIRTHDAY WISHES TO IMAN
25th July 2012
To Iman
Wishing you a very Happy Birthday
Have a wonderful and fabulous day

Best wishes from everyone here at BowieWonderworld xxxxx
---
JIOD 40th ANNIVERSARY RELEASE
16th July 2012

EMI are to release a 7 inch picture disc of 'John, I'm Only Dancing' to celebrate the 40th Anniversary of its initial release back in September 1972.
Release date: 3rd September 2012 (excl. US)
Release date: 11th September 2012 (US)
Product code: DBJOHN40
Format: 7 Inch Single Picture Disc
Label: EMI Music Catalogue
The follow-up single to 'Starman', it reached number 12 on the UK chart, and became an immediate live favourite - however it never appeared on one of Bowie's studio albums.
Recorded too late for inclusion on 'The Rise And Fall Of Ziggy Stardust And The Spiders From Mars' album, it was considered for the following year's 'Aladdin Sane' album, but it never made it on the final running order.
A new version of the song recorded for that album was chosen instead of the 1972 original, when it came time to re-press the single during the spring, 1973. This punchier take is often referred to by fans as the 'sax mix' and features on this 7 inch anniversary edition.
Tracklisting:
Side A: John, I'm Only Dancing (Original Single Version) (2012 - Remaster).
Side B: John, I'm Only Dancing (Sax Version) (2012 - Remaster).
Released on 3rd September and 11th September (US only).
---
AND THE BITS FLEW FAR AND WIDE...
16th July 2012
• The NME search for the ultimate icon of the last 60 years has now reached the semi-final stage. DAVID BOWIE, John Lennon, Liam Gallagher and Alex Turner are the final four still standing. More details...
• Legendary guitarist EARL SLICK is interviewed at GoingThruVinyl where we talks about all the DAVID BOWIE albums that he has been a part of. It is broken up into two parts; the first part we talk about David Live, Young Americans and Station To Station and the second part (up on Tuesday) will cover specific Bowie tracks, the A Reality and Serious Moonlight Tours. Listen to Part 1 - [from Jason]...
• Music company Sheargold Music are currently running a 'Music Legends' series on their site and they have just done a piece on DAVID BOWIE. Check it out at sheargoldmusic.co.uk - [from Tom B]...
• Back in October 1976 at the Hansa Studios in Berlin, DAVID BOWIE, Tony Visconti and Iggy Pop signed the guestbook... 'Good Morning... could I interest you in a new Hoover...! Bowie '76... - [View at The Quietus]...
• Bidding on the DAVID BOWIE artwork by A.T. Fantom has now reached £100 GBP ($157.48 US / 127.81 Euros). Bids until 31st July. See below for more details...
• Thanks to everyone who entered the BW Competition #24 to win 1 of 3 copies of WHEN ZIGGY PLAYED GUITAR - David Bowie and Four Minutes that Shook the World books by Dylan Jones, courtesy of Random House. The winners will be announced in the next day or so...
---
THE GLEE PROJECT 2
16th July 2012

On Oxygen's THE GLEE PROJECT (Season 2) tomorrow night's episode is all about Theatricality. The remaining contestants are dressed up as famous icons for their music video this week.
The icons are: Abraham - DAVID BOWIE / Lily - Cyndi Lauper / Ali - Katy Perry / Shanna - Lady Gaga / Nellie - Britney Spears / Michael - Elvis / Blake - Boy George / Aylin - Madonna.
Glee's Grant Gustin swings by to guest mentor 'Theatricality' week.
The contenders pull out all the stops during a video shoot. Tune into an all-new episode on Tuesday night, 7/17th, at 10/9c!
For exclusive content and to get to know the cast, head to: connect.oxygen.com
---
STEPPING ON THE CRACKS
12th July 2012
An excellent new book just published by Matador is a story of the 1970s, DAVID BOWIE and friendship by author Christopher L. Carter.

David Bowie is central to 'Stepping on the Cracks', a story of growing up, friendship, life's uncertainties and, of course, David Bowie.
'I wanted to write a story about the three things I am passionate about: football, the 70s and Bowie,' observes Hertfordshire author Chris L. Carter. 'I enjoy threading real life events and backdrops through my characters,' he continues,' for example, Stepping on the Cracks starts at the famous last Ziggy concert in 1973, and the final scenes are played out on a back street in London's West End.'
Stepping on the Cracks will bring the 70s vividly back to life for anyone who was there, and maybe inspire a new generation of David Bowie fans...!
About the Book: Johnny Chalmers, obsessed with the beautiful game, talks us through his teens as he sheds his childhood and becomes a man. Along the way we are taken on a atmospheric journey through the 1970s from inner city sprawls to the winter of discontent, punks, skinheads... and David Bowie.
About the Author: Chris L. Carter lives in Hertfordshire. Stepping on the Cracks is his tribute to his 1970s adolescence and his love of Bowie's music. He has written many short stories but this is his first novel.
You can purchase Stepping on the Cracks
NOW and save 10%.
---
AND THE BITS FLEW FAR AND WIDE...
10th July 2012
• Reminder: The current BW competition to win one of three WHEN ZIGGY PLAYED GUITAR - David Bowie and Four Minutes that Shook the World books by Dylan Jones, courtesy of Random House runs until midnight this coming Sunday (15th July) - [ENTER HERE]...
• If anyone is interested in bidding on the DAVID BOWIE artwork by A.T. Fantom... the highest bid so far is £100 GBP ($157.48 US / 127.81 Euros). Bids until end of July...
• DAVID BOWIE got papped whilst he was out and about in NYC recently - [View photos]...
• BAMALAMA POSTERS currently have a poster and memorabilia exhibition running at their gallery located at 55 Leather Lane, London EC1N 7TJ. Tel: 0207 404 6512. The exhibition which is celebrating the 40th anniversary of ZIGGY STARDUST plus the debut shows of Iggy and The Stooges and Lou Reed at Kings Cross Cinema in London runs until 26th July 2012 - [More details]...
---
ZIGGY ARTWORK BY A.T. FANTOM
3rd July 2012

For all you art collectors out there, here's your opportunity to own a piece of DAVID BOWIE art by the Cheshire-based artist ANDREW T. FANTOM.
Fine artist/illustrator/graphic designer Andrew T. Fantom (born 1957-2006) studied at Stockport Art College and created many pieces of work in various mediums, with his speciality being a unique airbrush technique.
During his life Andrew exhibited at many art galleries across Cheshire and was well known for his contrbutions to the 'Penetration' fanzine.
The fanzine created in 1974 by Paul Welsh, had Paul Morley and Andy Fantom among the staff right from issue 1. Although the Penetration fanzine is remembered as one of the first punk fanzines, in reality it started life as a 'heavy metal' fanzine.
This one-off 'Ziggy' artwork 'Like Some Cat From Japan' is sized at 42cm x 42cm (16.5 inches x 16.5 inches) ink on white board.
Update: The owner is open to offers and at present the highest bid is £100 GBP ($157.48 US / 127.81 Euros).
If you would like to place a bid please email me and I will forward on all correspondence to the seller. Bidding closes on 31st July and buyer pays for postage.
---
LATEST BW COMPETITION NOW UNDERWAY
1st July 2012
Welcome to the latest BW competition... courtesy of Random House Group.
It's your chance to win one of three WHEN ZIGGY PLAYED GUITAR - David Bowie and Four Minutes that Shook the World books by Dylan Jones.
Three hardback books... six 1972 questions all but one about David's performance of 'Starman' on Top of the Pops... simply answer the six questions and send in your answers.
Q1. What date was 'Starman' on TOTP first broadcast?
Q2. Which DJ introduced David Bowie performing 'Starman' on TOTP?
Q3. Who was playing piano on the TOTP performance of 'Starman'?
Q4. What colour is David's guitar on the TOTP 'Starman' performance?
Q5. Who designed David's jumpsuit on the TOTP 'Starman' performance?
Q6. What type of boots is David wearing on the Ziggy Stardust album cover?
This competition ends at midnight (GMT) on Sunday 15th July 2012.
ENTER BW COMPETITION #24 HERE
All the answers can be found on this website. Good luck to everyone.
---
BOWIE: THE STUDIO YEARS
1st July 2012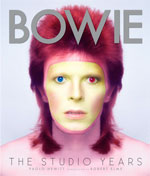 A new book due for publication this October is BOWIE: THE STUDIO YEARS (ISBN-10: 1780972172) by author Paolo Hewitt.
The 288-page hardcover book will be published by Carlton Books in the UK and Commonwealth, France (Les Editions Fetjaine), Sweden (Forma Publishing) and Germany (Edel Germany GmbH) on 11th October.
With an introduction by Robert Elms and featuring 200 illustrations in colour and black and white, Bowie: The Studio Years is impeccably designed and illustrated, featuring a retrospective and chronology of each of the 27 studio albums, with many previously unpublished photographs.
Bowie: The Studio Years is published to acknowledge the 40th anniversary of The Rise and Fall of Ziggy Stardust and The Spiders From Mars and Bowie's first number-one album Aladdin Sane.
To take a sneak preview CLICK HERE.
You can pre-order David Bowie the Studio Years
NOW and receive a 15% discount.
---
DAVID BOWIE WONDERWORLD NEWS ARCHIVE
June | May | April | March | February | January
2011 Bowie News | 2010 Bowie News | 2009 Bowie News
2008 Bowie News | 2007 Bowie News | 2006 Bowie News | 2005 Bowie News
2004 Bowie News | 2003 Bowie News | 2002 Bowie News | 2001 Bowie News
2000 Bowie News | 1999 Bowie News | 1998 Bowie News | 1997 Bowie News






| | |
| --- | --- |
| Created: July 2012 © Paul Kinder | Last Updated: 29/7/12 |