WHAT'S REALLY HAPPENING IN MAY - MONTHLY PLANNER

[BOWIEWONDERWORLD SHOP] [LATEST DAVID BOWIE ITEMS ON eBAY]
[@bowiewonderworld.com email addresses HERE]
Have YOU got some DAVID BOWIE related news or a hot scoop?
Well don't just sit there keeping it to yourself - send it in to
All news items are credited if you so wish
---
DIAMOND DOGS RULE OK
31st May 2014

On this day, 40 years ago, DAVID BOWIE released his 'Diamond Dogs' album. With controversial artwork by Guy Peellaert, and inner sleeve photo by Leee Black Childers.
The album entered the UK charts straight in at number one on 8th June 1974 and stayed in the chart for 14 weeks. As for the US, the album eventually reached number 5 position.
I know there's speculation on which release date is correct, I'm going with my memory and information from Melody Maker.
Check out an old blog I wrote years ago, when the Diamond Dogs contact sheet was found.
Whilst we're on the subject of Diamond Dogs... over on eBay there's more David Bowie HAIR turned up. Apparently there were several of these "hair bags" sold by the hairdresser years ago.
The photostatted letter reads: 'During the Diamond Dog Tour I cut David Bowie's hair and colored it. This hair was cut in Oct, 74 at the Beverley Wilshire Hotel in Los Angeles' - Jac Colello - Hair and Makeup.
Update: The item sold for US $1,170.00.
(Ed. As far as I'm concerned, these all need to be bought up and burnt).
---
AND THE BITS FLEW FAR AND WIDE...
30th May 2014
• The DAVID BOWIE: Cracked Actor documentary by Alan Yentob is showing on 4th June at August Ortsstraat, 20-28 1000 Brussels - [More details]...
• So I dug out my DAVID BOWIE scrapbooks covering 1973-1978 (22 in total) trying to find a specific article written for another Bowie fan, and also definitive proof that the 'Diamond Dogs' album WAS released on 31st May. I took plenty of photos as I was searching. If you'd like to view 160+ random ones taken pop on over to BowieWonderworld Facebook pages...
• If you're in or around DAVID BOWIE's home town this Saturday you can watch Labyrinth at the Herne Hill Film Festival in Brixton for FREE at their outdoor screening in Brockwell Park at 8.30pm - [More details]...
• Check out a SENNHEISER 'Case Study' promo for the DAVID BOWIE Berlin exhibition - [View here]...
• The DAVID BOWIE Convention in The Netherlands will take place on Saturday 20th December 2014. Tickets are on sale NOW! - [More details]..
• Nice review of the current DAVID BOWIE exhibition in Berlin... and yes 'Bowieness' should be a word - [Read here]...
---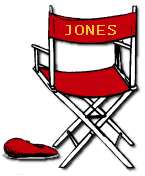 HAPPY BIRTHDAY TO DUNCAN!
30th May 2014
Wishing you a very Happy 43rd Birthday Duncan!

Have a wonderful day and I hope you get everything you wish for (including bacon)

Many happy returns and best wishes from

Rednik and everyone at Wonderworld
---
DAY IN, DAY OUT
30th May 2014
• On this day, 27 years ago, DAVID BOWIE performs at Feyenoord Stadium in Rotterdam, Holland. It is the opening gig of The Glass Spider World Tour. The crowd sing 'Happy Birthday' for Duncan - [View news footage].
• On this day, 31 years ago, DAVID BOWIE performs at the US Festival in Glen Helen Park, San Bernardino, California. He reportedly receives a fee of $1 million - [View news footage].
• On this day, 36 years ago, DAVID BOWIE performed his Musikladen Extra TV Special in Bremen, Germany - [View TV show].
• On this day, 38 years ago, DAVID BOWIE hired out a casino in Montreux, Switzerland and narrates 'Jack and The Beanstalk' for his son Duncan and his friends.
---
DADS' ARE UNCOOL?
27th May 2014
THE INDEPENDENT newspaper have just jumped on a funny tweet posted DUNCAN JONES showing the Fathers' Day card he got hold of for his father.
David Bowie's father's day card: Evidence that all dads are inherently uncool - [Read here].
Duncan has just finished directing his latest movie 'Warcraft' in Vancouver, Canada. More details over on the excellent manmademovies.co.uk blog.
---
QUEEN FOREVER TO FEATURE BOWIE
27th May 2014
QUEEN guitarist BRIAN MANY has revealed more details regarding unreleased material featuring the late Freddie Mercury, during a new interview with BBC Radio.
This material is to be released towards the end of the year on an compilation album provisionally entitled 'Queen Forever'.
The album is expected to include unreleased collaborations with DAVID BOWIE.
You can listen to the BBC Wales interview HERE.
(Ed. Don't be expecting 'Ali', 'It's Alright' and 'Knowledge' - these are all songs that just sampled the 'Under Pressure' riff).
---
VISCONTI and WOODMANSEY with HOLY HOLY IN SHEFFIELD
24th May 2014
Update: The London gig is now sold out.
A second gig has been added for the following day.
HOLY HOLY will also play Sheffield O2 Academy on Thursday 18th Steptember. I've been informed that NO MORE gigs in 2014 will be announced.
Tickets are on sale now here - be quick.
(See news story below for full details).
---
DAVID BOWIE OPENS IN BERLIN
20th May 2014

The DAVID BOWIE IS exhibition opens TODAY in Berlin at the Martin-Gropius-Bau Museum until 10th August 2014.
Venue: Martin-Gropius-Bau, Niederkirchnerstraße 7, 10963 Berlin.
Opening Hours: 10.00 - 20.00 daily. No closing day. Cash desk closes at 19.15.
More details, information and ticket purchasing available NOW at davidbowie-berlin.de/en
After Berlin, the exhibition carries on to Chicago, Paris and Netherlands.
Further reading and watching:
Online Focus: 'David Bowie: Ausstellung In Berlin' - [Read/Watch here].
Hamburger Abendblatt: 'Berlin feiert die Rückkehr von Universalgenie David Bowie' - [Read here].
Bild: 'Berlin feiert einen Musik-Giganten' - [Read here].
The Local: 'David Bowie is back in Berlin' - [Read here].
Bild: 'Verneigung vor einer Pop- und Stil-Ikone' - [Read here].
RT: 'Germany: Bowie exhibition opens in Ziggy's adopted home, Berlin' - [Watch here].
Electronic Beats: 'Hans Ultrich Obrist recommends the David Bowie is exhibit and catalogue' - [Read here].
---
VISCONTI and WOODMANSEY with HOLY HOLY AT THE GARAGE
20th May 2014
Update: The London gig is now sold out. A second gig has now been added on the following day.
Holy Holy will also play Sheffield O2 Academy on Thursday 18th Steptember. No more gigs in 2014 will be announced. Tickets are on sale now here - be quick.
Tickets are on sale now for a live performance of DAVID BOWIE's album 'The Man Who Sold The World' by TONY VISCONTI and WOODY WOODMANSEY with HOLY HOLY plus Gillian Glover.
The gig takes places on Wednesday 17th September at The Garage, 20-22 Highbury Corner, London N5 1RD at 19.00 - 23.00.
Legendary Bowie bandmates, producer/bass player Tony Visconti and drummer Woody Woodmansey, will play together for the first time since 1971 at The Garage in Highbury, London, on Wednesday 17th September, with a band of world class musicians that includes Steve Norman of Spandau Ballet and Glenn Gregory of Heaven 17.
On 22nd February 1970, David Bowie took to the stage with The Hype to perform what is widely accepted to be the first Glam Rock performance.
The Hype represents a turning point in David Bowie's career; a hugely significant step away from being a one-hit wonder - with 1969's Space Oddity - to finding the formula for enduring success. The Hype, comprising John Cambridge on drums, Tony Visconti on bass and Mick Ronson on guitar was the progenitor of The Spiders From Mars; the band that made David Bowie and helped to define popular culture in the 1970s.
David Bowie's seminal album The Man Who Sold The World, masterfully produced by Tony Visconti, was recorded in 1970 after The Hype's performance at the Roundhouse, with the powerful drumming of Woody Woodmansey replacing John Cambridge.
The Man Who Sold The World is unusually sonically heavy and dystopian for a Bowie album; with lyrical themes including annihilation and a totalitarian machine. The sound combines riff-laden heavy rock with futurist synth sounds and Visconti's innovative production techniques. The distinctive and robust guitar playing which contributed so much to the artistic success of this remarkable record was Mick Ronson, who sadly died in 1993. Mick's daughter Lisa, his sister Maggi and niece Hannah will perform the album with Tony and Woody.
Tony Visconti on bass, and Woody Woodmansey on drums, will be joined by Woody's stellar supergroup Holy Holy, at this gig, including:
Glenn Gregory (Heaven 17), vocals.
Steve Norman (Spandau Ballet), sax, guitar, percussion and vocals.
Erdal Kizilcay (David Bowie, Iggy Pop, Freddie Mercury), keyboards and vocals.
James Stevenson (Generation X, Scott Walker, Gene Loves Jezebel), guitar.
Paul Cuddeford (Ian Hunter, Bob Geldof), guitar.
Rod Melvin (Ian Dury, Brian Eno), piano.
Malcolm Doherty (Rumer), 12 string guitar and vocals.
Lisa Ronson (A Secret History), vocals.
Maggi Ronson backing vocals and recorder.
Hannah Berridge Ronson backing vocals, recorder and keyboards.
Woody Woodmansey says: "I'm genuinely excited about the Holy Holy gig at The Garage, Islington on Sept 17th.
"The first set we'll be playing is the whole of 'The Man Who Sold The World', which has never happened before, though we did do a couple of songs from the album during the Ziggy period. To perform that album with Tony Visconti who played bass on the album and also produced it will be amazing! It's been a long time since we grooved together!
"For me it was the forerunner to the Ziggy and Aladdin Sane albums. I always thought the band 'kicked like a mule'.
"It's also an honour to have such an array of world class musicians in the band, Steve Norman, Erdal Kizilcay, Glenn Gregory, James Stevenson, Paul Cuddeford, Rod Melvin and Malcolm Doherty, plus adding even more significance to the night will be Lisa and Maggi Ronson, and Hannah Berridge Ronson, on backing vocals. See you there..."
Tony Visconti says: "One reason I'm looking forward to playing The Man Who Sold The World album in its entirety is because lots of people ask me if I still play bass. I do, but I've since rarely played anything as ambitious and demanding as the music of that great batch of songs conceived by David Bowie. With Woody Woodmansey and Mick Ronson, two of the finest musicians I've had the pleasure of recording and playing with, we set out to create something both new and classic, we called it our 'Sgt. Pepper.' David gave us a chance to bring our unique talents to the table and we made up our parts within David's framework. Mick forced me to listen to Jack Bruce, however, and told me 'that's what great bass playing was all about'. I got it, lead bass playing, as a guitarist this came natural to me. With David as our charismatic frontman we were 'Young Turks' determined to spin heads and change the world of music. Well, we sold about 20 copies instead. But over the years members of the public finally got it and eventually the album sold a million or two. A great homage to us was to hear Nirvana perform the title track unplugged in the 90s on an MTV special, note for note. I'm sure Bowie picked up some new fans afterwards although a lot of people still believe that Kurt Cobain wrote it.
"So, do I still play bass? You bet I do, and Woody and I will slam, bam, riff and groove the night away."
Holy Holy will release their debut single on the day of this gig; 'We Are King', written by Steve Norman, backed with a cover version of Bowie's 'Holy Holy'.
Support from exquisite singer-songwriter Gillian Glover. Woody drummed on Gillian's debut album 'Red Handed', released in 2007.
Check out the FB events page for more details.
---
AND THE BITS FLEW FAR AND WIDE...
17th May 2014
• MUSIC ON VINYL are to release 'Low Symphony' by PHILIP GLASS on vinyl on 9th June - [More details]
• Heads up... On 20th December 2014 there will be a big DAVID BOWIE fan event will take place in Holland. More details soon at drucultuurfabriek.nl...
• The recently found 1974 footage that I stumbled upon of DAVID BOWIE featured as part of the NIGHT LUNCH movie (Premiered at the 1975 CBGC's Christmas Fest) has now been edited to feature just the David Bowie segments. You can view all 2 minutes and 20 seconds of Bowie at the Radio City Music Hall which has been overdubbed with the 28/10/74 show courtesy of DC - [View here]...
---
TWIN PEAKS - THE ENTIRE MYSTERY
16th May 2014

Finally! The Missing Pieces!..
There's a brand new TWIN PEAKS - THE ENTIRE MYSTERY DVD Blu-ray 10-disc box all set for release on 29th July, and it includes nearly 90 minutes of never-before-seen deleted and alternate scenes from the prequel film 'Twin Peaks: Fire Walk With Me'.
This is the footage that fans have been craving for years, and finally this box set that was personally supervised by Twin Peaks mastermind David Lynch sees the light of day.
And yes... DAVID BOWIE starring as Agent Phillip Jefferies appears. Check out the trailer below...
Twenty-five years after the shocking murder of Laura Palmer in the acclaimed series from legendary filmmaker David Lynch and writer/producer Mark Frost, CBS Home Entertainment and Paramount Home Media Distribution will release
Twin Peaks - The Entire Mystery pre-order NOW
.
Arriving for the first time on stunning High Definition Blu-ray with English 7.1 DTS-HD Master Audio on July 29th, this comprehensive collection contains every episode from the complete television series; both the U.S. and international versions of the series' Pilot; the North American Blu-ray debut of Lynch's follow-up feature Twin Peaks: Fire Walk With Me; and nearly 90 minutes of deleted and alternate scenes from the film. The set also features newly transferred Log Lady introductions for each episode; picture upgrades to many shots in the TV series; a new featurette with Lynch and the actors who portrayed the Palmer family which includes a mesmerising return to the lives of their characters today; and hours of never-before-released material that dives into the fascinating story behind the celebrated pop culture classic.
Along with a newly transferred version of Twin Peaks: Fire Walk With Me, created from a 4K scan of the original negative, TWIN PEAKS - THE ENTIRE MYSTERY Blu-ray box set boasts the long-awaited missing pieces from the original version of the film - nearly an hour-and-a-half of deleted/alternate scenes from Twin Peaks: Fire Walk With Me - often referred to as the "holy grail" of Twin Peaks fandom. This feature-length experience has been directed and edited by Lynch exclusively for this release. Capping off more than 30 deleted/alternate scenes is an epilogue providing a fascinating glimpse beyond the cliffhanger finale of the TV series.
If you would like to download the FULL script of the movie it has been available on here since 2009.
Twin Peaks - The Entire Mystery [Blu-ray] is available to pre-order NOW
.
---
AND THE BITS FLEW FAR AND WIDE...
15th May 2014
• Check out an ArtPress interview with VICTORIA BROACKES, curator of Theatre and Performance at the Victoria and Albert Museum in London. She talks about the trailblazing exhibition DAVID BOWIE, which will run at Berlin's Martin Gropius Bau from 20th May - [Read here]...
• Berlin exhibition shows Bowie's "Heroes" years - DAVID BOWIE's intensely productive Berlin period - when he made the iconic albums Low and "Heroes", helped launch Iggy Pop's solo career and kicked a drug habit - is the theme of a new show adapted from last year's sold-out exhibition in London - [Read here]...
• Singer PAUL YOUNG is interviewed by The Express. Several DAVID BOWIE references and nice photo of them at The Ritz in New York - [Read here]...
• New movie CONCUSSION, directed by Stacie Passon, opens with DAVID BOWIE's 'Oh! You Pretty Things'. The movie hits theatres on 4th October...
• DAVID BOWIE music is to feature in the latest RENAULT advertising campaign. The car manufacturer is currently keeping the four Twingo prototypes a secret and no one outside the company can confirm what they will all be about, but you should remember one word: glamour. Besides introducing the mysterious four prototypes, The French based automaker will also celebrate Charlie Chaplin with a special film from his grand-daughters, Carmen and Dolores, named "The Innovators". This will feature the Renault Twizy and the Twin'Z and music from David Bowie. More details on the subject will be announced soon...
• JANELLE MONÁE's cover version of the DAVID BOWIE / BRIAN ENO song "Heroes" now has a new 'anti-bullying' promo video - [Watch here]...
---
FANCY A SPOT OF NIGHT LUNCH?
13th May 2014
Woah! Where has this come from? Nice 1974 overdubbed footage here...
NIGHT LUNCH revives the 1970's vibe - it beams you right back to on-stage live musical performances by DAVID BOWIE, Wayne County, George Harrison, Elton John, Queen, New York Dolls, The Ramones, Patti Smith, Television, and more.
The film is a complex arrangement of sound and image that weaves exteriors of New York City with performances, soundbites, and insights into the inner workings of that new music scene. Amos Poe's first film (co-directed with Ivan Kral) condenses the atmosphere of an era before CBGB's became all the rage.
It includes footage of Debbie Harry and Blondie long before they morphed into a much-admired hit machine. To put a label on it, Night Lunch is a significant example of 'New Punk Cinema'.
Title: Night Lunch.
Original Title: Night Lunch.
Language versions: English original version.
Country: USA.
Year: 1975.
Length: 32 min.
Colour: Black and white/colour.
Director: Amos Poe, Ivan Kral.
Editing: Amos Poe.
Music: Rainer Land, Horst Wilke, Stefan Paulisch, G. Hartmann, Michael Maurer, Andreas Willisch, Stefan Helfer and Freunde, Karin Fahnert, Melanie Haller and Stephan Meister, Hajo Schubert, Danny Hubner and Daniel Weller, Falk Selka, Frank Jansky, Hermann Scheer, Andreas Tornow, Eva Stutzel, Lothar Mentz and Dodo Ender.
Featuring: Queen, David Bowie, Rod Stewart, Ron Wood, Emerson, Lake and Palmer, George Harrison, Billy Preston, Aerosmith, Wayne County, David Johanson, Sylvain Sylvain, Johnny Thunders, Debbie Harry, Chris Stein, Joey Ramone, Dee Dee Ramone, Johnny Ramone, Tommy Ramone, Patti Smith, Lenny Kaye, Joan Baez.
Production: Ascent Media MGM-East, Global Image Works LLC, Amos Poe.
Age Recommendation: 12.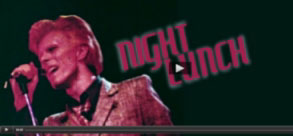 You can watch a PREVIEW HERE - keep watching for the surprise 'Philly Dogs' footage after The Dick Cavett Show snippets (2.26).
Update on Bowie footage:
*Radio City Music Hall footage = Total: 2 minutes 20 seconds (140 seconds).
Clip 1
01.54 - 02.03 ('1984' footage from The Dick Cavett Show. Overdubbed with 'Young Americans').
Clip 2
02.13 - 02.22 ('1984' footage from The Dick Cavett Show. Overdubbed with 'Young Americans').
Clip 3
02.26 - 02.29 ('1984' footage from The Dick Cavett Show. Overdubbed with 'Young Americans').
Clip 4* (22 seconds)
02.44 - 03.06 ('Rebel Rebel' - Radio City Music Hall footage overdubbed with 'Young Americans').
Clip 5* (44 seconds)
05.30 - 06.14 ('John, I'm Only Dancing (Again)' - Radio City Music Hall footage overdubbed with 'The Jean Genie').
Clip 6* (74 seconds)
11.51 - 13.05 ('John, I'm Only Dancing (Again)' - Radio City Music Hall footage overdubbed with 'Watch That Man').
Clips 4 and 5 - don't know what the songs are as of yet, still attempting to work them out.
You can download the full 32 minute movie for a mere $6.48. There is 2 minutes 20 seconds worth of David Bowie live from Radio City Music Hall, New York City in Oct/Nov 1974.
The Bowie footage is pretty good quality, nice colour. Looks like Super 8mm. Check out some screen grabs here
Update: The segments have been edited together and overdubbed with 28/10/74 show courtesy of DC. Watch on YouTube
---
I CAN SEE THE MAGAZINES
12th May 2014

DAVID BOWIE features on the front cover of EXBERLINER magazine for their current May issue.
For this special issue, on sale now, coincides with the David Bowie Berlin Exhibition which starts next week (20th) at the Martin-Gropius-Bau Museum.
In late 1976, David Bowie moved to West Berlin, immersing himself in the city's culture and creating three indelible albums. Thirty-five years later, on the heels of his Berlin-nostalgic 2013 single 'Where Are We Now?', the Thin White Duke is back in town, in the form of a massively hyped exhibition at the Martin-Gropius-Bau. Over 15 pages, we meet Bowie's Berlin friends, fans, colleagues and lovers and attempt to separate the man from the myth.
ROMY HAAG The singer, performer and nightlife goddess - who was also Bowie's Berlin paramour during his stay here - shares her stories.
EXHIBITION PREVIEW Curator Victoria Broakes gives us a taste of the Bowie exhibition - plus, what's new for the Berlin edition?
WHERE WERE WE THEN? By the time Bowie left Berlin, a punk rock renaissance had begun to take root in the walled-in city. Did he have a hand in the transformation of the city's subculture?
ALWAYS CRASHING IN THE SAME BAR Our music editor meditates on the albums' impact, then and now, and asks: What does Bowie have to teach the 2014 Berliner?
BOWIE BY THE BOOK Four authors and experts on the Thin White Duke's lasting legacy
THE SOUND BEHIND THE VISION Former Hansa Studios sound engineer Edouard Meyer reminisces on his time with Bowie and Iggy.
THE FANS WHO FELL TO EARTH A teen obsessive, a collector, a doppelganger and a tour guide: meet Berlin's Bowie nuts.
More details and information can be found over at the exberliner.com website.
---
A BOWIE TRILOGY FILM EVENT
12th May 2014
EXBERLINER is teaming up with realeyz.tv for a one-day David Bowie film festival.
Christian Davies' 2012 documentary 'Bowie in Berlin' examines the Berlin trilogy, offering an in-depth analysis of the songs, while the 1981 classic Christiane F. - Wir Kinder vom Bahnhof Zoo uses a Bowie-centric soundtrack - and a performance from the man himself, filmed separately in New York - to underscore its tragic tale of teenage drug abuse in bleak Cold War-era West Berlin.
Last up is 90 minutes of music videos spanning Bowie's entire career, from 1972's 'Space Oddity' to last year's 'Where Are We Now?'.
Screenings will be followed by surprise guests.
RSVP their Facebook event.
EXBlicks: Bowie film festival, Thursday 1st June, Lichtblick Kino, Kastanienallee 77, Prenzlauer Berg, 10435 Berlin.
More details are available via A Bowie trilogy
---
AND THE BITS FLEW FAR AND WIDE...
12th May 2014
• Congratulations to ADAM BUXTON @AdamBuxton who has just received a Radio Academy silver for his 6 MUSIC DAVID BOWIE documentary - [Listen here]...
• NOISEY blog site has a glimpse into DAVID BOWIE's newly expanded Berlin exhibition. Writer Nadja Sayej interviews MGB museum curator Christine Heidemann - [Read here]...
• Check out the new advertising campaign for the Cadillac Escalade in the USA, features the US number one DAVID BOWIE/CARLOS ALOMAR/JOHN LENNON song 'Fame' - [View here]...
• The DAVID BOWIE 2014 UK Convention took place in Derby last weekend. Big shout out to all the bands and artists who performed, you were all awesome. Thanks to everyone who attended, supported and helped Jim and Baz get this up and running and making it a success. SOLD OUT EVENT? Four tickets were remaining. Same place, same time next year?...
---
KEEP YOUR 'LECTRIC EYE ON EBAY
7th May 2014

For those you of who have been on the lookout for a reasonably priced copy of MOONAGE DAYDREAM: THE LIFE AND TIMES OF ZIGGY STARDUST by MICK ROCK / DAVID BOWIE this is definitely for you.
The owner (who I know personally) is reluctantly selling this out of financial necessity, hence the price being way less than other copies on sale elsewhere. He would ideally prefer this book to be bought by a David Bowie fan.
Published by Genesis to coincide with the 30th anniversary of the Ziggy Stardust LPs original release, Moonage Daydream is David Bowie's first ever book and the ultimate authorised piece of Ziggy Stardust legend. David Bowie's sharp, often humorous text discusses the origins of this fascinating stage persona, comments on Mick Rock's photographs, and overall gives unprecedented insight into Ziggy's stratospheric two-year career.
- 15,000 word text by Bowie.
- A limited edition of 2500 copies signed and numbered copies.
- Signed by Bowie and by Mick Rock.
- Page size: 250mm x 350mm.
- 346 pages.
- 659 images.
- Paper: 14 paper stocks, including clear acetate, trace leaves and a variety of colours and textures.
- Binding: 1/4 Blue Leather, Photograph Foiled on Front and Rear, Gold/Silver blocking.
Check out the listing here for more details and information.
---
RSD UK DAVID BOWIE TOP SELLER
6th May 2014
The best-selling UK singles of RECORD STORE DAY 2014 were as follows:
'Rock 'n' Roll Suicide' - DAVID BOWIE.
'Supersonic' - Oasis.
'Pennyroyal Tea' - Nirvana.
'American Beauty' - Bruce Springsteen.
'Midnight Memories' - One Direction.
'An Ideal for Living' - Joy Division.
'There's a Beast and We All Feed It' - Jake Bugg.
'Peaches' - Stranglers.
'Sock It To Em JB' - Specials.
'Hollow Ponds' - Damon Albarn.
This year's Record Store Day was the most successful yet, with album sales up 30% on last year.
---
AND THE BITS FLEW FAR AND WIDE...
2nd May 2014
• GLAMDAMMIT are pleased to celebrate the 40th Anniversary of DAVID BOWIE's landmark album 'Diamond Dogs' with a live performance by MICHAEL T and The Vanities along with a cavalcade of stars. The event takes place on Saturday, 3rd May at 11pm at The Grand Victory, 245 Grand and Roebling St, Brooklyn, New York, USA - [More details]...
• If you're in Manchester this weekend, check out the 'Remake/Remodel DAVID BOWIE Special Night' taking place on Saturday 3rd May at The Ruby Lounge at 11pm-3am - [More details]...
• THE SIMPSONS Executive Producer MATT SELMAN would like DAVID BOWIE to lend his voice and make a guest appearance on the show - [Read here]...
• Creature Feature season... LABYRINTH starring DAVID BOWIE is to appear on the BIGGEST screen in the Midlands on Sunday 11th May at Millennium Point, Birmingham, England at 19.00 - [More details]...
• LABYRINTH starring DAVID BOWIE is to appear at Stratford Picturehouse, Stratford-upon-Avon on Saturday 31st May at 21.00 - [More details]...
• BOWIE NIGHT: JEREMY DELLER - English Magic Exhibition on Thursday 19th June, 7pm to 10pm. £10/£7 conc. Over 18s only. Celebrate David Bowie's music and the links to Jeremy Deller's work with an evening of performances by The (Greatness Of The Magnificence) Fantasy Orchestra, plus talks, art and more. To book, call the Museum Shop on 0117 922 3650 - [More details]...
• A date for your calendar... The Museum of Contemporary Art in Chicago today announced that individual tickets for its upcoming exhibit, DAVID BOWIE IS will go on sale 31st July, via the museum website, at the box office (220 E. Chicago), or via the Bowie Hotline (312) 397-4068...
• CANCELLED Tickets are now on sale for this year's BECKENHAM ARTS FESTIVAL event to commemorate 45 years since DAVID BOWIE's original Free Festival. The event takes place on Saturday, 16th August 13:00 to 19:00 (BST) at the Croydon Road Recreation Ground. For more details and information check out their Facebook page...
• If you were unlucky and didn't manage to get hold of the DAVID BOWIE Record Store Day 2014 releases you were after, see if you can pick up a bargain - [View here]..
---
DAVID BOWIE UK CONVENTION 2014
1st May 2014

Update: #9 Literally only a handful of tickets remaining...The DAVID BOWIE UK Convention 2014 is to be held this year on 10th May in Derby, England.
The venue is: The Victoria Inn 12 Midland Place, Derby DE1 2RR.
The convention will be taking over the whole pub, which has a capacity of 180 to 200. The venue is located right next to the train station and hotels are nearby (4 mins from Derby city centre).
A day to celebrate the music and genius of David Bowie starts at 1.00pm through till midnight.
The full line-up of performers are:
- AladdinSane - the top Bowie tribute band around.
- BowieD - A newly formed 4-piece Bowie tribute band who are opening the convention and will blow you away!
- Funmi Abiola and Chris Chesney - A talented duo with a very exciting setlist.
- Luxury Stranger - a great local band, unique... Bowie/Eno influences.
- Ritchie Blount - local talent, acoustic, plays with passion and fire.
- The Bowie Room (unplugged) - Acoustic duo Nick Fielding and Chris Smith - they will rock your world!
- The Featherz - Charisma, style, attitude and full on rock and roll.
- Baz Dedhevan and 'The Heroes' DJs - Compare extraordinaire and tune spinners.
For more information check out the Facebook events page and Twitter #bowieukconv14
Tickets are priced at £22 GBP... be really, really quick - There are only 180 tickets available to Bowie fans. I guarantee this will sell out for sure.
For those of you travelling up earlier, there is an event now happening on the Friday evening in conjunction with the Convention. Check out the FB event page for full details.
Check out an article from The DERBY TELEGRAPH about the upcoming Convention - [Read here].
---
DUFFY / BOWIE: FIVE SESSIONS
1st May 2014

A new project currently being worked on is a brand new DAVID BOWIE book entitled: Five Sessions.
This 204-page hardcover book by Chris Duffy and Kevin Cann, also has a foreword written by Sir Peter Blake.
The book is scheduled to be published by ACC Editions on 25th June to coincide with the upcoming David Bowie exhibition in Berlin.
Synoposis: Brian Duffy defined the image of the 1960s, and was as famous as the stars he photographed. Together with David Bailey and Terence Donovan, he is recognised as one of the innovators of 'documentary' fashion photography, a style which revolutionised fashion imagery and furthermore the fashion industry.
Duffy's most famous photograph dates from the 1970s and is the iconic and revolutionary cover of David Bowie's album Aladdin Sane, a shot that became the defining look of Bowie's long career, and has been referred to as the Mona Lisa of pop. The photographer and the rock star collaborated on four other projects: Ziggy Stardust, The Man Who Fell To Earth, Scary Monsters (and Super Creeps) and Lodger. They worked together during the pivotal years of Bowie's career; when the king of glam was assuming and discarding extraordinary personas, Duffy was capturing them all.
Written by David Bowie's biographer Kevin Cann, this book includes anecdotes and stories from those attending the shoots - Tony Defries (Bowie's manager at the time of Ziggy Stardust); Celia Philo (designer) and Phillip Castle (airbrush artist) from the famous Aladdin Sane shoot; Francis Newman (Duffy's studio manager); Nick Roeg (film director); May Routh (costume designer) from The Man Who Fell To Earth; Geoff McCormack (musician and Bowie's childhood friend); Derek Boshier (art director of Lodger; Natasha Kornilof costume designer for Scary Monsters; and Duffy's son Chris who also worked on the Scary Monsters session.
Included are many unseen images and behind the scenes photographs. Illustrates Brian Duffy's five different photographic shoots with David Bowie, documenting Bowie's career and pioneering reinvention, as well as Duffy's special relationship with the artist over almost a decade. Includes some of the most famous Bowie images together with out takes and rare shots.
The book Duffy Bowie: Five Sessions
is available to pre-order NOW.
---
DAVID BOWIE IS COMING TO BERLIN
1st May 2014

The DAVID BOWIE IS exhibition is about to visit Berlin in Germany later this month through to August.
The exhibition curated by the Victoria and Albert Museum will be held at Martin-Gropius-Bau on 20th May until 10th August 2014.
Venue: Martin-Gropius-Bau, Niederkirchnerstraße 7, 10963 Berlin.
Opening Hours: 10.00 - 20.00 daily. No closing day. Cash desk closes at 19.15.
More details, information and ticket purchasing available NOW at davidbowie-berlin.de/en
After Berlin, the exhibition carries on to Chicago, Paris and Netherlands.
---
NEW DAVID BOWIE BOOK DUE
1st May 2014

A new DAVID BOWIE book is to be published next month in June by OR Books... 'Bowie' by Simon Critchley.
Simon Critchley melds together personal narratives of how David Bowie lit up a dull teenage life in England's suburbs with philosophical forays into the way authenticity and identity are turned inside out in the artist's work.
Simon Critchley first encountered David Bowie in the early seventies, when the singer appeared on Britain's most-watched music show, Top of the Pops. His performance of 'Starman' mesmerized Critchley: it was "so sexual, so knowing, so strange." Two days later Critchley's mum bought a copy of the single; she liked both the song and the performer's bright orange hair (she had previously been a hairdresser). The seed of a lifelong love affair was thus planted in the mind of her son, aged 12.
In this concise and engaging excursion through the songs of one of the world's greatest pop stars, Critchley, whose writings on philosophy have garnered widespread praise, melds together personal narratives of how Bowie lit up his dull life in southern England's suburbs with philosophical forays into the way concepts of authenticity and identity are turned inside out in Bowie's work. The result is nearly as provocative and mind-expanding as the artist it portrays.
100 pages. Paperback: $13/£8 GBP. Paperback ISBN 978-1-939293-54-1. E-book ISBN 978-1-939293-55-8.
Check out the orbooks.com website for more details.
---
BOWIE HEARD THEM HERE FIRST
1st May 2014

Set for release this month on 28th April is Bowie Heard Them Here First a twenty-four track CD release from Ace Records (Cat. No. CDCHD 1387).
This latest release in their 'Heard Them Here First' series traces the career of DAVID BOWIE via songs he recorded by other writers. Presented in the (approximate) sequence he recorded his interpretations, the collection kicks off with Paul Revere and The Raiders' original version of 'Louie - Go Home', as covered by the 17 year-old Bowie as leader of Davie Jones and The King Bees in 1964, and concludes with 'I Took A Trip (On A Gemini Spaceship)' by maverick Texan 'outsider' musician The Legendary Stardust Cowboy, a song Bowie included on his 2002 album 'Heathen'.
The CD booklet features notes by Ian Johnston, who also wrote the notes for the recent 'The New York Dolls Heard Them Here First' and 'The Ramones Heard Them Here First' collections.
The full tracklisting runs as follows:
01. 'Louie - Go Home' - Paul Revere and The Raiders.
02. 'I Pity The Fool' - Bobby Bland.
03. 'Fill Your Heart' - Biff Rose.
04. 'It Ain't Easy' - Ron Davies.
05. 'White Light-White Heat' - The Velvet Underground.
06. 'Everything's Alright' - The Mojos.
07. 'Friday On My Mind' - The Easybeats.
08. 'Rosalyn' - The Pretty Things.
09. 'Sorrow' - The Merseys.
10. 'Where Have All The Good Times Gone' - The Kinks.
11. 'Around And Around' - Chuck Berry.
12. 'Knock On Wood' - Eddie Floyd.
13. 'Amsterdam' - Jacques Brel.
14. 'Wild Is The Wind' - Johnny Mathis.
15. 'Alabama Song' - Lotte Lenya and The Three Admirals.
16. 'Kingdom Come' - Tom Verlaine.
17. 'Criminal World' - Metro.
18. 'Don't Look Down' - Iggy Pop.
19. 'Dancing In The Street' - Martha and The Vandellas.
20. 'If There Is Something' - Roxy Music.
21. 'Nite Flights' - The Walker Brothers.
22. 'Cactus' - Pixies.
23. 'Pablo Picasso' - The Modern Lovers.
24. 'I Took A Trip (On A Gemini Spaceship)' - The Legendary Stardust Cowboy.
You can purchase NOW
---
ANOTHER AWARD FOR FIVE YEARS
1st May 2014
Congratulations are in order for the team who created the DAVID BOWIE - Five Years BBC documentary.
At The Focal International Awards last night Five Years won the 'Best Use of Music Performance footage'.
David Bowie - Five Years BBC Events Production (UK).
Producer/Director: Francis Whately. Footage Archive Researcher(s): Miriam Walsh.
Top 5 Source(s) of Library Footage Used in Production: AVRO Broadcasting Sales (Netherlands), Mick Rock, Daphne Productions, Soul Train Holdings, LLC, NHK and all the archives who supported the project.
David Bowie - Five Years is an intimate portrait of five seminal years in the musician's career. The film looks at how Bowie evolved from 'Ziggy Stardust', to the 'Soul Star' of Young Americans, to the 'Thin White Duke'; then at the critically acclaimed albums Low and "Heroes"; and finally explores his triumph with Scary Monsters and his global success with Let's Dance. Using an extraordinary wealth of previously unseen archive from collections around the world, and interviews with of all his closest collaborators, David Bowie - Five Years presents a unique account of why Bowie has become an 'icon of our times'.
The film was crafted using long-forgotten archive footage, rare vintage performances and out-takes from period promos and films. The material was sourced from all over the world and included 'lost' BBC footage as well as rushes from rehearsals and home movies. To discover new material of an artist of Bowie's stature was remarkable, it added to the sense that we were giving the audience a rare treat. Many performance out-takes were mute and synched up with bootleg and gig audio of the same period. Bowie words which drove the narrative were culled from interviews broadcast throughout his career. This unique footage intercut with contemporary interviews from Bowie's key collaborators made this film one of the most acclaimed documentaries of 2013.
---
DAVID BOWIE WONDERWORLD NEWS ARCHIVE
April | March | February | January
2013 Bowie News
2012 Bowie News | 2011 Bowie News | 2010 Bowie News | 2009 Bowie News
2008 Bowie News | 2007 Bowie News | 2006 Bowie News | 2005 Bowie News
2004 Bowie News | 2003 Bowie News | 2002 Bowie News | 2001 Bowie News
2000 Bowie News | 1999 Bowie News | 1998 Bowie News | 1997 Bowie News






| | |
| --- | --- |
| Created: May 2014 © Paul Kinder | Last Updated: 31/5/14 |