BOWIE TV and WHAT'S REALLY HAPPENING IN JUNE - MONTHLY PLANNER

[BOWIEWONDERWORLD SHOP] [LATEST DAVID BOWIE ITEMS ON eBAY]
[@bowiewonderworld.com email addresses HERE]
Have YOU got some DAVID BOWIE related news or a hot scoop?
Well don't just sit there keeping it to yourself - send it in to
All news items are credited if you so wish
---
DAVID BOWIE IS HAPPENING NOW
24th June 2013
David Bowie is happening now: A Live Nationwide Cinema Event.
19.00 Tuesday 13th August 2013.
The V&A present David Bowie is happening now, a nationwide cinema event screened live from David Bowie is as the finale to the enormously successful exhibition.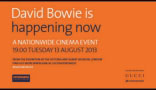 This unique event will be shown in over 200 cinemas across the UK for your last chance to experience the exhibition before it goes on international tour. The film will be introduced by exhibition curators, Victoria Broackes and Geoffrey Marsh, and will feature special guests offering an insight into the stories behind some of the 300 objects from the David Bowie Archive, many of which have never before been displayed in public.
David Bowie is happening now will be directed by BAFTA winning director, Hamish Hamilton who directed the live TV coverage of the opening and closing ceremonies at the London 2012 Olympic and Paralympic Games, and produced by Done & Dusted Productions Ltd. The event will be brought to cinemas across the country by Picturehouse Entertainment Ltd.
The event will be screened at all participating cinemas on Tuesday 13th August 2013, doors open 18.45 screening at 19.00.
Tickets will be available at participating cinemas from Friday 28th June. Ticket prices £10-£14 (prices may vary depending on venue).
MORE CINEMAS TO BE ANNOUNCED. CHECK BACK FOR UPDATES.
Priority Booking at Picturehouse Cinemas.
V&A Members can book tickets for David Bowie is happening now at 20 Picturehouse Cinemas from Monday 24th June to Thursday 27th June. Please call 0871 902 5747 quoting 'V&A Member', and have your membership number to hand. V&A Members will receive a £2 discount on the full ticket price.
Tickets will be on general sale from Friday 28th June. Full price £14, concessions £13, Members £12.
Please visit picturehouses.co.uk/DavidBowieis for participating cinemas.
In the following cinemas:
London - Clapham Picturehouse.
London - Gate Picturehouse.
London - Greenwich Picturehouse.
London - Hackney Picturehouse.
London - Ritzy Picturehouse.
London - Stratford East Picturehouse.
Bath - The Little Theatre Cinema.
Brighton - Duke of York's Picturehouse.
Bury St. Edmunds - Abbeygate Picturehouse.
Cambridge - Arts Picturehouse.
Edinburgh - Cameo Picturehouse.
Exeter - Exeter Picturehouse.
Henley-on-Thames - Regal Picturehouse.
Liverpool - Picturehouse at FACT.
Norwich - Cinema City.
Oxford - Phoenix Picturehouse.
Southampton - Harbour Lights Picturehouse.
Stratford-upon-Avon - Picturehouse.
York - City Screen Picturehouse.
MORE CINEMAS TO BE ANNOUNCED. CHECK BACK FOR UPDATES.
More details and information can be found over at vam.ac.uk
---
PUSHING THROUGH THE MARKET SQUARE
18th June 2013

Currently up for grabs on eBay is an original DAVID BOWIE early 1972 concert poster from Friars Aylesbury.
This iconic gig on 29th February 1972 was held in the Borough Assembly Hall, Aylesbury in Buckinghamshire. This performance was the warm-up performance for David's first major tour of the UK as Ziggy Stardust. The support act were Grand Canyon.
The seller is the son of Friars promoter David Stopps. This poster is double sized unlike the 20 x 30 inch version.
The current bid is an impressive £827 GBP ($1,299 USD) after 22 bids and there are four days remaining.
Check out the listing for the Aylesbury poster to view more images and details and see how the bidding develops.
UPDATE: The final price realised was an incredible £2,200 GBP ($3,380.85 USD) after a total of 37 bids.
---
BOWIE AT BONHAMS
18th June 2013
There are several interesting DAVID BOWIE items available in the forthcoming BONHAMS auction in London next month.
The 'Entertainment Memorabilia' Auction takes place on 3rd July at Bonham's. Knightbridge, London at 13.00 BST.
Some of the highlights include:
Lot 235: 1969 appearance contract for David Bowie and Hutch at Ealing Tech.
Lot 236: David Bowie: Press packs, tour info, tapes and mixed items.
Lot 239: David Bowie A Vox MK XII twelve-string electric guitar.
Lot 240: The Jean Genie handwritten lyrics.
Lot 241: David Bowie 1973 photograph from The Marquee by Stefan Wallgren.
Lot 242: David Bowie BPI Silver Award for Fashion single.
Lot 244: David Bowie and Mick Jagger studio photograph by Terry O'Neill.
Lot 247: David Bowie/Tin Machine bronze maquette by Edward Bell 1998.
Lot 248: Tin Machine mixed media artwork for Baby Universal single.
Lot 249: Tin Machine preliminary artwork for You Belong In Rock and Roll and One Shot by Edward Bell.
For more detailed information check out all the Bowie lots at bonhams.com website.
---
V&A EXCLUSIVE: ORANGE HEATHEN
18th June 2013

The V&A in conjunction with Music On Vinyl slipped out an limited edition album release of DAVID BOWIE's Heathen album pressed in orange vinyl.
The 180 gram audiophile vinyl pressing numbered on a gold sticker was created exclusively for the V&A.
Priced at £30 and limited to just 500 copies, the album sold out immediately via the V&A website in two blocks of 250.
If you are desperate to get hold of a copy check out the listings for Heathen orange vinyl online.
(Ed. Note there are some ridiculous prices being asked at the moment. Hang fire for a few weeks and I'm sure they will settle down. Also the actual vinyl colour is more of a orange/brown marble effect rather than a solid orange colour).
---
THE NEXT DAY SINGLE RELEASED
18th June 2013
Yesterday saw the release of DAVID BOWIE's third single from his latest album The Next Day.
This limited edition 7 inch white vinyl square single (Cat. No. 88883741287) features the same track on both sides.
This release should be available at all good record stores.
If you are struggling to locate one, there are some reasonable priced The Next Day white vinyl here.
---
MICK RONSON LEGACY EVENT
12th June 2013

Taking place in Hull next month on Saturday 13th July is the MICK RONSON Legacy - a fan based event to celebrate the life of Mick Ronson and Trevor Bolder, two sons of Hull sadly no longer with us.
Featuring The Zanna Gregmar Band, The Black Delta Movement, Rock and Ronson Band, Happy Endings and The Hillbilly Troupe.
The venue is The Piper, Newland Avenue, Hull, England HU5 2NN.
Doors open at 7.30, after party until 3am, with tickets priced at a reasonable £5 plus 50p P&P with all profits going to two worthy charities.
Tickets can be obtained via PayPal at or pay on the door.
More details and information can be found over on facebook event page.
From John Bird.
---
THE MANY FACES OF DAVID BOWIE
12th June 2013

The OPERA GALLERY LONDON present 'The Many Faces of DAVID BOWIE' - an exhibition of contemporary art paying tribute to the British icon of pop culture.

The full list of artists participating include: Lita Cabellut, David Mach, Joe Black, C215, 0The London Police, Mac1, Jimmy C, Nick Walker, Kid Zoom, Mr. Brainwash, Kan (Da Mental Vaporz), Juan Barletta, Hisham Echafaki, Jef Aerosol, DFace, marco Lodla, Andrew Monet, Nick Gentry, Zoobs, Eduardo Guelfenbein, Paul Alexis, Jean-Paul Donadini, Richard Young.

Venue: Opera Gallery, 134 New Bond Street, London WS1S 2TF.

The exhibition runs from 21st June through to 31st August 2013.

More details and information can be found over at operagallery.com website.
---
'YOU CAN BE HEROES, FOR MORE THAN ONE DAY
11th June 2013

The NHS latest appeal for blood donors... 'you can be heroes, for more than one day...
The overall number of blood donors has fallen by almost a quarter in the last ten years and health officials are concerned over shortages.
In an attempt to help halt a decline in regular blood donors NHS Blood and Transplant is now appealing for people to come back and register to donate during this year's National Blood Week, with a new celebrity poster campaign inspired by DAVID BOWIE.
Actresses Claire Sweeney, Dawn Steele, Wendi Peters and Pooja Shah have all recreated David's iconic Aladdin Sane album cover shot to encourage people to come back and register.
Anyone aged between 17-65, weighing more than 50kg (7st 12lbs) and in general good health could potentially start saving lives by becoming a blood donor. There is no upper age limit for donors who have donated in last two years.
For more information on how you can help or to book an appointment please visit blood.co.uk
---
'DAVID BOWIE IS' NEXT STOP... CANADA
11th June 2013
After the unprecedented success at the V&A in London, the DAVID BOWIE IS exhibition heads next to Canada this coming Fall.
The exhibition will be held at the AGO (Art Gallery of Ontario) it opens on Wednesday 25th September and runs through until Wednesday 27th November.
Venue: Art Gallery of Ontario (Musée des beaux-arts de l'Ontario).
Address: 317 Dundas Street West, Toronto, Ontario, Canada M5T 1G4.
Telephone: 416 979 6648 / 1 877 225 4246 (toll-free).
Website: ago.net
Opening Times:
Monday CLOSED.
Tuesday 10 am - 5:30 pm
Wednesday 10 am - 8:30 pm
Thursday 10 am - 5:30 pm
Friday 10 am - 5:30 pm
Saturday 10 am - 5:30 pm
Sunday 10 am - 5:30 pm
Check out ago.net for more details and information.
This is the first stop on a world tour for the show. The only other 100% confirmed date known so far is Brazil in early 2014.
---
MISSING BOWIE BANGLE SHOWS UP!
9th June 2013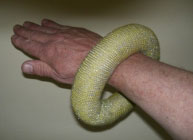 So after precisely 39 years, 11 months and 5 days the missing ALADDIN SANE costume bangle finally turns up for sale!
The KANSAI YAMAMOTO designed yellow material bangle with a silver fleck wrapped around a soft filling, was one of four which was part of the asymmetric costume.
To complete the costume, two bangles were placed on David's left wrist and two on his right ankle. The set of four different colours red, yellow, green and blue would be worn by David in various colour combinations.
Eagle-eyed visitors to the current V&A 'David Bowie Is' exhibition may have noticed that the yellow one was missing from the costume display.
The seller "acquired" the bangle from David when he came to the front of the stage during his concert at the Spa Royal Hall in Bridlington, East Riding of Yorkshire on 28th June 1973 during his UK Tour.
The item was put up for sale with a starting bid of £250 GBP and after a total of 11 bids the final price realised was a whopping £1,120 GBP.
(Ed. Call me conscientious, but surely this "acquired" item should have been returned to its rightful owner).
---
ENGLISH MAGIC
9th June 2013

'I searched for form and land'... 'For years and years I roamed'...
'English Magic' is the title of artist JEREMY DELLER exhibition for the British Pavilion for the 55th edition of the Venice Biennale.
Focusing on British society - its people, icons, myths, folklore and its cultural and political history, Jeremy weaves together high and low, popular and rarefied to create unique and thought provoking work.
See if you can spot where Jeremy has referenced DAVID BOWIE... view exhibition images
Also be sure to check out a filmed interview HERE where everything is explained, and some more Bowie related appearances.
Thanks to Cliff for the heads up.
---
POP CULTURE AUCTION AT CHRISTIE'S
7th June 2013
There are six DAVID BOWIE items up for grabs in the forthcoming CHRISTIE'S 'Pop Culture' auction taking place in South Kensington, London on 26th June.
Lot 205: David Bowie
Description: An rare early press release for David Bowie And The Lower Third, promoting the first single released under the name David Bowie, Can't Help Thinkin' About Me, 1966, in which the 19 year-old David Jones explains why he has adopted the stage name David Bowie There are too many Davie Jones's.
Estimate: £1,000-£1,500. [View item]
Lot 206: David Bowie
Description: A rare early concert ticket You Are Invited To Meet David Bowie With The Lower Third, The Gaiety Bar, Victoria Tavern, London, Thursday, 6 January, 1966; accompanied by three original black and white publicity photographs featuring David Bowie and the Lower Third.
Estimate: £800-£1,200. [View item]
Lot 207: David Bowie
Description: Terry O'Neill (b. 1938). Diamond Dogs, 1974. Gelatin silver contact sheet. 8x10in. (20.5x25.5cm.).
Notes: During the publicity shoot for Diamond Dogs, Terry O'Neill started to shoot with the dog sitting quietly besides Bowie, but suddenly the Great Dane got over excited and reared six feet into the air, barking madly. This terrified the life out of everyone in the studio, except Bowie who didn't even flinch.
Estimate: £800-£1,200. [View item]
Lot 208: David Bowie
Description: Terry O'Neill (b. 1938). Diamond Dogs, London, 1974 [printed 2013]. Silver gelatin print, artists proof, signed and inscribed in black ink by the photographer AP.
Estimate: £3,500-£4,500. [View item]
Lot 209: David Bowie.
Description: A promotional lithographic print for the album "Heroes", 1978, signed and dated in red ink by David Bowie and numbered 19/20.
Estimate: £1,000-£1,500. [View item]
Lot 210: David Bowie
Description: A belted trench coat of khaki gaberdine, labelled Swallow Raincoat, Made in England, worn by David Bowie over a pink jumpsuit in the video for his single DJ, 1979; accompanied by a document concerning the provenance (2).
Notes: According to the original vendor, the coat was first worn by filmmaker John Maybury and then used by Kenny Morris of Siouxsie and The Banshees. It was then given to fashion designer Willie Brown of the label Modern Classics. Brown designed the pink boiler suit that Bowie wore in the video and lent him the trenchcoat to wear over it. Brown then gave the coat to the original vendor. The pink jumpsuit worn in the video is currently on exhibition with a later trench coat at David Bowie Is, Victoria and Albert Museum, London, 23 March - 11 August 2013.
Estimate: £2,000-£3,000. [View item]
Location: Christie's, 85 Old Brompton Road, South Kensington, London SW7 3LD, England.
Date: 26th June 2013.
For more information and how to place bids please visit christies.com website.
---
CONGRATS TO DAVID AND IMAN
6th June 2013
Today marks the 21st anniversary of DAVID and IMAN's wedding ceremony at Saint James Episcopal Church, in Florence, Italy.
The best man was David's son Duncan with chief usher Alan Edwards. Iman's maid of honour was her best friend Bethann Hardison.
Besides their immediate family, among the sixty-eight invited guests were Yoko Ono, Brian Eno, Bono, Eric Idle, Geoff MacCormack, George Underwood, Herve Leger and Thierry Mugler.
You can click here to read an article from Hello! magazine entitled 'The Wedding of David Bowie and Iman' in the BW archives.
---
DAVID CELEBRATES 49 YEARS RECORDING
5th June 2013

Today marks the anniversary of DAVID BOWIE's first ever single release 'Liza Jane' credited to Davie Jones with The King Bees, which was released 49 years ago today, 5th June 1964 on the Vocalion Pop label (V 9221).
Featuring seventeen-year-old Davie Jones (vocals and saxophone), George Underwood (guitar), Roger Bluck (guitar), Francis Howard (bass) and Robert Allen (drums).
Although credited to Leslie Conn, David's then manager who negotiated a one-single deal with Decca Records, George Underwood said the song was originally an old Negro spiritual that the band played around with and came up with this R'n'B song.
Leslie Conn's recollection of the events in 1997:
"I can tell you that I have got a pretty retentive memory, but that is something I can't clearly recall. I used to write songs except that I don't write music and I don't play piano. When the boys were jamming to kind of come up with some ideas to make a record, they came up with some six bar blues, which everyone uses. As they were doing that, I came up with my own idea, which came from nowhere, and we improvised and the song came together. I mean, I would never take credit for something that I never did and I know David wouldn't have agreed for me to sign the contract as writer if he had wrote it himself. I would never have stolen someone else's song on principle. I know that I'm quite vague on that and I can't be absolutely sure how it all came about, but I know that I did come up with a lot of ideas. As for the production of the song that was most certainly me, I arranged and organised the whole thing and I always produced the material I was arranging with Decca at that time. George Underwood is definitely wrong on that point.
"There is a funny story while were still on the subject of 'Liza Jane'. When David and I parted company I went off to live and work in Majorca for a few years and one day I was on the phone to my mother and she said, 'what shall I do with those records I have in the garage' which were a few hundred copies of 'Liza Jane'. So I replied, 'Throw them out', and she did. The last time David came up here he said, 'Have you got any of those records we made, you know they're worth over a hundred pounds each!' I told him I got my mother to throw them all out! We had to laugh."
Backed with 'Louie Louie Go Home', written by Paul Revere and Mark Lindsay, which was incidentally pencilled in as the A-side, both songs were recorded in a seven-hour session at Decca Studios in Broadhurst Gardens, West Hampstead.
The single was re-released by Decca in September 1978 (catalogue number F 13807) and beware there are counterfeit Vocalion copies in circulation. Produced in the USA in 70s, the tell-tale difference between the original and the illegal pressings is the matrix number. On the original 1964 issue the matrix number is machine stamped on the vinyl and on the fake copies it is handwritten.
The official press release for the single from the press room of the Dick James Organisation in May 1964 read...
INTRODUCING DAVIE JONES WITH THE KING-BEES... AND THEIR FIRST DISC 'LIZA JANE'
Pop Music isn't all affluence. Just ask new seventeen year old recording star Davie Jones. Time was (two months ago, in fact) when he and his group were almost on their uppers. No money, bad equipment. Then Davie had a brainwave. "I had been reading a lot in the papers about John Bloom," says Davie. "So I put pen to paper and wrote him a letter." David told Bloom that he had the chance of backing one of the most talented and up-and-coming groups on the pop scene. All he had to do was advance the several hundred pounds it requires to outfit a pop group with the best equipment.
Davie didn't get the money, but he did get a telegram next day from John Bloom giving the phone number of Artist's Manager Leslie Conn. Davie got in touch, he was rewarded with a booking at Bloom's Wedding Anniversary Party. "We were a dismal failure", recalls Davie. "It was a dinner dress affair and we turned up in jeans and sweat shirts and played our usual brand of rhythm and blues. It didn't go down too well. Still we'll know better next time."
However, all's well that ends well. Leslie Conn liked the earthy type of music the group played, arranged an audition with Decca Records which resulted in a contract and the first release by David Jones with the King-Bees. "Liza Jane", released by Decca (Vocalion 9221) on June 5th.
DAVIE JONES WITH THE KING-BEES MET AT BARBERS
Davie Jones met up with his four member backing group the King-Bees when he visited his local barber shop in Bromley. In between clips he got chatting to the four lads, also there to be sheared, about their musical interests, and before you could say "Short back and sides", they decided to join forces.
The group specialise in hard-driving, uncompromising R & B, a brand of music that has won for them a dedicated following in the London area, a following which should soon be spreading throughout the length and breadth of England on the strength of their first disc.
"LIZA JANE", is a beaty, action packed disc which features the direct no-holds-barred Davie Jones vocal delivery. The King-Bees supply a hard core, R & B backing and the whole thing is crowned by a catchy chorus featuring the line "Little Liza Jane".
DAVIE JONES - Seventeen years old, fair haired Davie first got interested in pop music when he was ten. His father's secretary (Davie's father in P.R.O. for Dr. Barnardo's homes) who had previously worked for a disc company, sent Davie a 'Demo' copy of a new Little Richard disc. As the phrase goes, Davie was "knocked out", and when he had scraped together a few pounds of his pocket money, bought a plastic saxophone. Eventually he progressed on to the real thing. Lessons were the next step. "My idol on saxophone has always been Ronnie Ross", says Davie, "So I looked up his name up in the phone book and asked him if he would give me lessons." Ross agreed, but after Davie played him a few bars Ross's comment was: "Right now we can start working on you, that was bloody awful!" Davie gave up his music to take his G.C.E. at 15, then left school and joined an advertising agency as a commercial artist, where he still works.
When he left school Davie was able to concentrated on his music again, this time mainly as a vocalist, playing dance halls and clubs in and around the Bromley area. Then came the hair-cut and the letter to John Bloom...
Davie's favourite vocalists are Little Richard, Bob Dylan and John Lee Hooker. Apart from the saxophone he also plays the guitar. He dislikes Adams apples, and lists as his interests Baseball, American Football and collecting Boots. A handsome six footer with a warm and engaging personality, Davie Jones has all it takes to get to the show business heights, including... talent.
---
TREASURES OF DAVID BOWIE
2nd June 2013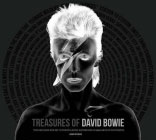 New hardcover publication TREASURES OF DAVID BOWIE by Mike Evans is to be published by Carlton Books Ltd this month on 6th June.
David Bowie Treasures tells the story of one of the world's most iconic and influential figures in popular music. With a career spanning over four decades, David Bowie has consistently topped charts all over the world, selling an estimated 140 million albums worldwide.
David Bowie Treasures, through beautiful photographs and unique memorabilia, illustrates his journey from humble beginnings to world superstardom.
This exclusive box set contains a book, posters and 15 rare archive documents.
You can pre-order David Bowie Treasures
NOW and receive a massive 36%.
---
MEMORY OF A FREE FESTIVAL AT BECKENHAM
1st June 2013
Memory of a Free Festival at Beckenham (Croydon Road Recreation Ground) is taking place on 15th September 2013 in Beckenham, London.
This festival will be homage to the Free Festival, organised by DAVID BOWIE and the Beckenham Arts Lab, which was held at Croydon Road Recreational Ground in Beckenham on 16th August 1969.
The aim of the festival is to raise funds to save the Bandstand on which David Bowie has performed at the Free Festival in 1969. This is no ordinary bandstand! This late Victorian cast iron bandstand has historic and sentimental value and is presently in a desperate need of restoration.
Friends of the Park [becrec.net] are organising the Memory of a Free Festival musical festival in September 2013 and are looking for volunteers to help at the event. Any help is welcome!
We are looking for total of 4 bands to play at the bandstand who can perform any selection of David Bowie songs (a short tribute if you like) as well as their own music material.
We are also looking for volunteers to collect donations, security, face painting amongst other organisational tasks.
The entrance will be free, but as the purpose of the event is to help raise the funds for the bandstand renovations, there will be buckets shaken at the festival to collect donations.
If you are a band wishing to participate, please send a sample of your music or a link to where we can listen to it. I will finalise the response and reply in the second week of July.
Please contact Natasha by email if interested in participating. Otherwise look out for the final announcement of the date and come along!!
Please follow us on Facebook to hear the news on the event.
From Natasha.
---
LABYRINTH PLAY IN CUMBRIA
1st June 2013
Based in Cockermouth, Cumbria, England, the HAPPY THOUGHTS DRAMA COMPANY is a project based group of young actors.
Each year they meet once a week for two hours to work towards a performance in the local Kirkgate Theatre.
Their Spring 2013 production is LABYRINTH based on the Jim Henson's 1986 film which as you know starred DAVID BOWIE as Jareth.
There are two performances this month on Saturday 15th June - matinee at 1pm and evening at 5pm. The performances run for approximately two hours and are suitable for all the family.
Tickets: Adults £5 and Children (11 and under) £3. Tickets are available as doors open or can be reserved from Happy Thoughts Box Office: Tel 0790 027 5709 or 0782 651 9000.
Directed and adapted for stage by Millie Hardy-Sims, with costumes collected and created by Maria Sims, sound engineered by Jamie Sims and lighting designed by Ruben Smith.
More details and information can be found on their Facebook page or happythoughtsdramacompany.webs.com
---
LIFE ON MARS? 40th ANNIVERSARY SINGLE
1st June 2013

Continuing the 40th Anniversary series... this month sees the 7 inch picture disc of the DAVID BOWIE classic track 'Life On Mars?' released.
The picture disc single (Catalogue No: DBMARS40) is released by EMI on Monday 24th June.
Side A: Life On Mars? (2003 Ken Scott mix).
Side AA: Life On Mars? Live (2013 Remaster).
The Ken Scott mix of the single was created at Abbey Road Studios in 2003 for the Ziggy Stardust 5.1 mixes and the AA side 'Life On Mars?' (Live) is taken from a recording at The Music Hall in Boston on 1st October 1972.
As you can see the front picture disc features a still from the Mick Rock promotional video of David wearing the wonderful Freddie Burretti designed sky blue suit and the flip side features a live in concert shot from The Music Hall in 1972.
You can pre-order
NOW and receive a pre-order price guarantee.
---
THE NEXT SINGLE... THE NEXT DAY
1st June 2013
Scheduled for release this month is the DAVID BOWIE 7 inch vinyl single 'The Next Day'.
The record will be issued as a limited edition white vinyl square, with the same track on both sides.
More details to follow...
From davidbowie.com
---
THE TOY SOLDIER EP
1st June 2013

A limited edition of 2,000 copies of The Toy Soldier EP
by THE RIOT SQUAD is to be released on 17th June on the Acid Jazz label (Cat. No. AJX3295).
As you know DAVID BOWIE was part of the band for a short-time in 1967 and recorded several tracks.
The tracklisting runs as follows:
01. Toy Soldier.
02. Silly Boy Blue.
03. I'm Waiting For My Man.
04. Silver Treetop School For Boys.
The EP should be generally available in the UK at local records stores. Outside of the UK you can pre-order here
---
'TOO MUCH ASS FOR TV' NOMINATION
1st June 2013
Update: David wins! omusicawards.com...
DAVID BOWIE has been nominated in this years MTV O Music Awards.
David's promotional video for 'The Stars (Are Out Tonight)' has been nominated in the 'Too Much Ass for TV' award category.
Also nominated in this category are: 'Valtari' by Sigur Ros, 'Blurred Lines' by Robin Thicke, 'Pyramids' by Frank Ocean and 'Wait' by Diiv.
The 24-hour awards ceremony takes places later this month on 19th June at 7pm ET and will be streamed live at omusicawards.com website.
You can now vote for db until 19th June via Facebook, Twitter or at omusicawards.com
---
BW MESSAGE BOARD MEMBERS...
1st June 2013
If you are having any problems logging into the BW Message Board please email me @ and I'll fix it for you.
If you first registered years ago WITHOUT an email address or an unverified one unfortunately you will have to re-register again. For any BW members having problems logging into the BW MESSAGE BOARD please reset your password.
You will have to use the email address you first used when registering and then create a new password.
---
DAVID BOWIE WONDERWORLD NEWS ARCHIVE
May | April | March | February | January
2012 Bowie News | 2011 Bowie News | 2010 Bowie News | 2009 Bowie News
2008 Bowie News | 2007 Bowie News | 2006 Bowie News | 2005 Bowie News
2004 Bowie News | 2003 Bowie News | 2002 Bowie News | 2001 Bowie News
2000 Bowie News | 1999 Bowie News | 1998 Bowie News | 1997 Bowie News






| | |
| --- | --- |
| Created: June 2013 © Paul Kinder | Last Updated: 24/6/13 |