BOWIE TV and WHAT'S REALLY HAPPENING IN AUGUST - MONTHLY PLANNER

[BOWIEWONDERWORLD SHOP] [LATEST DAVID BOWIE ITEMS ON eBAY]
[@bowiewonderworld.com email addresses HERE]
Have YOU got some DAVID BOWIE related news or a hot scoop?
Well don't just sit there keeping it to yourself - send it in to
All news items are credited if you so wish
---
OFFICIAL PRESS RELEASE
29th August 2012
Official Press Release: David Bowie at the Victoria and Albert Museum 2013.
Contrary to recently published reports relating to the announcement by the V&A of an upcoming David Bowie Exhibition, I am not a co-curator and did not participate in any decisions relating to the exhibition.
The David Bowie Archive gave unprecedented access to the V&A and museum's curators have made all curatorial and design choices.
A close friend of mine tells me that I am neither "devastated", "heartbroken" nor "uncontrollably furious" by this news item.
David Bowie. August 28th, 2012.
Source: David Bowie (Official) Facebook and outside-org.co.uk
---
BOWIE/SUKITA: CHANGES EXHIBITION IN OZ AND NZ
26th August 2012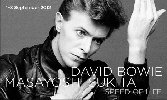 MASAYOSHI SUKITA the Japanese photographer and friend of DAVID BOWIE is visiting Australia to launch the Genesis Publications book SPEED OF LIFE.
Mossgreen Gallery have announced the 'Bowie/Sukita: Changes - A Limited Edition Art Series' which is an exhibition of photographs in a limited edition and are world exclusives. David Bowie has personally signed them for this exhibition.
The exhibition opens on Saturday 1st September through to 8th September at the Mossgreen Gallery, 310 Toorak Road, South Yarra, 3141, Melbourne, Victoria, Australia.
You can view the limited edition photographs here at the mossgreen.com.au website.
If you use Facebook - check out the events page
Thanks to Adam D for the heads up.
Update: Hedleys Books who have organised the Sukita exhibition and are the exclusive Australasian distributors for the Speed Of Life book have added another exclusive launch in New Zealand.
The NZ exhibition will be held at HedSpace Gallery, 150 Queen Street (within Hedleys Bookshop) in Masterton, New Zealand (just north of Wellington) with Masayoshi Sukita from 6pm on 4th September. The exhibition will run from 4th September until 6th October.
Admission is free. For more information contact David Hedley on (06) 3782875 or email: or check out Hedleys Books Facebook pages.
---
SO HE LEAFED THROUGH A MAGAZINE...
25th August 2012
• DAVID BOWIE completely takes over the latest edition of Mexican magazine Hombres Y Mitos, with the whole magazine specially dedicated to him. There are nine images of db on the front cover from various stages of his career. If you want to grab yourself a copy of this Bowie special magazine this Mexican eBay seller has ten copies available - be quick!...
• DAVID BOWIE and IMAN are featured inside the latest September issue of the Italian fashion magazine Amica. Published yesterday, there are five editorial pages and seven photographs of the couple. American model and actress Carol Alt is featured on the front cover. This latest issue isn't featured on their website as of yet, but check it in the next few days at leiweb.it/amica...
---
SO HOLOGRAMIC, OH MY TVC15
24th August 2012

Just in case this newly discovered French TV news piece passed you by on the BW message board...
Check out DAVID BOWIE performing TVC15 in Paris, France on his 1976 World Tour.
'David Bowie in Paris' was originally broadcast on Ile de France Regional News on 18th May 1976 - (01min 58s).
Watch the archived ina.fr VIDEO HERE - whilst you're visting ina.fr there's no harm in doing a search for Bowie - you'll never know what you might find.
---
TEACHING DAVID BOWIE
24th August 2012
Published today over on the Design Week website is a piece about DAVID BOWIE's former art teacher at Bromley Tech OWEN FRAMPTON father of PETE FRAMPTON.
They have published an extract from the draft copy of Owen's book 'Our Way: the Autobiography of a Teacher of Art and Design (The Frampton Papers)'.
The yet-to-be published book was written in the mid 1970s, in which he reminisces about teaching David Bowie, George Underwood, Brian Grimwood and Aziz Cami.
Extract: 'Then of course, there was David Jones and his friend George Underwood. David was quite unpredictable. He was completely misunderstood by most of my teaching colleagues, but in those days, cults were unfashionable and David, by the age of 14, was already a cult figure. At this period in my teaching career, I was thoroughly used to very individualistic pupils and was rarely surprised by anything that occurred. Even when David varied the colour of his hair or cropped it short, or plucked his eyebrows, I accepted his actions as a means of projecting his personality, and of that he had plenty! I did however experience a sense of relief when I obtained employment for both him and George Underwood in advertising studios and at the time I thought that probably it would be the last I would hear of either of them.'
You can read the complete article here.
---
V&A BOWIE SHOW NEXT YEAR
19th August 2012
Details have emerged that The London VICTORIA & ALBERT MUSEUM are planning a show next year devoted to DAVID BOWIE.
David is to part-curate the exhibition of his life and work told primarily through his extravagant costumes. The show will chart his rise to cult rock star status from his early years in Brixton, south London, using his collection of outfits to illustrate his constantly changing identity.
Details about the clothes are being kept under wraps until next month's official announcement of the show, but the V&A's director confirmed to the Observer that David is involved in selecting exhibits that will come from his own collection.
The Guardian: David Bowie: the mannequin who fell to earth - [Read here].
---
LINER NOTES FOR ZIGGY
19th August 2012
At The Melbourne Writers Festival LINER NOTES presents DAVID BOWIE's Ziggy Stardust on Saturday 25th August at 8pm.
Babble is back to rock the festival with Liner Notes, one of Melbourne's best-loved spoken word events - a poetic tribute to a classic album, song by song. This year, we salute David Bowie's leper Messiah from outer space, Ziggy Stardust, on the album's 40th anniversary.
Featuring special guests Benjamin Law, Joumana Haddad (Lebanon) and First Dog on the Moon, with Emilie Zoey Baker, Sean M Whelan, Omar Musa, Yana Alana and more, led by MC Michael Nolan and the house band. Come celebrate a starman surely even Richard Dawkins believes in.
Date: Saturday, August 25th, 8pm.
Venue: Regal Ballroom, 216 High Street, Northcote, Melbourne, Australia.
You can purchase tickets for this event over at tickets.mwf.com.au
Free Press Leader: Belgrave poet pays tribute to Bowie - [Read here].
---
HAPPY 12th BIRTHDAY ALEXANDRIA!
15th August 2012
Happy 12th Birthday Lexi
Wishing you a really fantastic day!

Lots of love from everyone at Wonderworld
---
OLYMPIC 2012 CLOSING CEREMONY
12th August 2012
Tonight saw the Olympic 2012 closing ceremony take place in London at the Olympic Stadium.
It was a spectacular event which included a medley of DAVID BOWIE songs.
Whilst huge images of David in various guises were projected onto the huge screen we were treated to snippets of nine segued songs. Starting off with Space Oddity / Changes / Ziggy Stardust / The Jean Genie / Rebel, Rebel / Diamond Dogs / Young Americans / Let's Dance and ending in Fashion, which was the background music for the UK Fashion glitterati section.
If you missed the event pop on over to the bbc.co.uk website. Bowie starts at 1hr 26.
• During the games Team GB's unofficial song was DAVID BOWIE / Brian Eno's &quotHeroes&quot that played each time a medal was won. Considering Team GB won a total of 29 Gold medals with 64 medals in total, we heard this song moreorless continually! Well done Team GB...
• Olympic Champion USA swimmer RYAN LOCHTE has had several well deserved nights out in London after his success in the swimming pool. For his fourth night out on the town he went to The Rose Club. Ryan was casually sporting a DAVID BOWIE t-shirt. He even had the style to match his trousers with the green Bowie letting - [Photos here]...
---
LIKE SOME CAT FROM JAPAN
4th August 2012

Update: The final price realised was £135 GBP ($211.36 US / 170.93 Euros) sold to a buyer from Scotland.
For all you art collectors out there, here's your opportunity to own a piece of DAVID BOWIE art by the Cheshire-based artist ANDREW T. FANTOM.
Fine artist/illustrator/graphic designer Andrew T. Fantom (born 1957-2006) studied at Stockport Art College and created many pieces of work in various mediums, with his speciality being a unique airbrush technique.
During his life Andrew exhibited at many art galleries across Cheshire and was well known for his contrbutions to the 'Penetration' fanzine.
The fanzine created in 1974 by Paul Welsh, had Paul Morley and Andy Fantom among the staff right from issue 1. Although the Penetration fanzine is remembered as one of the first punk fanzines, in reality it started life as a 'heavy metal' fanzine.
This one-off 'Ziggy' artwork 'Like Some Cat From Japan' is sized at 42cm x 42cm (16.5 inches x 16.5 inches) ink on white board.
---
BOWIEFEST: ICA OFFICIAL PRESS RELEASE
2nd August 2012
UK's first film festival dedicated to the work on screen of legend David Bowie
Bowiefest
Friday 31 August - Sunday 2 September 2012.
Legendary rock star David Bowie has been involved in films for as long as he has been making music. From Friday 31 August to Sunday 2 September, the ICA will celebrate the best of his celluloid appearances with Bowiefest, 3 days of screenings, talks, and Q&As.
Renowned for consistently remaking his image and assuming alter egos in his music over the last 40 years Bowie has also played a fantastically wide range of characters in his films.
Bowiefest's Opening Night will include a rare screening of Ziggy Stardust and the Spiders from Mars, D.A. Pennebaker's epochal behind the scenes documentary and concert film of the last ever Ziggy Stardust concert at the Hammersmith Odeon in 1973. Earlier on Friday 31 August at 1pm, one of the original Spiders from Mars, drummer Woody Woodmansey, will be in conversation with the ICA's Tom Wilcox as part of the Culture Now series of talks.
Another cult documentary, Cracked Actor, follows an alienated Bowie during the Diamond Dogs tour of America in 1974. The director, Alan Yentob - former Chair of the ICA - will be in conversation with leading UK artist Jeremy Deller about this influential film to close the festival. After watching Cracked Actor, director Nic Roeg realised that he had found the leading man for his forthcoming feature, The Man Who Fell to Earth, a film about a humanoid alien who comes to earth on a mission to take water back to his drought stricken planet. There will be a Q&A with him after the screening of his spectacular film. Another chance to see Bowie performing in concert comes in the film Christiane F, about a young junkie prostitute in Berlin - here, the soundtrack for the film was provided by Bowie too, from his 'Berlin era' albums, Low, "Heroes", and Lodger.
The 1980s was a busy decade film-wise for David Bowie, living up to his 'chameleon' nickname, playing everything from a goblin king to a vampire lover to a London wide boy and WW2 army major. Bowiefest is pleased to be able to show some of these films, including The Hunger, Merry Christmas, Mr Lawrence (which Bowie himself called his 'most credible performance'), Absolute Beginners and Labyrinth.
Bowiefest will also feature entertainment and DJs in the bar on Friday and Saturday nights. Come dressed as your favourite era Bowie.
Bowiefest is curated by Natasha Dack and Oli Harbottle.
Programme:
Friday 31 August
TALK - 1pm - Culture Now, Woody Woodmansey in conversation with Tom Wilcox.
To coincide with Bowiefest, the first ever Bowie Film Festival celebrating 40 years of David Bowie's work in film, Culture Now introduces Tom Wilcox in conversation with Woody Woodmansey - drummer from David Bowie's legendary band the Spiders from Mars in a talk that will explore the artistic processes that created Ziggy Stardust, and assess its cultural impact.
FILM - 7pm - Ziggy Stardust and the Spiders from Mars, directed by D.A. Pennebaker.
(Note ticket price: £12 / £10 concessions / £8 ICA Members).
Saturday 1 September
FILM - 1pm - Merry Christmas, Mr Lawrence, directed by Nagisa Oshima.
FILM - 3:15pm - The Man Who Fell to Earth + Q&A with Nicolas Roeg, directed by Nicolas Roeg.
(Note ticket price: £12 / £10 concessions / £8 ICA Members).
FILM - 6:20pm - Christiane F, directed by Uli Edel.
FILM - 9pm - The Hunger, directed by Tony Scott.
Sunday 2 September
FILM - 1:30pm - Labyrinth, directed by Jim Henson.
FILM - 3:30pm - Absolute Beginners, directed by Julien Temple.
SPECIAL EVENT - 6.20pm - Alan Yentob in conversation with Jeremy Deller about CRACKED ACTOR (Note ticket price: £12 / £10 concessions / £8 ICA Members).
A BBC Omnibus documentary, Cracked Actor followed an alienated Bowie during the Diamond Dogs tour of America in 1974. The director Alan Yentob will be in conversation with leading UK artist Jeremy Deller about this influential film to close the festival.
Festival information:
Bowiefest is curated by Natasha Dack and Oli Harbottle.
Email or visit www.bowiefest.net
Follow Bowiefest on Twitter @bowiefest
Member's Ticket Offer:
Buy tickets to 3 or more Bowiefest screenings for £8 per ticket (excluding Q+As)
Listings information:
Cinema prices £10 / £8 Concessions / £7 ICA Members. Prices vary for special events.
Matinee cinema prices £8 / £6 Concessions / £5 ICA Members.
Tuesday cinema prices £6 / £5 ICA Members.
Booking fees for non ICA Members: £1 per ticket or maximum charge per transaction £2.80.
Book online at www.ica.org.uk Call Box Office 020 7930 3647 Textphone 020 7839 0737.
The Institute of Contemporary Arts is supported by Arts Council England.
www.ica.org.uk | www.twitter.com/icalondon | www.facebook.com/icalondon
About the ICA:
The ICA, Institute of Contemporary Arts, is a not-for-profit, multi-disciplinary arts centre established in 1947 by a collective of artists, poets and writers to showcase and champion contemporary culture across the broadest range of art forms. Housing two galleries, two cinemas, a theatre, reading room, bookshop and cafe/bar, the ICA has been at the forefront of cultural experiment since its formation and has presented some of the most radical exhibitions, artists, films, music and thought to have shaped our world. It exists today as a committed proponent of contemporary arts practice and new ideas, presenting an international and contextualised programme of work in new and experimental frameworks across a variety of platforms.
The Institute of Contemporary Arts is supported by Arts Council England.
---
BOWIEFEST AT THE ICA
1st August 2012
Update: As mentioned last month, The Institute of Contemporary Arts, London (ICA) are paying tribute to DAVID BOWIE with the first UK film festival dedicated to his on-screen appearances this month.
BOWIEFEST will comprise of three days of screenings, Q&As, talks and club nights starting on 31st August. The films to be shown include The Man Who Fell To Earth, The Hunger and Merry Christmas Mr. Lawrence.
To coincide with Bowiefest, Culture Now introduces Tom Wilcox in conversation with WOODY WOODMANSEY - drummer from David Bowie's legendary band the Spiders from Mars in a talk that will explore the artistic processes that created Ziggy Stardust, and assess its cultural impact.
The talk takes place on Friday (31st August) at 1:00pm in Cinema 1. Admission is FREE. Book TICKETS HERE.
Festival curator Natasha Dack said: "I can't believe no one's ever done this before, so we're thrilled to be the first and the ICA is just the perfect venue to capture Bowie's straddling of art forms, from performance to film and music."
"We've had an amazing response from many of the artists we've invited and the idea is mainly for fans to come and show their appreciation of a great British artist."
The full schedule runs as follows:
1pm, Friday 31st August
Culture Now: Woody Woodmansey in Conversation with Tom Wilcox
Book tickets
7pm, Friday 31st August
Bowiefest Opening Night
Book tickets
1pm, Saturday 1st September
Merry Christmas, Mr Lawrence, 1pm GMT
The Man Who Fell To Earth, plus Q&A with director Nic Roeg, 3:15pm GMT
Christiane F, 6:20pm
The Hunger, 9pm GMT
More details
Sunday 2nd September
Labyrinth, 1:30pm GMT
Absolute Beginners, 3:30pm GMT
Alan Yentob in Conversation with Jeremy Deller about Cracked Actor BBC documentary, 6:00pm GMT
Venue: Institute of Contemporary Arts.
Address: The Mall, London SW1Y 5AH.
Tickets / Information: 020 7930 3647.
bowiefest.net
twitter.com/bowiefest
The full details, information and listings are now displayed on the ica.org.uk website and bowiefest.net
---
FUNKY LITTLE BOAT RACE
1st August 2012

DAVID BOWIE graces the front cover of the September issue of MOJO magazine. The front cover blurb states: 'How electronic music saved David Bowie by Jon Savage.'
In 1977 the motorik rhythms of German music transformed the mind of the 30-year-old Bowie, reinvigorating his music in the process. Then, in 1993, the singer returned to those strange sounds for a remarkable sonic rebirth. Jon Savage reassesses Bowie's electronic lives.
The free cover-mounted CD 'Electricity: A Brief History of the Future of Sound' compiled by Mute's Daniel Miller and starring Can, Moby, Throbbing Gristle, LCD Soundsystem, Daft Punk, Caberet Voltaire and many more!
For more details and information pop on over to the mojo4music.com website.
---
DAVID BOWIE WONDERWORLD NEWS ARCHIVE
July | June | May | April | March | February | January
2011 Bowie News | 2010 Bowie News | 2009 Bowie News
2008 Bowie News | 2007 Bowie News | 2006 Bowie News | 2005 Bowie News
2004 Bowie News | 2003 Bowie News | 2002 Bowie News | 2001 Bowie News
2000 Bowie News | 1999 Bowie News | 1998 Bowie News | 1997 Bowie News






| | |
| --- | --- |
| Created: August 2012 © Paul Kinder | Last Updated: 30/8/12 |