BOWIE TV and WHAT'S REALLY HAPPENING IN SEPTEMBER - MONTHLY PLANNER

[BOWIEWONDERWORLD SHOP] [LATEST DAVID BOWIE ITEMS ON eBAY]

[@bowiewonderworld.com email addresses HERE]

Have YOU got some DAVID BOWIE related news or a hot scoop?
Well don't just sit there keeping it to yourself - send it in to
All news items are credited if you so wish

[DOWNLOAD DAVID BOWIE MUSIC from Amazon
]



---
"I SEE THINGS"
20th September 2009



Penguin Modern Classics have published The Man Who Fell to Earth
by Walter Tevis in paperback form and DAVID BOWIE (aka Thomas Jerome Newton) is featured on the cover.

Sypnosis: Thomas Jerome Newton is an extraterrestrial from the planet Anthea, which has been devastated by a series of nuclear wars, and whose inhabitants are twice as intelligent as human beings.

When he lands on Earth - in Kentucky, disguised as a human - it's with the intention of saving his own people from extinction. Newton patents some very advanced Anthean technology, which he uses to amass a fortune. He begins to build a spaceship to help the last 300 Antheans migrate to Earth. Meanwhile, Nathan Bryce, a chemistry professor in Iowa, is intrigued by some of the new products Newton's company brings to the market, and already suspects Newton of being an alien. As Bryce and the FBI close in, Newton finds his own clarity and sense of purpose diminishing.

You can purchase The Man Who Fell to Earth
now and receive a 40% discount.


---
BOWIE NIGHT AT THE GARAGE
20th September 2009



Next weekend sees a DAVID BOWIE night at THE GARAGE on Saturday 26th September at 10pm till 4am.

International Hi-Fi plays Bowie and pals in The Salon featuring Bowie / Iggy / Eno / Lou Reed / Marc Bolan / Scott Walker / Kraftwerk / Japan / Suede / Morrissey / The Who / La Düsseldorf...

Address: 20-22 Highbury Corner, London N5 1RD
(beginning of Holloway Road, opposite Highbury and Islington tube station.

For tickets call 0844 847 1678 (open 24 hrs). Tickets can also be purchased in person at the Jazz Café Box Office Monday-Saturday 10:30am-5:30pm or in store at HMV Islington and online at HMV
tickets section.

1 ticket - 2 rooms. Strictly over 18s only (ID required).

More details and information can be found over at thegarage.co.uk

Fom Major Trev.


---
ONE HUNDRED YEARS OF MENSWEAR
20th September 2009



Published tomorrow UK-based Laurence King will publish One Hundred Years of Menswear
by Cally Blackman, a killer compendium of images and commentary covering the evolution and revolution in men's style over the last century.

Rare photography and illustrations "reveal the elegant tailoring of Saville Row and tough khaki and denim of the uniform and workplace giving way to an exuberant array of styles and colours as the century progresses."

Three hundred and forty-seven illustrations range from artists, explorers and rock stars to Hollywood style icons. The impact of designers like Pierre Cardin, Giorgio Armani and Ralph Lauren is contrasted with the street fashion of the 1960s, punk rock and the clubbing scene.

Blackman explores sartorial subjects such as the importance of the suit and it's numerous revivals, and the impact menswear has had on the female wardrobe, the influence of the media and the gay community on style.

As you can see the cover features DAVID BOWIE looking rather dandyish in 1974.

You can purchase One Hundred Years of Menswear
now and receive a 20% discount.

(Ed. Just a shame the front cover photograph has been reversed)


---
ART FOR AFRICA: BOWIE/BAILEY DONATE
19th September 2009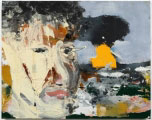 The artwork 'From Nahodka Westward By Train' collaboratively created by DAVID BOWIE and BEEZY BAILEY is up for grabs at the 'Art For Africa' auction in London this Monday (21st September).

Location: Sotheby's, New Bond Street, London W1. Tel: +44 (0)20 7 293 5000.
Catalogue available online at sothebys.com

Date: Monday 21st September at 18.30.
On view Sunday 12:00 noon-17:00. Viewing is open to the public but entry to the sale is by ticket only: book at +44 (0)7884 258616 or via artforafrica.org.uk

Sotheby's will not charge either buyer's premium or seller's commission; there is a broad spread of estimates from £1,000 to £150,000 but the charity aspect should ensure that even the lesser lots far exceed expectations.

Beezy Bailey has submitted three works in all, including the abstract oil created with David Bowie, which has an estimate of £2,000- £3,000.

The 'Art for Africa' charity auction is to raise monies for the Africa Foundation and Ikamva Labantu charities that fund the care of orphaned and vulnerable children in South Africa.

For more information on these charities please visit Africa Foundation and Ikamva Labantu websites.

(Ed. Note David has spelt the title of this painting wrongly on the reverse of the frame. It should be Nakhodka).


---
BRIXTON BOWIE BANKNOTE
18th September 2009

Brixton, birthplace of our Rock God DAVID BOWIE has launched their own currency.

The notes were unveiled at the B£ launch on Thursday 17th September at Lambeth Town Hall.

So far, gracing the £1 note is Jamaican-born political activist Olive Morris, who established Brixton's Black Women's Group. The £5 note features NASA scientist James Lovelock and on the £10 note is CLR James, the Trinidadian journalist, historian and anti-colonialist. Residing on the front of the £20 note is artist Vincent Van Gogh, who lived in the area in his mid-twenties.

The Brixton Pound - 'Money that sticks to Brixton' is designed to support Brixton businesses and encourage local trade and production. It's a complementary currency, working alongside (not replacing) pounds sterling, for use by independent local shops and traders.

The B£ project has been initiated by Transition Town Brixton (TTB), a community-led organisation for action on energy issues and climate change. TTB seeks to engage the whole community in visioning, planning and achieving Transition to a better low energy future, where local resilience is key. TTB working groups focus on "energy descent" in all areas of our lives - business and economy, skills and training, food and growing, buildings, transport, waste and resources, and more.

There are major shout outs for David Bowie to appear on the next note design judging by the comments on - visit here and leave your comments and vote for the guy born at 40 Stansfield Road, Brixton SW9 9RZ.

You can read more details and information over at brixtonpound.wordpress.com and watch this video and go vote for the note.


---
AND THE BITS FLEW FAR AND WIDE...
18th September 2009

• Brooklyn band AMAZING BABY are interviewed over on sfbg.com - one question posed was 'There's a very glammy/glitter rock feel to the record? Is DAVID BOWIE an influence?' - their reply: AB: "Well, I've always been very drawn to Bowie and his effortless power over a song. However, I also feel that his other styles, more than glam, have probably had a larger effect on our songwriting and recording. You can't deny your first loves. And I think, as a music fan, I continuously find myself going back to his music. It's really strong stuff, isn't it?" - [Read full article]...

• If you hear any rumours that DAVID BOWIE will be performing at the Glastonbury Festival in 2010 please ignore them - [from BowieNet]...

• JOHN WESLEY HARDING's 'Cabinet of Wonders' show performed with a whole host of various performers are appearing monthly at the Le Poisson Rouge in New York. The other night they treated the audience to not one but two DAVID BOWIE covers, namely 'Fantastic Voyage' and 'Ashes To Ashes' - [Read here]...

• As you are no doubt aware when DAVID BOWIE undertook his 1976 World Tour he chose to use the sixteen-minute short debut movie 'Un Chien Andalou' directed by Luis Buñuel in 1928. This opener to the Bowie performance was used to "set the tone for the evening" - if you don't know much about this short movie - or want to know more - you won't do much better than reading this part-one piece over at 411mania.com - [Read here]...

• ORBITAL have revealed that they totally regret turning down a chance to work with DAVID BOWIE. "It's the biggest dissappointment of my career," said Paul Hartnoll. "Bowie came and knocked on our door at a festival in the 90s and asked us if we'd do a remix, but we had a deadline on a new album to meet and it never happened." - [Read here]...

• Karen McFeeders Laney and Eric Demattio (aka Weird and Gilly) who co-wrote the definitive biography of the late, great British rock guitarist MICK RONSON have updated and expanded the Ronson book for a new edition. 'Mick Ronson: The Spider With the Platinum Hair' was first published in 2003 by Independent Music Press and has remained in print since. Visit weirdandgilly.com for more details and information...

• Pupils at Lewes New School have recorded their version of the DAVID BOWIE song 'Changes' to raise awareness of its alternative approach to education. The children played all of the instruments on the track, except for the bass, which is provided by renowned musician HERBIE FLOWERS, who toured and recorded with David during the 70s. Check out the video @ youtube.com/user/lewesnewschool...

• HMV has issued a limited edition charity calendar featuring the stars of its 'My inspiration' advertising campaign. HMV hopes to raise £20,000 for CLIC Sargent, the children's and young person's cancer charity. The three-year press campaign is a familiar one for U.K. consumers. Iconic artists and newcomers approached for the series are invited to share the lyric or lines that have inspired them. The calendar features the selections of DAVID BOWIE, Bob Dylan, Paul McCartney, Bruce Springsteen, The Killers, Bono, Deborah Harry, Tom Waits and other icons. HMV's campaign began in September 2006, when Bowie selected Syd Barrett's 'Gigolo Aunt.' The calendar is available priced £7.99 - up to £4 will go to the charity - in more than 270 HMV stores in the U.K. and can be ordered online at HMV
...


---
THE WORD ON THE STREET
10th September 2009



DAVID BOWIE appears on the cover of THE WORD magazine for their October issue.

Inside... seven writers all write about their meetings with extraordinary men (and all of them David Bowie).

The ten-page article includes contributions from Charles Shaar Murray, Andy Gill, Paul Du Noyer, Stuart Maconie, Adrian Deevoy, The Pet Shop Boys, Chris Heath, Jarvis Cocker and Clark Collis.

Charles Shaar Murray opens proceedings, recalling his first assignment for the NME as a callow 20-year-old, when he encountered Bowie along with Iggy Pop and Lou Reed in the Dorchester Hotel at the peak of Ziggy-mania, while Clark Collis rounds things off as he looks back on his 2002 interview, in which he managed to slip in one or two cheeky questions.

In-between we get revealing insights into the artist as perceptive scribes such as Stuart Maconie, Paul Du Noyer, Adrian Deevoy, Chris Heath and Andy Gill all write about their various encounters and give their impressions of Bowie.

Furthermore, in a sidebar Jarvis Cocker talks about the time he conducted a phone interview with Bowie for The Big Issue.

David a la shades taken by photographer extraordinaire Denis O'Regan in 1987.

The Word is available now at all good newsagents now - on the shelf everywhere.

From Mike Johnson Production Editor of The Word.


---
HETEROPODA DAVIDBOWIE
9th September 2009



A rare species of spider has been named after DAVID BOWIE by German arachnologist Peter Jäger who discovered the arachnid.

The Heteropoda davidbowie has been discovered in Malaysia and was named after Bowie because of his fascination with arachnids.

Peter who has discovered 200 species of spiders over the last 10 years revealed he chose to name the species after Bowie because it would help draw attention to the creature and prevent the destruction of its natural habitats.


---
BOWIE: A BIOGRAPHY
2nd September 2009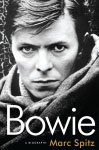 From noted author and rock 'n' roll journalist MARC SPITZ comes a major DAVID BOWIE biography to rival any other published by Crown/Random House (ISBN-10: 0307393968).

Following Bowie's life from his start as David Jones, an R&B-loving kid from Bromley, England, to his rise to rock 'n' roll aristocracy as David Bowie, the book recounts his career but also reveals how much his music has influenced other musicians and forever changed the landscape of the modern era.

Along the way, Spitz reflects on how growing up with Bowie as his soundtrack and how writing this definitive book on Bowie influenced him in ways he never expected, adding a personal dimension that Bowie fans and those passionate about art and culture will connect with and that no other bio on the artist offers.

'Bowie' takes an in-depth look at the culture of postwar England in which Bowie grew up, the mod and hippie scenes of swinging London in the sixties, the sex and drug-fueled glitter scene of the early seventies when Bowie's alter-ego Ziggy Stardust was born, his rise to global stardom in the eighties and his subsequent status as an elder statesman of alternative culture. Spitz puts each incarnation of Bowie into the context of its era, creating a cultural time line that is intriguing both for its historical significance as well as for its delineation of this rock 'n' roll legend, the first musician to evolve a coherent vision after the death of the sixties dream.

Based on a hundred original interviews with those who knew him best and those familiar with his work, 'Bowie' gives us not only a portrait of one of the most important artists in the last century, but also an honest examination of a truly revolutionary artist and the unique impact he's had across generations.


You may remember back in October 2006 when this long-term project/publication was first mentioned on here with the working title of 'David Bowie: God And Man' announcing that Carrie Thornton at Crown Publishing had preempted the world rights in a mid-six-figure deal with agent James Fitzgerald.

The 400 page hardcover version is published by Crown Publishing Group (NY) on Tuesday 27th October.

You can pre-order Bowie: A Biography
NOW and receive an 18% discount.


---
COMPLETE BOWIE BOOK SIGNING
1st September 2009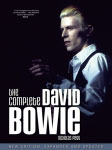 REYNOLDS & HEARN LTD are pleased to announce a signing and launch party for THE COMPLETE DAVID BOWIE by NICHOLAS PEGG Revised and Expanded New Edition on Saturday 26th September 2009 at 12.00 till 5.00pm.

Nicholas Pegg will be signing from 2.00 till 5.00pm in the basement room at:

The Corner Store, 33 Wellington Street, Covent Garden, London WC2E 7BN, England.

Nearest tube stations: Covent Garden (Piccadilly Line), Leicester Square (Northern & Piccadilly Lines), Temple (Circle & District Lines).

Directions: The Corner Store is on Wellington Street, on the same side and just a few doors up from the Lyceum Theatre.

Admission is free. The book will be available to buy, and the author will be in attendance to sign copies.

The bar will be open of course, and there's even a (very tiny!) dance floor, so feel free to pop in for a drink, a chat and a boogie. You can guess what the music will be...

We hope to see you there! With best wishes

You can pre-order The Complete David Bowie (New 5th Edition) NOW
and save a massive 28%.

From Richard Reynolds @ Reynolds & Hearn Ltd.


---
FROM NAKHODKA WESTWARD BY TRAIN
1st September 2009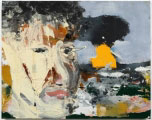 DAVID BOWIE and South African artist BEEZY BAILEY have donated a piece of their artwork for the 'Art for Africa ' auction' that takes place this month on 21st September at Sotheby's in London, England.

The collaborative piece is one of fifty such canvases they created in 1994 and is entitled 'From Nakhodka Westward By Train'.

The 'Art for Africa' charity auction is to raise monies for the Africa Foundation and Ikamva Labantu charities that fund the care of orphaned and vulnerable children in South Africa.

For more information on these charities please visit Africa Foundation and Ikamva Labantu websites.

Further reading: Independent.co.uk and artknowledgenews.com

(Ed. Nakhodka is the eastern terminus for passenger trains on the Trans-Siberian Railway which David took during his return journey home from Japan in 1973.


---

OLDER NEWS

August
July | June | May | April | March | February | January
2008 Bowie News Archives | 2007 Bowie News Archives | 2006 Bowie News Archives
2005 Bowie News Archives | 2004 Bowie News Archives | 2003 Bowie News Archives
2002 Bowie News Archives | 2001 Bowie News Archives | 2000 Bowie News Archives
1999 Bowie News Archives | 1998 Bowie News Archives | 1997 Bowie News Archives