BOWIE TV and WHAT'S REALLY HAPPENING IN SEPTEMBER - MONTHLY PLANNER

[BOWIEWONDERWORLD SHOP] [LATEST DAVID BOWIE ITEMS ON eBAY]
[@bowiewonderworld.com email addresses HERE]
Have YOU got some DAVID BOWIE related news or a hot scoop?
Well don't just sit there keeping it to yourself - send it in to
All news items are credited if you so wish
---
EX-BOWIE MANAGER UNDER PRESSURE
30th September 2011

Law360, New York (September 30, 2011, 2:45 PM ET) -- Capitol Records LLC and EMI Music Inc. on Wednesday accused former DAVID BOWIE manager ANTHONY DEFRIES in New York federal court of distributing the rock star's copyrighted tracks despite signing contracts that handed over his rights to the songs years ago.

The complaint claims that Defries and his company, MainMan Ltd., along with Independent Online Distributors Alliance Inc., sold copies of songs recorded by Bowie, Iggy Pop and John Mellencamp through iTunes, Amazon, Spotify and Napster even though the copyrights to the tracks belong to Capitol Records, EMI and Jones/Tintoretto Entertainment Co. LLC.

While Defries and MainMan had certain rights to some of the artists' master recordings from contracts signed in the 1970s, they never had the distribution rights they're currently claiming to the songs, the suit alleges. Moreover, the legendary manager sold whatever rights he did have to the master recordings and the underlying compositions to Bowie and the plaintiffs for millions of dollars in the 1990s, and is now violating those sales contracts, according to the complaint.

"Some 15 years after Defries and [MainMan] sold whatever rights they had in and to the Bowie recordings to Bowie, and almost two decades after MainMan sold its entire music publishing business and all copyrights in musical compositions to EMI... Defries apparently decided that he could simply pretend that the agreements he had entered into did not exist and that he could magically retrieve the copyrights in recordings and compositions he had sold years ago," the suit said.

While the companies claim to have rights to the recordings based on copyright ownership acquired in the 1970s from Mick Ronson, a musician who performed on some of the recordings at stake in the case, Ronson "in the 20 years before he died in 1992 had never claimed to have, never did have and never registered any copyright ownership interest in any of the recordings or compositions," according to the suit.

The complaint also claims Defries and MainMan infinged the trademark for Bowie's name and breached their sales contracts. It maintains that the defendants often changed the names of the performers' well-known albums and told online distributors that they had the right to sell the tracks.

The Bowie tracks come from albums 'Pin Ups', 'Aladdin Sane', 'Ziggy Stardust - The Motion Picture', 'Hunky Dory', 'Bowie at the Beeb' and 'The Man Who Sold The World', while the Iggy Pop songs are from his albums 'TV Eye', 'Lust For Life' and 'The Idiot', according to the suit.

The defendants have also illegally distributed Mellencamp's 1982 hit 'Jack and Diane', the complaint alleges.

Defries and the other defendants knew they didn't have any right to the tracks, according to the music companies, which pointed out that none of the defendants registered any copyrights for the recordings.

Defries and his company have ignored the plaintiffs' demands that they stop selling the songs, according to the complaint. After ignoring similar requests for six months, IODA issued "take down" notices for the allegedly infringing recordings at some point after Sept. 14, the plaintiffs contend.

The suit claims that the defendants have caused the labels substantial and irreparable harm and seeks damages as well as an injunction.

An attorney for the labels declined to comment on the case. A representative for IODA was not immediately available Friday, while representatives for Defries and MainMan could not be located for comment.

The plaintiffs are represented by Donald S. Zakarin, Eric Matthew Fishman and Ilene Susan Farkas of Pryor Cashman LLP.

Counsel information for the defendants was not immediately available.

The case is Capitol Records, LLC et al. v. Defries et al., case number 1:11-cv-06808, in the U.S. District Court for the Southern District of New York.

More details available at law360.com
---
THE MAN WHO SOLD THE WORLD
29th September 2011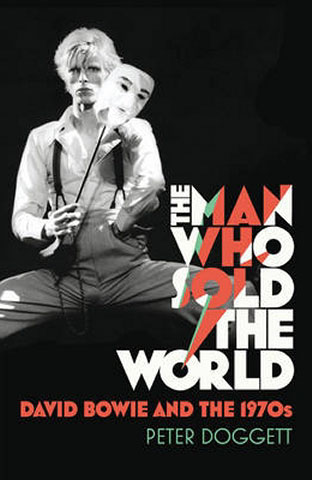 Out today is the latest DAVID BOWIE book The Man Who Sold The World
David Bowie and The 1970s by PETER DOGGETT and published by Bodley Head.
Synopsis: Brilliant musical critique; biographical insight and acute cultural analysis, The Man Who Sold The World is a unique study of David Bowie and the 1970s.
* No artist offered a more incisive and accurate portrait of the troubled landscape of the 1970s than David Bowie. Through his multi-faceted and inventive work, he encapsulated many of the social, political and cultural themes that ran through this most fascinating of decades, from the elusive promise of scientific progress to the persistent fear of apocalypse that stalked the globe.
* In The Man Who Sold The World: David Bowie and the 1970s, cultural historian Peter Doggett explores the rich heritage of the artist's most productive and inspired decade, and traces the way in which his music reflected and influenced the world around him.
* The book follows his career from 'Space Oddity', his dark vision of mankind's voyage into the unknown terrain of space, to the Scary Monsters album. It examines in detail his audacious creation of an 'alien' rock star, Ziggy Stardust, and his own increasingly perilous explorations of the nature of identity and the meaning of fame, against the backdrop of his family heritage of mental instability.
* Among the book's wider themes are the West's growing sense of insecurity in the age of oil shortages and terrorism; the changing nature of sexual roles, as represented by Bowie's pioneering adoption of a bisexual persona; the emergence of a new experimental form of rock music that would leave an indelible mark on the decades to come; and the changing nature of many of the world's great cities, including London, New York, Los Angeles and Berlin, each of which played host to Bowie during particularly creative periods of his career.
* Mixing brilliant musical critique with biographical insight and acute cultural analysis, The Man Who Sold The World is a unique study of a major artist and his times.
You can purchase NOW
and receive a massive 46% discount!
---
SUKITA BOWIE BOOK UPDATE
29th September 2011
The SPEED OF LIFE Deluxe edition (ISBN: 9781905662210) has been online for 48 hours, and more than half the 350 copies are now sold.
You can view the Deluxe copies of DAVID BOWIE and MASAYOSHI SUKITA's new limited edition - HERE.
SPEED OF LIFE presents over 350 images mutually selected by David Bowie and Masayoshi Sukita of which over 80% will be seen for the first time. Both authors have signed the edition and written captions for images that hold a particular significance to them.
News of the signed Collector Edition (1,650 copies) will follow later this Autumn.
First Deluxe copies will ship worldwide, January 2012.
---
DESIRABLE ITEMS WANTED
24th September 2011
The CHANNEL 4 hit TV series FOUR ROOMS is back and looking for more extraordinary items to feature in the second series.
Do you own something unique, rare or beautiful that you want to sell?
Our four top dealers are ready to part with their cash for something truly exceptional.
From iconic DAVID BOWIE memorabilia to beautiful or rare objects, your item could be bought for life changing amounts of money.
If you own an item that you would like to show the dealers, we want to hear from you!
To apply please call 0207 861 8499 or email a photo and description to
From talkbackTHAMES.
---
THE LOVE WE MAKE
15th September 2011

If you missed the Albert Maysles documentary 'The Love We Make' on Tuesday evening on UK TV on More4 you still have the opportunity to view it online via the Channel 4 website for another 28 days.
The documentary chronicles the experiences of PAUL McCARTNEY in New York in the aftermath of 9/11.
The film features backstage footage from The Concert For New York City in October 2001, with appearances from DAVID BOWIE, President Bill Clinton, Mick Jagger, Eric Clapton, Steve Buscemi, Sheryl Crow, Leonardo DiCaprio, Harrison Ford, Jay Z, Billy Joel, Elton John and Keith Richards.
There is also live footage of David performing the opening song of the concert - Paul Simon's 'America'.
View here (David first appears at around 52:55)
---
BW COMPETITION WINNERS
10th September 2011

Many thanks to everyone who entered the recent BW competition to win one of three copies of the newly published book The Complete David Bowie v6
by Nicholas Pegg.
The answers to the six anagrams of people connected to DAVID BOWIE were:
1. Simply Naked (Lindsay Kemp)
2. T.J. Newton says 'Oh! do one.' (Haywood Stenton Jones)
3. More Miss Egg (George Simms)
4. Severe Bra Legs (Reeves Gabrels)
5. Traversing Monk (Kevin Armstrong)
6. Crazy Hard Loaf (Zachary Alford)
The winners will be announced here very shortly.
The three winners randomly selected are: Erin Tatlow, Ian Gray and Alex Kobetz.
The prizes were kindly supplied by the publishers TITAN BOOKS.
If competitions aren't your bag, you can purchase the book NOW
and receive a massive 38% discount.
---
DEALERS: NEW TV SHOW
6th September 2011
Sell your DAVID BOWIE Collectables and Memorabilia for Big Money on TV!
TV Production Company FEVER MEDIA based in London are seeking members of the public to sell their valuables to our team of Dealers in a brand new TV format for an international TV network.
Some of the biggest players in the worlds of antiques, collectables and pawnbroking will be spending their own cash on ANYTHING of value. They've got thousands to spend and they want to spend BIG.
In this brand new international TV format, members of the public will try and sell their valuables to our panel of high-flying international dealers for big money. One by one our sellers will enter the dealers' space and try to get the best deal for their prized possession. Whether it's a diamond ring, an antique vase, or a DeLorean car, nothing is too big or too small.
Fever Media are after any fascinating items or David Bowie memorabilia that members of the public think our Dealers may be interested in buying, or any family heirlooms that you think may be worth something. Have you got a signed copy of his debut album? Do you own a Ziggy Stardust stage costume? If so we want to know.
Filming is taking place in October but Fever are looking to speak to people now!
If you want to start a bidding war between the Dealers and make a tidy profit, don't hesitate to get in touch! Call 020 7428 5756 or email for further details!
---
SPACE ODDITY ON 'THREE' TRAILER
2nd September 2011
Check out the US trailer for the upcoming movie 'Three' directed by Tom Tykwer, which is released later this month. The movie has won awards at Outfest 2011 as well as the German Film Awards.
The trailer features DAVID BOWIE's 'Space Oddity', but features hardly any of the movie dialogue, which kind of makes it work.
'Three' tells the story of Hanna and Simon, a couple in their early forties, who live together in Berlin. Unknown to each other they both become acquainted with Adam, a younger man - and fall in love with him. When Hanna becomes pregnant, their whistle gets blown - and the question pops up: Who is the father? 'Three' is a tragicomical movie about love, morals and the sexes in a late-modernist German society at the mercy of its mixed feelings.
---
AND THE BITS FLEW FAR AND WIDE...
2nd Septemer 2011
• On tomorrow's X FACTOR ITV 1 show one of the contestants aptly named David Wilder attempts to perform the DAVID BOWIE classic 'Life On Mars?' Before you get too excited... it's that bad it's good. Well worth watching even if just to see the confusion on Gary Barlow's face. Priceless. GB says: "Bad tuning, bad timing, bad diction and no connection to the song... having said all that, I absolutely loved it." If you can't wait, watch a snippet here...
• Stone Temple Pilots frontman SCOTT WEILAND has revealed that his upcoming solo album of cover songs will feature two DAVID BOWIE songs, namely 'Fame' and 'The Jean Genie'...
• British Blonde bombshell KIM WILDE performs a cover version of 'Kooks' by DAVID BOWIE for her latest cover-songs album 'Snapshots'. The song is performed as a duet with her husband Hal Fowler - [from LunaMagic]...
• The childrens' book by Canadian artist ANDREW KOLB which used the lyrics of the DAVID BOWIE classic song 'Space Oddity' has hit legal red tape and has been told to remove the downloadable pdf book because of copyright infringement - [Read here]...
---
THRU' THESE ARCHITECT'S EYES
1st September 2011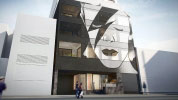 DAVID BOWIE's iconic ALADDIN SANE image is to grace the front of a five-storey apartment building in the trendy Melbourne suburb of Prahran.

The giant image will dominate four levels of the $10 million Tatu building planned for 27 Macquarie Street in Prahran, five kilometres south-east of central Melbourne, in Australia.

It will appear on a perforated metal screen and Bowie's eyes and lips will move when apartment residents adjust screens on their balconies.

'Tatu' is the brainchild of two of Melbourne's highly-regarded and innovative developers - Donald Musto and Phillip Maynes - who have over 50 years combined industry experience on projects totalling close to $600 million.

Donald Musto said: "It plays with the image in a streetscape sense. I am a Bowie fan, but not ridiculously - it was just an image that we thought spanned a wide generational group."

Mr Musto said he and partner Phillip Maynes had engaged cutting-edge designers to give Tatu a point of difference. Artists Tin&ed (Tin Nguyen and Edward Cutting) are the designers of the outside facade and another portrait of Bowie created by Tim Shepheard made from tiny dots will hang in the lobby.

Stonnington Council rejected the plan, but the decision was overturned by the Victorian Civil and Administrative Tribunal.

Work on the 18-unit development is expected to start in February 2012.

Check out tatuapartments.com.au for more details and information about this exciting project. - [download pdf brochure]

You can read the complete article here via the Herald Sun website.
---
UNCUT BOWIE SPECIAL
1st September 2011

Going on sale today is the UNCUT special edition magazine The Ultimate Music Guide To DAVID BOWIE.
Featured inside this 180-page collectors' special magazine is... 'Golden Years' a new look at every Bowie album... 'How Bowie blew our minds' the complete story... classic interviews unseen for years... superb rare photos... and much, much more.
Nothing is mentioned on the Uncut website as of yet - but it should be there very shortly.
(Ed. Thanks to Lee and Sissy for the pointers and scan on the BW MB).
---
BW COMPETITION - 8 DAYS LEFT
1st September 2011

The latest BW competition is well underway now with 8 days to go.
It's your chance to win one of three THE COMPLETE DAVID BOWIE v6 books by Nicholas Pegg.
Simply work out the six anagrams and send in your answers.

This competition ends at midnight (GMT) on Thursday 8th SEPTEMBER 2011.

This new updated now on version 6 is to be published by Titan Books next month on Friday 9th September.
ENTER BW COMPETITION 22 HERE
All the anagrams are people who have a David Bowie connection in some way or other. Good luck to everyone.
If competitions aren't your thing you can pre-order NOW
and receive a massive 38% discount!
---
ALADDINSANE GIG IN STAMFORD
1st September 2011
Peterborough's.... DAVID BOWIE tribute band ALADDINSANE will make their debut at the Stamford Corn Exchange this month.

Over the past five years their popularity has grown, seeing the band go from playing in local pubs to performing at festivals and theatres following a hugely successful tour supporting T-rextasy.
Aladdinsane have now become the country's leading tribute to David Bowie. Taking you back to the height of the Glam rock period from Ziggy Stardust, working through Bowie's colourful career Aladdinsane faithfully recreate the sights and sounds of many of his classic songs.
Combining Paul Henderson's vocals with aspects of Bowie's stage characteristics and theatrics, Aladdinsane recreate the studio and live recorded versions from Bowie's vast musical repertoire.
Expect to hear all the classics like Space Oddity, The Man Who Sold The World and Life On Mars?
Aladdinsane - The Ultimate Bowie Experience is at the Corn Exchange on Saturday 10th September.
Tickets cost £15.50. To book tickets please call 01780 766455.
To see which other gigs the band are playing please visit the aladdinsane.co.uk website.
From Peterborough Evening Telegraph
---
LAUNCH PARTY AND BOOK SIGNING
1st September 2011

TITAN BOOKS are pleased to announce a signing and launch party for THE COMPLETE DAVID BOWIE v6 by Nicholas Pegg for his Revised and Expanded New Edition of his publication.
The party takes place this month on Saturday 24th September at 3.00pm until 11.00pm in the upstairs bar at:
The Stamford Arms, 62 Stamford Street, London SE1 9LX, England.
Nearest tube stations: Waterloo (Northern, Bakerloo and Jubilee Lines), Southwark (Jubilee Line), Blackfriars (Circle and District Lines).
Nearest train stations: London Waterloo, Blackfriars, Waterloo East.
Directions: The Stamford Arms is on the corner of Stamford Street and Broadwall, just south of the river and halfway between Waterloo Bridge and Blackfriars Bridge.
Admission is FREE.
The author will be in attendance to sign copies of the book, which will be available to buy at the special discount price of £15 - a saving of £4.99 on the recommended retail price. Cash transactions only please.
The bar will be open of course, and you can guess what the music will be...
We hope to see you there! With best wishes, Titan Books.
Update: There is an online interview with author Nick Pegg over on the foyles.co.uk website.
---
THE COMPLETE DAVID BOWIE v6
1st September 2011
The brand new updated edition of THE COMPLETE DAVID BOWIE by Nicholas Pegg is to be published by Titan Books this month on Friday 9th September.
OFFICIAL PRESS RELEASE
Titan Books announce
THE COMPLETE DAVID BOWIE by Nicholas Pegg
9 September 2011
The biggest edition yet: over half a million words. Expanded and updated with 35,000 words of brand new material.
'All Bowie books must now be measured against The Complete David Bowie' - Times Literary Supplement.
'I can't imagine how this book could be better... the definitive read for Bowiephiles' - Uncut.
'Absolutely thorough, absolutely definitive and absolutely entertaining' - BBC Radio 5 Live.
'An indispensable guide for all serious collectors of David Bowie's music' - BowieNet.
'This is not just a trainspotter's manual - Nicholas Pegg has a keen critical intelligence' - Sunday Telegraph.
'The Complete David Bowie certainly lives up to its title... Pegg's opinionated and witty prose turns it into that rare thing: a reference book that sparkles' - MOJO.

Critically acclaimed in its previous editions, The Complete David Bowie
is widely recognised as the foremost source of detailed information and perceptive critical analysis covering every aspect of David Bowie's career. It has won nominations as music book of the year from Uncut magazine ('I can't imagine how this book could be better') and BBC Radio 5 Live ('Absolutely thorough, absolutely definitive and absolutely entertaining') among many other plaudits.
Titan Books are now delighted to announce the publication of the sixth edition. Published on 9th September 2011, The Complete David Bowie has been fully revised and updated, expanding on previous editions to provide more detail and discussion than ever before.
As well as incorporating all the latest updates, such as the surprise leaking earlier this year of the unreleased Toy album, the new edition includes substantial additions to the earlier chapters. 'The encyclopaedic structure of the book means that every chapter needs constant updating,' explains author Nicholas Pegg, 'and for this edition I've had the opportunity to add extensive new material to several chapters, particularly the A-Z of songs. Things might have been a little quiet on the Bowie front recently, but a great deal of fresh information has emerged about the classic recordings, not to mention a host of little-known demos, out-takes, and rarities. The result is the biggest single update that the book has ever had.'
When The Complete David Bowie
first appeared, the overall word count was 350,000. Now it has grown to well over half a million words, and the new edition promises to be the most comprehensive guide to David Bowie's work ever published.
'Even the most hardcore fan is going to find something new in this edition,' says the author. 'You might be familiar with all the famous songs, but how much do you know about the music and lyrics of the elusive Ziggy Stardust out-take 'It's Gonna Rain Again'? Do you know which classic track was demoed with Bowie singing the words 'Humpy Dumpty sat on a wall'? Or which famous song began life as 'I'd Like a Big Girl With a Couple of Melons'? These and many, many more revelations will be appearing in print for the first time in the new edition of The Complete David Bowie.'
As before, The Complete David Bowie will include:
* The Albums - detailed production history and analysis of every album from 1967 to the present day.
* The Songs - hundreds of individual entries reveal the facts and anecdotes behind not just the famous recordings, but also the most obscure of unreleased rarities - from 'Absolute Beginners' to 'Ziggy Stardust', from 'Abdulmajid' to 'Zion'.
* The Tours - set-lists and histories of every live show.
* The Actor - a complete guide to Bowie's work on stage and screen.
* Dateline - the most exhaustive day-by-day calendar of Bowie's career ever published.
* Plus - the videos, the BBC radio sessions, the paintings, the Internet and much more.
From the 11-year-old's skiffle performance at the 18th Bromley Scouts' Summer Camp in 1958, to the emergence of the legendary 'lost' album Toy in 2011, The Complete David Bowie discusses and dissects every last move in rock's most fascinating career.
You can pre-order NOW
and receive a massive 38% discount.
---
DAVID BOWIE WONDERWORLD NEWS ARCHIVE
August | July
June | May | April | March | February | January
2010 Bowie News | 2009 Bowie News
2008 Bowie News | 2007 Bowie News | 2006 Bowie News | 2005 Bowie News
2004 Bowie News | 2003 Bowie News | 2002 Bowie News | 2001 Bowie News
2000 Bowie News | 1999 Bowie News | 1998 Bowie News | 1997 Bowie News






| | |
| --- | --- |
| Created: September 2011 © Paul Kinder | Last Updated: 30/9/11 |