BOWIE TV and WHAT'S REALLY HAPPENING IN OCTOBER - MONTHLY PLANNER

[BOWIEWONDERWORLD SHOP] [LATEST DAVID BOWIE ITEMS ON eBAY]

[@bowiewonderworld.com email addresses HERE]

Have YOU got some DAVID BOWIE related news or a hot scoop?
Well don't just sit there keeping it to yourself - send it in to
All news items are credited if you so wish



---
PRESENTING HIS LORD ROYAL HIGHNESS
29th October 2008

Two years since the intriguing announcement that DAVID BOWIE would be appearing as the Lord Royal Highness in a SpongeBob SquarePants episode called 'Atlantis SquarePantis', viewers in Britain finally get the chance to see the man in action.

The biggest mystery 20,000 leagues beneath the sea is uncovered when SpongeBob and the gang find the lost city of Atlantis, in this special SpongeBob TV movie! Guest starring David Bowie is showing on the following dates:

Friday, 31st October at 10:00 GMT - Nickelodeon
Friday, 31st October at 11:00 GMT - Nick Replay
Saturday, 1st November at 17:00 GMT - Nickelodeon
Saturday, 1st November at 18:00 GMT - Nick Replay
Sunday, 2nd November at 14:00 GMT - Nick Toons

You can watch a sneak preview here at the Guardian.co.uk website.


---
BIZARRO BOWIE CHRISTMAS SPECIAL
28th October 2008



In Chicago next month on Friday 21st November, the holiday season kicks into high gear when the greatest Christmas Special that never was is recreated for the stage by the New Millennium Theatre Company: 'The DAVID BOWIE Hepzikat Funky Velvet Flarney Solstice Spectacular, Live... From Space!' (Or David Bowie's Christmas Special 1977 for short!).

Starring the character of David Bowie, this one of kind variety show spectacular snatched from the archives of 1977 brings the kind of star power that only 'Ziggy Stardust' could command. Featuring character appearances by Mick Jagger, Annie Lennox, Iggy Pop, Marianne Faithfull, Nipsey Russell, Charo, and more, plus a special appearance by the Ghost of Freddy Mercury.

Audience members will be taken on an exciting journey of song and dance reminding us all of the joys of brotherhood and giving that the holiday season brings. But when the mysterious Bizarro Bowie appears to reveal his scattered past, it's a race for time to save the holidays from the ultimate universal implosion, but with this many celebrities, what could possibly go wrong?

'The David Bowie Hepzikat Funky Velvet Flarney Solstice Spectacular, Live... From Space!' runs Friday and Saturday nights at 10:30 pm, November 21st through December 27th at the National Pastime Theater, 4139 N. Broadway in Chicago, IL 60614.

Advance tickets are $15 and can be purchased at nmtchicago.org or reserved by calling 312-458-9083.







---
AND THE BITS FLEW AND AND WIDE...
28th October 2008

• Expect to see a few more new DAVID BOWIE items in the WHATEVERITTAKES line of charity goods in the near future. Available for purchase soon will be a David Bowie canvas tote bag in the 'Bags For Life' section (Bag measures approximately 16 x16.5) and there will also be a wallet made from cotton canvas, pleather and nylon long wallet with 12 credit card slots, ID window, 4 dollar bill or chequebook slots, zippered coin pouch and snap closure. Wallet measures 7" x 3.5" x .5" when closed - both items feature David's own original artwork. Please visit shop.whateverittakes.org and see what other Bowie items are still available for this very worthwhile charity cause...

• Nice to see fellow Stopfordian and my old mate SARAH HARDING of Girls Aloud sporting a rather fetching DAVID BOWIE aka Aladdin Sane t-shirt, photos were published in today's Daily Star newspaper - [View here]...

• At the 2008 Yahoo! World Rock Paper Scissors Championships held in Toronto there was a team from Philadelphia entered who were named 'Team David Bowie's Package' - they were also enthusiastically supporting Barack Obama - [Read here]...

• The News Of The World reported on Sunday that MICK JAGGER is planning a 'supergroup' of stars to perform at the opening ceremony of the 2012 Olympic Games in London. Apparently DAVID BOWIE is already involved. Mick wants his band to be joined on stage by David Bowie, Van Morrison and Led Zeppelin's Jimmy Page. It is also expected that Phil Collins, Elton John, Sting and Pink Floyd's Dave Gilmour will be approached. A source close to the band explained: "Mick feels the Olympics coming to London is a huge honour - and wants to make his own gesture with the band. It's early stages but Page, Bowie and Morrison are already involved, although no one is quite sure yet how the show will play out in its entirety. "The Olympics people hope to use the template of the American football Super Bowl half-time show, where an artist takes over the field on a giant stage. "Having the Stones on side for a project like this is a huge deal." - [Read here]...

• The WARCHILD charity and Parlophone Records have postponed the U.K. release of the multi-artist fund-raising album 'Heroes: Vol 1' to early 2009 from its scheduled date of 24th November. The set will be issued in North America via Astralwerks. As previously reported, the covers album will feature exclusive versions of classic songs written by the likes of DAVID BOWIE, Bob Dylan, Ray Davies and Joy Division, performed by current acts including TV On The Radio, Duffy, Beck, Hot Chip and Rufus Wainwright. TV On The Radio perform their version of David's 1977 epic "Heroes". For more information about the compilation and about War Child please [Visit here]...


---
BOW WAREHOUSE BLAZE
26th October 2008

Rock legends including DAVID BOWIE The Rolling Stones and Elton John have been left devastated after £1million of rare memorabilia was destroyed in a fire.

David is said to be "distraught" after legal documents signed at the start of his career were lost forever.

Items belonging to Sir Elton John, Duran Duran and The Sex Pistols were also being kept at the depot in Bow, East London by storage experts Iron Mountain.

Managers for The Stones and Bowie are now seeking compensation. A music industry source revealed: "Everyone is very upset. The material is irreplaceable. Some of it is years old and worth thousands of pounds. "Lawyers have been instructed to deal with it. People just want some compensation for their loss. They refuse to take it lightly. "There is no way that this will be let go, there has not even been a proper explanation."

It is the third blaze to hit Iron Mountain after warehouses in Ottawa and New Jersey burned to the ground in 2006 and 1996.

The firm would not comment on the London fire but said: "The security of our customers' valuables is paramount."

By Alice Walker and Katie Hind @ People.co.uk website.


---
THE RETURN OF ECHO BOWIE
26th October 2008

After a year-long break ECHO BOWIE are about to enter the stage again. Lots of you will know the Dutch band from their gigs at the annual DAVID BOWIE meetings in Holland.

Since the last time they played there - an acoustic gig featuring songs like 'Kooks', 'Bus Stop' and 'Andy Warhol' - the band have two great new members on board on keyboards and bass.

That, AND the addition of some very cool songs (we won't mention them yet of course...) are good reasons to check EchoBowie out again.

Of course it will be great to hear songs like 'Always Crashing In The Same Car', 'Queen Bitch' and 'Breaking Glass' again.

Here's the upcoming gigs list below:

Sunday November 2nd
Le Vagebond
Nieuwe Binnenweg 99, Rotterdam, Netherlands
Playtime: 20.30 (CET)

Saturday November 8th
Café van der Geest
Zeestraat 7a, Noordwijkerhout, Netherlands
Playtime: 21.30 (CET)

Friday December 12th
Toomler
Breitnerstraat 2, Amsterdam, Netherlands
Playtime: 23.00 (CET)
Tip: check out the stand-up comedy shows starting at 20.00 before the Echo Bowie gig later that evening

Check out youtube.com/schlatman for videos and news.

From Hans


---
FUNKY LITTLE BOAT RACE
21st October 2008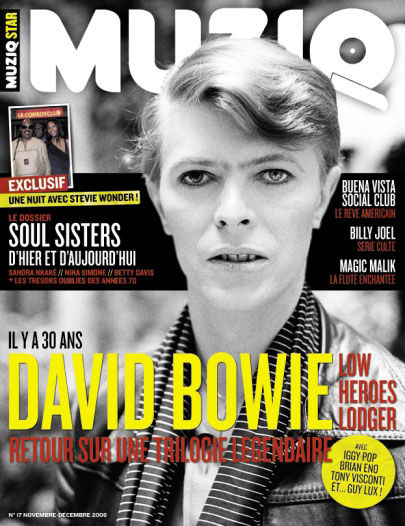 French MUZIQ magazine Issue 17 (November issue) went on sale on Saturday 25th October and contains a special 10 page feature and front cover features DAVID BOWIE with his collaborators Tony Visconti, Iggy Pop, Carlos Alomar and many more covering the studio recordings of 'Low', "Heroes", 'Lodger' and Iggy Pop's 'The Idiot' and 'Lust For Life'.

The magazine includes some never before published pictures of David Bowie, Robert Fripp and Iggy Pop.

Check out muziq.fr for more details and information.

From Philippe Auliac (Photographer and Film Director).


---
A FEW WORDS WITH IGGY POP
20th October 2008

Check out an online interview with IGGY POP over on The Independent website.

The highlight question being... You reunited with the founding members of the Stooges when recording Skull Ring, do you think you will ever reunite with DAVID BOWIE to make any new music?

Iggy Pop: "You never know. The way etiquette in the rock world works is that the larger giant approaches the smaller giant so that would be entirely out of my curfew."

Iggy appears in the forthcoming new series 'Art Rocks' on Sky Arts 1 which begins on 25th October at 7pm.

You can read the whole interview here.


---
DAVID, DEAN AND DELUCA
13th October 2008

The Sun newspaper reported that DAVID BOWIE was out and about shopping in New York on Saturday.

There was obviously no story to go with this earth-shattering event apart from the fact that db was sporting shades, a baseball cap, jeans, check shirt and jumper and carrying a Dean and Deluca shopping bag - [Read here].

You can view more thumbnails here on the BW MB courtesy of Luna.


---
AND THE BITS FLEW AND AND WIDE...
12th October 2008

• DAVID BOWIE's 'Queen Bitch' features on the new PS3 game MOTORSTORM: PACIFIC RIFT soundtrack which is released on 28th October. Game developers said: "MotorStorm has never, and will never be about music that simply 'Fits the Game'. It's about a way of life. Lunatics from across the world, all shapes and sizes, all ages, unite to race their way to glory, and we make sure that although we feature tracks to suit everyone, we had no qualms about including something from as far back as the 70's. It's an absolute classic, from way back when... I was hugely skeptical as to whether we would be able to license this one, but it's an absolutely killer track, so we pleaded, and we got it!" - [Read here]...

• The Morning Call website have an ALISON MOYET interview where is she is asked to reminisce about the Live Aid event in 1985, Moyet says, "'I was asked if I wanted to do this charity gig, and I said, 'OK,' thinking it was at Wembley Arena, which holds 7,000, not Wembley Stadium (which holds 72,000). So I went there and was told, 'This way to the helicopter.' I thought, 'Helicopter?' The next thing I knew I was sharing a helicopter ride with DAVID BOWIE and Bono. When we landed, there's Roger Daltrey waving at me and Freddie Mercury blowing kisses at me. I've never seen anything like it before or since.'" - [Read here]...

• Scottish knitwear company DING DONG DESIGNS have included DAVID BOWIE in his Ziggy Stardust incarnation for their range of celebrity finger puppets. Yes that's right - finger puppets. It's actually Aladdin Sane but hey ho - [View here]...


---
CRAIG DAVID BOWIE LET'S DANCE
4th October 2008

Blog Critics magazine talk with British R&B artist CRAIG DAVID who in turn talks about his last release 'Hot Stuff (Let's Dance)' which was based around DAVID BOWIE's 1983 worldwide smash hit 'Let's Dance'.

The highlight question was: Have you been able to get a response from Bowie?

"Yeah. I went to see if he would care to hear the sample and get clearance from the publisher's side if he was cool. I got a response saying, 'We liked how you approached the song. You brought something new to table and it is an extension of the original. We'll get you in contact with all the necessary people to clear everything so you can use it on a creative level.'

"I was like, 'Even if I don't make a dime from this, it's about the fact that someone as iconic as David Bowie was telling to me that he appreciated what I'd done as a songwriter.' That for me was the real key."

You can read the complete article here.


---
BOYS TRY 32A FOR SIZE
3rd October 2008

As mentioned previously GERRY LEONARD (aka Spooky Ghost) has written the musical score for the brand new movie 32A directed by Marian Quinn.

The soundtrack features DAVID BOWIE's 'Boys Keep Swinging' which db personally selected for this coming-of-age movie.

32A has just been screened at the Woodstock Film Festival and you can check out a great piece in the Poughkeepsie Journal: Movie scores for local musician where you can also view some nice movie footage of Gerry playing at home.

You can watch the official movie trailer here.


---
AND THE BITS FLEW AND AND WIDE...
3rd October 2008

• CARLOS ALOMAR former DAVID BOWIE sideman made a cameo appearance in New York City with RICHARD BARONE at Carnegie Hall. The benefit show 'Frontman: A Musical Reading' for public radio station WFUV (90.7 FM) also saw MOBY on stage and also photographer MICK ROCK did a reading of Barone's words about being a frontman, his photos of archetypal frontmen like Bowie and Iggy Pop flashed behind him...

• KATIE MELUA was asked in The Independent newspaper... If you could have written one song, which would it be? - "Life On Mars? by DAVID BOWIE. I went through a period in my life where I couldn't start the day until I had listened to that song. I love how it is sad yet uplifting at the same time."...

• DAVID BOWIE's 'Life On Mars?' appears on SingStar Legends for the PlayStation 2. SingStar Legends - Solus (PS2)
releases on 28th October and it is the ultimate social gaming experience sure to entertain everyone for hours!...


---

OLDER NEWS

September | August | July
June | May | April | March | February | January
2007 Bowie News Archives | 2006 Bowie News Archives
2005 Bowie News Archives | 2004 Bowie News Archives
2003 Bowie News Archives | 2002 Bowie News Archives
2001 Bowie News Archives | 2000 Bowie News Archives
1999 Bowie News Archives | 1998 Bowie News Archives