WHAT'S REALLY HAPPENING IN DECEMBER - MONTHLY PLANNER

[BOWIEWONDERWORLD SHOP] [LATEST DAVID BOWIE ITEMS ON eBAY]
[@bowiewonderworld.com email addresses HERE]
Have YOU got some DAVID BOWIE related news or a hot scoop?
Well don't just sit there keeping it to yourself - send it in to
All news items are credited if you so wish
---
BOWIE'S VOLVO AT AUCTION
29th December 2017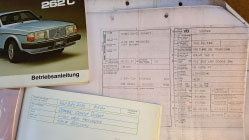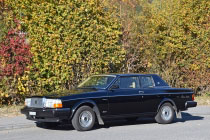 The Swiss Auctioneers OLDTIMER GALERIE TOFFEN have an interesting lot currently up for grabs.
Lot 140 is a 1981 VOLVO 262 C Bertone that once belonged to DAVID BOWIE when he resided in Switzerland.
The 5 door black sedan has an estimate of CHF 65,000 - 75,000.
This car was delivered on June 18th 1981 to the musician David Robert Jones (David Bowie) and registered in his name on June 22nd 1981 with the licence plate VD 122 922.
In 1985, the 262 C was registered to the Bewlay Bros. S.A.R.L - the production company of David Bowie and Iggy Pop - and continued to be used by Bowie during his stays in Switzerland with the plates VD 267 584.
For more details, photographs and bidding, visit oldtimergalerie.ch website.
See pages 88 and 89 of the auction catalogue here
Update: There was a frenzied bidding war for the sedan which realised a world breaking price of over 200,000 CHF (£151,841 GBP / $205,921 US).
---
MERRY CHRISTMAS TO EVERYONE!
25th December 2017
Wishing everyone, everywhere, a very Merry Christmas
Have a Cool Yule! I hope you all receive everything you wish for
Very Best Wishes from Paul (aka Rednik)
---
WHAT'S GOING ON?
21st December 2017
Check out the BW Monthly Planners for 2018 to see what's going on around the world relating to DAVID BOWIE happenings and events.
New publications, releases, TV, radio, cinema, theatre, exhibitions, tribute gigs, birthday bashes, conventions, events, and much more continually updated.
Highlights for the rest of December and January 2018 include:
DECEMBER 2017:
24th: TV: Bowie, Prince and Music Legends, Sky Arts, UK, 00.30 GMT.
26th: Radio: David Bowie Star Special (from 1979), Radio BBC 6 Music, UK, 21.00 GMT.
27th: Radio: David Bowie Star Special (from 1979), Radio BBC 6 Music, UK, 00.00 GMT.
27th: TV: David Bowie: Five Years documentary, RTE One, Ireland, 3.35am GMT.
27th: TV: David Bowie: Reality Tour in Dublin, ARTE, Germany, 5.00am CET.
31st: TV: David Bowie: Reality Tour in Dublin, ARTE, Germany, 1.55am CET.
JANUARY 2018:
1st: TV: Moon - Die dunkle Seite des Mondes, One, Germany, 20.15 CET
3rd: TV: Rock 'n' Roll Leiharbeiter, features Earl Slick and Bowie, Spiegel Geschichte, Germany, 22.35 CET.
4th: Dublin Bowie Festival: My Life With Bowie - An Evening with Woody Woodmansey, The Sugar Club, Dublin.
5th: Philly Loves Bowie Week begins in Philadelphia, PA, USA.
5th: Beauty And The Beast 40th Anniversary Limited Edition Picture Disc 7 Inch Single to be released.
6th: Annual Charity event: Bowie in the Bar 2, The Admiral Bar, 72a Waterloo St, Glasgow G2 7DA, Scotland.
8th: TV: David Bowie: The Last Five Years documentary, HBO GO and HBO NOW, USA, 8.00pm ET.
9th: Spider from Mars: My Life with Bowie by Woody Woodmansey, Paperback version to be published.
10th: Dublin Bowie Festival: An Audience with Jonathan Barnbrook, Harry Clarke Lecture Hall, NCAD.
10th: TV: Hansa Studios: By The Wall 1976-90, documentary, Sky Arts, UK, TBC.
10th: Celebrating David Bowie European tour begins featuring Garson, Belew, Leonard, Rojas and others, gig at Salle Pleyel, Paris, France.
15th: From Ibiza To The Norfolk Broads play UK tour begins.
Full listings, details and links: December 2017 / January 2018
---
ANNOUNCEMENT FROM DBF
21st December 2017
ANNOUNCEMENT FROM DUBLIN BOWIE FESTIVAL:
Dublin Bowie Festival regretfully announces that due to scheduling issues the HOLY HOLY show in Vicar Street on 8th January is now CANCELLED and tickets will be refunded at point of purchase.
We are gutted and very sorry about this.
For more information and details please visit the dublinbowiefestival.ie website.
From Dublin Bowie Festival.
---
TRACING MY DAD - VOL. 8
19th December 2017
Check out the latest volume where HIKARU DAVIS interviews GEORGE MURRAY.
The HD PROJECTS presents Tracing My Dad - The Life And Music of Dennis Davis - Volume 8 - An Interview with George Murray - Part 1.
Edited by NACHO - check out the previous volumes in this wonderful HD Projects series.
---
STARDUST, RAYGUNS & MOONAGE DAYDREAMS
18th December 2017
Currently in the pipeline is a 144-page graphic novel entitled: 'BOWIE: Stardust, Rayguns & Moonage Daydreams' to be published by INSIGHT COMICS.
Written by Steve Horton and featuring artwork by Michael Allred and his wife Laura, there is no publication date as of yet.
From Newsarama
---
THE PRESTIGE BLU-RAY OUT TODAY
18th December 2017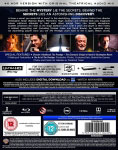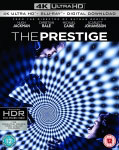 Released today is THE PRESTIGE
4K Ultra HD Blu-ray, 3 disc version via Warner Bros. Home Ent.
Product Description: Thriller starring HUGH JACKMAN and CHRISTIAN BALE. Rupert Angier (Jackman) and Alfred Borden (Bale) are London-based magicians of the highest order, both blessed with spectacular powers of deception and both cursed with unrelenting envy for one another's skills. When Alfred performs an awe-inspiring trick for which there seems no logical explanation, the friendly competition shared between the pair turns to deadly rivalry as the enraged Rupert determines to uncover his rival's deepest secrets. In the world of illusion, however, nothing is ever quite as it seems, and the rules of the physical world simply don't apply. Now, as bitter competition quickly begins to consume the souls of both performers, the firestorm birthed by their anger threatens to consume all who surround them.
Synopsis: Is there a secret you would kill to know? In this electrifying, suspense-packed thriller from director CHRISTOPHER NOLAN (Batman Begins, Memento), Hugh Jackman and Christian Bale play magicians whose cutthroat attempts to best each other plunge them into deadly deception. SCARLETT JOHANSSON also stars as the stage assistant who's both a pawn and player in their rivalry. A brilliant supporting cast (including MICHAEL CAINE and DAVID BOWIE). An ingenious story. An astonishing payoff. Once you see The Prestige, you'll want to see it again. Watch closely.
Extra content: SPECIAL FEATURES Director's Notebook: The Prestige - The Cinematic Sleight of Hand of Christopher Nolan: 5 Making-of Featurettes F The Art of The Prestige: Production Photos, Costumes/Sets, Behind-the-Scenes Photos and Poster Art Galleries F Theatrical Trailer.
You can purchase The Prestige [Blu-ray] [2017]
NOW!
---
FROM IBIZA TO THE NORFOLK BROADS - UK DATES
15th December 2017
The fabulous stage play FROM IBIZA TO THE NORFOLK BROADS written and directed by ADRIAN BERRY and starring ALEX WALTON begins its UK tour in January.
This acclaimed production tells the tale of a young DAVID BOWIE obsessive adolescent.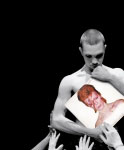 Martin is a boy with problems - an illness no-one understands and a head full of sound and vision. So when an unexpected gift arrives on his birthday, Martin embarks on a thrilling journey in the footsteps of his obsession, leading him to discover some long-hidden truths about himself. What follows will change his life forever.
Powerful and touching, music and magic realism collide in this darkly funny and moving production featuring Alex Walton and the voice of comedian ROB NEWMAN as David Bowie. With a blistering soundtrack, the life of the pop fan is dissected in this tale of unnatural teenage wildlife.
'A compelling Bowie oddity, sharply observed, impressive conviction and touchingly believable' - The Guardian.
'Nothing short of astonishing, commands a reverential awe from the audience. With an uber cool Bowie soundtrack this is a compelling and relevant piece of live theatre. Moving and intelligent' - The Wire.
Tickets are on sale NOW for all shows, apart from a handful of dates.
All the UK dates and venues are as follows:
JANUARY
15th: DERBY - Derby Theatre, 15 Theatre Walk, Derby DE1 2NF - Ticket Info
16th: DERBY - Derby Theatre, 15 Theatre Walk, Derby DE1 2NF - Ticket Info
17th: SALFORD - The Lowry, Pier 8, The Quays, Salford, Greater Manchester M50 3AZ - Ticket Info
18th: RUNCORN - The Brindley Theatre, High Street, Runcorn - Ticket Info
19th: LIVERPOOL - Unity Theatre, 1 Hope Place, Liverpool L1 9BG - Ticket Info
23rd: BRIGHTON - The Old Market, 11a Upper Market Street, Hove BN3 1AS - Ticket Info
24th: BRIGHTON - The Old Market, 11a Upper Market Street, Hove BN3 1AS - Ticket Info
25th: BRIGHTON - The Old Market, 11a Upper Market Street, Hove BN3 1AS - Ticket Info
26th: GRAVESEND - The Woodville Studio Theatre, 15A Wrotham Road, Gravesend DA11 0PA - Ticket Info
27th: BRACKNELL - Wilde Theatre, South Hill Park, Ringmead, Bracknell RG12 7PA - Ticket Info
28th: BRACKNELL - Wilde Theatre, South Hill Park, Ringmead, Bracknell RG12 7PA - Ticket Info
30th: SHEFFIELD - Sheffield Theatres, Studio Theatre, 55 Norfolk Street, Sheffield S1 1DA - Ticket Info - SOLD OUT
31st: SHEFFIELD - Sheffield Theatres, Studio Theatre, 55 Norfolk Street, Sheffield S1 1DA - Ticket Info - SOLD OUT
FEBRUARY
1st: BANBURY - The Mill Arts Centre, Spiceball Park Road, Banbury OX16 5QE - Ticket Info
2nd: LUDLOW - Ludlow Assembly Rooms, 1 Mill Street, Ludlow SY18 1AZ - Ticket Info
3rd: TAUNTON - The Brewhouse Theatre and Arts Centre, Coal Orchard, Taunton TA1 1JL - Ticket Info
6th: KESWICK - Theatre By The Lake, Lakeside, Keswick CA12 4DJ - Ticket Info
7th: MIDDLESBROUGH - Middlesbrough Theatre, The Avenue, Middlesbrough TS5 6SA - Ticket Info
8th: YORK - Pocklington Arts Centre, Market Place, Pocklington, York YO42 2AR - Ticket Info
9th: HALIFAX - Square Chapel Arts Centre, 10 Square Road, Halifax HX1 1QG - Ticket Info
10th: BARNSLEY - The Civic, Hanson Street, Barnsley S70 2HZ - Ticket Info
13th: BURY ST. EDMUNDS - Theatre Royal, Westgate Street, Bury St. Edmunds IP33 1QR - Ticket Info
16th: TUNBRIDGE WELLS - Trinity Theatre, Church Road, Tunbridge Wells TN1 1JP - Ticket Info
20th: STAFFORD - Stafford Gatehouse Theatre, Eastgate Stret, Stafford ST16 2LT - Ticket Info
21st: MILTON KEYNES - Stantonbury Theatre, Milton Keynes MK14 6BN - Ticket Info
22nd: HARLOW - Harlow Playhouse, (Theatre 1), Playhouse Square, Harlow CM20 1LS - Ticket Info
23rd: CANTERBURY - Gulbenkian, University of Kent, Canterbury CT2 7NB - Ticket Info
24th: FOLKESTONE - Quarterhouse, Mill Bay, Folkestone CT20 1BN - Ticket Info
25th: MARGATE - Theatre Royale, Addington Street, Margate CT9 1PW - Ticket Info
27th: BORDON - The Phoenix Theatre and Arts Centre, Barbados House, Station Road, Bordon GU35 0LR - Ticket Info
MARCH
1st: BUILTH WELLS - Wyeside Arts Centre, (Market Theatre), Castle St, Builth Wells, Powys LD2 3BN, Wales - Ticket Info
2nd: CARDIGAN - Theatr Mwldan, Bath House Road, Cardigan, Ceredigion SA43 1JY, Wales - Ticket Info
3rd: FROME - Merlin Theatre, Bath Road, Frome BA11 2HG - Ticket Info - ON SALE SHORTLY.
6th: LONDON - Jacksons Lane, 269a Archway Road, Highgate, London N6 5AA - Ticket Info
7th: LONDON - Jacksons Lane, 269a Archway Road, Highgate, London N6 5AA - Ticket Info
8th: LONDON - Jacksons Lane, 269a Archway Road, Highgate, London N6 5AA - Ticket Info
9th: LONDON - Jacksons Lane, 269a Archway Road, Highgate, London N6 5AA - Ticket Info
10th: LONDON - Jacksons Lane, 269a Archway Road, Highgate, London N6 5AA - Ticket Info
For more details and information about this production, please visit the fromibiza.net website.
(Ed. If you've never seen this wonderful production you simply have to see it. I highly recommend it).
---
HBO BOWIE TEASER TRAILER
12th December 2017
Over in the US, HBO have acquired the DAVID BOWIE: THE LAST FIVE YEARS documentary which premieres next month on 8th January.
Focusing on the artist's final years, 'David Bowie: The Last Five Years' presents a nuanced look at the evolution of Bowie's music as told through archival footage and interviews with the musical legend's bandmates.
Largely focused on David's final two albums, The Next Day and ★, the film also explores his musical, 'Lazarus' written with Enda Walsh.
Check out the HBO David Bowie: The Last Five Years (2018) teaser below...
For more info and details, pop on over to the hbo.com website.
---
DAVID BOWIE GLAMOUR ISSUE #3
12th December 2017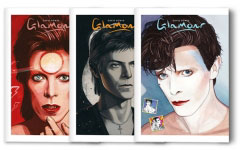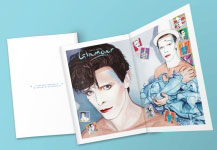 Issue #3 of the DAVID BOWIE GLAMOUR fanzine is available to pre-order now!
Once again, the cover has been illustrated by Helen Green and this time it features a beautiful fold-out design.
Inside, there is exclusive and original content contributed by David Bowie fans and collaborators.
This third issue features: Jimmy C, Robin Clark, Ian Hunter, Paul Cuddeford, Terry O'Neill, Nicholas Pegg, Mark Plati, Catherine Russell, Tony Sales, Morgan Visconti, as well as Bowie fan submitted articles.
The David Bowie Glamour fanzine is run by Andy Jones and Nick Smart and is designed by Milky Cereal.
David Bowie Glamour fanzine Issue 3 will ship in mid-January.
For ordering and more details please visit the davidbowieglamour.wordpress.com website.
---
"HEROES" ALBUM REPLACEMENT
9th December 2017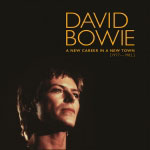 If you're waiting for your replacement "Heroes" album from the DAVID BOWIE A NEW CAREER IN A NEW TOWN (1977 - 1982)
Boxed Set here's what you need to do...
We can now confirm that the "Heroes" audio has been updated via all digital download and streaming partners. CD and LP discs (in a plain sleeve) will be ready to ship week commencing 11th December.
Those who have bought the ANCIANT
boxed set and would like an updated disc of "Heroes" should send an email to:
Your email should contain the following information:
- NAME
- SHIPPING ADDRESS (and any delivery instructions)
- EMAIL ADDRESS
- PHONE NUMBER (required by some delivery providers)
- FORMAT PURCHASED (CD or LP)
- PROOF OF PURCHASE (email attachment / photo / scan / screen grab / etc)
Please ensure that you limit the content of your email to these details only so that the Warner Music Customer Services team can process your order as quickly and efficiently as possible.
Info via davidbowie.com and Warner Music.
---
AND THE BITS FEW FAR AND WIDE...
9th December 2017
• MORRISSEY has been interviewed by ROB SHEFFIELD for ROLLING STONE magazine. One of the questions asked was: "If DAVID BOWIE called on the cosmic telephone, what would you two talk about?". Morrissey's reply: "He called many times on the terrestrial telephone. He must surely be happy now. Music is eternity, and there he is, now, very much in it. I don't imagine he wanted anything else from life.". - [Read here]...
• CANCELLED: Headliners for the DUBLIN BOWIE FESTIVAL are HOLY HOLY, who will be performing on Monday 8th January. For more info and tickets - [Read here]...
• I don't understand why this is being created, but here you go... the NME have reported that a new BBC RADIO drama is to air on the BBC World Service which presents an IMAGINED account of DAVID BOWIE working on his 'Blackstar' album. 'The Final Take: Bowie In The Studio' will air on the BBC World Service on Tuesday 9th January, with the programme currently set to broadcast at the time of 11:30 am. Starring comedy impersonator JON CULSHAW who will be doing "a rare serious role". Apparently it will "utilise dialogue constructed from Bowie's own words - which have been taken from the hundreds of interviews he gave during his life." - [Read here]...
---
BLACKSTAR FANZINE #3
8th December 2017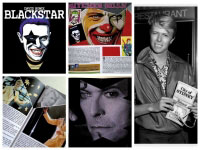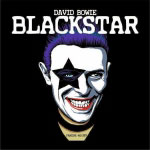 The THIRD DAVID BOWIE BLACKSTAR fanzine is available to order now.

DBBF is the new Italian fanzine, with unpublished articles both in Italian and English: 28 colour pages with beautiful pictures, all in printed in opaque glossy paper: a must for all fans. Exclusive interviews with Bowie collaborators, fan articles and experts, collectors, wonderful pictures, comics and much more.

Amongst other things, in this 3rd issue you will find exclusive insights by Pierpaolo Martino (author of The David Bowie Philosophy), Luke Garro (author of the new biography published by Hoepli) and Roger Griffin (author of the beautiful David Bowie: The Golden Years book).

The front cover of this third issue is the work of a well-known artist in the world of pop art: Butcher Billy. An artist who combines various sources of pop culture (music, comic books, movies, games, etc.) to mix them in irreverent and provocative works, in a creative balance between nostalgia and modernity.

For more information and purchasing details, please visit dbblackstarstore.it website.

From Daniele Pensavalle at davidbowieblackstar.it
---
ON THIS DAY...
7th December 2017
On this day, 2 years ago, DAVID BOWIE and IMAN attended the Premiere of LAZARUS theatre production at The New York Theatre Workshop, NY, USA.
At the end of the show David took to the stage for a standing ovation. This was to be David's final public appearance.
Check out these fabulous photographs taken by LOPEY who managed to take a great image as a smiling David and Iman arrived at theatre, as well as Susan Sarandon, Tony Visconti and Kristeen Young.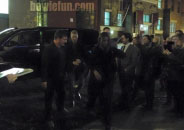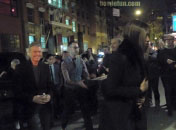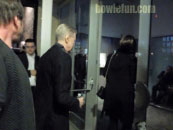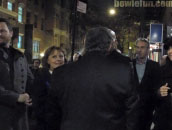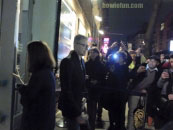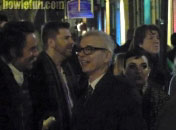 Courtesy of Lopey [bowiefun.com].
David, Enda Walsh, Ivo van Hove and cast take a standing ovation. Photo by Jan Versweyveld.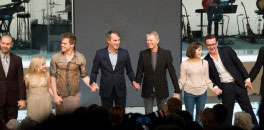 For all you fashionistas out there... David is wearing a Alexander McQueen dark navy and silver skull polka dot evening scarf.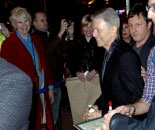 Photos by AKM-GSI Splash.
Below are the photographs taken by PAULA SCIUK, as David, Iman and actors Michael C. Hall and Cristin Milioti left the theatre. In the foyeur are Jimmy King and Bill Zysblat.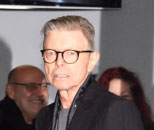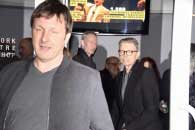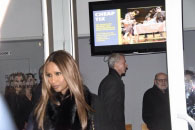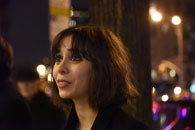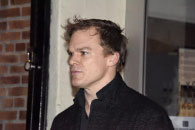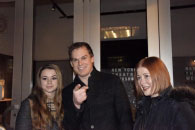 Courtesy of Paula S.
(See original news stories and video footage here).
---
DAVID BOWIE IN GERMAN GQ
6th December 2017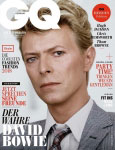 DAVID BOWIE graces the front cover of the GERMAN edition of GQ magazine.
This January 2018 'GQ Heroes' Edition is on sale at selected trade outlets from 7th December.
Inside is an exclusive feature on the style icon - 'The True David Bowie'.
Also the coolest fashion trends for 2018, an exclusive feature on the style icon David Bowie and the final answer to the question of how a gentleman really drinks.
For more details and information, visit the gq-magazin.de website.
---
NO CONTROL SPONGEBOB
6th December 2017
You may recall two years that DAVID BOWIE and BRIAN ENO gave permission for one of their songs to be included in the SPONGEBOB SQUAREPANTS musical.
Originally it was reported back in August 2015 that David was writing an original song for this project, along with additional lyrics by Jonathan Coulton. Then later on 8th October davidbowie.com announced that he would only be using 'No Control' from his 1. Outside album.
You can now have a listen to 'No Control' and check out the altered lyrics...
The musical is currently playing on Broadway in New York.
For more details visit spongebobbroadway.com website, where you can get links for streaming and downloading and so on.
---
AND THE BITS FEW FAR AND WIDE...
6th December 2017
• Previously unseen DAVID BOWIE photographs are now on show in an exhibition at St. Giles Street Gallery in Norwich. Photographer DAVID KOPPELL showcases previously unseen photographs including Bowie in concert and at the press conference for the Sound + Vision Tour in the Rainbow Theatre, at a Music Awards ceremony and also in Legends Nightclub. The exhibition also marks the launches Koppel's limited edition digital silkscreen prints of Bowie merged with ticket stubs and press passes. All prints are stamped, numbered and signed by the artist in limited editions. Prices start at as little as £20 for a souvenir poster. The 'Bowie' exhibition runs until 24th December. Open by appointment on 07831 838378 - [More details]...
• Daniel Maurer at the BEDFORD + BOWERY website wrote an article entitled: 'DAVID BOWIE Sang For Devo, and Mark Mothersbaugh Might Have the Tapes'. Mothersbaugh told the story during the SONOS do in New York - [Read here]. A short time later, Dangerous Minds reported that they were unsure about it all as the piece was posted before the event happened. Update: Confirmed that Mark Mothersbaugh DID tell this story about the tapes from the previous press night evening...
• If you missed the radio interview on BBC RADIO 6 MUSIC with the 'polite' DENIS O'REGAN who was the official DAVID BOWIE tour photographer in 83 and 87 you can now catch up. Great interview with Mary Anne Hobbs - [Listen here]...
• Police recover human-sized DAVID BOWIE nutcracker in Ohio after it was stolen from Steubenville Nutcracker Village - [Read here]...
• This is the final week for voting in the 2017 BROADWAY WORLD UK Awards. The DAVID BOWIE / ENDA WALSH theatre piece LAZARUS is up for FOUR awards. You can have your say and [VOTE HERE]...
---
ON THIS DAY...
2nd December 2017
On this day, 18 years ago. DAVID BOWIE performed at The Astoria, London during his 'hours...' promotional tour in 1999. Earlier the same day, David did an In Store Signing at The Virgin Megastore...
On this day, 39 years ago, DAVID BOWIE performed at Western Springs Stadium in Auckland, New Zealand, the final show of the Australasian leg of his 1978 world tour...
---
BEAUTY AND THE BEAST PRE-ORDER!
1st December 2017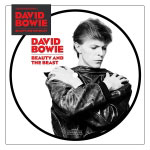 Available to pre-order now is DAVID BOWIE's next 40th Anniversary picture disc single BEAUTY AND THE BEAST
released via Parlophone next month.
This limited edition release (Catalogue Number: DBBATB 40A) sees the light of day on Friday 5th January 2018.
A-side: BEAUTY AND THE BEAST (2017 remaster)
(David Bowie)
Produced David Bowie and Tony Visconti.
Mixed by Tony Visconti at Hansa.
AA-side: BLACKOUT (Live In Berlin 1978)
(David Bowie)
Produced David Bowie.
Previously unreleased.
Recorded live at the Deutschlandhalle, Berlin on 16th May, 1978.
You can pre-order Beauty And The Beast
NOW!
---
'DAVID BOWIE IS' IN BROOKLYN TICKETS
1st December 2017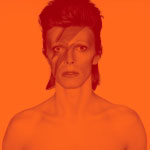 David Bowie Is in Brooklyn, New York. Standard tickets are now on sale. Exhibition runs from Friday 2nd March 2018 through to Sunday 15th July 2018.
Visit brooklynmuseum.org to book now!
The DAVID BOWIE IS exhibition is visiting the BROOKLYN MUSEUM in New York.
The exhibition runs from Friday 2nd MARCH 2018 through to Sunday 15th JULY 2018.
Located on: Morris A. and Meyer Schapiro Wing and Iris and B. Gerald Cantor Gallery, 5th Floor, 200 Eastern Parkway, Brooklyn, New York 11238-6052, USA.
The museum open every day, except Mondays and Tuesdays.
The Brooklyn Museum presentation is organised by Matthew Yokobosky, Director of Exhibition Design, Brooklyn Museum.
Sound experience by Sennheiser.
Lead sponsorship for this exhibition is provided by Spotify.
The exhibition is accompanied by a richly illustrated catalogue edited by Victoria and Albert Museum Theatre and Performance curators Victoria Broackes and Geoffrey Marsh, with essays by Camille Paglia, Jon Savage, Howard Goodall, Christopher Breward, Oriole Cullen, Nicholas Coleridge, and a roundtable discussion with Sir Christopher Frayling, Philip Hoare, Mark Kermode and Geoffrey Marsh.
Go to brooklynmuseum.org for full details and special ticket bookings.
---
DAVID BOWIE 2018 UK CONVENTION
1st December 2017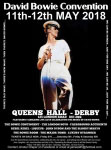 Tickets are on sale now for the DAVID BOWIE 2018 UK Convention which takes place in Derby on 11th and 12th May.
With live music from: The Bowie Contingent, The Bowie Room, Luxury Stranger, Liqueur, Faerground Accidents, Rebel Rebel, with more acts to be confirmed.
Featuring Heroes Indie DJs, Andy Yeo's Bowieoke and much, much more.
Venue: Queens Hall, 125 London Road, Derby DE1 2QQ, England.
Dates: Friday 11th May 6.00pm till 1.00am.
Saturday 12th May - 12 noon till 1.00am
For tickets and information contact Jimster Draper at
---
DUBLIN BOWIE FESTIVAL
1st December 2017
The DUBLIN BOWIE FESTIVAL takes place on 4th January through to 10th January with some very special guests.


Check out the full programme of events over at dublinbowiefestival.ie website.
---
DAVID BOWIE WONDERWORLD NEWS ARCHIVE
November | October | September | August | July | June | May | April | March | February | January

2016 Bowie News | 2015 Bowie News | 2014 Bowie News | 2013 Bowie News
2012 Bowie News | 2011 Bowie News | 2010 Bowie News | 2009 Bowie News
2008 Bowie News | 2007 Bowie News | 2006 Bowie News | 2005 Bowie News
2004 Bowie News | 2003 Bowie News | 2002 Bowie News | 2001 Bowie News
2000 Bowie News | 1999 Bowie News | 1998 Bowie News | 1997 Bowie News



| | |
| --- | --- |
| Created: December 2017 © Paul Kinder | Last Updated: 29/12/17 |