WHAT'S REALLY HAPPENING IN AUGUST - MONTHLY PLANNER

[BOWIEWONDERWORLD SHOP] [LATEST DAVID BOWIE ITEMS ON eBAY]
[FREE @bowiewonderworld.com email addresses HERE]
BW Facebook / myspace.com/bowiewonderworld
Have YOU got some DAVID BOWIE related news or a hot scoop?
Well don't just sit there keeping it to yourself - send it in to
All news items are credited if you so wish
---
ON THE RECORD WITH MICK ROCK
2nd August 2015
Legendary rock photographer MICK ROCK (aka "The Man Who Shot the Seventies") is to host a brand new TV series.
Later today, ON THE RECORD WITH MICK ROCK premieres at 8.00 pm ET on OVATION.
Check out the trailer below, where Mick reminisces about one of DAVID BOWIE's best concerts...
From Carrie C.
---
ENCHANTING DAVID BOWIE
1st August 2015
Just published is the brand new title ENCHANTING DAVID BOWIE: Space/Time/Body/Memory by Toija Cinque (Editor), Christopher Moore (Editor) and Sean Redmond (Editor).
Available in three different formats: Hardcover / Paperback / Kindle, it contains 368 pages and published by Bloomsbury Academic USA.

Synopsis: A longstanding, successful and frequently controversial career spanning more than four decades establishes David Bowie as charged with contemporary cultural relevance. That David Bowie has influenced many lives is undeniable to his fans. He requisitions and challenges his audiences, through frequently indirect lyrics and images, to critically question sanity, identity and essentially what it means to be 'us' and why we are here. Enchanting David Bowie explores David Bowie as an anti-temporal figure and argues that we need to understand him across the many media platforms and art spaces he intersects with including theatre, film, television, the web, exhibition, installation, music, lyrics, video, and fashion. This exciting collection is organised according to the key themes of space, time, body, and memory - themes that literally and metaphorically address the key questions and intensities of his output.
Reviews: This scintillating collection considers David Bowie's contemporaneity, showing how the star looks very different today - and how every different Bowie is a hero, if just for one day. With each chapter like a crystal ball ricocheting around a multi-level labyrinth, Enchanting David Bowie is full of surprises and delights for the fan and scholar alike. - Christopher Schaberg, Associate Professor of English, Loyola University New Orleans, USA, and author of 'The Textual Life of Airports' and 'Deconstructing Brad Pitt'.
Consider for a moment, David Bowie's extraordinary body of work, not just the music, but also his assimilation of different media practices: writing, painting, performance, film and video. This volume coheres around four thematic vectors - space, time, body and memory - to interrogate Bowie's remarkable corpus of cultural production. In the process, Enchanting David Bowie - itself a standout work - not only illuminates but also construes 'Bowie' - or versions of Bowie - that are at once compelling and fascinating. - Constantine Verevis, Associate Professor of Film and Screen Studies, Monash University, Australia.
You can purchase Enchanting David Bowie: Space/Time/Body/Memory
NOW.
---
FIVE YEARS 1969-1973 BOX SET OFFICIALLY ANNOUNCED
1st August 2015
Official Press Release:
DAVID BOWIE 'FIVE YEARS 1969-1973' BOX SET RELEASED SEPTEMBER 25th
Commencing countdown, engines on, check ignition and may God's love be with you...
DAVID BOWIE 'FIVE YEARS 1969-1973'
The first in a series of David Bowie Box Sets to be released on September 25th.
June 23rd 2015 London.

On this day in 1971, David Bowie performed for the first time at what was then known as the 'Glastonbury Fair'. Today in 2015 as the Glastonbury Festival approaches once more Parlophone Records are proud to announce DAVID BOWIE FIVE YEARS (1969-1973)
the first in a series of box sets spanning his career.
The ten album / twelve CD box, ten album / thirteen-piece vinyl set and digital download featuring all of the material officially released by Bowie during the nascent stage of his career from 1969 to 1973. All of the formats include tracks that have never before appeared on CD/digitally as well as new remasters.
Exclusive to the box sets will be Re:Call 1 a new 2-disc compilation of non-album singles, single versions and b-sides. It features a previously unreleased single edit of All The Madmen, which was originally set for a U.S. release but was never actually released. Also included is the original version of Holy Holy, which was only ever released on the original 1971 Mercury single and hasn't been available on any release since.
Also exclusive to all versions of Five Years 1969-1973 will be a 2003 stereo remix of 'The Rise and Fall Of Ziggy Stardust And The Spiders From Mars' by the album's original co-producer Ken Scott, previously only available on DVD with the LP/DVD format of the 40th anniversary edition of the album.
The vinyl box set has the same content as the CD set on pressed on audiophile quality 180g vinyl.
The box set's accompanying book, 128 pages in the CD box and 84 in the vinyl set, will feature rarely seen photos as well as technical notes about each album from producers Tony Visconti and Ken Scott, an original press review for each album and a short foreword by legendary Kinks front man Ray Davies.
The CD box set will include faithfully reproduced mini-vinyl versions of the original albums and the CDs will be gold rather than the usual silver.
An alternate cover has been created for the 2003 mix of Ziggy Stardust by Ken Scott, which features an outtake from the original Heddon Street photo session. There is also newly originated artwork for Re:Call 1 featuring a 1973 in-studio image from renowned photographer Mick Rock.
DAVID BOWIE FIVE YEARS (1969-1973)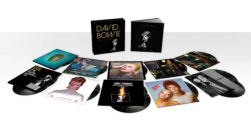 6 Original Studio Albums:
David Bowie (aka Space Oddity)*
The Man Who Sold The World*
Hunky Dory*
The Rise And Fall Of Ziggy Stardust And The Spiders From Mars
Aladdin Sane
PinUps*
*New 2015 Remasters.
2 Live Albums:
Live Santa Monica '72
Ziggy Stardust: The Motion Picture Soundtrack
Exclusive To All Sets:
Re:Call 1
The Rise and Fall Of Ziggy Stardust And The Spiders From Mars (2003 mix)
Re:Call 1 - Tracklisting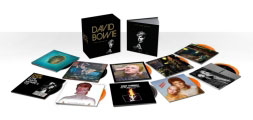 CD1
Space Oddity (original UK mono single edit)*
Wild Eyed Boy From Freecloud (original UK mono single version)*
Ragazzo Solo, Ragazza Sola
The Prettiest Star (original mono single version)*
Conversation Piece*
Memory Of A Free Festival (Part 1)
Memory Of A Free Festival (Part 2)
All The Madmen (mono single edit)*
Janine*
Holy Holy (original mono single version)*
Moonage Daydream (The Arnold Corns single version)*
Hang On To Yourself (The Arnold Corns single version)*
CD2
Changes (mono single version)*
Andy Warhol (mono single version)*
Starman (original single mix)
John, I'm Only Dancing (original single version)
The Jean Genie (original single mix)
Drive-In Saturday (German single edit)
Round And Round
John, I'm Only Dancing (sax version)
Time (U.S. single edit)
Amsterdam
Holy Holy (Spiders version)
Velvet Goldmine
All tracks stereo except *mono.
The vinyl box set has the same content as the CD box set pressed on audiophile 180g vinyl.
Formats:
CD Box Set
0825646284085 (UK Cat No: DBX 1)
Vinyl Box Set
0825646284092 (UK Cat No: DBXL 1)
Digital download 0825646070602
DAVID BOWIE 'FIVE YEARS 1969-1973' is released 25th September on Parlophone Records.
You can pre-order Five Years (1969-1973) CD
and Five Years (1969-1973) VINYL
NOW and receive guaranteed pricing.
---
'DAVID BOWIE IS' ITEMS UP FOR GRABS
1st August 2015
I have several DAVID BOWIE Is collectors items available... including the 'David Bowie Is Walking In Soho' Fold-out Maps and 'David Bowie Is Missing' Print Poster (10x15 inches, rare and never on sale to the general public).

If anyone is interested in any of the items, please email me at for more details and information.
Big thanks to everyone who have made purchases - it's much appreciated. All monies raised go directly towards the running costs of this website.
---
DAVID BOWIE NEWS ARCHIVE
July | June | May | April | March | February | January
2014 Bowie News | 2013 Bowie News
2012 Bowie News | 2011 Bowie News | 2010 Bowie News | 2009 Bowie News
2008 Bowie News | 2007 Bowie News | 2006 Bowie News | 2005 Bowie News
2004 Bowie News | 2003 Bowie News | 2002 Bowie News | 2001 Bowie News
2000 Bowie News | 1999 Bowie News | 1998 Bowie News | 1997 Bowie News



| | |
| --- | --- |
| Created: August 2015 © Paul Kinder | Last Updated: 1/8/15 |