WHAT'S REALLY HAPPENING IN DECEMBER - MONTHLY PLANNER

[BOWIEWONDERWORLD SHOP] [LATEST DAVID BOWIE ITEMS ON eBAY]
[FREE @bowiewonderworld.com email addresses HERE]
BW Facebook / myspace.com/bowiewonderworld
Have YOU got some DAVID BOWIE related news or a hot scoop?
Well don't just sit there keeping it to yourself - send it in to
All news items are credited if you so wish
---
INTIMATE TALES OF ZIGGY
1st December 2015

As mentioned on here several weeks back DAVID BOWIE graces the front cover of RECORD COLLECTOR magazine for their #448 Christmas issue cover.
No spoilers as to what's inside, but the front cover blurb boldly states: 'Bowie: Intimate Tales of Ziggy'.
As you can see, the cover shot is an early Ziggy shot by Brian Ward.
On sale Thursday 3rd December, the magazine also featured in this issue are: Happy Mondays, John Fogerty, Steve Harley, Hugh Cornwell, a free 2016 calendar, plus much more.
For more details and information on this fabulous collectors' magazine pop on over to recordcollectormag.com website.
---
BLACKSTAR CD and VINYL RELEASES
1st December 2015
Released next month is the brand new DAVID BOWIE album entitled ★ (pronounced Blackstar
) will be available in both CD
and vinyl
formats, as well as digital
download. Both are available to pre-order NOW!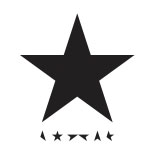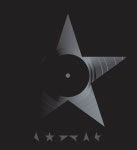 The album is released on Friday 8th January 2016 which as you know is David's birthday.
The tracklisting is as follows:
01. Blackstar.
02. 'Tis A Pity She Was A Whore - (new version).
03. Lazarus.
04. Sue (Or In A Season Of Crime) - (new version).
05. Girl Loves Me.
06. Dollar Days.
07. I Can't Give Everything Away.
08. Video: Track 8 (Video).
Order now and receive a pre-order price guarantee on both the CD
and vinyl
versions.
The Japanese CD edition of Blackstar is also now available to pre-order.
---
PSYCHEDELIC SUBURBIA
1st December 2015

The memoirs of MARY FINNIGAN entitled: Psychedelic Suburbia: David Bowie and the Beckenham Arts Lab
are to be published next month on 8th January 2016 by Jorvik Press in Portland, Oregon, USA.
Written by freelance journalist and friend MARY FINNIGAN, the book tells the story of DAVID BOWIE's pivotal year 1969.
Containing 188 pages and features some amazing previously unpublished photographs.
About the Author:
Mary Finnigan was born in Manchester, England just before the start of World War II. Marrying an older man at eighteen, she produced two children before bolting to London, where she landed a job as a fashion writer on the Daily Mirror. Her print journalism career included feature writing at the Daily Sketch, Daily Express and freelance work at the Sunday Times. During a five-year holiday from the five-day week she met David Bowie. This book tells the story of their adventures together in Beckenham. Returning to journalism, she worked as a reporter, editor and producer at Visnews, Independent Radio News and the London Broadcasting Company. She now contributes to national newspapers, online publications and BBC radio. Mary lives in Bristol in the west of England with her partner, Chris Gilchrist. She has three adult offspring and three granddaughters.
You can pre-order Psychedelic Suburbia: David Bowie and the Beckenham Arts Lab
NOW!
---
MOJO MAGAZINE BOWIE SPECIAL
1st December 2015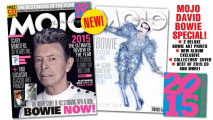 The latest issue of MOJO magazine is a rather nice piece of packaging.
DAVID BOWIE graces the front cover of the folder, inside there is a DB collectors' cover magazine plus two quality frameable prints.
Articles include 'The Day After The Next Day' where TONY VISCONTI gives Keith Cameron the low-down on the new ★ album and 50 years of working together.
'Space Aces' features all the musicians who worked on ★ album, 'Send in the Clown' looks back on David's Scary Monsters (And Super Creeps) 1980 album.
Last but not least, is a two-page review 'To boldly go', which awards ★ with 4 stars.
Well worth buying - this latest issue of Mojo is on sale now. Check out the mojo4music.com website.
---
DAVID BOWIE NEWS ARCHIVE
November | October | September | August
July | June | May | April | March | February | January
2014 Bowie News | 2013 Bowie News
2012 Bowie News | 2011 Bowie News | 2010 Bowie News | 2009 Bowie News
2008 Bowie News | 2007 Bowie News | 2006 Bowie News | 2005 Bowie News
2004 Bowie News | 2003 Bowie News | 2002 Bowie News | 2001 Bowie News
2000 Bowie News | 1999 Bowie News | 1998 Bowie News | 1997 Bowie News



| | |
| --- | --- |
| Created: December 2015 © Paul Kinder | Last Updated: 1/12/15 |