WHAT'S REALLY HAPPENING IN MAY - MONTHLY PLANNER

[BOWIEWONDERWORLD SHOP] [LATEST DAVID BOWIE ITEMS ON eBAY
]
[FREE @bowiewonderworld.com email addresses HERE]
BW Facebook / myspace.com/bowiewonderworld
Have YOU got some DAVID BOWIE related news or a hot scoop?
Well don't just sit there keeping it to yourself - send it in to
All news items are credited if you so wish
---
"BLACKSTAR? WHAT DOES THAT MEAN?"
3rd May 2016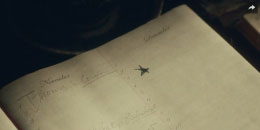 As you all know by now, DAVID BOWIE was a huge fan of the Birmingham gangland BBC TV drama PEAKY BLINDERS.
The writer/director STEVEN KNIGHT has confirmed that series 3 will feature David Bowie music.
"It's not something I can talk about yet," said Steven. "But you will be hearing music by David Bowie in the series.".
A few years back I was asked by a certain someone if I was watching it. I'd only caught part of the very first episode, and I didn't bother watching it again for whatever reason.
With the news the other day of DB music appearing in the new series, I obviously spent the weekend watching the previous two series.
I was gobsmacked to notice the following at 3:49...
"Black star. What does that mean?"
"Black star day. Is the day we take out Billy Kimber and his men."
"No one knows this."
I am 100% certain, this is where David initially got the black star name from, and then developed it.
Check out Peaky Blinders - Series 1, Episode 5 - which aired back in September 2014.
Peaky Blinders - S 1 E 5
by t-themindyproject
Also, we know the song Blackstar was originally two songs put together. Some of the lyrics of the middle section tie in, as well as 'Tis A Pity She Was a Whore' - which would fit into the show perfectly.
I highly recommend watching this series - it's absolutely fascinating.
---
BLACKSTAR VINYL ALBUM SECRET
3rd May 2016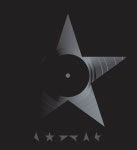 If you have opened your DAVID BOWIE ★ vinyl, open up the gatefold and hold the cover up to the sunglight and a mirad of stars appear in the die-cut star.
Once the light source is removed, the stars fade away.
Quite a lot of the national press picked up on this newly found discovery.
I'm told the album cover DOES NOT need to be exposed to the sun for a period of time as the articles say, it just needs to be held up to the sunlight and they become visible.
Check out imgur.com to see the original photo and posting.
David's son DUNCAN JONES tweeted...
@ManMadeMoon Leaving us surprises even now. So clever. So missed.
---
DAY IN, DAY OUT
3rd May 2016
• On this day, 40 years ago, DAVID BOWIE began his six-night run at the Empire Pool, Wembley, London in 1976...
• Happy Birthday wishes to LINDSAY KEMP...
• Happy Birthday wishes to drummer STERLING CAMPBELL...
---
THE DB 2016 UK CONVENTION
2nd May 2016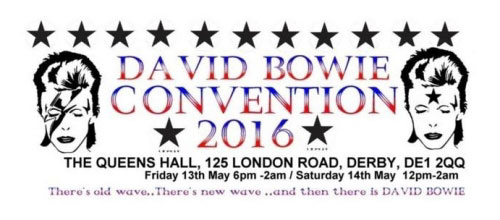 The annual David Bowie UK Convention is a celebration of the music and the genius that is David Bowie. Nine amazing acts, raffle, merchandise and lots of fun, come along and join the Bowie love...
The two-day convention takes place at The Queens Hall, 125 London Road, DERBY, England, DE1 2QQ on Friday 13th May (6pm-2pm) and Saturday 14th May (12pm-2am).
Programme of events:
Friday 13th May - 18.00 till 2.00 am
• Stipe
• Rebel Rebel
• Bowie-oke
• Heroes - indie:Alt anthems
Saturday 14th May - 12 noon till 2.00am
• Bowie Contingent
• Phil Backhouse
• Faerground Accidents
• Birthrite
• Luxury Stranger
• Spizz Energi
• Aladdinsane
• Heroes - indie:Alt anthems
Tickets are on sale NOW. Friday only £12... Saturday only £28... BOTH days Weekender £35.
Contact Jimster Draper for purchasing tickets via Facebook or email him at or 07856969873.
Visit the DB 2016 UK Convention FB page for continued updates.
---
GEORGE UNDERWOOD EXHIBITION
1st May 2016
IMAGINE GALLERY in Suffolk are currently hosting a GEORGE UNDERWOOD art exhibition which features his new original paintings and limited edition prints.
Venue: Imagine Gallery.
Address: Hall Street, Long Melford, Suffolk, CO10 9JQ, England.
The exhibition runs until Saturday 7th May.
For more details and information, please visit the imaginegallery.co.uk website.
Update: Some new artwork has arrived at the gallery, including two more DAVID BOWIE prints. George will be attending the final day of the exhibition (7th May) in person and will be available to talk to - so come along if you can.
---
TWO 'NOTHING HAS CHANGED' CONCERTS
1st May 2016
This month, The SYDNEY SYMPHONY ORCHESTRA are to pay a musical tribute to DAVID BOWIE with TWO concerts at the Sydney Opera House in Australia.
Conductor: Benjamin Northey, with artists: Tim Rogers, iOTA, Steve Kilbey, Deborah Conway, Adalita and Jack Ladder will share the stage at the Sydney Opera House on 19th and 21st May at 8pm.
Pre-sale bookings are available through Sydney Symphony Orchestra 9am - 5pm Monday to Friday on 8215 4600 or select your own seat and book online via sydneysymphony.com website.
---
BOWIE - PHOTOGRAPHS BY STEVE SCHAPIRO
1st May 2016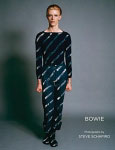 The eagerly anticipated new hardbook book BOWIE - Photographs by Steve Schapiro
has now been published.
At the apex of David Bowie's spectacular rise to fame and glory, photographer Steve Schapiro seized a rare invitation from Bowie's manager for a private photo session with the pop star in LA in 1974...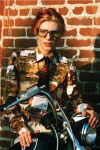 Synopsis: David Bowie, by 1974, was a man of many faces and as many albums, had already lived the life of Ziggy Stardust and launched Aladdin Sane, with albums Pinups and Diamond Dogs soon to come. A musical force to be reckoned with, Bowie was also widely regarded as a fashion icon, pushing the envelope of sexuality and style and having created an internationally renowned persona.
The mostly never-before-published images in Schapiro's rare collection represent Bowie at his most creative and inspired self and present a glimpse into the intimacy that Schapiro and Bowie shared during their time together. As Schapiro tells it: 'From the moment Bowie arrived, we seemed to hit it off. Incredibly intelligent, calm, and filled with ideas, he talked a lot about Alistair Crowley whose esoteric writings he was heavily into at the time. When David heard that I had photographed Buster Keaton, one of his greatest heroes, we instantly became friends.'
The first photo session started at four in the afternoon and went through the night till dawn. Bowie went through countless costume changes, each more incredible than the last and each seemed to turn him into a totally different person. Bowie relentlessly created these unique characters, each seemingly alive in their own charismatic space for Schapiro to create visual images to complement their very existence and turn them into iconic images for all time.
Bowie and Schapiro kidded and laughed about shooting a series of close-up portraits on a putrid green background because they felt it was the worst possible background colour for a magazine, and so they did on this lark - with the image eventually becoming a People magazine cover.
The last image they made was at four in the morning to wrap up the marathon session when they went outside to shoot Bowie on his motorcycle - the sun hadn't yet risen and the shot was lit dramatically by only the headlights of a car. This image remains one of Schapiro's favourites and is certain to live on in posterity.
This hardcover book contains 76-pages and is published by Powerhouse Books.
You can order BOWIE - Photographs by Steve Schapiro
NOW.
---
DAVID BOWIE NEWS ARCHIVE
April | March | February | January
2015 Bowie News | 2014 Bowie News | 2013 Bowie News
2012 Bowie News | 2011 Bowie News | 2010 Bowie News | 2009 Bowie News
2008 Bowie News | 2007 Bowie News | 2006 Bowie News | 2005 Bowie News
2004 Bowie News | 2003 Bowie News | 2002 Bowie News | 2001 Bowie News
2000 Bowie News | 1999 Bowie News | 1998 Bowie News | 1997 Bowie News



| | |
| --- | --- |
| Created: May 2016 © Paul Kinder | Last Updated: 3/5/16 |