WHAT'S REALLY HAPPENING IN NOVEMBER - MONTHLY PLANNER

[BOWIEWONDERWORLD SHOP] [LATEST DAVID BOWIE ITEMS ON eBAY
]
[FREE @bowiewonderworld.com email addresses HERE]
BW Facebook / myspace.com/bowiewonderworld
Have YOU got some DAVID BOWIE related news or a hot scoop?
Well don't just sit there keeping it to yourself - send it in to
All news items are credited if you so wish
---
DAVID BOWIE 2018 UK CONVENTION
5th November 2017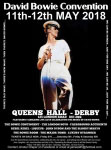 Tickets are on sale now for the DAVID BOWIE 2018 UK Convention which takes place in Derby on 11th and 12th May.
With live music from: Aladdinsane, The Bowie Contingent, The Bowie Room, Luxury Stranger, Liqueur, Faerground Accidents, Rebel Rebel, with more acts to be confirmed.
Featuring Heroes Indie DJs, Andy Yeo's Bowieoke, Q&A with Sarah-Rena Hine and much, much more.
Venue: Queens Hall, 125 London Road, Derby DE1 2QQ, England.
Dates: Friday 11th May 6.00pm till 1.00am.
Saturday 12th May - 12 noon till 1.00am
For tickets and information contact Jimster Draper at
---
ON THIS DAY...
5th November 2017
• Birthday memories of TERENCE GUY ADAIR BURNS who was born on this day in 1937 (DAVID BOWIE's half brother)...
• On this day, 14 years ago, DAVID BOWIE performed at Sportpaleis Antwerpen, Belgium during his A Reality World Tour in 2003...
• On this day, 20 years ago, DAVID BOWIE performed at Estadio Nacional, Santiago, Chile during his Earthling World Tour in 1997...
• On this day, 26 years ago, TIN MACHINE performed at the Mayfair, Newcastle, England during their It's My Life World Tour in 1991...
• On this day, 34 years ago, DAVID BOWIE performed at the Entertainment Centre, Perth, Australia during his Serious Moonlight World Tour in 1983...
• On this day, 39 years ago, DAVID BOWIE began rehearsals at the Hordern Pavilion, Moore Park, Sydney, Australia for his World Tour in 1978...
• On this day, 52 years ago, DAVID BOWIE AND THE LOWER THIRD performed a double bill at the Marquee Club, Soho, London, England in 1965...
• Happy Birthday wishes to AVA CHERRY...
---
EARL SLICK TALKS BOWIE
4th November 2017
Guitarist EARL SLICK talks with REVERB about some of his collaborations with DAVID BOWIE. Interesting revelations about some particular guitar riffs and songs...
---
LISTEN TO THE DM BAND ON RADIO 3
3rd November 2017
If you missed DONNY McCASLIN and his band on BBC RADIO 3 you can now listen in...
Julian Joseph presents a special edition featuring American saxophonist Donny McCaslin, best known for his work with DAVID BOWIE on his number 1 album Blackstar, plus a performance from vocalist Jumoke Fashola. Donny has added this extra performance to his busy touring schedule, especially for Jazz Line-Up, which will be his final UK show of 2017.
Before working with Bowie, Donny studied at the famed Berklee College of Music in Boston and in 1987 he joined vibraphonist Gary Burton's touring band. In 1991 he replaced Michael Brecker in the group Steps Ahead and in 2006 joined the Dave Douglas Quartet. As part of this intimate performance Donny will perform his own compositions as well as paying tribute to Bowie. This special concert recorded at BBC Scotland's headquarters in Glasgow features Jason Lindner - keyboards, Zach Danziger - drums, Tim Lefebvre - bass, and Donny on saxophone.
You can catch up via the BBC iPlayer - no spoilers - just listen in - wonderful stuff.
---
NACHO's SENSE OF DOUBT
3rd November 2017
Check out a new Nacho edit of DAVID BOWIE's 'Sense Of Doubt'.
The footage used here is taken from the Italian TV show 'Odeon', filmed in October 1977.
---
RICOCHET: DAVID BOWIE 1983 BOOKS
2nd November 2017
Just announced is a brand new collectors book entitled: RICOCHET: DAVID BOWIE 1983 featuring photographs by the official tour photographer DENIS O'REGAN.
The Limited Edition Collector Edition is due for publication and delivery May 2018, with a select number of copies available for advance purchase Autumn 2017.
This large format boxed Collector Edition is a limited release of just 2,000 copies which includes fine art limited edition photographic prints and other rare, unique and collectable extras. Published by Moonlight Books.
The Medium format book for fans, without extras, is to be published by Moonlight Books and Penguin Random House later on in the year in Autumn.
Visit bowie1983book.com where you can register your interest in both the 'Collector Edition' and the 'Fan Book'.
Moonlight Books
PRESS RELEASE
1st November 2017
Ricochet : David Bowie 1983
Denis O'Regan
David Bowie official tour photographer and long-time collaborator Denis O'Regan launches limited edition book 'Ricochet : David Bowie 1983'. A limited edition fine art book of rare intimate photographs.
Hundreds of personal and intimate images from Denis & David's archives, many shared for the first time ever.
A very special, museum quality, collector's edition, which has taken years of painstaking work to produce with David's approval, 'Ricochet: David Bowie 1983' is a mainly unseen collection of exceptional, intimate images of David Bowie taken by iconic British photographer Denis O'Regan and published by Moonlight Books in May 2018, in a limited edition of just 2000 copies.
'Ricochet: David Bowie 1983' is the definitive collectible, presented in a multi-layered, luxurious white cloth presentation box, inside a clear acrylic slip case.
Layer 1 Contains 4 beautifully bound books featuring tickets, anecdotes, newsletters, set lists, blueprints, lyrics, including those handwritten by David. Each hardback cloth cover features a graphic representation of one of David's Serious Moonlight stage costumes.
Layer 2 Holds three 20x16 inch fine art signed limited edition prints and matching hologrammed certificates; a 12 inch picture disc of Ricochet and Let's Dance re-mastered by Nile Rodgers; a certificate signed by the photographer, featuring the individual book number, and the official David Bowie Estate Stamp.
Layer 3 Contains an extra-large format 320 page thread sewn, case bound, coffee table book, featuring hundreds of exceptional personal and intimate images of David.
In Autumn 2018, Denis O'Regan and Penguin Random House are also producing a medium format version of the coffee table book (without extras enclosed) for retail distribution.
Every image in 'Ricochet: David Bowie 1983' is personally approved by David Bowie.
Denis O'Regan says of his Ricochet project with the late David Bowie:
"I published a book with David through Doubleday in 1984, for which he wrote the introduction. We then discussed projects on and off over the next thirty years, culminating in discussions about a pair of substantial books looking back at the two world tours that I covered with him.
I feel that this book documenting 1983 will fulfil my dream of sharing these intimate photographs with collectors and fans, whilst revealing an insight into the real David - as much as anyone can. I'm proud and honoured that this book was made with David's support, and hope that it will do him justice."
How to buy
The limited edition is available for purchase at £3,000 per numbered copy, exclusively on bowie1983book.com. Moonlight Books are releasing 250 books out of the edition of 2,000 for advance purchase in early November 2017. Purchasers of these first 250 books will receive exclusive extras including an additional 20x16 inch limited edition print and an invitation to the launch party in May 2018, with an opportunity to meet and greet the photographer.
Denis's photographs of Bowie span nearly two decades, but those taken in 1983, when he accompanied David for nine months on his most successful ever tour, are from the period when Denis and David became firm friends. Denis was given unprecedented access, and his photographs capture not only David's unique stage performances but candid, unguarded offstage moments, or as Denis puts it: "Catching another side of the enigma".
It's a never seen before glimpse into 9 months of life on the road with David.
In one shot, taken in their Hong Kong hotel close to the final date of the Serious Moonlight tour, Bowie is sitting on a sofa giggling. Denis says: "I think it's sweet and very David - partly because there's a full ashtray next to him! He's boyish and unguarded and it's the sort of picture that you would never capture unless you were close to David for a period of time".
1983 was a remarkably happy year for David and this shines through in so many of Denis's photographs. The tour began in May 1983 with indoor crowds of 10,000 but within weeks he was playing to stadium audiences of 60,000, and by the penultimate month, November in Auckland, he played to the biggest crowd ever assembled in New Zealand.
"I think he was very happy; he really enjoyed himself," recalls Denis.
Remarkably, every single image featured in 'Ricochet: Bowie 1983', was personally approved by David.
"I delivered the rolls of film for processing in one city, and they were delivered back to me a few cities later. I selected my favourites and loaded the chosen edit into a projector carousel. David then came to my room and we'd have an informal slideshow. David would say 'yes', 'no', 'I hate it', 'love it', 'keep it for a book' or simply 'nah'..."
It wasn't until 1990, prior to the Sound & Vision tour, that Denis finally confided to David that it was the Ziggy Stardust concert at the Hammersmith Odeon on 3rd July 1973 that inspired him to take up rock photography. "Being David, he wasn't very good at taking compliments. I said, 'it's because of you that I became a rock photographer.' He said, 'Yeah, you'll probably tell Bono the same thing tomorrow night.'"
---
'DAVID BOWIE IS' IN BROOKLYN
1st November 2017
The DAVID BOWIE IS exhibition is visiting the BROOKLYN MUSEUM in New York.
The exhibition runs from Friday 2nd MARCH 2018 through to Sunday 15th JULY 2018.
Located on: Morris A. and Meyer Schapiro Wing and Iris and B. Gerald Cantor Gallery, 5th Floor, 200 Eastern Parkway, Brooklyn, New York 11238-6052, USA.
Special tickets are on sale now. Standard Tickets go on sale later this month from Wednesday, 15th November at 11.00 am EST.
Museum open every day, except Mondays and Tuesdays.
The Brooklyn Museum presentation is organised by Matthew Yokobosky, Director of Exhibition Design, Brooklyn Museum.
Sound experience by Sennheiser.
Lead sponsorship for this exhibition is provided by Spotify.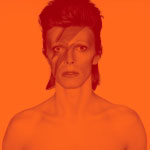 The exhibition is accompanied by a richly illustrated catalogue edited by Victoria and Albert Museum Theatre and Performance curators Victoria Broackes and Geoffrey Marsh, with essays by Camille Paglia, Jon Savage, Howard Goodall, Christopher Breward, Oriole Cullen, Nicholas Coleridge, and a roundtable discussion with Sir Christopher Frayling, Philip Hoare, Mark Kermode, and Geoffrey Marsh.
Go to brooklynmuseum.org for full details and special ticket bookings.
Organised with unprecedented access to David Bowie's personal archive, this exhibition explores the creative process of an artist whose sustained reinventions, innovative collaborations, and bold characterisations revolutionised the way we see music, inspiring people to shape their own identities while challenging social traditions. David Bowie is has been touring globally for the past five years and is taking its final bow at the Brooklyn Museum, providing an opportunity to view this one-of-a-kind material.
David Bowie Is presents approximately 400 objects drawn primarily from the David Bowie Archive, including the artist's original costumes, handwritten lyric sheets from famous songs, original album art, photographs, and videos, all tracing Bowie's creative process from his teenage years in England through his last twenty years, when he resided in New York City. The archive is presented within an immersive, multimedia installation that includes continuous audio along with projected animation and video.
Highlights of the exhibition include more than 60 custom-made performance costumes, including six designed by Freddie Burretti for Ziggy Stardust / The 1980 Floor Show and seven designed by Kansai Yamamoto for Aladdin Sane. There are 85 handwritten lyric sheets, including those from 'Fame' and 'Fashion'; drawings, including a sketch for the Young Americans album cover; and oil paintings, including two of musician Iggy Pop, all by Bowie. There are also more than 40 pioneering music videos, television clips, and filmed roles as well as a multimedia presentation of international tour footage with rare scenes from the legendary Diamond Dogs tour, filmed in Philadelphia. A custom audio mix made up of snippets of Bowie's songs - produced by longtime collaborator Tony Visconti - is also featured.
David Bowie Is is organised by the Victoria and Albert Museum, London.
From brooklynmuseum.org website.
---
EARTHBOUND OUT NOW
1st November 2017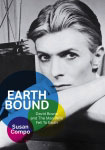 Just published is the excellent EARTHBOUND: DAVID BOWIE AND THE MAN WHO FELL TO EARTH' by SUSAN COMPO via Jawbone Press.
Synopsis: 'Before there was Star Wars ... before there was Close Encounters ... there was The Man Who Fell To Earth.' - advertising tag line for 1981 reissue of the film.
Earthbound is the first book-length exploration of a true classic of twentieth-century science-fiction cinema, shot under the heavy, ethereal skies of New Mexico by the legendary British director Nicolas Roeg and starring David Bowie in a role he seemed born for as an extraterrestrial named Thomas Newton who comes to Earth in search of water. Based on a novel by the highly regarded American writer Walter Tevis, this dreamy, distressing, and visionary film resonates even more strongly in the twenty-first century than it did on its original release during the year of the US Bicentennial.
Drawing on extensive research and exclusive first-hand interviews with members of the cast and crew, Earthbound begins with a look at Tevis's 1963 novel before moving into a detailed analysis of a film described by its director as 'a sci-fi film without a lot of sci-fi tools' and starring a group of actors - Bowie, Buck Henry, Candy Clark, Rip Torn - later described by one of them (Henry) as 'not a cast but a dinner party.' It also seeks to uncover the mysteries surrounding Bowie's rejected soundtrack to the film (elements of which later ended up his groundbreaking 1977 album Low) and closes with a look at his return to the themes and characters of The Man Who Fell To Earth in one of his final works, the acclaimed musical production Lazarus.
You can purchase
EARTHBOUND: DAVID BOWIE AND THE MAN WHO FELL TO EARTH NOW.
---
DAVID BOWIE NEWS ARCHIVE
October | September | August | July | June | May | April | March | February | January

2016 Bowie News | 2015 Bowie News | 2014 Bowie News | 2013 Bowie News
2012 Bowie News | 2011 Bowie News | 2010 Bowie News | 2009 Bowie News
2008 Bowie News | 2007 Bowie News | 2006 Bowie News | 2005 Bowie News
2004 Bowie News | 2003 Bowie News | 2002 Bowie News | 2001 Bowie News
2000 Bowie News | 1999 Bowie News | 1998 Bowie News | 1997 Bowie News



| | |
| --- | --- |
| Created: November 2017 © Paul Kinder | Last Updated: 5/11/17 |