WHAT'S REALLY HAPPENING IN FEBRUARY - MONTHLY PLANNER

[BOWIEWONDERWORLD SHOP] [LATEST DAVID BOWIE ITEMS ON eBAY]
[FREE @bowiewonderworld.com email addresses HERE]
BW Facebook / myspace.com/bowiewonderworld
Have YOU got some DAVID BOWIE related news or a hot scoop?
Well don't just sit there keeping it to yourself - send it in to
All news items are credited if you so wish
---
AND THE BITS FLEW FAR AND WIDE...
12th February 2016
• Just published is a DAVID BOWIE tribute comic book by STORM ENTERTAINMENT available in both print and digital formats. Written by Mike Lynch and Michael L. Frizell with art by George Amaru and Vincenzo Sansone, the book pays homage to one of the most influential artists any generation, constantly reinventing himself while defying convention. The one-shot features three collectable covers by Sansone, David Frizell and Graham Hill - [More details]...
• A month on... DAVID BOWIE biographer DAVID BUCKLEY reflects on a life immersed in his colourful world - [Read here]...
• Yay! DAVID BOWIE's ★ album has spent 5 weeks at #1 in Croatia. Take a look at the other countries official abum charts placings - [View all]...
• Well worth watching... RED RONNIE shares some wonderful filmed outtakes from Italian DAVID BOWIE interviews - [View here]...
• A must read... interview with CARLOS ALOMAR talking about his 'Golden Years' with DAVID BOWIE in Rock Cellar magazine - [Read here]...
---
CONGRATULATIONS TO DUNCAN AND RODENE
10th February 2016
Huge congratulations to DUNCAN JONES and his wife RODENE JONES who have announced today that they are expecting their first child.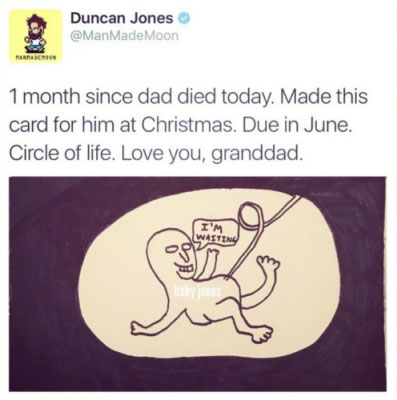 ---
UPCOMING JAPANESE DVD RELEASES
10th February 2016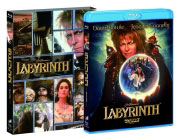 All set for release in Japan next month is a limited release of LABYRINTH (Blu-ray Slipcover) Memorial Edition on 23rd March.
This memorial Blu-ray and DVD set comes complete with replicas of the booklet and postcards (resized, A6: 10.5 x 14.8cm), which were included in Labyrinth that was originally released in 2005. Also includes two new postcards. Features newly designed outer case packaging.
Special Feature / Bonus Track: picture-in-picture (bonus view), audio commentary, making-of, photo gallery, storyboards, filmography, and more.
Product Type: Blu-ray. / TV Standard: NTSC. / Number of Discs: 2. / Running Time: 101 minutes. / Region: A. / Subtitles: English Japanese. / Audio Track: English 5.1ch Surround and Japanese 5.1ch Surround.
The following month on 20th April sees the Blu-ray version of BASQUIAT which stars DAVID BOWIE as 'Andy Warhol'.
Special Feature / Bonus Track: theatrical trailer.
---
AND THE BITS FLEW FAR AND WIDE...
10th February 2016
• ARIZONA PBS will air the DAVID BOWIE: FIVE YEARS BBC documentary on Friday, 12th February at 9pm MST. The programme will also be available for online viewing free to the public at azpbs.org fom Feb. 12 - 14...
• BIG shout out to Croatia, Czech Republic and USA Tastemaker Official Album Charts... DAVID BOWIE's ★ album remains at the #1 position for 4 consecutive weeks! See the fulll low-down - [Chart Placements]...
• On this day, 44 years ago, DAVID BOWIE begins his first major UK tour at the Toby Jug, Tolworth, Surrey in 1972...
• Fans are planning a mass DAVID BOWIE sing-along tribute at GLASTONBURY 2016 FESTIVAL on Wednesday evening 22nd June at the Pyramid Stage. If you are going to Glastonbury this year, pop on over to twitter.com/BowieGlasto2016 and give your support...
---
CHARITY DAVID BOWIE EXHIBITION
10th February 2016
A DAVID BOWIE Charity Exhibition is taking place at TODMORDEN inside the Town Hall on Saturday 20th February from 10am until 3pm.
Admission is only £2 and all money raised will be split between Calderdale Flood Relief and Cancer Research UK.
This exhibition on David Bowie features rare memorabilia, live photos, clothing, posters, and assorted ephemera. All of the items on display are loaned from private collections, are original, fragile and are not for sale.
There will be an exclusive and extremely limited number of prints and cards to buy on the day, with all proceeds once again going to the two charities mentioned above.
The exhibition is curated by BOB FOLLEN of Bob Art Models, who will be there on the day to welcome you, and to answer any questions you may have about the pieces on show.
Venue: Todmorden Town Hall, Bridge Street, Todmorden OL14 5AQ, West Yorkshire.
Wheelchair friendly / Free parking.
FB events page
---
DAVID BOWIE TRIBUTE BOOK REVEAL
9th February 2016
Unboxing the DAVID BOWIE Tribute Newspaper Book exclusively created by Historic-Newspapers.co.uk
Reminder: The BW competition ends at midnight (GMT) on Thursday 11th FEBRUARY 2016 - [NOW CLOSED]
If you have entered the BW prize draw competition already - this preview copy will give you a good idea of what's on offer...
Update: Prize draw winner is ANDY JAY - congratulations! A big thank you to everyone who entered the prize draw.
---
DB TRIBUTE AT THE ROXY
9th February 2016
Last night at the DAVID BOWIE tribute concert at The Roxy Theatre, Hollywood, CA, USA, MIKE GARSON and SEAL and a whole host of musicians performed including: Tim Lefebvre, Holly Palmer, Gaby Moreno, Nikka Costa, Angelo Bundini, Jeff Babko, Blair Sinta, Eric Dover, Angelo Moore, Paul Bushnell and more.
Check out some of the concert footage below...
Other performers included: Ewan McGregor who sang "Heroes" and Gary Oldman 'The Man Who Sold The World'.
---
TEDDY ANTOLIN - REST IN PEACE
9th February 2016
Incredibly sad news to report the passing away of TEDDY ANTOLIN.
As you may know, Teddy was the man responsible for setting up DAVID BOWIE and IMAN on their blind date on 14th October 1990 in Los Angeles.
Teddy was David's and Iman's mutual hairdresser, he did hair and make-up on five of David's world tours, as well as Iman's hair on their wedding day.
Rest in peace Teddy :(
---
AND THE BITS FLEW FAR AND WIDE...
8th February 2016
• In case you missed it, check out BBC programme 'Inside Out' which features interviews with music journalist Mark Beaumont, Woolf Byrne (The Manish Boys), Mary Finnigan, fan Rachel Leggett, singer Tessa Niles and guitarist Kevin Armstrong (starts at 17.15). Watch via the BBC iPlayer - [View here]...
• REEVES GABRELS talks about creating with DAVID BOWIE. "It would be wonderful if music fans took this opportunity to listen. Now is the time to go deep. There is a life's work waiting there to be heard." - [Read here]...
• Making his first UK appearance in 15 years, Ace Hotel London Artist in Residence LINDSAY KEMP will be in conversation with acclaimed singer-songwriter MARC ALMOND on life and work with DAVID BOWIE. Hosted by Nicholas Pegg, author of The Complete David Bowie
the evening will also include a screening of 'The Looking Glass Murders' and an exclusive trailer for upcoming feature documentary 'Lindsay Kemp's Last Dance'. 'My Life and Work with David Bowie' takes place on 17th May at 7pm. Free with RSVP at Miranda, Shoreditch, London E1 - [More details]...
• DAVID BOWIE features on the front cover of GUITARIST magazine. Inside, David Bowie's guitar players offer insight into the creative process of the late musical legend. The articles feature interviews and the stories behind the riffs, plus the recording his final album ★ - this March issue (#404) Collector's edition is on sale now - [More details]...
• Photographer INDRANI talks about working with DAVID BOWIE and IMAN on the Scott Kelby blog - [Read here]...
---
THE FINAL CHANGES
6th February 2016

Scheduled for a release next month is a 2 DVD Tribute Collection entitled: DAVID BOWIE: The Final Changes.

Due on 11th March this PAL, Region 2, runs for 150 minutes and is released via The Collector's Forum.

Synopsis: It's virtually all been said, and it will be said 100 times more, but perhaps what has been most shocking about the passing of David Bowie in the opening weeks of 2016 is the most brutal realisation the sad event bought home; that someone who long ago transcended into immortality actually dies like the rest of us. But the sadness will pass and the mourning will fade, and what we will be left with is arguably the finest musical catalogue produced in the rock era, a cause for celebration if ever there was one.

This two DVD set plays a crucial part in the genesis of this celebration as it documents and develops the musical history of David Bowie from his earliest ventures in the industry through to his most daring and creative era when nothing appeared to be anything less than possible.

Featuring rare and classic footage, interviews with the man himself and those closest to him throughout his career, plus live and studio performance archive, location shoots, news reports and comment from the finest journalists and writers, this collection will go some way to satisfying the huge demand for information and revelations - many previously unknown - about this most mysterious and enigmatic of musical and cultural icons.

You can pre-order David Bowie: The Final Changes [DVD]
NOW.
---
★ WORLD CHART PLACEMENTS
5th February 2016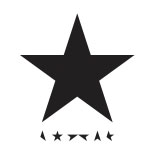 DAVID BOWIE's ★ album remains at the NUMBER ONE position in several countries.
Big shout out to: Belgium (Flanders), The Netherlands, Czech Republic and US Tastemakers Chart, still at the #1 after 4 weeks.
Still waiting on positions in Finland, Norway and Portugal where it has remained at #1 ever since release.
In the United Kingdom, although ★ has dropped one position to #2, it has been replaced at #1 by the Best Of Bowie compilation album!
The Top 100 Official UK Album Chart has FOURTEEN David Bowie placings: #1 Best Of Bowie, #2 ★, #8 Nothing Has Changed, #19 Hunky Dory, #22 The Rise and Fall of Ziggy Stardust and The Spiders From Mars, #37 Aladdin Sane, #39 "Heroes", #45 Low, #51 The Next Day, #52 Station To Station, #57 Diamond Dogs, #62 Young Americans, #64 Scary Monsters (And Super Creeps), #79 Let's Dance.
In the Scottish Official chart ★ has dropped to #3, but again, Best Of Bowie hits the #1 spot.
As and when countries announce their latest album charts, this Blackstar album chart page is being continually updated.
---
★ ALBUM VARIATIONS
5th February 2016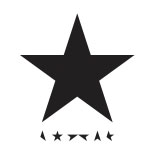 For the collectors' and completists out there, below are the worldwide releases variations of DAVID BOWIE's ★ that I can find:
Black Vinyl - USA - test pressing from RTI Record Technology Inc. (Camarillo, CA, US) - white label/blue letting - November 07, 2015 - Matrix: 88875173871 A/B.
Clear vinyl - GERMANY/EU - JPC - 1st pressing - ISO, Columbia and Sony logos - (BC: 88875173871).
Clear vinyl - FRANCE - FNAC - ISO, Columbia and Sony logos - (same as JPC) (BC: 88875173871).
Clear vinyl - USA - Barnes & Noble Exclusive - sticker on front - 1st pressing - ISO and Columbia logos. (BC: 888751888517).

Black vinyl - AUSTRALIA - JB Hi-Fi Exclusive. (no more will be pressed) (US issue).
Black vinyl - UK - 1st pressing - 2015.
Black vinyl - UK - 2nd pressing - 2016 added.

CD - EU - standard digipak (BC 888751 738621) (Cat. 888751 73862).
CD - GERMANY/AUSTRIA - MSD Exclusive (Saturn and Media Markt shops) limited edition - 6-panel digipak inside a laminated box includes Blackstar pin. (BC 88751 88762) (Cat: 88875173862).
CD - ITALY - Sony Italy/Swarovski limited edition box set (69 only) includes Swarovski crystal encrusted iPhone 6/6s case and CD.
CD - JAPAN - Blu-spec CD2 (first press) digipak - obi strip - (Cat. No. SICP-30918). (BC 4547366257106) (New Music Fridays blue sticker).
CD - JAPAN - Blu-spec CD2 jewel case - obi strip - (Cat. No. SICP-30918). (BC 4547366257106).
CD - JAPAN - Tower Records Exclusive - with promotional plastic folder.
CD - AUSTRALIA - digipak - (BC 888751 738621) (Cat. 888751 73862).
CD - HONG KONG - digipak - (BC 888751 738621) (Cat. 888751 73862).
CD - HONG KONG - HMV - (plus Tote bag edition) (same as above).
CD - TAIWAN - digipak - obi - (BC 888751 738621) (Cat. 888751 73862) (disc is EU) (typo on Dollar Days).
CD - KOREA - digipak - (BC 8803581123135) (Cat. S20313C) (with promo sheet).
CD - ARGENTINA - digipak - (BC 888751 738621) (Cat. 888751 7386-2).
CD - MEXICO - digipak - (BC 888751 73862).
CD - USA - digipak - (BC 888751 738621) (Cat. 888751 73862) (Cat. #2 88875173862 S1).
CD - CANADA - digipak - (BC 888751 738621) (Cat. 888751 73862) (same as US apart from Sony Canada).
A couple of things to be aware of: there is also a German MSD Exclusive box with pin, that allegedly has 3 smaller litho prints inside the box - these are home-made prints and NOT official.
Also be careful when purchasing vinyl first pressings - the second vinyl pressing of ★ has the date 2015/2016 on the back cover and all labels, first pressing is just 2015. Second vinyl pressings seem to be available everywhere now.
Happy hunting on the ★ eBay listings
and if anyone has any amendments or additions to the above list, do please let me know.
---
AUDI R8 V10 CAMPAIGN
3rd February 2016

AUDI the German luxury carmaker has a moon-themed advert running in the first quarter of the Super Bowl this weekend to the soundtrack of DAVID BOWIE's 'Starman'.

Surrounded by memories of the Space Age's golden years, a retired astronaut has lost his zeal for life. But when his son shows up and hands over the keys to the new 205-mph Audi R8 V10 plus, a rocket ride under the stars stirs newfound life within the Commander. It's a universal reminder that amazing things happen when we choose exploration, technology and the moon.




---
FREE PRIZE DRAW! BW COMPETITION
3rd February 2016
Update: Prize draw winner is ANDY JAY - congratulations! Big thank you to everyone who entered the prize draw.
Here's your chance to own a personalised copy of an exclusive DAVID BOWIE Tribute Newspaper Book created by Historic-Newspapers.co.uk
Personalised David Bowie Life Book
- Incredible David Bowie Book.
- Exclusive to Historic Newspapers.
- Personalised with any name and message.
- Individually bound in a black leather cover with gold embossing.
- Created from newspaper articles with stunning pictorial sections.
An exclusive piece of David Bowie memorabilia, this Personalised David Bowie Life Book is crammed full (130 pages!) with insightful newspaper articles about his musical career, acting roles, marriages, battles with drug addiction and eclectic fashion sense. What's more, there are extensive pictorial sections showing Bowie during his early years, right through to later life.
This original David Bowie biography, which is exclusive to Historic Newspapers, offers a rare and unique insight into the life of Britain's most iconic music star. The best David Bowie book on the market, it'll make a truly special gift for any fan. Beautifully bound in a personalised leather cover, the book will make a magnificent keepsake and a thrilling read.
Your Personalised David Bowie Newspaper Book: This David Bowie book can be personalised with the recipient's Name and a Message which will appear on the opening page. The front cover is also gold embossed with the recipient's name.
David Bowie Life Book Information: Tabloid-sized book measuring 31 x 38cm. Individually bound in a hardback black leather cover with gold embossing. Features David Bowie newspaper articles and pictorial sections from The Daily Mirror from throughout David Bowie's history. Articles from 2007 onwards will be printed in colour. This personalised David Bowie newspaper book is an exclusive product to Historic Newspapers, part of the Signature Group.
This BW prize draw competition ends at midnight (GMT) on Thursday 11th FEBRUARY 2016.






[NOW CLOSED]
If competitions aren't your thing, you can purchase your copy via historic-newspapers.co.uk
---
AND THE BITS FLEW FAR AND WIDE...
2nd February 2016
• Check out a DAVID BOWIE online auction with all proceeds being donated to Cancer Research UK and Macmillan Cancer Support - [View items]...
• The BERLIN FILM FESTIVAL are to pay tribute to DAVID BOWIE by showing Nicolas Roeg's 'The Man Who Fell to Earth' at Friedrichstadt-Palast on 12th February. "David Bowie was a tremendous musician, an avant-garde artist who expressed his creativity in many disciplines," festival director Dieter Kosslick said - [More details]...
• LADY GAGA is to perform a special tribute to DAVID BOWIE at this year's GRAMMYS. The 58th GRAMMY awards show will be broadcast live on Monday 15th February on CBS. For this special experiential tribute NILE RODGERS is musical director and Lady Gaga will perform at least 3 or 4 songs - [More details]...
• On sale in the UK from today is CLASSIC MAGAZINE Presents: BOWIE - A Celebration - a special 132-page tribute magazine. Covering his phenomenal career and features a series on Bowie's closest collaborators and mini-features on key albums, videos and film performances, plus a massive feature on Bowie's fashion. It incorporates new interviews with Tony Visconti, Ken Scott, Carmine Rojas, Paul Trynka and a beautifully written afterword from Bowie's longest serving musical collaborator, the amazing Carlos Alomar - [More details]...
---
RICK WAKEMAN CHARITY RELEASE
2nd February 2016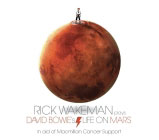 On the 12th January, RICK WAKEMAN joined Simon Mayo on Drive time BBC RADIO 2, to pay tribute to his friend DAVID BOWIE and perform a very special version of Life On Mars?
as a tribute.
The public response was considerable, with over 3,000,000 views on the BBC web site and rising, the demand for this track is increasing daily. This all was totally unexpectedly. Then the public started to email both the BBC and Ricks own web site suggesting that Ricks version of 'Life On Mars?' be released to help raise awareness and funds for a cancer charity. Rick thought this was a wonderful idea and has agreed to donate all his artist royalties to the Macmillan Cancer Support.
Within hours of Rick announcing the release of the single on the BBC Radio 2 Simon Mayo Drive Time radio show on the 18th January, the news was re-tweeted to over 50,000 Twitter accounts and continues to rise by the hour. The BBC continue to support this release by replaying the track on Radio 2 and it is expected they will continue to do so, especially when the single is available to purchase. Rick will also be promoting this release via his own social media. His Facebook has over 84,000 likes and there are over 20,000 active users, with over 50,000 page views per month on his web site and he currently has over 37,000 Twitter followers. As Rick says, I am extremely fortunate in being able to release my piano version of David Bowie's 'Life On Mars?' and 'Space Oddity', both of which I performed on the original releases, to help even more awareness and help raise some money to help Macmillan cancer support with the wonderful work they do.
The CD single is released on Friday 12th February and contains the tracks: 01. Life On Mars? / 02. Space Oddity / 03. Always Together.
You can pre-order the Life On Mars?
CD single NOW.
---
"HELDEN&quot: PERFORMED BY FLOYD'S BIRTHDAY BAND
2nd February 2016
DAVID BOWIE's inspiration will live on forever... watch these German children perform their beautiful rendition of the Bowie/Eno iconic song "Helden" at FLOYD'S 9th birthday party.
This video/song (what you see is what you hear - no lip-syncing) is absolutely beautiful.
Well done to each and every one of you. You are all amazing.
The musicians taking part are: Cansu: Vocals, Piano / Floyd: Keyboards / Henri: Trumpet, HiHat (closed) / Luna: Vocals, Guitars / Mehmet-Can: Keyboards / Melissa: Vocals, Snare, Cymbals, Guitars / Mia: Vocals, Violin / Neo: Keyboards, Pipedream-Chimes / Tunay: Filter, Bass Drum, Toms, HiHat (open), Cymbals.
---
IN MEMORY OF DAVID BOWIE
2nd February 2016

All set for release later this month on 19th February is IN MEMORY OF DAVID BOWIE
limited collectors' edition CD.
The recording contains rare FM broadcast songs from the 70s and 80s plus interviews and the tracklisting runs as follows:
01. Station To Station.
02. Suffragette City.
03. Fame.
04. Word On A Wing.
05. Stay.
06. Waiting For The Man.
07. FM Interview.
08. Life On Mars? / Five Years.
09. Panic In Detroit.
10. Rare Bowie Interview.
11. Changes.
12. Queen Bitch.
13. Diamond Dogs.
14. Rebel Rebel.
15. In memory / David Bowie Interview.
You can pre-order In Memory Of David Bowie CD
NOW.
---
UPCOMING UK GIGS
1st February 2016
EARL SLICK and BERNARD FOWLER are to perform DAVID BOWIE's Station To Station album in the UK in April.
Line-up: Earl Slick, guitar / Bernard Fowler, vocals / Terry Edwards (Musical Director), sax, keyboards, percussion / Chris Constantinou, bass / Luis Correia, guitar / Florence Sabeva, piano / Lisa Ronson, BVs and percussion / Lee John, drums.
Plus LISA RONSON and LOVER supporting at the following venues:
APRIL
24th: Norwich Arts Centre, 51 St Benedicts St, Norwich.
26th: The ABC Glasgow, Glasgow, Scotland.
28th: O2 Academy Liverpool
29th: O2 Academy Islington, London.
30th: Colchester Arts Centre, Church St, Colchester, Essex.
MAY
5th: SPOOKY GHOST (Gerry Leonard) gig at The Water Rats, King's Cross, London.
Check out the new 2016 BW MONTHLY PLANNERS to see what's happening and which announced releases are in the pipeline.
---
THE AGE OF BOWIE
1st February 2016
Currently in the pipeline for release later this year is a "unique and personal biographical critique" entitled: THE AGE OF BOWIE written by PAUL MORLEY via publishers Simon and Schuster.
'The Age of Bowie' is promised to "capture the greatest moments of Bowie's career; from the recording studio with the likes of Brian Eno and Tony Visconti; to iconic live performances from the 1970s, 80s and 90s, as well as the various encounters and artistic relationships he developed with rock luminaries John Lennon, Lou Reed and Iggy Pop", plus discuss in detail his "much-heralded and critically-acclaimed" ★ album.
Morley said: "On the day it was announced that David Bowie had died, before there was any time to think, I was asked a hundred times what I thought. What I really thought was that it would take a book to help fully process what Bowie meant to me, to music and popular culture, and to the world out there that changed because of him. Then I thought, I need to write that book."
Iain MacGregor, publishing director Simon and Schuster, acquired the world rights (all languages) from David Godwin Associates. S&S will publish the book globally later this year with Gallery Books releasing it in the US simultaneously.
---
★ STILL NO. 1 IN UK OFFICIAL ALBUM CHART
1st February 2016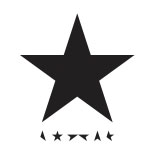 DAVID BOWIE's ★ album remains in the NUMBER ONE position in the Official UK Album Chart for the THIRD week running.

It has been announced by UK Official Charts that David Bowie has matched ELIVS PRESLEY's Official Albums Chart record.

★ spends a third week at Number 1, and heads up five Bowie releases make the Top 10 simultaneously: Best of Bowie (#3), Nothing Has Changed (#5), Hunky Dory (#9) and The Rise and Fall of Ziggy Stardust and The Spiders from Mars (#10). This feat means Bowie is the first act to score five albums in the Top 10 since Michael Jackson managed six in 2009 after his passing.

But that's not all. The Bowie influence continues farther down the Official Albums Chart, with the rock legend landing seven more Top 40 entries, bringing his total to 12. This brings Bowie level with Elvis Presley's chart record for simultaneous Top 40 entries.

The Official Top 100 UK Albums today (29th) are:

#1 ★
#3 Best Of Bowie
#5 Nothing Has Changed
#9 Hunky Dory
#10 The Rise and Fall of Ziggy Stardust and The Spiders From Mars
#20 Aladdin Sane
#27 Low
#28 "Heroes"
#30 Diamond Dogs
#31 The Next Day
#32 Station To Station
#36 Scary Monsters (And Super Creeps)
#42 Let's Dance
#43 Young Americans
#52 The Man Who Sold The World
#63 Pinups
#66 Lodger
#79 Space Oddity

In the UK Official Soundtracks Albums Chart Top 50, #4 The Buddha Of Suburbia - OST / #18 Ziggy Stardust and The Spiders From Mars - OST.

In the UK Official Vinyl Albums Chart Top 40, #1 Blackstar / #5 Nothing Has Changed / #16 The Next Day.

As and when other countries announce their latest album charts, this Blackstar album chart page is being continually updated.
---
NEW STD. EDITION! THE RISE OF DAVID BOWIE, 1972-1973
1st February 2016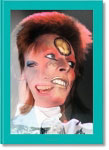 Well I've certainly been waiting for this!...
To be published on 10th April is THE RISE OF DAVID BOWIE, 1972-1973 by MICK ROCK as a 'Standard Taschen Edition'.
You've all seen the deluxe and collectors' editions of this amazing book, and probably like me salivated over it, whilst counting up your pennies.
The good news is this standard edition is CURRENTLY priced at only £32.49 GBP
Hardcover: 310 pages / Published by Taschen GmbH / Standard Edition / Language: English.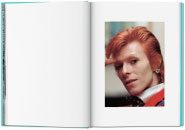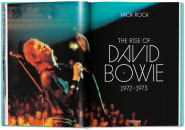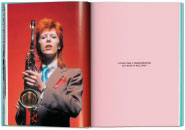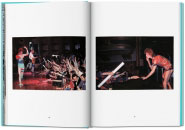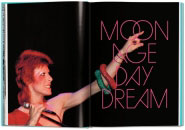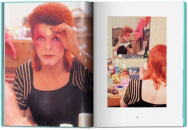 Synopsis: Rebel. Rebel - The eye of the Bowie storm
In 1972, David Bowie released his groundbreaking album The Rise and Fall of Ziggy Stardust and The Spiders From Mars. With it landed Bowie's Stardust alter-ego: A glitter-clad, mascara-eyed, sexually-ambiguous persona who kicked down the boundaries between male and female, straight and gay, fact and fiction into one shifting and sparkling phenomenon of 70s self-expression. Together, Ziggy the album and Ziggy the stage spectacular propelled the softly spoken Londoner into one of the world s biggest stars.
A key passenger on this glam trip into the stratosphere was fellow Londoner and photographer Mick Rock. Rock bonded with Bowie artistically and personally, immersed himself in the singer s inner circle, and, between 1972 1973, worked as Bowie's official photographer. This book brings together the best of Rock's Bowie portfolio with spectacular stage shots as well as intimate backstage portraits.
With a lenticular cover of different head-shots, the book stands to celebrate Bowie's fearless experimentation and reinvention. Inside, pictures for press, album jackets, and stills from promo movies sit alongside around 50 percent previously unpublished images, offering privileged access to the many facets of the Bowie's personality and fame. Through the aloof and approachable, the playful and serious, the candid and the contrived, this is a passionate tribute to an oustanding artist, unique creative vision, and eternal inspiration.
Photographs by Mick Rock, authors Barney Hoskyns and Michael Bracewell, editor Reuel Golden.
This STANDARD edition of The Rise of David Bowie, 1972-1973 by Mick Rock
is available to order NOW!
Pre-order now and SAVE 35%! - £32.99 (RRP: £49.99) - you save a massive £17.50 (35%).
---
THE DB 2016 UK CONVENTION
1st February 2016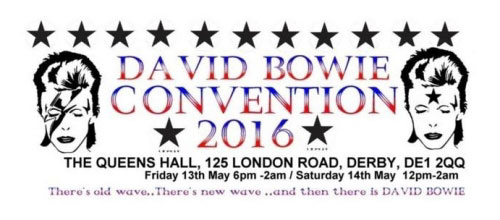 The annual David Bowie UK Convention this a celebration of the music and the genius that is David Bowie. Nine amazing acts, raffle, merchandise and lots of fun, come along and join the Bowie love...
The two-day convention takes place at The Queens Hall, 125 London Road, DERBY, England, DE1 2QQ on Friday 13th May (6pm-2pm) and Saturday 14th May (12pm-2am).
Programme of events:
Friday 13th May - 18.00 till 2.00 am
• Stipe
• Rebel Rebel
• Bowie-oke
• Heroes - indie:Alt anthems
Saturday 14th May - 12 noon till 2.00am
• Bowie Contingent
• Phil Backhouse
• Faerground Accidents
• Birthrite
• Luxury Stranger
• Spizz Energi
• Aladdinsane
• Heroes - indie:Alt anthems
Tickets are on sale NOW. Friday only £12... Saturday only £28... BOTH days Weekender £35.
Contact Jimster Draper for purchasing tickets via Facebook or email him at or 07856969873.
Visit the DB 2016 UK Convention FB page for continued updates.
---
BOWIE - PHOTOGRAPHS BY STEVE SCHAPIRO
1st February 2016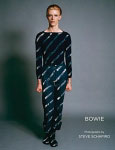 The eagerly anticipated new hardbook book BOWIE - Photographs by Steve Schapiro
now has publication date of Thursday 19th May.
At the apex of David Bowie's spectacular rise to fame and glory, photographer Steve Schapiro seized a rare invitation from Bowie's manager for a private photo session with the pop star in LA in 1974...
Synopsis: David Bowie, by 1974, was a man of many faces and as many albums, had already lived the life of Ziggy Stardust and launched Aladdin Sane, with albums Pinups and Diamond Dogs soon to come. A musical force to be reckoned with, Bowie was also widely regarded as a fashion icon, pushing the envelope of sexuality and style and having created an internationally renowned persona.
The mostly never-before-published images in Schapiro's rare collection represent Bowie at his most creative and inspired self and present a glimpse into the intimacy that Schapiro and Bowie shared during their time together. As Schapiro tells it: 'From the moment Bowie arrived, we seemed to hit it off. Incredibly intelligent, calm, and filled with ideas, he talked a lot about Alistair Crowley whose esoteric writings he was heavily into at the time. When David heard that I had photographed Buster Keaton, one of his greatest heroes, we instantly became friends.'
The first photo session started at four in the afternoon and went through the night till dawn. Bowie went through countless costume changes, each more incredible than the last and each seemed to turn him into a totally different person. Bowie relentlessly created these unique characters, each seemingly alive in their own charismatic space for Schapiro to create visual images to complement their very existence and turn them into iconic images for all time.
Bowie and Schapiro kidded and laughed about shooting a series of close-up portraits on a putrid green background because they felt it was the worst possible background colour for a magazine, and so they did on this lark - with the image eventually becoming a People magazine cover.
The last image they made was at four in the morning to wrap up the marathon session when they went outside to shoot Bowie on his motorcycle - the sun hadn't yet risen and the shot was lit dramatically by only the headlights of a car. This image remains one of Schapiro's favourites and is certain to live on in posterity.
This hardcover book contains 76-pages and is published by Powerhouse Books.
You can order BOWIE - Photographs by Steve Schapiro
NOW and receive a pre-order price guarantee.
---
DAVID BOWIE NEWS ARCHIVE
January
2015 Bowie News | 2014 Bowie News | 2013 Bowie News
2012 Bowie News | 2011 Bowie News | 2010 Bowie News | 2009 Bowie News
2008 Bowie News | 2007 Bowie News | 2006 Bowie News | 2005 Bowie News
2004 Bowie News | 2003 Bowie News | 2002 Bowie News | 2001 Bowie News
2000 Bowie News | 1999 Bowie News | 1998 Bowie News | 1997 Bowie News



| | |
| --- | --- |
| Created: February 2016 © Paul Kinder | Last Updated: 12/2/16 |