WHAT'S REALLY HAPPENING IN JULY - MONTHLY PLANNER

[BOWIEWONDERWORLD SHOP] [LATEST DAVID BOWIE ITEMS ON eBAY]
[FREE @bowiewonderworld.com email addresses HERE]
BW Facebook / myspace.com/bowiewonderworld
Have YOU got some DAVID BOWIE related news or a hot scoop?
Well don't just sit there keeping it to yourself - send it in to
All news items are credited if you so wish
---
DAY IN, DAY OUT...
25th July 2014
On this day, 50 years ago, DAVIE JONES makes his debut performance with THE MANISH BOYS at the Chicksands US Air Base Leisure Centre, near Shefford in Bedfordshire.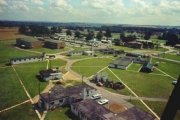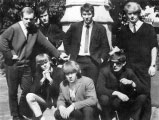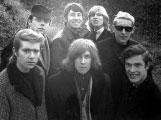 ---
THE MAN WITH THE GOLDEN GUITAR
25th July 2014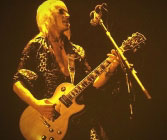 On BBC RADIO 2 this coming Monday (28th) is MICK RONSON - 'The Man with the Golden Guitar' presented by GARY KEMP.
Gary Kemp marks the 20th anniversary of the death of his guitar hero Mick Ronson with a celebration of his career.
With a stellar guest list of musicians and fellow Ronno fans including Chrissie Hynde, Tony Visconti, Ian Hunter, Trevor Bolder and Woody Woodmansey, Gary explains why Mick is such an important figure in British rock 'n' roll, highlighting the important contribution Mick made to some of the most acclaimed albums in rock history and why his talent deserves to be celebrated.
Mick rose to fame as lead guitarist and music arranger on David Bowie's albums, The Man Who Sold The World, Hunky Dory, The Rise and Fall of Ziggy Stardust and The Spiders from Mars, Aladdin Sane and Pinups.
Through his work with Bowie, Mick came to the attention of and subsequently worked with some of the biggest names in rock. Mick co-produced Lou Reed's Transformer album, enjoyed a stint with Mott the Hoople and then became a long-time collaborator with Mott's former leader Ian Hunter.
Mick was also a member of Bob Dylan's 'Rolling Thunder Revue' live band, and can be seen both on and off-stage in the film of the tour. He also made a connection with Roger McGuinn during this time, which led to his producing and contributing guitar and arrangements to McGuinn's 1976 solo album Cardiff Rose. Roger Daltrey employed Ronson's guitar on his 1977 solo release One of the Boys, and in 1979 Ronson and Hunter produced and played on the Ellen Foley debut album, Night Out, with 'We Belong To The Night' and the hit single 'What's a Matter Baby'.
In 1982, Ronson worked with John Mellencamp on his American Fool album, and in particular the song 'Jack and Diane'. In 1992 Mick produced Morrissey's album, Your Arsenal. The same year, Ronno's final live performance was at The Freddie Mercury Tribute Concert at Wembley.
BBC Radio Two at 22.00 GMT. Duration: 57 minutes.
Check out the Radio 2 programme schedule.
---
HAPPY BIRTHDAY WISHES TO IMAN
25th July 2014
To Iman
Wishing you a very Happy Birthday
Have a wonderful day

Best wishes from everyone here at BowieWonderworld xxxxx
---
DAVID BOWIE ON LIKE NOW! IN 1969
23rd July 2014
OK guys, if you're wearing them... hold onto your socks... Like Now!
DAVID BOWIE performing 'Space Oddity' on RTÉ Television's popular music programme 'Like Now!' in 1969.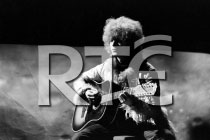 This edition was broadcast on 13th December 1969 and recorded in Dublin. This was David's first ever trip to Ireland. Notice that David is wearing his Afghan coat whilst performing.
'Like Now!' was a weekly music programme featuring popular Irish and international artists, it was produced by Bil Keating and hosted by broadcaster and DJ Danny Hughes.
An article about the second season of 'Like Now!' on which Bowie appeared was published in the RTÉ Guide on 12 December 1969.
I believe the producer at RTÉ sadly wiped this performance. Hopefully someone has this in their archive. Fingers crossed for too long now.
Check out the RTÉ Stills Archive website.
---
BOWIE BARGAIN!
23rd July 2014
FOPP in Manchester are currently selling the DAVID BOWIE Box Set for a ridiculous price of £20.
This TEN DISC CD Box Set contains CDs from 1.Outside through to Reality albums.
This Box Set was strictly limited edition 10-CD box set comprising 5 x 2-CD sets of the albums 1.Outside, Earthling, 'hours...', Heathen and Reality; all with Bonus Discs containing remixes from Moby MariusdeVries and more bonus material (previously released on special editions) extra tracks from single releases and covers of classics such as Waterloo Sunset; all in mini LP-style card picture sleeves.
I'm not sure if it's the same price at their two other stores in Covent Garden and Nottingham.
See original 2007 BW News story for full tracklisting and info.
Thanks to Craig for the heads up.
---
AND THE BITS FLEW FAR AND WIDE...
22nd July 2014
• Today is the final day of the DAVID WEDGBURY:: The Beat Goes On photo exhibition at SNAP GALLERIES, 12 Piccadilly Arcade, London SW1Y 6NH. Open 11am-6pm. The exhibition features several rare and unseen DAVID BOWIE photographs - [More details]...
• Up for grabs at SPECIAL AUCTION SERVICES on 31st July is DAVID BOWIE's first album release. Lot Number 0392. Est. £180-£200 GBP - [More details]...
• GREVIN PRAHA Wax Museum in Prague, Czech Republic have announced that DAVID BOWIE is now immortalised in wax in their museum. The Aladdin Sane era figure can be - [Viewed here]...
---
DAY IN, DAY OUT
19th July 2014
On this day, 50 years ago, DAVIE JONES auditions for THE MANISH BOYS in Maidstone, Kent.
The band are expecting another singer named Davy Jones to audition and initially they are unimpressed until Davie starts playing. He performs a cappella version of a new song that he has written entitled: 'Don't Try To Stop Me'.
The band are impressed and he gets the job as frontman.
You know the same old story trotted out about David changing his name to 'Bowie' to save confusion over Davy Jones of The Monkees? Well that's not quite the full story. There was also another singer named Davy Jones around at the time. He was Canadian-born (not American as advertised) and performing in the UK and around Europe. He was another reason David changed his stage name.
---
KEEP YOUR 'LECTRIC EYE ON EBAY
18th July 2014
Currently up for grabs are these six rather desirable DAVID BOWIE items from rare4all
including: genuine BPI silver awards presented to David Bowie, master lacquer acetate test pressing dub plates and an RCA 'Station To Station' uncropped colour slick.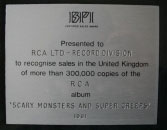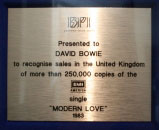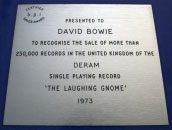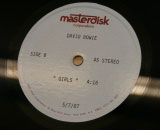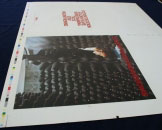 Scary Monsters And Super Creeps album BPI Silver Record Award
presented to RCA Ltd - Record Division.
Modern Love single BPI Silver Record Award
presented to David Bowie.
The Laughing Gnome single BPI Silver Record Award
presented to David Bowie.
Time Will Crawl - Master Lacquer Acetate Test Pressing
Dub Plate Masterdisk.
Girls (Plus Bonus) - Master Lacquer Acetate Test Pressing
Dub Plate Masterdisk.
Station To Station album 1976 original unreleased RCA Colour Proof
Slick uncropped.
---
DAVID BOWIE: "MORE MUSIC SOON."
16th July 2014
Last Saturday evening in London, BowieNetters held another charity fundraiser for the Terence Higgins Trust at the 12 Bar Club in Denmark Street.
Once again, DAVID BOWIE kindly sent a private message, which read as follows:
"This city is even better than the one you were in last year, so remember to dance, dance, dance. And then sit down for a bit, knit something, then get up and run all over the place. Do it. Love on ya. More music soon." - David.
---
BOWIE IN BERLIN - EXTENDED
16th July 2014
The DAVID BOWIE exhibition currently in Berlin, has been extended until 24th August.
Online tickets can be purchased via davidbowie-berlin.de website.
Die Ausstellung David Bowie im Martin-Gropius-Bau verlängert bis zum 24. August!
The next stop is in Chicago at the MCA on 23rd September - the only planned USA visit. Tickets are NOW on sale for MCA Chicago members. General public tickets go on sale on 31st July.
---
SLICK, MATLOCK, PHANTOM GIGS
15th July 2014
Guitarist EARL SLICK with Glen Matlock, Slim Jim Phantom and The Philistines with NINE DAY DECLINE supporting, play the Hertford Corn Exchange on 9th August.
Tickets are also on sale now for the following gigs:
July 26th: Forever Sun Festival 2014, Came Estate, Dorchester.
August 8th: The Green Room Church Rd, Welwyn Garden City, Herfordshire.
August 9th: Hertford Corn Exchange 39 Fore St, Hertford.
August 15th: Under The Bridge Stamford Bridge, Fulham Road, Chelsea, London SW6.
August 17th: Voewood Festival High Kelling, Norfolk.
August 30th: Weyfest 2014 The Rural Life Centre, Farnham, Surrey.
---
DAY IN, DAY OUT
14th July 2014
On this day, 47 years ago, DAVID BOWIE auditioned at Holland Park Studios for a role in a soft-porn movie entitled 'The Touchables'.
The character role was named 'David Copperfield'. Basically the movie is based on four girls who abduct a pop star for a fantastic, psychedelic freakout - until some gangsters show up.
Unfortunately, singer/actor David Anthony got the part and the character was renamed 'Christian'.
Check out these movie clips featuring David Anthony and the gorgeous Kathy Simmons - CLIP #1 and CLIP #2
Also on this day, 47 years ago, Deram release David Bowie's 'Love You Till Tuesday' single in the UK. This is a re-recorded version of the album track.
---
BARNBROOK IN LIVERPOOL
11th July 2014
Next Friday on 18th July, Graphic Designer and Typographer JONATHAN BARNBROOK is to speak at DESIGNIVAL.
As you are surely aware, Jonathan has designed an array of DAVID BOWIE releases and advertising material. For example: The Next Day, Heathen and Reality albums, as well as books and the David Bowie Is exhibition promo material.
Jonathan's session takes place at 16.00-17.00 at the Camp and Furnace, Baltic Triangle, Liverpool.
More details and tickets are available on the designival.com website.
Further reading: 'Bowie album designer speaks in Liverpool' - [Read here].
---
14 SECONDS OF BOWIE HEAVEN!
10th July 2014
14 seconds of heaven... check out this awesome black and white footage via the DIAMOND DOGS CHANNEL on YouTube...
Pro-shot video footage DAVID BOWIE live at the Tower Theatre, Philadelphia, sometime between 8th and 13th July 1974. Filmed by Mainman. Silent footage overdubbed...
---
AND THE BITS FLEW FAR AND WIDE...
10th July 2014
• Check out an interview with SOMETHING FOR KATE who talk about touring with DAVID BOWIE on his A Reality Tour - [Read here]...
• Singer/Songwriter MELINDA ORTNER is currently in a LA studio, and last night she recorded her version of DAVID BOWIE's 'Absolute Beginners'...
• DAVID BOWIE answers the Proust questionnaire. This was originally published in Vanity Fair magazine back in 2008. If you've never read it before, it'll make you laugh - [Read here]...
• If you've only ever watched and listened to the "edited" DAVID BOWIE 1973 interview with Russell Harty... here's some of the missing interview - [Lisen here]...
• I received my copy of the brand new DAVID BOWIE book Duffy/Bowie: Five Sessions
which is a 204-page hardcover book by Chris Duffy and Kevin Cann. Just to make everyone aware, it is awesomely beautiful. Nice photographs and excellently written. Highly recommended...
---
"DON'T SWITCH ON THOSE DAMN TV's TOMMY!"
9th July 2014
For your DAVID BOWIE viewing pleasure... here's a few random TV commercials broadcast over the years...
ChangesBowie album, MTV, Lodger album, David Live album, Diamond Dogs album #1 and Diamond Dogs #2.
---
EXCLUSIVE TONY VISCONTI INTERVIEW
9th July 2014
Check out an exclusive Roland interview with Producer TONY VISCONTI by Jamie Franklin.
As DAVID BOWIE's producer since before the Space Oddity album - and sonic architect for everyone from Marc Bolan to Morrissey - Tony Visconti has the world's ultimate desk job.
In this exclusive interview, he talked Bowie, Berlin, the brutal modern industry - and why he won't be seeing U2 again in a hurry.
They spoke in Dean St Studios, London by asking Visconti about the start of The Next Day, Bowie's recent album made in secret over a two-year period...
Q: The big question: do you think Bowie will make another album?
A: 'I think now that he's opened the gate, he's going to make more records. I don't know when, but I'm sure he will. We recorded more than enough songs, and some extras became bonus tracks for The Next Day. But there were others that could kick off a new album. There's more stuff there.'
You can read the complete interview at the roland.co.uk website.
---
AND THE BITS FLEW FAR AND WIDE...
8th July 2014
• Check out a Soundcloud teaser taken from the brand new album 'Fantastic Guitars' by REEVES GABRELS and BILL NELSON to be released 22nd July - [Listen here]...
• Next Tuesday (15th July) on POINTBLANK.FM from 10pm - midnight UK time is an evening with DAVID BOWIE - [More details]...
• Millions to be invested in Hull... HULL CITY COUNCIL have announced plans to transform the centre of the town ahead of becoming the 2017 city of culture. A total of £25 million will be invested but the first stage, involving the creation of a removable stage and a tribute to former DAVID BOWIE guitarist MICK RONSON will cost £12.7m - [More details]...
• MCA CHICAGO: MCA Talk 'Curating Bowie' on Sunday 21st September at 1-2pm. DAVID BOWIE Is curators Victoria Broackes and Geoffrey Marsh, from the Victoria and Albert Museum in London, present an overview of the exhibition and discuss Bowie's life and work. Tickets: MCA members $8. Non-members $10. Students $6 - [More details]...
---
PRINCE JOINS NILE AND PLAYS BOWIE
6th July 2014
PRINCE made a surprise appearance during NILE RODGERS' set at Essence Festival joining the Chic leader on guitar for a cover of DAVID BOWIE's 1983 smash hit single 'Let's Dance', a song which Rodgers co-produced.
Nile later tweeted: "How Proud Am I at This Moment? Playing 'Let's Dance' with Prince is so symbolic. That album with Bowie changed my life..."
Watch fan-shot footage on the links below...
[Footage #2] [Footage #1].
---
MCA CHICAGO: BOWIE GALA
5th July 2014

A gala celebrating the exhibition opening of DAVID BOWIE Is takes place on Saturday, 20th September at 6.30pm.
The Museum of Contemporary Art Chicago invites you to artEdge 2014, celebrating the opening of the exhibition David Bowie Is. This exclusive event offers a first access preview of the exhibition and an incredible dinner, followed by a special concert featuring acclaimed musician BRYAN FERRY. Proceeds from artEdge will support MCA exhibitions, performances, and education programming.
This event is expected to sell out. Reserve your table today.
Tickets: Tables for 10 guests are available for $30,000 and $60,000. A limited number of individual tickets will be made available for $3,000 per ticket.
Please email or call 312.397.4062 to inquire further.
Full details can be found over on the mcachicago.org website.
---
BOWIE AT THE ORPHEUM
3rd July 2014
Check out this rather awesome photograph of DAVID BOWIE performing with Tin Machine at the Orpheum Theatre in Boston, Massachusetts, USA on November 20th, 1991.
For those interested, Woods Gallery
are selling 10x8 premium quality prints of this and other Bowie photographs from the same gig.
These are priced at an incredible rate for Bowie fans worldwide.
---
MARC ALMOND ADDED TO HOLY HOLY GIG
2nd July 2014
MARC ALMOND has been added to the bill for the TONY VISCONTI and HOLY HOLY gig at the Shepherd's Bush Empire on 22nd September.
As you know, they are performing DAVID BOWIE's 1970 album 'The Man Who Sold The World'.
Marc will sing 'After All' in the first part of the show and he will also duet with Glenn Gregory on 'Watch That Man' for the second part of the evening.
More details and interview available on davidbowie.com website.
---
BOWIE: THE BIOGRAPHY
2nd July 2014

We're gonna need a bigger bookcase!
Yes there's yet another DAVID BOWIE publication in the pipeline.
Scheduled for publication on 23rd September is BOWIE: THE BIOGRAPHY by 'New York Times' bestselling author WENDY LEIGH.
This new publication is released to coincide with the upcoming David Bowie Is exhibition at MCA Chicago which begins it run on the very same day.
Published by Gallery Books in hardcover and Kindle formats, containing 320 pages.
You can pre-order Bowie: The Biography
NOW.
---
AND THE BITS FLEW FAR AND WIDE...
2nd July 2014
• New MARVEL movie GUARDIANS OF THE GALAXY is to feature DAVID BOWIE's 'Moonage Daydream' on the soundtrack. Directed by James Gunn and starring Chris Pratt, Zoe Saldana and Dave Bautista, featuring Vin Diesel, Bradley Cooper. The movie hits theatres on 1st August - [Official movie page]...
• Currently showing at SNAP GALLERIES is The Beat Goes On - classic 1960s images by DAVID WEDGBURY. Included are unpublished shots of DAVID BOWIE from 1964, display in a rather lovely montage shot - [View here]. The exhibition runs until 23rd July 2014...
• Over the past thirty years LOU REED amassed a large collection of equipment in support of his many tours. While all of his most important guitars, amps, and effects will be kept by Sister Ray Enterprises for his archive, there are many pieces of musical gear and road cases that need to be sold. Over the next few weeks these items will be auctioned through eBay
- the proceeds will go towards the work that is underway to develop the Lou Reed Archive. Please support this effort by checking the Lou Reed Archive
eBay page. New items will be posted every few days and a wide variety of items will be available. All of these items were kept at Sister Ray Enterprises and were used by Lou and his band on tour. Don't miss this unique opportunity to own a piece of music history...
---
DAY IN, DAY OUT...
2nd July 2014
• Happy Birthday wishes to ROY BITTAN (born 1949) who played piano on two DAVID BOWIE albums... 'Station To Station', recorded September - December 1975 at Cherokee Studios in Los Angeles and 'Scary Monsters (And Super Creeps)', playing piano on: 'Teenage Wildlife', 'Ashes To Ashes' and 'Up The Hill Backwards'...
• On this day, in 1997, DAVID BOWIE performed at the Piazza del Duomo in Pistoria, Tuscany, Italy...
• On this day, in 1990, DAVID BOWIE performed at the Moncton Coliseum in New Brunswick, Canada...
• On this day, in 1989, TIN MACHINE performed at St. George's Hall, in Bradford, West Yorkshire...
• On this day, in 1983, DAVID BOWIE performed at the Milton Keynes Bowl, Buckinghamshire...
• On this day, in 1974, DAVID BOWIE performed at Curtis Hixon Hall, in Tampa, Florida...
• On this day, in 1973, DAVID BOWIE performed the first night of two at the Hammersmith Odeon in London. We all know what happened the next night...
• On this day, in 1972, DAVID BOWIE performed at the Rainbow Pavilion, in Torquay, Devon...
• On this day, in 1966, DAVID BOWIE and THE BUZZ perform at The Lion Hotel in Warrington, Cheshire. The booking was made for 'David Bowie and The Lower Third' for the princely sum of £30. This was the first gig with new band member Billy Gray ('Haggis'). Also on the supporting bill were The Powerhouse - Eric Clapton (guitar), Pete York (drums), Jack Bruce (bass), Steve Winwood (vocals/organ), Paul Jones (harmonica), and Ben Palmer (piano). They were only paid £25!...
• On this day, in 1965, DAVIE JONES and THE LOWER THIRD perform at the Pavilion Ballroom in Bournemouth, Dorset...
---
BOWIE & HUTCH MEMOIRS
1st July 2014

Now published and available is 'BOWIE & HUTCH' - the autobiography of JOHN 'HUTCH' HUTCHINSON via Lodge Books.
Hutch has been looking for a new publisher since 2011 (See BW News July 2011) and now it finally sees the light of day via Lodge Books of Bridlington.
This publication is available in paperback, containing 380 pages, with the cover designed by his daughter Hayley Forrest.
Hutch: "These days I am still a guitar player (shamelessly still the 'ex-Bowie veteran guitarist' on the gig posters) and luckily I still have an audience for my own music, even in my 'old age'. I live a quiet life (most of the time) in the open space of the East Yorkshire Wolds, and I have had time to reflect and write this memoir.
"This is my story as a guitarist and friend of David Bowie in the good old days and my book includes my memories of my times with David during his musically formative years with David Bowie & The Buzz in 1966 in The Marquee Club and with Feathers (Bowie, Hutch and Hermione) in 1968 as well as my first-hand account of the Ziggy Stardust and The Spiders from Mars groundbreaking Aladdin Sane USA, Japan and UK tours in 1973 when I played 12 string guitar as an "auxiliary" Spider.
"I played my part, my supporting role in the earlier days of The David Bowie Story, we both were young and he was my mate, never just my employer. So it's my story too, it's our story, the Bowie & Hutch story."
Quotable quotes: "Hutch's story is a fabulous journey that takes him from hometown Scarborough to the Marquee Club in London 1966 to the Hammersmith Odeon Farewell concert 1973 - via Tokyo, New York and Los Angeles. From a 'buzz around London' to worldwide hysteria... in the company of David Bowie. Jealous? Me?" - Marc Riley, BBC Radio 6 Music.
"You know I think the story is a great rock biography as Hutch helped one of the great innovators of 20th century music." - Dr Rock, BBC Radio York (aka Charles White, author of one of David Bowie's Top 100 Must-Read Books The Life and Times of Little Richard. 1984.
Lodge Books said the book will be available in the next few weeks priced 12.99 GBP plus P&P and will be soon available on Amazon.
You can now purchase via lulu.com website.
---
BOWIE TRIBUTE DAVID BRIGHTON - JULY GIGS
1st July 2014

DAVID BOWIE tribute band DAVID BRIGHTON's Space Oddity have the following gigs lined up for July...
July 5th: Mozambique, 1740 S Coast Hwy, Laguna Beach, CA 92651, USA.
July 11th: The Portage Theater, 4050 N Milwaukee Ave, Chicago, Illinois 60641, USA.
July 19th: Pala Casino - Infinity, 11154 HWY 76, Pala, CA 92059, USA.
July 22nd: Harrah's Lake Tahoe, South Shore Room, 15 Highway 50, Stateline, NV 89449, USA.
For more details and information, pop on over to the davidbowietribute.com website.
---
DUFFY / BOWIE: FIVE SESSIONS
1st July 2014

The brand new DAVID BOWIE book Five Sessions is a 204-page hardcover book by Chris Duffy and Kevin Cann, which also has a foreword written by Sir Peter Blake was published on 30th June by ACC Editions to coincide with the David Bowie exhibition in Berlin.
Synoposis: Brian Duffy defined the image of the 1960s, and was as famous as the stars he photographed. Together with David Bailey and Terence Donovan, he is recognised as one of the innovators of 'documentary' fashion photography, a style which revolutionised fashion imagery and furthermore the fashion industry.
Duffy's most famous photograph dates from the 1970s and is the iconic and revolutionary cover of David Bowie's album Aladdin Sane, a shot that became the defining look of Bowie's long career, and has been referred to as the Mona Lisa of pop. The photographer and the rock star collaborated on four other projects: Ziggy Stardust, The Man Who Fell To Earth, Scary Monsters (and Super Creeps) and Lodger. They worked together during the pivotal years of Bowie's career; when the king of glam was assuming and discarding extraordinary personas, Duffy was capturing them all.
Written by David Bowie's biographer Kevin Cann, this book includes anecdotes and stories from those attending the shoots - Tony Defries (Bowie's manager at the time of Ziggy Stardust); Celia Philo (designer) and Phillip Castle (airbrush artist) from the famous Aladdin Sane shoot; Francis Newman (Duffy's studio manager); Nick Roeg (film director); May Routh (costume designer) from The Man Who Fell To Earth; Geoff McCormack (musician and Bowie's childhood friend); Derek Boshier (art director of Lodger; Natasha Korniloff costume designer for Scary Monsters; and Duffy's son Chris who also worked on the Scary Monsters session.
Included are many unseen images and behind the scenes photographs. Illustrates Brian Duffy's five different photographic shoots with David Bowie, documenting Bowie's career and pioneering reinvention, as well as Duffy's special relationship with the artist over almost a decade. Includes some of the most famous Bowie images together with out takes and rare shots.
The book Duffy Bowie: Five Sessions
is available to purchase NOW.
---
MCA STAGE SERIES: DAVID BOWIE EVENTS
1st July 2014
The Museum of Contemporary Art Chicago already has one of the hottest tickets in town for the Fall 2014 season as it is the only U.S. venue scheduled to present the highly anticipated exhibition, DAVID BOWIE IS running 23rd September 2014 through to 4th January 2015.
David Bowie related events in the MCA Stage Series include the following:
David Bowie Variety Hour (Sept. 26-27):
Culture curator Jyldo hosts an evening of glitter and glam to celebrate master chameleon David Bowie. Put on your red shoes for a rollicking evening with Chicago club and stage stars including queer art band BAATHHAUS, Chicago Tap Theatre, BOOM CRACK! Dance Company, dance tribute queen Kasey Foster, queer dancejokers LADY/WATCH, and more - all anchored by Nick Davio's house band - [More details].
Michael Clark Company: 'come, been and gone' (Oct. 25-27):
Ballet meets punk, and neither comes out the same. In its highly anticipated first visit to Chicago, the electrifying Michael Clark Company provocatively pays homage to the decadence and unbridled fun of 1970s club culture. British dance iconoclast Michael Clark sets his choreography in come, been and gone to the music of fellow rebel David Bowie, and collaborates with video artist and dance film pioneer Charles Atlas. Clark's dancers don Bowie-style leather jackets and echo his unique body language, building up to a detonation of jumps and kicks. come, been and gone pulls off a remarkable feat - matching the cool, alien beauty of the singular singer, who makes a cameo appearance here thanks to 1977 film footage of his track "Heroes". After premiering at the Venice Biennale in 2009, this "outrageously gorgeous piece," as The Observer called it, has toured internationally - [More details].
Bowie Changes: Bobby Conn plays Station To Station (Nov 15):
In conjunction with David Bowie Is, this hybrid concert series is a lightning rod for Chicago musicians to shake down the Bowie songbook, recreating classic albums - their way. Culture warrior Bobby Conn dons glitter and heels to channel the Thin White Duke in all his occult Krautrock-inspired greatness in his tribute concert of Bowie classic Station To Station - [More details].
Bowie Changes: Jon Langford and Sally Timms (Nov 21):
In the Bowie Changes concert series, Chicago musicians shake down the Bowie songbook, recreating it their way. Alt-country rabble-rousers Jon Langford and Sally Timms, former collaborators in the post-punk band The Mekons, salute the Starman, waving a tattered flag for unforgettable Bowie love songs - [More details].
Bowie Changes: Disappears plays Low (Nov 22):
In conjunction with David Bowie Is, this hybrid concert series is a lightning rod for Chicago musicians to shake down the Bowie songbook, recreating classic albums - their way. Deep space pioneers Disappears bring to light the influential studio experiment that was Bowie's first collaboration with Brian Eno, in their tribute concert of the album Low - [More details].
Full details and ticket information can be found over at the mcachicago.org website.
---
TWIN PEAKS - THE ENTIRE MYSTERY
1st July 2014

Finally! The Missing Pieces!..
This month there's a brand new TWIN PEAKS - THE ENTIRE MYSTERY DVD Blu-ray 10-disc box all set for release on 29th July, and it includes nearly 90 minutes of never-before-seen deleted and alternate scenes from the prequel film 'Twin Peaks: Fire Walk With Me'.
This is the footage that fans have been craving for years, and finally this box set that was personally supervised by Twin Peaks mastermind David Lynch sees the light of day.
And yes... DAVID BOWIE starring as Agent Phillip Jefferies appears. Check out the trailer below...
Twenty-five years after the shocking murder of Laura Palmer in the acclaimed series from legendary filmmaker David Lynch and writer/producer Mark Frost, CBS Home Entertainment and Paramount Home Media Distribution will release Twin Peaks - The Entire Mystery
.
Arriving for the first time on stunning High Definition Blu-ray with English 7.1 DTS-HD Master Audio on July 29th, this comprehensive collection contains every episode from the complete television series; both the U.S. and international versions of the series' Pilot; the North American Blu-ray debut of Lynch's follow-up feature Twin Peaks: Fire Walk With Me; and nearly 90 minutes of deleted and alternate scenes from the film. The set also features newly transferred Log Lady introductions for each episode; picture upgrades to many shots in the TV series; a new featurette with Lynch and the actors who portrayed the Palmer family which includes a mesmerising return to the lives of their characters today; and hours of never-before-released material that dives into the fascinating story behind the celebrated pop culture classic.
Along with a newly transferred version of Twin Peaks: Fire Walk With Me, created from a 4K scan of the original negative, TWIN PEAKS - THE ENTIRE MYSTERY Blu-ray box set boasts the long-awaited missing pieces from the original version of the film - nearly an hour-and-a-half of deleted/alternate scenes from Twin Peaks: Fire Walk With Me - often referred to as the "holy grail" of Twin Peaks fandom. This feature-length experience has been directed and edited by Lynch exclusively for this release. Capping off more than 30 deleted/alternate scenes is an epilogue providing a fascinating glimpse beyond the cliffhanger finale of the TV series.
You can read the full official press release here which lists details of each of the ten-discs.
If you would like to download the FULL script of the movie it has been available on here since 2009.
Twin Peaks - The Entire Mystery [Blu-ray] is available to pre-order NOW
.
---
NEW DAVID BOWIE BOOK
1st July 2014

A new DAVID BOWIE book is about to be published by OR Books is 'Bowie' by Simon Critchley.
Simon Critchley melds together personal narratives of how David Bowie lit up a dull teenage life in England's suburbs with philosophical forays into the way authenticity and identity are turned inside out in the artist's work.
Simon Critchley first encountered David Bowie in the early seventies, when the singer appeared on Britain's most-watched music show, Top of the Pops. His performance of 'Starman' mesmerized Critchley: it was "so sexual, so knowing, so strange." Two days later Critchley's mum bought a copy of the single; she liked both the song and the performer's bright orange hair (she had previously been a hairdresser). The seed of a lifelong love affair was thus planted in the mind of her son, aged 12.
In this concise and engaging excursion through the songs of one of the world's greatest pop stars, Critchley, whose writings on philosophy have garnered widespread praise, melds together personal narratives of how Bowie lit up his dull life in southern England's suburbs with philosophical forays into the way concepts of authenticity and identity are turned inside out in Bowie's work. The result is nearly as provocative and mind-expanding as the artist it portrays.
100 pages. Paperback: $13/£8 GBP. Paperback ISBN 978-1-939293-54-1. E-book ISBN 978-1-939293-55-8.
Check out the orbooks.com website for more details.
---
DAVID BOWIE NEWS ARCHIVE
June | May | April | March | February | January
2013 Bowie News
2012 Bowie News | 2011 Bowie News | 2010 Bowie News | 2009 Bowie News
2008 Bowie News | 2007 Bowie News | 2006 Bowie News | 2005 Bowie News
2004 Bowie News | 2003 Bowie News | 2002 Bowie News | 2001 Bowie News
2000 Bowie News | 1999 Bowie News | 1998 Bowie News | 1997 Bowie News



| | |
| --- | --- |
| Created: July 2014 © Paul Kinder | Last Updated: 25/7/14 |