WHAT'S REALLY HAPPENING IN DECEMBER - MONTHLY PLANNER

[BOWIEWONDERWORLD SHOP] [LATEST DAVID BOWIE ITEMS ON eBAY]
Exclusive! DAVID BOWIE lino-cut print available to PURCHASE
these are ALL the remaining ORIGINAL left-over stock from 38 years ago
Have YOU got some DAVID BOWIE related news or a hot scoop?
Well don't just sit there keeping it to yourself - send it in to
All news items are credited if you so wish
---
DAY IN, DAY OUT
31st December 2022
• On this day, 49 years ago, RCA held a press lunch with DAVID BOWIE as guest of honour at Rules, London's oldest restaurant on Maiden Lane in Covent Garden.
Upstairs, in a private dining room, he is presented with an 'outstanding musical achievements' award from RCA Records for having SIX different albums in the UK charts for a total of nineteen weeks during 1973...




• On this day, 57 years ago, DAVID BOWIE performs his first-ever gig outside of the United Kingdom. David Bowie and The Lower Third play at Le Golf Drouot, Montmartre, Paris, France in 1965...
• On this day, 59 years ago, DAVID BOWIE plays final gig with THE KONRADS at Justin Hall, West Wickham in 1963...
---
MERRY CHRISTMAS TO EVERYONE!
25th December 2022
Wishing everyone, everywhere, a very Merry Christmas
Have a Cool Yule! I hope you receive everything you ever wish for
---
BOWIE ON SNL
15th December 2022
• On this day, 43 years ago, DAVID BOWIE appeared on NBC's SATURDAY NIGHT LIVE US TV show with a legendary three-song live performance.
BW News Flashback - December 2006
Former employees of NBC's Saturday Night Live were asked to send in precious anecdotes to GAWKER - one particular piece that stood out was when DAVID BOWIE appeared on the programme in December 1979.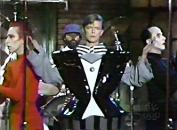 David performed three songs... 'The Man Who Sold The World' where he was carried to front stage by backing singers Klaus Nomi and Joey Arias, whilst inside a costume (which was a nod to Dadaist Tristan Tzara - or if you've done your homework Sami Rosenstock).
The second song was 'TVC15' with Bowie dressed more conventionally as a Chinese airline stewardesses dress and lastly 'Boys Keep Swinging' complete with a puppet body.

The photograph right shows a scene from 'The Gas Heart' by Tristan Tzara. Costumes designed by Sonia Delaunay, Theatre Michel, Paris, July 6-7, 1923.
Tzara introduced the first performance as follows: "It is the only and greatest three-act hoax of the century. It will satisfy only industrialized imbeciles who believe in the existence of men of genius.".
SNL Employee: David Bowie and I manhandle his life-size plastic punching doll into the elevator. The next night, NBC's costumers will bolt David into this rigid contraption so he can spin and wobble across the stage on live television, while lip-synching one of the songs that made him into the icon known as Ziggy Stardust.
For a second, I gaze into Bowie's left eye and notice his famous blown pupil. "Why drag this all the way back to your hotel? The Props department could lock it up for you."
He laughs. "Nothing personal, but if it goes missing, I can't just buy another one down at the corner shop."
I giggle. "Good point."
I still look back on this comment as my best shot at the Melonhead Hall of Fame.
Nobody gives us a second glance as we struggle outside to the Plaza. The Thin White Duke and an anonymous melonhead are trying to stuff a six-foot-tall, brightly-colored punching doll into the back seat of a stretch limo, but New Yorkers, true to form, don't even notice this singular tableau. David turns, to say thanks for the help. Polite guy. My brain is churning at light speed, searching for another bon mot.
So I bring out the big guns: "Break a leg!" When David looks puzzled, I rush to explain: "Not now. Tomorrow night." He smiles and thanks me again.
Then his limousine is gone, and I'm left alone to compose my Hall of Fame acceptance speech.
---
MAINMAN - PODCAST #59
12th December 2022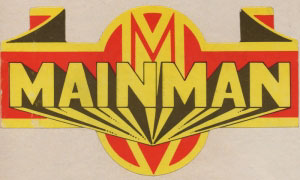 Over on the MAINMAN website: Podcast episode #59 is now available...
You can listen to the podcast now - in this episode MIKE GARSON recalls his audition for the Ziggy Stardust US tour in September 1972.
The MainMan group of companies was a first of its kind rights management organisation formed by entrepreneur and impresario Tony Defries in 1972, that supported and helped to develop the careers of various artistes including David Bowie, Iggy Pop, Lou Reed, Mick Ronson, Mott The Hoople, Ian Hunter, Mick Ralphs, Dana Gillespie, Amanda Lear, Wayne/Jayne County, John Cougar Mellencamp and many others.
MainMan official social media accounts: Website | Facebook | Twitter | YouTube Channel | Instagram
---
ON THIS DAY...
8th December 2022
On this day, 39 years ago, DAVID BOWIE performed 'Imagine' at the Hong Kong Coliseum during his final gig of the Serious Moonlight Tour '83 in memory of JOHN LENNON.
---
THE FINAL BOW
7th December 2022
On this day, 7 years ago, DAVID BOWIE and IMAN attended the premiere of LAZARUS theatre production at The New York Theatre Workshop, NY, USA.
At the end of the show David took to the stage for a standing ovation. This was to be David's final public appearance.
Check out these precious photographs taken by LOPEY who managed to take a great image as a smiling David and Iman arrived at theatre, as well as Susan Sarandon, Tony Visconti and Kristeen Young.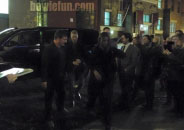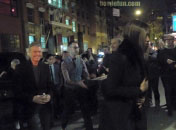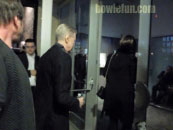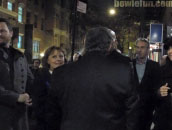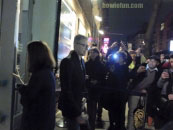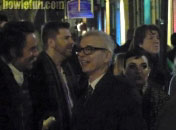 Courtesy of Lopey [bowiefun.com].
David, Enda Walsh, Ivo van Hove and cast take a standing ovation. Photo by Jan Versweyveld.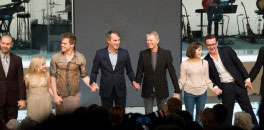 For all you fashionistas out there... David is wearing a Alexander McQueen dark navy and silver skull polka dot evening scarf.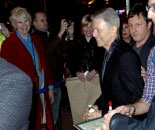 Photos by AKM-GSI Splash.
Below are the photographs taken by PAULA SCIUK, as David, Iman and actors Michael C. Hall and Cristin Milioti left the theatre. In the foyeur are Jimmy King and Bill Zysblat.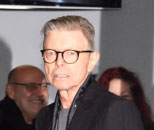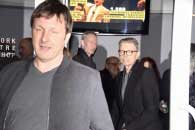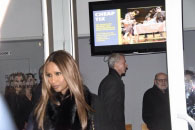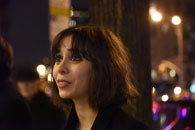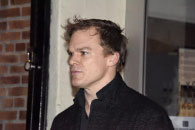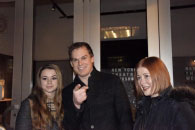 Courtesy of Paula S.
---
DAY-IN, DAY-OUT...
5th December 2022
• On this day, 27 years ago, DAVID BOWIE performed at the Kings Hall, Belfast during his Outside Tour in 1995...
• On this day, 39 years ago, DAVID BOWIE performed at the Army Stadium, Bangkok, Thailand during 'The Bungle in the Jungle' leg of the Serious Moonlight Tour in 1983...
• On this day, 57 years ago, DAVID BOWIE with The Lower Third performed at the Marquee Club, Soho, London in 1965...
• On this day, 58 years ago, DAVID JONES & The Manish Boys performed twice at City Hall, Newcastle, unbilled and supporting on the Gerry & The Pacemakers/Gene Pitney/The Kinks tour in 1964...
---
FREAK OUT IN A MOONAGE DAYDREAM
5th December 2022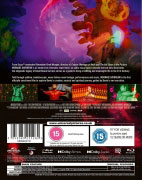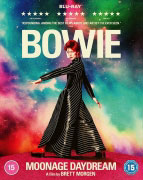 Released today is DAVID BOWIE - MOONAGE DAYDREAM movie/documentary available on UHD / BD [Blu-ray] in 4K PAL, region free, with DTS-HD Master Audio 5.1
From Oscar-nominated filmmaker BRETT MORGEN, director of Cobain: Montage of Heck and The Kid Stays in the Picture, Moonage Daydream is an immersive cinematic experience; an audio-visual space odyssey that not only illuminatesthe enigmatic legacy of David Bowie, but also serves as a guide to living a fulfilling and meaningful life in the 21st Century.
Told through sublime, kaleidoscopic, never-before-seen footage, performances and music, Moonage Daydream is the first officially sanctioned film to explore Bowie's creative, musical and spiritual journey, guided by Bowie's own narration.
Sitting alongside this release is the album companion which features unheard versions, live tracks and mixes, created exclusively for the film.
The 2-CD was released last month, with the 3-LP vinyl scheduled for release next year. The companion album features songs from spanning Bowie's career and includes previously unheard material, unique mixes created for the film and this release along with dialogue from Bowie himself. Highlights include a previously unreleased live medley of 'The Jean Genie/Love Me Do/The Jean Genie' recorded live at the final Ziggy Stardust concert at Hammersmith Odeon in 1973, featuring Jeff Beck on guitar. Other rarities include an early version of the Hunky Dory favourite 'Quicksand' and a previously unreleased live version of 'Rock 'N' Roll With Me' from the legendary 1974 'Soul Tour'.
You can purchase the Blu-ray / DVD / as well as streaming on Prime options - more details
---
ANALYSING 'DOLLAR DAYS'
4th December 2022
The next instalment from LEAH KARDOS who is analysing the song 'Dollar Days' by DAVID BOWIE on her YouTube channel.
Leah's essential book is entitled: Blackstar Theory: The Last Works of David Bowie', which is available in most bookshops all over the world.
Please subscribe, follow and click for updates on her YT channel on mylithiumandme which covers Bowie songs from the 2013-2016 period.
---
DAY-IN, DAY-OUT...
2nd December 2022
• On this day, 23 years ago, DAVID BOWIE performed at The Astoria, London during his 'hours...' promotional tour in 1999. Earlier the same day, David did an in-store signing at The Virgin Megastore. After the gig he held an after-show party at Pop in Soho...
• On this day, 44 years ago, DAVID BOWIE performed at Western Springs Stadium in Auckland, New Zealand, the final show of the Australasian leg of his 1978 world tour...
• On this day, 56 years ago, DAVID BOWIE and THE BUZZ performed at the Severn Club, in Shrewsbury in 1966. At this gig they performed 'Waiting For The Man' by The Velvet Underground as one of the encore songs. David played this song live before anyone one else in the world, he performed it before the album was actually released after receiving a testing pressing from his then manager Kenneth Pitt...
• On this day, 58 years ago, DAVIE JONES and THE MANISH BOYS gave two performances at the ABC Cinema in Hull in 1964...
---
AND THE BITS FLEW FAR AND WIDE...
2nd December 2022
• The 8th Annual DUBLIN BOWIE FESTIVAL takes place next month on 10th January-15th January at various venues in Dublin, Ireland. For full details of the line-up and ticket purchasing, please visit - dublinbowiefestival.ie website...
• PHILLY LOVES BOWIE WEEK 2023 begins on 6th January-14th January at various venues in Philadelphia, USA - [More details]...
• The 11th ANNUAL LONDON BOWIE EVENT takes place next year on 24th June at The Water Rats, 328 Grays Inn Road, Kings Cross, London WC1X 8BZ. Tickets are available now via wegottickets.com website...
---
DAVID BOWIE WONDERWORLD FACEBOOK GROUP
2nd December 2022
For those of you who use FACEBOOK - check out the DAVID BOWIE WONDERWORLD Group.
Feel free to join in with the other 79,100 plus members, add yourself and invite your Bowie fan friends. You never know what might get posted, or who you might meet...

---
THE SOUND AND VISION OF DAVID BOWIE
1st December 2022
THE SOUND AND VISION OF DAVID BOWIE - celebrating David's birthday with Bowie band members, collaborators and conspirators.
The event takes place on January 6th, 7th and 8th at The Cutting Room, 44 East 32nd Street, New York City.
Featuring: Gail Ann Dorsey, Mark Plati, Catherine Russell, Donny McCaslin, Michael Esper, Tim Lefebvre, Henry Hey, Gerry Leonard, Jim Boggia, JJ Appleton, Everett Bradley, Brian Delaney.
Tickets are limited and are on sale now.
6th January / 7th January / 8th January
For more details and information, please visit thecuttingroomnyc.com website.
---
ROCK 'N' ROLL WITH ME
1st December 2022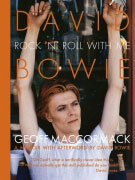 The upcoming memoir by GEOFF MACCORMACK first announced back in April is titled: 'DAVID BOWIE: ROCK 'N' ROLL WITH ME'.
This hardback, containing 240-pages, is published on 13th March 2023.
David Bowie: Rock 'n' Roll With Me is Geoff MacCormack's remarkable photographic memoir, charting his lifelong friendship with David Bowie. Images bring MacCormack's stories to life, showing the places he and Bowie inhabited, the people they met and the adventures they shared. Beginning at Burnt Ash Primary school in the mid-1950s, the years go by in a whirlwind of discovering and making music. The book contains nearly 150 photos taken by MacCormack throughout the years, some never seen before: from touring the Ziggy Stardust and Aladdin Sane shows and sailing to New York on a world tour, to Bowie's first major film The Man Who Fell To Earth and the recording of Station to Station and his Thin White Duke persona.
David Bowie: Rock 'n' Roll With Me is an incredible story, told with wit and candour. A must for all Bowie fans, it sheds a rare insight into a friendship where two men shared their love for music from the moment they met to their final goodbyes.
About the Author:
Geoff MacCormack, David Bowie's lifelong friend, joined Bowie's 1973 world tour as an additional back-up vocalist and percussionist, and later as a 'Diamond Dog' in '74 and what would be known as 'The Young Americans Soul Tour'. He also worked on the six albums from Aladdin Sane to Station To Station. After three years of touring, recording and travelling with Bowie, MacCormack started an award winning (Gold Clio, Ivor Novello) music production partnership with Simon Goldenberg who he met, coincidentally, in The Three Tuns pub, home of Bowie's earlier 'Arts Lab'. For over 20 years, they wrote music for high-end advertising, films and TV. Geoff now manages the use and sale of his photographs of David Bowie around the world and has exhibited in St Petersburg, the USA and the UK, including the hugely successful 'Rock 'n' Roll With Me' exhibition at Brighton Museum & Art Gallery from September 2020 through to May 2022.
David Bowie: Rock 'n' Roll With Me is available to pre-order now!
---
REMINDERS: UPCOMING BOWIE RELEASES and EVENTS...
DECEMBER 2022
• DAVID BOWIE RAINBOWMAN 1967-1980 by JÉRÔME SOLIGNY, (ENGLISH VERSION), hardback, 704-pages, now to be published on 5th September 2023 - more details
• The 2023 DAVID BOWIE WORLD CONVENTION will take place next year on 16th (VIP)/17th/18th June 2023 at Terminal 5, New York City, USA - more details
• New book FLY IN THE MILK... DAVID BOWIE AND CRACKED ACTOR by SUSAN COMPO and MARK WARDEL to be published by Red Planet Books in Spring 2023.
• ALADDIN SANE 50 YEARS The definitive celebration of Bowie's iconic album and music's most famous photographs - with unseen images by CHRIS DUFFY, hardcover, 256-pages - to be published on 30th March 2023 - more details
• Theatre production LAZARUS written by David Bowie and Enda Walsh, Italian version directed by Valter Malosti to be staged in various cities in Italy. Performances begin in March through to June 2023 - more details
• New memoir DAVID BOWIE: ROCK 'N' ROLL WITH ME by GEOFF MACCORMACK, hardback, 240-pages, published on 13th March 2023 - more details
• Streaming Event: ATOMIC SUNRISE filmed at The Roundhouse in 1970, featuring DAVID BOWIE / HYPE, Genesis & Hawkwind. Stream: 85 minutes now possibly on 11th March 2023 - more details
• DAVID BOWIE - A DIVINE SYMMETRY (An Alternative Journey Through Hunky Dory) Vinyl LP to be released on 24th February 2023 - more details
• The 8th Annual DUBLIN BOWIE FESTIVAL opens 10th January-15th January at various venues, Dublin, Ireland - more details
• PHILLY LOVES BOWIE WEEK 2023 begins 6th January-14th January at various venues, Philadelphia, USA - more details
---
DAVID BOWIE - MOONAGE DAYDREAM UHD / BD [Blu-ray], 4K PAL, [Region Free] (DTS-HD Master Audio 5.1) released on 5th December - Blu-ray / DVD - more details
DAVID BOWIE - DIVINE SYMMETRY 4CD/Blu-Ray Box Set released on 25th November - more details
RECORD STORE DAY BLACK FRIDAY 2022 two 12" vinyl exclusive releases DAVID BOWIE: The Next Day Extra - US / UK and DAVID BOWIE/BING CROSBY: Peace On Earth/Little Drummer Boy limited edition candy cane vinyl - US [also Canada, Mexico, Netherlands, Poland]. RSD Black Friday took place on 25th November.
MOONAGE DAYDREAM - OST 2-CD, released on 18th November - more details
DAVID BOWIE AND FILM: Hooked to the Silver Screen by STEPHEN GLYNN, hardcover, 263-pages, published on 15th November - more details
Exhibition DAVID BOWIE THE PASSENGER by ANDREW KENT at PAN Palazzo delle Arti Napoli, Via dei Mille, 60, 80121 Naples, Italy. Opens 24th September until 29th January 2023. Open every day: Mon-Fri 10.00-15.00 / Sat, Sun and holidays 10.00-20.00 - more details
DAVID BOWIE - WHAM BAM THANK YOU MA'AM! by IVOR JONES, limited edition of #300, special collector's publication is now sold out. There are some unnumbered copies available which you can purchase at a reduced price - more details
Exclusive DAVID BOWIE lino-cut print available to PURCHASE - don't hang around, these are ALL the remaining original left-over stock from 38 years ago, once they've gone, they've gone!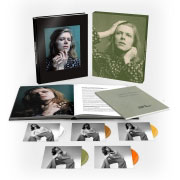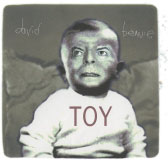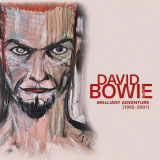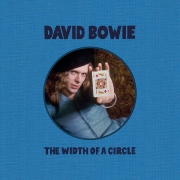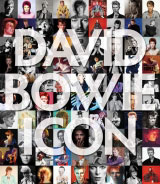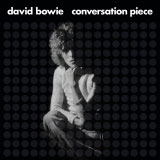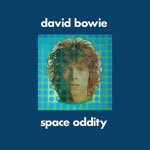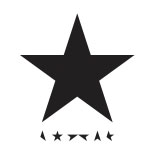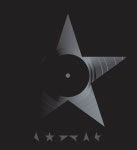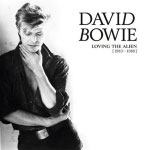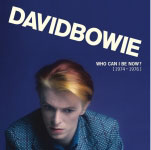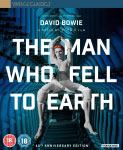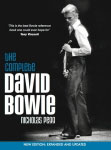 ---
---
DAVID BOWIE WONDERWORLD NEWS ARCHIVE
November | October | September | August | July | June | May | April | March | February | January
2021 Bowie News
2020 Bowie News | 2019 Bowie News | 2018 Bowie News | 2017 Bowie News
2016 Bowie News | 2015 Bowie News | 2014 Bowie News | 2013 Bowie News
2012 Bowie News | 2011 Bowie News | 2010 Bowie News | 2009 Bowie News
2008 Bowie News | 2007 Bowie News | 2006 Bowie News | 2005 Bowie News
2004 Bowie News | 2003 Bowie News | 2002 Bowie News | 2001 Bowie News
2000 Bowie News | 1999 Bowie News | 1998 Bowie News | 1997 Bowie News



| | |
| --- | --- |
| Created: December 2022 © Paul Kinder | Last Updated: 31/12/22 |